Hotel Tour | The most wonderful hotel in Aigues-Mortes, Southern France | Lovely village | Travel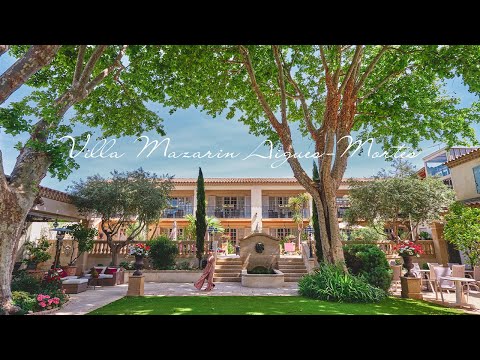 Show Video
Hello Mash and Aya. Last time we toured a flea market in a rural town in the south of France We bought many nice things. It was very satisfying! This time we started with lunch afterwards. The video of the nice hotel is in the second half... ♪ Lunch at a restaurant in town. First, sweet potato fritters... ♪ Delicious. Very tasty. Is the sweet potato tasty? Is the sauce delicious? All.
You're very good at frying. Really great. What is this? Caesar salad. Looks delicious. But the chicken is fried. Mash and Aya chose Bo-Bun, Bo-Bun is the French name of the dish, in Vietnam it is called BunBo. It is a Vietnamese dish. As I was shooting the video, a store owner brought a sign for the restaurant. It makes a good appeal... ♪
If you come to "Montclus Montclus" in the south of France, please come to the restaurant "Le Murier". It is very delicious. Rice flour noodles, bean sprouts, salad, carrots, cucumbers, pak choi, peanuts, nem, beef, etc. Very tasty. Good. It tastes asianic, but the beef is even better, like a steak.
It tastes like Japanese dish "HIYASHI CHUKA". It tastes like sesame oil and vinegar. It's true, the meat looks like barbecue. It's like a steak, isn't it? We enjoyed a leisurely lunch. After lunch, we take a short walk in town.
See. Yes. This one is a river. Yes, a river. It is a beautiful river. This is a flea market over here.
Flea market. This way is the river Wonderful! Lovely location. A flea market with a view of the river would be great. It's really nice. The river is beautiful! Flowers are blooming in these places. Yes, they are. Anemones? Poppies? Coquelicot? Here is the river, and the flowers are blooming right next to it.
And if you look to the left, you can see the city. Montclus. a medieval castle fort dominates the village, and the monastery rooms built by the Knights Templar have been preserved. Voted one of the most beautiful villages in France, it has a wonderful medieval feel. It's a lovely village in a valley. It is lovely. There were many people swimming in this river.
It's a good place to see the flea market and then swim and enjoy both. It looks like you can go down to the river from that stairway. A village for both leisure and antiquing, yes! We left the village and found a small grocery store while we were driving around! Behind the store there is a lot of cherry chi. The brothers invited me in while they were harvesting cherries. Wonderful! Beautiful. How do you determine which cherries are ready to eat and harvest them? For example, this one is too red. Too red.
Yes, too red. Too red. This is good. Almost about red. Just right. This is also excellent. Good. Size is also good. But...
This is not yet. We have to wait a little longer. Is it young? It is young. This can be harvested if you wait a week or so. I see. You have kindly taught me a lot. Thank you very much. I got one cherry. Tasting.
What do you think? Is it good? It's sweet. It's good. I'll try it too. Very tasty! Freshly picked cherries are fresh and delicious. Those shadows and light are so beautiful! Beautiful! It looks a bit like a plum tree. Yes, it is. The grocery store was out of cherries, but I came here when I heard they were for sale right next door.
Is it 1 kg? Yes, 1 kg. 1kg 4€. OK. That's local. Very cheap. Classic measuring instruments are nice. I also bought half white, half green asparagus. The place looked like a barn. There is a swallow's nest on the ceiling.
Very cute and handsome. What did Yuko buy? Lavender honey. Amazing!!! Lavender honey! Wonderful ♪ It looks very tasty. Yes, the color is nice too. You bought a lot of asparagus. So many... ♪ It's nice in the countryside to be able to buy freshly picked fruits and vegetables We are back to the house where we are staying. Tonight is our last overnight stay.
We are having apero at our neighbor's house (a relaxing moment before dinner with drinks and light snacks). This was so delicious! After apero, we cook dinner I sauteed asparagus I just bought in butter. Yes, it is delicious. It's good. It's great to cook while eating and drinking.
Enjoyed a nice dinner. We met two different cats from the ones we saw yesterday. They are cats kept on this property. Antique house, nice garden, and cute cats. It's the best !!!!
Both cats have the same clawing spot lol Today we are going to say goodbye to Nami and Yuko. And now I am going to send Mash and Aya to the town near the sea. On our way, we found a flower garden in Coquelicot. It's wonderful.
Very beautiful. It is a very large quantity. It is beautiful. The whole area is colored red.
I talked to the owner of the land here. He said that the fact that the coquelicots are blooming means that the land is not well taken care of. But he said "it's so beautiful I took a picture of it" lol After all, beautiful things are beautiful. The ocean is in sight. Now we have a little time, so we go to the beach. Aya, who loves the sea, is very excited. She looks happy. I am too happy. So much fun!
I'm so happy. It is a sandy beach. Yes, it is. It is already a sandy beach at your feet. It's been a long time since I've been in the ocean.
It sounds good. It's the sound of the ocean. We enjoyed the ocean for a little while. We arrived at our destination, the city of Aigues-Mortes. It is a city surrounded by walls. Nami gave me a lift here. We stay at a popular hotel in Aigues-Mortes...
La Villa Mazarin, a hotel recommended by Nami. It was so nice, let's do a hotel tour! Check in at the reception. Then proceed inside. There is also a restaurant. By the way, the restaurant was closed during the stay.
Let's go to the courtyard. It's so beautiful. It's a wonderful garden. It smells good. Yes, it does. Look up. It is surrounded by trees. When the wind blows, it is very nice to hear the sound of the trees' teeth. It is a wonderful sound.
It is May when we came here. Not too hot, very nice climate. Nice place to relax in the garden. And we found a handsome cat here, too. Start of the tour of rooms to stay A nice, spacious, slightly exotic room. The bathroom is also very nice. Separate shower and bathtub is also nice Let's wash our hands since we are here lol Time to relax with a glass of rosé wine... Delicious handsome Delicious ♡ There is a cat in such and such a place.
Is this a cat hotel? (lol) This is not a cat hotel...but "La Villa Mazarin" hotel tour. I will show you the breakfast etc. next time. Now let's go for a walk into town! In the south of France, the houses are just lovely. The alleys are also very nice, so it's fun to take a walk.  Now, if we leave this road, we can go to the center of the city.
Then let's go! There are a lot of people in the center. There are many souvenir stores. Very pleasant climate. It feels great. It's great this time of year! Oh, there are many nice dresses for sale. It's nice. If I forget my clothes, I can change them here. lol You can also buy and cut them here.
Lovely! So cute!!! This skirt is lovely...oh, it's pants. Pants. Everyone in town is wearing dresses, too, and it's wonderful. I want to wear a dress too.
Once I get back to the hotel, I can change into a dress. There is a nice cafe. Cafe is surrounded by leaves and flowers. Aren't these flowers with a nice fragrance? It would be nice to have dinner here.
Good. It has a lovely atmosphere, like Strasbourg. Yes, it is. See. It's a flamingo. This restaurant looks good. It is wonderful. This is not a castle wall.
This must be a church. I have never seen a church with this kind of atmosphere. Yes, it is. Look at the stained glass. The stained glass you see in churches in Paris and other places has more of a painting-like picture. This is a textile-like pattern. And this is a square. It is similar to the square in Arles (a city in the south of France), isn't it? Yes, it is. The atmosphere is the same. It is a beautiful place.
There are cute sisters. They are cute. Lovely patterned pottery. This is a cute store. It looks like an antique store too.
Is this winter design for this area? We also have plates here. Let's go into the church. It looks a little different in style from the churches in Paris Let's have an ice cream Aya is watching one piece. I want a dress. Mash also wanted to wear a dress lol Shall we both wear matching dresses? (lol) There is a nice store. It's true. The store looks like something you would find in Hawaii.
I see. I have never been to Hawaii, so I don't know. lol Oh, I found the salt. This area is famous for salt.
This area is famous for Camargue salt. It is also famous for its pink-colored salt fields and flamingos, which I will show you in my next video. There is a dog. Souvenir shop here, too. I think this is where you can find salt with herbs, etc.
Is this it? Yes, that's right. We have basil, garlic, etc. I heard this salt is delicious. It is good for souvenir. Just put a little of that salt on tomatoes and they seem to be very tasty. We have come to the city walls at the edge of town. That's all for this time. Next time, we will visit Aigues-Mortes more thoroughly.
We climbed the ramparts, went to the rice fields, and climbed the salt mountain. Please look forward to our next visit to the city. Thank you for watching. See you next time.
2022-06-06 12:36
Show Video
Other news