Bloomberg Surveillance 05/20/2022: Markets Get Crushed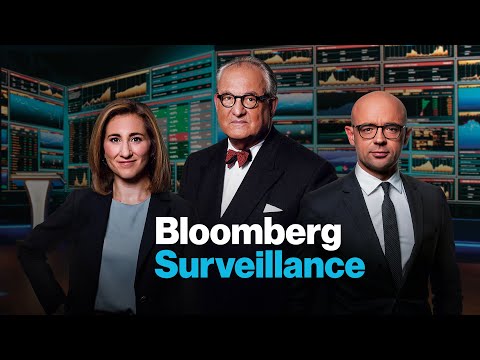 Show Video
>> RIGHT NOW, WE HAVE AN INCREDIBLY STRONG ECONOMIC OUTLOOK. INFLATION IS A CONCERN. >> IT IS THE TIMING IS FAR DOWN THE ROAD. >> THE FED DOES ITS THING. SOMETIMES IT MAKES THE STAKES BUT GENERALLY IT HAS PIVOTED SUCCESSFULLY.
>> EVERYONE IS AFRAID THEY WILL GET IT WRONG AND THE CHANCES ARE THEY WILL GET IT WRONG. >> THE NEAR TERM PAIN COULD BE SO SEVERE YOU JUST CAN'T SEE THROUGH IT. JONATHAN: LIFE ARM -- LIFE FROM -- LIVE FROM NEW YORK CITY, FOR OUR AUDIENCE WORLDWIDE, GOOD MORNING, GOOD MORNING. THIS IS "BLOOMBERG SURVEILLANCE, LIVE ON TV AND RADIO." FEATURES POSITIVE BY 1%. WE ARE SET FOR A SEVENTH
STRAIGHT WEEK OF LOSSES. TOM: SO MANY JUST SAID HAPPY FRIDAY TO ME AND I GROWLED AT THEM. THE THAT IS IT. THE CORRELATIONS AND STARTING WITH JANE FOLEY, FOREIGN-EXCHANGE TELLING ME THERE IS AN IMMENSE AMOUNT OF TENSION. JONATHAN: WHAT WAS THE HIGHLIGHT FOR YOU OR RATHER THE LOWLIGHT. TOM: THE HIGHLIGHT OF THE WEEK IS
THAT IT IS OVER. IT HAS BEEN INCREDIBLE STRESS. THE HIGHLIGHT IS THE SAFE HAVEN CLICKED IN WEDNESDAY. THE FIRST THING I DO IS LOOK AT EURO SWISS AND SEE 1.02 NINE,
DIFFERENT FROM A WEEK AGO. THERE IS A LITTLE SAFE HAVEN FIELD. JONATHAN: I WILL THROW TREASURIES IN. YIELD LOWER BY 20 BASIS POINTS. GRINDING LOWER AGAIN. LISA: ON THE LONG END. ANY FED SPEAK WE HAVE GOTTEN
THIS WEEK HAS CONFIRMED THAT ANY WEAKENING AND THE STOCK MARKET IS BY DESIGN. IT IS NOT A FAULT OF THEIR PLAN BUT THEY ARE LOOKING AT THIS TO TIGHTEN FINANCIAL CONDITIONS. PEOPLE SEEM TO BE DOWNGRADING THEIR EXPECTATIONS BECAUSE OF HOW WEAK THE ECONOMY LOOKS AND A COUPLE OTHER DATA POINTS. JONATHAN: IT IS AN OBJECTIVE ANGLE. FED SPEAK OF THE WEEK? LISA: THE KANSAS CITY FED CAME OUT YESTERDAY AND SAID THIS IS BY DESIGN, I AM PARAPHRASING, BUT BASICALLY CONFIRMING THE SAME POINT. THIS IS NOT A FED READY TO COMMIT, THIS IS A FED SAYING GREAT, THAT IS HOW WE EXECUTE TIGHTER FINANCIAL POLICY.
JONATHAN: WHAT WE HAVE TO WORK OUT IS UNDER WHAT CONDITIONS? WHAT IS THE THRESHOLD FOR THAT TO HAPPEN? LISA: WE KEEP GOING BACK TO CREDIT. CAN COMPANIES FINANCE THEMSELVES? YOU ARE SEEING SOME CRACKS FORMING BUT NOR NEAR THE OF STRESS WE SAW ANOTHER BIG DISRUPTIONS IN THE MARKET IN PRIOR YEARS. JONATHAN: EQUITIES UP 42 ON THE S&P 500, UP BY 1% ON THE NASDAQ 100 UP BY 1.5%. YIELDS HIGHER BY BASIS -- A COUPLE OF BASIS POINTS. LITTLE SENTIMENT COMING IN THIS MORNING. LISA: HOW MUCH COULD THE CHINESE GOVERNMENT STIMULATE THE ECONOMY IN THE FACE OF THE SLOWING ECONOMIC TRAJECTORY? BLOOMBERG ECONOMICS EXPECT CHINA' S ECONOMY WILL LAG BEHIND THE U.S. IS IN GDP -- U.S.'S IN GDP FOR
THE FIRST TIME IN -- SINCE 1976. A QUIET DAY. EVERYONE HEADING TO DAVOS AND TRYING TO FIGURE OUT HOW TO POSITION FOR THE WEEK AHEAD. EARNINGS WILL BE INTERESTING IN LIGHT OF HIGHEST FOOD PRICES EVER AND HOW CAN WE SEE RECORD PROFITS IN THE DAYTIME OF SHRINKING MARGINS. SHE SEVEN WRAPS UP IN GERMANY, POISED TO AGREE TO AN AID PACKAGE TO UKRAINE TO KEEP THE COMPANY -- COUNTRY OPERATIONAL. AT WHAT POINT IS YOUR LEADER IN FISCAL STIMULUS, SO -- IS A YOUR UP THE LEADER IN FISCAL STIMULUS. PRESIDENT BIDEN HEADING TO SOUTH KOREA, TOURING A SAMSUNG COMPANY. I AM CURIOUS TO WHAT THEY WILL
SAY ABOUT POSSIBLY ASSURING UP SUPPLY CHAINS. JONATHAN: THE POTENTIAL FOR A MEETING WITH THE SAUDI CROWN PRINCE AND THE PRESIDENT OF THE UNITED STATES. REPORTING FROM OUR TEAM SUGGESTING THAT COULD HAPPEN AT SOME POINT IN THE NEAR TERM. LISA: WHAT IS THE POLITICAL FALLOUT FROM THAT? THE U.S. NEEDS GASOLINE AND HOW MUCH WILL THEY TURN TO THE MIDDLE EAST SURE THAT UP RATHER THAN TALKING ABOUT DOMESTIC PRODUCTION. JONATHAN:
LOOKING TO GET THAT STORY. TOM: I AGREE. IT FOLDS INTO THE DEATH OF THE GENTLEMAN FROM THE WASHINGTON POST, MR. KHASHOGGI. THIS IS A DIFFERENT TINGE AND TONE IN WASHINGTON THAN NORMAL DIPLOMATIC DISCUSSIONS. JONATHAN: JOINED US IS JANE FOLEY, FROM RABOBANK. RE: CURRENCY POSITIVE OR NEGATIVE -- ARE WE CURRENCY POSITIVE OR NEGATIVE? JANE: THE START OF THE WEEK WE HAD A TIGHT LABOR MARKET AND THAT RAISED THE QUESTION, IS THE LABOR MARKET HERE AND WE'VE ALREADY HAD FOUR RATE HIKES FROM THE BANK OF ENGLAND AND YET THE LABOR MARKET IS TIGHTENING. THAT HAS LED SOME COMMENTATORS TO SAY THE BANK OF ENGLAND WILL HAVE TO DO MORE IN ORDER TO CREATE THAT TO BRING DEMAND DOWN. AND NOW WE HAD THE CONFIDENCE
AT THE WEAKEST LEVELS SINCE 1974. THAT HIGHLIGHTS THE COST OF LIVING ISSUES WE HAVE IN THE U.K. IT IS DIFFICULT TO RECONCILE THIS TIGHT LABOR MARKET WITH TOO MUCH DEMAND ON ONE HAND AND THAT THERE ALSO IS A COST OF LIVING CRISIS AND PEOPLE ARE FEELING THE PAIN OF HIGHER FOOD AND ENERGY PRICES. SO WHAT DOES THE BANK OF ENGLAND DO? THAT IS WHAT WE HAVE TO DETERMINE. TOM: THERE IS MODEST HYSTERIA OVER A REPEAT PLAZA ACCORD.
IN THOSE ARE WAY OUT, EURO 90, WEAK EURO. YEN, WEAK. DO YOU HAVE ANY SCENARIO ARE THOSE TWO WOULD WEAKEN AND THE DOLLAR WOULD STRENGTHEN? JANE: BACK TO LISA'S COMMENTS. THE FED IS TIGHTENING INTEREST RATES AND THAT MEANS EQUITIES WILL GO DOWN AND THE DOLLAR IS LIKELY TO GO UP. THAT IS THE REALITY OF THE CENTRAL BANK TIGHTENING LIQUIDITY.
I FIND IT DIFFICULT TO UNDERSTAND THE FED AND THE CENTRAL BANK HAS TO GET TOGETHER AND SOFT AND THUS OFTEN -- AND SOFTEN. THE POSSIBILITY THAT EUROPE COULD BE AN EIGHT RECESSION IF THERE IS AN OIL BARGAIN -- AN OIL EMBARGO. I THINK THE DOLLAR IS STRONG. CAN THE YEN PICK UP? WE HAVE SEEN SOME SAFE HAVEN WITH THE YEN AND EIGHT SWISS BANK, THAT ARE THAN EXPECTED DATA FROM JAPAN LAST WEEK. FOR TWO MONTHS IN A ROW, WE HAD TO TURN IT UP BUT IT APPEARED WITH ENERGY AND COMMODITY PRICES STRONG THAT WOULD BE ROAD THE ABILITY OF JAMAN -- JAPAN. THAT IS COMING BACK TO SOME EXTENT.
I STILL THINK THE DOLLAR IS GOING TO BE KING IN THIS ENVIRONMENT. LISA: HOW MUCH MORE CAN IT CONTINUE TO BE BIGGER KING? HOW MANY OF THE GAINS HAVE BEEN BAKED IN WITH THE NARRATIVE YOU PUT OUT IS BASICALLY THE WILDLY -- WIDELY EXPECTED ONE? A BULLISH CALL ON THE EURO VERSUS THE DOLLAR, BECAUSE THIS IS BAKED IN AND NOW THE ONLY IT SURPRISES COULD COME TO THE POSITIVE SIDE FROM EUROPE? JANE: I AM NOT SURE THAT IS THE CASE. TO BE HONEST, WE HAVE BEEN HAVING THIS CONVERSATION SINCE DECEMBER.
EVERY TIME WE GET A MORE HAWKISH FED. AND RECENTLY, MARTIN NEGATIVE NEWS ABOUT THE GLOBAL ECONOMY AND THAT IS WHY I THINK CHINA IS A BIG PART OF THIS. MORE CASES IN BEIJING OF COMMUNITY SPREAD OF COVERT AND THAT -- IS THE TREND THAT THERE WAS NO COMMUNITY SPREAD CARE THAT HAD RAISED EXPECTATIONS ABOUT THE LOOSENING OF RESTRICTIONS. IF WE GET MORE COMMUNITY
SPREAD, THAT WILL DAMPEN THE EXPECTATIONS ABOUT CHINESE GROWTH EVEN MORE. FOR EUROPE, THERE WILL BE A RECESSION AT THE END OF THE YEAR BECAUSE IT SEEMS THERE WILL BE AN EMBARGO ON OIL. I DON'T THINK EVERYTHING IS BAKED INTO THE PRICE.
I THINK THE DOLLAR WILL HAVE A SAFE HAVEN. THERE IS MORE RISK FOR GROWTH. JONATHAN: RECESSION EAR END IN EUROPE, IS THAT WITH RATE HIKES OR WITHOUT.
IF IT IS BAKED IN, DO THEY REALLY WANT TO BE HIKING? JANE: REALITY IS THAT THE WINDOW OF OPPORTUNITY FOR INTEREST RATE HIKES WILL BE VERY NARROW. MORE AND MORE PEOPLE FROM THE ECB ARE LOOKING TO THE NEWS COMING. THEY WILL TRY TO PUMP UP EURO AS THE WEEK EURO WILL MAKE CONDITIONS WORSE. I THINK I THE END OF THE YEAR, I THINK THE GROWTH CONDITIONS COULD BE TOO, ESPECIALLY IF THERE IS AN OIL EMBARGO.
JONATHAN: THANK YOU, JANE. JANE FOLEY, RABOBANK. WHAT SPOOKED PEOPLE IS THAT WE THOUGHT THE STORY WAS UNDERSTOOD AND WE HAVE BEEN TALKING ABOUT IT FOR MONTHS, INFLATION, WHAT IT WOULD MEAN FOR MARGINS AND THEN TARGET CAME OUT AND YOU START TO REALIZE THAT EVEN IF SOMETHING IS TALKED ABOUT AND YOU THINK IT IS WELL UNDERSTOOD, IT DOESN'T MEAN IT IS WELL PRICED. TOM: IT IS THE TIME CONTINUUM OF IT AND THE PRICE ANALYSIS WITH REAL ECONOMY ANALYSIS. JONATHAN: EQUITIES UP BY ONE PERCENTAGE POINT IN THE U.S.. BONDS HIGHER BY THREE BASIS POINTS. RUNNING OUT ANOTHER VOLATILE
WEEK, FROM NEW YORK CITY, THIS IS BLOOMBERG. ♪ RITIKA: JOE BIDEN IS ON HIS FIRST TRIP TO ASIA, TOURING A SEMICONDUCTOR SAMSUNG TOUR. LATER ON THE TRIP, MEETING WITH REGIONAL LEADERS TO BUILD SUPPORT TO COUNTER SECURITY THREATS BY CHINA AND NORTH KOREA.
SPECULATION AT KIM JONG-UN'S REGIME MAY -- WHILE THE PRESIDENT IS IN THE REGION. SEVEN FINANCE MINISTERS MEETING IN GERMANY TO GUARANTEE AID TO UKRAINE. U.S. SENATE HAS PASSED AND MADE PACKAGE FOR UKRAINE OF MORE THAN $40 BILLION. THE ADMINISTRATION SAID IT WOULD PROVIDE UKRAINE WITH ANOTHER 100 MILLION IN MILITARY ASSISTANCE. IN CHINA, STEPS AIMED AT BOOSTING THE ECONOMY FOR KEY INTEREST RATE BY RECORDS AMOUNTS, LOWERING THE FIVE-YEAR LOANS AND REDUCING MORTGAGE COSTS. IT MAY HELP COUNTER WEAK LOAN DEMAND. NASA LAUNCHED A STAR LINER
SPACE CAPSULE, HEADED FOR A ROUND OF YOU WITH THE INTERNATIONAL -- FOR A RENDEZVOUS WITH THE INTERNATIONAL SPACE STATION. GLOBAL NEWS 24 HOURS A DAY, ONLINE AND AT QUICKTAKE ON BLOOMBERG, POWERED BY MORE THAN 2700 JOURNALISTS AND ANALYSTS IN OVER 120 COUNTRIES. I'M RITIKA GUPTA. THIS IS BLOOMBERG. ♪
>> INCLUDING GOVERNMENT AND IT APPEARS THERE WILL BE MORE THAN 18,018,000,000 -- MORE THAN 18 MILLION. JONATHAN: EQUITIES HEADING HIGHER FOR NOW, FUTURES UP 1%. ON THE NASDAQ, POSITIVE 1.5%. EQUITIES DOWN FOR A SEVENTH
STRAIGHT WEEK. YOU HAVE TO GO BACK TO 2001 FOR A WEEKLY LOSING STREAK AS ALONG AS THIS ONE RIGHT NOW. YIELDS HIGHER BY A COUPLE OF BASIS POINTS ON A 10 YEAR HERE THE DOLLAR HAS BEEN WEEK. EURO-DOLLAR PUSHING 1.06. TOM: WHAT ARE YOUR THOUGHTS ON DOLLAR? JONATHAN: STARTING TO SEE SOME WEAKNESS CREEP IN. THOUGHTS MORE BROADLY, WE TALKED ABOUT THIS WITH JANE FULLY OF RABOBANK. A CENTRAL BANK RATE HIKE, CURRENCY POSITIVE OR NEGATIVE, WHICH ONE IS IT IF YOU THINK EUROPE HAS GONE INTO A RECESSION? A DIFFICULT CALL.
TOM: WITH THE FINANCE MEETING AND THE ECB UPON US RIGHT NOW IT WILL BE DIFFICULT. JOINING US IS ANNMARIE HORDERN. ALSO MARIA TADEO. I KNOW CHANNELING ALL THE WAY OVER TO SEOUL KOREA AND LOOKING FOR PERMISSION TO DANCE, NO QUESTION ABOUT IT, WHAT IS THE REAL ASK THAT THE PRESIDENT IS DOING BESIDES MEETING WITH THOSE AT BTS? ANNMARIE: FOR THOSE WHO DON'T KNOW, BTS IS A VERY FAMOUS K POP BAND WHICH HAVE GONE VIRAL TO THE PANDEMIC. THE FIRST STEP OFF THE PRESIDENT ABOUT FACE PLANE IS THE SAMSUNG FACTORY THEY ARE BUILDING.
HE WILL MAKE THIS A DOMESTIC -- THE FIRST STEP OFF OF THE PRESIDENT'S PLANE IS THE SAMSUNG FACTORY THEY ARE BUILDING. THEY ARE TRYING TO HAVE A NEW ECONOMIC FRAMEWORK, SOMETHING THAT COULD FILL IN FOR THE TPP SINCE AMERCO PULLED OUT. THE U.S. AMBASSADOR TO JAPAN SAID THIS TO REPORTERS, ASIAN GOVERNMENTS DON'T KNOW WHAT THEY ARE SIGNING UP FOR. IS IT NEGOTIATIONS ARE A FRAMEWORK TO START NEGOTIATIONS, BUT THE POINT IS TOO TIGHT -- TRY TO COUNTER CHINA'S POINT. TOM: THE PRESIDENT IN ASIA AND
EVERYONE WILL BE IN DAVOS LOOKING AT, HISTORY OF IT ALL. CLOSE SCHWAB HAS TALKED ABOUT THIS MOMENT IN HISTORY IS A THING -- A THEME OF THE WORLD ECONOMIC FORUM. I AM CALLING IT THE HOLIDAY FROM HISTORY IS OVER. WHAT DO WE DO ENGLAND THIS WEEK AND NEXT WEEK TO READJUST THE PATH FORWARD WITH THE WAR IN UKRAINE? MARIA: I THINK WE WILL NOT HAVE TO WAIT UNTIL TOMORROW UNTIL AFTER.
IT IS ABOUT TODAY AND THE G7 BECAUSE THE FINANCE MINISTERS ARE MEETING IN THE GERMAN FINANCE MINISTER TOLD US THEY WILL COMMIT ALMOST $18 BILLION -- 18 BILLION EUROS TO HELP UKRAINE. THIS COUNTRY COULD FACE A TIME WHERE THEY DON'T HAVE HARD CASH AND CAN'T PAY FOR THINGS SHORT-TERM. BIGGEST OBSTACLE WAS SHORT-TERM FUNDING FOR UKRAINE, SO CLEARLY THERE WILL BE A CONVERSATION, BUT TODAY THIS IS A DONE DEAL AT THE G7. A MUCH BIGGER ISSUE IS WHAT HAPPENS WITH THE WAR AND THE RECONSTRUCTION OF THIS COUNTRY. THAT IS DEFINITELY THE LONG-TERM PICTURE.
AND HOW CAN YOU HELP UKRAINE WHEN THE WAR IS THE LONG-TERM COMFORT -- WIN THE WAR IS THE LONG-TERM CONVERSATION. LISA: WE ARE SEEING THE GAS CUTOUTS FROM RUSSIA COME TO FRUITION. WE ARE SEEING FINLAND'S IMPORTER SAID THEY WILL SEE RUSSIAN GAS CUT OFF. HOW MUCH IS YOUR TRYING TO GET AHEAD OF THIS? HOW MUCH WILL WE HEAR FROM OTHER NATIONS GETTING CUT OFF IN THE NEXT FEW DAYS? MARIA: IN THE CASE OF FINLAND, THIS IS A COUNTRY THAT IS WELL DIVERSIFIED. I DON'T THINK IT WILL BE AN
ISSUE FOR THEIR ECONOMY SHORT-TERM. THEY WERE READY FOR THIS. THEY WERE EXPECTING THE MOVE IN ANTICIPATION. RUSSIA IS ONLY DOING THIS NOW BECAUSE OF THE NATO MEMBERSHIP THEY PUT ON THE TABLE. WHEN IT COMES TO THE BIGGER BUYERS IN EUROPE, I SPOKE TO A CENTRAL BANKER OF ITALY AND HE MENTIONED THE UNCERTAINTY AROUND ENERGY.
AND GERMANY, THESE ARE TWO COUNTRIES THAT THE RUSSIANS DON'T WANT TO UPSET. THEY ARE A BIG BUYER AND THEY KNOW ANYTHING THEY DO IN THOSE COUNTRIES WILL HAVE REPERCUSSIONS. THEY ARE READY FOR IT, BUT THIS COULD HAPPEN. BUT FOR THE TIME BEING, WE ARE
SEEING COMPANIES PREPARED TO PAY IN RUBLES WHICH IS NOT EXACTLY WHAT THE EUROPEAN GUIDANCE SAID, BUT YOU SEE THE REAL BUSINESS PREVAILS. LISA: THE REAL BUSINESS PREVAILING AS WE SEE THE WHITE HOUSE WORKING TOWARD THE FIRST VISIT WITH THE CROWN PRINCE OF SAUDI ARABIA. WHAT IS THE THINKING, ESPECIALLY AFTER FRANKLY PRESIDENT BIDEN HAS CALLED HIM A PARIAH ON THE WORLD STAGE AND EXPRESSED CONCERN ABOUT HUMAN RIGHTS ISSUES? WHY IS HE CHANGING TONES? ANNMARIE: HIGHER OIL PRICES STARTING TO MOVE AWAY FROM THE STAND OFFICE -- STANDOFFISH APPROACH FROM THE CROWN PRINCE. EVERYONE KNOWS THE MAN LEADING THE COUNTRY EVERYDAY IS MOHAMMAD BIN SALMAN. THERE HAVE BEEN TALKS FOR A WHILE FOR A MEETING AND NOW THERE IS MORE WEIGHT ON IT. THIS IS GOING TO BE VERY
DELICATE HOW THIS BECOMES PUBLIC, IN THE SENSE THAT IS IT JUST A MEETING WITH MOHAMMAD BIN SALMAN, THE SAUDI'S RUN THE GCC, WILL POTENTIALLY OTHER PARTNERS BE THERE LIKE KUWAIT AND QATAR. THE RELATIONSHIP BETWEEN THE KINGDOM AND AMERICA WAS DEEPLY -- HAS BEEN DEEPLY FRAUGHT SINCE THE KILLING OF JAMAL KHASHOGGI. THE BIDEN ADMINISTRATION THAT RELEASED THAT REPORT SHOWING THIS HAD THE HANDS OF MOHAMMAD BIN SALMAN ON THAT KILLING, THE CIA DECLASSIFIED REPORT. A VERY TRICKY RELATIONSHIP. LOCAL GAS PRICES ANOTHER RECORD.
WE ARE NOT EVEN AT PEAK DRIVING SEASON. THEY ARE THE ONLY COUNTRY THAT HAS SPARE CAPACITY. JONATHAN: THAT IS THE BOTTOM LINE, THINGS GETTING TOUGHER AT HOME. TRYING TO RECONCILE THAT ABROAD. TOM: HOW WE HAVE FORGOTTEN THE
PACIFIC RIM. THE PRESIDENT TO SPEAK IN A MINUTE. SHINING THROUGH DAVOS WITH FUNK AND SO. JONATHAN: LIVE FROM NEW YORK CITY, I CAN'T PROMISE YOU THERE WANT TO BE MORE A SINGING, SO SIT TIGHT. [LAUGHTER] FUTURES UP 1%. TENTH STREET WEEK OF LOSSES ON THE S&P 500, IF WE CLOSE THAT WAY IT WOULD BE THE LONGEST LOSING STREAK 2001.
ON THE WAY, STILL LOWER. TWOS, TENS, 30'S, BONDS STARTING TO KICK IN, YIELDS LOWER. LAST WEEK BY 21 AND THIS WEEK BY FIVE OR SIX. UP ON THE DAY BUT DOWN ON THE WEEK BY A COUPLE OF BASIS POINTS. TOM:
HOW WACKO IT IS RIGHT NOW. WHEN YOU PUT THAT BOARD UP, MY EYES FLIP BETWEEN THE 10 YEAR AND 30 YEAR BECAUSE I DON'T KNOW WHERE I AM. THE YIELD HAS BEEN SO WHIPSAWED. JONATHAN:
NOT FAR OFF FROM WHERE THE 10 HAS BEEN. NOW IT IS CLOSE TO 3.1% ON 30'S. THE CURVE IS FLAT, IF YOU LOOK AT IT THAT WAY. LOOKING OUT IN THE COMMODITY MARKETS, DOWN 11% ON SOMETHING LIKE COPPER. COPPER IS SOMETHING I AM LOOKING AT WITH CHINA IN THEIR EFFORTS STARTING TO KICK IN. ON THE LME, WE ARE UP.
CRUDE GETS MY ATTENTION, JUST BECAUSE WE COULD HAVE A MEETING WITH THE SAUDI CROWN PRINCE AND THE PRESIDENT OF THE UNITED STATES. THAT COULD BE IMPORTANT. THINK ABOUT HOW LONG THE OPEC MEETINGS HAVE LASTED. THEY NEED TO LAST LONGER AND DO MORE AND THAT IS WHAT THIS PRESIDENT WANTS TO SEE. TOM:
IN THE HISTORY, BACK IN 1986 IN THE TIME WHERE OPEC COLLAPSE AND HEADED TO GROW OUT OF THEIR ARROGANCE, IT GREW IN OIL. BUT INDUSTRIAL METALS AND COAL OFF OF A CHINA REOPENING HIS FRONT AND CENTER FOR JUNE. JONATHAN: COVER HIGHER, CRUDE LOWER. TOM: WE ARE REGROUPING WITH MEETINGS FOR SOMEONE WHO STOPPED US IN DAVOS.
SAVITA SUBRAMANIAN WAS WITH BANK OF AMERICA HOLDING COURT ON ESG. SHE IS THE HEAD OF QUANTITATIVE STRATEGY. ESG SEEMS SO YESTERDAY'S STORY GIVING -- GIVEN RECORD COAL PRICES. HOW DOES THE SHOCK OF THE MANY GLOBAL RISKS FULL OVER INTO MOVING FORWARD IN THE STOCK MARKET? HOW DO YOU REGROUP NOW TO GET READY FOR 2023? SAVITA: I THINK THAT WHERE WE ARE NOW IS IT IS PAST TIME FOR ESG INVESTORS BECAUSE THE BEST-PERFORMING AREAS ARE DEFENSE, ENERGY, TWO AREAS TYPICALLY EXCLUDED FROM THE ESG AND THESE TYPES OF INVESTORS. I THINK THE WORST IS NOT BEHIND US. WE PUBLISHED YESTERDAY THAT THE REALISTIC WORST CASE FOR THE S&P WOULD BE 3000 3200 -- 3000, 3200 .
INVESTORS ARE SAYING GIVE ME ANY REASON TO BE BULLISH AND I THINK THAT IS BECAUSE CLIENTS ARE ASKING THAT QUESTION. THERE IS A PERVASIVE SENT TO GET -- SENTIMENT THAT IT IS PRICED IN. WHAT YOU WANT TO BUY IS STILL VERY LATE CYCLE INFLATION. WE ARE STILL OVERWEIGHT ENERGY. TO YOUR POINT ABOUT CHINA REOPENING, ENERGY -- OIL COULD BE DEPRESSED RIGHT NOW GIVEN THE FACT THAT THE SECOND LARGEST ECONOMY IN THE WORLD IS OFF-LINE. I THINK THAT MATERIALS LOOK LESS INTERESTING TO US, COMMODITIES AND METALS, BECAUSE WE ARE SEEING SLOWING TRENDS IN CHINA DESPITE THE FACT THAT THEY ARE TRYING TO STIMULATE THE ECONOMY. WE ARE ALSO SEEING A SHIFT IN
DEMAND FROM FINISHED GOODS AND BIG TO GET ITEMS AND SERVICES. UNDER THAT BACK UP, IT MAKES SENSE TO CONTINUE TO GO ALONG OIL BUT MOVE OFF OF RAW MATERIALS. TOM: A GUY NAMED KEN LEWIS AT BANK OF AMERICA, I ALWAYS THOUGHT HE WAS BRILLIANT ON HIS SPECIFIC WRITTEN -- PACIFIC RIM STRATEGY. THEY WERE MEASURED AND ATTEMPTED TO BE RESPONSIBLE. I WANT TO KNOW WHAT YOU THINK ABOUT THE BET ON PACIFIC RIM EQUITIES GIVEN A CHINA REOPENING. IS IT WORTH PLAYING OR DO YOU STAY IN THE U.S.? SAVITA:
I THINK YOU STAY IN THE U.S.. WE HAVE SEEN A VERY INTERESTING REREADING OF COUNTRIES BASED ON ENERGY SECURITY, COMPANIES THAT DON'T NEED TO IMPORT OIL ARE PROBABLY ENJOYING A UNIQUE ADVANTAGE. I THINK SECOND OF ALL, THE U.S. IS FURTHER ALONG IN TERMS OF TRYING TO STIMULATE THE ECONOMY AND PUSH UP INTEREST RATES. WE HAVE CORPORATE AND CONSUMERS WHO ARE BETTER CAPITALIZED, BASICALLY GOTTEN ALL OF THIS MONEY FROM THE FED AND GOVERNMENT.
WHEN I LOOK AT THE U.S. RELATIVE TO THE REST OF THE WORLD, I STILL THINK THE STATE -- IS A YEAR OR TWO WHERE THE U.S. WILL OUTPERFORM. EMERGING MARKETS STILL OF POTENTIALLY RISKY, NOT TO MENTION IF WE LOOK AT THE ECONOMISTS, ADVISING GROWTH FORECASTS OUTSIDE OF THE U.S.
AGGRESSIVELY AND THOSE ARE ALL REASONS TO STAY LOCAL AND STATE U.S. FOCUSED, I THINK EVEN SMALL CAP COULD DO WELL. THE ECONOMY WILL POTENTIALLY SEE A LIFT AS COMPANIES START SPENDING AGAIN. THE MOST SURPRISING THING DURING THIS EARNINGS SEASON, EVEN THOUGH ALL OF THESE COMPANIES ARE VERY NEGATIVE IN TERMS OF WHAT THEY EXPECT OVER THE NEXT COUPLE OF YEARS, THEY ARE STILL TELLING US THEY ARE GOING TO SPEND MORE THAN WE THINK THEY ARE GOING TO SPEND. CAPEX CYCLES ARE GOOD FOR SMALL CAPS.
IT IS INTERESTING TO SEE THAT CAPEX IS STILL A THEME THAT COMPANIES HAVEN'T DIALED BACK. JONATHAN: THIS WEEK ON -- THIS WEEK, STAPLES HAS BEEN HAMMERED. THE DIFFERENCE BETWEEN HOW MUCH THE CONSUMER IS SPENDING AND HOW. A MASSIVE FOCUS ON THE WEAKNESS. THE SIGNAL YOU ARE GETTING THERE WAS WEAKNESS OUT THERE, YOU THINK THE BIGGEST STORY WAS A SHIFT IN HOW THEY ARE SPENDING, NOT HOW MUCH? SAVITA: I THINK SO. HOW THEY ARE SPENDING AND JUST LABOR.
THERE IS A DRAMATIC SHIFT IN TERMS OF UNDER SUPPLY TO OVERSUPPLY WE ARE HEARING FROM COMPANIES, AND THAT WILL BENEFIT SOME OF THE MORE LABOR-INTENSIVE AREAS OF THE CONSUMER SECTOR, LIKE SUPERMARKETS. WE HAVE SEEN THESE COMPANIES PERFORM WELL AWARE WE ARE SEEING ALLEVIATION IS IN TERMS OF THE LABOR SUPPLIES. THAT IS POTENTIALLY A POSITIVE FOR MARGINS.
WE ARE OVERWEIGHT STAPLES FOR THE LONG HAUL BECAUSE OUR IDEA IS AS THE GLOBAL ECONOMISTS WARN OF RISING RECESSION RISKS, WE THINK THAT STAPLES, HEALTH CARE, NO MATTER WHAT YOU HAVE TO EAT YOUR FOOD. IN A STAGFLATIONARY BACKDROP, THE BEST PERFORMING SECTORS ARE ENERGY, CONSUMER STAPLES, UTILITIES, TO A LESSER EXTENT MATERIALS. YOU WANT TO STAY DEFENSIVE AND OVERWEIGHT SECTORS THAT BENEFIT FROM INFLATION. LISA: YOU SOUND ACTUALLY SOMEWHAT PESSIMISTIC YET YOUR OUTLOOK FOR THE END OF THE YEAR IS INCREDIBLY OPTIMISTIC AT A 4500 TARGET. ARE YOU THINKING OF DOWNGRADING THE 4500 AS THE BASE CASE COME AND IF NOT, HOW DO WE GET THERE? SAVITA: OUR CHARTING IS MADE UP OF A FEW DIFFERENT FACTORS, ONE OF WHICH IT IS OUR VIEW ON INTEREST RATES. THAT IS THE FACTOR.
MOST OF THE BIG MOVES THIS YEAR HAVE BEEN ACCOMPANIED BY A MOVE HIGHER IN EITHER REAL RATES ARE THE EQUITY RISK PREMIUM. OUR VIEW IS THAT REAL RATES CONTINUE TO MOVE HIGHER BUT WE START TO CPE MULTIPLES ESSENTIALLY STABILIZE. IF THAT IS NOT THE CASE, WE WOULD BE MORE NEGATIVE, AND THAT IS THE KEY FACTOR FOR US. EVERY TINY MOVE IN INTEREST-RATE HAS AN IMPACT ON THE S&P 500 IN TERMS OF ITS LONGER DURATION. THE S&P 500 IS NOW A 35 YEAR BOND, SUPERSENSITIVE. JONATHAN:
ARE YOU SAYING THIS IS ETHAN'S FAULT OR MARK'S FAULT? WHOSE FAULT IS IT? SAVITA: [LAUGHTER] THOSE ARE BOTH EXCELLENT BOOK WE SEE THEM INCORPORATE VIEWS. TOM: WE ARE WATCHING. KEEP GOING. JONATHAN: WE ARE DONE. LISA:
THANK YOU SO MUCH. JONATHAN: THEY ARE ALL FRIENDS OVER THERE. 4500 YEAR END, WHOSE FAULT IS IT, BOTH. FUTURES POSITIVE MORE THAN 1%. TOM: SERIOUS STUFF LINKING IN THE ECONOMICS, WE HAVE HUMILITY ON THE MARKET GUESS FORWARD. IT IS ALWAYS FORWARD AND I HAVE
TO BELIEVE IT IS CENTERED AROUND DATA DEPENDENCY BUT EXPECTING THE UNEXPECTED. WHAT IS THE UNEXPECTED OUT THERE? I AM OPTIMISTIC ON CHINA REOPENING. JONATHAN: IF YOU WOULD HAVE TOLD ME THAT EQUITIES WOULD BE DOWN BY EIGHT WEEKS BUT IT HAS BEEN THAT KIND OF WEEK. LISA: MARGIN PRESSURES ARE BIGGER THAN SOME EXPECTED, INCLUDING THE CEOS OF THE COMPANIES EXPERIENCING THAT HOW DO WE AT -- EXPERIENCING THAT. AS WE HEARD YESTERDAY, MAYBE THIS MEANS THEY ARE GOING TO ACCELERATE PRICE INCREASES. JONATHAN:
SHE CUT ON THE COPPER MARKET. AND A STORY THAT YOU PICKED UP ON, WE ARE SEEING IT ALL OVER THE PLACE. LISA: IS THIS COMPOSITIONAL OR WHOLESALE RETRACEMENT OF THE PANDEMIC ERA ECONOMY? JONATHAN: FUTURES ON THE S&P UP 1.1%. FROM NEW YORK CITY, THIS IS BLOOMBERG. ♪ RITIKA: KEEPING YOU UP-TO-DATE. I'M RITIKA GUPTA WITH
BLOOMBERG'S "FIRST WORD NEWS." JOE BIDEN IS ON HIS FIRST TRIP TO ASIA. HE IS TOURING A SEMICONDUCTOR PLANT.
IN JAPAN, HE WILL MEET WITH REGIONAL LEADERS AND SUPPORT PLANS TO AID UKRAINE. BLOOMBERG HAS LEARNED THAT PRESIDENT BIDEN IS CONSIDERING A MEETING WITH MOHAMMED BIN SALAAM . BY ONE ACCOUNT, THE WORLD HAS ONLY 10 WEEKS OF WHEAT CONSUMPTION RESERVE, THE LOWEST SINCE THE 2008 FINANCIAL CRISIS. A FIRM SPOKE TO A U.N. SECURITY COUNCIL MEETING ON
FOOD SECURITY, DIRE. PIMCO AND BLACKROCK SET TO START DEBT TALKS. A CREDIT GROUP, SRI LANKA DEFAULTING FOR THE FIRST TIME IN HISTORY THE ECONOMIC MELTDOWN HAS LED TO AN ECONOMIC CRISIS. $250,000 TO -- WHO SAID SHE WAS SEXUALLY HARASSED BY ELON MUSK ON A CORPORATE JET. HE CALLS THE ACCUSATIONS UNTRUE. GLOBAL NEWS 24 HOURS A DAY, ONLINE AND AT QUICKTAKE ON BLOOMBERG, POWERED BY MORE THAN 2700 JOURNALISTS AND ANALYSTS IN OVER 120 COUNTRIES. I'M RITIKA GUPTA. THIS IS BLOOMBERG.
[APPLAUSE] >> THANK YOU. VERY GENEROUS. PRESIDENT, THANK YOU FOR THAT INTRODUCTION. IT IS GREAT TO BE BACK IN SOUTH KOREA. I AM HONORED BY THE WELCOME YOU HAVE GIVEN ME TO YOUR BEAUTIFUL COUNTRY. CONGRATULATIONS AGAIN ON YOUR ELECTION. [APPLAUSE]
AND YOUR INAUGURATION. I AND MY COUNTRY LOOK FORWARD TO A PRODUCTIVE FEW DAYS TOGETHER WHERE WE CAN GET TO KNOW ONE ANOTHER BETTER AND EXPLORE WAYS TO TAKE THE ALLIANCE BETWEEN THE REPUBLIC OF KOREA AND THE UNITED STATES TO EVEN GREATER HEIGHTS THAN ALREADY EXISTS. VICE CHAIRMAN LEE, INC. YOU FOR WELCOMING US TO THE SAMSON SEMICONDUCTOR -- THANK YOU FOR WELCOMING US TO THE SAMSUNG SEMICONDUCTOR FACTORY. INNOVATION OUR COUNTRIES CAN AND MUST BUILD GATHER PERIOD AND JOINED BY MY SECRETARY OF COMMERCE, AND THE FRONT ROW, WHO IS WORKING EVERYDAY TO BRING US CLOSER TO THAT GOAL. I HAVE JUST SEEN HOW THIS PLANT MAKES THE MOST ADVANCED SEMICONDUCTOR CHIPS IN THE WORLD. THEY ARE A WONDER OF INNOVATION, DESIGN, PRECISION
AND MANUFACTURE. SEMICONDUCTORS ENABLE OUR MODERN LIVES FROM AUTOMOBILES TO SMARTPHONES TO MEDICAL DIAGNOSTIC EQUIPMENT. WHEN IT COMES TO THE MOST ADVANCED CHIPS LIKE THE ONES MADE HERE AT SAMSUNG, THERE IS ONLY ONE OF THREE COMPANIES IN THE WORLD THAT MAKES THESE CHIPS. IT IS AN INCREDIBLE ACHIEVEMENT. BECAUSE THESE CHIPS, ONLY A FEW NANOMETERS THICK, ARE THE KEY TO PROPELLING US INTO THE NEXT TECHNICAL DEVELOPMENT. ARTIFICIAL INTELLIGENCE, QUANTUM TECHNOLOGIES, 5G, AND THINGS WE HAVEN'T THOUGHT OF AT THIS POINT.
THIS PLANT REFLECTS THE CLOSE BONDS OF INNOVATION BETWEEN OUR COUNTRIES. MUCH OF THE TECHNOLOGY AND MACHINERY USED TO MAKE THESE CHIPS WERE DESIGNED AND PRODUCED IN THE UNITED STATES, AND BY UNITING OUR SKILLS AND TECHNOLOGICAL KNOW-HOW, IT ALLOWS THE PRODUCTION OF CHIPS THAT ARE CRITICAL TO BOTH OUR COUNTRIES AND ARE ESSENTIAL SECTORS OF OUR GLOBAL ECONOMY. JONATHAN: THE PRESIDENT OF THE UNITED STATES ALONGSIDE THE PRESIDENT OF SOUTH KOREA ON A CAMPUS BY SAMSUNG. THE DEPENDENCE ON CHINA AND CHIP PRODUCTION IN THAT CERTAIN PARTS OF THE WORLD A KEY ISSUE FOR THIS TOUR OF ASIA FOR THE PRESIDENT OF THE UNITED STATES. TOM: SAMSUNG, THREE SANTA MEINERS -- THREE NANOMETERS, DON'T ASK ME WHAT THAT IS, BUT WE WOULD LIKE TO SEE THAT IN THE UNITED STATES WHAT THIS CHIP IS ABOUT IS THE DISTANCE FROM SOUL TO THE DMZ AND THE BORDER. IT IS ONLY 49 MILES IS MY
RECOLLECTION. IN THE IMAGE FOR THE RADIO LISTENERS IS THERE ARE MASKED PEOPLE BEHIND HIM. JONATHAN: THIS RUNS INTO TUESDAY AND INCLUDES A TRIP TO JAPAN OVER THE WEEKEND. LISA: HOW MUCH IS HE GOING TO SHORE
UP IDEAS AND PARTNERSHIP AHEAD OF CHINA AND A POTENTIAL INVASION OF TAIWAN. WE SAW EXERCISES AHEAD OF THAT AND HOW MUCH OF THE FOCUS WILL BE ON SEMICONDUCTORS, ESPECIALLY GIVEN SHORTAGES. JONATHAN: EQUITY FUTURES POSITIVE BY 1% ON THE S&P 500.
ON THE NASDAQ, UP 1.5%. THE EARNINGS KEEP POURING THROUGH. THE LATEST JUST RECENTLY. TOM: 4.2% IS THE STATISTIC. I THOUGHT IT WAS A GOOD SET OF NUMBERS SPIRITED BY NOMINAL GDP. YOU GO UP 9% ON ONE MEASUREMENT OF SALES AND THAT IS ABOUT RIGHT GIVEN THE INFLATION LIFT OF THE TOP LINE GDP. JONATHAN: THE STOCK UP BY 4% IN THE
PREMARKET, THEY SEE A FULL YEAR NET OF AN ESTIMATE OF AROUND SEVEN. NORTH FOR THE OUTLOOK. TOM: ALL WRAPPED AROUND THE FOOD SHORTAGE. LISA SHOWN THE PAINFUL CHART OF INTERNATIONAL INTEREST IN EMERGING MARKETS. THAT BRINGS US TO DAMIAN SASSOWER. THE DOLLAR RESILIENCY WE ARE SEEING IS FOCUSED ON THE BIG PAIRS. WHAT DOES RESILIENT DOLLAR MEAN RIGHT NOW FOR EM? DAMIAN: YOU HAVE TO LOOK AT IT THROUGH DIFFERENT LENSES.
IF YOU ARE A TRUE EMERGING MARKET INVESTOR, IT IS ABOUT FUNDING CURRENCY. YOU FOUND THAT THE 20 MAJOR CURRENCIES ARE DOWN. DOLLAR STRENGTH IS SOMETHING WE HAVE LEARNED TO CONTEND WITH IN THE EMERGING-MARKET SPACE. IT IS ABOUT FINDING THE RIGHT FUNDING CURRENCY TO FIND YOUR POSITIONING ABROAD. LISA: AS A BIDEN HEADS TO ASIA, CHINA ANNOUNCES ADDITIONAL ROUNDS TO TRY TO STAY LATE THE ECONOMY, CUTTING MORTGAGE RATES THE HIGHEST IN HISTORY. HOW MUCH AFFECT THE THINK IT
WILL HAVE? DAMIAN: THEY WERE WELCOMING PRESIDENT BIDEN WITH ROUNDS OF MILITARY EXERCISES IN THE SOUTH CHINA SEA. THE LOCKDOWNS OF THE BIG STORY THERE. IT IS DEMAND FOR LOANS AND LENDING AND CREDIT IN CHINA, WHICH IS LAGGING. IT DOESN'T MATTER HOW MUCH STIMULUS YOU INJECT INTO THE SYSTEM, YOU HAVE TO GET CONSUMERS SPENDING AND LABOR OUTWORKING THAT IS THE ISSUE IN CHINA. JONATHAN:
THE IMPORTANT WORK, HOW MANY SCREENS DOES SASSOWER HAVE? DAMIAN: WE HAVE A LOT BACK HERE. WHO IS GOING TO BE WATCHING THE RED SOX, NOT MANY PEOPLE. JONATHAN: DOES ANYONE DO THAT ANYMORE? TOM: LAST NIGHT WAS GLORIOUS, BUT WHAT IS INTERESTING, AS DAMIEN LOGSDON, THEY HAVE TO ASSIST NEW YORK WITH THEIR ELECTRICITY. JONATHAN: THANK YOU VERY MUCH. DAMIAN SASSOWER OF BLOOMBERG. TOM: CAN WE HAVE HIS LIFE?
HE HAS THAT BACKDROP AT THE PGA. JONATHAN: HAVE YOU BEEN WATCHING THE GOLF? TOM: I WATCH IT FOR A LITTLE. JONATHAN: IT BREAKS MY HEART TO SEE TIGER STRUGGLE. I HATE TO SEE IT. DON'T LIKE WATCHING IT. TOM: THAT WAS DINNER CONVERSATION LAST NIGHT. I DON'T KNOW WHAT TO DO. JONATHAN: THE FIRST FEW HOLES HE DID WELL.
THE BODY JUST DOESN'T SEEM TO BE THERE RIGHT NOW. TOM: THESE GUYS ARE VERY VISIBLE THEY RUN OUT OF STEAM. SOMETIMES IT IS LIKE BLACK INK -- BLACK PINK, WHEN THEY ARE SINGING. JONATHAN: WHAT IS THAT? TOM:
THESE GIRLS ARE DOING IT IN KOREA AND IT IS NOT BTS. JONATHAN: COULD YOU GIVE ME A SONG? >> RIGHT NOW, WE HAVE AN INCREDIBLY STRONG ECONOMIC OUTLOOK. INFLATION IS A CONCERN AND I AGREE WITH THAT.
>> CONFLATION IS A 50-50 BET. THE TIMING IS PREFERRED DOWN -- >> SOMETIMES IT MAKES MISTAKES ON ITS WEIGHT, -- ON ITS WAY. >> THE NEAR-TERM PAIN COULD BE SO SEVERE THAT YOU JUST CANNOT LOOK THROUGH IT. JONATHAN: LIVE FROM NEW YORK CITY FROM OUR AUDIENCE WORLDWIDE GOOD MORNING, GOOD MORNING.
, THIS IS "BLOOMBERG SURVEILLANCE, LIVE ON TV AND RADIO." FUTURES UP 1% ON THE S&P, HEADED FOR THE LONGEST WEEKLY LOSING STREAK GOING BACK 21 YEARS. TOM: THAT WAS MAYBE THE GLOOMIEST OPENING WE HAVE HAD IN THE HISTORY OF THE SHOW. IT IS TOXIC THROUGH FRIDAY, NO OTHER WAY TO PUT IT.
THE EMOTION OUT THERE, I SAW A BANNER HEADLINE ON ANOTHER NETWORK, NOT A FINANCIAL BUT IT IS BOOM. CAN I NOTE THAT THE VIX, NOT EVEN INTO SWEAT LEVEL OR GLOOM. JONATHAN: BANK OF AMERICA SAID TRUE CAPITULATION EQUALS FED CAPITULATION. IT GOES ON TO SAY THE BOTTOM LINE IS TO TAKE A VERY VULNERABLE MARKET BUT WE WOULD SELL. IT HAS BEEN BUYING THE DIPS AND
THIS HAS BEEN MORE LIKE SELLING THE DIPS. TOM: ALONG THE CONTINUUM OF THE SUMMER AND TARGET AND WHAT WE SAW AT KOHL'S AND THE OTHERS, THESE INCLUDING AIRLINES BOOMING WILL ADAPT. JONATHAN: A TOUGH WEEK FOR RETAILERS. IF YOU JUST HAD THE AIRLINES, CONSUMER DEMAND I AND TOLERANT HIGH. LISA: RIGHT NOW, WE ARE LOOKING AT A TALE OF MANY DIFFERENT INDUSTRIES. THIS IS REALLY THE BIG QUESTION, HOW MUCH ARE WE SEEING A MASSIVE COMPOSITIONAL SHIFT FROM GOODS TO SERVICES THAT IS NOT ANYTHING IN THE HISTORY BOOKS BECAUSE OF THE PANDEMIC AND HOW MUCH IS A REAL DECELERATION AND SPENDING MOMENTUM? JONATHAN: IT IS IT WALL STREET PROBLEM OR FOR THE BROADER MARKET I THINK IS WHAT YOU ARE ASKING. WE ARE SEEING A STRUGGLE TO FIND THE RIGHT BALANCE.
THEY HAVE GONE FROM UNDERSTAFFED TO OVERSTAFFED AND UNDERSUPPLIED TO OVERSUPPLIED IN THE BLINK OF AN EYE. LISA: I KEEP GOING BACK TO WHAT ONE SAID, IS HOW WE LOOK AT IT AS GLASS HALF EMPTY, COMPANIES SEEING MARGINS SHRINK WHICH MEANS THEY CANNOT PASS THAT ALONG TO THE CONSUMERS. IT COULD BE READY TO? PRICES UP MORE. CAN THEY? WE DON'T KNOW. DO WE SEE EVIDENCE THAT THEY CANNOT PASS ALONG HIGHER PRICES TO CONSUMERS OR IS THIS A PRECURSOR TO MORE INFLATION? JONATHAN: WHAT DID WE SAY EARLIER THIS WEEK, SOMEONE SAID THEY ARE STRUGGLING TO FIND THE LIQUID IN THE LAST. -- IN THE GLASS. TOM:
I HAVE NEVER SAID THIS IN THE MODERN ERA, HOW CLOSE ARE WE TO DOUBLE-DIGIT INFLATION? JONATHAN:. IS, IT IS NOT OVER. IT IS NOT THE WORST OF IT. IT IS NOT LIKE YOU CAN SAY IN THE U.S., AND THE U.K. IN EUROPE THEY DON'T IT IS. IT COULD GET WORSE BEFORE IT GETS BETTER. FUTURES 1% ON THE S&P 500. NASDAQ OF 1.4%.
IN THE FX MARKET, EURO-DOLLAR UP -- DOWN BY.1%. WTI, 112.45. SPEAKING TO MICHAEL COLLINS OF PGIM FIXED INCOME . MICHAEL: I HAVE AN OLD RULE OF THUMB THAT HAS WORKED SEVERAL TIMES THROUGHOUT MY CAREER WHEN EVERY SINGLE HEADLINE IS NEGATIVE, IT'S TIME TO BUY. TO YOUR POINT, THIS MORNING, EVERY HEADLINE EXCEPT MAYBE THE CHINESE CUT IS NEGATIVE. THE PESSIMISM IS REMARKABLE AND WIDESPREAD. IT TYPICALLY, THAT SETS UP
BUYING OPPORTUNITIES. TOM: I LOVE YOUR PARAGRAPH ON THAT, YOU HAVE TO CATCH THE FALLING KNIFE TO PICK UP PRICE GOING FOR HIGHER PRICE, LOWER YIELD. HOW DO YOU DETERMINE WHEN TO LOAD UP ON A BELEAGUERED IG? MICHAEL: WE CUT CREDIT RISK LAST YEAR BECAUSE VALUATIONS WERE TIGHT, SPREADS WERE TOO TIGHT. THIS YEAR WE CUT CREDIT RISK MORE BECAUSE WITHOUT THE TAIL RISKS WERE ELEVATED. AND NOW A LOT OF THE RECESSION RISK WHICH IS A FOREGONE CONCLUSION, IS BAKED IN AND GETTING FULLY PRICED IN. YOU LOOK AT CREDIT SPREADS. CORPORATE BOND SPREADS WERE 80 BASIS POINTS OVER TREASURIES.
THEY HAVE ALMOST DOUBLED. THEY'VE GOTTEN INTO 150 TERRITORY, WHICH HISTORICALLY IS PRESSING IN A HIGH PROBABILITY OF RECESSION AND STARTS TO FLASH VALUE TO US PREVIEW GET INTO 160, 170, 180, TWO ARE SUPPOSED BY AGGRESSIVELY. LISA: I REMEMBER A COUPLE MONTHS AGO YOU SAID BY THE DIPS IN BONDS AND THEN SAID WAIT A MINUTE, WE DON'T KNOW BECAUSE THIS IS A NEW CIRCUMSTANCE.
WHERE ARE YOU, GIVEN THE FACT THAT THERE IS AN INCONCLUSIVE VIEW ON HOW DETERMINED THE FED IS TO GO AT THIS HARD AND COMMIT TO THAT PATH CURRENTLY PRICED IN? MICHAEL: I JUST TALK ABOUT THE CREDIT SIDE, AND EVEN THAT IS NOT THAT WHO SAID. THERE ARE OPPORTUNITIES EMERGING AND CHEAP BONDS TO BUY, BUT IT IS NOT TIME TO GET ALL IN ON CREDIT. ON THE RATE SIDE, YOU ARE EXACTLY RIGHT. YOU PERCENT ACROSS THE CURVE FEELS LIKE GOOD VALUE, FEELS LIKE PROBABLY A HIGH WATERMARK OR THREE YEARS FROM NOW, YOU WILL LOOK BACK AND SAY I OWNED MORE BONDS. IN THE NEXT SEVERAL QUARTERS, COULD THE FED CONTINUE TO LEAD MORE HAWKISH.
THAT 3% PRICED IN, COULD THAT MOVE TO 3.5 OR FOUR? TALKING ABOUT INFLATION IN THE U.K. COME IN SOME PLACES IT IS CONTINUING TO ACCELERATE. I DON'T THINK WE HAVE FELT THE FULL IMPLICATIONS OF THE SUPPLY PROBLEMS IN RUSSIA AND UKRAINE AND THE LOCKDOWNS IN CHINA WILL STILL WORK THEIR WAY TO THE SYSTEM. YOU WILL HAVE MORE SUPPLY IMBALANCES. I WORRY THERE IS A RISK IN THE NEAR TERM THAT THE FUNDS RATE PLACED IN GOES HIGHER AND THAT YIELD HIGHER. WE ARE NEUTRAL ON DURATION.
LISA: HOW YOU ENGAGE IN THIS MARKET WITH THAT UNCERTAINTY? WHAT DOES IT MEAN TO BE NEUTRAL AND HOW DO YOU STAY FULLY INVESTED OR DO YOU GO TO CASH AND WAIT FOR A TRIGGER TO REEMERGE? MICHAEL: WE ARE NEUTRAL, YOU HAVE A BENCHMARK THAT HAS A DURATION OF FIVE. IF YOU ARE BENCHMARK THAT HAS A DURATION OF 15, YOU ARE AT 15. WE ARE MAKING SURE OUR CLIENTS WHO DEFINE THEIR DURATION PROFILE BASED ON THEIR NEEDS, IS MET. GETTING LONG DURATION MEANS WITH THE RATES ARE GOING TO COME DOWN OR AT LEAST THEY ARE CHEAP. OVER THE LONG-TERM, YOU ARE SUPPOSED TO BE COVERING THAT. IF YOU ARE SHORT DURATION, THIS IS A GOOD TIME TO ACT. TOM: SPEAK TO PEOPLE WHO ARE NOT
BUYING THE SPREAD MARKET BUT BUYING A MANAGED PARK IT AND THE PRICE IN STOCKS AND BONDS HAS NEVER BEEN SEEN IN HISTORY, DOWN THREE YEARS HOWEVER YOU WANT TO MEASURE IT. HOW DO THEY REPOSITION IN FIXED INCOME TO BEGIN TO MAKE UP THE HORRIFIC DAMAGE? MICHAEL: YOU START ADDING FIXED INCOME NOW HERE THERE IS NO DOUBT ABOUT IT. THE YIELD ON A LOT OF THESE FOLIOS HAVE FIVE HANDLES ON THEM. HIGH-YIELD ARE IN THE UPPER SINGLE DIGITS.
THE BOND STARTS TO BECOME COMPELLING WHEN YOU START WITH MID SINGLE-DIGIT COUPONS. EVEN IF RATES GO UP ANOTHER HUNDRED BASIS POINTS IN THE NEXT 12 MONTHS FROM THREE TO FOUR, DOWNSIDE IN THIS PORTFOLIO IS YOU LOSE A PERCENT OR SO. IF IT FALLS UNDER BASIS POINTS OVER THE NEXT 12 MONTHS, YOU CAN MAKE LOW TEENS. THE BOND MATH, UPSIDE, DOWNSIDE BECOMES COMPELLING AT HIGHER LEVELS OF COUPON AND YIELD IN THE FORWARD-LOOKING RETURNS ARE ATTRACTIVE IN FIXED INCOME. JONATHAN: EARLIER THIS WEEK TOM SAID THE STOCKS GUYS ARE SMARTER THAN THE BOND GUYS AND WHAT WOULD YOU LIKE TO SAY. TOM:
BONDS ARE THE CENTER OF THE UNIVERSE. WE ALL KNOW THAT. LISA: WE ALL KNOW THAT. JONATHAN: I LIKE HOW THE SAID THAT WITH A SERIOUS FACE. TOM: WHEN HE DID THERE IS IMPORTANT BECAUSE DESCRIBED NORMAL DISTRIBUTION. WHAT THAT MEANS IS THE RETURN IS WILDLY ASYMMETRIC. YOU CAN LOSE ON THE DOWNSIDE,
BUT IT IS A DOUBLE-DIGIT HOMERUN TRADE IF YOU GET IT RIGHT PRICE UP, YIELD DOWN. JONATHAN: THIS IS THE CENTER OF OUR UNIVERSE. -- LISA IS THE CENTER OF OUR UNIVERSE. WE STARTED TO TALK ABOUT THIS. LISA: THIS INTERESTING TAKE WITH A WIDE AND OF UNCERTAINTY THAT YOU HAVE TO STAY NEUTRAL. RIGHT NOW, IT IS SO HARD TO CALL WHAT THE FED IS GOING TO DO IN THE RAMIFICATION LONGER TERMS -- LONGER-TERM. A MUCH CANNICK IT CONTROLLED IF
YOU SEE THE INFLATION PEOPLE ARE TALKING ABOUT IN THE ECONOMY QUESTION MARK -- ECONOMY? JONATHAN: THE FED IS GOING TO BACK AWAY BUT IT IS THE THRESHOLD WE NEED TO SEE BEFORE THEY BACK AWAY AND THAT IS THE CALL AND IT IS MUCH HARDER. LISA: RIGHT NOW, WHY WOULD THEY BACK AWAY? I LOOKED AT THEIR BALANCE SHEET TOTAL AND IT HAS BEEN INCREASING OVER THE PAST THREE WEEKS, MARGINALLY, WHAT WE ARE TALKING ABOUT TIGHTENING, NO LIQUID IN THE GLASS. THERE IS PLENTY OF LIQUID IN THE GLASS. TOM: DO YOU KNOW WHAT LISA ASKED ME? SHE SAID TO THEY PLAY OSCAR PETERSON AT THE PIANO BAR. JONATHAN: I KNOW EXACTLY WHAT YOU ARE FOCUSED ON. TOM: I DIDN'T KNOW WHAT TO SAY.
JONATHAN: YOUR PUBLIC CRAWL NEXT WEEK -- YOUR PUB CALL NEXT WEEK. TOM: IT IS MORE LIKE SWEET CAROLINE. WOULD YOU LIKE ME TO DO IT? JONATHAN: WHAT'S ON HAVE YOU GOT? TOM: I DON'T KNOW. JONATHAN: FROM NEW YORK, THIS IS BLOOMBERG. ♪ RITIKA: KEEPING YOU
UP-TO-DATE. JOE BIDEN IS ON HIS FIRST TRIP TO ASIA, TOURING A SAMSUNG SEMICONDUCTOR FACILITY. HE IS PUSHING TO ACHIEVE ALLIANCE WITH CHINA AND THE SUPPLY CHAIN. LATER ON THE TRIP, MEETING WITH REGIONAL LEADERS TO BUILD SUPPORT TO COUNTER SECURITY THREATS BY CHINA AND NORTH KOREA. SPECULATION THAT KIM JONG-UN'S REGIME MAY CONDUCT THEIR FIRST ATTACKS -- THEIR FIRST TESTS IN A WHILE WITH THE PRESIDENT THERE SEVEN FINANCE MINISTERS MEETING . IN GERMANY TO GUARANTEE AID TO UKRAINE. THE U.S.
SENATE HAS PASSED AN AID PACKAGE FOR UKRAINE OF MORE THAN $40 BILLION. THEY HAVE SENT IT TO PRESIDENT FOR HIS SIGNATURE. THE ADMINISTRATION SAID IT WOULD PROVIDE UKRAINE WITH ANOTHER 100 MILLION IN MILITARY ASSISTANCE. THE THIRD EUROPEAN COUNTRY TO BE CUT OFF FROM RUSSIA IS FINLAND. FINLAND REFUSING TO PAY FOR FUEL IN RUBLE.
IT WILL LIKELY NOT HAVE IMPACT. CHINA STICKING -- TAKING STEPS AT BOOSTING THE ECONOMY, CUTTING KEY INTEREST RATES, DURING THE FIVE-YEAR LOANS. IT COULD HELP COUNTER WEEK DEMAND. GLOBAL NEWS 24 HOURS A DAY, ONLINE AND AT QUICKTAKE ON BLOOMBERG, POWERED BY MORE THAN 2700 JOURNALISTS AND ANALYSTS IN OVER 120 COUNTRIES. I'M RITIKA GUPTA. THIS IS BLOOMBERG.
PRES. BIDEN: THE GLOBAL SEMICONDUCTOR SHORTAGE HAS CAUSED HIGHER PRICES AROUND THE WORLD. AND NOW PUT IN'S BRUTAL WAR -- PUTIN'S BRUTAL WAR HAS CAUSED THIS -- HAVE CAUSED US TO BE -- JONATHAN: FUTURES POSITIVE BY 1% ON THE S&P 500. ON THE NASDAQ, OF 1.4%.
YIELD HIGH. TOM: MARKETS ON THE MOVE. THE VIX 28.70. AND REORDERING AND MARIO TODAY -- MARIA TADDEO -- ANNMARIE HORDERN AND MARIA TODAY ADDEO JOIN US. THIS IS NOT JUST ABOUT SCHROEDER WITH PERKS TAKEN AWAY AND FINALLY 15 MINUTES AGO RESIGNING, BUT ALSO ABOUT WARNING THEY ARE JOINED AT THE HIP WITH NORD STREAM. WARNING WAS AN ACQUAINTANCE OF THE STASI WITH PUTIN. BRIEF THE INTERNATIONAL AUDIENCE ON WHAT A MESS THIS IS FOR GERMANY. MARIA:
IT IS A REAL-TIME IMPLOSION OF 25 YEARS OF RUSSIA POLICY WHEN IT COMES TO GERMANY. THIS IS SOMETHING THAT FOR THE GERMAN ESTABLISHMENT IS AN EMBARRASSMENT. NOW IS TO THE FORMER CHANCELLOR TRYING TO BREAK AWAY TIES WITH RUSSIA. FOR MANY, THE DAMAGE AND CREDIBILITY, PARTICULARLY WHEN IT COMES TO THE EASTERN EUROPEAN COUNTRIES, THE DAMAGE HAS BEEN DONE. THIS IS A LONG TIME COMING AND FOR THE GERMANS, THE HOST COUNTRY FOR THE G7, THIS IS INCREDIBLY UNCOMFORTABLE AND EMBARRASSING AND A SIGNAL OF THE POLICY FOR RUSSIA. TOM:
WHAT DOES IT MEAN FOR GERMANY? IS SCHOLES -- SHULZ HISTORY? MARIA: THE ISSUE HERE IS THE PROBLEM IS NOT JUST THE SOCIALISTS AND ANGELA MERKEL, IT IS ALMOST THE ENTIRE POLITICAL SYSTEM OF THIS COUNTRY THAT HAS BECOME INCREDIBLY CONNECTED FOR RUSSIA. YOU COULD ARGUE A LOT OF THIS IS WAR GUILT. THE GERMANS DID FEEL A LOT OF HORRIBLE THINGS IN THE WAR WITH RUSSIA. THIS COUNTRY WAS SEPARATED AND DIVIDED, BUT ALSO THE MONEY. GERMANY IS A VERY ENERGY RELIANT INDUSTRY WITH CHEAP RUSSIAN ENERGY THEY WERE MAKING A KILLING THIS WAS GOOD BUSINESS.
COMBINATION IS COMING WITH THE SITUATION IN UKRAINE AND BECOMING UNSUSTAINABLE. LISA: HOW MUCH ARE WE INTO THE FIRE WITH THE ALLIANCES BEING DRAWN UP TO SHORE UP OIL AND GAS SUPPLIES? I'M NOT JUST TALKING ABOUT EUROPE BUT ALSO WITH THE UNITED STATES? ANNMARIE: WE STILL HAVE RUSSIA DELIVERING OIL TO CHINA OR DO I BELIEVE THERE IS A STORY OUT ON THE BLOOMBERG TERMINAL THAT MORE THAN $6 BILLION WORTH OF CRUDE THE CHINESE ARE BUYING FROM RUSSIA AND INDIA, WHICH IS AN ALLY OF THE UNITED STATES, THESE TWO COUNTRIES ARE STILL BUYING RUSSIAN OIL AT THE SAME TIME THE REST OF THE WORLD HAS BEEN SHUNNING IT. IT IS DIFFICULT LINE FOR THE ADMINISTRATION TO WALK WHILE THEY WANT PENALTIES AGAINST THE KREMLIN, IT IS HARD TO WANT THEM SEE ALL OF RUSSIAN OIL COME OFF AT THE MARKET, EVEN IF THEY DON'T SAY IT, BECAUSE HIGHER OIL PRICES MEAN IT WILL TRICKLE DOWN TO HIGHER GASOLINE COSTS FOR CONSUMERS. THERE BEEN -- BIGGEST DOMESTIC CHALLENGE IS GASOLINE AND GROCERIES AND THE LIKE. LISA: THE TALK OF A MEETING WITH MOHAMMED BIN SALAAM AND PRESIDENT BIDEN, THIS ISN'T REALLY AN OIL STORY, THIS IS A REFINED GOODS STORY, GASOLINE STORY.
CAN YOU BRIDGE THAT GAP IN TERMS OF WHAT THAT CAN DO, EVEN IF THEY GET MORE OIL AND BRING THE PRICE OF CRUDE LOWER? ANNMARIE: IT WAS PUT YESTERDAY WHEN YOU LOOK AT SPARE CAPACITY IN CRUDE OIL, THAT GOES DOWN TO THE KINGDOM. SAUDI ARABIA HAS IT AND THEY CAN PUMP MORE. WHEN YOU LOOK AT SPARE CAPACITY IN REFINED PRODUCTS, THAT IS CHINA. CHINA IS THE ONLY ONE WHO HAS MORE CAPACITY TO TURN THE CRUDE INTO THE PRODUCTS WE USE EVERY DAY, JET FUEL, GASOLINE, DIESEL. EVEN IF THERE WAS MORE OIL TO COME ON THE MARKET, IT IS GOING TO BE VERY DIFFICULT TO HAVE THE REFINING CAPACITY TO TURN IT INTO ACTUAL PRODUCTS. THAT IS A NUANCE THAT NO ONE IN
WASHINGTON IS TALKING ABOUT. IT IS TOO DIFFICULT TO GET A GRASP ON IT OR DO WE HAVE THE GASOLINE AND OIL OR DO WE NOT. JONATHAN: DIFFICULT TO RECONCILE WHAT THEY ARE DOING ON THE FOREIGN POLICY FRONT AND THAT HAS BEEN DESTROYED FOR 12 MONTHS. ANNMARIE:
THE PRESIDENT SPEAKING AT THE BEGINNING OF THIS, HE IS TOURING A SAMSUNG FACILITY. PART OF THE FOREIGN POLICY HE IS GOING TO TRY TO BRING OF WHAT HE CALLS THE AMERICAN MIDDLE CLASS. HE IS LOOKING AT THE MEGA FACILITY FOR CHIP MANUFACTURING AND AS SEMICONDUCTORS AND HE WILL TALK ABOUT THE ONE THEY ARE TRYING TO BUILD IN TEXAS AND WILL POINT THE FINGER AT CONGRESS THAT FOR MONTHS HAS BEEN DRAGGING ITS FEET AND NOW AND A CONGRESS WITH MEMBERS OF THE HOUSE AND SENATE TRYING TO COME TO AN AGREEMENT FOR THIS BROAD-BASED PACKAGE ON THE CHINESE COMPETITION BILL AND HAS MORE THAN $50 BILLION FOR SEMICONDUCTORS. THE PRESIDENT WAS DIRECT WITH CONGRESS SAYING TO PASS THE BILL. THAT WILL BE PART OF HIS FOREIGN-POLICY. IT IS TRICKY ON FOREIGN POLICY AND DOMESTIC AND HOW THE TWO INTERTWINE. JONATHAN: THANK YOU. THE PRESIDENT'S FIRST TRIP TO ASIA CONTINUES THROUGH TUESDAY. HE WILL GO TO JAPAN LATER THIS
WEEKEND. TOM: WE WERE TOLD YESTERDAY THAT THERE IS A COLLAPSE OF TPP BY THE DEMOCRATS, REPUBLICANS, HE IS TRYING TO PICK UP THE PIECES PLUS DEAL WITH THE NEW CHINA AT THE SAME TIME. JONATHAN: AND TPP HAS A MASSIVE BRANDING ISSUE FOR THIS PRESIDENT AND WHITE HOUSE THE ULTIMATE GOAL STILL HOLDS. TOM: THEY HAVE GONE PAST MALAYSIAN INTO INDIA. JONATHAN: FUTURES UP 1% ON THE NASDAQ 100, UP BY 1.34% AND THEN AS -- ON THE S&P 500.
JONATHAN GOLUB JOINS US. >> BANK OF AMERICA, HE WOULD SELL ANY RIBS. EVEN THOUGH HE ACKNOWLEDGES THE MARKET IS VERY VULNERABLE TO A BEAR MARKET RALLY, FUTURES ARE POSITIVE ABOUT 1% ON THE S&P, ON THE NASDAQ 1.3 SIX ON THE WEEK. SEVEN STRAIGHT WEEKS OF LOSSES. THE LONGEST WEEKLY LOSING STREAK BACK TO 2001. IN THE BOND MARKET, WE DO THAT BRIEFLY. EQUITIES AND BONDS, INVERSE
CORRELATION, IS STAKES AGAIN THIS WEEKEND HAPPENED LAST WEEK. YIELDS WERE LOWER ON A TENURE BY 21 BASIS POINTS LOWER THIS WEEK AS WELL BY FIVE OR SIX ON THE SESSION. WE HAD HIGHER BY TWO OR THREE BY 200-8641. 10 YEAR YIELD TO YIELD UP NOW. YIELDS WITH JUST A LITTLE BIT
OF A LIFT. LET'S GET YOU SOME MOVERS. LET'S CHECK IN WITH ROMAINE BOSTICK FOR MORE. REMAIN: -- ROMAINE: GOOD MORNING. WE TALK ABOUT SUMS TECH STOCKS AND SOME ARE GETTING BIDS. SOME FELL ON THE BACK OF FUNDAMENTALS INCLUDING PALO ALTO.
SHARES HIGHER BY MORE THAN 12% IN THE MARKET AFTER A BEEF RAISED CORRIDOR. THEN APPLE HIGHER BY 1.5%, NO REAL REASON, THEY MAY BE BUYING INTO THE DEPTHS. A LITTLE CAUTION EVEN WITH THAT 1.5% IN THE PREMARKET, APPLE SETTING UP FOR AN EIGHTH STRAIGHT WEEKLY DECLINE.
A STREAK WE HAVE NOT SEEN SINCE BACK TO 2018. DAN EYES OUT HERE DEFENDING THE POSITION, NOT ONLY REITERATING THE OUTPERFORM RATING BUT MAKING THE CASE A LOT OF BABIES ARE BEING THROWN OUT WITH THE BATHWATER. I'M NOT SURE THAT MATTERS RIGHT NOW.
INVESTOR SENTIMENT IS DRIVING THIS MARKET AND IT REMAINS DOUR. DEAR IS EMBLEMATIC OF THAT, SHARES DOWN 4% IN PREMARKET. JUST A FEW MINUTES AGO, THE SHARES CAMPED OUT AROUND 3 48. RETAILERS HAVE BEEN ALL OVER THE MAP ALL WEEK LONG. SOME ISSUES WE HAVE HEARD FOR
WALMART, TARGET, AND OTHER BIG RETAILERS. THERE SEEING DECENT FOOT TRAFFIC BUT THE INFLATIONARY PRESSURES ARE JUST TOO MUCH. ON 27% AND THEY TALK ABOUT RAISING PRICES IN THE MOST RECENT QUARTER BUT A SICKLY ADMITTED THEY WERE NOT ABLE TO RAISE THEM ENOUGH PRIMARILY BECAUSE THEY ARE A LOW-PRICED RETAILER AND THERE IS ONLY SO MUCH YOU CAN DO, SO MUCH YOU CAN PASS ON TO THE CONSUMER.
RILLING TO SOARES DOWN 10% WHICH ALSO COMPETES IN THE SAME SPACE IN SEEING PRESSURE ON KOHL'S, TTX, AND OTHER NAMES OF THE BOTTOM RUNG IF YOU WILL OF THAT RETAIL SPECTRUM. ALL TOLD, LOOKING AT THE SCREEN NOW WITH REGARDS TO THE RETAIL STOCKS, THAT IS DRIVING SENTIMENT AND I WOULD KEEP AN EYE ON THEM AS WE GET DEEPER INTO THE DAY. TOM: THANK YOU SO MUCH. WRAPPING UP THE CLOSE, LOOK FOR THAT FRIDAY AFTERNOON. THAT IS ON AFTER THE REAL YIELD. LOOK FOR THAT AS WELL. RIGHT NOW, AND THIS IS GRIT A
CLEAR IMPORTANT, THE 2020 HINDSIGHT, TO LOOK BACK AT SOMEBODY WHO NAILED THE LAST GREAT MOMENT OF THE BULL MARKET, JOHN GELMAN OF CREDIT SUISSE HAS THE COURAGE TO COME OUT WITH A BALL BRO -- BARBELL STRATEGY WHICH WAS BLAH BLAH AND DON'T GIVE UP ON THE BIG TECHS? HE WAS A GENIUS -- TECHS. HE WAS A GENIUS AND THE GENIUS JOINS US NOW. NOW, JOHN? IF I HAD AMAZON, APPLE, WHATEVER, AND I WILL HOLD THEM, WHAT IS THE PRESCRIPTION TO RECOVER? JOHN: JOHN: WE ACTUALLY THINK THAT IN HIGH INFLATION ENVIRONMENT THAT ATTACK JUST DOES NOT DO AS WELL. WE HAVE BEEN ON TECH FOR THE LAST COUPLE YEARS BUT AS WE ROLL INTO THIS YEAR, WEDNESDAY WE SAID BASED ON THE GOOD AND NEUTRAL, BECAUSE AS LONG AS THE CYCLE CONTINUES TO BE INFLATIONARY, THEY STRUGGLE A LITTLE MORE AND WHAT WE ACTUALLY SEE AND WE HAVE DONE BUNCH OF CLOTH WORK AROUND THIS IS WHEN INFLATION IS HIGH, STUBBORNLY HIGH, YOU ACTUALLY WANT TO BE IN STUFF MORE CYCLICAL, BENEFICIARIES. ENERGY STOCKS, MYSTERIO STOCKS -- MATERIAL STOCKS, NOT LIKE THE BEST STOCKS FOREVER BUT FOR THE MOMENT. TOM: WILL THE TECH STOCKS CONTINUE TO HAVE REVENUE GROWTH? JONATHAN: YEAH, BUT IF YOU TAKE A LOOK IN THE LAST MOST RECENT EARNINGS SEASON, TECH NAMES GREW ABOUT 7% BUT CYCLIC GROUPS GREW SOMETHING LIKE 30% TO 40% BECAUSE THEY DID IT BETTER, THEY HAD MORE OPERATING LEVERAGE IN MORE PHYSICAL INFRASTRUCTURE IN THE OLD ECONOMY, CYCLICAL, AND THEREFORE MORE UPSIDE. IF YOU LOOK AT THIS EARNINGS
SEASON, THOSE TECH COMPANIES, THE MEGA CAPS WERE LACKLUSTER. IT IS NOT JUST A SENTIMENT ISSUE. THEY ARE HAVING A HARDER TIME BUT ALSO THEY WENT INTO THE YEAR VERY EXPENSIVE. RUN WE WERE PREDICTING IN TECH PLAYED A BEAUTIFUL AND -- BEAUTIFULLY AND SOMETIMES YOU HAVE TO KNOW WHEN TO TAKE YOUR FOOT OFF THE PEDAL. LISA: WHERE DO RETAIL EARNINGS FIT INTO YOUR THESIS? JONATHAN G.: WELL I THINK EVERYBODY STARTING
REALLY LAST FRIDAY THOUGHT THE WORST WAS BEHIND US AND WITH WALMART AND TARGET, PEOPLE FELT LIKE THEY GOT KICKED IN THE STOMACH AND THAT MAYBE CONSUMERS WOULD ROLL OVER AND COMPANIES WOULD HAVE MARGIN PROBLEMS. THEN IF YOU LOOK, WE HAD A LOT OF COMPANIES LIKE T.J. MAXX AND HOME DEPOT AND LOWE'S AND THEY DID FINE. THEY HAD HIGH SINGLE DIGITS AND IT WAS A COUPLE PROMINENT NAMES LIKE HOME DEPOT. A LOWE''S HAD A HARD TIME, AND A LOT OF THOSE WERE REALLY WHAT I WOULD CALL A MIXED ISSUE.
PEOPLE WERE BUYING GROCERIES BUT THEY DID NOT WANT TO BUY FURNITURE AND TV SETS, AND IN MANY CASES, THESE WERE MERCHANDISING PROBLEMS. THEY WERE KIND OF THE WRONG PRODUCT AS PEOPLE WERE ROTATING TOWARDS EXPERIENCES AND HOTELS AND GETTING BACK OUT. I'M NOT SURE WE SHOULD BE OVER EXTRAPOLATING SOME OF THE BAD NEWS FROM THOSE RETAILS BUT I WILL TELL YOU IT SURELY SHOOK THE MARKET IN THE MIDDLE PART OF THIS WEEK. LISA: THAT IS A GLASS HALF-FULL VIEW OF THESE RETAIL EARNINGS THAT'S BASICALLY IT IS A MIXED ISSUE AND NOT A CONSUMER HEALTH ISSUE AND SOME PEOPLE WOULD AGREE WITH YOU, BUT DOES THAT GIVE YOU A SENSE THE FED IS GOING TO RAISE RATES ALL THE MORE SO TO TRY TO STAVE OFF SOME INFLATIONARY PRESSURE? BUT CONSUMER HAS MORE MOMENTUM AND THAT PREVENTS EVALUATION PROBLEM FROM STOCKS WE WERE HEARING EARLIER THIS MORNING? JONATHAN G.: I'M NOT SURE THE FED RESPONDS TO THE RETAIL EARNINGS -- LISA: I MEAN GENERALLY THE TREND. JONATHAN G.: WAGE INFLATION IS REALLY HIGH, BUT A YEAR AGO WHEN WE HAD 3% INFLATION, PEOPLE WERE SAYING THERE IS NO IT COULD GET TO 4% AND NOW WE ARE OVER 8%. I DON'T WANT TO SAY THE FED WAS
ON AUTOPILOT FOR A WHILE BUT THEY WILL HAVE TO PUSH RATES AT LEAST TO 3% WHICH IS WHAT THE MARKET DISCOUNTING AND NEXT YEAR WE MAY BE CLOSER TO 4% ON FED FUNDING IF THEY NEED TO -- LISA: HOLD ON A SECOND, IN ALL HONESTY, HOW CAN STOCKS KEEP RALLYING? HOW CAN YOU GET TO NEAR 5000 AND BY THE END OF THE YEAR ON THE S&P IF YOU GET THREE OR 4% -- 3% OR 4% FED FUNDS RATE? JONATHAN G.: THE MOST IMPORTANT THING IS CORPORATE PROFITS ARE HOLDING UP REALLY WELL. TAKE A LOOK AT THIS EARNINGS SEASON. REVENUES ARE RUNNING ON THE S&P 14% THIS QUARTER, EARNINGS OF 12, SO THE MARGIN PRESSURE IS TINY. BUT WE HAVE THIS WEIRD THING GOING ON WITH RESERVE RELEASES AND IF YOU TOOK THAT, THE REVENUES WERE 15% AND EPS WAS 20. SO THE EARNINGS ARE A SUPER POWERFUL AND STOCKS ARE CHEAP
AT THIS POINT. TOM: THAT IS THE MOST INTELLIGENT THING I'VE HEARD THIS WEEK ON EQUITY OPTIMISM. THAT DIFFERENTIAL EQUATION IS LINKED AT THE HIP WITH NOMINAL GDP AND THE DECLINE. ARE YOU SUGGESTING WITHIN ALL
OF THE CREDIT SUISSE WORK THAT THE GREAT MYTH HERE IS THAT NOMINAL GDP WILL SUSTAIN LONGER WHICH WILL ALLOW COMPANIES TO ADAPT INTO THE GLOOM LISA MENTIONED? JONATHAN G.: I THINK THAT IS THE ONLY STORY. MY FAVORITE, THE ONE SCREEN I LOOK THE MOST ON MY NUMBER TERMINAL IS ECFC.
WHERE'S THE CONSENSUS VIEW ON WHAT THE ECONOMY IS GOING TO DO OVER THE NEXT QUARTER AND YEAR END TWO YEARS? WHAT IT TELLS YOU IS NOMINAL GDP THIS YEAR SHOULD RUN 9%. NORMAL IS 3.5%. FOR ALL OF THOSE FOLKS THAT SAY WE ARE GOING INTO RECESSION, ECONOMISTS ALL OVER ARE SAYING THIS THIS IS A RIPROARING ECONOMY. TOM: I WILL TEAR UP. JON FERRO, JONATHAN GOLUB REALLY HAS DRUNK THE KOOL-AID.
HE IS ON THE EDGE OF TOM GALVIN HERE WITH A SELF CENTRIC VIEW. JONATHAN F.: I WILL TRY TO BE POLITE HERE. ECFC. HAS THAT EVER BEEN A LEADING
INDICATOR FOR ANYTHING? JONATHAN G.: YOU HAVE TO USE SOME FRAMEWORK TO SAY DIRECTIONALLY WHERE DO WE THINK THE ECONOMY IS GOING. IF YOU ARE LOOKING AT WHERE INFLATION IS GOING, YOU COULD LOOK AT THE TIPS MARKET.
IF YOU ARE LOOKING AT WHERE GDP IS, THERE IS NO TRADABLE INSTRUMENT ON YOUR BLOOMBERG. YOU HAVE NO CHOICE BUT TO USE EITHER YOUR OWN ECONOMISTS, AND OUR ECONOMISTS ARE PRETTY BULLISH, OR YOU CAN SAY WHERE IS THE WHOLE GANG THINKING THE GROWTH WILL BE AND THAT IS WHAT YOU FIND ON THE TERMINAL. NOT ONLY CAN YOU DO IT BUT I COULD SEE IT HERE AND SAY WHAT ARE THE BIGGEST SHOPS, WHAT ARE PEOPLE DEFENDING? THEY ARE ALL ON THE SAME DIRECTION, THE UNDERLYING ECONOMIC GROWTH MEASURED IN NOMINAL DOLLARS, INCLUDING INFLATION, WILL BE STRONG. HERE'S THE MOST IMPORTANT THING, AND REALLY STRONG NEXT YEAR AS WELL. JONATHAN F.: I'M WITH YOU. JONATHAN G.: THAT IS GOLUB'S VIEW. JONATHAN F.: WHEN DID THE FED EVER FORECAST
A RECESSION? IT'S JUST NOT THERE BUSINESS. JONATHAN G.: THEY DO IT WITH A YEAR DELAY, THEY DO IT AFTER THE FACT. [LAUGHTER] I GET THAT, BUT YOU HAVE TO USE SOME FRAMEWORK TO SAY WHERE YOU THINK THE WORLD IS GOING? IF U.S.
ME WITH THE MOST IMPORTANT ISSUE IS ON INFLATION AND GROWTH, WE HAVE INCREDIBLY TIGHT LABOR MARKETS, WHICH IS LEAVING THE CONSUMER REALLY CONFIDENT IN THEIR ABILITY TO FIND WORK AND THAT LEADS PEOPLE TO BE WILLING TO GO OUT AND OVEREXTEND THEMSELVES ON CREDIT AND ALSO MEANS YOU HAVE HIGH WAGE INFLATION. YOU ADD THOSE TWO THINGS TOGETHER AND IT IS ALL ABOUT THE LABOR MARKET AND THAT IS MY TAKE INDEPENDENT OF WHAT THE FORECASTING SAYS. JONATHAN F.: IT'S GOOD TO CATCH UP. AS ALWAYS, JONATHAN GOLUB OF CREDIT SUISSE. I WILL GIVE JOHN THIS, THE RETAIL STORE THIS WEEK, FAR MORE NUANCED THAN FIRST LOOK. LISA: ABSOLUTELY, ESPECIALLY BECAUSE OF HOME DEPOT. AND TO A LESSER EXTENT LOWS AS
HE WAS SAYING. THERE IS CLEARLY A MARGIN ISSUE WE HAVE TO GET OUR HANDS AROUND AND UNDERSTAND. LISA: I LIKE THE ECFC FUNCTION. NOT SURE IF IT IS A FORECAST
AND HOW ACCURATE THAT HAS BEEN OVER THE YEARS. FUTURES ON THE S&P UP A LITTLE MORE THAN 1%. THIS IS BLOOMBERG. ♪ RITIKA: KEEPING UP-TO-DATE FROM NEWS FROM AROUND THE WORLD, PRESIDENT BIDEN ARRIVED IN SOUTH KOREA AND IMMEDIATELY UNDERSCORED THE IMPORTANCE OF RESOLVING THE GLOBAL SEMICONDUCTOR SHORTAGE. THE PRESIDENT TOWARD A TRIP
FACTORY THAT IS A MODEL FOR ONE THOUGH COMPANY PLANS TO BUILD IN TEXAS. THIS WILL BE GOOD PAYING JOBS AND MORE RESILIENT IN THE SUPPLY CHAIN. BLOOMBERG LEARN PRESIDENT BIDEN IS CONSIDERING IMMEDIATE WITH SAUDI ARABIA'S MONEY HOW BIG BUN SALMON NEXT WEEK -- MOHAMMAD BIN SALMAN OVER THE MURDER OF JAMAAL KHASHOGGI. FIRMS ARE START TO START TALKS -- SRI LANKA FELL INTO DEFAULT THIS WEEK FOR THE FIRST TIME IN ITS HISTORY AND AN ECONOMIC MELTDOWN LED TO PROTEST AND A CRISIS. THE LARGEST MAKER OF
AGRICULTURAL MACHINERY WERE BELOW ESTIMATES. THEY SET HIGH COSTS HAD AN IMPACT FOR -- THAT COULD LEAD TO FARMERS PULLING INVESTMENTS IN MACHINERY. A SPACEX REPORTEDLY PAY 250,000 DOLLARS TO SETTLE AND EMPLOYEES CLEANED THAT SHE WAS SEXUALLY HARASSED BY YOU EN MASSE. ACCORDING TO THE ONLINE NEWS
SITE INSIDER, THE ROCKET LAUNCH COMPANY MADE A PAYMENT TO WORK AS A CONTRACT EMPLOYEE ON A SPACE JET. MUST CAUSE THE ACCUSATIONS UTTERLY UNTRUE. GLOBAL NEWS, 24 HOURS A DAY, ON AIR AND ON "BLOOMBERG QUICKTAKE," POWERED BY MORE THAN 2700 JOURNALISTS AND ANALYSTS IN OVER 120 COUNTRIES. I AM RITIKA GUPTA. THIS IS BLOOMBERG. ♪ >> WHAT WE'RE SEEING IS A ROTATION FROM GROWTH STOCKS, EARNINGS FAR IN THE FUTURE, TOWARD STOCKS MUCH MORE VALUE STOCKS AND THE PRESENT, AND THIS REFLECT REAL RATES FOR THE FIRST TIME IN A LONG TIME ARE LIKELY TO GO POSITIVE IN 2023. LISA: A GREAT CONVERSATION WITH KEN GRIFFIN OF CITADEL THERE ALONGSIDE FRANCINE LACQUA.
GOOD MORNING TO YOU. FUTURES ARE POSITIVE A LITTLE MORE THAN 1% ON THE S&P. YIELDS TRAVELING NORTH HEADING UP HIGHER BY THREE BASIS POINTS. THE EURO IS JUST A LITTLE
NEGATIVE, BACKING AWAY FROM 1.06. TOM: IT WILL BE INTERESTING TO SEE. WHAT YOU THING ABOUT KEN GRIFFIN'S COMMENTS? I KNOW YOU WERE STUDYING THAT CAREFULLY. JONATHAN F.: HE HAS SOMETHING INTERESTING TO SAY ABOUT RETAIL TRADERS AND WALL STREET BETS GOING AFTER A CERTAIN HEDGE FUNDS. AND HOW THAT WAS NOT NICE BECAUSE IT WAS AFTER TEACHERS PENSIONS. TOM:
WHICH LIT UP TWITTER. JONATHAN F.: I DID NOT FULLY RESONATE WITH ME. TOM: IT WAS SO POLITICAL. THANK YOU TO FRANCINE LACQUA FOR BRINGING UP THAT THIRD RAIL. JONATHAN F.: JUST TO GET THEM TO GO DEEPER ON THAT. I THOUGHT SHE'D HAD DONE A
BRILLIANT JOB. TOM: I ONE STAY OUT OF THAT BECAUSE WE WOULD LIKE TO WORK MONDAY. THIS IS REALLY IMPORTANT, THE GENTLELADY FROM THE MASSACHUSETTS INSTITUTE OF TECHNOLOGY IS WITH US, KATIE KAMINSKI, RESEARCH STRATEGIST AT ALPHA SIMPLEX. SHE AND I WILL DRAG OURSELVES BACK IN YEARS TO WHAT MATTERED THE LAST TIME COMMODITIES REALLY LIFTED. KATIE KAMINSKI, YOU AND I WILL
NOT TURN THIS INTO A NERD FAST, BUT LET'S BE HONEST, THE REASON THE COMMODITY GAME EXISTS AS JON FERRO MENTIONED, COPPER IS STAGGERING A LITTLE BIT HERE IS COMMODITIES TREND LIKE NOTHING ELSE. ARE COMMODITIES GOING TO TREND INTO 2023 WHERE I CAN FIND ALPHA? KATIE: I WOULD HAVE TO AGREE YES AND LET ME GIVE YOU A COUPLE OF POINTERS FOR THIS. TOM: PLEASE. KATIE: INFLATION FIRST OF ALL IS SOMETHING THAT IS VERY POSITIVE FOR COMMODITY RETURNS. INVESTORS HAVE FORGOTTEN ABOUT COMMODITIES BECAUSE THEY HAVE NOT WORKED IN A LOW-INFLATION ENVIRONMENT. LET'S TAKE OIL AS AN EXAMPLE.
OIL PRICES HAVE REMAINED HIGH DESPITE VERY NEGATIVE THINGS LIKE A STRONG DOLLAR, WEAKENING DEMAND IN CHINA, YET WE ARE STILL AT HIGH OIL PRICES. WHAT THAT TELLS ME IS THERE IS STILL VERY MUCH A COMMODITY STORY THAT IS LEFT AND I THINK INVESTORS HAVE FORGOTTEN ABOUT THE VALUES COMMODITY AND A LOW-INFLATION ENVIRONMENT. TOM: I WILL GO BACK TO A LOT OF THE PEOPLE THAT INVENTED THIS AND THE WHOLE CTA VALLEY TROUT AND ALL. DO YOU BY INDIVIDUAL COMMODITIES AS JONATHAN FERRO DOES? YOU SHOULD SEE FARROW OVER ON COMMERCIAL BREAK LOOKING AT ELEMENTIA HIM IN THE WHOLE THING. DO BY INDIVIDUAL COMMODITIES --
ALUMINUM AND THE WHOLE THING. DO BY INDIVIDUAL COMMODITIES OR DO YOU BY ETF? KATIE: THIS IS A GOOD QUESTION. DIFFERENT COMMODITIES REACT DIFFERENTLY TO DIFFERENT ENVIRONMENTS, SO LET'S TAKE LAST YEAR OR DURING COVID, WE SAW VERY DIFFERENT MOVES IN ENERGIES THEN WE SAW IN THE PRECIOUS METALS. CERTAIN COMMODITIES ARE MORE LINKED TO INFLATION AND ARE AFFECTED BY DIFFERENT SUPPLY DEMAND CYCLES. SO YOU SHOULD THINK A LITTLE BIT ABOUT WHAT YOU ARE BUYING, WHAT IT IS LINKED TO, WHAT TYPE OF CYCLES ARE GOING ON THE MARKET, AND WHICH ONES MIGHT BE FAVORABLE GIVEN THE CURRENT MACRO CONDITIONS.
I'M ALSO A FAN OF THINKING ABOUT LONG AND SHORT. THE REASON IS THIS IS THAT OVER THE LONG-TERM, STATISTICALLY, LONG AND SHORT INDICES AND STRATEGIES AND COMMODITIES HAVE DONE BETTER THAN LONG ONLY BUT I STILL SUGGEST YOU CAN HAVE LONG ONLY EXPOSURE DURING CYCLES WHICH MIGHT HELP OFF AT -- OFFSET SOME OF THESE DIFFICULT MOVES IN EQUITIES AND BONDS. LISA: THAT IS WHY WANTED TO GO, THAT WE ARE TALKING ABOUT THE MOVE IN COMMODITIES AND BETTING POTENTIAL COMMODITY PRODUCERS AND THE LIKE AT A TIME WERE NOTHING ELSE IS WORKING. IS COMMODITIES THE ONLY BRIGHT
SPOT OR DO YOU SEE OTHER POCKETS STARTING TO WORK AGAIN LIKE BONDS? KATIE: THE INTERESTING THING ABOUT THAT CONNECTION, IF YOU LOOK BACK IN THE 1970'S, AND I KNOW IT IS A LONG TIME AGO IT SEEMS, WE HAD A VERY -- IT IS AN INTERESTING. -- INTERESTING PERIOD TO COMPARE WITH. WE SAW BOND AND STOCK VOLATILITY BEING HIGHER.
DOES THAT SOUND LIKE WE HAVE SEEN THIS MONTH? SECONDLY WE SET UP A -- WE SAW POSITIVE CORRELATION BETWEEN STOCKS AN
2022-05-23 01:16
Show Video
Other news