SAKURA Cherry blossom in ODAWARA castle / Nepali food / Gelato shop Odawara / Ninja /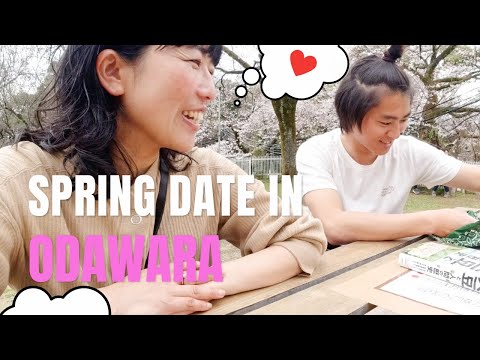 Show Video
Hi everyone ! it's Lunami Im on the car with Wataru we are going to Odawara now to see cherry blossoms today weather forecast was cloudy but now its sunny so I am so happy when I go out usually it's sunny so where are we going exactly ? W) Odawara castle yes and I would like to go Ninja house W) Odawara is good city I was born and raised I would like to show Lunamii my favorite city Look at that ! It said this is a gourmet street ! W) I am sure we can find something nice you think ? W) yes because it is written What do you wanna eat ? I wanna eat some thing heavy ! why don't we go the place I am interested ? W) ok I have been eating only curry since long ago I only cook curry at home recently W) I want you to cook curry for me it's not a japanese curry though ? W ) I know I have been eating only curry so I wanna eat something different wow this place looks fancy w) it's cheap yes it is w ) do you wanna go again ? W ) you should be a Nepali food youtuber ! Nepali food youtuber ? This is actually indian curry this is nepali they have both look ! there is an event calender today is ... W ) 24 wow ! its south indian meals ! I want this ! W ) ok lets go lets go in Hello   W ) what's the difference between Indian food and Nepali food ? It is totally different ! isnt' it ? W ) I would like to know what the difference you know..... where can I find a south indian special ? Waiter ) there is no picture I understand it ! Really ?! there is chicken and Sambar and chapati great ! I understand a little bit of Nepalese I am going to order .... south indian meals yes I am ! Wataru ) south indian seals ? meals Wataru ) what is the meals ? south indian curry is used coconut there is a chapati there is rice as well sambar is a bit sour is also on the plate Its south indian curry basically this is north indian curry and this is Nepalese you can buy here some nepalese food you can buy nepalese noodles as well ! How long have you been in japan ? about 5 years why did you come here ? for your work ? yes waiter ) this is south indian meals thank you wataru ) look nice ! there are so many different things on it what did you order ? Dal bhat chicken and Dal mine is south indian meals Wataru ) do you need a folk as well ? thank you so you have eaten Dal bhat before right ? There is a restaurant called Kathmandu Kitchen near my house do you always eat Dal bhat there ? No I don't eat dal bhat there then what do you eat ? Nepalese curry I think it's Dal bhat Wataru ) is it ? there is no nepalese curry I think there is only Dal bhat in Nepal Wataru ) then I had eaten Dal bhat there Do you like nepalese food ? wataru ) yes I like it ! Itadakimasu ! is this Sambar ? wow ! its good what is this ? chicken ? it's good all tasty Wataru ) is it all good ? delicious ! waiter ) thank you ! there are all in good mood I guess there are happy that you speak Nepalese ( they subscribe my you tube channel ) Waiter ) please come back again Hi everyone ! this is ODAWARA! Its only 5 min from the Odawara station Please come to taste our food ! every one is so nice ! so we are heading to Odawara castle and going to see cherry blossom I wonder it is blooming already ? I saw one cherry blossom tree has already started falling is it close from here ? can we walk ? yes Can we ? is it close to the station ? its 10 to 15 min walk from here ok then let's walk ! it is not blooming fully yet do you know the scene of the movie called Last samurai that the son was shot with a gun on the bridge ? Wataru ) No I had cried a lot this bridge is similar to that bridge .... so we are at the Odawara castle ! This is the good place to see the cherry blossom and very famous place the cherry blossom is not fully bloomed unfortunately i think it is still 50% bloomed but this is first time for me to visit here so I am excited ! beautiful wow look ! this is nice ! are they different types of cherry blossoms ? Wataru ) i wanna do a picnic viewing cherry blossoms ! for sure ! look this tree ! fully bloomed !! Wataru ) it's quit beautiful It's nice ! it would be even better with blue sky ... oh ! I found a Ninja house ! do you wanna go have a look ? I think we adult can't play this ...
Wataru ) Do you think we can do it ? I dont think so Wataru ) I think we are too heavy to do it right ? I know I found Ninjas !! are you going in Ninja house ? oh ! Ninja ! We needed to dress like them if we want to go in there right Wataru )I practice Hand stand recently Ok i will have a look we just ate it . it's not good why are you suddenly doing it ? lol you want to do it's because there are greens ? nice ! you need to stop it ! good ! you need to put your legs together ! I wanna be able to do that ! so we are going in to the castle so beautiful so nice here ! Wataru and the cherry blossoms Wataru ) my name is Sakura Ando ( Sakura means Cherry blossoms in Japanese ) it said that we can't ride it ! NIce ! we can also see the cherry blossoms while riding it Let's try it ! we are at kids park we are going to ride a mini train which is Wataru's child hood memory This is a kid park ! It's his child hood memory ! Mini train is 80 yen and others are only for under 9 yeas old we are going to ride Mini train ! let's ride ! Im so excited ! Look this ! so cute ! up there seems nice wow ! I like here ! we can have a picnic here ! not many people knows this place ! wataru )this is good for picnic ! Wataru )we can here the train though also nice ! can you explain about this ? This is not a lunch box but books why do you use that ? Wataru ) When I put my books in my back pack , the book get messy you know ? yeah i know Wataru )This is a revolution ! wataru ) you should have this at home at least one so you should try it ! books don't get messy did you buy it for me as well ? Thank you !! wow getting excited ! Wataru ) I am sure this is so much fun ! ( they are interested in my camera ) Wataru ) can you film in this side as well ? yes I can i should do this wow 〜 we are going to ride a mini train now lady ) can you take a picture with this as well ? Yes you can This is very popular isn't it ? man ) I feel bad for kids that we adult get a ride they didn't say anything bad about that we ride this train yay ! we can ride in the front ! so happy ! yay ! we can see the castle ! nice view ! today's video is only about you haha so we are going up top of the castle i think I wont come here again so I will take this opportunity and we are going up there ! we are going to pay to go up Wataru ) Do we have to pay ? I am sure so I think we are lucky that we didn't need to pay till now normally this kind of place we have to pay There is no line anymore is it because it's getting cloudy ? It cost us 510 yen per person is this re build ? Wataru ) yes it is this is not an original it wont be a good condition if not Wataru ) it is on the same place though same right ? finally we are here It got cloudy .... we can see the ocean ! Hakone ! where is it ? Hakone is the valley over there is it where the steam come from ? Yes that's Owaku-dani beautiful we cam see the ocean ! Odawara is so nice place isn't it ? Wataru ) it's really a nice place so every one please come here ! Izu peninsula is it ? Wataru ) yes we can see a little Wataru ) That's Manazuru What about the island over there ? Watru )That's Oshima Oshima ! I heve been there with Mikarin and Mimi ! can you see Kamakura as well ? we can't see Enoshima from here .... is it Dandelion ? looks good on you ! haha It's started raining ....
but we are going to eat gelato from now what did you order ? It's Isehara Milk i had ordered Peanuts butter and pistachio ! Let's eat ! we are going home now Today we were at Odawara How was today ? did you enjoy ? yes ! It was a nice day ( sorry that there is no light ...) if you are not subscribed my channel yet , please do it so see you next time !
2023-04-17 15:37
Show Video
Other news