Forbidding No More S2 极境之旅 S2 EP10 | Rwanda Part 1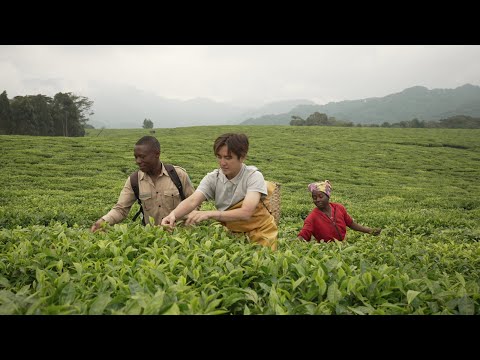 Show Video
The forbidding not only refers the destination itself, but it also includes everything you encounter in your journey Let's enter an ancient city together, and explore one of the New Seven Wonders of the World Riding a donkey up the hill Get up close and personal with wild animals here! Look, elephants! The people here use movement... to interact with the picturesque scenery Follow the cheers of the locals... and appreciate the football spirit here! Goal! This is known as "Killer Lake"... and it's a great place to fish Follow us Let's take a trip together <i>Forbidding No More! The local time here in Ethiopia is currently 10.45 pm We are making our way to the capital of Rwanda... Kigali Following our Ethiopian adventure, <i>Forbidding No More continues its exploration <i>of the mysterious African continent</i> Our destination this time is the central-eastern African country of Rwanda Rwanda is located on the highlands of East Africa This mountainous country is also known as "The Land of a Thousand Hills" Volcanoes, montane rainforests and vast plains...
have bred a plethora of wild animals With its mild climate and stunning scenery, Rwanda has become a popular destination for those escaping the summer heat Our mood is great like the weather today! After a three-hour flight, we have arrived in Rwanda's capital, Kigali, from Ethiopia Located central Rwanda, capital city Kigali is also the country's largest city Kigali was the trade hub of the region... when it was part of German East Africa and under Belgian rule Kigali has been the capital of Rwanda since it gained independence in 1962 The prosperous image of Rwanda today may feel unfamiliar to many people Their memory of the country is still stuck in the year 1994 My biggest impression of Rwanda is the genocide I was still in primary school then The news kept reporting about the genocide I remember thinking how does such an inhumane place actually exist The Rwanda genocide of 1994 remains a taboo topic... for many Rwandans today To better understand the Rwanda of today, Jing Lun's first stop is... the Kigali Genocide Memorial located in the capital I have arrived at the Kigali Genocide Memorial I'm meeting someone who can share with me more about Rwanda's history Nicholas! -Hello, Poppy! <i>Moraho -Moraho (Hello) <i>Moraho? Mulaohu (Tigress)? -Yes What is moraho? -Moraho is "Hello" In your native language? In my native language, Kinyarwanda A genocide took place in Rwanda in 1994 The Kigali Genocide Memorial was built...
to mourn this dark and grim history More than 250,000 victims are buried here This is the before the genocide as you can see There were three ethnic groups in Rwanda... at the time of Belgian rule They are the Hutu, Tutsi and Twa The Tutsi, who were the minority, ruled over the Hutu, who made up 80 percent of the population This is the national ID One of the strategies they used... is to introduce the national ID and separate the people If someone is Tutsi, they write "Tutsi" If one is Hutu, they write "Hutu" Wherever you go, they will identify you You can't hide When the Belgian rule ended, the ruling power was returned to the Hutu, who formed the majority of the population After gaining independence in 1962, the government did not properly resolve tensions between the ethnic groups In April 1994, the plane that the Rwandan and Burundian presidents flew in was shot down Both presidents died in that incident It's rumoured... that Hutu extremists deliberately caused this disaster... to pin it on the Tutsi It was a war People were fighting one another Some were thrown in the water See? It was a very catastrophic and terrible moment in 1994 It was a very, very scary moment This genocide resulted in around 800,000 deaths Since 1994, in a bid to eradicate tensions between ethnic groups due to the genocide... and improve cohesion, the government removed segregation by ethnic group...
and collectively called its citizens Rwandans Can you tell me how important this memorial is to Rwandans? It is very important in the fact that... there will be a new generation to come They have no idea of what happened before It makes us remember... and understand what happened in the country That's why we have an annual Kwibuka moment <i>Kwibuka means to remember Behind me there is a tomb We always come and have a moment of silence We remember our people who have died as we are building ourselves My heart was heavy shortly after I entered... the Kigali Genocide Memorial...
because there were many pictures of the events that happened then However, I was quite emotional at the end of the guided tour I felt emotional... because of how the nation was able to rebuild itself after a genocide They even restored harmony between the ethnic groups Education was very poor, infrastructure was down completely So, now we decided, let's work hard Let's work hard and build our nation... and we live as a single people I don't know if it was due to faith or simply the passage of time They eventually let go I think this was such a great feat I think the memorial is very important... as it serves as a reminder to Rwandans of their nation's dark history...
and to never let history repeat itself Having risen from the ashes more than 20 years later, Rwanda has become one of the safest African countries... and one of the fastest-growing economies in the world The capital Kigali... has rapidly become the nation's political, economic, cultural and transport hub Despite its rapid development, Rwanda has retained many of its traditions It is said that Rwandans start their day by coming to this store This store has no sign Let's see what they sell here Hi -Hi I wonder what shop this is Hi, I'm from Singapore Nice to meet you -It's my first time here in Rwanda -Oh, okay What is this place? This is a "bar milk" You are supposed to come here just to taste the milk A milk bar is like the coffee shops we have It's a place which brings the locals together However, it is not coffee or alcohol that brings them together, but rather, milk What's so special about this milk? This is yoghurt milk Yoghurt milk? -Yes See how it looks like It's very thick -Yes How do I order the milk over here? (Kinyarwanda) Can I have a glass of milk? In traditional Rwandan culture, milk cows are a symbol of wealth and social status in the countryside Milk is thus seen as a precious commodity After the genocide ended, the capital Kigali has gradually become urbanized Many citizens no longer have the space to rear cows at home Milk bars started popping up to supply milk to the people The taste is really unique! Around two seconds after consuming it, a strong cheesy taste fills your mouth There's also a subtle fragrance of milk It's quite special Hidden in an alley in a small town in the west of Kigali... is Kuruhimbi Milk Bar It is one of a few remaining traditional and independent milk bars How long has this shop been here? Since 2012 -I see 10 years? -10 years, yes Why did you decide to start this business? Here in Rwanda, milk is seen as something sacred The cow is a good thing for us If I like you, I give you a cow...
to show that you are a good friend If I want to marry, I will give a cow as dowry People like milk I myself, like milk I told myself I'm going to open a milk bar Thank you, boss! -I am having the best milk in town -Thank you I have finished my milk I wanted to walk to the market but it's quite far I want to take public transport instead Let's see what unique modes of transport they have to get there Motorcycle taxis are the most common mode of transport... on the clean and neat roads of Kigali Around 20,000 to 30,000 red motorcycles traverse the roads every day Okay, great! Hello -Hello I will need to go to the Kimironko... Kimironko Market Okay, ready to go While in Kigali, Jing Lun took a motorcycle to his next destination... to get a taste of everyday life here How long have you been riding motorcycles? Oh, you can't hear me. Okay, it's okay He can't hear me as the wind is too strong Maybe he doesn't speak much English either Can Jing Lun reach his destination safely... despite the language barrier? Jing Lun's adventure in Kigali will continue soon More thrilling experiences are to come <i>Moraho, Rwanda! It's so fast! It was a very catastrophic and terrible moment in 1994 Very, very scary moment While visiting the Kigali Genocide Memorial...
may leave one feeling heavy of heart, it's crucial in order to understand how Rwanda has moved on... from its painful past and rebuild itself That is why Jing Lun started his trip here Can I pay my respects to them? It's quite stable using one hand to support myself I can rest my foot here as well It's fine as long as it doesn't rain I can enjoy the scenery as well After leaving the memorial, Jing Lun rode a motorcycle, the most common mode of transport for Rwandans, to get to his next destination Are we near the market? Turn left. Oh, okay We're reaching 2,000 francs That's about $2 Thank you Have a nice day Kimironko Market, located in northeastern Kigali, is the largest, busiest and oldest farmers' market in the city There are hundreds of stalls here... selling clothes, handicrafts, fruits and vegetables and more As they say, everyone needs friends to rely on I have arranged to meet with a friend here Hi, Andrew! -Hello Hi, how are you? Nice to meet you! -Likewise Rwanda has a very rich culture There are good people It's peaceful The country is clean Whoever comes to Rwanda, we bring the Rwandan experience to them I am very proud to see my country coming from that bad history... to where it is today -Is this the one on the $5,000 note? -Yes Traditional basket. What is it called? <i>Agaseke Wow. They make clothes here?
Yes, they do If there's one thing you must buy from Kimironko market, it would be custom-made clothes Simply choose your favourite design from the many fabrics displayed... and the stall owner can make a garment for you within an hour I have decided to make a Rwandan traditional outfit I have asked her to choose for me What is the most popular colour in Rwanda? This is traditional -It is? There are many choices here Which one is nicer... for a handsome boy like me? This is not bad also This is like the peacock Peacock, yes -I see Okay, I'll take this Do you know why I chose this fabric for my shirt? Do you remember how the officials of the Chinese imperial court wore feathers? I'm an official too now! I want to wear something with feathers 25,000 francs -Yes Okay Congratulations, my friend -Yes You're going to have Rwandan clothing! Can I... so I'm a citizen now? Not yet! -Oh, not yet After you wear the clothes, then you'll be good Okay, so... I'll come back later Yes, thank you Thank you, Christine -Thank you While waiting for his clothes to be made, Jing Lun and his guide, Andrew, took a tour around Kimironko Market This market feels similar to...
the ones that we had in Singapore more than 20 years ago They sell clothes at the side They sell vegetables in the centre It's split into different areas It's bustling with activity What's the most popular fruit in Rwanda? The most popular fruit here is banana Bananas? Yes -Oh, okay -Do you have bananas? -I'll give you nice ones Yes, please! Now, this is a type of banana. It's a small one You also have the big ones Bananas for cooking For cooking? Yes, we cook them -I see You peel and boil them You can add some sauce, meat or peanuts You can also make banana paste Like mashed bananas? Yes, mashed bananas -Oh, okay This is the tastiest one Tastiest one? -The small ones We eat these at home Can you teach me to say "how much" in your native language? Okay. Nangahe? <i>Nangahe? <i>Nangahe? 1,000 francs 1,000 -1,000 francs That's around $1 What's interesting is that there are men wearing yellow shirts in this market They have numbers at the back of their shirts as well I have a question -Yes? Who are the people in the yellow shirts? The people in yellow shirts are from a company You see, this is a cooperative -How about the number? -This is his number When you come here for shopping and you have many things to carry, these guys can help carry your things They are identifiable by their number -They cannot run away with your things -Okay Is this like a porter? Yes, that's right, so he can now hold this for us This country has created a profession... which I have never seen in any other countries that I've visited Kimironko Market sells items commonly found in most traditional African markets The difference is that only paper and reusable bags are provided here Paper bags? You don't have plastic bags here? We don't have them -Okay None in the whole country? It's prohibited in our country It's a law? I see Since when? It's been over 10 years now One hour has passed in the blink of an eye Jing Lun's custom-made clothes are done It's really beautiful It looks majestic Let's try it on You can even alter it on the spot if necessary It's nice It's nice, right? Yes, it's nice -You're a good tailor, yes It's beautiful I'm so happy, thank you -Thank you I can bring it back to Singapore and show it off to my relatives Located west of the city and towering 1,800 metres above sea level, Mount Kigali and Rwanda's capital are closely intertwined Legend has it that in the 14th century, after conquering the region, King Cyilima Rugwe...
looked at the surroundings from a mountain He declared that, "This country is vast (kigali)" That very mountain was Mount Kigali The city was later named after it I asked Andrew where Kigalians like to go for leisure He brought me here to Mount Kigali! I hear there are many attractions here We have gotten our tickets! Let's go! Besides being the best place to get a panoramic view of the city, Mount Kigali is great for doing leisure activities as well Activities include horse riding, painting, bungee jumping and ziplining There's an activity for everyone whether it's something relaxing or thrilling I'm about to experience riding this quad bike! It's really thrilling The sky is turning dark and I'm about to race with Andrew! The loser will face a severe penalty! He will have to... treat the other person to drinks We're about to set off Are you ready? I'm ready! -Okay Let's go! It's a tie! There's no winner or loser Cheers to our friendship! The sky is turning dark Jing Lun's day trip in Kigali is about to end We've saved the best for last He's about to go on his most anticipated activity - ziplining! I'm quite nervous The sky is turning dark and I don't know where I'm going <i>Moraho Do I stand here? Where do I hold? Hold here. Do not touch this cable Go down -Okay Look at how fast he's going You can go Okay, go! <i>Moraho, Rwanda! It's so fast! This zipline has three stages I'm not sure which of the two sides I should go to One ticket apparently allows you to go on it twice I'm going for a second round How thrilling This is my last zipline ride It's a pity I was facing the back halfway through as I had to hold on...
with only one hand I didn't know where I was going The uncertainty somehow made it more thrilling When I finally reached the end, I was really scared because I didn't know when I'll stop I can't even speak coherently now If you ever come to Rwanda, make sure to try the zipline at Mount Kigali Are you feeling okay, Poppy? I'm still fine right now What's the best way to enjoy nature? Walking above the canopy of a forest, of course! This is the highest point of this canopy walkway Look at that monkey! Where's the monkey? Oh! It's going to jump! During his visit to Kimironko Market in the Rwandan capital, Kigali, Jing Lun experienced the everyday life of the locals <i>Nangahe -Nangahe? He then spent a fun afternoon on Mount Kigali <i>Moraho, Rwanda! It's so fast! Rwanda's primary tourism resource is its natural scenery Its most popular destinations are its three major national parks - Volcanoes National Park, Nyungwe National Park... and Akagera National Park Jing Lun will now make his way from Kigali into nature's embrace Where will his first stop be? We're off! Okay, let's go! Rwanda's forests span an area of nearly 7,247 square kilometres They make up 30 percent of its total land area They are one of Rwanda's most important natural resources Jing Lun's first stop is one of the oldest primaeval forests in Africa, Nyungwe National Park After a six-hour drive from Kigali, and ascending this mountain, it has become very cold This is Nyungwe Forest National Park in southwestern Rwanda It is situated in the Albertine Rift Valley It's one of the largest protected montane forests in Africa I found a guide here -David! Nice to meet you! -You're most welcome! Pleased to meet you I've been guiding here in this forest for more than 10 years I'm one of the senior guides in Nyungwe National Park What you need for this kind of walkway is just walking sticks... because it helps you when you're going down the stairs It can get slippery sometimes We'll let you know if you need to go slower The hike will take us 1 hour and 30 minutes Is it good weather today? The weather is now nice... but it's a tropical rainforest after all Things may change in a few minutes I recommend you to take a rain jacket for now Let's go while the weather is still good Let's go! -Okay Nyungwe Forest was designated as a forest reserve... back when it was part of German East Africa in 1903 However, the government was inconsistent in its protection efforts at the time It was only in 2004... that Nyungwe Forest became a national park I want to be a guide because I want to protect nature I love nature I know how important this forest is to this country This forest supplies more than 70 percent of the water we use in Rwanda If we don't protect this national park, maybe our future generations will live in a desert While protecting its natural ecological environment, Rwanda has also been developing and promoting ecotourism in the region Nyungwe National Park features 15 different hiking trails There's a suitable trail for everyone...
regardless of whether you're a newbie or an experienced hiker This is the one, "Igishigishigishigi"... "Igishigishigi Trail", am I right? Exactly, yes How difficult -Igishigishigi means "tree fern" -Oh, I see Yes, it's one of the oldest ferns It's more than a thousand years old They are common along this trail That's why the name of this trail is Igishigishigi Here is a map of the trail We are here? Yes, you are here Then we'll go down The canopy is here, and we'll come back Let's go Igishigishigi Trail -Yes Rwanda has diverse flora and fauna They are mostly found within the three major national parks Nyungwe Forest alone has 86 species of mammals... and over 300 types of birds Of these, 29 are considered endemic to the Albertine Rift There are also 1,068 species of plants here This is one of the trees that we have here It's called the Lobelia It's hollow It's very useful in our culture here in Rwanda It's used to make flutes for music Oh, I see It's a material for flutes? -Yes It's a kind of traditional medicine as well There is a baby one here This is a baby? If you look here, the sap is white It looks like milk This is what we use when one has an infection We apply it on the skin It treats skin infections What will happen if you don't have an infection and apply it on the skin? Nothing will happen because it's not poisonous Let's try applying some Okay, let's try it It smells a little like spices It's a little sticky though It's not bad -The smell is good The Igishigishigi Trail that Jing Lun is on... is one of the easier trails of the 15 trails available It leads you to the most eye-catching feature in the national park... a suspension bridge Poppy -Yes? We have finally arrived at the canopy walkway I mentioned earlier This is a suspension bridge This is a suspension bridge that passes over the trees That's why it's a canopy walkway How long is it? It's 160 metres To allow hikers to enjoy the scenery of the valleys and surrounding forests, the Rwanda Development Board built this canopy walkway in 2010 This makes Rwanda the first country in East Africa to feature such a walkway Within a year after its construction, there were nearly 50 percent more tourists who visited the Nyungwe National Park Take a look at the ferns Do you remember what Igishigishigi means? That's the one? That's the tree fern down there It's a beautiful fern It's huge -Yes, it is People say it was food for the dinosaurs many years ago Before coming to Rwanda, I didn't know it was a mountainous country, or that there is such a well-preserved rainforest park among the mountains too The scenery along the way to the canopy walkway... was really beautiful I have a fear of heights, so I was quite scared...
because I had an unobstructed view of what was below me Are you feeling okay, Poppy? Yes, right now I'm still okay -You're still okay? -Because you're in front Yes, of course, you'll be fine. Don't worry You'll be fine Don't look down As I was enjoying the beautiful scenery from the suspension bridge... I forgot I was very high up And we... I think our guide has an eagle eye He can see monkeys All I could see were the swaying of the branches... after a monkey has leapt off of it Look at that monkey! Where's the monkey? Oh, it's going to jump, in the tree there! You see him? -There's like a silver monkey down there -Which tree? Oh! He jumped I didn't actually see any monkeys, but I think the environment and scenery made me feel like I'm in heaven Follow us Let's take a trip together <i>Forbidding No More! Jing Lun's trip to Nyungwe National Park has not ended Two kilometres away from the forest lies Rwanda's most beautiful tea plantation How do they do this? I don't see a path at all It's difficult to even enter This is so difficult Renowned for its natural landscapes, Rwanda has well-preserved primaeval forests that are thousands of years old That's the tree fern, Igishigishigi It was food for the dinosaurs many years ago Jing Lun visited Nyungwe National Park...
and felt the embrace of nature from above the forest canopy Look at that monkey! Where's the monkey? In the tree there Oh, it's going to jump! Earlier, we were... <i>Travelling through the tropical rainforest Now, we are... <i>The tea grandpa brews feels like home That's right! One of Rwanda's specialities is tea Look at the size of this tea plantation! How big is it exactly? Follow me! Rwanda may have a short history of tea cultivation, but its fertile volcanic soil and mild and rainy temperate climate... form the perfect conditions for growing tea leaves This allows farmers to grow tea leaves of high quality This tea plantation is huge I've been walking for a while and I haven't even covered half of it I see a friend there <i>Moraho! (Kinyarwanda) What's your name? (Kinyarwanda) My name is Obed -(Kinyarwanda) What's your name? -My name is Poppy! Warmest welcome to the tea plantation! My mother and father were tea pickers Thanks to them, I could go to school I thought about how I can promote the tea plantation I started a local community group...
known as the Gisakura Tour Company I started guiding people in the community So, do you know a lot about this tea plantation? Yes, exactly I used to play hide-and-seek here since young Hide-and-seek here? That's nice! Gisakura Tea Estate lies west of Nyungwe National Park It spans 17 square kilometres Established in 1957, it is one of the most renowned and oldest tea plantations in Rwanda When is the best time for harvesting? The tea leaves are harvested all year round, from January to December We do not have much yield during the dry season However, we have a high yield during the rainy season You can harvest almost every day? Yes Can I have a look? -Yes! Teach me how to harvest! Agriculture is the primary source of income for Rwandans Tea leaves are one of the main agricultural exports <i>Moraho! There are around 60,000 Rwandan households which grow tea leaves for a living Gisakura Tea Estate itself has more than 800 tea farmers They are picking tea leaves They choose which leaves to pick They pick in this way - two young leaves and a bud This is for picking black tea leaves When you pick white tea and green tea leaves, you only pick the bud That's the difference Picking tea leaves doesn't seem too complicated, right? Following the explanation given by our guide, Obed, Jing Lun tried his hand at picking tea leaves with the local tea farmers Which area hasn't been covered yet? -She'll show you where there's more yield -Oh, okay, thank you I'll be with you How do I... okay Okay, this way It's quite heavy This is for protection and also... when you work in the tea plantation, it helps you to slide Oh, okay It's to create less friction? -Yes I have to wear this Thankfully there's this I'm wearing shorts, so I kept getting pricked This resolves my issue Thank you It seems that Jing Lun has gotten himself in a bit of a situation before starting How do they do this? I don't see a path at all It's difficult to even enter This tea plantation is the most beautiful one I've ever seen It's also the one with the narrowest paths The tea plantations I see are usually more organized There's a path in the middle for you to walk This feels almost like a primaeval forest This is so difficult How do they move around in here the whole day? It really hurts Look, I got pricked It's not easy It's really tough work The tea farmers have years of experience, so don't feel too dismayed, Jing Lun! Practice makes perfect after all Like this? I need more practise These are quality tea leaves I already ruined a bunch of them Yes, put it in my basket, please. Thank you I'm getting the hang of it Picking tea leaves at the tea plantation is like a competitive sport That's because farmers' earnings are calculated by weight When they pick tea leaves, 1 kilogram is worth 51 francs That's very little Rwanda has 18 tea factories They produce 30,000 tonnes of tea leaves annually The majority is exported to the international market Only 3 percent of them are sold domestically Can I try the tea? Yes, I can take you to the shop where they can serve the tea for you Yes. Can we do it now?
I'm thirsty Yes -Then let's go After working up a sweat earlier, now we have good weather, great music and beautiful scenery, which makes it a perfect moment for trying their local tea We are going to taste black tea Black tea, I see While white tea and green tea leaves are grown, Rwanda mainly grows black tea leaves Do you export the end product to other countries? Yes, to Kenya Only Kenya? Yes We sell the tea via an auction -Okay Those who want to buy tea leaves will come to the auction They will brew and drink the tea, then feel its tastiness They are willing to pay more for better-tasting tea I see I'm going to taste it now and see how much money it's worth See, the colour has already changed -The colour is so concentrated -It's like whisky Oh dear, it's too strong It's really fragrant though -So this... -This is very strong. Really strong! Wow I may have steeped it too long However, though it's strong, it has a sweet aftertaste Cheers! -Cheers! Before coming to Rwanda, I didn't know that their speciality is tea After finding out more, I learnt that tea was introduced here by the Europeans, but it does provide a source of income for the region When I observed the tea pickers working, I realized that... I rarely see someone smiling so happily and naturally... while doing such a menial job They genuinely like the work they do They love their job After enjoying some tea...
Jing Lun's next stop is Killer Lake located near Nyungwe National Park Wow! We caught so many! We don't have to worry about dinner now Cruising through the plains in a cool jeep Searching for the African "Big Five" Stop! -Oh! There's something there I see it in a distance An activity you cannot miss when in Rwanda - gorilla watching! I am about to head in We are about to meet the star of the show Oh! Look! -That's a big one It's the silverback! Subtitles: CaptionCube
2023-03-15 03:43
Show Video
Other news