Ep 5 Pahalgam -Gem of Kashmir | Betaab Valley | Chandanwadi | Aru valley, Things to do in Pahalgam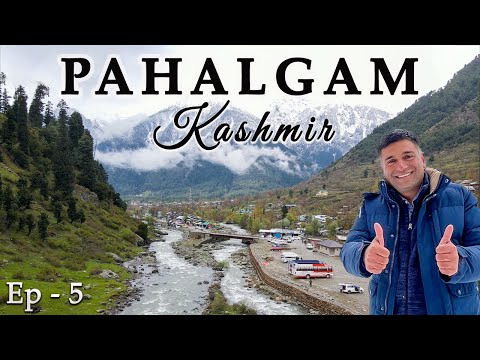 Show Video
Hello Friends ! Welcome to Visa2Explore I'm your host Harish Bali We're starting our day from Pahalgam, Kashmir Ever since, we started our Kashmir's journey I'm noticing.. Every day, we've experienced a new view Witnessing a new environment Sometimes, it rains.. Sometimes, snow falls Sometimes, weather gets clear We're seeing trees of varied types When we're in Srinagar we saw a lot of Chinar Trees Now, we're seeing Alpine Trees in Pahalgam Are you seeing that bungalow over there? We've stayed there at night At this moment, it's 9:15 AM They've around 8-10 rooms above Very good accommodation It is JKTDC's property They also have huts Look at down there to see the huts You can get them booked online First, we'll go inside to have breakfast Thereon, we'll go to Aru & Betaab Valley ..we've opted for a package Ready-made packages are available ..that show you round in 3-4 hours The taxi we brought from Srinagar We can't travel further in same taxi We need to leave that taxi here only Means, that driver waits here We need to hire local taxi of taxi union ..for the local sightseeing That sightseeing which is located .. ..around 3-4 kms distance at outskirts Look at the scene here Sheep are grazing grass on meadows Clouds are visible in our front ..and towering mountains.. ..dotted with countless trees What a beauty ! This is "Rate Card" of taxis hired by tourists Name of places are written which you can visit On the top is written "Local Pahalgam" Full day sightseeing Below it on number 2; it's written..
..Aru, Chandanwadi, Betaab Parallel to them you can check.. ..taxis in which you want to go For example, Crysta Innova If you want to go in van, charge is Rs. 2100/- We've chosen Innova for ourselves As we opt for Innova, it's not neccessary, Innova will be sent for us Maybe, some other Innova-like taxi is sent It all depends on the availability Further down, it's written, Say, someone only wants.. ..to get dropped in Gulmarg And, just for an example..
They want to travel in van So, the charge is Rs. 4800/- This is the whole rate card So, it's easy to decide And the hotel where you stay.. They also have the same card They make a call to taxi union ..to send over a particular taxi to their guest Driver brings taxi to the hotel The system works here like this So, let me ask him Have you booked the taxi for us? Tell them We're ready to go Right ! Taxi will be here within 10 minutes Let's go there to have breakfast Very good Nice.. Aloo Paratha Earlier, I thought to order curd Then, I thought, the better idea is.. In stead of curd, it's better to take pickle So that, I could have Kahwa with them Kahwa won't be right after having curd From taste point of view, it's average taste But, climate is so pleasant & cold I felt like having something like paratha I like eating paratha in cold weather Otherwise, it's combination with pickle is good I'm perceiving, for the last 4-5 days, As we've been drinking Kahwa We're not feeling the cold as much..
..as it is in real We're feeling a little difference ..due to drinking Kahwa regularly We're feeling less cold Good....They've made nice Kahwa very very tasty They use whole spices to make Kahwa Spice doesn't come in its taste They put them through a sieve while serving If you drink Kahwa twice daily Just as we say in summers, "Beat the heat" With Kahwa, "Beat the cold" In that reference, it's a great drink Nice, good.. Now, we're leaving from here within 2 minutes And.. Today is going to be a fun day This is what I'm feeling; especially.. ..since weather is also clear So, we'd enjoy a lot I told you we'd hired Innova taxi So, here's the Innova Brother Abdul is with us He's told us one news For last 3 days, it's been raining.. For that reason, some vehicles..
..got stuck in Aru Valley That clearance is being done Same thing happened in both Aru & Chandanwadi So, as you guided, we'd first go to Betaab By the time, you'll get the news.. Way to Chandanwadi is open or not If Chandanwadi is open, we'll directly.. ..go to Chandanwadi we'll visit Betaab during our return There's a different route to visit Aru Betaab is 7 KMs from here And 8 KMs ahead of it lies Chandanwadi This is the entire route map It's package of 4 hours Package means this rate card is of 4 hours Rest, for extra amount of time you take, you can give charges of Rs. 400/hour Otherwise also, their union has entire.. ..rate-list ready with them To be honest, I found your union good Union here is good Why did I find it good? Because, rates are fixed Wherever you search on Google, you'll get the fixed rates That's the reason I'm saying..
Benefit of having fixed rate is.. ..there's no game of negotiation Somebody hires taxi for Rs. 4000 or Rs. 2000/- They've made time-table as per taxis Means, they've made a rate card This is what I liked Ok, let's go We've just travelled for 1 km We've stopped our car ..to behold the view Even, through this 1 km ride, I felt like stopping after every 200 mtrs ..to behold the view Because, view kept on changing At this moment, I... The bridge made over Lidder river I'm standing on it Snow-capped mountains are clearly visible Clouds are so mesmerizing Look at the current of the river ..is too strong and fast Lidder river is coming from Amarnath Shrine Flowing further down, it merges with Jhelum To this side, a large parking lot is there Many tourists who came on buses ..or on mini buses Those vehicles are parked here Since, we need to go to Chandanwadi We'll go from this side Betaab valley will come first Then would come Chandanwadi And Aru valley has a different route Let me tell you one more thing When people are on Amarnath Yatra So, Yatra is routed from Sonamarg Yatra also happens from here Distance is long if you go from here Because, one check post of Pahalgam..
..is further ahead You made your entry at that check post 2nd check post is where I'm standing 15 KMs ahead from here, you go to.. ..Chandanwadi by car Amarnath Gufa is at 32 KMs distance.. ..from Chandanwadi You can go on foot or on pony If anyone wants to go by helicopter Helicopter service is available from Pahalgam If you go via Sonamarg, From there, distance is lesser, I think; it's 14 or 16 KMs I've never done this pilgrimage This much information I've with me Sonamarg also has Helicopter service From there, distance is less, but ..elevation is more Weather turns unpleasant Here, chances to get unpleasant weather.. ..is comparatively lesser We're visiting "Betaab Valley" first Its entry gate is in our front Entry ticket is Rs. 100/per person We've got the tickets Our taxi is parked in the stand During the month of March, ..or during February month, When tourists visit this valley, So, what some people do...
While coming down from Chandanwadi, They get downward glimpse of Betaab Valley Now, With onset of April, May and June, All tourists start coming here Time that offers best view of Betaab Valley.. ..isn't February or March, That are months of May, June, July Let's go inside After walking for 150 mtrs from entry gate, We're standing on bank of Lidder river Let me tell you honestly, By standing at this point, anybody would get impressed We've already got impressed Such a beautiful view River is flowing in our front And, the trees which are visible.. Some are pine trees, Rest of them are willow trees Snow settled on mountains So, beautiful... Let's cross this bridge, ..to go to that side My heart got pleased We've got a great start today What I should tell ! Now, we can either go to this side.. ..a passage has also been made ..or we can go to that side also Let's do one thing.. Let's go ahead to this side ..walking along the riverside while.. ..weaving our way in and out of trees Telling you honestly, Betaab Valley won my heart It's a very spectacular location As we're walking ahead, Scenes keep on changing By riverside, we're getting a different view Now, as we're walking through trees 3 months later, it'll have..
..different environment here In last 3 days, this place got a lot of rain There is mud at many places Game completely changed after reaching here --Hearty Laughter-- First thing I understood here is.. If you're coming here, don't miss visiting Betaab Valley 2nd thing that I understood is.. ..if you keep one & half hour window, You won't enjoy thoroughly You'd have additional time It means that.. ..the taxis that offer 4 hours package, Their rate card of 4 hours to show 3 places.. 4 hours..
..are insufficient to enjoy thoroughly It means, you need to pay extra charge.. ..to tell your driver You want to hang around for more time, Take extra charge from us If you've come, explore it thoroughly Feel the soul of the place Show us the dress that suits us Sir, you've fair complexion, every outfit will suit you --Hearty Laughter-- See, how it looks My appearance has changed Don't you give anything for legs? No sir, this is half dress Ok We're ready to get clicked Is it fine in the background? Nice, background As, I've told you earlier.. Around 2 to 2.3 hours,
you can beautifully spend here we've already been here for a long time More than two & half hours Ever since we came here Let's go outside ..and find out, whether or not, Chandanwadi route is open We'll go to Chandanwadi, if it's open If it's not open, then we'll think what to do while standing on the road, we're getting aerial view of Betaab Valley From the down, view was different From the top, ..wholesome perspective has changed So, beautiful.. So many tourists are here Extremely beautiful From Betaab Valley, we've come.. ..around 1-1.5 kms ahead Now, we're being told, Road is closed at the moment So, there's no chance Let's check it out once Let's climb up that way From that elevation, what the scene is Then, we'll decide.. whether or not, we're able to visit Chandanwadi Come.. Route to Chandanwadi is closed We'll climb the hill a little with brother Abdul We've come closer to JCB Here, L&T crane is working Crane's work is in progress besides with JCB Now, the question you know what is..
Why is the road closed? We need to find out the reason There's a large boulder in front of us Brother Abdul, this stone or call it rock.. When did it fall here? Sir, it fell here at 3:00 PM ..due to heavy rainfall When it's raining heavily here ..heavy downpour.. Traffic was moving along the road It came sliding down from the above Road was closed at one or two places Road was also closed at below But, road got more affected at this point Here, at least, Around 400 vehicles were stuck behind We undertook rescue operation at night We've our registered taxi stand here From there, we took other vehicles.. ..to ensure safe release of stranded tourists Such problems often come in mountains But, the good thing is.. ..no unwanted accident happened No accident happened See, so many vehicles are stuck there Have they been stranded there.. .. since 3 PM yesterday? Yes, road has been closed since 3 PM Machine came here at night ..around 1 AM They waited whole night And started clearance in the morning Landslide occurred at below as well Machine has reached here now They've started their work I asked around 2 minutes ago, They're saying, it'll take around.. 3-4 hours for its clearance Sir, see yourself, how large the rock is..
It's not a normal rock It's very large Yes, sir, it's too large We're interested in visiting Chandanwadi Only obstacle to visit Chandanwadi is this rock He'd a word with brother Muzaffar Because his car has been stuck there.. ..since yesterday afternoon So, brother Muzaffar will take us to Chandanwadi will show us around there and.. .. bring us back in an hour So, what we do.. We meet you again within 2 hours ..in around 1.3-2 hours Will you be standing here only? Yes, sir, I will be nearby my car That will be fine Our two teammates are below Let's call them over here We'll go with you within 10 minutes From Chandanwadi, we're just..
..around 1-1.5 kms behind We've stopped here to behold the view The second reason is when you.. ..come for Amarnath Yatra We'll also come for this pilgrimage in future One check post has been made here Beyond this point, only pilgrims can go Normal tourists can't go beyond it They're not allowed Normal tourists when they come here.. ..in July, they're allowed till this point They do photography and return Either can they go Betaab or Aru And 32 KMs travel begins from Chandanwadi Travel is of around 14-16 KMs from.. Baltal, Sonamarg Well, many people told me.. During pilgrimage period, Somehow, normal tourism declines here Means, even in Srinagar side, Number of tourists decreases Pilgrims come more during those days Shall we go ahead? We've reached Chandanwadi I'm feeling we've come to that place..
..where no tourist comes Why are we feeling like this? Because no one is here at this moment We're all by ourselves, and by the way.. ..it might be very rare During peak season, ..almost 24 hours pass away.. and no tourist visits this place It must be a rare occurrence Yes, sir, it happens seldom It happens in January, February, March ..due to heavy snow fall, it happens then Let's do one thing We'd tell them Brother, we'll return to you in a while Will we get Maggie? Then, we'll have Maggie & Tea Brother, tell me one thing Where does this river come from? Sir, here, from this point You mean to say.. Below there lies a river Yes, sir, river is flowing here Ok Are you going over the river? Yes, sir, here it is in front How much feet of snow .. ..will there be underneath? 10-15 feet Will there be 15 feet of snow below? Since, this way was closed today Tourists easily walk around over it Do they walk over the river? Yes, sir It means it's safe Yes, sir, it's safe --Hearty Laughter-- It's great We're also playing like kids Sir, do this way This way ---Hearty Laughter-- What a fun ! My heart got pleased Shall we go from there? Yes, sir, let's go Let's have a close look at it Well, this technique is good.. ..to walk over the snow Isn't it? By stepping forward in this way..
1... 2.. And, 3...
From a distance, it resembled to a rock ..that is covered in snow Now, you've told us.. It's total snow This rock is actually made of snow Let's hit it once Look at us, even we're enjoying like kids We're having fun, that's why.. Usually, when avalanche occurs, A mass of snow falls.. ..rolling down the mountainside ..and which converts into rock-like shapes Means, even anybody comes by 31st May, ..at place where we're standing right now They'll find snow Yes, sir, very easily What should we do now? Should we click photographs? This is what we can do here Heavy snow has started falling Now, we're going back ..which is also good for us Otherwise..
Snowfall will get heavier Above all, we don't have snow boots We can be in trouble Maggie is ready See, how much smoke is coming out of it Generally, I don't eat Maggie But, when I'm travelling in hills, ..at that time, I find Maggie very tasty Awesome ! Finishing the Maggie in 5-10 minutes, we'll move out, our car is parked there we'll travel for 7 KMs down the hill ..where landslide occurred At that point, we'll join brother Abdul ..who brought his taxi from taxi stand In that taxi, we'll travel downward We'll try to visit Aru Valley as well Rest depends on Aru's route condition Though, we've been told, route leading to Aru is cleared now It depends on that, and rest.. it also depends on amount of time.. ..we've in our hands Because, we need to go to Srinagar today The spot where landslide occurred..
..the crane is still cutting the rock At least, it'll take 2-2.3 hours.. ..to clear the rock from here We've come in a different taxi we'll travel for 7-8 KMs down the hill ..to "Pahalgam" From there, travelling further for 12 KMs.. ..we'll visit Aru Valley What's the time now? 3:25 PM To reach Aru Valley, it'll take around 40-45 minutes We're 7 KMs behind from Aru Valley We've stopped our car Look at this Just 2 hours before, Tavera fell into this gorge This taxi was from local stand Tourists & driver who're in this taxi.. ..however are safe as of now But, they sustained injuries With the aid of crane, this taxi.. ..is being lifted out of gorge While driving taxi in the hills, extra caution is required May God bless them We've reached Aru Valley From Srinagar, we came with...
..brother Irfan to Pahalgam We brought "phiran" to me from his home. In case, you feel cold, put on this "phiran" I've taken off my big jacket ..only one jacket is inside Over it, I've put on this "Phiran" Now, there's no change of cold biting me Come, let's go from this side As I'm advancing towards Aru Valley, all shopkeepers are staring at me Maybe, they're thinking, whether.. ..I'm a Kashmiri or an outsider As per my dressing appearance, I'm looking more like a Kashmiri moreover, I've a fair complexion After staring at me closely, one query.. ..is emerging in their minds.. Even 2-3 people complimented me.. "I'm looking very smart" Oh, wow..
This place is heaven So, beautiful See the fast flow of the river ..it's hitting the rock periodically It's good they've put up railing here So that no one tries to go across Nature at its best It's 5:30 PM in the evening If we came here at 12 o'clock morning.. ..all the tourists you're seeing now.. it'd have around 50 times more tourists here Betaab Valley and.. Chandanwadi are in one line From there, we return to Pahalgam Then we come towards Aru Valley ..after travelling for 12 KMs My heart got pleased So happy.. I got 2 more compliments You're looking full Kashmiri At this moment, here, there's no pony provider due to rain Usually, this place has lot of pony providers So that, if a tourist wants .. ..to go ahead to some points You get cave ahead River point plus other important points They take tourists to those points..
and show them round JKTDC property is closed today It is under lock and key Let's move ahead a little Here, people are putting on Kashmiri outfits ..to get them clicked There's a hut over there Some people are doing photography there The good thing is.. ..it's only drizzling If there's heavy rain, ..to be very frank.. I wouldn't be able to show us this scene Luck has been in our favour till now Let's go over to that side Come... I was just leaving the Aru Valley I saw an office of Pony Owners Association And, I talked to him to know..
What all places can tourists visit here? Because, the Aru Valley we've seen now.. ..that comes around Alpine Resort's area ..spread over a range of half kilometre Say, if somebody comes here, They can either go on pony or by walk ..you just tell us the options.. ..which can be explored by tourists The tourists coming here.. This is the market around Hotel Alpine From Hotel Alpine, if they.. ..go to Aru Valley How far is the Aru Valley? It takes 45 minutes to Aru Valley (to and fro) Means, what we've seen.. That is Aru Village Till Hotel Alpine, it's a village Ok Second place is River Point It's half hour travel (to and fro) It's 1 hour journey (to and fro) What's its name? And there's one cave It takes one and a half hours to travel to...
.. all these 4 places (to and fro) Aru Valley, Cave, River Point Besides it, 3-4 hours journey will take you to.. Green Top That's a day trip People could also explore Lidder Valley It's 12 KMs far from here It's a 5-6 hours trip (to and fro) Tell us the place where shooting of.. ..movie "Bajrangi Bhaijan" took place That is Aru valley We call it "Mini Switzerland" Means, whoever sees Aru Valley They don't feel like returning Is it 2 KMs from here? That's 3 KMs of journey (to and fro) Aru Valley The points under 3-4 kms of area, If one wants to cover on pony, what are the charges you take? Around Rs.1000- Rs.1500 to cover all places Somebody also told me.. Usually, 90% of the tourists including us..
They remain confined to .. ..area around Alpine Hotel But, if a person spends 3 more hours here.. If not 3 hours, then at least 2 hours.. there're so many spots around.. ..which you just told us can be explored Thank you We've reached at taxi stand no. 2 at Pahalgam
First of all, thanks to you Thank you sir Very nice To be honest, Your presence enriched our journey You keep on sharing interesting facts.. ...through our journey We learnt a lot about Kashmir from you Overall, we enjoyed our journey a lot On the way, I was asking him.. how many taxis would be at this taxi stand? He told around 750 taxis are here They've a rate card as..
I told you initially also You can hire taxis of different models Full-day charge, half-day charge.. They charge in this way Every hotel has this rate card So, there's no problem If you ask for a taxi from a hotel owner.. Taxi comes within 10-15 minutes Do a little favour for us I'll make you the payment get us the bill from the counter Ok, sir, sure.. Ok, brother Abdul, thank you so much Bye-bye Our taxi is parked outside Let's go to nearby café /restaurant in taxi ..let's eat something Then we'll leave for Srinagar Just now, I went to café Log Inn Next to "Dana Pani" restaurant in Pahalgam ..lies Cafe Log Inn It's a very famous café here They said video isn't allowed inside the cafe They've their own hotel in vicinity What's the name of the hotel? Pahalgam hotel, I think.. I went there to get permission..
There, they said, their owner had.. ..told them not to allow video shooting So, the bottom line is, we didn't stop there to eat anything We thought to do one thing.. let's eat somewhere else For example, Mughal Darbar Half of that shop is shuttered Then, we came to Paradise restaurant They're saying restaurant is closed now It will re-open at 7:30 PM I think it's better..
let's go towards Srinagar We'll eat something on our way It's a better option Brother Irfan is in front Come.. We've travelled for almost .. ..18 KMs from Pahalgam And, we've reached close to... "Sakhi Zain Ud Din Wali Dargah" It's a very famous Dargah We'd noticed it while going Then, we thought to visit it in return But, it's raining very heavily now We've stopped here for 5 minutes There're 3-4 shops at this point We've stopped at one shop among them What do you call it? Sir, we call it Paratha Ok ! It's called Paratha It comes with Halwa It's "Suji Ka Halwa" Paratha is made of maida (fine flour) Yes, sir, it's made of "maida" Along with that, we've "Bhajiya" It is made of onion, gram flour & chili Give me a little portion of Paratha ..and little Halwa Also, give us a little Bhajiya Ok, sir Which song of "Bajrangi Bhaijan" was shot here? "Bhar De Jholi Meri Ya Muhammad" Hmmm... During those shooting days..
there must be a lot of crowd here Yes, sir, too much crowd was here Salman Khan was waving at his fans Did Salman Khan meet his fans? Did you meet him? Yes, sir, I said hello to him Ok, you said hello, hi.. How far were you standing from him? He's standing over there I said, "Salman Bhai, Hi.." --Hearty Laughter-- Very nice.. Means, every one came to know.. about "Bajrangi Bhaijan" shooting here Yes, sir, yes.. What to do with his umbrella? I feel, I'd put it down It's not difficult It'll get managed It's difficult to eat while holding umbrella Serve me Bhajiya too, only 2 pieces..
Put it on this plate only I told them, not to serve me.. eatables on newspaper.. So, he served me on a disposable plate Well, otherwise also, you'd have.. ..system of disposable plates It might add to your expenses But, that will be better serving option Yes, sir When did you make this Paratha? In the morning? Now, sir, I made it a while ago Ok, means, just recently.. Well..
Paratha is nice But, I'm finding Halwa tastier than it Everyone has their own liking Yes, sir.. I liked the Halwa It has nice taste Ok, very good.. First, we'll finish it We'll go towards Srinagar I felt like drinking tea.. We've come to Evergeen Hotel to drink tea Our tea has come While having my tea, let me tell you.. ..something interesting about my journey Actually, Pahalgam is two nights destination One night is less Some people, even, come to.. ..Pahalgam from Srinagar in morning They return in the same evening That's not a right idea in itself One must do this, go to Pahalgam from Srinagar On Day 1, go to Baisaran Valley, It's a beautiful valley Though, we didn't go there Next day morning, visit Aru Valley, ..Betaab Vallley and Chandanwadi Stay in Pahalgam at night On 3rd day, as you start from Pahalgam..
Travelling through Kokernag, Verinag.. ..you go to Srinagar To go there, you'll need to travel 30 KMs extra ..off the main route Actually, it's a V-Shape route You'll need to go more than 30 KMs Jhelum river originates from Verinag Going by this plan, you'll have a good.. ..2 nights and 3 days program Right ! At moment, we're 35 KMs far from Pahalgam Means, starting from Pahalgam, we've covered a distance of 35 KMs Srinagar is 55 KMs ahead Right ! Let's drink our tea Tea is nice Do share; how our today's episode was.. I'll await your comments like always As of now, I bid bye-bye to all of you Tomorrow, we'll be in Srinagar only Our tomorrow's journey, you'll see in our next episode We'll meet you again very soon Thanks for your time ! While travelling on Yousmarg's way.. ..we undertook 1.45 hours journey Now, we've stopped our car..
..to behold an amazing view Snow-capped mountains are so beautiful I, myself, am feeling on personal level.. Let's sit on the grass for half an hour We'd take no tension.. ..what we'll explore in Yousmarg Let's keep sitting on the grass here ..continuously behold this spectacular view Let's take 5-10 nice photographs
2023-06-08 04:10
Show Video
Other news