Door to Forever: Bruce Hornsby's lifelong pursuit of the unattainable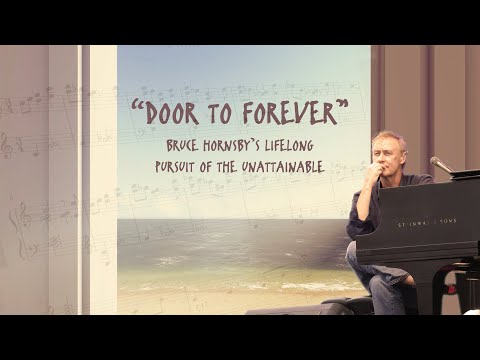 Show Video
November 1954. Ellis Island, the main immigration  port in New York Harbor, closed its doors for   the last time. The first ever "Godzilla" movie  premiered in Tokyo, selling 9.6 million tickets   as "the fire-breathing behemoth terrorized  Japan", it says here. Ann Hodges, from Sylacauga,   Alabama had a meteorite named  after her, after part of it hit her   after crashing through her roof and bouncing off  her console radio. That really happened. She was   okay and remains the only documented case of  an object from outer space hitting a person.  
Also in that month in Williamsburg, Virginia,  Robert and Lois Hornsby welcomed into the world   little Bruce Randall Hornsby on November 23  1954. Robert "Bob" Hornsby was an attorney,   a real estate developer and a part-time musician;  Lois, a piano player and church community liaison   who the Lois S. Hornsby Middle School  in Williamsburg was named after. Even before Bruce's parents, the Hornsbys had  a rich musical history. Lois' father, Bruce's   grandfather Pierre Paul Saunier was a respected  organist in Richmond and head of music for the   city schools. He had his own radio show playing  the big Mosque Theater stage organ on WRVA,   the 50,000 watt Voice of Virginia.  He was also the organist for Santa  
Claus at the Miller and Rhoads tea room, a  long-standing tradition for Virginia families. And encouraged by her own parents, Bruce's mother  Lois spent her college years leading a vocal trio.   She later coordinated local ventures like  the interracial musical youth group "Sing   Out Williamsburg", helping them to sing  and learn about patriotism, morality   and racial equality. That group included  young Bruce and his older brother Bobby.   Robert Hornsby played sax in his brother's  band "Sherwood Hornsby and the Rhythm Boys",   a swing horn band playing Tommy Dorsey Glenn  Miller style. Featuring Sherwood on piano,   Robert on sax and Uncle Charles,  of Spirit Trail fame, on clarinet.   Seven-year-old Bruce took piano lessons for  about a year with his brothers Bobby and   Jonathan at a funeral home. Sixth grade Bruce had  his own band and the young guitar-playing Bruce,  
armed with a Mel Bay chord book, was really  influenced by the Beatles and the Stones.   But as a young boy, he really wanted into  sports. "We were just your typical kids", he   later said. "We'd rather be out playing baseball  or basketball than inside practicing the scales".   From ninth through twelfth grade that  was basketball, and he was recruited   for Division Two basketball at Randolph-Macon.  But by his senior year, Bruce's brother Bobby  
had introduced him to the Joe Cocker album "Mad  Dogs and Englishmen", with Leon Russell on piano.   Around the same time, Bobby and Bruce were  driving on the Colonial Parkway from Yorktown   to Williamsburg, and Bobby put on an eight-track  tape of Elton John's "Tumbleweed Connection"   when they got home, Bruce began teaching himself  how to play "Amoreena". Those albums inspired   Bruce to become deeply involved with the piano. So  in the spring of 1974, Bobby Hornsby put together   Baby Hi-Test and the Octane Kids, with Bruce  on Fender Rhodes piano. They were essentially   a Grateful Dead cover band but also played  some Allman Brothers and some from the Band.  
"We didn't do a whole lot of money gigs", Bruce  said, 'but it was more about just going out to   this country house that my brother lived in with  all these hippies and sitting around playing". Bruce spent a year at the University of Richmond  (what he called "real college") and decided that   was not for him, before two semesters at  the Berkeley College of Music near Boston.   He'd often be found at Paul's Mall and the Jazz  Workshop next to it. Finally he wound up at the   University of Miami, as did at other times Pat  Metheny and Ben Folds. "I had no fun in college",   Bruce says. "It was all about playing. I was  totally consumed and practicing every day". Bruce   graduated from Miami in 1977 with a minor  in classical piano and a major in jazz piano   and headed back to Virginia, where at  age 22 he started the Bruce Hornsby Band   with John Molo on drums, Phil McCusker or  Peter Harris or Steve Watson on guitar,   Bobby Hornsby on bass and Ann Hornsby on  percussion and vocals. They gradually began  
playing Bruce's own songs and developed a loyal  local following. Kathie Moore at Whisper Concerts   would book them into the Cave nightclub to play  five nights a week on 17th street in Virginia   Beach, with tree stumps for tables. The venue was  covered in textured concrete both inside and out,   decked out to look like an actual cave. Bruce and  the band would spend their time playing the Cave,   the King's Head, the Jolly Ox and Dylan's, playing  their own songs along with covers of Steely Dan,   the Doobie Brothers, Jackson Browne, Joni  Mitchell and more. A bar regular at the Cave,  
on spotting the band arriving each night. would  greet them with, "Here come the noisemakers!".   The Cave, later the Roxx, and  then later the Cave again,   closed its doors for the  last time in June of 2019.   On December 1st 1978, the Doobie Brothers came to  the Hampton Coliseum, and Bruce won himself a big   fan. He took his drummer John Molo to the Sheraton  Hotel with him to look for Michael McDonald   and found him in a lobby. "We are playing at  the Jolly Ox tonight", Bruce told Michael,   "and you should come and hear us!". And he did. He  was instantly on board. He brought the whole band  
back the next night and even sat in with Bruce  at a suddenly packed-out Jolly Ox in Hampton. The   next night, the Doobie Brothers invited Bruce  and his band to come to Richmond as guests, and   to join them on stage for the encore of "Listen to  the Music" for a crowd of 20,000 plus.The opening   act for that tour was Ambrosia, where Bruce first  met Joe Puerta, later the bassist for the Range.
Bruce credits Michael McDonald  as being his discoverer,   and his support was strong. He could be  seen at Doobie Brothers performances   including on Johnny Carson with a  Bruce Hornsby band t-shirt on TV. Bruce recorded a demo tape at Richmond's Alpha  Audio in early 1979, sent it to Michael Mcdonald,   and he and Molo spent 10 nights at February  sleeping on Michael's floor. The demo tape ended  
up in the hands of departing Doobie Brother Jeff  Baxter. He got the offer of a deal from a label   at that time: $40,000 up front  in exchange for half of his publishing rights.   Bruce turned that down, preferring to take  the chance and take a gamble on himself.   Others turned down the tape, but he had  people's attention in the music industry.
Michael McDonald's advice had been  to consider a move to Los Angeles   and in 1980 Bruce got a job offer and a move to  L.A. as a staff songwriter for 20th Century Fox.   Taking drummer John Molo, guitarist Steve Watson  and later his girlfriend Kathy with him   Bruce set himself a target: a record deal in  ten years or go home. He saw a lot of interest   and a lot of near misses. In 1981, Lenny  Waronker, the man who signed Prince and R.E.M.,  
funded a demo for Bruce to make for Warner  and then declined. In 1982, Bruce joined Joe   Puerta and Ambrosia and can be seen in their  "How Can You Love Me" video. "But", Bruce says,   "we were the opposite of success. When I didn't  get a record deal, they kicked me to the curb".
The following year, in 1983, Sheena  Easton took Bruce on as a musical   director and touring piano player, along with  Joe Puerta. Here's Bruce in the "Strut" video. In the same year, George Lucas followed up his  three original "Star Wars"" movies with his first   animation, "Twice Upon a Time", which Bruce wrote  and performed the opening track, "Heartbreak Town". Bruce was turning out the demo tapes but getting  passed on, and around 1983 his music took a little   different turn. Moving closer to the Americana  roots rock sound, his own songs were heavily  
inspired by stories from back home, and Bruce  spent much of the next six or seven years between   Virginia and Van Nuys, California. Virginia gave  Bruce some hometown stories, and with them some new   songs. Combine the American roots-oriented sound  and the shared and many traditions of Southern United   States culture and those hometown tales, fuse all  those influences together and you have new songs   like "On the Western Skyline", "The Red Plains" and  "Wild Frontier". What Bruce needed was a band to play   them. Step forward old friend John Molo on drums,  bass player Joe Puerta, George Marinelli on guitar  
and David Mansfield on guitar, mandolin and  violin. Bruce originally was accordion only. A name? What could be more Americana than "The Range"?  Not "Bruce Hornsby and..." initially, but "The Range".   It perfectly represented the band's sound, the breadth  of their music and their subject matter. Virginia   afforded Bruce a deep well of inspiration for his  songs. And so the songs and the demo tapes kept  
coming. It was 1984, Bruce hit 30, and the goal was  still a record deal. He had some powerful advocates   by now: Huey Lewis had heard him and actually asked  to record one of his songs, "Let the Girls Rock". Believing he was about to get a deal for himself,  Bruce declined. Huey continued to push his cause to   the labels. Still, many promising roads were leading  to nothing and Bruce was starting to second-guess   his music. Ten years after the Octane Kids, it was  time to - literally - take matters into his own hands. Accompanied by a Linn drum machine, a piano a synth  bass and a keyboard pad, Bruce settled in his   garage in Van Nuys, California and recorded what he  wanted to hear. He called it the least commercial  
and most stylistically unique demo he'd ever made,  expecting no interest from any of the big labels.   On it, he put "Mandolin Rain", "The Red Plains",  "'Till the Dreaming's Done", and a jazz-inflected   song about social injustice driven by two  extended piano solos called "The Way It Is".   Windham Hill Records were beginning a new label  and wanted Bruce on board, and they offered him   that deal. Bruce saw the opportunity and  declined on the advice of his attorney. The reason? His attorney had given the  same tape to RCA and Epic, and in 1985,   a year after moving back from Los Angeles, Bruce  was signed to RCA. He had that record deal.   "Mandolin Rain" and "Red Plains" were said to have sealed  the deal. What happened next, nobody was ready for.  
Now calling themselves "Bruce Hornsby and  the Range", they set to work on a debut album.   "The Way It Is" was originally released in April  of 1986. This is likely not the version sat on   many people's shelves today. It's something of a  rarity and includes a couple of different versions of the songs that are more familiar today. Some  are reworked, all are remastered, and it's easy   to spot. The front cover shows Bruce on accordion.  Several of those nine tracks were co-written  
with brother Jonathan. Head cheerleader Huey Lewis  co-produced some songs and played and sang on "Down the Road Tonight. The debut single was "Every Little  Kiss" and almost caused a stir in its own right. It opens with a nod to, if not a paraphrase  of, Charles Ives "The Alcotts". The Ives Estate   heard it and got on the phone. "You've used our  music", they said. "Yes I have", was Bruce's reply,
and he never heard back. "Every Little Kiss" hit  number 72 on the Billboard Hot 100 in August of '86   but people were noticing, and it made the Dutch top  40. It was the next single that caused a real stir. "The Way It Is" single came out the following month.  RCA coincided that with a re-release of the album
with remixed tracks and a new front cover. "The Way It Is" single didn't get a lot of traction   at first. It debuted at number 86 in the Hot  100 and then the BBC in the UK got hold of it. Mick Wilkojc, a producer at Radio One at a time  when it was one of the biggest music playing   stations in the world, picked up the album. He  liked what he heard, and so the title track was   getting played on the BBC. Not just on the  radio - Bruce was doing the primetime Terry   Wogan chat show in the UK, Top of the Pops and  they shot a video in England. And they used  
"The Way It Is" single's piano solos for its signature  sports show, BBC Grandstand. (BBC SPORTS COMMENTARY) The Dutch provided an ample  following again, and "The Way It Is" was suddenly getting played and bought worldwide. Bruce Hornsby  and the Range all of a sudden had a number one hit in Canada, the Netherlands, the Billboard Hot 100,  the Billboard Adult Contemporary charts and top 10 hits in Belgium, Spain and Ireland, and the top 20  in Australia, Switzerland, West Germany, the UK and South Africa. Bruce Hornsby, the former Octane Kid  from Williamsburg, had a global hit on his hands.
That eventually followed back to the U.S., where "The Way It Is" became the most played song on American radio in 1987. It wasn't an easy transition. Bruce was 31 and had to deal with the spotlight   immediately, and it was an all-out blitz. The Range  were playing 10,000 seater arenas and yet Bruce   calls it the least enjoyable year of his career. "It  was just too much", he told the New Statesman. "Such a full onslaught of attention and opinion. I never  thought it was going to be that big of a deal." "I thought I was terrible at all of it, and I was".  The media and the reviews were effusive in their  
praise. The Wichita Eagle called Bruce "the best new  bread and butter rock and roll has had since the   mid-seventies days of Bruce Springsteen", the New  York Times drew comparisons with Keith Jarrett, the Philadelphia News said "the record warms the  same sort of inner glow that those first landmark albums by Little Feat, Jackson Browne, Bonnie Raitt  and the Band sparked many moons ago". And Melody Maker in the UK were fairly unreserved also. "Who is  this man?" begged the headline. "This particular
gherkin is called Bruce Hornsby who sings  with something called the Range, and is currently   occupying space in the singles chart. With a bit  of luck this might be the last we hear of him".   It wasn't. In a near miss, that review was printed  next to a cut out dart board with Chris De Burgh's   face on it. The first album was a triple platinum  and in February 198,7 Bruce Hornsby and the Range  
beat out Simply Red, Nu Shooz, Timbuk3 and  Glass Tiger for Best New Artist at the Grammys. Bruce: "This is great y'all, thank you very much". "I'd like to thank Kathy Hornsby and John  Hornsby and the rest of the large Hornsby   clan out in Virginia. Kathie Moore and  Bill Reid and all our friends in Virginia".   "RCA Records for doing a great job for us,  incredible job. Paul Atkinson for signing us"   "and Tim Neese, Fred Ansis, our road crew and..." "We've been on the road a lot, so we see a lot of  these guys! And i'd especially like to thank   "my big brother and our head cheerleader  Huey Lewis. Thank you very much everybody!"
And the hits continued. "On the Western Skyline" made number 6, "Mandolin Rain" number one in   the Adult Contemporary charts, a re-released "Every  Little Kiss" number three, and Bruce was in demand   not only in the charts but with his peers. He  had songs written for a new record by 1987,   Huey Lewis heard one of them, and again asked  to record one of Bruce's songs for himself.
And so this time, he did, and "Jacob's Ladder"  made number one in the U.S. charts in March of 8. Huey Lewis, Clannad, Willie Nelson  all had Bruce on their records   and the Range were on tour  a lot, including to Europe. TV performances including Saturday Night Live,  radio broadcasts and considerable time on the road. Only one crowd got hosed down, at the Reichstag in  Berlin. One side of the Berlin Wall tried a little  
too hard to enjoy the music from the other  side, as the Range opened for the Eurythmics. Those who caught the East German police's  attention got the hose, and were dismissed. While back in 1974 Bruce and brother Bobby  were heading a Grateful Dead cover band, Bobby Hi-Test and the Octane Kids, some of  the Dead songs were still to be found   in Bruce's concerts 13 years later, and  in May of 1987 in Monterey, California  Bruce Hornsby and the Range opened  two nights for the Grateful Dead "The Dead heard that there was this band riding  around the country playing dead songs", Bruce said.
"And Jerry Garcia and Phil Lesh became fans of  the record. So we got a call saying they wanted..."  "... us to open a couple of shows". They did, beginning  in California and even included "I Know You Rider" in their own set. Not that Bruce was resting on  his creative laurels for a minute. The second  
record was being crafted. Virginia continued to  provide an inspirational setting and by 1988   he had the musical equivalent of a book of seven  short stories entitled "Scenes from the Southside". Peter Harris replaced David Mansfield on guitar  and in May of '88 the new album was released. It was a concerted effort to document the Tidewater  area in the words of Bruce and Jonathan Hornsby   Not just rooted in their own experiences but  borrowing from southern literature.  "The Road Not Taken" was inspired by Lee Smith's 1983 novel  "Oral History", set locally. "Look Out Any Windo"' was
a commentary on environmental degradation and  corporate greed, "Old Playground" about his time on   the basketball court, "The Show Goes On" about small  town gossips. These were in a literal sense scenes   from the southside, stories from Southeastern  Virginia. It went platinum, made number five in   the Billboard 200 and the Top 20 in Australia,  Germany, New Zealand, Sweden, Switzerland and the UK.   Valley Road was the biggest hit, a song about class  differences, a local poor boy/rich girl plantation romance and the subsequent pregnancy that  Bruce said happened every year in his hometown. It set radio history by being picked up by a  record-breaking 186 stations in its first week. 
The video was a very funny documentation of  all of Bruce's local friends and family   in a gym, including dad Robert Hornsby  playing a non-existent clarinet solo.   Then in June of 88, weeks after "Scenes from  the Southside" was released, the Octane Kid sat in with the Grateful Dead. After the Range  opened for them in Buckeye Lake, Bruce played   accordion in the first set on "Sugaree" and  "Memphis Blues". It would not be the last time. Meanwhile Bruce Hornsby and the Range took off  on the road again, taking in North America and a   return to Europe, including a broadcast for BBC  Radio One. Bruce had also been writing some more, but not only for himself. He credits Don Henley as  the first "big shot" who asked him to write a song. Henley called Bruce up, came over to his  house and they were friends from the off.
Bruce had written some music that he couldn't yet  find the words for, and he offered it to Henley. He gave him a tape and he listened to it in the car  on the way home and called Bruce there and then. He was in, and "End of the Innocence" was written  Henley put the words to it right away, Bruce   played piano on the song to Henley's vocals,  which became the title track to his 1989 album. The single got a Grammy nomination and made  number 8 in the Hot 100 and number 1   in the mainstream rock charts. Fun fact: the "End of  the Innocence" video was directed by David Fincher,
who later directed Alien 3, Fight club and Seven  Bruce was in demand in 1989. As a young adult he'd been   turned on to the Nitty Gritty Dirt Band by younger  brother Jonathan, a big bluegrass fan, and was a big fan of their record "Will the Circle Be Unbroken". So 17 years after the first volume, he was invited   to join them for volume 2. Bruce was inspired  by Leon Russell's reinventions of his classics   into a breakneck bluegrass version, and he gave  "Valley Road" the same treatment for the Dirt Band.
He was greatly struck by the looseness of  the whole project and the live approach to it, which is minus the typical studio post-production  and overthinking of a song. It was one and done. The end result won Bruce his second Grammy for  Best Bluegrass Recording and bluegrass had a big   say in his music at the time, playing the famous  Telluride Bluegrass Festival for the second time in June of 1989 playing with the Dirt Band's Jerry  Douglas and Mark O'Connor, the New Grass Revival, Bela Fleck and Paul Brady. Bruce and the Range  managed to get Charlie Parker's "Au Privave" into a   bluegrass festival, along with some Rolling Stones'  "Wild Horses" and some Beatles: "I've Just Seen a Face".
Bruce was earning himself a reputation of one of  the hardest working artists around. He was also   guesting with the Grateful Dead on accordion  and keyboards, notably at RFK Stadium in DC. All the while, the third record was being worked  on. Bruce was really aiming for the live sound  
that he'd so enjoyed with the Dirt Band which  was even reflected in the title. "A Night on the Town" was released in May of 1990. With a  stronger element of jazz and bluegrass and guitar, this one featured a number of guests including  Laura Creamer and Shaun Murphy, Bela Fleck, Wayne   Shorter, Charlie Hayden and the Grateful Dead's  Jerry Garcia and emerging artist Shawn Colvin.
Mirroring Bruce's encounter with Michael  McDonald, Shawn had found Bruce at a Grateful Dead tribute gig a couple of years  beforehand, gave him a demo tape and Bruce   called her the very next day. He was a vocal  supporter of Shawn's before she got a deal   and by 1990 she appeared on "A Night on the Town" courtesy of Columbia Records. She provided backing   on three songs: "Barren Ground", "Special Night" and  "Stander on the Mountain" and dueted with Bruce   on "Lost Soul", a song he originally wrote for  Emmylou Harris. Elton John, a huge inspiration   of Bruce's, has performed that song himself  including with Bruce at Madison Square Garden. Having Jerry Garcia on the record was a big moment  for Bruce and he played on both "Barren Ground" and   the record's big hit, "Across the River". That song  made the top of the Billboard Album Rock Tracks   and 18 on the Hot 100. The Rolling Stone's review  was lavish. "Who could have predicted", they asked,
that a musician from Williamsburg, Virginia would  sit at his piano and coax jazz, rock, country and..." "...gospel into a vibrant instantly recognizable sound,  that would inhabit the lives of millions of people?" Along with a record came a video release: VHS tape,  DVD and LaserDisc. Recorded at the Paramount Sound   Studios in Los Angeles. Joining Bruce and the Range  again were Jerry Garcia, Shawn Colvin and Bela Fleck  
and this time Joe Henderson, Jimmie Wood on  harmonica and former Range member David Mansfield. Bruce continued to be sought  after by his contemporaries. The same year in 1990, Bruce appeared on "Under the Red  Sky" for another big influence, Bob Dylan and with the Range participated on two tribute records.  Again, dating back to two musical titans who had   a tremendous impact on Bruce, "Deadicated" for the  Grateful Dead, where they contributed "Jack Straw",   prompting 32 years and counting of  requests for that song at his concerts.
Also, an angular more jazz version of "Madman Across  the Water" was a standout on the Elton John tribute   project "Two Rooms". Elton is another who's been a  strident champion of Bruce's work and has gone as   far as to call him one of the best pianists, if not  the best, out there. "His piano playing", Elton says, "...is sublime. It's perfection". "Two Rooms" and  "Deadicated" came out the following year. The same period marked a couple of milestones  in Bruce's career. "Madman Across the Water" was   to be the last recording by the Range as  they went their separate ways in 1990.   In the same year, the Grateful Dead family  suffered a profound loss. Shortly after their  
summer tour, their keyboardist Brent Mydland passed.  Almost immediately, Bruce was asked to fill in.  He told the Wall Street Journal, "The morning  after Brent died I was in Seattle. Someone..."  "... came up to me on the street and Brent hadn't  been gone nine hours. And someone came up to..."
"... me and said, 'Hey Bruce, are you joining the  Dead?'. It was so insane". The next week, Garcia   and Phil Lesh came to Bruce's show in Concord, California and extended the invitation in person. He committed, temporarily. Bruce says, "I told  them if you guys had caught me four or five..."   "... years agoIi'd have said unequivocally yes, but  I've got this thing going pretty solidly on..."
"... my own and I'd like to continue to do that. If  you need me to help you out in some way, I will". After opening and guest appearances and sitting  in even a couple of weeks before Brent's passing, the one-time Octane Kid was touring as  a part-time member of the Grateful Dead. He was in the deep end. His first show was less  than two months later at Madison Square Garden   with no rehearsal. At the time, Bruce said he knew  about 30 or 40 of the Dead songs meaning that  
he DIDN'T know about 130 of the Dead songs. Still,  he was busy guesting on records for Bonnie Raitt, Bob Seger, Squeeze and a performance at the Guitar  Legends Expo in Spain (because why not?) with Roger   Waters. And he co-wrote "Go Back to Your Woods"  with Robbie Robertson. He learnt a lot from them, watched their creative process and together with  brother Bobby Hornsby they made a radical change.
Bobby built him a custom recording  studio at home. Bruce was a new dad to   twin sons Russell and Keith in 1992, and working  from home, he was free to work at his own pace. Rather than book a time frame to record or work  to deadlines, or spend time assembling and pulling   down kit or travel, Bruce could cross the path  from his house to his home studio in seconds.
Instead of paying for time which he'd have to  use, he'd have all the time in the world, and   if he needed to stop or take a walk, or see his  new family, or take a breather, he was unrestricted   to do that. Conversely, if he was moved to  put something down at short notice, he could. Not that he sat on his hands. 1992 gave him a  chance to work with another one of his heroes, Leon Russell. Rolling Stone magazine wanted to work with  Bruce and Leon on an article on musicians and   their mentors, and they flew Bruce out to  Leon's home in Hendersonville in Tennessee. Bruce offered him some support. It was ten years  since Leon's last record and Bruce said to him  
if he ever wanted back on the horse,  he'd do whatever he could to help.  Leon thought about it, took him up on it and  found himself for the record deal with Virgin. He pulled in Bruce's help in  co-writing and co-producing   and also borrowed Bruce's "Stranded on Easy  Street" from the "Night on the Town" album. ♪ "ANYTHING CAN HAPPEN", by Leon Russell. All of that aside, Bruce still found time for  another Grammy and to get disqualified from   another. "Twenty Nine-Five" was written for NBC to use during  the '92 Olympic Games. It was a collaboration with  
Branford Marsalis. What it wasn't was commercially  released, so it didn't pass the Grammy rules. It existed only on a Coca-Cola-sponsored  promotional CD for the Olympics. To date that's the only time Bruce has shared a  CD with all of Tina Turner, INXS and DJ Jazzy   Jeff and the Fresh Prince. It was released  eventually as "Barcelona Mona" on the b-side   of "Talk of the Town" and won the next year's  Grammy for best pop instrumental performance. Bruce continued full time with the  Grateful Dead until March of '92 although he continued to sit in  with them when the opportunity arose. It's sometimes said that that environment and  tenure encouraged the improvisatory approach   of his music and his concerts, but really  his jazz education had prepped him for that.
But it meant that he was absolutely at ease with  the band. Certainly they encouraged his adventures   into different musical directions which continue  to this day. Traveling with Garcia and daily   interacting with a walking encyclopedia of music  freed Bruce to pursue other directions in his work. Bruce says, "I would hold their songbook  up next to anyone from the rock era on."  "Garcia's songs with Robert Hunter sound timeless, like they could have been written 150 years ago".
"I was really influenced by that. Once I started  playing with the Dead I think it definitely opened me up". That "open" approach,  which was hardly absent in the   first place, was clear and prevalent,  both live and in the new home studio. "Harbor Lights" didn't so much open the door to a  looser and freer approach as kick that door down.
The fourth album was the first without the  Range and the first recorded at home. The band was   essentially a trio with guests: Jimmy Haslip on  bass and Range member John Molo on drums, joined   by Pat Metheny, Branford Marsalis, Bonnie Raitt,  Phil Collins and Jerry Garcia - and for the first time three who had become members of Bruce's touring  band: John D'earth, Debbie Henry and Bobby Read. The record was book-ended by an extended piano  solo at the beginning and an extended guitar solo   from Garcia to close. The subject matter was again  of a local flavor, but even more personal. Notably, "Fields of Gray" written for his newborn  twin sons, and "China Doll" for his wife Kathy.
The cultural commentary is distinctive, like in "Talk  of the Town", a song about interracial romance and the environmentally-conscious  "The Tide Will Rise" and "Pastures of Plenty". Local narrative abounds in Bruce's short stories  throughout his work: here, before and since. Bruce spent a lot of time on the road in '93, and  on TV. Austin City Limits, Larry King, Letterman,
VH1 Center Stage, Good Morning America, Farm Aid  and countless radio broadcasts. And another tour   of Europe. Such a frenetic period, which could  be summed up in one week: Bruce was in Rome, Italy on tour in mid-June, flew to DC to appear  in an Arthur Ashe tribute on TV on June 20 then flew back to London, got off the plane and  onto the stage and played a show for BBC Radio One on June 23. June 25, he was back in DC  to play with the Grateful Dead at RFK Stadium. Over 60 shows over the summer in seven countries. It was a continuous cycle: write, record  and tour, and not necessarily one at a time. John "J.T." Thomas, formerly of Captain Beefheart, signed up by now, who Bruce calls the best keyboard  
player in the band. Nearly 30 years on, he's still  there. By this time, Bruce and his band were so   loose on stage that they were playing entirely  without a setlist. They've been inviting requests   which could sometimes be more accurately  called challenges, or even dares, since 1990.  When they toured with the Cowboy Junkies, one  of the Junkies took ill and couldn't perform.  
So Bruce and his band took their set. With  the whole night to fill, for the first time   they took requests. It became standard practice. The audience could write or shout out what they   wanted to hear - anything from an obscure cover  to a medley. They were an advantageous way to   test the band, encouraging them to make decisions  in the moment and play accordingly. There was no   room for rehearsal, or even discussion. Led by  Bruce or the audience, they would find a way to   seamlessly link these disparate songs together, all  while on the stage and by following various cues, hand signals, nods of the head or subtle gestures  or winks. If you didn't know the song, wing it.  
It's a required characteristic in Bruce's band: the ability to rely on your wits and play   in the spur of the moment. He called it "music  in the present tense" - it's totally unplanned. Even Bruce's own songs - especially Bruce's songs - weren't exempt from an unplanned makeover, right   on the stage. Bruce might not have seen it coming  until he saw it scrolled onto a piece of paper   but suddenly "Talk of the Town" might turn into  the Jackson Five's "ABC" or "Spider Fingers" turns   into "That's the Way I Like It", which becomes "Disco  Inferno", which becomes "Stayin' Alive", which becomes "Rock the Boat" which becomes "Will It Go Round in  Circles", which becomes "Sex Machine" which becomes   "Spider Fingers", all in the space of six minutes  and yes, that really happened in Dundee, Oregon.
The studio record is just the foundation; the song  evolves in the concerts and the years to come.   Listen to how "Valley Road" or "Rainbow's Cadillac" have evolved and grown since their release. And it's easy to chronicle that evolution. Bruce  has allowed recording of his concerts since the   beginning and there's a prolific community who  does just that, exactly the same as the Grateful   Dead's tapers. Those tapes would be shared freely  through trading, and with the internet taking off   people were posting their tape lists and offering  cassettes to trade. Even the process has evolved   over the years. Once upon a time a recording might  be interrupted by the cassette tape reaching its end
or the taper either switching tapes mid-song  or trying to anticipate where the song might   end - not an easy feat for a Bruce Hornsby concert. The generosity of Bruce and countless bands have   allowed us to enjoy the musical evolution of their  work and we've heard some singular moments: special   musical guests, rare covers or a fight at a solo  concert during "Darlin' Corey" where the taper's   neighbor wouldn't stop chatting, all documented  on tape and commentated on from the stage.  These days, concerts are recorded and distributed  digitally, always for free usually on the internet. Bruce has released a number of his concerts for  free and commercially at brucehornsbylive.com. Back in 1994, after a lengthy tour and a short  break, work began in January on recording for a   fifth album. The same month, Bruce was in New York inducting his friends the Grateful Dead and   a cardboard cutout of Jerry Garcia into the Rock  and Roll Hall of Fame. On the road, Bruce returned  
to the University of Miami with Molo, playing with  the student orchestra on a number of arrangements   of Bruce's songs. At home, well, Bruce is never one  to sit still. 1994 saw him turn forty, and while for   some artists that's a nice time to sit back and  look on a successful career, Bruce was typically   creatively restless. Now was the time he  decided to recommit to his instrument. He rededicated himself to the study of the  piano. to learn it afresh. The complexity of   his playing and his playing ability hit a  whole new level. What could be more flexible   than a band who took requests and traded  off each other instinctively and impulsively?  Well, if that band was a left and a right hand  attached to the same brain, but split to act   independently of each other. And that's what bruce  trained himself to do. He calls it "splitting his brain", where both hands are doing different things - two-handed independence. Bruce was after virtuosity.
The Deadheads had a name for it too: "Spider Fingers". Molo caught onto the name, fed it back to Bruce and  so it became the opening track of the fifth record, "Hot House". "Spider Fingers" is written all about the  technique and even references "prestidigitation" the sleight of hand used by a performing artist  to entertain. Bruce can count himself amongst   artists such as Philo M and MC Zappa who've  used the word "prestidigitation" in a song. Bruce had a new bass player around  this time - he took J.V. Collier with  
him to Woodstock where they sat in with  the Band at the Woodstock '94 festival. J.V. is one of the most sought after  bass players of his generation   and includes amongst his collaborations Frankie  Valli, Herbie Hancock. Ben E. King, Gladys Knight   and the Pointer Sisters. Always, always with a  smile, J.V. is as fun to watch as he is to listen to   and he's managed to keep up with Bruce for 28  years to date, remaining with the band here in 2022 A few months into 1995, Bruce was invited back by  the Grateful Dead to join them for a few shows. Jerry Garcia's health was failing, he  wasn't having an easy time on stage,   wasn't very engaged and the hope was that  Bruce could pick him up, in spirit and musically.
Garcia was to enter rehab shortly after. Bruce's band heading into 1995 was Bobby   Read and John D'earth on horns, both Jimmy Haslip  and J.V. Collier on bass, J.T. Thomas on keyboards Debbie Henry covering backing vocals and John Molo  again on drums. That was the lineup for Hot House, once again welcoming some really special guests. Pat Metheny, Jerry Garcia, Bela Fleck once again   along with Chaka Khan and Blackstreet's David Hollister and Levi Little.
The cover illustrates a dream that Bruce had of  a session with Bill Monroe and Charlie Parker   and well represents the different musical  directions that Bruce was taking once again. The subject matter was assorted: nuclear disaster, adultery, murder... the Dead influence is strong also   and you'll hear "Dark Star" in "Talk of the Town"  and "Estimated Prophet" in Tango King. "The Changes" reflects on the Jolly Ox days: "Why don't you play those good old tunes?", it says.  
"Give it up now and you could fill the room". The record was out in  July of 95 and Bruce immediately took off again on tour. He was performing solo sets now and really putting  his recommitment to the piano out there for the   world to see. He was traveling to Borders stores to  play and advertise the record, and on August  9 1995 played the Blockbusters in Houston, Texas.  That day the musical world changed. Bruce had a flight to catch to Massachusetts the next day for another  Borders show, this time in Chestnut Hill. That morning, Bruce got the call that Jerry Garcia had  passed. Bruce did what Bruce does, and played music.
He kept his date at Borders and was met with  a store full of Deadheads looking for solace. Bruce provided it and accepted it, and the set  became a celebration of Garcia. Bruce played   his favorite Dead song "Wharf Rat" and talked  about Jerry to the appreciative audience. The "Hot House" record closed with Jerry Garcia's  solo on "Cruise Control".It was his last recorded work. Bruce's tour continued with his band, closing  with a TV PBS special in New York.
"Bruce Hornsby and Friends" featured Don Henley, Pat Metheny, Bonnie Raitt, the Grateful Dead's Bob Weir and a  tap dancing Gregory Hines on"Talk of the Town". Shortly after, Bruce set off for  Europe again, this time on a solo tour   playing lengthy shows, sometimes over three hours,  at music halls, theaters, chapels and wappensaals across the continent. Branford Marsalis had  introduced Bruce to Spike Lee. He directed the   "Talk of the Town" video in '93 and it was becoming a  mutually very rewarding and beneficial partnership. They both worked with Chaka Khan on "Love Me Still" for Spike Lee's "Clockers" movie. And "Hot House" saw a   new Spike Lee joint: Bruce's "Swing Street" video, starring several of the then Anaheim Angels.
Keep the Angels in mind, we'll come back to them in a second. Bruce opened 1996 with some extended   touring, both solo and with the band. He was never  far from the Grateful Dead though, and although   the Dead had disbanded after Garcia's passing, the  members continued touring with their own projects. The summer of '96 saw Bruce and his band  join the touring Furthur festival   alongside Bob Weir and Ratdog, Mickey  Hart's Mystery Box, Hot Tuna and Los Lobos. Bruce's office newsletter in December of  '96 teased an as-yet untitled sixth album. By 1997, Bruce was playing jazz festivals, solo  concerts and returned to the Furthur festival   that summer, joining Mickey Hart's Planet Drum, Ratdog, moe and the Black Crowes on the road.
In March, Bruce debuted as a pinch runner for the  Anaheim Angels in a spring training baseball game   and that's a real thing that actually happened.  He was there as a friend of Mark Langston and they   let him on the field. Angels manager Terry Collins  inserted Bruce with two outs in the seventh and   the Angels ahead by three runs. Bruce was left  stranded when George Arias popped out to right  
field to end the inning. Bruce said, "i've played  concerts before a hundred thousand people but my..." "... heart never pounded in my chest like today. I can't  believe the manager went through with it. I ran out there..." "... and first base coach Dave Parker looked like  he was going to faint. He said I looked the same way". "I'm announcing my retirement", Bruce said. "Somewhere  between first and second base, reality kicked in". It's listed in Bleacher Report's "15 biggest spring  training publicity stunts in baseball history". In June of '97 Bruce's office newsletter teased  the sixth album, and in June of '98 Bruce was out   with the remaining Grateful Dead again, and he'd  remain so on and off for the next three years.
The "Other Ones" played Dead songs and each others'  and a two CD compilation, "The Strange Remain" included   "Rainbow's Cadillac" and "Whit-Wheeled Limousine". John Molo was also part of the first Other Ones. Also in June of '98 Bruce's office  newsletter teased a sixth album!   Time on the road in the last year with Furthur  was giving Bruce a lot of time to think   and write in between sets, and Bruce would  retreat to the bus to his keyboard to write.   So a little later than first advertised,  a double CD release came in October.
The first was recorded before Furthur, the second  after, with far less piano and more electronics. "Spirit Trail", with uncle Charles Hornsby  lighting a cigarette in his ear, was yet further   proof of Bruce's evolving virtuosity, with less  emphasis on guests and more on Bruce's playing. Less jazz, more gospel and blues. Twenty new tracks  including solo renditions made the release. Almost all of those tracks still make  the live sets today over twenty years on. Borrowed from local history again, and again from  Lee Smith her novel "Saving Grace" about the snake   handling churches prompted "Preacher in the Ring" and the very real life account of Chesty Puller   inspired "Fortunate Son". "Spirit Trail" marked the  last studio recording with Bruce for John D'earth,
Debbie Henry and John Molo, and while  they didn't appear on the record, Doug Derryberry was on board and on guitar,  and Michael Baker on drums. They were quickly   put to work. Bruce and the band had a two-week  residency at the Yoshi's jazz club in Oakland   playing 20 shows in two weeks, one week solo one  with the band, to promote the new record.   While he was there, Bruce was sent an advance copy  of a single reworking his song "The Way It Is". "Changes" by Tupac became a posthumous hit for  Tupac across the world, selling over 15 million. Bruce took his band out on the road in  April and May of '99 for over 50 dates   as he started to think about a name for his band  after eight years. His newsletter referred to  
them separately as "Pantload", "Spankula", "the Phlegm  System" and "Bumbee Read and the Svengalis of Weed".  He was to settle on one soon enough. Before he  got there, though, he set off on a summer tour   with Jackson Browne, Bonnie Raitt and Shawn Colvin  as the appropriately but never quite officially   named "Sensitive Ones" (Bruce's idea). Each played  selections of their own music and accompanied the   others for often over three hours. "Lost Soul" was  regularly played with each artist taking a verse. Bruce returned to Woodstock in July sharing  the billing and a CD for the first time with   Korn, Megadeth and Jewel. Bruce's set made the TV  but was sadly absent of bonfires, topless ladies  
and Limp Bizkit. Bruce saw out the year and the  millennium with a concert at the William and   Mary Hall in Williamsburg. 5,000 fans  joined jugglers, stilt-walkers unicyclists,   mime artists and a doomed rotating stage as  Bruce and his band played in the year 2000 joined by Bobby and Ann Hornsby, Keith and  Russell Hornsby and many more family and friends Beginning in 2000 Bruce had an occasional  guest play at his concerts, and it was someone   well known to him. 20-year-old R.S. Hornsby, brother  Bobby's son, was an exceptional musician and guitar  
player in his own right. R.S. grew up watching and  reveling in the excitement of uncle Bruce's career   and Bobby took him as a boy to meet  Jerry Garcia before a show in Richmond. R.S. loved what he heard from the Jerry  Garcia band and was greatly impressed by Jerry   and told his dad on the way home  that he wanted to play guitar.
Bobby gave him his old Kay electric, had it rebuilt  and R.S. was on his way to learning to play his   first song, "Me and my Uncle". R.S first joined Bruce  and the band on stage at the Telluride Bluegrass Festival in June of 2000 and again in Vermont, Virginia and Massachusetts, all for the full show. Bruce's relationship with Spike  Lee continued and he contributed   "Shadowlands" to the film "Bamboozled". There was a lot more to come. And after years of requests Bruce was finishing  working on his first official live release.
With a nod back to the Cave days, "Here Come the  Noisemakers" was the title, and the noisemakers   became the de facto new name for the band.  This was a double disc collection of live   performances spanning two years, most of the 18  tracks clocking over 7 minutes and all of them   reinvented. The band had really become what Bruce  had envisioned hearing when he wrote the songs   especially with the connection between Michael  Baker on drums and J.V. collier on bass. He thought   it was the right time to document that. He said, "If I wanted to explain to someone what I do musically..." "... this is absolutely the record that I would  pick. It captures the joyous quality of our gig".
In October of 2001, Bruce gave us all a  fright. Out on a bicycle with his twin   sons in Virginia Beach, he collided with one of  them and broke his left wrist in two places. The next day, he was scheduled to play a solo show  in Alexandria... and did. He managed a 35-minute set  
with one hand and one finger, sporting a brace from  wrist to elbow. He was still characteristically   busy in the studio, working on a new record.  This one had the attention and the intrigue of everyone. Bruce had been using his concerts and the  internet to suggest a record with "almost no piano" and advance reviews had referenced vocals  that "veer straight over into Prince territory".   David Bendeth, the producer and rep for Bruce's  label at RCA had visited Bruce to hear what Bruce   had been working on, and his response was less  than astronomical. He liked it, but he felt that   it was nothing really different. So Bruce instead  gave him a song that he couldn't fit in with  
this recent work, "So Out", and Bendeth set to  work on it. They both liked what they heard. The fans were getting more clues. Bruce was  playing some of the "almost no piano" songs in solo   piano gigs and then two songs, "The Chill" and "Try  Anything Once" were released on the internet by his management.
As Bruce urged in his lyrics to "keep an open mind in these times," did the people do that with "Big Swing Face"? Largely, yes. The people who had  followed along for some time knew to expect the   frequent departures into something different and  those new to the scene would have heard the second half of "Spirit Trail" with also almost no piano.  That's not to say that the reaction to "Big Swing Face" was without its enthusiasm on both sides of  the fence The online reaction included "Incredible", "... one of my favorites" to "not as bad as  I'd feared" to "a grave disappointment". The internet had spoken. But it's no more possible  to pigeonhole his audience as it is his music  
and as always, those songs have developed  are are commonplace at the shows today. Although sharing a title only in "Big Swing Face" with Buddy Rich, it's not felt that his bus tapes   have been hugely influential on Bruce and there  was little-to-no "sucking all over the joint". Bruce had a new permanent drummer in Sonny  Emory by now. He was learning as he went  
sometimes hearing songs for the first time  while he was up on stage. A jazz graduate just   like Bruce, and a creatively restless soul, just  like Bruce, Sonny had played with Bette Midler, Jennifer Lopez, the B-52s and Earth, Wind and  Fire and fit the Noisemakers like a glove. Fun fact: Sonny is in "Lethal Weapon 2", playing  on "Knockin' on Heaven's Door" with Eric Clapton. As always, an extended tour followed the record and  Bruce and the Noisemakers were joined now and then   by R.S. Hornsby, Bobby Hornsby, Steve Kimock, Bonnie Raitt, Jeff Gerson, Branford Marsalis, belly dancers,   Dallas Mavericks head coach Rick Carlisle  (who plays a mean "Rainbow's Cadillac"), and ten-year-old Samuel Deptul,a straight out  of school to floor the crowd with "The Way It Is"  in Hyannis. 2003 was an unusually quiet  year for Bruce, on the road at least   although he did join Bob Dylan and separately  Bruce Springsteen on stage for local shows.
Bruce and RCA went their separate ways after 18  years. The final release was "Greatest Radio Hits",   (very definitely Bruce's choice of title) and Bruce  signed to Colombia. "It's an honor and a pleasure to..." "... welcome Bruce Hornsby to Columbia Records", said  Will Botwin, the President of Columbia Records Group.
"This superlative musician and songwriter  has created an extraordinary collection of sublime..." "... and electrifying sounds and compositions for  "Halcyon Days", his first Columbia Records album. "Halcyon Days" was a mini invasion  of the Brits, with Eric Clapton, Sting and Elton John all appearing as guests.  They'd all been staunch and vocal advocates   of Bruce's work, so he asked them to put their  talents where their mouths were. Returning to the
piano, Bruce's eighth studio album featured some  solo piano tracks and a comedic side. "Hooray for Tom" is maybe the only song to include the word  "crepuscule" other than the song "Crepuscule" and "What the Hell Happened?" is a direct result  of listening to Randy Newman. Reviews were really   positive from a media who seemed to be under the  impression that Bruce had been away somewhere. But much of the record drew from  familiar themes. again inspired by family. "Dreamland" for his boys and "Halcyon Days" for  wife Kathy. "Gonna Be Some Changes Made" 
even made a Lowe's TV commercial, hurting the  feelings amongst the traditionalist community. The promotional tour included a return to Europe, and a surprise as Bruce gatecrashed his own   tribute band's act in Copenhagen in Denmark,  and stormed the stage mid-"Cruise Control". Bruce and the Noisemakers spent three nights  on the town in New York for a DVD which became   a documentary on Bruce and two hours from a  concert at the Town Hall. All the Noisemakers   got good air time, and it gave a terrific look  at how the band play off each other in person   away from the stage. The full release shows the  band rehearsal, sound check, after-show and also  
some footage from the Blue Note with Bill Evans, who was encouraged to do whatever he wanted. Bruce had caught the ear of a new contingent  by 2005 - big names in Broadway had heard the   "Halcyon Days" record and saw the potential  for a musical. "Hooray for Tom" and "What the Hell Happened" gave them the idea, and they  commissioned Bruce to work on it.
And so he began, with Chip deMatteo, to work on a play about  a civil war reenactor. This was a long-term project. While that was being worked o,n they toured  throughout the summer, often headlining with   Bob Weir's Ratdog. R.S. Hornsby was a regular  guest, and always to tremendous acclaim   The Daily Press said he "played solos that reflected  the powerful influence of the late Jerry Garcia". Bruce gave away 20 years of music for free  next - anyone who came to a solo show in 2006   got a copy of "Intersections" with their seat:  4 CDs, 53 songs, 4 "Valley Road"s and a 22-track DVD.  
Unreleased studio and live cuts, rarities  obscurities and celebrities in one box set.   Where else could you hear B.B. King, Levon Helm,  Elton John, Ornette Coleman, Pat Metheny, Jerry Garcia Chaka Khan, Robbie Robertson, Bonnie Raitt and many, many more on the same release? "As impressive a box set as has been released in the last couple of years", said one review.
"A wonderful testament to the artistic integrity of a very important artist", and another, "Radical interpretations of his hits". It was a gift to the fans, but also provided  musical lessons and a challenge. Bruce has always   seen it as part of his role to educate those who are along for the ride.  "One of my interests as a musician", he says, "is to be a bit of a crusader, trying to open people's ears to different..." "... things. It's been my goal to broaden horizons  of people who hear popular music all the time".
Bruce speaks often about asking a lot of his  audience and introduces them to music they   may not be familiar with, but it's never without  encouragement or an education, or an explanation. In London, he was asked to play Eminem, to guffaws from the crowd - then did. His respectful invitation to the audience, acknowledging the bewilderment, was   to "open your minds to somebody truly great". An open mind is all he really asks and if that's   a lot, well, he's there to help explain. Check  the liner notes for "Intersections" and others. Bruce's press for the release  included Howard Stern. Bruce  
handled him as well as anyone could have. Bruce released two CDs in 2007, five  months apart. both collaborations.   The first was with Ricky Skaggs on the aptly  titled "Ricky Skaggs and Bruce Hornsby" CD.   Reworked songs of Bruce's, traditional  bluegrass and Rick James' "Super Freak".  
It topped the Billboard bluegrass charts and  stayed in those charts for a full year.   Not to stop at one CD, two other virtuosos of their  instrument, Jack DeJohnette and Christian McBride   recorded "Camp Meeting with Bruce at his home for  a summer release. Reviews were again encouraging.  Jazz Times said of Bruce, "Not only is his playing  remarkable, but so is the interaction among the..."  "... three musicians. The music stretches and contracts; it races, it gallops and it rumbles".
"The spectacular setlist", said one review, "included interpretations  of the work of Keith Jarrett, Charles Ives (again)..." "... Coltrane, Bud Powell and some Bruce originals".  And the trio took the record out for a brief tour. Bruce returned to Miami in 2007 to begin  the Creative American Music Program.
Feeling there was something missing in the college  music curricula, Bruce wanted students to go back   to the basics of traditional roots music, shape  note singing, sacred harp music and foundations   that he felt were being lost. Bruce's goal was  that students would not only study the music but   be inspired by it, and they were required  to write and perform in that same style. He took the noisemakers to Miami.  Sonny and J.V. did a bass and drums clinic   and Bruce did a bunch of master classes  on lyric writing and melody writing. The program runs to this day as one of the most  renowned songwriting programs in the country.
The late, great Robin Williams was to film  a pitch-black dark comedy called "World's Greatest Dad" in 2008. What's that got  to do with Bruce? Well, he was in it too.  It's a movie where Williams' son Kyle dies in an "accident". The running joke through the movie was that Robin  Williams' character is a huge Bruce Hornsby fan. Two goth girls are seeing fighting over  "Spirit Trail". The movie introduced Bruce   Hornsby as Bruce Hornsby, and he mad
2022-05-04 12:27
Show Video
Other news