УНІВЕРCHECK #9. МАРІУПОЛЬ. ПРИАЗОВСЬКИЙ ДЕРЖАВНИЙ ТЕХНІЧНИЙ УНІВЕРСИТЕТ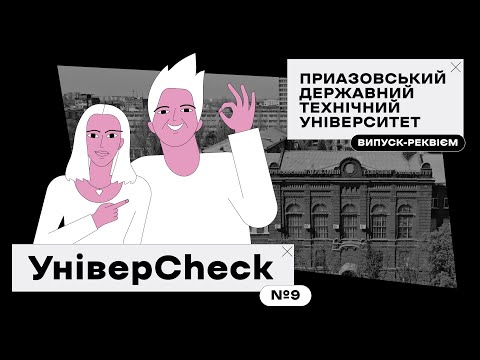 Show Video
This episode was filmed in the autumn of 2021 before Russia's full scale annexationist war against Ukraine. We will surely rebuild even more beautiful streets, bridges, roads, houses, and, of course, our universities. But at the same time, we are glad that we have the opportunity to show incredible Ukrainian cities before the occupiers came here. After a long reflection, the UniverCheck project team decided to publish the video because our young people have to continue their studies and no one can take it away from them. Glory to Ukraine! Glory to the Armed Forces of Ukraine! Hello, dear viewers! This video about Mariupol is nothing like the other UniverCheck episodes.
We've decided to call this video a requiem, commemorating the city and its victims. We visited the city not long ago, in autumn. And, frankly speaking, we were amazed at how rapidly Mariupol, industrial hub of Ukraine, was developing. New roads, parks, transport, huge technological and tourism potential. In 4 months russia has turned the city with the population of 446 000 into rubble. But we would like to show you the city as we remember it.
And we want you to remember the city as it was. Let's watch. How to choose a university? What major to choose? What about a job? What about money? Where to hang out? Where to live? UniverCheck -This is my dad Oleksandr. And like all parents, he is very worried about my university of choice. -She's seventeen, she doesn't know where to apply.
We have already read about the university, asked the neighbours, took a quiz on Facebook on "What's your profession?", and she's still sitting on the fence! "Take it easy, dad", she says. Don't worry about it. Dnipro, Odesa, Uzhhorod, Poltava That's why we decided to take a full-on educational trip around Ukraine Sumy, Lviv, to choose the university and the dream major.
Mariupol, Kharkiv, Vinnytsia, Kyiv And learn more about the students life in every city. While exploring the diversity of Ukraine Mariupol Check -Do you understand anything? -Yeah. -Don't touch it! -Oh, sorry, sorry. -Coool! -Mariupol has been a pleasant surprise! Vibrant, modern, progressive, beautiful and well-developed, that's Mariupol we remember. And that's Mariupol that will forever live in our hearts. UniverCheck -Lera, where are you?! I am at the sea! -Are you serious? We have already started filming the episode about Mariupol! C'mon! You should join us! -I am also in Mariupol. You should join me!
-No, you come here, to the plant. -Maybe we should finally start anywhere? -Finally, we're back together! Hello, dear applicants, students and their parents. -Today we are in Mariupol which was declared the 'cultural capital of Ukraine' in 2021. -We will tell you where you can study, work, hang out and chill in Mariupol. -So, right now is the time to see what universities Mariupol can offer. UniverCheck Greetings, friends. Mariupol is our pain.
We will never forget the cruelty and tortures the city has suffered. Despite the terrible situation and total destruction the universities managed to evacuate and keep working. So, today you'll get information about the universities of Mariupol which continue their work in other cities. Check it out.
Mariupol State University Due to the all-out russian invasion the university has been relocated to Kyiv and is currently based in Kyiv National University of Construction and Architecture, building №4. MSU was given rooms for its admission office, rector office and structural units which are now fully functional. More than 80% of university staff and about 80% of students keep in touch with the university, return to Ukraine and are willing to continue studies. Enrollment of applicants from temporarily occupied territories is possible as well.
Educational centers "Donbass Ukraine" and 'Crimea Ukraine' have started working in MSU. Through these centers applicants from temporarily occupied territories or highly dangerous areas will get a chance to enroll in universities under the simplified procedure. They will undergo an individual interview instead of taking national multi-subject test. The university hasn't given up any if its specialties, applicants can choose among about 90 programs. The university is ready to accept about 1000 applicants. Azov Maritime Institute of Odesa National Maritime Academy After 2 year of study students can and get an opportunity to see new countries and continents, work on ships of best companies and get a prestigious job and decent salary after they graduate.
Training and certification system is approved by the International Maritime Organization and the European Maritime Safety Agency, which allows the graduates to work in various foreign companies. as well as work on ships sailing under European Union flag. Odesa National Maritime Academy informs that Azov Maritime Institute has been temporarily relocated to Odesa. Donetsk State University of Internal Affairs Donetsk State University campus, located in Mariupol, Donetsk region, its academic buildings, classrooms and dormitory were damaged due to russian aggression. Since June 1 2022 the university has been restored in Kropyvnytskyi by order of the Minister of Internal Affairs. As of today the educational process is maintained at the proper level. Master's students are studying offline, Bachelor's students, adjuncts and PhD students are using blended learning.
Here you can obtain a degree for the state budget funds in such specialties: Law, Pre-trial Investigation, Law Enforcement, Criminal Police and Crime Prevention. For tuition fee you can major in Economics, Economic Security of Enterprises, Public Management and Administration, Law, Law Enforcement. UniverCheck -Today we'll be telling you everything about Pryazovskyi State Technical University. So, how are we getting there? There is no subway.. Tramway or trolleybus then? -Let's try tramway! -Nah, let's go by trolleybus. -Okay, trolleybus it is! -Okay! Transport Check -We can make it, c'mon! Mariupol was given modern and comfortable trolleybuses within the joint project with the European Bank for Reconstruction and Development.
While Lera is drawing, I will give you some information. Trolleybus fare is 10 UAH in Mariupol. It's not cheap, but still okay.
The cool thing is that all trolleybuses in Mariupol were replaced by new ones, and they have batteries. So, a trolleybus moves using its 'horns', wires, we all know how a trolleybus works. At some point a driver pushes a button, 'horns' fold, the line is over and it keeps moving on a battery and an electric engine. When the electric line is back - voila, the wires are back and it keeps going as usual. Cool... Cool? Cool? -Yep. russian troops have destroyed almost all transport Ukrainian government had purchased in the last 5 years.
259 buses, trolleybuses and tramways have been damaged. About 90% of them are totally destroyed and can't be repaired. Occupants are trying to repair more or less intact transport and send it to Donetsk. Moreover, more than 50 kilometers of trolleybus and tramway contact line were destroyed, which is 95% of its length. 2-3 years of repairs and millions of investments are required to restore everything. UniverCheck Dear friends, meet Illia, our guide back in Pryazovskyi State Technical University. We would really like to make an intro to the next block with him. Illia, tell us how you're doing.
And the most important question, how did you and your family evacuate from Mariupol, how did it happen? My family and I evacuated on March 16, we teamed up with our neighbors, because it was really dangerous to go on your own, so together with neighbors we created a column of vehicles and followed the route people who had left the day before told us about. We had no communications in the city, people just used the word of mouth and that's how we got it too. And we decided to leave the city as it was impossible to stay there any longer. We headed out and saw that almost the entire city was trying to evacuate, there were so many cars.
It's important to understand people could use only their private vehicles for evacuation. -Only their own cars? -Yeah, there were no buses, trains or something like that. People were, you know, kinda blindfolded. -And were they picking up passengers, like cars were full, right? -Yes, they were either full of people or full of people's belongings, clothes. That's how it was.
-And what happened to your home, an apartment or a house? -Well, the apartment.. According to our neighbors who stayed there longer and then could contact us, the videos and photos on Internet, we understood that our home was ruined. Also, my parents' car was damaged due to the shelling, it got hit by shell fragments really hard. My car was a bit farther from it and it survived the shelling.
-Our team had second thoughts about publishing this episode. Sorry, it's hard to talk about it. But Illia called us, in fact, you sent us an audio message asking to publish it. What did you say exactly? -I asked you to show the episode about Mariupol we all remember, as it was and as it will always remain forever in our hearts. -Alright, shall we? This is so hard for me. I don't know, Mariupol just hurts so much. UniverCheck -Univer! -Check! UniverCheck -By the way, Lera, this university produces the best specialists in metallurgy, power engineering and some more.
-Interesting, we haven't tried those. -Yeah. Oh, this is our guide, Illia! Right? -Nice to meet you! Illia Doroshenko, 4 year of study, Faculty of Transport Technologies. Mariupol is his hometown. Dreams of becoming an entrepreneur.
-Will you show us around? -Sure! I'll tell you about the gem of Azov region. And the gem of the entire South East of Ukraine, Pryazovskyi State Technical University. -What will we see today? -Not only you will see things, you'll touch them with your hands! -Are we going to become steelworkers? -Yes, you are! No spoilers needed, you'd better see it yourselves, follow me! -Okay, show us the way.
-The building is so beautiful, it's really old. -Yes, this is our oldest academic building. In 1910 a eparchial school was built here, it was the highest building in the city back then. Pryazovskyi State Technical University Pryazovskyi State Technical University, founded in 1930, is the biggest higher education institution in Azov region.
The university ranked №3 in Donetsk region and №48 in Ukraine according to the 'Top-200 Ukraine 2022' list. In 1993, on November 24 this building became known as Pryazovskyi State Technical University. -Is he actually a student? -Sounds like a historian. -Are you a historian? -No, I'm not. It was a brief lecture on history but it's over. And now let's go and see why our university is considered the gem of Azov region.
-Let's do it. Upstairs? -Hurry, up the stairs! Pryazovskyi State Technical University in Mariupol consisted of 12 academic buildings, 3 buffets and a cafeteria, a sports center and a soccer field, 12 sports sections to do 5 different sports, a tourism club 'Skify' and a climbing section. In 2021 the university celebrated its 90th anniversary and even received a state award, Certificate of Honor from Verkhovna Rada. And they deserved it. The university offers 216 bachelor's and master's programs,
mechanical engineering, engineering, thermal engineering, transport technologies, architecture and construction. As you understand, it's just a small part of what you can find here. -Which faculty do you belong to? -Faculty of Transport Technologies.
However, I am the head of our Student Senate, so my duty is to be well-informed about other faculties too. Tell us a few details about yours, Faculty of Transport Technologies. What will your job be when you graduate? My specialization is Organization of International Shipping and Logistics. Once I am a Master I can manage shipping, -So, will you be a CEO of logistics company? -That's my goal I aspire to achieve as soon as possible. Of course, I can work at stores as they also need to establish a logistics chain. Still someday I can become a head of some industrial complex, why not? -Welcome to our laboratory, come in. -Are you ready, Lera?
-Shush, the class is in progress. Department of Welding's Laboratory -Do you understand anything? -Me? Yeah. -Good for you.
I guess I'm disrupting this class.. Well, we all have to wear masks. You have yours and I have mine. Mine is safer. My young Jedi, put on your mask. I'll show you how we study in Pryazovskyi State Technical University Anton, will you edit it properly? -Yep. -Is this how your classes usually conducted? -Sure.
-Well, I'm excited. Pedan the Magician. Or Harry Potter, the title is up to you. I'm going to connect these wires.
And ready! Now look, my hands don't do anything but this single movement. -Magic! -Puff! -Come here. -Ohh, so cute. -Mine is ready too. -Why 'P'? -No, why is it crooked? -P for Papa...Oh, well, yours isn't perfect either. -My 'V' is nice and big as you are. And here it is, Papa is crooked and weak. I've swapped them on the sly.
It's uneven again. And look what great job I've done! -You, scammer! Your 'V' was different. -Well, I've made two! -Take your scam back.
UniverCheck -We've come to another machine engineering and welding laboratory. This is the laboratory for metallurgical equipment and ferrous metallurgy. Do you want to participate in one of the lab projects? -I'm all in. -Let's do it.
-Then follow me. -Let's go. There is so much stuff here. Oh, buttons.. -Don't touch anything, careful. -Oh. sorry, sorry. Sasha and Lera's lab project -So, what are we doing? -You have to load this charge into a bucket. -I'm on it.
-What do we have here.. -Add some more. -Charge.. Oh, it's a mixture of materials. -Exactly. -Here. Where do we take it? -RIght there, yeah. -Careful. -You should've told me it's heavy. -Now pour it into this bucket. -Do you see where you're pouring it? -Honestly? No.
-A little bit more.. Almost done.. Good job! And give it back. -Wait... What is our next step? -Now you you activate it, press this button. -Yeah, the boss comes and does this. -Oh wait, wrong way! -Don't worry, it will come back and move the other way. -Ohhh..
-There our bucket goes! -Yes, I see it. -Does it stop by itself? -Yes, it's automatic. -The bucket is already empty, right? -Yeah, and now we'll be transferring it.. The charge got into a blast furnace pipe and now it will be transferred directly into a blast furnace.
-Oh, there it goes. Look! And down it goes! So, this is a mini-version of a real blast furnace and how it works, right? -Yes, correct. -So have we performed the lab task successfully? -Yes, you have. -What grade do we deserve? -'Excellent', I guess. -What mark exactly is 'excellent'? -Well, 5. -So, we have 5 points and only 95 to go. Maybe we can...
Maybe we can...Wait, how many more... 10.. Maybe we can do it 19 more times and get 95, huh? -That's cheating. UniverCheck Rector Check! Rector Check -Name three most popular majors in your university. -They are the same everywhere. IT, Management...
Foreign Philology and I should also mention International Shipping. -Oh, shipping? Interesting. Do you have any famous alumni? -About 50 directors of biggest metallurgical and engineering enterprises are our alumni. -What are you highest and lowest tuition fees? -The most expensive master's programs costs 33 000 UAH, it's regulated by the Ministry of Education and Science. The most expensive bachelor's program is 25 000 UAH. The cheapest one is somewhere between 16 000 and 19 000 UAH.
-Why should students choose your university, what do you think? -Well, I would say this is the best university in Ukraine. I've graduated this university, I've spent my whole life here. Of course, my opinion is very subjective. Objectively speaking, I am very proud of our university staff. Why? I appreciate that professors truly love our students.
And I adore them, I was a student here too. This is the most essential indicator, treating students well, when I decide whether to hire a new professor or head of department. UniverCheck The all-out russian invasion of Ukraine on February 24 has ruined school graduates' plans. Today we'll go over the specifics of admission campaign for applicants from temporarily occupied territories. Applicants who are not able to evacuate to areas controlled by Ukraine or were taken to occupied territories, russia or belarus by force won't have to take national multi-subject test.
If they count on budget funding they have a chance to undergo an online interview or do an entrance creative task. If you choose to pay tuition fee you can apply submitting a letter of motivation. If you passed ZNO in 2019 or 2020 your results are valid to apply with this year. Applicants from temporarily occupied territories or territories where active hostilities are conducted will be provided with benefits. To get details about a certain specialty contact the university you're interested in or the numbers below.
More helpful information about the admission campaign 2022 on our Instagram @pedan_education. UniverCheck We are in a research institute recently established by our university. It's called Educational and Scientific Institute of Modern Technology. This is the laboratory of renewable energy, it was sponsored by USAID.
So, here a wind generator creates artificial wind. It also notes all indicators, reads them and shows them on the stand. -It looks very innovative. Do you know what else you can do here? Except lab projects. Shoot music videos! -You can also dry your hair in case you get caught in the rain. Actually this device provides energy to the university's power network.
We have already saved about 8000 UAH on electricity in six months. -Impressive! Except getting students to explore renewable energy and how to work with it, the university gets to save some money. -Do you see anything? -No, it's dark here but I'm good at faking.
Will somebody turn it on? No? Okay. -Let's pretend you actually see something. How do you like it? -Nice.. -Wave your hand, show how you can spin it. -Anton, could you put a Jedi sword in my hand? -Could you? -Will Anton really do it? -Of course, he will. -Of course, I won't. -Careful, there is no need to break it..
-It must be really expensive.. -Yes, it is extremely expensive. It's been just purchased. We haven't even set it up properly.. -You haven't set it up but Pedan had already broken it. UniverCheck We've come to robotics and microelectronics laboratory. This one was also sponsored by USAID.
-Are those real robots? -Yeah, students program robots and they work just fine. -Is it an interactive board? -Yes, it is an interactive whiteboard. The teacher is writing and drawing things on the board and the students see it on their displays. -Wow, really? -Yeah. Hello, everybody. This is Pedan.
Our student government has two branches, the student senate and the student union. -We know about the student unions. -Yeah, and what is student senate? -Student senate is responsible both for scientific activities and entertainment activities. We arrange both academic conferences and entertainment.
-It's obvious this is a students' place. Stickers and posters everywhere.. -What events do you hold? -There are various events we organize together with student union. For example, Debut of Freshman, it's a creative contest which allows freshmen to show their talents.
We also have a contest for all students, Student Spring. It's also like a talent competition, different faculties prepare great performances that include dances and special visual effects. It's a real show. We have just hosted not the university's, but Mariupol's first in 18 years League of Laughter. -That's awesome! -Yeah, very cool.
-We hosted it here, in our university. And my my faculty, my team won the 1st place. This is the room available for all students. We have free Wi-Fi here and all over the university. You can come here and take care of your business.
-Like any student can come here and work, right? -Sure, work, play games, study and chill, maybe take a nap if you are able to do it with all these people around you, it can be pretty noisy. -Cool. -Dad, don't make me feel embarrassed. Put a blue card. A blue one! -I'm doing fine. It's my turn, I see. Take it. So, girl, do you have a blue card? You're playing with fire.
-Phew. What about red cards? -You got lucky. This is our admission office. You can find brief information on all our faculties and institutes on the stands you see around us. -Wait, do you also have human sciences faculties? -Sure, we have Department of social and human sciences. Pedagogy students, philosophy students, we prepare humanities students as well as technicians. -That's what I like to see! -A real lecture room, it's huge. -They even have separate places.
-This is one of our biggest lecture rooms. It is designed for approximately 150 students. -So, several groups of students gather here? -Yeah, it's enough space for several groups. -Let's sit down and talk about studying. -Spill it. Is it difficult to study here? Are professors very strict?
-Honestly, studying here is pretty cool. When I was at school, I thought, you know, that I would come here and meet strict and angry professors who treat you badly. Surprise, but no. They are very nice, they are always trying to seek a compromise. As a head of student senate I am responsible for quality education, we carry out surveys and polls on social media, Instagram so we can monitor whether students experience any problems.
We always put a block of questions like 'do you have any problems?' and students can submit their responses withing a week. -We can put the university's insta page somewhere here so that applicants could go through it and get to know more. -Sure, cool. It's right here, yeah. -Okay, and if a student gets involved in a conflict with a professor, whom should they contact? We have special 'trust boxes', you can see them all over the university.
A student can put all his complaints in the note and put it in the trust box. We have a dual system implemented in the university. If a student wants to work at the plant he or she can actually combine it with studying. This is how the dual system works, a student applies for such permission and spends 2 weeks working and 2 weeks studying alternating the activities. A student doesn't lose any credits or activities, you can work while studying officially, that's the dual system. UniverCheck After February 24 the life of the university has changed dramatically.
Due to bombings the building №5, the one you've just seen in this episode, was destroyed. Student organizations' offices, lounge zone and emotion zone which we've also shown you, were wiped out. The university has moved to Dnipro and functions on the basis of Dnipro Polytechnic.
Its working process and distance learning were resumed on April 18. Attention! Legitimate Pryazovskyi State Technical University is functioning in Dnipro only. Unfortunately, scammers from pseudo-republics pretend to represent Pryazovskyi State Technical University in Mariupol. They can't provide neither education nor legit diplomas.
Don't contact criminals and occupants. Stay safe. UniverCheck -What happened to the university? From what I've seen the news, basically, it's totally destroyed. -Yes, the building is detroyed. However, we all know the university isn't just a building. The university is about the students, about the professors. When we evacuated to the place with communications our first goal was to check who survived, who could keep in touch with us, at first we were busy searching for people, searching for students and professors.
That way we knew who had passed away, who had made contact, step by step we were collecting the information about our people. -What do you know about your classmates and professors? -As of now we know 6 professors are no longer with us. We also know that 5 students passed away.. -Due to shelling? -Yes. Some students haven't made contact yet. But it's important to understand some of them may not be able to. -We would like to commemorate those who passed away with a moment of silence.
May those who died never be forgotten. -Illia, tell me about the fate of the university, please, Where is it now and how does it work? Basically, the university has been relocated to Dnipro. Dnipro Polytechnic has provided some space to us. You can come there and contact the administration and the office of admission. The university has its own telegram channel which was created specifically for applicants. You can find all information you need to enter our university. Moreover, you... -Wait, wait. Look for the links below the video.
Also, just yesterday it was decided that applicants who want to enroll in universities located in areas of active hostilities can count on a simplified admission procedure. Our university is among such educational institutions. You don't have to take this standardized test. -NMT? -Yes. You have to pass an interview, you come to Dnipro if possible. If not, it can be conducted remotely. -Oh, you can do it online and be enrolled without any test? -Yeah, yeah.
-Awesome. -You pass an interview and then get instructions of what to do next. This step-by-step instruction of how to enter the university is also published on our Telegram channel. This information is important, extremely important for those who remain in areas of active hostilities and can't leave.
You are free to visit the Telegram channel, the link is pinned below the video. Contact the university. Pryazovskyi State Technical University is the only link to our city, the only thing that reminds me of our city. If you don't want to lose this connection and do everything to keep the memory of it alive, enter our university, we will be happy to welcome you. -Thank you. UniverCheck Dear friends, Mariupol is a city that was developing rapidly. In my opinion, soon it could have become a millionaire city.
In this episode we've shown how progressive the city was and how many opportunities for developing it had. Mariupol residents will never forget February 24. That night they woke up to explosions. Since then the sounds of shelling haven't quieted down. City Check -Where must we start exploring Mariupol? At the sea, of course. -Yeaah. Not long ago, last year, I guess, the city authorities restored this pier where you can buy a coffee or a hot-dog and and stroll enjoying the sea view and seagulls. Awesome. And it's illuminated at night.
Yeah, come closer, here. Coool! Well done! We have trained seagulls here. What if I try feeding them like this? -Do you want get rabies? What if it bites you? -Are they coming? Oh, it took it! The seagull took it from me! You stand here and you see the image of Mariupol, what Mariupol truly is. Here and now I see it. You see such a modern and cool pier, people hanging out here. There it's all industrial, you even see cranes from here. This place is truly awesome.
The pier construction was fully renovated, it got modern coating and railings with lights. Benches and litter bins were installed, too. There are green lounge zones with photo zones, gazebos, benches and sun loungers along the pier. Some areas are protected with special sunshade and rain shelter systems. Part of the areas was renovated and reopened in 2020. Observation decks overlooking the sea and food courts were set up there.
-It's an amazing place to chill and hang out enjoying the sea view. -Actually, having the sea at hand is so cool. -Yeah. I wish we could bring the sea to Kyiv. -Wait, we do have the sea in Kyiv. -What sea?
-The Kyiv Sea.. -Nah.. -It is really tiny.. -Yeah, right. UniverCheck Let's have a walk around the center of Mariupol, check it out, see if there are any people and places to hang out.
Let me tell you, the roads are completely new. Surface material is new everywhere. Everything's perfect. -Yeah, the city is neat. Before February 24 2022 Mariupol had been an outpost of Ukraine, a center of Donetsk region. With its great industrial and scientific potential the city was on of the most most attractive cities for investments. It had a well-developed transport infrastructure, a great network of financial institutions and business-friendly environment. Mariupol is a center of metallurgy in Ukraine.
It is the most vital region for economics, one of the main donors and a source of foreign currency inflows, the biggest sea trade port of the Azov sea. It was. Unfortunately, we can't describe Mariupol that way in the present tense. All innovations, renovations, dreams, hopes and faith in the future were destroyed by russia.
And though it may really hurt, but I suggest that you keep watching to understand what russia took away from us. UniverCheck -See, we are in the city center. But 2 minutes there, turn to the left and we are near the university. -By the way, there are many bike paths here which is great. But we are on it, let's move here. -Right, this is a bike path.
-The coffee is great. -Yeah. The city is being bombed every day and night. We've found some fortune chocolates.
There is no electricity, communications and heating. -Let's see what we've got. -Let's see. There is even not enough water.
-What is my fortune... -What do you have? -Your decision is right. it's time to take action. -Don't cling onto things that move away from you and don't push away things that come to you. -L, logic. -Confucius, is it you? I can create such predictions myself.
-You'll be in a good mood if you are ready to be in a good mood. Pause and get a personal prediction UniverCheck -Interesting, what is it? -I don't have a clue, but it looks awesome. -Let's take a look. -Sure. -It's and old water tower.
-And now it's a tourist center. Shall we visit it? -Let's go. -It's really nice here. -Yeah. -They have co-working space on the second floor, 25 UAH/per hour. Good, you can come work here.
-Cool. Let's move further? -Yep. -Let's sit down and drink coffee here. By the way, we are on the 3 floor, it's a library and it's free. This note says the library is free for everyone. But we ask you not to take more than 3 books at once out of respect for other readers. -Let's chill here. -And I will take... Oh, this one has been waiting for me. From Alatau to Everest.
-It's really perfect for you. -Such an amazing books. So many pictures, such beautiful Pamir.. -Daad, maybe we finally start talking. -I don't mind. -Tell me, what are the pros of being a student? -Well... You can come home later. -Well, yeah. -You can live separately from your parents. And be more independent in general.
-First enter the university then talk. -Oh, I will. -I have no doubt about that. But which one? It's a mystery. UniverCheck Another place in Mariupol we would really like to show you is the Ukrainian Leadership Academy, they have its hub here.
By the way, what do you know about ULA? -I've heard about it, my friend has studied there. But it's still vague for me. -Okay, you have a chance to figure it out. When we announced we would visit Mariupol we faced a massive spam attack on Instagram. 'Come to thw Ukrainian Leadership Academy', 'Please, visit us' They are very active. C'mon, let's meet them. The Ukrainian Leadership Academy is a 10-month educational program of development for school and colleges students, age 16-20. Students communicate with top professors, agents of changes and opinion leaders, explore best global practices in different fields.
Young people gain practical experience of volunteering and teamwork to establish their own ideas, -Meet Olia! -Hi, I am Olia. Olia Horshchuk, Ukrainian Leadership Academy student. Hometown - Sudak city. Dreams of showing Crimea to her friends. -Now tell us the truth, why did you launch a spam attack on our Instagram page. Did you leave any messages, too? -I left dozens of comments.. Actually, when I tried to explain what the Ukrainian Leadership Academy is, I was struggling because people found it too difficult to understand.
Can you tell us in a nutshell what the Ukrainian Leadership Academy is? -First of all, welcome to ULA hub in Mariupol. It's one of the 5 hubs in Ukraine. -Where are the other hubs located? -In Lviv, Kyiv, Mykolaiv, Kharkiv and Mariupol. -Okay. So, what is ULA? -The Ukrainian Leadership Academy is a platform for youth comprehensive development, intellectual, emotional and physical.
-Wait, and what exactly are you doing here? -We attend lectures and volunteer, lectures may concern psychology, ecology, state-building We also carry out social events and projects for the local community. Everyone has a chance to become a part of ULA. You apply for admission, pass the selection and you are enrolled. -How long do you stay here? -We live and study on the campus for 10 months. -How old are the students? -This program engages youth at the age of 16-20.
-Do Mariupol residents only study here? -No, our students are from all over Ukraine. I'm from Crimea. We have students from Ivano-Frankivsk, Kyiv, Kharkiv. Mariupol too, they were assigned to this city. Assignment system gives people from West regions a chance to know more about East regions while people from East regions learn more about West regions.
-I spent my entire life in russian-speaking environment. And then I got into Ukrainian-speaking environment. And, honestly, I enjoy it so much. -Your Ukrainian is amazing. Have you learned it or improved it here? -No, I've always spoken Ukrainian with my family, since my childhood. -And you are from Crimea, right?
-Yes. -Awesome! In 1095, in the city of Clermont Pope Urban II called everyone to arms. You all know what he wanted to get. And what did he promise in return? -5 teams out of 7 have given the correct answer. -And what is yours? -We think he promised to absolve all their sins or give them a ticket to Heaven. -This is the correct answer, well done. -Heaven, yeah?
-Lera, would you like to attend such lectures with quizzes? -Sure! -Exciting, isn't it? -Yeah! -I think, this way all the information is absorbed so much easier. You are amazing! -Is there anybody from Khmelntskyi? -Yep, me. -Great. Tell me how you got here. -It's actually a very long story. Three years ago I left Ukraine saying I would never come back and this country wasn't for me. -Where did you go? -To Poland. I graduated there. After 2 years of study I called my mom and told here I wanted to learn about hard physical work.
and she advised to try working at the factory, it's pretty obvious. It's no secret there are many Ukrainians in Poland who come to work there. I started working at the factory, and I was amazed at how well-educated Ukrainians were. And I realized how much Ukraine was missing out, I felt some kind of injustice that had to be fixed. Since then I've felt the need to change that. The question was 'Where should I start?', I started looking for an opportunity to come back to Ukraine.
I wanted to know if my love for the country was real and not illusional, and suddenly my friend mentioned ULA. Soon after that we applied for admission, I got in. Now with the experience I have and the knowledge I'm gaining here I have a vision of where I may be useful.
Now I know I definitely want to stay here. I see myself in politics. But as for now, the program is still on, 8 months to go and I don't want to think ahead. -But I'm 100% sure I belong in this country. -Respect, thanks. Because our project actually promotes Ukrainian education. We think we should visit different Ukrainian cities.
I would be glad if Lera chose the university outside her hometown. But it's completely up to her. UniverCheck March 2022 UniverCheck -This is the biggest park in Mariupol, Hurova Park. It has been renovated recently. This is a great park, really.
There is a river, you can have a barbeque here. There are places for walks, thrill rides.. -an extreme park.. -And it looks fascinating in the evening.
-Nothing happens. -Because you have to do something. You either put Jedi's sword again or I clap and it's night. Hurova Park is extraodrinary in the evening.
-Yeah, lights everywhere, it irradiates some party and fun vibe. -Benches everywhere. I bet it's even better when it's warm. And now we are alone here. -It's kinda conceptual, very cool. -Yeah.
UniverCheck -And this is the Freedom Square. -Music is on, you can hang out here nicely. And once again it's all new, renovated, nice and illuminated. It's been raining today, but I've heard it was sunny yesterday and there were crowds in the streets. And now we can't see them because it's actually rather wet in the cities by the sea. -I'd say damp. -Yeah, damp. And cold. Just a bit.
-This is the Theater Square which locals like very much. -Yeah, this is the Drama Theater. And this is the central avenue. You know what? Mariupol has pleasantly surprised us because everything is glowing, there are so many people. It's such a vibe! -Yeah, it is. -Look, fancy illumination and restaurants, people hanging out. -Yeah, nice. -I remember a bit different Mariupol. It's has literally flourished, I'm amazed.
Local students told us this place, 'On the run', is a very popular fast food. You are literally on the run, you come, you take your food, you leave. It's time to try it. Let's put it this way, it's not the best shawarma I've ever eaten. But still, it's tasty. This is such a great case of turning the old water tower into an art object having just illuminated it. -Awesome, right? -Yes, it looks wonderful. It's quite instagrammable.
UniverCheck -So, we are going to the train station. -Let's go. -We'll make it. -Do you have the tickets? COVID certificate? Masks? -Yep. -Good.
-Our dear friends, we have 14 hours on the train ahead of us. Films-shmils. This is our first time discussing the conclusions on the train.
We should begin before the train conductor comes. -Agreed. So, pros of the university: It's a great technical institution that produces best specialists in energy field, metallurgy etc. They've established dual system which allows you to spend 2 weeks studying and other 2 weeks working. It's cool. Except technical faculties it has human sciences faculties, you can choose among management, tourism, philology. And economics, and IT. That's nice, we didn't count on that.
I like the fact they have an anti-corruption department. Students and professors are very active. And they don't waste any time, always searching for grants, ways to get better, to learn something new, I approve that a lot. -The student senate and student union often organize various events, 'League of Laughter', 'What? Where? When?' -Once again I want to emphasize on the great progress Mariupol has made. I've been here many times and it becomes better and better every year.
They are making their first steps towards tourism development. It's already becoming a magnet for tourists. I am rooting for you, Mariupol. -It's time to say goodbyes. -Let's make a deal. We ask you to like the video, subscribe to the channel and share it with friends, tell them what a great story about Mariupol we've created. -Follow our Instagram accounts and @pedan_education account which provides helpful information for applicants. -As always, I suggest that we create a community in the comments, write you questions about studying in Mariupol any questions, I'm sure local students will answer and give you all the details.
-And we'll randomly choose a person who'll get our merch in the comments. -Well, we're done here. And we are about to stop. Sorry, we are really hungry. Lera, I'll fetch varenyky and you arrange us a movie. -Deal. -Get out of my way, get out of my way! UniverCheck Vibrant, modern, progressive, beautiful and well-developed, that's the city of Mariupol we remember. And that's what we will forever keep in our hearts.
Destroyed buildings, communications, filtration camps, mass graves, humanitarian catastrophe and thousands of shattered lives. That's the city of Mariupol which is temporarily occupied. About 200 000 Mariupol residents are currently living on the territory controlled by Ukraine. 100 000 residents still remain in Mariupol. In temporarily occupied and destroyed by russians Mariupol Ukrainians resist occupants and distribute patriotic leaflets. And the photo of a guy with Ukrainian flag, standing in front of destroyed Drama Theater in Mariupol, went viral.
No occupation will destroy Ukrainians' spirit. We will never forget and forgive. And we will take back what belongs to us. UniverCheck Dear viewers, you've seen an episode-requiem in honor of Mariupol.
It has gone through much pain, suffering and many deaths. I want to sum everything up with 2 important statements. Firstly, the defenders of Azovstal are being held captive. We mustn't let this information slip off the agenda, especially abroad. Their feat will go down in history. And we must do everything to bring them back home. Secondly, we must keep fighting for our victory on all fronts.
We mustn't forget what russia brought to our lands even for a single day. Genocide of Ukrainians, that's what. Mariupol proves it. Glory to the Armed Forces of Ukraine. Glory to Ukraine.
UniverCheck We encourage applicants and their parents not to hesitate and enter Ukrainian universities. They also need our support.
2022-08-04 11:12
Show Video
Other news