2024 Tesla Model 3 Highland driving REVIEW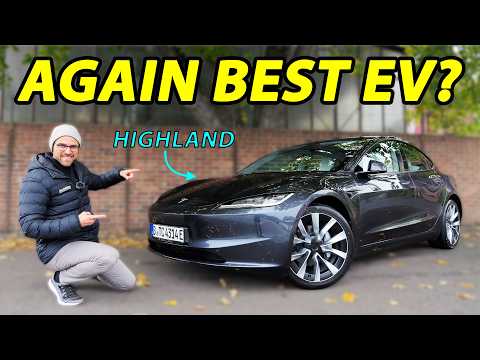 Show Video
Let's take a look and drive the updated Tesla Model 3. They have been dominating the market in this segment here for years, now newly arriving the VW ID.7, the IONIQ 6 and the BYD SEAL, also in Europe. But Tesla says, hold my beer... There can be only one! The Model 3 Highland, that's the nickname for this update here and let's see if there can only be one, this one here still. Here you can see in the front updated headlamps with a slimmer daytime running light now. This is also one of two new colors, this is called Stealth Gray and the other one is called Ultra Red in a multi-layer paint.
They have updated the aerodynamics of this vehicle, I mean it was already very aerodynamic before, now CD value at 0.219 and for example some updates, you know, like the air has been flowing from the hood then also the side and so on and also updated wheels. The compound is now optimized for less rolling resistance and that's why also the top speed has been reduced to around 200 kilometers an hour or 125 miles an hour. These ones here are the 19-inch wheels, also pretty cool styling here with this outside aerodynamic ring in the contrasting black color, 18-inch would be standard actually. The 18-inch wheels actually are a little bit lighter and that's why they would also be a little bit better than for the overall efficiency.
4.72 meters is the overall length, since the spoilers has also been changed, it's actually tiny bit longer. Turning indicators here in the front underneath the daytime running light, turning indicators in the rear, you can see one of my big criticism points is gone now. Before they were super tiny, now they are very well visible and also new tail lamps overall with the signature and they're also way wider and you can see they are actually on the trunk cover here now... autumn times, and here when I open the trunk then you can
see they lift up together with it. That's very interesting, right? Talking about this one here, this is 600 liters because, well, there's a fairly good opening here and then we also have a good length in there, but even more important, we have so much more space even underneath like this and that even fits a suitcase. Quick measurements between the wheel arches, 95 centimeters or 37 inches and the length here, the normal one, is about 1 meters and 7 or 42 inches and, of course, you can also fold the seats, 1 third, 2 third split, you have to fold them from the rear though.
You have to be creative with the shooting locations when it's raining really, really hard. They are still the rear-wheel drive and the all-wheel drive models, 6.1 seconds for the rear-wheel drive model in the acceleration figure, all-wheel drive model, one motor per axle as we have here is 4.4 seconds in the acceleration. And with all the facelift changes, the extra price is just about $1,000 or €1,000, however, also recently they have lowered the prices in general for their cars, so they're really in this price fight, of course, induced by the Chinese market where they're also lowering the EV prices. Charging ports here on the driver's side in the back part and 170 kilowatt peak for the small battery, 250 kilowatt peak for the bigger battery here in our all-wheel drive model and that means 24 minutes or 22 minutes for the bigger battery, 10% to 80% state of charge at the V3 supercharger. And there are, yes, 2 battery sizes around 60 kilowatt hours or
around 80 kilowatt hours. How much exactly also depends where the car is being built, if you, for example, have then a US model or if you get one in Europe and so on. Dual insulation now also for the rear windows, you can also see and feel that here, so that has been added here also with the facelift. Overall, they promise 30% less wind noise while driving.
We're going to find out if that's actually true and with all the efficiency things in aerodynamics, they say also 5% more efficient overall than it was before and already it was quite efficient before. That is also something that stands out with Tesla. I mean, some have other advantages, you know, but Tesla has always been very efficient as for aerodynamics and also the efficiency of the electric motors.
Opening the doors, there has always been a pro and con discussion about these door handles, you know, flush integration and so on aerodynamics, but some say it's not really practical and I have to agree, they're not the most practical door handles. Then, frameless doors, also dual insulation already at the front, and then here inside of doors, you already see a new ambient lighting integration, soft touch here, then as the bright interior, you can either get the bright one or the dark one, and it is a very minimalistic interior, even more minimalistic here now with that facelift, you can see no stalks at the steering wheel and so on, and the most significant change to me is definitely here. New seats, they're taken from Model S or from the Model X, they are the wider ones, also with perforation inside, the whole interior is vegan, so no animal material is being used, that's of course forward thinking and also very consistent. And the overall impact on
the environment is also lower. Then, you can see, wow, this is a new comfort experience indeed, so it's way more comfortable than the outgoing seats, and it's also specially to the Model 3 because the Model Y with some upgrades is not receiving these seats here yet at least. Headroom with 1.89 or 6 foot 2 underneath this fixed glass roof, that's actually quite okay,
and I have the feeling, well, there's one thing, you know, when you're really tall, then here this front line begins quite low, so you have somewhat a caged in feeling here, especially to the front, however, these new seats improve that a little bit because when you put them all the way low, and they also, let's say, and house you a little bit better than the ones before, so I feel this criticism point has also been improved definitely with these new seats, and indeed, it has a completely different comfort experience. So, yeah, so far, the seating comfort was one of our main criticizing points about the Model 3. Now, you have to ask yourself why you would need the Model S, mainly for the air suspension, but Tesla says that the riding comfort is also now better with these wheels and the new setup and so on.
Is that true? We're going to find out very soon. Interior cockpit overview, this 15.4-inch screen has smaller bezels, so these smaller black frames around, and new steering wheel, soon more details to that, and the lower part, as we know, two inductive charging pads, so it works both ways. Alcantara covering, and the only thing is they are not cooled, so the phone gets hot there.
Steering wheel itself has a very sporty and small form. Material quality, first impression, also quite good. You have to see how it is long-term. Then, here, the turning indicators are now on the steering wheel like in the Model S or Model X in their updates, and there are no stalks here anymore at all. And on the
screen, I turn it to the dark mode now. Here, when I use the turning indicators, you can see how you have these additional helping cameras from the side that you can see there's no one in the blind spot when you're turning, actually. On the dashboard here now, this fabric covering is actually quite cool and cozy.
Here, also, there's gray fabric in the bright interior. And new ambient lighting where you can easily also change the color in the display just like this. You can open everything also from here. Phone connection, however, only Bluetooth. They're still reluctant as for Apple CarPlay or Android Auto, although most people want that.
Camera system is always quite impressive. The one we saw already, this is the rear-view camera. It's pretty dark and rainy outside, obviously, yeah, highlands weather, isn't it? And the seat heating or seat cooling is activated in the lower part, and also the climate control right here. You can also use the voice input, of course. Temperature 20 degrees. So, what I want to try now, I fasten my seat belt, and I want to try this automatic gear system.
So, here, camera, you can see behind us, there's a wall. So, actually, when I put the tap to activate, and then when I put the throttle, it should drive forward, actually, yeah, also confirms like this. So, I did not select any gear now. This was this automatic gear selection. If I now want to go reverse, that doesn't really work.
It still drives forward. So, if I would do something which the car cannot expect, then I have to swipe here, then I can go reverse like this. But what if we have the wall forward-facing? Now, you can see behind us, there's space, but in the front of us, there's the wall.
So, let's see if it gets very expensive now for Tesla or for me or for Tesla, Tesla both, me and Tesla. Let's see. Nah, it drives forward, and yeah. If I would trust that vehicle now, we would run through the wall. So, in this case, I think, I don't know, maybe if we get even closer or something, it still drives forward. No.
Yeah. There, you can see, you can never 100% trust the system. Here, in this case, then, I have to pull backwards manually.
Middle console like this, cup holders, also somewhat adaptive, and in front, even more space. The armrest, also good build quality, folding it up, even more space. Rear seats, let's take a look, also new seats with the perforation on the inside, cooled seats available for the front seats, but heated seats also available for the rear seats, and it's all standard.
You don't have to go for some options, and then, suddenly, the price is double as high. That's what I find cool about Tesla. You only configure the exterior color, and then, here, bright or black, and that's basically it. Nice ambient lighting integration, you know, soft touch, so I feel, also, the other criticism point, that the build quality was so low.
Here, they upgraded it and made it, yeah, more a premium experience, indeed. In the rear, you don't sit too well, actually. Look at, here, the angle of my knees. This is also seats I would be driving. It does exactly fit somehow. Headroom is actually not a problem.
I mean, here, yes, but I have to put my head, then, underneath this panoramic roof. And, it works, also, for tall adults. Yeah, thank you, Leah. There we go. So, let's say, it's not the most pleasant experience, but it works.
Middle seat, there's no middle tunnel using that EV platform. I mean, you can drive with five tall adults. It won't be the best experience, but it's actually quite okay. The material of the seats here, it's also pretty cool, slicked in on the inside part.
You can fold down this. This is actually very interesting, right? This integrated head restraint, which you can also use to, I mean, if you look at that, some might say that it has a special form, which resembles a human body part. What do you think? Then, you fold it down. You have, also, adaptive cup holders, like this.
Yeah, maybe it would be better when it folds a little bit more down, but, overall, it's okay. And, also, new 8-inch screen, then, here, for the rear seats. You can control, digitally, then, the air vents, if that's really needed.
I think that is left up for discussion, but what's pretty cool is that you have, then, here, also, YouTube access, different apps, and you can watch, for example, Autogefühl. Why not? Oh, there's directly a suggestion in here, for example, of our Smart 3 review, and the cool thing is, here, with this new sound system, when I play the videos here, in the rear, then, there's more sound coming from the rear, 9 or 17 speakers. The quality of the screen, by the way, is really excellent. Oh, and these USB-C chargers in the rear, 65 watt each, pretty strong. What about an acceleration from zero, here, wet road? That's 70 kilometers an hour, what we could maximum drive here, wow, super quick, and, so, so controlled, and, yeah, Leah is having her fun, yeah, that's amazing.
So, by the way, when we are going some left and right, here, we are in the rather low-sitting sedan. How is it for you, G-force-wise, and so on? It's okay? It's good, yeah, it's okay. So, for me, it's always, you know, very good indicator, is the passenger all right, or is he or she getting sick from all the G-forces being applied, and so on, and here, actually, it's quite good. Wow, it drives so good and definitely better than the pre-facelift model. I really like that, you know, both from the agility and from the comfort, it just feels more like a, you know, like a more round package. Here, also, really nice roundabout in, and we have wet roads still, tires hooking up well.
So, out of the roundabout, it's a little bit tricky to hit the turning indicator. Wow, so great, so much fun. I mean, this is not the performance model, but it already feels like a performance car, but now, then, in this update, not with the compromise of being just super uncomfortable, and this really playing together of the better seats and also the tires and, you know, set-up things and so on. So, that works very, very well here. I always wanted to do that, race up a parking garage park.
We have the chance here now. It's empty. Why not? We can test the agility of the Model 3 facelift and also a little bit of suspension and so on, this here being the all-wheel-drive model. Wow, super quick in acceleration, also super smooth.
You know that when you lift your foot off the throttle, Tesla's always about the one pedal driving. Here, when you accelerate out, really nice, the ground is a little bit slippery, but due to the all-wheel-drive traction, we can also accelerate out really nicely. Steering wheel here, a good, fine feeling for it. Yeah, a little bit sliding out, you know, and you don't have any dead zone area from the steering wheel and so on, so it's very well to control. It feels super nice, agile, and sporty, and now, we are on that top floor here. Last one to go up, and it's also, of course, a little bit more slippery, and any difference? Yeah, really nice.
So, good traction here, and when we are running over these lines here, you know, also small gaps inside, no problem for suspension, and these wheels here, I already now have the feeling that they bring you, indeed, more comfort because that was also one of my other main criticism points about the Model 3 in driving, that the suspension is just super, super rough. So, actually, we had, like, three main points: uncomfortable seats, uncomfortable suspension, and no instruments nor head-up display. The latter one, still the case, but seating-wise and suspension-wise, seems to be way better now. Of course, we'll tell you more about it as soon as we hit the real road, but I can tell you here from our parking garage park, that's nice sliding out a little bit here. That's beautifully done, but the ESC system is keeping us on track once again. I think it's a beautiful test here just to get a feeling of the steering and also the acceleration.
Yeah, that's pretty cool. So, see how smooth everything goes. It feels now, at least from here, also from the driving, feels really like a premium vehicle now. All right, let's go to the open road. Whoa, there's a lot of water on there.
I think it's a good test, actually, because here, then, with these, you know, adverse conditions, we can even better test what this vehicle is made of. First of all, suspension, when it's here, like a little bit bumpier, so, or here, these holes from the sewage systems and so on, it is definitely better than before, but it doesn't make it the softest or most comfortable suspension. However, I feel before, it could have been a deal-breaker, the suspension, when you say, like, ah, that's really too rough for me, but now, I feel it's not a deal-breaker anymore, so I'm actually fine with it. As I said, there may be more favorable suspension setups and so on, but here, I think, with this new tire setup here, I'm fine with that. Do you get used to the turning indicators? Yeah, actually, quite quickly, especially because when you are turning and then you straighten the steering wheel again, probably at some point, I can show that to you again, then it gets deactivated automatically the same way as the manual stalk column would jump back or so, and then it's also fine, then you don't need to do that much like this, and of course, this all-wheel drive model, even quicker in the acceleration, so you can make some nice jumps then also in the city driving, when you need to turn to do it quickly or some quick overtaking maneuver and so on.
As for the wiper setup, at the moment, I have set it to a low setting that we don't have like annoying wiper sounds all over the place. If you want another wiper, you can always click it here on the steering wheel if it wasn't too much for you, and then it automatically appears here, and then you can, for example, set it stronger or set it to the auto mode, then the car always decides for itself. This new EU law, by the way, that you have this speed warning already when you exceed 1 kilometers an hour, here, you can just press this symbol here where 50, for example, and then it is also muted, so it's also a quick way to deactivate that. Even just slightly pressing the throttle goes super quick.
Of course, here in the driving settings, you can always change it a little bit, for example, here to the chill acceleration if the acceleration is just too much for you, and that can be a good thing also for efficiency, for example, because then you're not like maybe like tempted to accelerate that hard that often. Steering mode, I do prefer the sport steering. Here in the Comfort. I mean, it's easier to park in and out, but there's less feedback, but it still feels good, you know, because there's no dead zone area, and also the size of the steering wheel feels much gaming-alike, but it's a lot of fun, actually.
That's a matter of preference. I prefer it when there's a little bit more resistance, like resistance here, like in the Sport mode, and then it's actually fine. So, this hitting the turning indicators doesn't come that natural, but you get used to it bit by bit.
For the noise insulation, it's actually good that it's raining outside because that makes it louder in general, and now we really feel that it's a huge difference in comparison to the previous car, can you say generation? Well, not quite, maybe like this non-upgraded model, definitely way more silent, especially from these windows area all around, I really like that. One pedal driving here, just off the throttle, and when I need more braking, then I really apply the brakes. There's a difference here with Tesla. The other manufacturers rather have the approach that they don't make any difference between just letting go of the throttle and hitting the brake for the recuperation.
With Tesla, it's different. When you hit the brake, then there's also the real brakes being applied, and the recuperation happens only when you lift the throttle. So, you have to know that. With the other manufacturers, they have this different philosophy where you can do both and just pick your driving style, but here, you really need to use the one-pedal driving with the Tesla. I think the overall combination gives you a very smooth driving feeling, you know, from that steering setup here, from the new wheels, and the insulation, everything feels smoother, more premium, just more elaborate, and I think it's a huge step. Actually, it is almost feeling like a new generation of this vehicle, and the seating comfort here, now I could also imagine driving a long way here in the Model 3.
Before, I have to say, I wouldn't have taken a long road trip in that one when you're really tall, you know, because the smaller seats that were there before, especially a problem for tall adults, definitely, and we're getting now, bit by bit, towards the German motorway, the Autobahn, to see more about that noise insulation there, and although it is actually really raining heavily today, and there's wind, and everything, and this typical autumn all around the place, it's still reasonably silent then here. You also hear how the raindrops are falling on that roof. These panoramic roofs here, by the way, you see, they are tinted, so it's not like the heat would come in, like, through the side window, but still, people tend to have their roofs wrapped in, like, in Texas or something, really hot states and so on, just to make it even more reflective, and, I mean, at some point, a cover would be good, and also instruments or the head-up display, it would be good to have it. They try to sell it to you as a feature, but it is just about cost cuts.
Yes, design-wise, it's cleaner, but at least one of the things, instruments or head-up display would still be good. You have to look here, and, you know, when you are looking at the head-up display, the focus of your eyes is still long distance, and here, when you look here, it's short distance, long distance, short distance, long distance, and it always takes time to check this. So, it is a safety thing, and here, next speed camera, it can also cost you money when, at some point, you're missing the speed limit and so on.
As for this autopilot feature, here, pressing once, there's the normal cruise control, pressing twice, then I have the autopilot activated. You can also change that, that just one click activates the autopilot. Let's see here in the traffic what it does, actually, when I also take my hands off the steering wheel, when there's a warning coming and so on. So, at the moment, the distance to the car in front of me is being kept, and hopefully it would not run onto the vehicle, and also, steering is overtaken.
See it here, it goes a little bit more straight like this. So far, actually quite smooth. Now, rainy acceleration, 50 to 100, plop, that's it, wow, super quick, and also, no wheel spin at all or something, so that was pretty impressive. Yeah, that's why you get the all-wheel-drive model, of course, the Standard Range model also has a quick acceleration, and in most cases, it will be enough.
It's always a price thing, of course, because a Standard Range model is such a good price-performance ratio than over on the market. Now, at 100 kilometers an hour, 60 miles an hour, it is, considering the outside conditions, once again, relatively silent in here, so I don't have to raise my voice that much. That's actually a pretty cool thing. Yeah, I'm really glad they have improved, especially on that issue there, and the overall compact feeling of the vehicle and the sporty character, yeah, really makes you feel at home also driving motorway.
Then, new feature here, you see this very small lamp here, this red lamp. It's not that large, not that visible, but it is a blind spot monitor, which you can better see, once again here, there we go, and that was also one thing that was missing before. I think it could be a little bit better visible, I feel, but I'm glad that it's there now, you know, so, and then, you also have this additional camera view here. I told you earlier, when you hit the turning indicator, there's another blind spot warning, so to speak. So, yeah, I mean, overall, a good package now, as for the assistance systems.
Maybe that lamp could have been a little bit larger, or you could maybe also use the ambient lighting for that for a larger scale. That will also be possible. Then, here on the motorway, let's put it here also to the self-driving mode, so to speak, and let's see how the speed is being kept, and I'm keeping my hands on the steering wheel. It has a movement detection, so it's not capacitive.
Let's see if the car is complaining at some point because at the moment, I have both hands on, but when you're running straight, it can be that it doesn't, that they apply slight turning force to the steering wheel, so it doesn't really detect that I have my hands on the steering wheel, and also, I need to apply a little bit more force, I mean, yeah, running straight, it would be a typical case, and now, here, at some point, it's also being cancelled, so I need to do it like this here, like this, and then the question is if it makes sense, if I always need to turn the steering wheel at that point? And one more, a lane change here when we are at higher speeds, good control over the vehicle, really nice, and although we have these really, yeah, unpleasant conditions outside here, it feels very safe and good to control. I like that about the vehicle, especially in driving. Now, the big question is this one here or the BYD Seal? We had that recently in our test, so the seats in the Seal were, to me, maybe a little bit more comfortable, but Leah, for example, says that she finds these seats in the Model 3 better, but that is not, like, the crucial difference now.
Both drive very, very well. Things you do feel is that the Seal has more classic controls, also, like, you know, like turning indicator and so on, but Tesla has their software more dialed in. The Seal at this moment here, the recent models, you know, ones we get in Europe, they have a lot of software bugs still, so, and Tesla have their thing mainly dialed. So, I don't feel the autopilot system is the best on the market, especially in the Europe. I always feel that it should work better in the US than on the European models, as maybe as regulation, also about the data that was already collected, so I feel they're not leading as far as systems, but the new brands that are emerging here on the market or coming from China, they don't have their software dialed yet, so there you know that the Tesla system, all of the stuff is actually working, you're not having, like, beeping stuff all over the place. It used to be different, you know, like, many years ago there, maybe with Tesla at that point, but here you feel that everything is more dialed, and, yeah, so you feel you get a more finished product definitely here with the Model 3.
So, with all these changes here, and also a little bit more comfort and so on, definitely, especially at that price point, one of the best in the segment without doubt. So, two more things I realized, yes, the phone got too hot, it overheated that way that it stopped charging, and also a little bit weird here, the stitching is not at the inside of the steering wheel where it would usually be, it is behind the steering wheel, so here you don't feel because here they left it blank, but when you, you know, grab here or something, you always feel it behind the steering wheel, probably that's, again, easier or cheaper to produce. So, on our trip here today with outside, by the way, 10 degrees Celsius, around 50 degrees Fahrenheit, we still could score some nice and decent economy. So, we had motorway, 100 kilometers an hour, 60 miles an hour, city traffic, and so on, but also some accelerations, that was a little funnier, so we could score some 16 kilowatt hour on 100 kilometers, that's 4 miles per kilowatt hour, meaning a real range of 500 kilometers or 320 miles, I think pretty decent, and now, what else did we do, BYD Seal and VW ID.7. Check this out.
2023-11-06 23:47
Show Video
Other news