Yamaha XV 1600 Custom Bobber by Moto Technology | Rebuild | Timelapse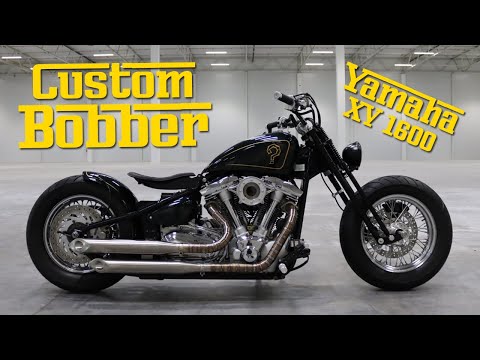 Show Video
It's going as it's going we're recording spontaneously That's right! Yo! Welcome to another episode of Moto-Technology crew! The team today will present you all the parts that were created for our project Yamaha XV 1600 Exactly! We've been working hard on this bike for a long, long time. We spent even more time thinking about it. We've come up with a lot of cool parts here.
We composed it into one nice coherent whole. Let's start with the fuel tank here because it is the center of attention and throws first. It is a long slender fuel tank that we specially made... well! Just look at this silhouette! This silhouette composes as if it were one big jet rocket.
Exactly! The rear seat is suspended, it is attached specifically together with the fuel tank, which creates a really cool silhouette. Plus full detailing. That is: Custom filters, custom exhaust tips, all elements are actually our production. OK, OK, OK... Another thing we modified, we didn't make them from scratch, we modified the side boxes here.
They have been slightly modified and fit nicely here to the narrow silhouette of this bike. The whole must be: Osowaty, slender, so impetuous, as I said and mentioned, rocket type. Exactly! We have a mudguard perfectly composed in the whole silhouette. We have exhaust tips. Mateusz was your perfect perspective to catch and round these ends here. It looks cool! It looks interesting and unique! Of course! Here, the key element that we made for this bike is the springer style front suspension, it's a nice design.
This is an old school theme that we used, also our concept, our project. Exactly! We made all the elements from scratch here, from the lower suspension, from the risers, through the legs , through the bottom shelf, the top shelf . controlled. Z-BAR style steering wheel It looks nice. So, more parts when it comes to the CNC milling machine that we made.
The filter that is presented here that complements this V-ka must be said here that it is perfectly integrated into the heart, into the heart of this motorcycle. Exactly! It is milled from aluminum, we have a K&N filter here , so the engine has something to breathe, so at full steam! Of course, this is a plexiglass version, we will make other versions with other patterns made of aluminum. For now, we'll stay with it, we'll act, develop every element here, just like this filter , and we'll also modify, improve, check, test everything. and you will find all this in the future, of course, in our store where you will be able to: browse , browse and choose as much as you want. What haven't we said yet? we didn't mention footrests.
The footrest itself is constructed on the basis of bearings, the very element that moves, works, passes the exam. The plan at the moment is to remove all parts, all components such as front suspension, handlebars, footpegs, seat will be painted black. Yes, i.e. a comprehensive demolition, which we will show you in a moment, plus all painted elements that are car body, which will be emphasized here, will give the whole flavor to the entire structure of our project. As for the frame and the rear swingarm, it will be sandblasted and powder coated again.
We'll put it together with new bearings and new components. New brake lines etc. This is how it looks at the moment, see for yourself how our project is developing further.
We'll see what comes of it, we're also curious about the last vision. Be with us, comment, give likes! Thanks for all the advice and ideas so far. And see you in the next episode! See you in the next episode! See you later! See you later! So our project is coming to an end! We are waiting for the last detailing, for such an art of spice that will give the last taste to the whole motorcycle, and they will be, of course, what? Car body parts! We are also waiting for our painter, who is about to reach us and we assemble everything into one whole! We're rubbing our hands together! We are waiting impatiently to see how it will all look like! Hope it turns out amazing as always! The phenomenon when on a fresh varnish even perfectly placed such a delicate what is called scale.
Ah, that's right! This is when it appears, it brings out the depth of the color more, in addition, there are actually three layers of colorless, which makes it even more glassy, ​​and besides, I added diamond dust to the last layer, it adds to the base colors in general, I like a pair drop drops in the varnish and then in the shade when it stands, you can't see it, it only lights up in the varnish when it gets a strong light , i.e. like now a lamp or sunlight. In general, Mega, we are happy with the final effect of our varnishing here, I am really amazed by the very idea here, this spar, this question mark and the execution of the spar itself, which, so to speak, disappears in this depth of green.
We are very happy to work with Tomek, who is a very creative person with great ideas. Visit his website: Sama Rama: https://www.facebook.com/TomaszSamaRama you can also hit the link. The link will be up here somewhere.
We really invite you and recommend it! We like to work with such creative people! We hope it will develop even more!
2022-11-21 17:52
Show Video
Other news