Our future starts today.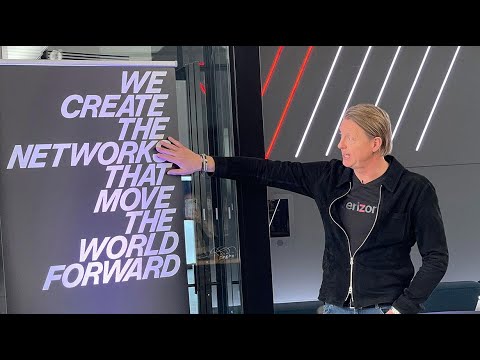 Show Video
>> ANDY CHOI: HELLO, EVERYONE. AND WELCOME TO A VERY SPECIAL UP TO SPEED LIVE. A VERY SPECIAL WELCOME TO OUR TWITTER VIEWERS. YES, WE ARE BACK ON TWITTER. SO, THAT MEANS THAT OUR V-TEAMERS AND ANYBODY WHO WOULD LIKE TO JOIN US IN THIS CONVERSATION AT INSIDE VERIZON CAN JOIN US.
I'LL BE WATCHING HERE CLOSELY THE PARASCOPE. I'M WATCHING THE HEARTS ALREADY. YOU KNOW I LOVE THE HEART METRIC. KEEP HITTING THOSE HEARTS ON TWITTER. BUT WE ARE LIVE, OF COURSE, HERE AT OUR HEADQUARTERS AFTER A STELLAR NIGHT WHEN WE TALKED WITH OUR INVESTORS AND OF COURSE WE'RE ON THE HEALS OF THE C-BAND AUCTION AND WE ARE GOING TO BREAK THE NUMBER ONE RULE OF THE C-BAND AUCTION.
WE'RE GOING TO TALK WITH HANS AND KYLE WHO ARE LIVE WITH US HERE. HANS, WE'LL TURN TO YOU. A FANTASTIC EVENING AND A LOT FOR ALL OF US, THIS ENTIRE V-TEAM TO BE PROUD OF. A LONG JOURNEY, BUT THERE'S MORE WORK AHEAD. TALK TO US ABOUT WHAT THE NIGHT MEANT FOR YOU AND WHAT EXACTLY DID WE ANNOUNCE? >> HANS VESTBERG: YEAH, WE'RE EXCITED TO TALK ABOUT IT BECAUSE THE LAST TIME I WAS ON UP TO SPEED BECAUSE WE WEREN'T ALLOWED TO TALK ABOUT IT.
BUT NOW THE COLLUSION RULES ARE OVER AND WE CAN TALK ABOUT IT. LET ME START FROM THE BEGINNING. YESTERDAY WAS PROBABLY ONE OF THE MOST IMPORTANT DAYS IN THE HISTORY OF VERIZON. OF COURSE THE CREATION OF VERIZON WAS ONE VERY HAPPENING, BUT ALSO OF COURSE THE ACQUISITION OF THE VODAFONE PART OF VERIZON WIRELESS, THE LAUNCH OF 4G, AND A COUPLE OF OTHER THINGS. BUT YESTERDAY, WHEN WE COULD ANNOUNCE AND TALK ABOUT WHAT WE ACQUIRED IN THIS C-BAND AUCTION, AND KYLE WILL SPEAK A LITTLE BIT MORE ABOUT IT.
BUT WHAT IT MEANS IS WE NOW NOT ONLY HAVE THE BEST NETWORK, THE BEST ENGINEERS, BUT WE ALSO HAVE THE BEST POSITION ON SPECTRUM. AND SPECTRUM IS EXTREMELY IMPORTANT WHEN IT COMES TO WIRELESS, HOW WE CAN CARRY THE DATA AND THE VOICE CALLS, WHATEVER, OVER THE NETWORK. ALL IN ALL, WHAT WE EXPLAINED YESTERDAY IS OUR STRATEGY IS IN TACT. WE HAVE THE NETWORK OF SERVICE, THE MULTIPURPOSE NETWORK THAT KYLE AND HIS TEAM ARE BUILDING. THEN WE HAVE THE VERIZON 2.0 GO TO MARKET WITH CONSUMER, WITH BUSINESS
AND MEDIA THAT IS HAVING SCALABLE SOLUTIONS THAT THEY CAN OFFER TO THE MARKET. AND THEN WE TALKED ABOUT THE FIVE VECTORS OF GROWTH. AND THE FIVE VECTORS OF GROWTH ARE THE 5G ADOPTION, WHICH IS BOTH 5G HOME AND 5G MOBILITY. IT'S ALSO THE NETWORK MODERNIZATION WHEN WE WORK WITH EVERYONE USING OUR NETWORK. AND THEN IT'S THE NEW 5G MOBILE EDGE COMPUTE THAT TAMI AND HER TEAM ARE WORKING TOGETHER WITH KYLE, WHERE WE'RE BRINGING THE COMPUTE OUT TO THE NETWORK, USING THE NETWORK FOR ALL OF THIS.
THEN WE HAVE THE WHOLE MIX AND MATCH AND CUSTOMER DIFFERENTIATION THAT HAS BEEN VERY MUCH RONAN'S TEAM WORKING WITH THAT TOGETHER OF COURSE WITH TAMI. THAT IS THE FOURTH VECTOR OF GROWTH. AND FINALLY WE'RE ADDRESSING NEW MARKETS LIKE VISIBLE AND WHEN WE WANT TO CLOSE TRACPHONE, WE'RE GOING TO HAVE A LARGE PART OF PRE-PAID. WE CAN AMPLIFY, MEANING INCREASING THE POSSIBILITY FOR US. I'LL GIVE YOU TWO EXAMPLES.
5G HOME THAT WE'VE BEEN WORKING WITH MILLIMETER WAVE, WHICH IS A GREAT OPPORTUNITY WITH THE C-BAND. WE CAN QUICKLY SCALE. AND KYLE AND HIS TEAM WORKING WITH RONAN, THEY ARE NOW LOOKING AT 50 MILLION HOUSEHOLDS THAT WE WILL COVER BY YEAR END. AND IN TWO YEARS, 2023, 30 MILLION HOUSEHOLDS, AND THEN 50 MILLION HOUSEHOLDS.
WE CAN OFFER HOME BROAD BAND NATIONWIDE. THAT'S WHAT I MEAN BY ACCELERATING AND AMPLIFYING STRATEGY. THAT'S THE SIGNIFICANCE OF THIS ACQUISITION.
WE'RE ACTUALLY MORE THAN DOUBLING THE AMOUNT OF MID BAND SPECTRUM WE HAVE, WHICH WE HAVE BASICALLY BEEN USING SINCE THE INCEPTION OF VERIZON WHEN WE STARTED WITH WIRELESS. VERIZON CAN NOW CONTINUE TO LEAD AND EXTEND THE LEAD WITH THIS ADDITION. FOR THAT REASON, IT'S VERY IMPORTANT. BUT WE ALSO NEED TO REALIZE IT CAME WITH A PRICE TAG. IN TOTAL, INCLUDING CLEARING THE SPECTRUM AND ALL OF THAT, IT'S ALMOST $53 BILLION U.S. DOLLARS. THAT MEANS WE ALSO NEED TO EXECUTE ON THIS AND SEE THE RETURN ON THE INVESTMENT.
WE TOLD THE INVESTORS WE ARE ALSO FROM NOW ON EXPECTING THREE PLUS PERCENT GROWTH. THIS YEAR GROW MORE THAN TWO PERCENT AND THEN 3% AND THEN IN FOLLOWING YEARS 4% BECAUSE OF THIS ACCELERATION AND AMPLIFICATION. THAT WAS IMPORTANT TO EXPLAIN THAT AND HAVE A HOLISTIC VIEW. BUT THE MOST IMPORTANT FOR ALL OF US IS OUR STRATEGY IS IN TACT. WE'RE JUST SORT OF ADDING THE C-BAND THAT AMPLIFIES WHAT WE'RE DOING. NOW IT COMES DOWN TO EXECUTION.
WE HAVE EVERYTHING THAT WE NEED. WE HAVE THE BEST NETWORK, WE HAVE THE BEST GO TO MARKET, WE HAVE THE GREAT RAN. WE HAVE SUPER ENGINEERS. AND ALL IN ALL WITH THE BRAND AND DISTRIBUTION, WE ARE NOW IN A POSITION THAT IS SO GOOD.
AND THAT'S WHY I WAS EXCITED YESTERDAY, I'M EXCITED TODAY, AND THAT WAS WHAT WE ANNOUNCED YESTERDAY. >> ANDY CHOI: WELL, OUR V-TEAM IS EXCITED, TOO. I'M WATCHING THE HEARTS AND THE COMMENTS COME IN. LOTS OF LOVE FOR WHAT HAPPENED LAST NIGHT AND WHAT WE'RE DISCUSSING. LET'S TALK ABOUT THAT EXECUTION FROM A NETWORK SIDE, KYLE.
IF THERE IS ANYONE WHO WANTED TO BREAK THAT RULE OF NOT TALKING ABOUT IT. >> HANS VESTBERG: HE HAS BEEN ANXIOUS TO TALK ABOUT IT, WE KNOW THAT! >> ANDY CHOI: LET'S UNLEASH KYLE HERE. KYLE, THANK YOU FOR JOINING US. TELL US ABOUT WHAT THIS MEANS FOR YOU.
>> KYLE MALADY: SO, FIRST, LIKE YOU JUST SAID, WE'RE JUST SO EXCITED THAT WE CAN ACTUALLY TALK ABOUT THIS NOW. IT'S ALMOST LIKE CHRISTMAS. I'M GOING TO GIVE MY KIDS SOME PRESENTS AND I KNOW WHAT IT IS, BUT I GOT TO WAIT. THAT'S WHAT IT'S BEEN LIKE FOR THE LAST FEW MONTHS. WE JUST GOT SOME UNBELIEVABLE ASSETS IN SPECTRUM FOR WIRELESS THAT REALLY ACCELERATES AND AMPLIFIES EVERYTHING WE'RE TRYING TO DO ON BEHALF OF OUR CUSTOMERS AND OUR INVESTORS OR ALL OF OUR STAKEHOLDERS AND SOCIETY.
AND JUST SO YOU UNDERSTAND WHAT WE GOT HERE, YOU HAVE YOUR CELL PHONE AND WHAT IT DOES IS IT TALKS TO A CELL SITE. WE HAVE A MILLIMETER WAVE SITE OVER HERE THROUGH SOME FREQUENCIES. NOW, FOR THE LAST 30 YEARS OR SO, WE'VE ACQUIRED DIFFERENT FREQUENCIES.
AND WE HAD SO MUCH OF IT. IN ONE FELL SWOOP IN THIS AUCTION, WE MORE THAN DOUBLED WHAT WE HAD IN TERMS OF FREQUENCY. AND I THINK AN ANALOGY WOULD BE OKAY, YOU KNOW, WE BUILT A HOUSE, WE BOUGHT A PIECE OF PROPERTY, AND WE BUILT A HOUSE ON IT, AND NOW WE WANT TO EXPAND. YOU NEED SOME LAND TO EXPAND.
SO, THIS IS THE LAND THAT WE NEED TO CONTINUE TO GROW OUR BUSINESS AND MAKE A BIGGER HOUSE AND A BIGGER BUSINESS. SO, WE'RE SO EXCITED BY IT BECAUSE THIS IS LIKE THE CLAY FOR THE ENGINEERS TO CONTINUE TO BUILD AND ACCELERATE THE BEST NETWORK FOR WIRELESS IN THE WORLD. AND SO WE COULDN'T BE ANY HAPPIER. AND LIKE CHRISTMAS AGAIN, I AM SO EXCITED NOW THAT WE DON'T HAVE TO CLAM UP ABOUT IT. WE GET ALL OF THE V-TEAM INVOLVED.
WE START GETTING ALL OF OUR DETAILED PLANS IN PLACE AND FIGURE OUT, YOU KNOW, ALL OF THE LITTLE MINUTIA OF WHAT WE NEED TO DO TO MAKE THIS THE BEST EXPERIENCE FOR OUR CUSTOMERS. I COULDN'T BE ANYMORE EXCITED THAN I AM TODAY, BUT NOW IT'S DOWN TO THE TEAMS TO START WORKING TOGETHER TO MAKE SURE WE CAN GET IT OUT AS QUICKLY AS POSSIBLE. YOU HEARD HANS. WE PAID A LOT OF MONEY FOR THIS. SO, THE QUICKER WE CAN GET IT OUT, OUR CUSTOMERS CAN START ENJOYING IT AND EXPERIENCING IT, THE QUICKER WE'LL BE ABLE TO MAKE MONEY ON IT, AND THE QUICKER PEOPLE GET EXCITED ABOUT IT, AND WE'LL HAVE A GREAT FLY WHEEL HERE. IT'S GOING TO TAKE EVERYBODY.
PEOPLE LIKE TO TALK ABOUT THE RADIO SPECTRUM ITSELF, BUT IT TAKES ALL THE WORK WE'RE DOING WITH FIBER TO GET FIBER IN THE GROUND. IT TAKES ALL THE WORK WE'RE DOING WITH OUR CORES TO MAKE SURE WE UPGRADE THEM. ALL THE WORK WE'RE DOING WITH IEN TO UPGRADE AND MODERNIZE ALL OF THAT TO BRING MORE BANDWIDTH SO WE CAN HANDLE BOTH MOBILE FIXED WIRELESS AND MOBILE USE CASES ALL ON THE SAME NETWORK, AS WELL AS OUR PRODUCT FOLKS. YOU KNOW, THEY GOT TO WORK WITH THE BUSINESS UNITS AND WORK WITH THE ECOSYSTEMS TO COME UP WITH NEW AND EXCITING PRODUCTS.
THE QUICKER WE CAN GET NEW AND EXCITING PRODUCTS OUT THERE, THE QUICKER THEY GET ADOPTED, THE MORE MONEY WE MAKE. SAME THING WITH IT AND ALL OF THE SYSTEMS. ALL OF THE THINGS THAT WRAP AROUND GREAT CUSTOMER EXPERIENCE, WE ARE GETTING TO WORK ON AS OF SIX HOURS AGO HERE IN BASKING RIDGE. AND I JUST CAN'T WAIT TO START WORKING WITH EVERYBODY AND THE GREAT TEAMWORK THAT WE ALWAYS EXEMPLIFY HERE, WE'RE JUST GOING TO DOUBLE DOWN ON THAT AND WE'RE GOING TO MAKE YOU GUYS PROUD AND WE'RE GOING TO PUT THIS STUFF OUT AS QUICK AS POSSIBLE WITH THE QUALITY THAT MATCHES OUR BRAND PROMISE.
>> HANS VESTBERG: AND JUST ADDING TO THAT, TALKING ABOUT SPEED, WHAT WE ALSO COMMUNICATED YESTERDAY TO THE MARKET IS THAT WE ARE INCREASING OUR CAP EX. FOR THE NEXT THREE YEAR, WE ADD $10 BILLION. WE DON'T STOP WHAT WE'RE DOING WITH MILLIMETER WAVE AND FIBER AND 4G AND OUR CUSTOMERS. WE ADD 10 BILLION ON TOP OF IT, BECAUSE WE WANT TO START USING THIS SPECTRUM AS SOON AS POSSIBLE. SO, BASICALLY, SORT OF THE MANDATE FOR KYLE AND HIS TEAM IS THAT YOU HAVE 10 BILLION AND THE SOONER YOU SPEND IT THE BETTER IT IS BECAUSE THEN THE SOONER YOU GET THE SPECTRUM UP.
THEN THERE ARE SOME RULES HERE BECAUSE THE SPECTRUM IS COMING IN CHUNKS. IT HAS TO BE CLEAR. IF KYLE DOESN'T HAVE ACCESS TO ALL THIS SPECTRUM, IT WILL COME ONE PIECE AT THE END OF THIS YEAR AND THEN IN 2023. BUT CLEARLY, MANAGEMENT AND THE BOARD IS SENDING THE MESSAGE THIS IS SO IMPORTANT AND WE DON'T WANT TO STOP ANYTHING ELSE.
AGAIN, WE ARE ACCELERATING AND WE'RE AMPLIFYING THE STRATEGY WITH THIS AND WE'RE ADDING THESE $10 BILLION BECAUSE WE THINK IT'S SO IMPORTANT FOR THE COMPANY. BUT IT COMES WITH A LOT OF RESPONSIBILITY FOR ALL OF US TO EXECUTE ON THIS. BUT IF YOU REMEMBER FROM VERIZON 2.0 WE HAD IS SOMETHING CALLED PRESERVE, STRENGTHEN, AND TRANSFORM. IN PRESERVE WE HAD SOMETHING CALLED OPERATION EXCELLENCE, AND THAT IS WHAT WE'RE REALLY GOOD AT.
AND NOW IT'S TIME TO REALLY SHOW THAT UP. AND I THINK THAT'S WHAT KYLE SAID. NOW IT'S GOING DOWN TO DO THE CRAFTMANSHIP THAT WE CAN DO TO BUILD THIS NETWORK AND HAVE THE BUSINESS UNIT START CRAFTING THE BUSINESSES AND JUST AMPLIFY THEM. >> I LOVE THEM. >> ANDY CHOI: AND I KNOW THE BUILD STAGES COME IN CHUNKS.
BUT PEOPLE ARE LIKE KIDS ON CHRISTMAS HERE. I THINK TAMI ON TWITTER SAID CHRISTMAS IN MARCH. THAT MAKES YOU SANTA KYLE. SO, MARRY CHRISTMAS EVERYONE, MARRY SPECTRUM CHRISTMAS.
I'M ASKING FOLKS ON TWITTER HERE GIVE US YOUR QUESTIONS, OF COURSE. THIS IS WHAT'S SO WONDERFUL ABOUT BEING BACK ON TWITTER LIVE IS WE'RE ABLE TO INTERACT WITH YOU LIVE. A COUPLE OF QUESTIONS DID COME IN, KYLE, AND I WANTED TO ADDRESS THIS. AND OBVIOUSLY, THESE ARE QUESTIONS THAT YOU'VE HEARD BEFORE. BUT IT'S TALKING ABOUT WELL, WHERE IS 5G GOING? OR WHAT DOES IT DO FOR OUR RURAL COMMUNITIES? TALK TO US ABOUT WHAT THIS ACQUISITION MEANS FOR SOME OF THOSE FREQUENTLY ASKED QUESTIONS.
>> KYLE MALADY: A COUPLE THINGS. HANS SAID IT. EVEN THOUGH WE DON'T HAVE ACCESS TO THE SPECTRUM UNTIL THE END OF THE YEAR, WE START BUILDING TODAY.
WE DO NOT NEED TO WAIT UNTIL THE SPECTRUM IS CLEARED TO DO OUR BUILD. WE START BUILDING TODAY AND THEN WHEN WE GET THE FCC APPROVAL, WE'LL BE ABLE TO TURN ON THAT FIRST TRAUNCH OF SPECTRUM IN THE 46 PDAS, IF FIRST LARGE MARKETS AROUND THE UNITED STATES. WE INTEND TO BUILD 7,000 SITES, UPGRADE OUR CURRENT EQUIPMENT SO IT CAN HANDLE C-BAND AND THEN HOPEFULLY AT THE END OF THE YEAR WE CAN TURN IT ON. THIS IS ALL SUBJECT TO FCC RULES, SO IT COULD BE OUT A LITTLE BIT MORE. THEN IN 12 MONTHS WE'LL HAVE 100,000 PEOPLE COVERED WITH THIS.
YOU BROUGHT UP RURAL. IT'S IMPORTANT. IT GOES TO CITIZEN VERIZON AND WHAT WE'RE TRYING TO DO.
THE DIGITAL DIVIDE IS SO IMPORTANT. IT'S AMPLIFIED RIGHT NOW BECAUSE OF THE PANDEMIC AND PEOPLE NEED TO BE CONNECTED. YOU KNOW, CONNECTIVITY WAS SO IMPORTANT.
IT'S ALWAYS BEEN SO IMPORTANT, BUT IT'S GOTTEN MORE AMPLIFIED AND IT'S BROUGHT UP AN ISSUE WE HAVE IN SOCIETY ABOUT PEOPLE WHO ARE CONNECTED AND THE OPPORTUNITIES THEY GET VERSUS PEOPLE WHO CAN'T FIND A CONNECTION. SO, C-BAND REALLY HELPS US WITH THIS AS WE DEPLOY THIS. MILLIMETER WAVE IS SO UNBELIEVABLE.
IT'S THE CUTTING-EDGE TECHNOLOGY. YOU'VE SEEN IT ON UP TO SPEED. FIVE GIGABITS A SECOND ON A CELL PHONE, BUT THE WAVES DON'T TRAVEL VERY FAR.
IT'S SUITED FOR DENSE AREAS. BUT THAT'S NOT THE CASE IN RURAL AREAS. THIS C-BAND, NOW WE CAN GET MORE COVERAGE AND GET ONE GIGABIT AND THREE GIGABIT AS WE GET MORE SPECTRUM ON AND WE'LL BE ABLE TO GIVE FOLKS WHO WOULDN'T OTHERWISE HAVE ACCESS TO A CONNECTION, NOW WE'LL BE ABLE TO GIVE IT TO THEM. THIS ISN'T A NEW THING. YOU GO BACK TO WHEN WE HAD LTE AND WE HAD GOOD SPEEDS THERE. PEOPLE ALWAYS WONDERED WHY DON'T YOU OFFER THIS SERVICE.
THE PROBLEM IS WE DIDN'T HAVE ENOUGH BANDWIDTH. NOW THAT WE HAVE THE MILLIMETER WAVE, NOW THAT WE HAVE ACCESS TO ANOTHER CHUNK OF SPECTRUM THAT WE WANT, NOW THAT WE HAVE THE C-BAND, WE HAVE ENOUGH LAND TO BUILD A BIGGER HOUSE AND THAT'S WHAT WE'RE GOING TO DO AND LIKE I SAID, MY TEAM AND I, WE'RE SUPER EXCITED. WE'RE HUMBLED THAT WE'VE BEEN GIVEN THE OPPORTUNITY TO GET THIS SPECTRUM, TO MAKE OUR NETWORK EVEN BETTER, AND I LOVED THAT YOU SAID THE WORD CRAFTSMANSHIP. THAT'S THE WAY WE THINK ABOUT IT. WE ARE STEWARDS OF THIS ASSET AND WE ARE GOING TO PUT IT TO THE MOST EFFICIENT USE AND BLOW PEOPLE AWAY.
I COULDN'T BE ANYMORE EXCITED. >> ANDY CHOI: WE'RE LOOKING FORWARD TO AND PROUD TO BE A PART OF IT. LOTS OF HEARTS DURING THIS CONVERSATION GOING ON, KYLE. LET'S TURN NOW TO A CUSTOMER-FACING QUESTION HERE. AND WE HAVE A QUESTION HERE FROM PHIL. ANY IMPACT ON PLAN PRICES TO PAY FOR IT? ANY IMPACT IN THAT SENSE? >> HANS VESTBERG: NO, WHAT IS GREAT WITH ALL OF THIS IS WE SET OUT THE STRATEGY.
IF YOU'RE TALKING ON THE CONSUMER SIDE, RONAN AND THE TEAM HAD ALREADY MADE THEIR MODEL WITH UNLIMITED, UNLIMITED PREMIUM, INCLUDING CONTENT. THEY ALREADY HAVE A MODEL. SO, IF A CUSTOMER WANTS TO BE DELIGHTED AND GO HIGHER UP, THEY CAN DO IT, THEY GET MORE. THERE'S NO CHANGES TO THE MODEL. IT'S JUST WE GIVE EVEN MORE OF OUR CUSTOMERS THE POSSIBILITY AND POTENTIALLY NEW CUSTOMERS TO COME IN AND BE PART OF THAT JOURNEY.
YOU CAN START WITH UNLIMITED AND MIX AND MATCH WITH FAMILY. AND THEN OF COURSE YOU CAN GO UP TO THE HIGHER UNLIMITED PREMIUM. YOU GET ULTRA WIDEBAND AND THEN YOU CAN GET DISCOVERY +, DISNEY +.
SO MANY THINGS. THAT'S THE STRENGTH OF THIS BUILD. THAT DOESN'T CHANGE.
WE NEED TO DELIGHT OUR CUSTOMERS, AND THAT'S WHY THE CRAFTSMANSHIP THAT KYLE TALKS ABOUT IS SO IMPORTANT. THAT WE CONTINUE TO HAVE THE BEST NETWORK AND NOW WE EXTEND THAT AND WE GIVE IT TO EVEN MORE PEOPLE. AND ALSO THERE'S NO CHANGES TO THAT. THEY HAVE A GREAT MODEL.
THEN THEY PROBABLY HAVE SOME NEW IDEAS, I HOPE, HOW THEY CAN CONTINUE TO WORK WITH PARTNERS, NEW OFFERINGS, ESPECIALLY IN THE HOME NOW, AS WE BASICALLY OVER TIME WE'LL BE ABLE TO OFFER BROADBAND, HOME BROADBAND NATIONWIDE, WHICH IS A TOTALLY NEW THING FOR US. BUT WITH ALL THE GREAT EXPERIENCE WE HAVE FROM FIOS, WHICH, YOU KNOW, IS CONTAINED IN THE NORTHEAST, WE HAVE LEARNED, WE HAVE HAD THE 5G HOME WITH MILLIMETER WAVE FOR A WHILE AND NOW WE CAN CONTINUE TO DO THAT. BUT DON'T FORGET THE BUSINESS SIDE, BECAUSE SOMETIMES I NEED TO REMEMBER THAT. TAMI WILL GET A LOT OF OPPORTUNITIES WITH WHAT SHE CALLS 5G INTERNET, WHICH IS SORT OF USING FIXED WIRELESS ACCESS FOR THEIR CUSTOMERS. SO THERE IS OPPORTUNITY THERE, AS WELL. SO, EVERYBODY NEEDS TO COME IN.
AND AS I SAID, WE'RE TAKING THIS FROM A VISION WHERE WE WANT TO GO AND WE HAVE A CLEAR STRATEGY AND WE'RE AMPLIFYING AND ACCELERATING AND NOW IT'S SORT OF THE EXECUTION AND THE GOVERNANCE OF IT. AND EACH AND EVERYBODY NEEDS TO BE PART OF THAT FEELING THAT I'M PART OF EXECUTING ON THIS AND AS I'VE SEEN IN THE LAST PULSE SURVEYS, THE MAJORITY OF YOU, THE VERY HIGH MAJORITY, WELL ABOVE 90%, YOU KNOW THE ROLE YOU HAVE AND HOW YOU CONTRIBUTE TO THE COMPANY. AND NOW IT'S MORE IMPORTANT THAN EVER. >> ANDY CHOI: ABSOLUTELY.
I'M GLAD YOU MENTIONED TAMI. TAMI IS VERY ACTIVE ON TWITTER. TAMI SAID IT'S LIKE PLAYING MONOPOLY. WE HAVE THE PROPERTY, NOW WE HAVE TO BUILD THE HOUSES.
>> HANS VESTBERG: SHE'S GOOD. >> ANDY CHOI: WE TALKED ABOUT FOR RIDE SHARE, LTE REALLY CHANGED THE GAME. THERE'S SO MANY OTHER WAYS THIS WILL PROVIDE AN OUTLET FOR THAT. TALK TO US ABOUT THAT. >> KYLE MALADY: THAT'S A GREAT QUESTION. I HAVE A 5G NODE OUT HERE.
I DECIDED WHILE HE WAS CHATTING I WOULD DO A TEST. YEAH, WHILE HE WAS CHATTING. [LAUGHTER] I GOT 887 MEGABITS A SECOND. SO, THAT IS A LOT OF BANDWIDTH. I HAVE IN MY HOUSE, THAT I'VE BEEN WORKING FROM HOME, MY WIFE AND MY DAUGHTER, WE'RE ALL WORKING AT THE SAME TIME DOING SCHOOL AND WORKING AND VIDEO CHATTING, I HAVE 100 MEGABITS AND THAT'S PERFECTLY FINE.
NOW YOU SEE WHAT THE POWER OF SPECTRUM IS. I CAN DO 887 TO MY CELL PHONE RIGHT HERE WHILE I'M SITTING HERE. THAT OPENS UP TREMENDOUS OPPORTUNITY AND ALLOWS US TO DO NOT JUST A MOBILITY USE CASE, BUT A FIXED WIRELESS USE CASE FOR BUSINESS AND CONSUMERS. BUT ALSO IT'S GOING TO GIVE THE OPPORTUNITY FOR DEVELOPERS WHO MAKE NEW HARDWARE AND NEW EXPERIENCES, THEY'LL HAVE A PLATFORM TO DEVELOP ONTO COME UP WITH NEW THINGS.
IF YOU HAVE THIS KIND OF BANDWIDTH AND YOU HAVE THIS KIND OF LATENCY CHARACTERISTICS, THERE'S NO REASON WE COULDN'T NEXT TIME WE'RE DOING THIS, WE COULD HAVE AR, VR GOGGLES AND AUGMENTED REALITY GOGGLES. >> HANS VESTBERG: I WOULD LOVE THAT. >> KYLE MALADY: BUT IT JUST OPENS UP A WHOLE NEW WORLD OF POSSIBILITIES AND THAT'S REALLY THE EXCITEMENT OF WHAT PEOPLE ARE GOING TO DO WITH THIS PLATFORM REALLY GETS US JAZZED UP. WE JUST CAN'T WAIT TO SEE WHAT PEOPLE DO WITH THIS STOP. >> HANS VESTBERG: AND ADDING TO THAT, BECAUSE I WAS JUST THINKING WHEN YOU WERE CHATTING. >> KYLE MALADY: [LAUGHING] >> HANS VESTBERG: THIS MID-BAND SPECTRUM IS ALSO GREAT FOR COVERAGE AND CAPACITY AND ALL OF THAT, BUT IT'S ALSO THE MOST-USED SPECTRUM IN THE WORLD FOR 5G, WHICH MEANS IT'S ALSO GOING TO BE THE ROAMING SORT OF.
NOW WE DON'T TRAVEL SO MUCH. BUT ONE DAY PEOPLE WILL TRAVEL. THAT'S GOING TO BE THE 5G. AND THAT MEANS ALSO THE ECOSYSTEM IS THE BIG NEST THE WORLD, MEANING PHONES, INFRASTRUCTURE, WHATEVER DEVICES.
AND THIS IS MAYBE TOO DETAILED, BUT IT'S IMPORTANT TO UNDERSTAND, THERE ARE SO MANY PIECES OF SPECTRUM THAT YOU CAN BUY. 280 MEGAHERTZ. IT'S LIKE THIS.
WE BOUGHT THE BEST PIECE OF THAT 280. THE FIRST CHUNK AND WHERE IT WAS LOCATED. >> KYLE MALADY: ABSOLUTELY.
WE BOUGHT SOMETHING CALLED THE A-1 BLOCK. THAT ANCHORS US IN THE BEST PART OF THE SPECTRUM BAND. WE HAVE CONTIGUOUS ALL THE WAY THROUGH OUR WHOLE WINNINGS. THAT'S SUPER IMPORTANT FOR US.
I LIKE WHAT YOU SAY ABOUT THE GLOBAL NATURE ABOUT IT BECAUSE IT DOES LEAD TO SCOPE AND SCALE AND OTHER THINGS. ALL. [LAUGHTER] >> ANDY CHOI: IT'S FANTASTIC.
AND I THINK SITTING HERE AND LEARNING FROM BOTH OF YOU ABOUT WHAT ALL OF THIS IS ALL ABOUT, HAVING OUR V-TEAMERS CELEBRATE THIS, THE LOVE, THE HEARTS ARE POPPING. >> KYLE MALADY: ONE MORE THING. WE DIDN'T COVER THIS. I KNOW, I'M MAKING MY BUDDY SPIN AROUND A LOT.
[LAUGHTER] BUT WE THOUGHT ABOUT THIS A LOT, TOO. WE TALKED LAST NIGHT ABOUT THERE'S A LOT OF PHONES THAT SUPPORT THIS ALREADY. >> HANS VESTBERG: YES, YOU DID SAY THAT. >> KYLE MALADY: AND WE'VE BEEN WORKING WITH OUR PARTNERS, AND A LOT OF KUDOS TO OUR PARTNERS, OEM PARTNERS AND CHIP SET PROVIDERS.
THIS BAND IS IN A LOT OF PHONES THAT WE'VE SOLD ALREADY AND THEY'RE GOING TO CONTINUE TO BE IN THE PHONES WE SELL GOING FORWARD. SO, THE DAY WE LIGHT IT UP, TENS OF MILLIONS OF PEOPLE WILL BE ABLE TO ENJOY THE BENEFIT OF WHAT WE'RE BRINGING TO THE TABLE HERE. SO, THAT'S AN IMPORTANT THING. >> HANS VESTBERG: YEAH. AND AS RONAN SAID YESTERDAY, WE'VE SO FAR SOLD I THINK 10 MILLION PHONES, 5G PHONES, AND 70% OF THEM ARE C-BAND ENABLED.
AND WHEN WE LIGHT THIS UP, THERE'S GOING TO BE MANY MORE. BUT ALL OF THEM WILL BE COMPATIBLE. GOING FORWARD, ALL THE 5G PHONES FROM US WILL HAVE OF COURSE MILLIMETER WAVE AND C-BAND, WHICH IS JUST A GREAT WAY TO GIVE AN EXPERIENCE TO OUR CUSTOMERS THAT NOBODY ELSE CAN OFFER. AND REMEMBER, SPECTRUM IS ONE THING. THEN YOU HAVE THE DISTRIBUTION, THE BRAND, THE BEST ENGINEERS.
THOSE ARE THE ASSETS YOU PUT TOGETHER AND THAT'S HOW YOU DELIGHT YOUR CUSTOMERS. AND WE COULDN'T FEEL BETTER THAN WE DO TODAY. THEN WE KNOW IT'S A LOT OF EXECUTION THAT WE ALL NEED TO DO TOGETHER.
BUT WE SHOULD BE PROUD WHERE WE'RE GOING AND WHAT WE'RE ADDING TO OUR PORTFOLIO. >> ANDY CHOI: I LOVE IT. I LOVE THAT WE'RE ALL LEARNING TOGETHER. I'M GOING TO WATCH THIS REPLAY ONCE AGAIN JUST TO KEEP LEARNING. IF YOU'RE ON TWITTER, GO AHEAD AND HIT THE RETWEET AND SHARE WITH YOUR FAMILY. IT IS DINNER TABLE TIME, FOLKS.
THERE'S A LOT AT THE DINNER TABLE. AS WE CLOSE, HANS, WE'LL CALL IT LUNCH TABLE TODAY. BUT A CALL FOR ACTION FOR OUR ENTIRE V-TEAM. THIS IS A MOMENT TO BE PROUD, BUT A LOT OF WORK TO DO HERE.
WHAT SHOULD WE ALL BE THINKING ABOUT MOVING FORWARD? >> HANS VESTBERG: A COUPLE OF THINGS AS I SUM IT UP. FIRST OF ALL, WHEN IT COMES TO THIS, THIS IS A BIG DAY FOR VERIZON. IT'S A BIG INVESTMENT WE'RE DOING. WE NEED TO RALLY TOGETHER. AND WHAT I'VE SEEN THE LAST TWO AND A HALF YEARS ON THE ENGAGEMENT AND THE SUPPORT WE HAVE ACROSS THE COMPANY, OF COURSE TALKING TO A LOT OF PEOPLE, BUT ALSO HAVE THE PULSE SURVEYS COMING UP.
I THINK WE HAVE THE WHOLE EXCITING ORGANIZATION, BUT WE ALL NEED TO GRAB IN. I SPOKE EARLIER IN THE LEADERSHIP FORUM ABOUT THE LEADERS. NOW THEY NEED TO MAKE THEIR SCORECARDS, WHAT THEY NEED TO DO NEXT DAY, NEXT MONTH, NEXT QUARTER, TO SEE THAT THEY'RE JUST FALLING DOWN IN THE WHOLE COMPANY SO WE HAVE A CLEAR STRUCTURE FOR THE EXECUTION. I, MYSELF, I'M GOING TO LEAD WHAT WE CALL THE S.E.R., THE STRATEGIC EXECUTION REVIEWS THAT WE DO EVERY MONTH, WE'RE GOING TO HAVE THE SCORE CODE ON THE C-BAND, MILLIMETER WAVE, AND FOLLOW UP EVERY MONTH TO SEE THAT WE HAVE THESE EXECUTIONS.
I THINK THAT IS SO IMPORTANT. BUT WE SHOULD ALL BE EXCITED THAT WE HAVE A STRATEGY IN TACT AND WE ACCELERATE AND AMPLIFY. THAT'S THE FIRST THING. THEN I WANT TO PIVOT ANOTHER THING. WE'RE VERY CLOSE TO ONE YEAR, I DON'T THINK IT'S AN ANNIVERSARY, BUT ONE YEAR SINCE THE PANDEMIC BROKE OUT, AS WE DECIDED THAT SOME OF YOU NEEDED TO WORK FROM HOME, AND SOME OF OUR PEOPLE IN THE FIELD HAVE TOTALLY NEW RULES WORKING IN DIFFERENT WAYS. THAT STILL APPLIES.
BUT I WANT TO REMIND YOU THAT WAS ONE YEAR AGO. AND I WANT TO THANK YOU FOR THE ENORMOUS JOB YOU HAVE DONE. YOU'VE BEEN OUT THERE SERVING OUR CUSTOMERS.
THE FIELD TECHS AND THE PEOPLE IN THE STORES. IT'S JUST AMAZING. AND ALL THE CHANGES WE HAD TO DO AND ADAPT THE PROCESSES. AND WE HAVE BEEN RUNNING THIS COMPANY, WHICH IS NOT SMALL. I WANT TO THANK YOU ALL. AND TO ALL WORKING FROM HOME, I CAN GIVE YOU ONE GLIMPSE.
IN THE LAST 24 HOURS WE HAVE BEEN TOGETHER HERE, BECAUSE WE HAVE BEEN TESTED, WE'RE SIX FEET APART. BUT FOR THE PRODUCTION YESTERDAY, WE HAD TO BE TOGETHER. I CANNOT TELL YOU THE JOY I FEEL TO BE TOGETHER WITH MY COLLEAGUES, COMING TO THE WORKPLACE, JUST HAVING A CHAT WITH THEM IN BETWEEN AND CHATTING WITH KYLE. I MEAN IT IS SOMETHING THAT I HAVE MISSED AND I THINK THAT MANY OF YOU WILL HAVE MISSED IT, AS WELL.
AND THAT'S WHY CHRISTY AND THE TEAM ARE WORKING SO HARD WITH THIS WORK FORWARD AND THE PLANS AND THE PILOT SHE TALKS ABOUT. WE WANT TO BRING YOU BACK IN A VERY SAFE ENVIRONMENT, BUT WE WANT TO BRING YOU BACK. WE THINK IT'S GREAT. FROM THE 24 HOURS WE SPENT IN BASKING RIDGE, HELLO, IT'S NOT THAT MANY PEOPLE HERE, BUT ANYHOW, IT'S A GREAT EXPERIENCE. AND BEING WITH YOUR COLLEAGUES AND YOU, EVEN THOUGH YOU MIGHT HAVE FORGOTTEN IT, IT IS GREAT. AND I'M GOING TO LEAVE YOU WITH THE LAST THING.
AS I SAID, THIS IS A BIG, BIG DAY. AND OUR MISSION, OUR PURPOSE, WE CREATE THE NETWORKS THAT MOVE THE WORLD FORWARD. COULDN'T BE MORE IMPORTANT NOW THAN EVER. WE HAVE A STRATEGY AND A GREAT PLAN AND EMPLOYEES. HOW IMPORTANT THIS IS AND HOW WE WORK WITH ALL OUR STAKEHOLDERS. OUR SHAREHOLDERS WE TALK A LOT ABOUT.
WE TALKED A LOT ABOUT CUSTOMERS RIGHT NOW. WE TALK A LOT ABOUT YOU AS EMPLOYEES BECAUSE YOU ARE ALL PART OF IT AND THEN WHAT WE CAN DELIGHT OUR SOCIETY WITH. SO, THAT WAS THE SUMMARY. >> ANDY CHOI: HANS, THANK YOU SO MUCH. THE ENERGY IS PALPABLE.
AND THE COMPASSION IS A REAL THING. AND I'M WITH YOU WHEN WE SEE A FEW MORE OF OUR COLLEAGUES HERE AND WE GET TO WORK TOGETHER AND WE SEE THEM, IT'S GOING TO BE A BEAUTIFUL THING. THANK YOU VERY MUCH. THANK YOU, KYLE. >> GO BIG RED, BABY.
>> ANDY CHOI: THERE YOU GO. AND OF COURSE THANK YOU TO OUR VIEWERS ONLINE AND ON TWITTER. IT WAS GREAT INTERACTING WITH YOU LIVE. WE'LL SEE YOU BACK ON TWITTER ON INSIDE VERIZON AND UNTIL NEXT TIME YOU'RE UP TO SPEED.
2021-03-13 07:51
Show Video
Other news