Jaguar F-Pace, czyli kot czy szrot? (TEST PL 4K) | CaroSeria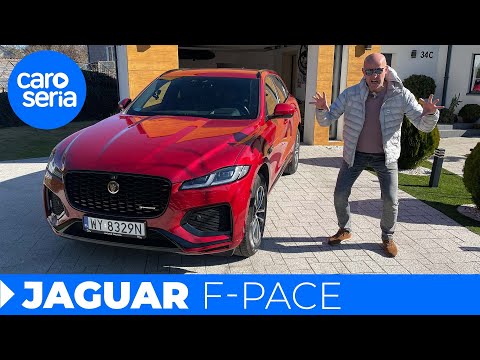 Show Video
Buying a new car is harder than finding a wife these days. Audi won't even say when your new car will arrive, Mercedes as well. BMW will mention Christmas, but what year? Who knows. But there's one brand with available cars. You can order it on Monday and drive it on Tuesday. A dog and a cat. A cat and a dog. Jaguar F-Pace P250 R Dynamic SE. Whatever it means. F-Pace is a comptetition for BMW X3, Aud Q5 or Mercedes GLC. But it looks different. These other cars are more like a Seven Eleven stores:
they all look the same and they're all over the place. And this one is a fancy watch store. You're passing by and you're like: OK! Right? It's really original. A bit like Sean Connery: elegant and classy, but you know it likes to pull someone's hair. The R Dynamic version means sporty style, like bigger grille and other details. Black Magic package gives these black elements, though. And they're black. 2.4k PLN extra. Normally they're chrome, not black. Here they're black, not chrome. One more thing here: daytime running lights. Look at these JJ shapes. So they look nice. Not a J for Jaguar, of course. The lights are LED, of course, and look at this detail, I love it! This one small cat at the blinker.
These rims are 19", but you can also choose 20", 21" or even 22". The 22" are black and insane, but they cost 22k PLN. Jesus! We can compare its dimensions with the X3. F-Pace is 4 cm longer, 2 cm taller and 8 cm wider. The wheelbase is identical. And with these bigger dimensions the weight is also identical. Why? Because the body was made, in 80%, of recycled aluminum. Let's check it with a magnet. No, no, door yes, they're steel. But here no, no. What about the tailgate? The tailgate is polymer. So, the goal was to balance the car perfectly and to reduce its weight. Look here: there's plastic inside. And the threshold? Aluminum. So, in fact, 80% of the body is aluminum. Did it reduce the weight? Yes, but still, it weighs a bit: almost 1900 kilos.
The trunk. According to Jaguar, it has 568L capacity. And it is manufactured well, with lights, hooks and 12V socket. Some nets here, hooks there... But now to the best part. Attention. That's not it. Look: it looks like an extra 300L space! And they say you can fit a full-size spare wheel here. Even a 22" one. You can find it in the configurator. Lots of styrofoam, too. But despite the fact this space is so huge, you still have room for other stuff. I'm guessing that 568L space was measured with the part underneath, but let's check it with my suitcases. I need to take this one out.
The shelf is decent, even though the mountings could be more comfortable. So, 1, 2... and look: it fits perfectly here. With suitcases 2-3 cm shorter this shelf would easily fit, too. And the third suitcase won't be a problem. Will it close? Wow, it honked! What the f**k do you mean it doesn't close?! Unless it doesn't. Possible? Possible. You can pay extra for a 40:20:40 folded seat with a special button to do it fast. And the floor is flat now. There you go. You can lay down with your dog. Sit. Sit! Stop licking me!
Good dog. Jaguar says you can also pack the trunk up to the roof and it will be 700L space in that case. There are also hooks for a net to divide the space. This copy has no fake exhaust, just regular pipes and I like it a lot. And it's all built-up nicely underneath. I would never expect the Brits to start thinking this way. Look at this: the shelf has its place! Time for your questions. "Can you cover the roof with a blanket?" It's too long. I can't do it! Second one. "How much can it tow?"
Maximum trailer weight is 2 tons 400 kilos. Solid. Third one. "Does it sound like a cat?" Something's broken?! Dynamic mode now. And Comfort mode. And Eco mode. It stopped the backfire! This is not a 5.0-litre, 550 HP SVR version. This one is a 2.0-litre, 4-cylinder, 250 HP.
And 365 Nm. Nice for a this class SUV. Let's start with the rear seat. I can hide my feet there, so there's enough room. And seat itself is tall, even without the headrest. I can touch the roof with my head, but it's fine. Good there's no panoramic roof here. So, everything seems just right. Two cupholders in the armrest, two USB-C ports and a cigarette lighter socket. But I don't like the way it sticks out, see?
It looks like it was squeezed in during the facelift instead of doing it right. There's no four-zone AC here, but you can pay extra... Can you see that? This is basic genuine leather and it comes as standard in this version. But you can also order Windsor leather. These cows take their five o'clock at Buckingham Palace, while eating grass in the royal park. This leather has stichtings and diamonds. But look here. Leather, soft, soft... Only here there's... No, wait. Not even here, this is still soft. Maybe here? No!
This is soft as well. Let's check the front door. I'm not sure, but it looks like plastic covered with leather and with a soft layer inside. Here there's plastic. But: wow, wow. You can choose one of two Meridian audio systems. This one is a medium one, for 3k PLN. With 12 speakers, subwoofer and 400W amplifier. The other one has 16 speakers, 650w amplifier and costs 10k PLN. One more interior detail: this is velour, not plastic or rubber. I don't know how will it look after a while, because it starts to peel off now, after a year. But it's soft. And look at the door: this is rubber, it goes here, and then there's plastic here. And it will be always clean, there's no way to get dirty while getting in.
There's rubber here, as well. Nothing will go underneath. So, it keeps you clean and reduces wind noises. The interior's quality is also fantastic. Look how soft this element is, only there you can see plastic. Even the compartment is covered with leather. I like the steering wheel, it's small but very comfortable. You can also choose a two-color version, black and white. And look how solid it is: nothing's moving!
And again, there's this steel, characteristic element. The R Dynamic version is definitely more sports version. If you prefer elegant one, HSE will be better. As Jaguar says, the facelift changed the interior entirely. There's this new, almost 12" screen. I like its more square shape. Apple CarPlay works wireless. And I like the subdued colors, unlike in Mercedes with its feast of colors.
I'd like it to operate a bit faster. See? It has this 0.5 second delay. But the touch reponse is great. Look at these icons here: there take you directly to Apple CarPlay apps. This one is for Maps, this one for my contacts... my contacts! And I'm back in menu. The induction charger is right here, I'd appreciate if it was tilted towards me. Now I can't see my phone. I can charge it of course traditionally. There's one classic USB port, one USB-C and one 12V socket. The compartment is really small, though.
This wide and this long. Two cupholders covered with rubber and another 12V socket! Four lighter plugs, in 21st century! Two here, one in the back and one in the trunk. They like to smoke, these Brits! The AC panel is also brand new, looks like glass but these keys are haptic. See? They're not classic keys.
Porsche uses similar keys, but these ones need to be pressed harder. Let me start the car to show you. Light touch won't work. I need to press it. But the AC control... Fantastic! As you can see, it doesn't need to be on screen and it still looks modern. And it's pretty. I just need to press this one and I can heat up my seat... or passenger's seat.
Finally, there's no piano lacquer, only glass and steel elements. You can find plastic, but only on the sides. And there's an extra shelf here. Can you see my hand? You wanted to know more about the seats. They're tall, and the headrest is comfortable. It can be adjusted with a button here. I also have an electric thigh support! All together, there are 12 seats setting possibilites. And you wanted to know if I can drive in a hat. Yes, Bąk in a hat can drive a Jaguar and he still has some room above his head. Let's go, I don't want to bore you. And I can show you this 3D camera, look: I can turn around the image while driving.
Fancy, huh? And it works at any speed! R Dynamic SE version comes with these digital gauges. They are 12" and they can be configured with this look of the display settings. I can choose one in the middle. Come on. Or I can choose a map... Come on! Or multimedia? Yes, as you can see, these haptic keys have one issue: they don't always work. OK, now. It's fine. I like the classic version with two gauges and computer in the middle.
Look how cool this camera is. I can watch the car on each side. And I can adjust the parking sensor sound here. And there's a camera in the front with image straight ahead or wide-angle. There's a start-stop system, but no mild-hybrid. No extra battery. So, when I take my foot off the accelerator in Eco mode... Are we in Eco mode? I like this knob, it hides itself. Cool. Anyway, there's no sailing mode or any delay. I don't need to wait for 3 seconds to drive. Foot off... Foot on, drive. Foot off... Foot on, drive. Actually, I need to stop now.
This is a huge advantage. Foot off... Foot on, drive. Foot off... Foot on, drive! This is how a car should work. But it's not so obvious nowadays. These microphones don't look good, but they work well. Since we're talking about the sound, let's check the... Marek sent me something. Play. Marek must be mad at his wife! Anyway, I see no point in buying this 7k PLN extra Meridian system. This one sounds fantastic and gives chills! The transmission. Famous Zf 8hp, known from BMW, but here with Jaguar's software and I can't complain about it.
It reduces speed when needed. Look now: I'm taking my foot off the accelerator, it's reducing it to 2000 rpm. I'm pressing it again and it accelerates smoothly. Nice. And one more thing: the silence. We're driving 99 km/h at 90... FOR 50 PLN, YOU MEAN? It's so silent! I can't hear the wind noise, the exhaust, nor the engine. Nothing. All F-Paces come with 4x4 drive as standard, as called by Jaguar: That's its name. What's the difference here? Preference for the rear drive. Now, driving gently, with the throttle not fully open, I have 90% drive in the rear and 10% in the front. See? Only at a roundabout the car feels I need more power in the front.
So, using Normal mode, driving normally... not like crazy, the power is divided 90% to 10%. But when the car feels it's slippery or that I'm approaching a curve, it transfers more power to the front. It can go up to 100% in the back and 0% in the front and opposite. So this is a classic, permanent 4-wheel drive.
But Jaguar says, there's always preference for the rear drive and oversteer than understeer. The steering itself is fabulous. Really! This is pure Jaguar experience, but more sporty. It reacts in a second and you can feel the stiffness. And you wanted us to take it to the concrete slabs. But look now: one, two! How agile it is. Just a typical Jag preparing to jump! Well, definitely it is more sporty than comfortable. But, at the same time, it can cope with a bumpy road at 90 km/h.
And there's no crackle! I'd call this suspension... not hard one, not soft one. It's just firm. Since we're here, shall we check the off road? The clearance is around 20 cm, so we shouldn't brake anything. And the car is based on a Land Rover, right? And Land Rovers love mud, sand and dirt! So, there's surface information here and I can even see the way the wheels are turning. But I wanna find an off road mode... Eco, Rain-Ice-Snow... Rain? No. Ice? No. Snow? No. Do you want to activate the start assist... No, come on!
OK, Dynamic. It's the best to drive off road. Rear-wheel drive preference, for sure! F**k me! No understeer, at all! Rear wheels start to rotate and it enters a slide beautifully! Wow. Let me remind you: this copy is one year old and has almost 20k mileage. And nothing crackles, taps or knocks. Silny, shall we drive uphill? No, not here. I don't want to ruin this car. Maybe here? Oh, come on. Piece of cake! And done. I don't want to ruin this car. Shocking. This car is really efficient in such conditions. And, I mean, it's obvious you won't buy an F-Pace to take it off road eveyrday.
But maybe you'll plan a camping in the forest, with a 2 tons trailer. It will be ready. Many of your questions were about the quality, that's why I'm talking about the crackles and others so often. I heard that the pre-facelift one wasn't so good. And here? A press car with 17k mileage. Just look. The suspension is really great. More sporty, but comfortable at the same time. And you can feel each steering wheel movement. And this Jag steering... love it. OK, but what about the fuel consumption? You wanted to know, because this is a heavy car. With your family and luggage it will reach 2 tons. We'll check it, don't worry. After 2 days with this car, 2 trips to Warsaw and back home, driving around town and on a highway, I would say it will be 9l/100 km.
But the fuel tank has a capacty of 82L. 82! So, even with 10l/100 km consumption, you will easily make 800 km on one refueling. Side roads, speeding up to 90 km/h? Around 7.5l/100 km. We'll check the 120 km/h situation in a minute. OK, let's accelerate, 120 km/h, set, let's go. We'll see. I like the fact that the computer shows all the data at the same time. And it's still so silent! The wind noise is minimal.
No engine, exhaust or tyres noise as well. Alright, so, at 120 km/h, the consumption is 8.5l/100 km. At 140 km/h it will reach 9l. Average consumption should be around 9-10l/100 km or 11l/100 km if you like dynamic drive. So, how much does it all cost? Our petrol R Dynamic SE version starts from 320k PLN. This is a lot, I know. But it is also well-equipped.
Leather upholstery, electric seats adjustment, LED lights, safety systems. I think only the active cruise control and road sign assist are extra paid. Sorry, road sign assist is standard. As well as autonomous braking system, blind spot sensors and many other features. I would add this lower Meridian system, for 3k. You can also add wooden element here: for free or a bit fancier, for 2k PLN.
This copy, really well-equipped - even with an electric tailgate - 340k PLN according to the price list. Out of curiosity I made a new configuration, adding everything possible. Windsor upholstery, lights in the trunk, electric hook etc. Half a mil. PLN. For real. You can configure a 4-cylinder, 2.0-litre F-Pace for half a million. And it looks like Bentley inside. Let's check the 0-100 km/h acceleration. Jaguar promises 7.5 seconds. Well, we'll see! 7.5 for a large SUV...
It hesitated a bit at the beginning... 8.8 seconds! But I think it's off because of the windscreen. So, I'll use an external antenna. Just need to attach it. But where? Cool: I'm opening the door and the car goes into the P gear itself. I must say, we're having a problem here. Look: it's moving all the time and showing some speed, even though we're standing! Can you see?
I CAN SEE YOUR FINGER! This windscreen has limited light permeability, so it's blocking satellite access as well. On the other hand, there's no place outside to attach this antenna, because there's no such steel element. So the outcome isn't fully reliable. In my opinion... 8.8, 8.9. Same. In my opinion, it's waiting too long with shifting. I mean, it's reaching even 6500 rpm! Let's try manually. 8.6. Better already! Nevertheless, it is 1 second worse than promised. Maybe it's this crap's fault. But if you want to drive faster, you can choose a hybrid F-Pace with 400 hp.
0-100 km/h in 5.3 seconds. Wanna go faster? You can choose a 5.0-liter, V8 F-Pace with 550 hp. 0-100 km/h in 4 seconds. To sum up, let's take your questions. "How would you rate it keeping in mind its German competition?" "Many people pay the same price for BMW, Mercedes or AUDi. Is it worth to break a pattern for Jaguar?"
Correct me if I'm wrong, but I think there are brands we're dreaming of, but we're a bit scared of buying them. Like Alfa Romeo or Jaguar. Everyone loves Jaguar, but is also like: "No, thank you, I'm scared". So, today is the day to take a risk. This car is a perfect combination of few factors. Design. It stands out. Practicality. Large trunk, intuitive systems, huge rear seats. Great driveability. Surprsingly fantastic quality. I didn't expect that. And modern technologies. This is my 3rd day with this car and they're working great. And it is a one year old car with 17k mileage.
So. Let me put my hat on. Jaguar, chapeau bas. I'm surprised with this car. This is not a very good Jaguar. This is a very good SUV.
2022-03-19 19:05
Show Video
Other news