Evolution of the MacBook (Animation)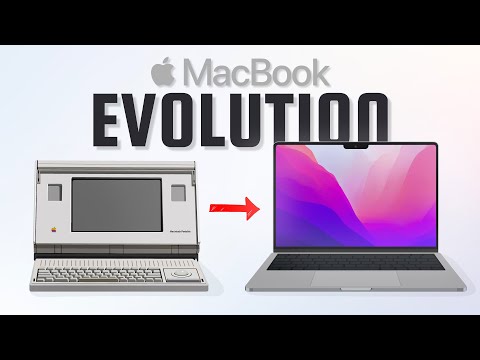 Show Video
When it comes to the world of computers, MacBooks are in a class of their own. Introduced by Apple in 2006, the MacBook has grown to become a favorite notebook for many people. MacBooks are instantly recognizable and are known for their beautiful designs, reliability, and performance. Let's see how Apple continues to evolve the MacBook into the thin and advanced notebooks they are today. This is the Evolution of the MacBook Nowadays, MacBooks are used everywhere. They have thin, beautiful designs and great performance, but are also expensive.
While you may be impressed with their great features today, it is easy to forget how far they've come. The MacBook was not the first portable computer by Apple; that was the Macintosh Portable. It was released in 1989, and it was designed for high performance. It had 1 MB memory. To put that into perspective, today, almost every laptop has at least 8 GB of memory, which is 8,000 times as much. It also had 40 MB of storage, which is absolutely nothing in today's day and age, but back then, it was impressive.
The machine was 4 inches thick and very heavy, with a weight of 16 pounds or 7.2 kilograms. That's why the Los Angeles Times said about the Macintosh Portable quote, And expensive it was, indeed. It had a price of $7,300 which would be over $16,500 today! Apple continued to develop portable computers, and in 1991 they released the PowerBook 100. It was the first in the PowerBook series, which was revolutionary back then and incorporated features that would later become the standard in laptops.
The first series of PowerBooks were a huge success. In fact, they captured over 40% of all laptop sales. Apple continued to develop many PowerBook models, constantly innovating with thinner bodies, more advanced processors, improved batteries, and larger screens. Another line of laptop computers was released in 1999, known as the iBook. While the PowerBook was Apple's higher-end line of Apple computers targeted toward professionals, the iBook had lower specifications and prices targeted towards the consumer and education markets.
The iBook G3 gained the label "Barbie's toilet seat" due to its distinctive design. It was clearly inspired by the iMac, and one of the marketing slogans for the iBook was Despite it being even larger and heftier than the PowerBook and having a starting price of $1,600, it became a commercial success. In 2003, the iBook G4 was released, and it had an entirely new design. It had a more advanced PowerPC G4 processor, which was significantly faster.
But then Apple decided to create a new line of laptops, which was much more aesthetically pleasing and advanced, the MacBook. Fun Fact In 1999, Steve Jobs introduced Airport at Macworld in New York by using his famous line "one more thing." "And I'm really glad to you like everything but there is one more thing..."
Airport was the name given to Apple products featuring Wi-Fi, and one of those products was the iBook. In fact, the iBook became the first mass consumer product in the world to offer Wi-Fi connectivity. On May 16, 2006, the original MacBook was released. Since its release, MacBooks have not only become the best-selling Macintosh ever, but they're also the world's top-selling line of premium laptops. The MacBook replaced the iBook series.
It was thinner and had a 13.3-inch widescreen display. Just like the iBook, the MacBook was targeted toward the consumer and education markets. The MacBook also marked the beginning of Apple's transition from PowerPC to Intel processors, which made it significantly faster. The original MacBook came in black and white and had a polycarbonate casing, a type of plastic that can be made lighter and much stronger than normal plastic. The first model had 512 MB of RAM, a graphics card with 64 MB, a 60 or 80 GB hard drive, which is double the storage of its predecessor, and a starting price of $1,100. Fun Fact Did you know that the name "Macintosh" came from a type of apple? These apples were called McIntosh.
However, because of legal reasons, Apple had to change the spelling to "Macintosh." Prior to releasing the original MacBook, Apple had already released the MacBook Pro in January 2006. The MacBook Pro is the higher-end and more powerful model in the MacBook family.
The first MacBook Pro introduced MagSafe charging, and it was the first to use an iSight camera. It also introduced features that are now standard in Apple's notebooks, such as the glossy display, sunken keyboard design, and the non-mechanical magnetic latch. The MacBook Pro replaced the high-end PowerBook series. It had a 15-inch display compared to the 13.3-inch display of the original MacBook.
Instead of a polycarbonate casing, the body was made out of aluminum. Compared to the original MacBook, the Pro had a better graphics card and a storage option of 100 GB, but it also had a starting price that was $900 higher. "There's something in the Air."
In January 2008, Steve Jobs introduced a new line of MacBooks during the 2008 Macworld conference. "Well, today we're introducing a third kind of notebook. it's called the MacBook Air." Now consumers could choose between the original MacBook, the more powerful MacBook Pro, and the lighter and thinner MacBook Air. "It's so thin, it even fits inside one of these envelopes that we've all seen floating around the office. And so let me go ahead and show it to you now.
We take it out here. This is the new MacBook Air. You can get a feel for how thin it is."
It really was a thin notebook. In fact, it was the "world's thinnest notebook," with a thickness of just 1.9 cm or .75 inches. It even opened a new laptop category known as the Ultrabook family. It featured an anti-glare LED-backlit display, making the display more visible at night. It also had a large trackpad that responded to multi-touch gestures such as pinching, swiping, and rotating. Compared to the original MacBook, the Air had 2 GB of memory, which was 4 times as much, a better graphics card, and a much higher starting price of $1,800.
But that's not all. It became the first Apple computer that was available with an optional solid-state-drive, which is much faster than a traditional hard disk drive. To give you an idea of how significant SSD is, the next-generation PlayStation 5 is the first PlayStation to have SSD storage. This makes it possible in games like Ratchet & Clank: Rift Apart for players to jump from world to world without any loading time.
Consumers could choose between 80 GB of HDD storage or 64 GB of SSD storage. However, upgrading to SSD storage was very expensive, with a cost of $1,000 extra! Fun Fact In 1991, the first email was sent from space using Apple's first portable computer, the Macintosh Portable. In October 2008, Apple released a new MacBook. It was a thinner model compared to the original, and it had an aluminum unibody. "There's a story behind each part, When Nvidia came to talk to us, they were really interested in building very high performance graphics, but in a desktop chip. But we were interested in was taking that same level of performance and putting it in a portable computer."
The upgraded Nvidia graphics card was up to 5 times faster, which allowed for higher graphics. Compared to the original MacBook, not only was the graphics card improved, but also the processor, RAM, and storage. However, it did come at a starting price of $1,299, which is $200 more than the original. Also released in October 2008 was the second-generation MacBook Pro.
Compared to its predecessor, the trackpad was larger, and it had a sleeker design due to the precision aluminum unibody enclosure. "So, precision unibody enclosure This is what the unibody looks like: Again, it's exceptionally beautiful on the outside but also on the inside. And, as you can see, the Unibody saves us half the parts.
Half the major structural parts, by going to this Unibody. And it's much more rigid, strong construction that we get." All the specifications were improved significantly, including 4 times the RAM, two times the graphics, and more than double the storage. In 2009, a 17-inch model of the unibody became available. It had an improved battery life of 8 hours, compared to 5 hours of the 15-inch model.
Also, in 2009 Apple introduced a polycarbonate unibody MacBook. Surprisingly, Apple went back to using a plastic shell after switching to aluminum for the second-generation MacBook. The unibody MacBook introduced a multi-touch trackpad, an LED-backlit display, and it had an improved battery. It also had a faster processor, but the rest of the specifications weren't upgraded. Slashgear hailed the unibody MacBook as Fun Fact The unibody MacBook became the last MacBook with a plastic shell.
All other MacBooks have an aluminum body. The second-generation MacBook air was released in 2010. It had a higher screen resolution, improved battery, and stereo speakers. "And it's a high-res display, 1440 by 900 pixels, This is more pixels than an our 15 inch notebook today."
Besides the 13-inch model, an 11-inch model also became available. The 11-inch model wasn't as powerful, and the battery life was reduced, but it came at a lower starting price. "Of course it has 11.6 inch LED backlit display, and also high resolution, this is more dots than our 13 inch MacBook Pro has today." Compared to the previous MacBook Air, the 13-inch model had a slightly better processor, a much better graphics card, and more storage. The second-generation MacBook Air wasn't as expensive as the first, as it was sold for $1,299.
The third-generation MacBook Pro was released in 2012. It was marketed as the "MacBook with Retina display." Besides the high-resolution Retina display, the third generation was 25% thinner than its predecessor, and it made solid-state storage standard.
"It's thinner than my finger. I mean, even with its closed, it is because the display is so radically thin." Another significant improvement was the Intel Core i7 processor, which made it much faster.
Other improvements were an impressive 8 GB of memory, a 1 GB video card, and an option for 512 GB of storage. The starting price was increased by $200. Fun Fact In 2015, Apple updated the MacBook Pro Retina.
However, it was recalled after receiving at least 26 reports of batteries becoming hot enough to produce smoke and inflict minor burns. Apple asked customers to stop using their computers until Apple could replace the batteries. In total, the problem affected 432,000 computers. 2015 marked an important year for the MacBook. Marketed as the "new MacBook," also known as the Retina MacBook, the device was more premium compared to its predecessor. It featured a smaller 12-inch high-resolution retina display and a shallower "Butterfly" keyboard.
"So there's something new. Our team invented a Butterfly mechanism. This butterfly mechanism is built of a single assembly, and it's supported by stainless steel dome switch." Consumers could choose between space gray, silver, and gold finishes. In 2016, Apple also added a rose gold finish.
The MacBook Retina was considerably thinner and lighter than its predecessor. However, it did have a slower processor and graphics performance. The RAM was upgraded to an impressive 8 GB, compared to just 2 GB of the previous model. It also came with faster SSD storage, but it didn't have a dedicated video card. While many praised the design and overall quality of the MacBook Retina, it received criticism for the slow performance of the Intel Core M processor. Fun Fact After introducing the gold iPhone 5S, Apple noticed that gold was seen as a popular sign of luxury among Chinese customers.
This led to the introduction of a gold MacBook finish. The fourth-generation MacBook Pro was unveiled in October 2016. Besides the 15-inch model, a 13-inch model was also available. The trackpad was much larger than its predecessor. In fact, the 15-inch model had a trackpad that was twice as large. "The larger Force Touch trackpad now provides an expansive area for a whole range of gestures."
The display was also significantly improved with a 25% wider color gamut and 67% more brightness and contrast. "It has the best retina display, we've ever put in a notebook. A precisely designed LED spectrum, projects through metal oxide backplain. This yields a remarkably bright, high contrast picture with a wider color gamut." Another new feature was the Touch Bar, a multi-touch-enabled OLED strip. "We're introducing a new way to interact with your notebook.
A multitouch bar provides a more intuative, more immediate connection to your content. Commands that were once hidden, are now visible. Easily accessible, and also customizable." Other improvements include a faster processor and double the RAM and graphics. The 13-inch model came at a starting price of $1,799, while the starting price of the 15-inch model was increased to $2,399.
The third-generation MacBook Air hit shelves in 2018. It featured a radically different design than the previous MacBook Air and was available in three finishes. The bezels were 50% narrower, and both the thickness and weight were reduced.
For the first time, the MacBook Air had a Retina display with a resolution of 2560x1600 pixels and displayed 48% more color. "With the new MacBook Air, we're bringing many of our most advanced tehnologies to this iconic design. The powerful new features in MacOS Mojave, come to life on the incredibly vivid and precise Retina display." It also featured Touch ID. "Along with the TouchID sensor, it enables Apple Pay, and allows you to unlock your Mac with just the touch of the finger." The MacBook Air also had a new Intel Core i5 processor.
The unibody was made from 100% recycled aluminum to make the MacBook better for the environment. "And it makes MacBook Air, the greenest Mac ever." The RAM was also upgraded, and it had a lower starting price, but it didn't have a dedicated video card. In 2019, Apple introduced a 16-inch MacBook with an improved Retina display. It had a graphics card with an impressive 4 GB of memory, and a 1 terabyte storage option became available.
"Here is the new 13 inch MacBook Pro." November 2020 was a revolutionary moment for the MacBook when the 13-inch MacBook Pro was released. The model marked a major transition from intel processors to the Apple-designed M1 processors. "This truly is a huge day for the Mac.
And a huge day for Apple. Advancements of this magnetude only come for making bold changes. The M1 chip is by far the most powerful chip that we have ever created." It has an impressive battery life of up to 20 hours, the longest battery life ever in a Mac. While the previous MacBook Pro had 16 GB of RAM, the MacBook Pro M1 had only 8 GB of RAM. However, it had a new type of memory known as unified RAM, which is much more efficient.
The MacBook Pro M1 was much faster than its predecessor, but it only had 256 GB of SSD storage. The price was also significantly reduced; while the 16-inch MacBook Pro was sold for $2,399, the 13-inch MacBook Pro had a starting price of just $1,299, that's a $1,100 difference. Also released in November 2020 was the latest generation MacBook Air. It also features the Apple-designed M1 processor. The SSD is also upgraded, making it 2 times faster.
"With SSD's that are up to two times faster, thanks to the M1 storage controller and latest flash technology." The latest generation MacBook Air is also the first to have a fanless design. "All this performance, without a fan.
So no matter how intense the task, MacBook Air is compeletely silent. And that same incredible efficiency also delivers extraordinary battery life." The battery is significantly upgraded with up to 18 hours of battery life, 6 hours more than its predecessor. Another improvement is the unified RAM, which is much more efficient.
The price was reduced to $999, $200 less than the previous model. If we compare the first MacBook Air to the latest model, we can see it has an entirely different and thinner design. The specifications are also significantly improved, making the MacBook much faster and more powerful, while the starting price is $800 lower. Fun Fact Stuart Hughes designed a special model of the MacBook Air made out of solid Platinum.
5 units were made, which were sold for a whopping $480,000! In October 2021, the latest generation MacBooks were released, the 14 and 16-inch MacBook Pro. It features a new design with thinner bezels and an iPhone-like notch for the camera. Apple addressed many criticisms of the previous generation MacBook Pro and brought back MagSafe charging, an HDMI port, an SD card reader, and the Touch Bar was replaced with function keys. The Retina display is also improved.
"It has 1.8 million more pixels than before. For total of 7.7 million. That's the most ever in a Mac notebook." But, of course, the most impressive update is the new Apple silicon chips. "We've created something wild. with a fire in its belly. This thing draws everything in, moving silently night and day into the deepest blacks and brightest lights.
Its eye, razor sharp. Its sound, deafening. Pretty dangerous."
The M1 Pro has up to 3.7 times faster CPU performance than the Core i7, while graphics are up to 9 times faster! "So why would anyone give this beast more power? You'd have to be reckless." The M1 Max is even more powerful and has up to an astonishing 13 times faster graphics performance than the Core i7. The latest generation MacBook Pro also has double the unified RAM and up to 1 terabyte of SSD storage. The 14-inch model comes at $1,999, and the 16-inch model at $2,499.
Compared to the first-generation MacBook Pro, the design is much more elegant, but more importantly, the specifications have been upgraded tremendously. This includes the graphics, even though the latest generation MacBook Pro doesn't have a dedicated video card. Fun Fact If you were to upgrade the MacBook Pro to the maximum specifications, it would have the most powerful M1 Max chip, 64 GB of unified memory, and a whopping 8 Terabytes of SSD storage. And the price…. well… you would have to pay a whopping $6,099 for it! From the first MacBook released in 2006 all the way to the latest generation and most powerful MacBook Pro that was released in 2021, it is truly incredible how Apple keeps innovating the MacBook. If you want to see other Apple evolutions, including the "Evolution of the iMac" or "the Evolution of the iPhone," then click the playlist on the right.
Please leave a like if you enjoyed this video. Thank you! Subtitle done by Emir Kahvecioglu
2022-05-10 00:48
Show Video
Other news