Bloomberg Technology 10/16/2023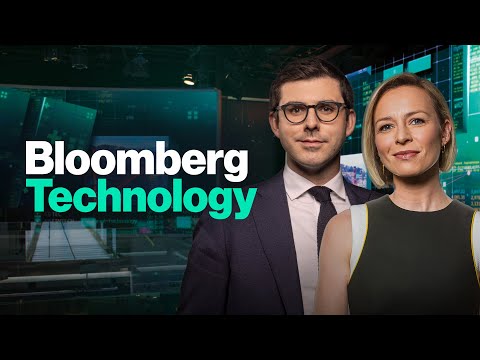 Show Video
>> THIS IS BLOOMBERG TECHNOLOGY WITH CAROLYN HYDE AND ED LUDLOW. CAROLINE: I'M CAROLYN HYDE AT BLOOMBERG'S WORLD HEADQUARTERS IN NEW YORK. ED: AND I AM ED LUDLOW IN SAN FRANCISCO. CAROLINE: THE U.S. PLANS TIGHTER MEASURES AGAINST CHINA TO CHIP TECHNOLOGY. WE WILL BREAK DOWN THE DETAILS. ED:
IN THE LATEST UPDATES FROM THE ISRAEL-HAMAS WAR AND THE ROLE SOCIAL MEDIA PLAYS IN DELIVERING UP-TO-DATE INACCURATE NEWS. CAROLINE: AND WE KICK OFF THE START OF NEW YORK TECH WEEK AS TITANS GATHER IN THE BIG APPLE FOR PANELS, EVENTS, AND MORE. LET'S CHECK IN ON THE MARKETS. THERE IS A GEOPOLITICAL ELEMENT THAT PLAYS IN.
THE CONFLICT IN ISRAEL-HAMAS MIGHT BE CONTAINED. THE MOVES BEING MADE ACROSS GERMANY AND THE UNITED STATES. WE SEE A RALLY UP ALMOST ONE PERCENTAGE POINT AND A DESIRE TO GET INTO EQUITIES ACROSS THE BENCHMARK.
THE 10 YEAR YIELD DIALED DOWN. WE ARE OFF ALMOST 10 BASIS POINTS. I AM LOOKING AT YOUR CRUDE DIALING DOWN. -- NEW YORK CRUDE DIALING DOWN. GAS REALLY COMING DOWN FROM 40% MOVES WE'VE SEEN IN THE PREVIOUS WEEK. REAL VOLATILITY EARLIER TODAY. AT ONE POINT IT WAS UP MORE
THAN 12%. WE DIAL IT BACK AGAIN. THIS IS ALL AROUND EUPHORIA THERE COULD BE AN ETF ON BLACKROCK BEING SIGNED OFF IN TERMS OF BITCOIN TRADING. WE ARE CURRENTLY UP 3.4%. WHAT ARE YOU LOOKING IN THE MICRO? ED: APPLE IN THE FIRST INSTANCE IS ONE OF THE BIG TECH MOVING TO THE DOWNSIDE. WE GOT DATA FROM COUNTERPOINT RESEARCH SHOWING IN THE FIRST 17 DAYS SINCE RELEASE IPHONE 15 SALES ARE DOWN RELATIVE TO THE SAME SEVEN-DAY PERIOD A YEAR AGO WHEN IPHONE 14 WENT ON SALE IN CHINA. WE WILL DIG INTO THAT LATER IN THE SHOW WITH BLOOMBERG'S MARK GURMAN WHO HAS ALSO BEEN LOOKING AT THE EXECUTIVE RANKS OF APPLE THAT IS HAD A RESHUFFLE OF LATE. THE TOP STORY IS BLOOMBERG REPORTING EXPANDING TECHNOLOGY EXPORT CURVES TO CHINA IN THE SEMICONDUCTOR SPACE.
IT HAD A PRONOUNCED IMPACT IN MARKETS IN ASIA AND EUROPE OVERNIGHT. A LOT OF THOSE NAMES -- BUT PAY ATTENTION TO THE CHIP EQUIPMENT MAKER'S. LET'S GET THE SPECIFICS AND BRING IN BLOOMBERG'S MACKENZIE HAWKINS. WHEN BURKE SOURCES ARE TELLING US THESE CHIP CURVES WILL BE EXPANDED. IN WHAT WAYS? MACKENZIE: THESE CHIP CURVES ARE BUILDING ON INITIAL RESTRICTIONS THAT THE BIDEN ADMINISTRATION PROPOSED IN OCTOBER OF LAST YEAR. THERE ARE COUPLE OF VENUES FOR THE TIGHTENING.
WE WILL SEE RESTRICTIONS ON GRAPHICS CHIP SHALES AND ADVANCED MANUFACTURING SALES TO CHINESE COMPANIES. WE ARE ALSO SEEING TIGHTENING ON POTENTIAL ATTEMPTS BY CHINESE COMPANIES TO AVOID COUNTRY SPECIFIC RESTRICTIONS BY ROUTING THEIR SHIPMENTS THROUGH OTHER COUNTRIES. THE LAST THING TO KEEP AN ION IS ADDING CHINESE CHIP DESIGN FIRMS TO U.S. TRADE RESTRICTION LIST THAT
REQUIRES OVERSEAS MANUFACTURERS TO GET A LICENSE FROM THE U.S. GOVERNMENT BEFORE FULFILLING ORDERS. CAROLINE: WHAT PROMPTED THIS TIGHTENING? IS IT THE REPUBLICANS OR IS IT HUAWEI AND MORE RECENT EVENTS THAT SHOWS MAY BE SOME OF THESE CUTS ARE NOT WORKING? MACKENZIE: THE U.S. ANNOUNCED ITS INITIAL ROLE IN OCTOBER LAST YEAR AND TOOK A COUPLE OF MONTHS TO GET KEY ALLIES, PARTICULAR THE NETHERLANDS AND JAPAN ON BOARD, AND THEY HAVE BEEN WORKING ON A FINAL VERSION OF THE RULE FOR A WHILE. THIS IS NOT TO BE INTERPRETED AS A REACTION TO THE HUGE TECH BREAKTHROUGH IN CHINA IN AUGUST WHEN HUAWEI RELEASED A SMARTPHONE POWERED BY AN ADVANCED CHIP.
THAT HAS DEFINED THE CONVERSATION IN THE MONTH AND A HALF SINCE AND WE WILL BE LOOKING TO THE ADMINISTRATION TO SEE WHAT ACTIONS SPECIFICALLY THEY MIGHT TAKE ON HUAWEI AND ITS CHIPMAKING PARTNER. CAROLINE: WE WILL KEEP A CLOSE EYE ON THE IMPLICATIONS AND SO WILL THE CHINESE WHO SAY THEY DO NOT WANT THIS TO BE WEAPONIZED OR POLITICIZED WHEN IT COMES TO TECHNOLOGY AND TRADE. MACKENZIE HAWKINS, WE THANK YOU. JOANNE FEENEY IS WITH US WITH DEEP KNOWLEDGE EXPERTISE WHEN IT COMES TO SEMICONDUCTORS.
ULTIMATELY IS THIS EVER AN EFFICIENT WAY OF TRYING TO CURTAIL WHAT IS ULTIMATELY AN ABILITY TO MAKE ADVANCED CHIPS IN CHINA? JOANNE: IT IS NEVER GOING TO BE EFFICIENT. LET'S NOT TRY TO GUESS THE ULTIMATE GOALS OF THE U.S. POLICY. ONE EFFECT IS IT WILL SLOW DOWN CHINA'S ABILITY TO DEPLOY ADVANCED CHIPS FOR USE IN AI ORIENTED SERVERS. WE WILL SLOW CHINA DOWN. IT IS HARMFUL TO U.S. COMPANIES THAT WANT TO SELL CHINA THOSE CHIPS, LIKE NVIDIA.
WE ARE IN A PERIOD OF TIME WHEN THERE IS SUCH STRONG DEMAND FOR AI CAPABILITIES THAT EVEN IF NVIDIA LOSES SALES IN CHINA BECAUSE OF MORE RESTRICTIONS IT WILL LIKELY BE ABLE TO SELL THEM IN THE UNITED STATES OR SOMEPLACE ELSE. IT WILL SLOW CHINA DOWN. THE HORSE HAS LEFT THE BARN IN TERMS OF THE ABILITY OF CHINA TO PRODUCE ADVANCED CHIPS. THEY CANNOT DO IT IN A LOTTO VOLUME. ULTIMATELY THEY WILL BE ABLE TO DO THIS BECAUSE CHIP TECHNOLOGY HAS REACHED THE LIMITS AND SO IT IS HARD FOR OUR CUSTOMARY -- OUR COMPANIES TO STAY AHEAD WHEN ALL CHINA HAS TO DO IS COPY WHAT WE HAVE DONE SO FAR. ED:
WE ARE SHOWING THE NAMES MOVING TO THE UPSIDE, NVIDIA AND AMD ON THE GRAPHIC SIDE AND THEN THE CHIP EQUIPMENT MAKERS ALSO POSITIVE. YOU SAID THIS WILL NOT SLOW CHINA DOWN. THERE IS A REFOCUS ON THE CHIP EQUIPMENT MAKERS IN PARTICULAR. WITH THOSE U.S.-BASED COMPANIES WITH EXPOSURE TO CHINA COME IS THIS MORE OF A CONCERN NOW THAN IT WAS YESTERDAY? JOANNE: WE HAVE BEEN AVOIDING EXPOSURE TO MOST OF THE EQUIPMENT FOR A WHILE BECAUSE OF THESE TENSIONS WITH CHINA. OUR POSITION HAS NOT CHANGED. WE HAVE SOME EXPOSURE BUT NOT TO THE MAJOR PLAYERS. I THINK WHAT HAPPENED EARLIER WHEN CHINA SAW THIS COMING AND SAW THE TIMING OF THESE RESTRICTIONS, THEY IMPORTED A BOATLOAD OF EQUIPMENT. THEY ARE PRETTY WELL-POSITIONED.
IT WILL SLOW THEM DOWN IN TERMS OF DEPLOYING HIGH END AI-BASED SURVEYS -- SERVERS BECAUSE THEY WILL NOT GET ALL OF THOSE CHIPS. THEY HAVE A LOT OUT OF THE NETHERLANDS TO THE DEPOSITION MACHINES. THEY WILL DO AN AWFUL LOT WITH THE EQUIPMENT THEY HAVE. THERE ARE ALWAYS WAYS TO GET TO
SMALLER SIZES TO THOSE MORE ADVANCED CHIPS USING THE OLDER TECHNOLOGY. IT JUST TAKES MANY MORE STEPS TO GET THERE. IT IS MUCH MORE EXPENSIVE. IS IT EFFICIENT? IT WILL NOT BE EFFICIENT FOR CHINA MAKE THE ADVANCED CHIPS. THEY WILL BE ABLE TO MAKE
ALMOST EVERYTHING WITH THE EQUIPMENT THEY HAVE EXCEPT FOR THE MOST ADVANCED CHIPS AND THAT IS WHERE U.S. POLICY WANTS TO BE BINDING AND IT WILL BE FOR A WHILE UNTIL CHINA CAN MAKE FURTHER ADVANCES IN THEIR OWN DEPLOYMENT OF EQUIPMENT OR REFINEMENT OF THE EQUIPMENT THEY HAVE IN PLACE. ED: BLOOMBERG IS REPORTING THESE EXPANDED RESTRICTIONS COULD COME EARLIER THIS WEEK. THE U.S. COMMERCE DEPARTMENT DECLINED TO COMMENT ON THE STORY. A CHINA SPOKESPERSON CALLED THIS THE U.S. WEAPONIZING TRADE AND TAKE ISSUES. OUR COLLEAGUE MACKENZIE HAWKINS
POINTED OUT THIS IS NOT AN ESCALATION FROM THE U.S., IT IS A RE-THINK OF A YARIEL -- OF A YEAR LONG POLICY. WHERE DO YOU STAND ON THIS? JOANNE: YOU'RE ASKING ME TO PUT ON A POLICY WONK HAT. I WILL DO MY BEST. THE U.S. WANTS TO SLOW DOWN CHINA'S
ABILITY TO USE AI AND DEVELOP AI APPLICATIONS. TO THE EXTENT THE U.S. CAN SUCCEED IN THAT BY RESTRICTING THEIR ACCESS TO THESE MOST ADVANCED CHIPS, THE U.S. WILL BE SUCCESSFUL. IT IS NOT THE FIRST TIME THAT TRADE POLICY HAS BEEN USED FOR THINGS OTHER THAN TAMPING DOWN ILLEGAL TRADE. THIS IS NOT AN UNFAIR TRADE PRACTICES RESPONSE. IT IS NOT SOMETHING THAT IS
AUTHORIZED UNDER WTO RULES. NEVERTHELESS UNDER NATIONAL SECURITY REASONS THE U.S. IS PURSUING THIS STRATEGY. IT WILL BE EFFECTIVE AND IT WILL SLOW CHINA DOWN. IT IS ONLY GOING TO ACCELERATE CHINA'S OWN INVESTMENTS IN DEVELOPING THEIR OWN CAPABILITIES.
WE THINK THEY ARE A LONG WAY OFF FROM BEING ABLE TO REPLICATE WHAT ASML HAS DONE, BUT BY REPEATING THE PROCESS THAT INTEL AND IBM AND GLOBAL FOUNDERS USE, SMICK AND GET CLOSE TO SOME OF THE MOST ADVANCED CHIPS AS IS SHOWN IN THAT HUAWEI CHIP. CAROLINE: WE ASK YOU TO PUT A POLICY HAT ON. DO TRY TO TAKE THAT HAT OFF WHEN IT COMES TO HAVING THE TO SUCH COMPANIES. YOU SAID YOU HAVE LIMITED YOUR EXPOSURE BECAUSE OF SOME OF THE ISSUES WITH U.S. CHINA.
WHAT ABOUT NVIDIA THAT AT THE MOMENT CAN SACRIFICE CHINESE SALES. ULTIMATELY DO YOU WANT TO BE OUT OF COMPANIES THAT HAVE SUCH EXPOSURE TO CHINA? JOANNE: THE INVESTOR HAT, THE PORTFOLIO MANAGER HAT REQUIRES YOU LOOK AT POLICY. YOU NEED TO HANDICAP WHAT WILL BE IN THE U.S. INTERESTS, WHAT THEY WILL TRY TO DO, AS WELL AS THE ECONOMIC OUTLOOK. ADVISORS CAPITAL WE DO BOTH. WE THEN BUILD UP THE BOTTOM UP ANALYSIS COMPANY BY COMPANY. NVIDIA IS A GREAT EXAMPLE.
THEY HAVE 70 OPPORTUNITIES. DEMAND IS SO STRONG FOR AI CAPABILITIES. WE THINK IF THEY LOSE A LITTLE BIT FROM CHINA THEY WILL MAKE IT UP ELSEWHERE. IT LOOKS LIKE THEY WILL HAVE A WAITING LIST OF COMPANIES THAT WOULD LIKE THEIR MOST ADVANCED CHIPS. CHINA COULD HURT IN THE LONGER RUN. IF CHINA IS ABLE TO REPLICATE THE LEVEL AND QUALITY OF CHIPS THAT NVIDIA COULD OTHERWISE SUPPLY, -- CHINA WILL HAVE TO BE SATISFIED WITH LOWER END GRAPHICS CHIPS.
ULTIMATELY WE DO NOT THINK THERE WILL BE A BIG SHIFT IN SPENDING BY CHINA. THEY'LL HAVE TO BE SATISFIED WITH LESSER CHIPS. NVIDIA WILL BE ABLE TO SELL MORE OF ITS HIGHER END CHIPS TO U.S. AND EUROPEAN AND OTHER SOUTHEAST ASIAN CUSTOMERS. ED: JOANNE FEENEY, PARTNER AND PORTFOLIO MANAGER AT ADVISORS CAPITAL MANAGEMENT AND LONGTIME RESEARCHER IN THE FIELD OF SEMICONDUCTORS. STICKING WITH CHIPS, NVIDIA'S H 100 GPU HAS BEEN ONE OF THE TECHNOLOGY STORY OF THE YEARS. BEFORE THE ISRAEL WAR BROKE OUT THE CHIP GIANT HAD PLANNED ON HOLDING IT SUMMIT TODAY IN TEL AVIV WITH INSIGHT INTO ITS STRATEGY EXPECTED BUT THEY CANCELED THE EVENT. BLOOMBERG TECHNOLOGY VISITED
THE NVIDIA AND LOOKED AT WITH THE H 100 GPU USED TO TRAIN AI MODELS LOOKS LIKE IN THE REAL WORLD. THIS IS AN INDIVIDUAL H 100 GPU. NVIDIA'S AI ACCELERATOR. IT IS NOT JUST A CHIP THAT COMES OUT OF A PLANT. >> WHEN WE TALK ABOUT THE TRAINING AI MODELS, WE ARE TALKING ABOUT NVIDIA'S AI SUPERCOMPUTER. ED:
THAT IS EIGHT GPU'S COMBINED CAPABLE OF 42 TRILLION OPERATIONS PER SECOND. IT IS A SERVER DESIGN AND THIS IS WHAT IT LOOKS LIKE UNDER THE LID. IT STARTS WITH A GPU SEEN HERE. INDIVIDUAL SSM'S ARE TOPPED WITH HEAT SINKS. THOSE ARE CONNECTED IN A SINGLE BASEBOARD BY INTER-CONNECTORS IN THAT ASSEMBLY ALONE WEIGHS 60 POUNDS. ADD CPUS AND OTHER COMPONENTS
AND A FINISH SYSTEM WEIGHS 300 POUNDS. THE SCALE IN THE REAL WORLD IS BIGGER STILL. SOME OF THE MOST POWERFUL LARGE MODELS ARE TRAINED ON THE NVIDIA DG ACTS SUPER POD, THAT IS 32 SYSTEMS COMBINED INTO A SCALABLE UNIT.
AT ITS MOST MIND-BOGGLING SCALE DGX SUPER POD CAN BE UP TO 64 SCALABLE UNITS. THAT IS MORE THAN 16,000 INDIVIDUAL H100 GPU'S. THE DGX INFRASTRUCTURE SENT OUT TO THE HYPER SCALE CLOUD PRODUCERS. I WANTED TO GET MY HANDS ON AN H 100, CAROLINE. IT IS NOT JUST THIS LITTLE CHIP. CAROLINE: DID YOU HAVE TO DO SQUATS TO BE ABLE TO PICK THAT UP? ED: I JUST WANTED TO DEMONSTRATE IN THE REAL WORLD SOMETIMES YOU HAVE TO DEAD LIFT.
I ALREADY GOT A LOT OF FLAK FOR THAT ON THE SHOW. CHECK IT OUT ONLINE. CAROLINE: IS A GREAT PIECE TO DIGEST WHAT IS BEHIND TECHNOLOGY. COMING UP, WE WILL GET SERIOUS AND TURN OUR ATTENTION BACK TO THE LATEST IN ISRAEL AND HAMAS AND THE WAR AND DISCUSS THE ROLE OF SOCIAL MEDIA DURING TIMES OF CRISIS. MORE NEXT. ED: AMID THE ONGOING WAR BETWEEN ISRAEL AND HAMAS PRESIDENT BIDEN IS WEIGHING A VISIT TO THE REGION.
OLIVER CROOK IS LIVE IN TEL AVIV. BIDEN'S VISIT IS LARGELY SPECULATIVE. THERE ARE OTHER LEADERS COMING TO TOWN. WHAT IS THE LATEST ON THE GROUND? OLIVER: LET'S TALK ABOUT THE MILITARY ACTION. OVER THE WEEKEND WE GOT CONFIRMATION THAT ISRAEL IS SAYING THE NEXT STAGE OF THE WAR WILL INVOLVE A BROWNED OPERATION OF SOME KIND. THAT WAS CONFIRMED OVER THE
WEEKEND. THEIR FOCUS HAS BEEN ON THE AERIAL ASSAULT. THEY HAVE BEEN PUMMELING GAZA FOR THE LAST WEEK AND HAD A FEW EVACUATION PASSAGES, A FEW HOURS WHERE THEY SAY THEY WILL NOT BOMB MAJOR ARTERIES. WE HAD ONE TODAY AND YESTERDAY ON ON SATURDAY. THE QUESTION IS OF AID. THERE IS A THAT IS NOT ABLE TO
GET THROUGH. THERE WERE REPORTS ABOUT AID BEING ABLE TO MOVE THROUGH THE EGYPTIAN BORDER. THAT HAS NOT BEEN CONFIRMED BY US. IN TERMS OF DIPLOMACY WE ARE EXPECTING OLAF SCHOLZ TO ARRIVE TOMORROW. WHETHER BIDEN COMES AS A DETERRENT TO SHOW THE SUPPORT OF THE UNITED STATES FOR ISRAEL, WHICH HAS BEEN FAIRLY VOCAL AT THIS POINT. CAROLINE: YOU BRING OUR ATTENTION TO THE HUMAN COST. TALK TO US ABOUT THE TIMING AND TIME RUNNING OUT
ACCORDING TO IRAN'S FOREIGN MINISTER, TALKING ABOUT IF WE ARE GOING TO AVOID AN EXPANSION TO THE CONFLICT. OLIVER: WE HAVE BEEN HEARING FROM IRAN ON THE SIDELINES FOR THE LAST FEW DAYS. ON FRIDAY IT WAS THE FIRST OMINOUS THREAT AND THEN WE HAD THE FOREIGN MINISTER SAYING THE TIME FOR THE POLITICAL SOLUTION IS RUNNING OUT AND THE EXPANSION OF THE WAR TO OTHER FRONTS IS INEVITABLE THEY SAID ON X. THIS IS PART OF THE REASON LINCOLN HAS BEEN GOING TO COULD
TALK -- THIS IS PART OF THE REASON ANTONY BLINKEN HAS BEEN GOING TO QATAR, EGYPT, BAHRAIN. IT IS TO GET BACK CHANNELS COMMUNICATING WITH IRAN BUT ALSO DETERRENCE. WE HAVE A SECOND AIRCRAFT CARRIER TO THE EASTERN MEDITERRANEAN ALL ABOUT TRYING TO PROVOKE THAT DETERRENCE. IT IS NOT JUST IRAN. IN THE SAME WAY THE ISRAELIS SAW ALL OF THE HORROR ON THEIR PHONES, THE REST OF THE ARAB WORLD IS DOING THE SAME THING ON WHAT IS GOING ON IN GAZA. YOU HAD PROTESTERS THROUGH THE STREETS THROUGHOUT THIS PROCESS.
CAROLINE: BLOOMBERG'S OLIVER CROOK WITH THE LATEST ON THE GROUND FROM TEL AVIV. OLIVER JUST PAINTED THE PICTURE OF HOW MUCH EVERYONE HAS TURNED TO SOCIAL MEDIA IN THIS MOMENT AND THE IRANIAN FOREIGN MINISTER POSTING ON X. WE WANT TO UNDERSTAND HOW PEOPLE ARE USING SOCIAL MEDIA. NORA, YOU ARE A DIRECTOR OF DIGITAL JUSTICE AND CIVIL RIGHTS AND YOU RUN THE ORGANIZATIONS PLATFORM ACCOUNTABILITY, THE DIGITAL CIVIL RIGHTS WORK THERE.
HOW ACCOUNTABLE ARE X, META, TIKTOK, BYTEDANCE, HOW MUCH ARE THEY LOOKING FOR THIS MOMENT OF RESPONSIBLE NURTURING OF WHAT IS BEING PUT ON THE PLATFORMS? NORA: THANKS FOR HAVING ME. MOST OF THE MAJOR PLATFORMS HAVE FAILED THE MASSIVE STRESS TEST OVER THE LAST WEEK AND A HALF, IN PARTICULAR TWITTER OR X HAS CREATED THE PERFECT ENVIRONMENT FOR DISINFORMATION TO THRIVE. PEOPLE ARE TURNING TO SOCIAL MEDIA MORE THAN EVER AS THEIR PRIMARY WAY OF GETTING RAPID INFORMATION. MOST OF US ARE HUNGRY TO FIGURE OUT WHAT IS GOING ON ON THE GROUND AND WHETHER IT IS FAMILY MEMBERS, JOURNALISTS OR OTHERS, WE ARE TURNING TO THESE PLATFORMS ONLY TO BE MET WITH A DAY LUCIA OF MISLABELED VIDEOS -- WITH A DELUGE OF MISLABELED VIDEOS, IMAGES FROM OTHER TIME PLACES. ELON MUSK HAS SHOWN TWITTER HAS FAILED WITH A GRAND JUROR. HIS BAD DECISIONS HAVE LED US
TO THIS MOMENT. HE GUTTED CRITICAL TEAMS, AS OTHER PLATFORMS HAVE LIKED META AND TIKTOK IN YOUTUBE. ELON MUSK HAS ALSO CHANGE THE BLUE CHECK MARK FEATURE WHICH IN THE SCHEME OF ALL OF THESE SWIRLING FORCES ONE OF THE BIG PROBLEMS. IT IN CENTER BY HIS PEOPLE TO SUBSCRIBE AND THEY PAY A SMALL FEE, BUT THEIR CONTENT GETS BOOSTED. IF YOU'RE WILLING TO PAY THAT EIGHT DOLLARS YOUR CONTENT MIGHT BE FEATURED IN MORE PEOPLE'S FEEDS. HE ALSO NEEDS AT MONEY BECAUSE ADVERTISERS HAVE BEEN FLEEING THE PLATFORM. ONE OF HIS INCENTIVES HAS BEEN
TO PAY PEOPLE FOR ENGAGEMENT AND VIRALITY. ED: JUST FOR OUR AUDIENCE, X'S RESPONSE TO THIS HAS BEEN TO CALL HANDS ON DECK. THEY HAVE SAID ALL STAFF ARE FOCUSED ON THE ISRAEL-HAMAS WAR. THEY HAVE GIVEN US DATA ON COMMITTEE NOTES ACTION AND FOR META'S HEART THEY HAVE A SPECIAL OPERATIONS TEAM WITH FLUENT HEBREW AND ARABIC SPEAKERS WORKING 24/7 TO REVIEW CONTENT. AT ISSUE SEEMS TO BE VIDEO CONTENT, VIDEO PURPORTING TO SHOW ONE THING WHEN IN REALITY THEY ARE ANOTHER.
WHAT IS YOUR VIEW ON THE ROLE VIDEO IS PLAYING? NORA: VIDEO IS ONE OF THE LAST FRONTIERS. IT IS VERY DIFFICULT TO MODERATE VIDEO CONTENT. ELON MUSK POINTING TO COMMUNITY NOTES AS A WAY FOR USERS TO DO HIS JOB IS AN ADEQUATE. IT IS ALSO INADEQUATE THAT A WEEK AND A HALF AFTER THE CONFLICT ESCALATED NOW IS THE MOMENT SOCIAL MEDIA COMPANIES ARE PULLING THEIR CRISIS CENTERS TOGETHER. THAT IS DAYS TOO LATE.
CITING THE ABILITY TO MOVE HUNDREDS OF THOUSANDS OF POSTS HAS ALSO BEEN AN ADEQUATE. WE HAVE TO UNDERSTAND THE ENVIRONMENT IS THERE ARE MILLIONS OF POSTS GOING OUT EVERY DAY ABOUT THIS SUSPECT -- THE SUBJECT AND ACTIVE MONTHLY USERS TRYING TO GET THE CONTENT. THE LACK OF TEAMS AND THE LACK OF POLICIES IN PLACE, THE SLOW TO RESPOND TO CRISIS CENTERS ARE NOT ENOUGH TO REIN IN THE LEVEL OF TOXICITY. CAROLINE: -- ED: NORA, THANK YOU FOR YOUR TIME ON THE SHOW. THIS IS "BLOOMBERG TECHNOLOGY." ED: KKR RACING $723 MILLION IN JAPAN'S LARGEST LISTING IN FIVE YEARS. SHARES BEGIN TRADING OCTOBER 25. INDONESIA'S BIGGEST FIRM PLUNGED ITS MOST ON RECORD EARLIER TODAY AFTER REVELATIONS OF A STOCK SALE BY A CO-FOUNDER WHICH IGNITED A SELLOFF. THEY RECOVERED AFTER ANALYSTS
ARGUED THE SELLOFF WAS OVERDONE AND NOT SUPPORTED BY FUNDAMENTALS. CAROLINE: COMING UP WE WILL TURN OUR ATTENTION TO THE BIG APPLE. NEW YORK TECH WEEK IS UPON US. WE ARE SITTING DOWN WITH THE PARTICIPANTS. CAROLINE: WELCOME BACK TO "BLOOMBERG TECHNOLOGY." I AM CAROLINE HYDE IN NEW YORK.
ED: I'M ED LUDLOW IN SAN FRANCISCO. WE STARTED THE WEEK WITH THE NASDAQ 100 HIGHER 1%. WE ARE COMING OFF THREE STRAIGHT WEEKLY GAINS. WORRIES ABOUT CHINA'S ECONOMY WERE AHEAD OF EARNINGS SEASON.
TWO OF THOSE WEEKS NOTCHED AGAIN OF .1%. THAT IS EXCLUSIVE OF THE IP WINDOW WHICH HAS NOT GIVEN US MUCH MOMENTUM TO THE UPSIDE. THERE IS A GROWING LIST OF FACTORS. IF YOU READ THE STORY ON THE BLOOMBERG, A LOT OF FOLK PINNED ON THOSE -- A LOT OF HOPE PINNED ON THOSE TECH NAMES. ALSO TECH CONTINUING TO LEAD THE WAY AMID A BROADER MARKET THAT IS NOT SURE WHERE IT STANDS. CAROLINE: AND THAT IS IN THE PUBLIC MARKETS.
THIS FEEDS INTO THE PRIVATE MARKET. WE'LL BE TALKING ABOUT BOTH IN NEW YORK. IT IS TECH WEEK IN THE BIG APPLE WITH INDUSTRY TITANS GATHERING FOR INDUSTRY PANELS, BREAKFASTS, AND MORE. WILL BE SPEAKING WITH THOSE INVESTORS AND EXECUTIVES TO DISCUSS THE TECH ECOSYSTEM IN NEW YORK CITY AND WHY THEY CHOOSE TO CALL IT HOME. WE ARE JOINED BY DAVID HABER AND JULIE YU WHO LEADS INVESTMENTS IN COMPANIES THAT ARE TRANSFORMING HOW WE ACCESS PAY AND EXPERIENCE HEALTH CARE, A LOT OF WHICH IS EPICENTER IN NEW YORK.
DAVID, WHAT YOU SEE AT THE MOMENT IN NEW YORK THAT IS MAKING MORE PEOPLE PUT BOOTS ON THE GROUND. YOU HAVE 80 PLUS NEW YORK EMPLOYEES, YOU HAVE NEW OFFICE SPACE, WHY? DAVID: I BELIEVE OPPORTUNITIES ARE BETWEEN FIELDS OF EXPERTISE. IT IS A METAPHOR FOR NEW YORK CITY. TECHNOLOGY HAS A TENDENCY OF CUTTING ACROSS INDUSTRIES IN THE COMPANIES THAT REPRESENT NEW YORK BEST ARE THOSE THAT LIVE AT THE INTERSECTION BETWEEN TECHNOLOGY AND MANY OF THE LARGE INDUSTRIES THAT EXIST IN EUROPE, WHETHER THAT IS MEDIA, ADVERTISING, FASHION, OR FINANCIAL SERVICES. CAROLINE: FOR HEALTH CARE. JULIE, THAT IS THE AREA YOU FOCUS ON.
WE ARE CURRENTLY SEEING A CHART SHOWING THAT THE THIRD QUARTER IS HOW MANY PER METRO AREA WE HAVE SEEN WITH THE SHARE OF DEALS. HOW MUCH OF THAT IS HEALTH CARE AND HOW MUCH SHOULD IT BE? JULIE: HEALTH CARE, WHEN I STARTED INVESTING IN THE FIRM FOUR YEARS AGO I LIKENED IT TO THE 1999 INTERNET ERA. I FEEL WE ARE AT THE BEGINNING OF THE DON OF THIS NEW DIGITAL HEALTH ERA. TO DAVID'S POINT A LITTLE KNOWN FACT ABOUT THE NEW YORK TECH SCENE IS WHERE MOST PEOPLE THINK ABOUT FINTECH AS THE BIGGEST COHORT OF STARTUPS AND VENTURE CAPITAL ACTIVITY IT TURNS OUT DEPENDING ON WHAT CHART YOU LOOK AT HEALTH TECH IS ALSO NUMBER ONE OR NUMBER TWO WITHIN THE NEWER TECH SCENE AS WELL BECAUSE OF THE INCUMBENCY IN THE SAME WAY WE HAVE FINANCIAL SERVICES, BANK COMPANIES AND SUCH IN THE NEW YORK SCENE. WE ALSO HAVE TREMENDOUSLY HUGE HEALTH CARE COMPANIES, WHETHER THEY BE INSURANCE, WHETHER THEY BE HOSPITAL SYSTEMS, ALSO BASED ON THAT SYSTEM -- ON THAT CITY. IT CREATES A UNIQUE ECOSYSTEM IN THAT DOMAIN.
ED: LET'S SHOW THAT CHART AGAIN. SAN FRANCISCO OR SILICON VALLEY HAS LED IN DEAL COUNT. IF YOU EXTRAPOLATE THE BACK THE GAP IN TERMS OF DEAL PARENTS, THE GAP IS CLOSING BETWEEN NEW YORK AND SAN FRANCISCO. JULIE: HEALTH CARE IN PARTICULAR HAS SEEN A RISE. ONE OF THE THESES WE HAVE ABOUT WHY THAT IS THE CASE IS WE HAVE THE CONCEPT OF A DIGITAL HEALTH CO-FOUNDER WHO HAS GROWN UP IN DIGITAL HEALTH COMPANIES WHO ARE STARTING THEIR OWN BUSINESSES AND SEATING THE NEXT GENERATION OF ENTREPRENEURS. MOST OF THOSE COMPANIES HAVE BEEN BASED IN NEW YORK. COMPANIES LIKE OSCAR HEALTH,
WHICH IS A PUBLICLY TRADED BUSINESS THAT HAS BOUGHT A NUMBER OF ENTREPRENEURS THAT WE HAVE BACKED THAT HAVE GROWN UP IN THE COMPANY THAT SITS AT THE INTERSECTION OF HEALTH CARE, TECHNOLOGY, AND FINANCIAL SERVICES, AND CAN TAKE THOSE SKILLS INTO THE NEXT WAVE OF COMPANIES BEING BUILT. ED: THE STORY IN SAN FRANCISCO IS WELL TOLD. YOU HAVE THE STANFORD COMPUTER SCIENCE DROPOUT AND THEY START THE COMPANY HERE BECAUSE THE FUNDING IS HERE AND THE LIKE-MINDED PEOPLE WERE HERE AND IN SOME SENSE THAT IS STILL TRUE. WHAT IS THE EQUIVALENT STORY IN NEW YORK? DAVID: AS I SAID, I THINK NEW YORK IS SUCH A UNIQUE ECOSYSTEM. I FIRST MOVED TO NEW YORK CITY IN 2009 IN THE WAKE OF THE FINANCIAL CRISIS. AT THE TIME TECHNOLOGY WAS ACUTE UNDERDOG INDUSTRY IN THE SHADOW OF MANY INDUSTRIES IN NEW YORK, MEDIA, ADVERTISING, FASHION, FINANCIAL SERVICES.
THE COMPANY'S INDICATIVE OF THIS ECOSYSTEM ARE THOSE THAT INTERSECT WITH THE INDUSTRIES. I AM QUITE BIASED BUT FINTECH IS A HUGE PRESENCE IN NEW YORK. IT IS A GREAT PLACE TO BECOME A BRIDGE BETWEEN THE STARTUP ECOSYSTEM AND A LOT OF THE DECISION-MAKERS IN THESE OTHER COMPANIES. CAROLINE: A REASON YOU'RE BIASED IS BECAUSE YOU ARE A FOUNDER. BOND STREAM WAS BOUGHT BY GOLDMAN.
WHAT IS THE FINANCING FOR ENTREPRENEURS WHO WANT TO BUILD THINGS AND BE ENSURING THEY ARE BRINGING THINGS TOGETHER. ARE YOU WRITING CHECKS? DAVID: ABSOLUTELY. I JOINED HOROWITZ IN JULY 2021 TO HELP PLANT THE FLAG NEW YORK CITY. TODAY WE ARE OVER 80 PEOPLE IN NEW YORK WHICH MAKES US ONE OF THE LARGEST VENTURE CAPITAL FIRM STOP WE ARE EXCITED TO BE WRITING CHECKS INTO THE ENTREPRENEURS OF THIS ECOSYSTEMS. WE SEE A LOT OF OTHER LARGE FIRMS OPENING UP OFFICES IN NEW YORK IN THE LAST SIX MONTHS. THERE IS PLENTY OF CAPITAL AVAILABLE FOR ENTREPRENEURS. ED:
JULIE, YOU HAVE AN ACADEMIC BACKGROUND AT M.I.T. BOTH AS AN UNDERGRAD AND HARVARD M.I.T.. HOW CLOSELY IS AN EXPANDED GROUP OF PARTNERS IN NEW YORK CITY IN THE EAST COAST DO YOU TRACK THE ACADEMIC BASES THAT TALENT CAN COME FROM. THERE IS A LOT OF EMPHASIS ON STANFORD AND BERKELEY. IS THERE THE SAME POOL OF
TALENT BEING GENERATIONALLY CREATED EACH YEAR ON THE EAST COAST? JULIE: ABSOLUTELY. ABOUT HALF OF OUR PORTFOLIO IS BASED SOMEWHERE ON THE EAST COAST, WHETHER IN THE BOSTON ECOSYSTEM, AND THEN THE MAJORITY OF MY PERSONAL PORTFOLIO IS BASED IN NEW YORK. COMPANIES SIT IN THE INTERSECTION OF HEALTH CARE IN FINTECH. THE OTHER PIECE OF THIS IS DAVID HAS MENTIONED HE IS A RECOVERING FINTECH ENTREPRENEUR. I'M A RECOVERING HEALTH TECH
ENTREPRENEUR. WE HAVE ALL BEEN BUILDERS IN THESE DOMAINS AND THAT IS WHERE MORE WE FOCUS WHERE THE POOLS OF TALENT THAT HAVE BUILT BUSINESSES NATIVE TO DIFFERENT INDUSTRIES THAT CAN COME TOGETHER AND SEE THESE UNIQUE OPPORTUNITIES AT THOSE INTERSECTIONS. CAROLINE: YOU ARE THE EARLY MEMBER OF A SOFTWARE ENGINEERING TEAM ACQUIRED BY ORACLE SO YOU KNOW HOW THE EXIT ROUTE TENDS TO LOOK. I'M INTERESTED AS TO WHETHER OR NOT, IS THERE MORE DIVERSITY IN TERMS OF THE FOUNDERS YOU SEE IN NEW YORK. THERE IS ALWAYS BEEN THIS
CONCERN THAT WHEN WE ARE SEEING IT FROM THE SAME POOL OF M.I.T. AND HARVARD AS YOU SIT IN FRONT OF US. THERE HAS BEEN WITHIN THAT ECOSYSTEM, NOT ALWAYS AS MUCH DIVERSITY AS YOU WOULD LIKE TO SEE IN TERMS OF PEOPLE OF COLOR, WOMEN, HOW IS THAT LOOK IN NEW YORK? JULIE: I THINK NEW YORK HAS ALWAYS BEEN A HUGE EXEMPLARY, DIVERSE PEOPLE IN MANY WAYS, WHETHER IT BE CULTURALLY OR BASED ON BACKGROUNDS. IN TERMS OF THE ACTUAL EXPERIENCE SET THAT FOUNDERS ARE ABLE TO BRING TO THE NEXT WAVE OF STARTUPS. ED: HOW MANY HACKATHON'S ARE YOU GOING TO? WHAT IS IT LIKE ON THE EAST COAST? DAVID: WE ARE INCREDIBLY EXCITED TO BE HERE.
HOSTING THESE TECH WEEKS IN NEW YORK -- IN CITIES LIKE LOS ANGELES. NEW YORK TECH WEEK STANDS TO BE OUR LARGEST EVER. WE HAVE EVENTS HOSTED BY FOLKS ACROSS THE TECH SYSTEM WHICH SPEAKS TO HOW DYNAMIC THIS ECOSYSTEM HAS BECOME. WE ARE KICKING THINGS OFF WITH AN EVENT TONIGHT WHICH WE ARE EXCITED ABOUT.
JULIE AND I ARE HOSTING AN EVENT AT THE INTERSECTION OF HEALTH CARE AND FINTECH AND EXCITED TO HOST A NUMBER OF ENTREPRENEURS AT THAT INTERSECTION. CAROLINE: LOVE IT. THANK YOU. YOUR SOCIAL ENDEAVORS PICK UP. WHAT ELSE DO WE HAVE COMING UP? ED: DIGESTING RECOVERING FINTECH ENTREPRENEUR, RECOVERING HEALTH TECH FOUNDER.
TARGETED ADVERTISING ON YOUR SOCIAL MEDIA FEED AND HOW IT IS NOT LIKELY TO CHANGE ANYTIME SOON. THIS IS BLOOMBERG TECHNOLOGY. ED: WE WANT TO DO IT -- CAROLINE: WE WANT TO DO A DEEP DIVE ON THE ECONOMICS OF ZERO AT SERVICES. TARGETED ADVERTISING REVOLUTIONIZE THE MEDIA BUSINESS AND MADE META ONE OF THE MOST VALUABLE COMPANIES IN THE WORLD. OUR VERY OWN RIGHTS IN BLOOMBERG BUSINESSWEEK ABOUT THE PROS AND THE CONS. WHY HAVE -- WHY WILL THERE VERY SUCH A PUSH AGAINST THIS UNLESS THEY ARE REGULATED THAT WAY? >> THE BIG REASON THIS MODEL IS POPULAR IS IT IS LUCRATIVE.
FACEBOOK AND META HAS BUILT A LARGE BUSINESS THAT GENERATES MORE THAN $100 BILLION A YEAR. IT HAS A LOT OF POWER OVER RETAILERS. IT HAS AMASSED THIS HUGE DATABASE OF PERSONAL INFORMATION ABOUT PEOPLE THAT IT CAN THEN RENT TO THIRD PARTIES. WE HAVE REGULATORS PUSHING BACK AGAINST ASPECTS OF THAT MODEL.
IF YOU DO NOT LIKE IT YOU CAN PAY IT ABOVE EXPECTATIONS. YOU WILL SEE NO ADS AT ALL. VERY FEW PEOPLE YOU'RE ACTUALLY WILLING TO PAY FOR. IT COSTS MORE THAN A LOT OF NEWSPAPERS. DISNEY PLUS AND NETFLIX. IT IS ALSO A LOT OF MONEY -- CAROLINE: IT IS ALSO A LOT OF MONEY FOR PEOPLE WHO DID NOT MAKE AS MUCH MONEY AS OTHERS. SOMEONE WHO HAS MORE MONEY TO
SPEND IS ABLE TO PAY FOR MORE PRIVACY AND THAT DOES NOT SEEM FAIR. >> THIS THAT ARGUMENT MARK ZUCKERBERG HAS USED AN ARGUMENT AGAINST THIS, SAYING IT WOULD BE UNEQUAL TO BUY THEIR WAY OUT OF ADS. IT IS A BIG PRIVACY REGULATION. FACEBOOK HAS BEEN FIGHTING EVER SINCE OVER HOW IT APPLIES THE COMPANY. THIS IS THEIR LATEST GAMBIT TO MAKE THE REGULATORS HAPPY. IT IS YET TO BE SEEN WHETHER THE REGULATORS WILL SIGN OFF ON THE PLAN THOUGH IT IS LOOKING POSSIBLE IF NOT LIKELY.
ED: LET'S LOOK AT THE PROPOSED SUBSCRIPTION COST, FACEBOOK AND INSTAGRAM VERSUS EVERYTHING ELSE. I PAY FOR X PREMIUM AND I DID THAT BECAUSE I WANT TO EXPERIENCE THOSE ADDITIONAL FEATURES. BEYOND PRICE, THIS CHART ILLUSTRATES CHOICE. AT SOME POINT HE WILL SAY THIS IS A PLATFORM THAT I DO NOT NEED TO HAVE. MAX: YES, ALTHOUGH YOU WILL NOT HAVE TO MAKE THE CHOICE. THE POINT IS YOU WILL BE ALLOWED TO CONTINUE LOOKING AT YOUR PERSONALIZED ADS AND THAT IS THE BACK FROM MARK ZUCKERBERG STANDPOINT.
MOST PEOPLE WILL LOOK AT $20 AND SAY I DO NOT WANT TO PAY FOR THAT. THEY WILL STAY IN THE PERSONALIZED ADVERTISING SCHEME WHICH GENERATES A TON OF MONEY. THE AVERAGE REVENUE PER USER IN THE UNITED STATES IS MORE THAN $200 A YEAR. THEY ARE TOTALLY HAPPY TO HAVE YOU CONTINUE TO EXPERIENCE THIS FREE SOCIAL NETWORK AND FOR THEM TO HAVE A NEAR MONOPOLY OR A DUOPOLY ON SOCIAL ADS ON THE INTERNET. ED: THE BUZZ WORD INTACT ACROSS SOCIAL MEDIA AND COMMERCE IS PERSONALIZATION.
META'S WHOLE THING HAS BEEN TAKING DATA TO MAKE SURE WHAT YOU LOOK AT IS RELEVANT TO YOU. HOW DOES A PREMIUM SUBSCRIPTION MODEL IMPACT THAT. MAX: IF YOU HAVE NO ADS WHATSOEVER IT WILL BE FINE. YOU WILL STILL SEE THE PERSONALIZED FEED. YOU WILL NO LONGER SEE PERSONALIZED ADS, WHICH IF YOU ARE TALKING TO THEIR AD SALES PEOPLE THAT WOULD BE A HUGE PROBLEM.
FOR MOST PEOPLE IT IS NO BIG DEAL. THE THING THEY ARE AGAINST IS SOME RULE THAT WOULD PREVENT THEM OR A LOT OF PEOPLE TO OPT OUT OF PERSONALIZATION OR MAKE IT EASY TO OPT OUT OF PERSONALIZATION. THEN THEY WOULD HAVE TO SERVE YOU ADS BASED ON YOUR LOCATION. ESSENTIALLY USE CONTEXT LIKE THE WAY GOOGLE DOES TO SERVE YOU ADS RATHER THAN SERVING ADS BASED ON THINGS IT KNOWS ABOUT YOU, WHICH FROM THEIR POINT OF VIEW WOULD BE BAD AND LESS LUCRATIVE. CAROLINE: ULTIMATELY YOU CAN PAY FOR A BLUE TICK SUBSCRIPTION, TO BE SOME WAY ANOINTED, SOMEONE THAT SHOULD BE LISTENED TO ON FACEBOOK AND META IN A WAY TWITTER DOES A LITTLE BIT BUT I THINK YOU HAVE TO TICK SOME BOXES.
MAX: THIS IS SOMETHING NOT JUST META IS PLAYING WITH. TIKTOK IS TESTING PAID EXPERIENCE. SNAPCHAT HAS NO ADS EXPERIENCE. TWITTER OR X AS THIS MUCH VAUNTED BLUE CHECK SYSTEM.
CAROLINE: AND MIGHT GO TO THREE. MAX: EXACTLY. THEY ARE SAYING THERE WILL BE A HIGHER TIER. THE CURRENT SUBSCRIPTION COST BETWEEN EIGHT DOLLARS AND $11, MAY THE NEW ONE WILL COST WHEN HE DOLLARS FOR NO ADS. WE SHOULD SAY NUMBING OF THE -- WE SHOULD SAY NONE OF THESE HAVE DONE VERY WELL. ELON MUSK HAS PROMOTED THIS
SUBSCRIPTION THING. WE ARE TALKING ABOUT A TINY PERCENTAGE OF TWITTER IN A REVENUE STREAM THAT IN NO WAY REPLACES THE KIND OF REVENUE THEY WERE ABLE TO ACHIEVE FROM ADVERTISING. THE PROBLEM IS THAT PEOPLE DO NOT WANT AD FREE EXPERIENCES OR PREMIUM SOCIAL NETWORK EXPERIENCES, IT IS THAT ONLINE ADVERTISING IS A MUCH BETTER BUSINESS THAN THAT. A BUSINESS MODEL WILL BE GIVING UP HUGE SUMS OF REVENUE WHICH IS SOMETHING ELON MUSK CAN DO BUT IT WILL BE A LOT HARDER FOR MOST PUBLIC COMPANIES TO PULL OFF.
ED: BLOOMBERG BUSINESSWEEK COLUMNIST WITH THE BREAKDOWN. COMING UP, IPHONE 15 SALES IN CHINA MAY BE WORSE THAN EXPECTED AS APPLE RECKONS WITH CHINA STRUGGLING ECONOMY AND STIFF COMPETITION FROM HUAWEI. APPLE ONE OF 10 NAMES DOWN IN THIS MONDAY SESSION. THIS IS BLOOMBERG TECHNOLOGY. ♪ ED: APPLE'S IPHONE 15 MAY NOT BE AS HOT A COMMODITY ON THE SMARTPHONE MARKET.
DATA FROM CHINA ESTIMATES SALES ARE DOWN 5% COMPARED TO THE IPHONE 14 AFTER THE FIRST 17 DAYS POST-RELEASE. THE DATA DOES LUMP ALL OF THOSE MODELS TOGETHER IN AGGREGATE. JOINING US IS BLOOMBERG'S MARK GURMAN, CHIEF CORRESPONDENT. IT IS AN INTERESTING DATA POINT BECAUSE IT IS COUNTER TO THE COMMENTARY THAT APPLE GAVE US AN EARNINGS FOR THE END OF THE JUNE QUARTER. IPHONE WOULD ACCELERATE.
WE THOUGHT THE IPHONE 15 WOULD BE A HIT. WHAT HAVE WE LEARNED? MARK: THESE ARE DATA POINTS POINTING TOWARDS THE IPHONE GOING DOWN DOUBLE DIGITS IN TERMS OF SALES IN MAINLAND CHINA. JUNE QUARTER WAS VERY STRONG FOR APPLE AND CHINA, ONE OF THE STRONGEST IN THE COMPANY'S HISTORY. THERE BEEN A FEW THINGS THAT
HAPPENED. THERE WAS DISCUSSION OF GOVERNMENT AGENCIES BANNING THE USE OR EXPANDING THE BIDDING OF USE OF IPHONES. THERE WERE CONCERNS AROUND NATIONALISM AND CONSUMERS IN CHINA SOURING ON THE IPHONE. WE SAW WHEN THE NEW IPHONE 15'S WENT ON SALE THERE WAS A TREMENDOUS AMOUNT OF EARLY DEMAND. THERE WERE CREDIBLE LINES FOR THE IPHONE 15 IN CHINA. THESE ARE TWO DATA POINTS. WE ARE NOT SURE WHAT IS GOING
ON WITH THE IPHONE, NOT EVEN THIS EARNING CYCLE. WE WILL NOT GET A FULL PICTURE OF HOW THE IPHONE IS DOING IN CHINA UNTIL THE END OF JANUARY WHEN THEIR REPORT Q1 SALES. THE FOURTH QUARTER ONLY HAD ABOUT A WEEK AND A HALF OF IPHONE SALES. WE HAVE TO TAKE ALL OF THESE DATA POINTS INTO CONSIDERATION AND WAIT A FEW MONTHS TO KNOW THE REAL STORY. I AM TENDING TO BELIEVE THERE IS SOME DECLINE ON THE IPHONE IN CHINA.
THE GOOD NEWS IS YOU ARE SEEING A TREMENDOUS INCREASE FOR IPHONE MOMENTUM IN THE UNITED STATES AND ELSEWHERE. YOU'LL PROBABLY GET AN OFFSET FROM GOING DOWN IN ONE COUNTRY AND UP IN ANOTHER. CAROLINE: TALK TO US ABOUT THE U.S. AND THE EXECUTIVE TEAM THEY HAVE BASED HERE. YOU WROTE THAT AMID THESE PUSHES AND PULLS GLOBALLY THERE UP IN MORE ELEVATED TITLES IN VP LAND. MARK: THAT'S RIGHT. APPLE IS RUN BY TIM COOK AND WHAT IS UNDER HIM AS THE EXECUTIVE TEAM, ABOUT 11 SENIOR VICE PRESIDENTS, THAT IS YOUR HEAD OF HARDWARE, HEAD OF SOFTWARE.
BELOW ALL OF THOSE PEOPLE IS A GROUP CALLED THE TOP 100. THAT IS THERE VICE PRESIDENTS. THE TOP 100 INCLUDES ALL OF THOSE PEOPLE. THEY DO PROMOTIONS EVERY
OCTOBER. THEY LOST ABOUT A DOZEN VICE PRESIDENTS OVER THE LAST TWO YEARS AND THEY ARE REFUELING THOSE RANKS. THREE WOMEN HAVE BEEN ELEVATED TO THE VICE PRESIDENT LEVEL IN THE RETAIL ORGANIZATION WHICH IS SIGNIFICANT FOR THE COMPANY IN TERMS OF THE DIVERSITY EFFORTS AND PUTTING NEW LIEUTENANTS UNDER THE HEAD OF RETAIL. THEY ARE NEW VICE PRESIDENT IN
PRODUCT OPERATIONS AND PRODUCT MANUFACTURING AND A FEW NEW VICE PRESIDENTS IN SOFTWARE ENGINEERING. PRETTY SIGNIFICANT ELEVATIONS ACROSS THE BOARD OF THE COMPANY CREATING THIS NEW GENERATION OF TOP EXECUTIVES AT THE FIRM. CAROLINE: MARK GURMAN, ALWAYS WITH THE BEST BREAKDOWN. MEANWHILE THAT DOES IT FOR THIS EDITION OF BLOOMBERG TECHNOLOGY. ED: A BIG THANK YOU TO THOSE OF YOU
2023-10-23 20:01
Show Video
Other news