Apple's iPhone 14 Event "Surprised" Me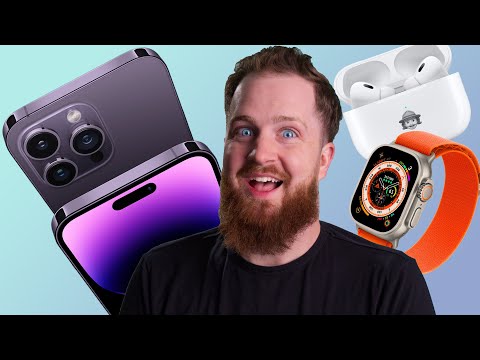 Show Video
Apple just finished its keynote and the pacing was bizarre. Some sections wasted too much time talking about nothing advertising old features and others barreled through cool new stuff way too quickly I'll share the what you need to know in addition to my thoughts and concerns surrounding the new Apple Watch models, AirPods Pro, and iPhones 14. Let's get it.
Starting with the Apple Watch Series 8. It looks exactly the same as the Apple Watch Series 7 because, well, it almost is. The changes are as follows: a new temperature sensor, crash detection, and compass backtrack.
That's it. From the top, the temperature sensor was mostly pitched for women. While it theoretically could be used to identify pre-symptomatic illness, it is almost exclusively being advertised as an improvement to the cycle tracking app. Part of the reason I suspect may be due to the fact that the back of your wrist is a famously bad location to measure temperature. That said, in addition to rudimentary period tracking, the temperature sensor will contribute to identifying irregular or prolonged periods as well as retrospective ovulation speculation due to changes in body temperature.
Of course, the Watch doesn't tell you about real-time ovulation, but knowing prior ovulation windows can help contribute to better family planning in the future which is actually pretty awesome. Apple also spent a considerable amount of time highlighting that all health data is end-to-end encrypted and the end user is the only one with keys which is a nice thing to hear after the barrage of deleted cycle tracking apps consequent to the Supreme Court's retraction of Rowe a couple months ago. The watch now also detects multiple types of car collisions based on telemetry data and barometric pressure changes which is pretty neat. Once the watch recognizes a crash, it will call EMS within 10 seconds, indicate GPS location to emergency services, and notify your emergency contacts.
I do feel bad for all of the Apple engineers that had to subject themselves to thousands of crashes to gather this data but it'll certainly help save lives. With that said, I'm finding the annual "Apple Watch saved my life" videos increasingly tasteless—there's almost the implication that if you don't have an Apple Watch, you're going to die. It's especially annoying considering most of the Watch's safety features like fall detection and even this new crash detection are built right into the iPhone. The last new Watch feature is compass backtrack which was unveiled with the Watch Ultra—we're gonna get to that feature in a minute, but despite not appearing anywhere on the Watch Series 8 product page, it does show itself as a feature on the compare page for all three new Watch models—including the SE. This makes me suspect it might actually be coming as a point update retroactively to all watches running watchOS 9. The reason I suspect this is because it's purely software dependent—old watches could do this.
And given that many of the new features advertised for Watch Series 8—like sleep stage tracking are actually a part of watchOS 9 and not exclusive to the new watches, I suspect the new compass app and backtrack may be a part of this. We'll find out soon, I guess. Speaking of the Watch SE, it has FINALLY been updated, but… not with much. Beyond some new colors, there's precisely one change: the processor. It has moved from the ancient S5 chip to the "new" S8 SiP. But nothing else is changed.
It still uses the old, second-generation optical heart sensor, it doesn't have the new temperature sensor nor the old ECG or blood ox sensors, it has the same 1,000 nit display with the same 'ol bezels, it doesn't support fast charging, et alia. If you ask me, this isn't a good buy anymore. It's now lacking 4 of the health sensors found in its $150 more expensive sibling with an even more aged-out design. At least the abomination that the Series 3 is now finally dead. That brings us to the big daddy—and boy do I mean big—the Watch Ultra.
I'm glad they did not choose to name this the Watch Pro as rumored because that is a stupid name. Accompanied by one of the most gorgeous product videos of all time, the Watch Ultra is targeted specifically at Garmin buyers—people that need a long-lasting, rugged smartwatches and the device brings with it a lot of new features to boot. But first, we gotta talk about its design. Ultra is actually quite a fitting name because its design is ultra outlandish. It's 49mm. Now if you're not a watch person, and the wrist shots from people at the event don't make you think "holy friggin' crap that thing is gigantic" lemme give you a real world example.
This is a Rolex Submariner 116610—it's the biggest watch I own or would own—and I'm a 210 lbs man that's 6 foot 4. I ain't small. The Sub is 40mm across. Measuring lug to lug, it's barely 50mm.
Now, you're thinking, well the size of the Apple Watch Ultra—and you're right, but almost all dive watches taper their lugs to give a perceivably less monolithic face. The Ultra doesn't this—especially with its flat sapphire display glass—and it will look enormous on basically everyone's wrist. Now, that's the a style choice which is perfectly fine; however, I do find it a bit funny that Apple is pushing this monster watch at a time when the watch and fashion world has decided big watches are out and smaller watches are back. That aside, it's clear this isn't pitched at the runway model—it's for the rugged adventurer.
The Ultra comes dressed in a silver titanium case with flat sapphire display glass that while significantly harder and more scratch resistant will likely be less shatter-proof. It's for this reason I suspect it's protected from side impact by the titanium case. The larger, deeper digital crown gets a glow up with more aggressive knurling (akin to a traditional sports watch) and is found surrounded by a crown guard with the side button poking out more for greater ease of use while wearing gloves. On the other side, there's a new, orange button dubbed, "Action Button" a new film staring Jason Statham. Its customizable and can be used to control a workout, mark waypoints, begin dives, and more. There sure are loads of holes on this watch and that's for the dual loudspeakers—the first in an Apple Watch, a three microphone array, a water depth pressure gauge for diving (we'll talk about that in a minute), and a siren which emits an 86-decibel panic sound to attract help that can allegedly be heard up to 600 feet away.
Underneath the display sapphire, you'll find the brightest Apple Watch display yet—at an eye-wateringly bright 2,000 nits which would make outdoor visibility superb. The new Ultra-exclusive Wayfinder face allows you to rotate the crown for a low-luminance, eye-friendly red night mode which is pretty awesome. On the inside, you find the same sensors as the Series 8 with a much larger battery that lasts up to 36 hours on normal use, dual-band GPS for more accurate readings in dense metro areas where GPS tends to struggle (helpful for Strava boiiiis).
Speaking of running, there's a couple really nice additions to the fitness app that I can't help but think are Ultra-specific just because: like measuring your stride length, ground contact time, and vertical oscillation in addition to automatic track detection and heart rate zones (which is friggin' awesome and I wish was available on the Series 8). The compass backtrack I mentioned earlier allows you to return to where you came (or find your way back to your original route) by using compass and GPS data. This is one of those things that sounds super amazing in the keynote, but is actually just a cute gimmick because anyone that's actually going off-grid is using something like Gaia GPS and has cached, high-res offline maps that offers waypoint and navigation functionality.
What may not be gimmicky is dive computer functionality. Apple partnered with Huish Outdoors—a Utah company headquartered just a few minutes from our office that owns several well-known diving sub-brands—a few of which specialize in dive computers like Suunto and Oceanic. The Watch Ultra will let you use the crown to access different dive screens instead of face buttons which is the norm.
Safety warnings are incorporated as with any dive computer, and a dive planner promises to give information concerning weather and tidal conditions, etc. I asked my buddy who's a big diver and he's skeptical of the software (as is my Twitter follower Logan Brown) concerning Oceanic's diving algorithms, but he thinks the hardware is awesome and probably up to the task. Divers are the most pedantic people ever, so trust me when I say that's huge praise.
Talking price, Apple kinda surprised everyone when they said $799 as the rumor had previously indicated $999. Now make no mistake, that's a buttload of money, but when considering the feature set and the competition, it's frankly… a good deal. Extreme sport watches from Garmin, Polar, Suunto, and others start around $700 and can go up to $1,500.
Dive watches with the same feature set as the Watch Ultra start at around $500 and go up to $1,000. To have both for $800 on top of it being the best general-purpose smartwatch is pretty awesome. Furthermore, the case is titanium. Need we forget the previous Series 7 Edition watch with Titanium and Sapphire was $50 more than the Ultra.
So it's pretty cool—if you can get past it looking like an ugly Invicta from your cousin's 2013 Instagram page. AirPods Pro finally got an update and the rumors were… moderately accurate. The case was exactly as rumored—it has a speaker for find-my functionality and it sports a lanyard loop. It inherits the MagSafe compatibility of the AirPods 3 and also interestingly supports charging over an Apple Watch connector. A nice feature for owners of the very affordable Duo Charger.
As for the actual AirPods, the rumors were less spot-on. A couple weeks ago, I said the reporting about the headphones moving to a new, proprietary audio codec over something other than Bluetooth for lossless audio transmission was stupid and not gonna happen and Apple vindicated me. It didn't. And they updated the things I actually said needed updating—the drivers and the amplifiers. I'm really excited to see how they sound compared to their predecessor and you better believe we'll have a review on them when they release.
Transparency and noise cancelling mode are reportedly improved, and more included silicon tips will help people get a better seal. Remember that seal test from when they released that news reports hailed as peak innovation and I said was kinda useless? Ya, well, Apple stepped up their game and now allows you to create a custom spatial audio profile using your iPhone's face ID true-depth camera system to measure the geometry of your ear. Pretty cool. An Adaptive EQ now uses microphones to adjust the frequency response based on how the ear-tips are actually positioned inside your ear canal. Last, you can now use the force sensor to swipe up and down for volume control—something I've been dying for AirPods to inherit since day one. Very nice.
The regular AirPods also got an update, but not in the way you think. Now you can save $10 and buy them without wireless charging. Why? Idk, but OK pal. Let's get to the iPhone.
This is Apple's best iPhone yet and they think we're going to love it. Rumors for the iPhone 14 were spot on. It comes in 2 sizes—the 14 and 14 Plus. Can I just say, bringing the Plus name back was awesome and I love it and it's way less confusing than 14 Max and 14 Pro Max would have been? The changes here are few… the display and SoC are identical.
1200 nits peak brightness and A15 Bionic respectively. There's a new 12MP main shooter which is not actually new, but inherited from last year's iPhone 13 Pro; however, there is a brand-new selfie camera. It is more sensitive, has a larger f/1.9 aperture, and has autofocus for the first time in any
iPhone front-facing camera. There's also a new "action mode" for video which is pretty neat—infinitely more useful than last year's cinematic mode if you ask me. It takes your 4K image and crops into a 2.8K frame that can move around for software image stabilization that emulates a gimbal. Apple is not remotely the first camera maker to do this—GoPro calls it HyperSmooth, DJI calls it RockSteady, but it's all the same principle. It'll be awesome and used for action sports out the wazoo.
Beyond that, there's really only two things left: the SIM tray is gone—iPhone is eSIM only. When eSIM works well, it works great. For example, you can download the T-Mobile app from the App Store in the U.S. and load up a free-trial, temporary eSIM in minutes. On the other hand, the last time I needed to set up eSIM for AT&T, I had to go into an AT&T store and get a single-use QR code. It was horrible.
Many parts of the world have an experience more aligned with the latter than the former. This is going to be a baptism by fire moment where it'll certainly force carriers make eSIM convenient, but at the expense of this release cycle being... not that.
Last up: space. The iPhone 14 finally gets satellite connectivity as rumored the last few years. But this ain't no Starlink, OK? This is old-school satellite connectivity enabled by the new Qualcomm modem Apple is using. First up: no data or telephone calls—you can only send messages. Second, this is not to text, idk your bff Jill while you're in the Sahara desert: you can only communicate with emergency dispatchers.
You've gotta be outside pointing your phone directly at the satellite while the message attempts to send. Best-case-scenario, this takes 15 seconds. More likely, you'll be stretching it to more than a minute, so you gotta keep that phone pointed in the right spot and your accelerometer will help you align your phone with the cosmos. This really gives a new meaning to the "you're holding it wrong" iPhone 4 meme.
In the event you're in an area that doesn't have emergency messaging infrastructure, trained Apple specialists will help contact emergency services on your behalf. While you can't text your buddies, you will be able to share your remote Find My location with friends via satellite which is neato. Apple says this service will be free for two years with the purchase of an iPhone 14, but you watch. They'll never charge individual customers for this because it makes no sense—especially when it's a lifesaving feature.
They'll either never announce pricing, or, at worst, include satellite functionality as a part of Apple One. Come on, let's take our iPhones to our remote private islands. I mean, dynamic islands. iPhone 14 Pro, baby! And I'm not just buying it for the Deep Purple, I promise.
If you asked me what my favorite goofy Apple marketing term was last week, I'd have said "surgical-grade stainless steel," It has been a favorite for years, but it has been officially replaced by "dynamic island." Ya know how the rumors pointed to there being an ugly 'i' and then they pivoted at the last minute to it being a 'pill?' And I said that the 'i' was almost never certainly a consideration? Yeah, well, I was right. And not only is there a pill, but a dynamic one. Apple has obviously, but cleverly created utility in the dead-space by moving notifications, alerts, and mini apps all into one interactive spot.
You can control your music, view timers, see call alerts, and more. In classic Apple fashion, it expands fluidly with smooth animations, has playful bounces and elasticity, etc. 3rd party developers will be able to tap into the dynamic island at a later date as part of the Live Activities API introduced with iOS 16.
It's not groundbreaking, but I think it's a smart use of a necessary deficiency. As rumored, the always-on display makes its debut with a 10Hz LTPO display. You'll see your lock-screen widgets coming with iOS 16, the clock, and a dimmed version of your dynamic wallpaper which is a great way to keep the always-on display unique. Unsurprisingly, but intelligently, the display is only on when it's face up. When it's in your pocket or face-down it goes dim to save energy. The display also gets brighter this year.
Last year's peak HDR luminance jumps from 1200 nits to 1600 nits and outdoors, the display will push up to 2,000 nits with is super awesome. Theoretically. My issue with the iPhone has never been its outdoor peak brightness—it's the sustained brightness.
Once the phones get the least bit hot with just a few minutes in the sun they run the display at eye-squintingly low luminance levels. It's annoying. I hate it.
I've hated it for years. And hopefully this new display minimizes or gets rid of that altogether. Like the iPhone 14, it gets crash detection and satellite messaging, but it also gets an entirely new camera system—and one that looks mighty good. As rumored, we get a quad-bayer 48MP sensor on our main shooter that will prioritize light by pixel binning 4 smaller pixels into a more accurate, sensitive, information-dense 12MP photo. The camera will choose to shoot at 48MP in only a few lighting conditions but if you shoot in ProRAW you can manually choose to shoot at full resolution.
The focal length equivalent is actually slightly wider than the iPhone 13 Pro's 26mm at 24mm. Benjamin did some web scavenging and we're pretty confident it's an unlisted Sony IMX sensor that if not the same as the one used in the DJI mini 3 is veryyyyyy close. It's a 1/1.3" sensor with a 2.44 micron pixel pitch. We also estimate it to have a dual native ISO at ISO 100 and 800.
This may well be the reason that Apple quotes night mode photos to be 2x faster than the prior generation. It's also possible to combine both the high and low analog gain circuits for HDR photos, but we kinda doubt Apple is doing this. There's a new 2x telephoto mode which is created by cropping in the middle 12 megapixels. In theory, it's a cool idea, but in practice, we're betting this comes out as the worst-looking focal length at any exposure other than the sunniest of days. Still, it's cool to have.
The ultra wide camera also gets a big jump up in quality for the first time in a couple years. Apple says there will be a 3x low-light improvement and it'll be a lot better for macro photography. The telephoto lens stays the same, but Apple's marketing documentation suggests improved low-light photos due to their new "photonic low-light engine."
We'll see once the phones ship next week. The phone of course inherits the new front-facing camera of the standard iPhone 14 as well. The new A16 should be fairly similar to the A15 in performance. The efficiency cores appear to be mostly unchanged with the performance cores being those that get the bump.
Despite the transistor count boost, most of the improvements with the A16 are expected to come in the memory bandwidth department. Rather than break-neck speeds, we're likely to see the headlining improvement on the A16 being efficiency. Unlike the A15, the new SoC is built on the first 4nm process.
In theory, this should help the phone's already excellent battery life; and it does. Marginally. Apple quotes an extra hour of usage over the 13 Pro. There would probably be greater gains without an always on display, but you win some and you lose some.
Unless we're talking about my wallet—that only lost today. Be sure to get subscribed and enable notifications with the bell. We'll be reviewing the new Watch Ultra, AirPods Pro, and of course, the new iPhone 14 Pro.
2022-09-13 19:39
Show Video
Other news