Бюджетные авто в КИТАЕ: Chery, Geely, Haval. Цены и новинки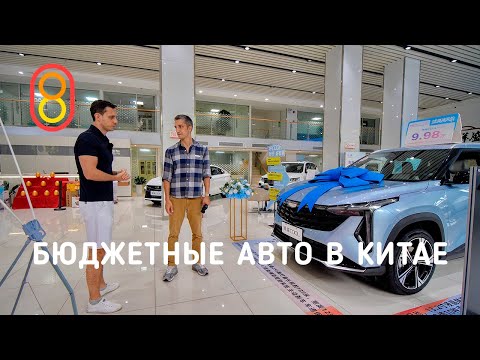 Show Video
- Welcome? Folks, nihao, as they say here. Welcome to the beautiful city of Shenzhen. A while back, we told you about expensive Chinese cars. Oh, this one is really impressive! But a lot of people wrote some very necessary comments. "Why didn't you show inexpensive cars like Chery, Geely, Haval, EXEED. All that are mostly sold now on the CIS market."
Good comment. Today we will see, or rather try to see such cars. The word try sounds for a reason, because we are next to a fairly simple shopping center in Shenzhen. In every shopping center there are several car dealerships, and in them are just those Premium cars. If we look around, there are practically, not even practically, frankly speaking, no Geely, Chery, Haval, OMODA, EXEED on the roads in Shenzhen.
We've been driving the roads here for two days and we haven't seen a single Geely, Chery, Haval or EXEED. You have to drive far to find places that sell these cars. Dude, the first Chery drove by, there it is. Honestly, to find these car dealerships you have to go far out to the suburbs, and there somewhere, in some garages these cars are sold, no kidding. Let's go take a look. Guys, for those who haven't watched the previous issue, we're going to start with a very short tour of the Chinese Premium Cars.
Volvo, Hi-fi, Avator, ZEEKR, WEY, it's unclear, it's Nissan. Volkswagen, they have their factory here, GAC, ORA, BYD and Lynk & Co. These are cars that are in an ordinary shopping center in China. Look at these spaceships. Guys, speaking of spaceships. A lot of people think that the only way to get to China now is by spaceship. Well, that's certainly not that's not true. We go to the AviaSales airfare buying service and look at least five cities that have direct flights from Moscow.
Xi'an, Shanghai, Beijing, Guangzhou, Shenzhen. $400 and you are in China. And if you book a little in advance, it is even cheaper. AviaSales is definitely recommended. Special link below. Let's go! Once again, guys, this is a quick tour. To give you an idea of what ordinary Chinese people who walk into the mall are focused on.
TANK 300, 190,800 yuan - the minimum price and 215,800 yuan for the higher end. It's a local Cruiser. Another TANK, like this one we have already seen on the roads. THE TANK 500. Here begins something that we have not seen even last time. It's literally been a couple of months since our last visit to China. And these cars weren't here then, but they are here now.
Here's the Premium cabin, six seats, two seats in the back. 2 here, but you could probably get a big sofa and a door like this. It's wood, good acoustics, the footrest comes out. This one's a bit simpler. Two screens, and another one right here. Projection screen right there, panoramic sunroof, whoa, whoa, seat. Look how cool the interior is. Nice car! Very good. The brand name is WEY. What is the price? How much? Look at those nails. All Right, thank you! 231,000 yuan.
Nissan? All of a sudden! The Nissan Ariya. We've hardly seen a Nissan on the roads in Shenzhen and China. What is that? It's a Venucia. Lincoln. Asics sneakers, the company. How much? Okay. 1890?
Wow, for Asics, that's not cheap. Smart electric cars. Smart has long been owned by a Chinese company. 179,000 for a Smart? I'd probably consider a TANK for the same money. Although it does look interesting. But what Smart used to be and what it is now. The interior is interesting, that handle is very uncomfortable,
and the rear couch is pretty big. Okey, electrical. That's cool. There's a huge tablet like that. The tablet's on the right, the sofa's orange, it's huge with a flat floor. Projection screen and some fancy speakers, too. And there's a control panel right there.
How much? Oh, wow. 159,000 yuan for this? You know, it's not like driving a Smart car. Dude, this is the most inexpensive car. 83,000 for this and this interior for 83,000. The funny thing is, here we go, here we go, here we go and Volkswagen starts. Although Volkswagen is selling well in the Chinese market. They have, again, they have their own factory. But against the backdrop of all this, the Volkswagen, even though it's new, electric, it looks a bit, well, mediocre. This ID6 costs 258,000 yuan. Who needs it for 258,000 yuan, you tell me.
The seats are like some kind of cover you bought for a Priora at the market. This handle right here, look at this, man. It's like a decade old thing, man.
And it just costs a lot of money. 250, 100 grand difference. You think about it, you think about it. Guys, your favorite Zeekr. Zeekr 001, there's a lot of cars out there now. Let's not stop here, many people have already seen these cars. They are already in the showrooms.
But here is the new Zeekr X. Cute, by the way. And the interior is like this. With an unusual dashboard, it rises and moves. And the king of parties, Zeekr 009. Yes, screen on top, for kids to play cartoons, two seats here, two seats in the back. Yeah, you can go to Sochi with no trouble. Are you going to Anapa in one of these?
And this is Voyah here. The Voyah Free, which is already on the road. And these are the budget cars GAC, Aion. That's what we saw, that's what we liked. This one? 206,000. There you go, I mean Volkswagen or this one. Dude, 140,000. It's not much worse on the outside than the Volkswagen.
That one's 250,000 and this one's 140,000. And this one's plain inside, too, but it's 100 grand cheaper. Although, of course, the Volkswagen has a better reputation. Are we done? Wow, that one on the right is nice. How much for this one? What is the price? This is an interesting machine. It's a Geely, by the way. Geely bought Volvo and now they're launching a brand like this. 218,000 yuan. Again, 258,000 for a Volkswagen and 218,000 for a car like this.
Well, the interior here is more interesting, more pleasant, and the appearance is unusual, and the disks are fashionable. There's lidar, one, two, three cameras just on this panel here. And there's a cooler model here. And then there's the BYD. Taxi drivers drive them and they're very inexpensive cars. How much does a car like this cost? Nihao, how much? What is the price? Dude, 73800 yuan, can you believe it? Nice, nice! Look how friendly everyone is, offers to sit inside.
Oh, what's this? Oh, wow, it's a pen, look. Come on, come on, Sergei is waiting. Guys, we need to catch our breath a little, because, you know, we just ran through an ordinary, ordinary shopping center in China. A little commercial break and we'll continue. Guys, did you know that Tecno makes not only smartphones like this one, but also laptops? And very cool ones at that! This is the Tecno Megabook S1: magnesium alloy body, one of the thinnest and lightest laptops of 2023. One kilogram... Oh, very light! 1.35 kilograms! And it's only 13.5mm thick.
15.6 inch display... Seriously, 3.2K? You can work and play on it! Refresh rate is 120 Hz. The laptop pulls applications perfectly, and in the top configuration Intel Core i7 12th generation, 16 GB of RAM and SSD for 1 terabyte. Also from the chips is a powerful battery with 13 hours of battery life, 65W fast charging, powerful audio system - let's hear it. Wow! It's even too powerful! That's cool! And there's also a fingerprint scanner in the power button.
Tecno Megabook S1 - we recommend following the link in the description and see what's what. Awesome! It's been a while since I've seen one of these. Guys, thanks for watching, special link at the bottom. It's so hot in Shenzhen, you can't imagine. It's sweltering. 33 degrees, 35 degrees the day after tomorrow. It's raining and then you go out, 10 minutes later you're all wet. Waiting for Sergei. Sergei Gilevich should be here in a couple minutes.
Oh, look at this. Impressive, impressive. Sergei bought himself a new Hi-fi car. Look at the turn signal, half of the back panel. Hi! Beautiful, beautiful. How are you? There's a category of cars that when they drive up to a hotel, they automatically remove the bollards so that the car stands next to the hotel, for beauty. Tell about it.
- I really like the car. - But it's so different from the last time you drove it. - I'm really enjoying it. - Enjoying what? What are the highlights? It's got a 3.8. -The thing about it is it doesn't wobble. And that's very important for certain types of drivers. I don't like it to be wobbly. - So it's maneuverable? - It's maneuverable, and after the Lixiang, I drove it for two weeks while the Lixiang was sitting there getting dusty.
I went back to the Lixiang because I had a lot of people to move. I couldn't ride it properly anymore. - But you moved a lot of people, and you can't move a lot of people with this car. - Yeah, yeah, yeah, everybody's got their own thing. The Lixiang is just a soft bus that's comfortable to drive in a straight line. It certainly steers well in its segment.
But compared to this class of car, it's heaven and earth. - On the exterior, don't you think it's a bit overdone? - I don't really like that kind of flashy design, to be honest. I don't. I like a quieter car. But it drives better than it looks. That's the point. I'm prepared to forgive it the pretentiousness, I'm prepared to be a 15-year-old kid. Just because it drives perfectly. Yeah, it doesn't accelerate very well compared to the Plaid.
But I don't want that. It's the four seconds that's enough for me, it's the crazy handling that counts. And there's plenty of room in the back of passenger space in the back. With this wheelbase, with this length of car, I've never seen such handling. There are cars that handle better.
- Better than this? - But this long doesn't handle like this. - The doors open wide open. How comfortable is that? - I was taking the kid to his immunizations this morning, by the way, and we were driving around on the L9, it's kind of lazy to open the door with your hand.
- You're too lazy to open the door with your hand? - Yeah, although I thought it was a bit of a story. It's a bit of a dalliance. Once you get used to it, it's a bit lazy to open it with your hand. I'm just saying what I feel. I'd like all my future cars to have automatic doors. - So it can "see" me? - Of course. - What if it makes a mistake? - You know what I don't like? I don't like the fact that if it opens here and I'm standing here, it doesn't move any further.
In the case of Zeekr cars, you can move away, it opens further, but here it doesn't. And that's a disadvantage. - Tell me honestly. This, what is this? - It can be turned off. - What's that for? - I haven't gotten to it yet. It's not necessary, I agree. It's pretentious.
- How much did you pay for it, if it's no secret? - 650 000. I chose a color that's easy to sell. I don't really like this "ice" color. I'd go for a darker color, but it's easier to sell. I know the statistics, unlike the average person. I have 9 out of 10 cars sold in this color. - You've sold cars like this before? - Sure, sure, sure. - Who's buying? Who's ordering? - Kazakhstan buys a lot.
- Really? - Yes, their average salary has become higher than in Russia for the first time in history this year. They're doing well, they're under China now. - Kazakhstan? - Yes, both protection and trade. They're not interested in anything else, and they're and they're really getting into it. They're buying a lot. There's, you see, there's a white button here. That's it. - What do you mean? - That's the projector. I press here and it opens. - The stroller fits. Test passed. So we're almost halfway through the review. We're on the topic of budget cars today, people were arguing why we didn't show Geely, Chery.
Do you even know where they are? What are the secret places where you can find these cars? - We will. - Shall we? Shall we go for a ride? Let's go! Oh, it's a thrill. So, what's interesting inside. A key? - Yes, a key, which, by the way, is low on charge and needs recharging. - Cup holder here, cup holder here, glove compartment. And there's a pocket down there, isn't there, at the bottom?
- Yeah. There's no glove compartment. - Oh, really? Why is that? Do they have an explanation for that? - I'm wondering the same thing. - It's very quiet in the car. - Well, it's quieter in the L9. The arches are noisy here.
- We should wipe the screen. It's getting so dirty. - Let's do it differently. And now it's bright. - Wow, you can do it with voice? - Yeah, I can set it to any percentage of brightness I want. I said 90 percent brightness. - Yeah, let's get the sport on, shall we? - Right, Cyril, press down on the seat as much as you can, as much as you can. - Just don't let anything fly.
- Whoa, good, good, good. Yeah, that's a good squeeze. And yet he somehow does it without making any noise at all. It's just like we've been standing there and then we're there. - You can't go over 140 kilometers an hour here in the whole country. So there's no question of "How does it go on?", nobody cares. - So you can't go over 60 miles an hour anywhere here? Except on a race track or something? - Yeah, it's forbidden. Well, you can hooligan somewhere between the cameras.
But it can end very badly. And everybody understands that. And it's not about how much money you have. It's all done in the computer and then you just don't get it off. - This is the one we have just seen in the showroom and it looks sad against the background of many other cars. - It's interesting to see what happens to the German car industry. I came across a video a couple days ago, where it was said that the entire economy of Europe will collapse if the German car industry collapses.
He even gives exact data, he shows how many people are employed in the Czech Republic in German factories. In Germany, the income from car export sales in general there is about 13%, these are crazy numbers, as he says. I mean, Volkswagen, yes, it sells. I'm not even talking about the Chinese. Tesla has now entered the European market and this video says they've destroyed Volkswagen's sales. - What if the Chinese actively enter Europe in some way? - And now they've done a barter. Without Chinese batteries, CATL and BYD, which are the two the world's leading battery manufacturers. Absolutely all German automakers buy batteries from either the Koreans or the Chinese.
And most from the Chinese, the Koreans have a share there too, but not as big. They don't have their own, they have to buy them. Batteries are considered the most expensive item in an electric car. And because they buy from the Chinese, the Chinese sell them to them at an inflated price. - We just saw a Volkswagen for 250,000. And a Lynk & Co. car for 190,000 yuan. And it doesn't look much worse. - They just don't have the money. Their problem is that the battery is so expensive that if they do if they do a nice trim, it's going to put a price on it that no-one's going to buy it.
- That's what the car was like. It looks good. - It's a good option, by the way. - And it's 60,000 cheaper. Moreover, even Volvo and Geely, Lynk &Co, that is, they have expertise. - They're different guys, but they're all on the same team. It's Swedish-Chinese.
- And here comes Volkswagen. It's sad. - If the Germans can build up their batteries now. - Set up their own production? - Production, yes. Then maybe they'll come out, but it's not a sure thing. Because by the time they get everything built, chinese will be flying. I'm thinking about an idea right now. There's an investor who's been calling me for a long time offering to start his own car brand.
- Really? How realistic is that? - We'll start simple, if we start. I don't want to say anything yet, I don't know, I haven't decided. It's me, you know, I'm just going to have to just put all my time into it. - How do you start your own car brand? - It's easy in general. Whereas before you had to spend a huge number of years figuring out all sorts of different technologies, today it's much easier. Today, a new car brand simply assembles a car that is almost ready. The suspension is already clear whose. It's either a MacPherson, some good working MacPherson. The blueprints are public. Nobody here is going to do anything for it.
It's obvious who's got the battery, it's obvious who's got the motors. And the Bosch company gives you all the electronics on a turnkey basis. You just call them up and say, "I'm a new car brand. All the brakes, all the systems, ABS and everything completely. You come to Huawei and say, "Guys, give me a screen with all the software, with autopilot, with autoparking, with all sorts of things, lidars, cameras". They answer how much money is needed for this. We sign a contract. A person who creates a new car brand should already have only one single skill. He should know how to sell it all properly. Which soccer player to pay to drive it. - Exactly
- That's the only thing they think about now. Nobody thinks about how to build a car any more. There are semi-finished cars, let's call it that, that just come to you and build you cars. - Proven and reliable. - Yes, not only that, these batteries and these companies that come to you to build, they also give you a warranty that it will pass the elk test at least 75, that the braking distance will be a certain number of meters. No more questions. - Why are there so many bars on residential windows? - These are old houses and these are the days of very poor China, these are seventies, sixties buildings and this was a Hong Kong neighborhood.
This is where the Triad was and it wasn't like it is now. - It's not safe - They're actually just like us. We're a lot like them. They've just been reeducated over time. They've been fed, clothed, given stability and they've calmed down. But it used to happen. They ate each other out of hunger.
They shot sparrows, ate rotten potatoes. They lived very poor. - And this is what we have now. It's also important to understand how to allocate the budget. I, for example, if I make a car brand, I will not hang lidars at all and I will not make autopilot or autoparking. - Why not? - I'm going to spend money on noise insulation and quality suspension. Because I don't fully trust autopilot yet, I'd wait another five years.
I wouldn't let my wife drive on autopilot, for example. - Hey, Kirill, look, what a mug. - How are the sales going? - Well, it's like everyone else right now, not so good. - Because of the exchange rate?
- Yes, the whole situation is not very good. Kazakhstan is still buying. - In the same volume? - Everything is fine with them. In general, they are good and I am very happy for them. - What kind of cars do they buy most of all? - Well, of course, crossovers. They want crossovers most of all. I'll tell you this, of course Geely beats the demand. But I don't want to sell Geely. - So you're getting requests? - I can still find a Galaxy L7. Just because it really surprised for its money with that kind of technology. It's like a somersault with a twine landing. But the rest of them, these Chery's, they're all Chinese Zhiguli, let's say. And so I sometimes read in the comments when they write there "he's a huckster". It's very unpleasant. Because you try to really tell it like it is. And most importantly, the most funny thing is when they say "You were paid".
Who's paid? Chinese Premium pays for Russian-speaking audience, where he doesn't officially go? And where he has no interest in coming at all? And what's more, they're forbidden to bring cars there because of the sanctions. We do it without their knowledge at all. And if they're also say "he sells it and it rots," I don't really want that. That would be overkill. So just Premium and that's it. Although they could make a lot of money. Because Chery, Geely are stronger in demands. - Where did you take us? As they said in that video, "What garages?" Where are we? - We're driving casually. - Why aren't there any Geely and Chery showrooms in the center? Literally none. - This is Shenzhen. No one here wants Chery and Geely. And accordingly, no merchant will rent expensive premises to sell something that no one wants to buy.
Chery and Geely sell quite well, they are in the top 5. But they sell in villages, weaker cities, poorer Chinese. - Aren't you scared to leave your car here? - No, here in China, no one will touch it. First of all, I've got cameras everywhere, secondly, they'll find them in 15 minutes.
- What if someone on a moped bumps into you? - They'll find him on the cameras. They'll know where he went, when he disappeared, what zones he's been in , who he talked to, who he shook hands with, who he met. - Say, is there any insurance on this car, like CASCO insurance? - All my cars are insured. - Is this one insured? - There is no concept of full CASCO insurance here. The insurance here is either cheap, or a little more expensive, or a little more expensive. I'm in the middle. - Here's the full most insurance, to cover all scratches, per year, how much does it cost approximately? - That's $3,000 a year. - That's pretty normal. I feel like we're here to buy something illegal. This place is different from where we were this morning. Here's HAVAL, here are our cars, look. Igor drove one of these for two years, he said it was a good car.
Here they are. Guys, you asked for it, we're finally here. Wow, now, guys, let's change the battery, a little commercial break, 55 seconds and then we'll continue. [Cleaning resumes] Guys, we're back with the nice... [Sensors calibrating, please wait] We're back with nice tips: how to get a good gadget and save money. This is the KaringBee S7 OMNI 5-in-1 robot vacuum cleaner. It can do all the same things as other top models, but it costs almost half the price. Firstly, multifunctionality: this model has dry m wet cleaning! Secondly, the self-cleaning station is five in one: first the disks are washed and then dried, so that there is no mold and unpleasant odor.
There's even an electrolysis function to eliminate bacteria without the use of chemicals. You can control the vacuum cleaner with a branded app or with the Yandex Alice voice assistant! And this model is sold officially - branded warranty. Moreover, if there are any problems, you can exchange the vacuum cleaner for a new one within a year free of charge! Igor, it's high time you vacuumed there, by the way.
The special link is already at the bottom - definitely recommended! Moving on. So finally, here's the new Haval, wow. We haven't even seen one of these. This is purely electric. This is a gasoline one, by the way. And you say there's a problem with the numbers, that the gasoline isn't very good any more. - Most likely someone who had a gasoline car before that just kept the license plates. - Is it possible? - Sure! Your plates are yours for life, you can put them on any car you want. Those plates are worth their weight in gold these days. - Gasoline plates? - Uh-huh.
- Nihao! Guys, this is the best part. - Look how nice the build is. - You like it? - Well, cheap materials, smelly interior. But it's well-built. - So maybe you'll change your mind about shipping soon? - I won't, because I'm sure the iron's not very good. They've learned how to do it, they have sports performance no worse than the Japanese, they brake, they accelerate, it's all understandable. With screens, they've surpassed even the Germans. But I don't think the metals here for 15,000 dollars can be at least as good as that of a Skoda.
It's just impossible. I think it's just tinfoil. - This? - Yes. That's 170,000 yuan, that's 23,000 dollars. - It's actually a decent price. - It's the top of the range. - That's the lowest price? - It's $19,000 basic. - 19,000 dollars? - 130,000 yuan. - 130 is good. But will it be an automatic? And the same screens?
- Of course it's an automatic. There are no manual gears here - No manual? - No manual, it's not for sale right now. Look, see what it says here? You can put green license plates, there's a battery, there's an electric motor and there's a generator. - A hybrid? - Yeah, it's a hybrid. - How much does it cost? Are his prices listed here? - It is, yeah. The cheapest one is $16,000. - 159,800 yuan, Guys, look what's likely to be on the roads of the CIS soon. Charge one, charge two, screen inside.
- And there's better trim here, I see. - We can drive, can't we? - Of course you can, you can drive it. It's just a question of how quickly it'll start to rot. - Are you really so sure it's gonna rot? - I don't know. I just don't understand how you can sell something like that for that kind of money.
Look, here's the thing to understand. There are cars like the BYD. Hit the brake. - There's no start\stop, just hit the brakes... - Seriously? That's it, you can go now? - Hit "drive" and that's it. Well, look, they've saved money on the screen, you see. - Yeah, it's slowing down. - You can see that's a cheap screen. It's cheap. It's plastic, again, they've skimped. Here, look, it's battery powered, please. - And there's gasoline on this side, right?
- Uh-huh. Yeah. - Wow, there's no spare. It's both electric and gasoline? - Yeah, yeah, yeah. - It looks good, it's all modern. - Well, it's new, obviously. Given that the screen is cheap, and if there's no noise insulation, then I could believe there's more or less good iron here.
But if there's decent noise isolation, then they've saved money on the iron. They're tricky. Each company tries to conquer in its own way. Someone saves a lot on the thickness of the iron, but they add a lot of things to the car so that you sit in it, surprised and go to buy. And what happens after that, I don't know. - But I can hear a hint of slight doubt in your words. - I always have, but I'm still afraid to sell. And the guys on my team said we're not gonna sell it. We won't. We don't want to take any chances. What about this one? Look at the design. - It's so familiar, it's like a carshare.
- Let's have a look. No, you see? It's floating. It's a weak chip, they saved money. But the screen, as you can see, is better than there. - 159,800 yuan, right? - Yes. Well, this is a nicer car. If I was forced to buy one, I'd choose this one out of all the ones I've seen today. It's nicer. It's a hybrid. The gasoline has 140 horsepower, the electric motor has 170. Together, it'll probably be something under 250. - That's not bad, is it? - Yeah, it's not bad. - It's even got wi-fi.
- But if they asked me if I'd buy a RAV 4 or this, I'd buy a RAV4. - RAV4? Let's go to Geely and Chery. What are they arguing about? - They say they'll pay for me and I'll drive out.
- Why? - Well, because I'm visiting. - Really? - Yeah. Look, there's a curb over there. - Can I open it? - I just turned it off for you. Go ahead. - Is it gonna see this minimal difference? - I don't know if she's gonna see this corner. - That's what I was thinking, yeah.
- We won't know until we hit it. Let's go. - All right. - I don't know these cars, I'm not interested in them. But we'll take a look now. I'll ask him how it's selling. - Here in China? - Yeah. Well, it's selling pretty well. It's in fifth or sixth place in sales. Better than Toyota, I think. - Do you have any idea where we are? Where we've come to? What is this place? This is the nearest Chery dealership in Shenzhen.
- And look how good it looks. And the dumplings and the rice. - It's the closest salon to the center in Shenzhen. It was an hour and a half drive to the second salon. This is the closest one. Hey, look, it's a nice car. It smells like China. CHERY TIGGO 8 PRO. - Look, I've touched something very, very nice. - Here, soft. And you have doubted.
- Wait, wait, wait. I didn't touch them, I don't know. I call them Chinese Zhiguli. Well, let's just say I didn't touch all of them. It's at least cute, simple as that. - It's not bad at all. - Yeah, yeah. That's nice right there. - There's a new market being born, there's new opportunities now.
- No room for the knee, a car for the Chinese. That's what I like. It drives well. If I drive up, it's not comfortable, there's not enough room, it's cramped. - I've got plenty of room here. Are you sitting comfortably? - It's tight. Just enough to make you comfortable. - You can still move far back. - But then I can't reach the steering wheel, that's the point. It's a weak outrigger. It's for the Chinese.
The Chinese have shorter legs. I'm gonna try to work on the screen. It squeaks a little bit, but not even a little bit. But they don't assemble a car here as well as they assemble a premium. It is not covered with anything. - There's a recliner. - Can you recline it? It's leatherette. A Chinese guy with short legs could even lie down on it. - Look, at least the screen's not cheap.
Not like the one in the Haval. Oh, look. - It's even got a voice assistant. How much is it? What's the lowest price? - 160,000 yuan. 17 000 $. - One more time. The lowest price here for this car is what? - 17 000 $. He said 130,000 yuan, how much is that in dollars? - 130,000 yuan? - Look, you see, it turns out the Haval is a bit more expensive than the Chery.
And that's where you have to think about it. Maybe it's got better metal in the Haval. - Buttons like Mercedes. It's exactly the same as Mercedes. - Look how nice the trim is here and the seats, I assume leather. I'm going to feel this. Yes, it's a leather seat. It's probably even napa leather. - And you say it's a Zhiguli.
- You want to sell cars or you want to buy cars? - They want 21,000, 21,500 dollars for the cheapest one, this one. - How much in yuan? - 150,000 to 200,000. - 152,000, huh? 153,000, roughly speaking. - 153,203 yuan. I wonder if it's got better trim than the Haval. - Yes, it's definitely got a better design on the inside.
- And they're roughly in the same price bracket. Maybe the Haval just has better iron. - That could still be the case, couldn't it? - In general, Great Wall is a company that tries. - Trying? - This is their WEY moment. - That's their company too. - Yes, WEY too. The safest car in the world in the European crash test. - Wow. - In 2022, it's ranked number one in the large crossover class. - So much for Chinese budget cars.
- I mean, better than the X7, better than the X5. - This car is crash-tested better than the BMW X7? - Yes, yes, yes. - And that's official, isn't it? - Yes, that's the official website. In the large crossover class, it's the safest car of 2022. - So much for the Chinese, yeah. - This is the ancestor of the Haval. - Then there's this, apparently inexpensive, where they don't hesitate to write Chery in huge letters anymore. - This is gasoline. Yes, pure gasoline. Look, something's not right here. It's selling for the same price as a Haval, even cheaper.
I'm touching a Chery, and everywhere I go, it's got better trim than a Haval. There must be a a drawback. There's no other way. They both have the same amount of money. That's not the point. He's saving it somewhere. And this is a sedan, by the way. - Yeah, can you ask me how much the Chery Arrizo 8 minimum package is? Look, there's a bonus here, it's almost an instant rebate. $3,000. - $15,000 is the cheapest. - How much is that in yuan? - 108,000 yuan. And $20,000 is the most expensive.
- You won't get through here. Should I fold down the mirrors? That's right. Look what it's worth. - You can imagine. Compared to the Yangwang U8, it's just a Zhiguli. - Really? - I mean, really, half the horsepower, everything's worse, everything crunches. The car can't do anything. It just drives, that's all. But the badge is authoritative, very authoritative. Look, you're lucky you're in a big Geely showroom. - You know, it's all very new. We don't have anything like this here, not even close.
- Well, no, I've just been testing the Monjaro. - Is that a hybrid Monjaro? - Uh-huh. - Let's have a look. You tested it, yeah, you said you tested it. - Yeah, I did. Well, the suspension is just disgusting. - You don't like it? - Sure, compared to the Chinese of 15 years ago, it's a breakthrough.
But they're not as good as the Koreans. I'm just talking about the suspension. In terms of interior trim, of course, the Koreans are crying nervously along with Toyota. - Are you saying it's better than the Hyundai? - In terms of interior trim, absolutely. But it drives worse. Look, it's spacious. It's probably even leather. It's leatherette, but it's nice. - What's it worth? - Inexpensive, by the way. There's no question about it. For this money, if you buy it here, it's a great price. - Let's go and see what else we've got here. There's something called the G6. It doesn't have a price tag either, unfortunately. These are the fancy handles. The interior is nice, by the way. It's all right.
It's got a big computer, a glove compartment, everything's soft. The interior, the roof, the sunroof. It's not bad! - This hybrid Monjaro has a 42 kilowatt hour battery. - Is that a lot? - It's a lot. That's why it's not cheap, 250,000 yuan. Look, a 42 kilowatt battery is the same as the Lixiang. So it can go 200 kilometers if you have a charger in a private house. And you only use gasoline for long distances.
- Look what else you've got. It's purple and there's a pink one. - Almost 300 horsepower. - Is that the same thing? - It's the same, yeah, just a different color. Okay, I have a confession to make. Let's, uh, confess on camera. I want to confess that Monjaro has a really nice design. - Design? - It's cute. This face is taped up, it's the electric version, but the gasoline version of all the Chinese Zhigulas has the cutest one I think. - For grandma, yeah, look at this car. - Jimny 50-something thousand.
- 50-something thousand? - Yes - Less than a $10.000. - I gave it to my grandmother for her 50th birthday. - Is that electric? - Yes, to drive down a straight street somewhere to buy bread. - To the groceries. How much is this one? - 89,000 yuan. - 89? - Yes, yes. They also called it X6, even PRO.
You should have put MAX here. - We've got MT written here. manual transmission. You said that... - I did. - 1.4 with a manual! 80,000.
- So, look what we've learned today. What are we concluding? - Are we drawing a conclusion? - Yes. The Cheery has the nicest interior trim. And the Geely is slightly better than the Haval. I think. But they're all about the same price. So Haval spends more money on something we don't know about. Geely spends a bit less on it. Chery doesn't.
Chery gives everyone a nice showroom. Chery probably has the thinnest iron. Haval has the thickest. That's just a guess. You've got to look at the noise insulation, it's worth the money. This is a Monjaro. Petrol. - Can I get a price on that one? - 24 000$ - That's the minimum? - That's the most expensive. - And the lowest price? - 150000 yuan, that's 3000$ cheaper. That makes it $22,000. - Something to think about. There's a Coolray over there, go take a look. There are many models. I could talk about each one. - This is the Geely Tugella. - That's a Geely Tugella?
- Yes. It's not a Tugella. It's the new Geely Coolray, yeah. Here you go, it costs $15,000. It's small, 4,500 long, goes 60 miles an hour in 7.9 seconds. - What is that? - That's the price. The most expensive one costs 115,000 yuan. - Really? That's 115,000 yuan? - Yeah, that's what we're getting...
- The most expensive one. 115,000 for this. With an interior like this, for 115,000, it's also top of the line, most expensive. It's all soft-open. Two wireless chargers here, convenient. Armrest and here's the interior. It's awesome. There's a hook. Handle. - 170 horsepower.
- 170 horsepower. 115,000 yuan. Have you thought about buying one? Drive it around and make five episodes about it? Here's an idea for video content. - It's not cost-effective to spend time on this. - But it would be interesting. - I'm not gonna sell it anyway. - No one to sell it to? You've got a buyer standing right there.
- I won't sell. It's easier to sell, it just doesn't make sense. In China, no one even asks what quality it is, because the price is low. And no one takes offense, and it's all under warranty. And even if it did break, it's not that expensive of a car. And when I call them Chinese Zhiguli, I don't mean it's something so disgusting. But when it goes somewhere, and they put two or three times the price on top, for all sorts of taxes and so on, then there is a question. - We all know what we're talking about. - Yes, the question arises whether Skoda is better. - And Skoda is not supplied officially. All we have left is this.
- There's the biggest one. This is the top of the range. And there's even a camping option. - Oh, look, it's even got a retractable awning. Three full beds, one, two, three. Ooh, there's still a third row. And there's room for luggage, so you can fit a handbag. And the seats, and look how much space there is. From the third row to the second row. - 20,000 dollars. - For this? - Yeah - That's cool. We walk around surprised and happy. Well, for the Chinese at least. - Guys, water.
- They brought free water, too, wow. Guys, what can I say? 115,000. You should think about doing a couple programs on this. People might be interested in seeing it. - I'll think about it - That's cool. Thank you for your time. Guys, we look forward to your comments. - Thanks for your time. - The prices are great. But something to think about. I'll see you later. Bye! Bye!
2023-09-07 23:48
Show Video
Other news