'Bloomberg Technology' Full Show (07/13/2023)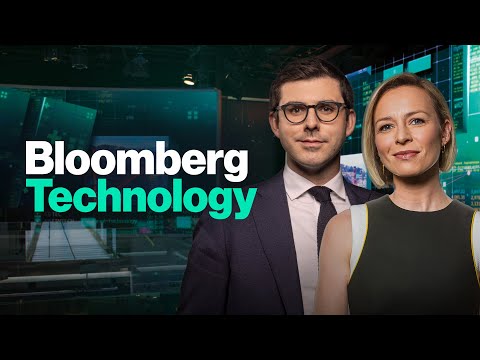 Show Video
>> FROM THE HEART OF WHERE MONEY, INNOVATION AND POWER COLLIDE, THIS IS BLOOMBERG TECHNOLOGY WITH CAROLINE HYDE AND ED LUDLOW. ♪ CAROLINE: ED LUDLOW IS ON ASSIGNMENT AND SON VALLEY AND THIS IS BLOOMBERG TECHNOLOGY. ELON MUSK IN THE DETAILS OF HIS SIXTH COMPANY XAI. AND WE WILL TALK BIG TECH REGULATIONS AS A HOUSE HEARING GOES AHEAD. A FORMER CEO OF CRYPTO LENDER CELSIUS IS ARRESTED AND CHARGED WITH FRAUD AND SUED BY THREE REGULATORY AGENCIES AFTER THE COMPANY'S COLLAPSE. WE WILL BRING YOU THE DETAILS BUT FIRST, LET'S GET AT OF THESE MARKETS. WE ARE ON THE HIGH NOTE AGAIN.
ABIGAIL: WE HAVE A SOLID RALLY AND 3-4 DAYS IN ROW AND BIG TECH THE BEST DAY SINCE END OF JUNE. THE BLOOMBERG DOLLAR INDEX SHOWS YIELDS ARE LOWER BUT THE NEAR INDEX IS UP 1.8%, ONE OF THE BIG HELP IS ALPHABET. I WAS SEARCHING THE TAPE DECEIVE ANYTHING NEW HAS COME OUT. I'M NOT SURE ANYTHING NEW HAS
COME OUT BUT ON THE YEAR INTO TODAY, WE HAD GOOGLE UP ABOUT 38% ON THE YEAR AND NOT SO SHABBY BUT WHEN YOU COMPARE THAT TO META-160% MOVE, PERHAPS SOME INVESTORS ARE LOOKING FOR A POTENTIAL CATCH UP TRADE AND AMAZON IS 2.2% IN RECORD PRIME DAY SALES NUMBERS. AS ONE OF THE BIG DRIVERS, THE BLOOMBERG DOLLAR INDEX IS THE DISH IS DOWN FOR FOUR DAYS ARE ON THE TWO YEAR YIELD OVER THE LAST WEEK IS DOWN 34 BASIS POINTS ON THAT COOLER CPI AND THE PPI PRINT. THERE ARE INFLATION CONCERNS THAT ARE FADING SO THAT MEANS VALUATION CONCERNS OF BIG TECH STOCKS WITH YIELDS DOWN OUR FADING MAYBE THE IDEA THE FED IS GOING TO STOP ITS HIKING CYCLE SOONER RATHER THAN LATER. THERE IS STILL THE POSSIBILITY THAT BIG TECH COULD GET VOLATILE.
YOU LOOK AT THE VIX THERE IS A SIX POINT SPREAD SO INVESTORS ARE STILL WORRIED ABOUT TECH AT SOME POINT FOR THE NEXT THREE MONTHS BUT JUST NOT RIGHT NOW. META-OVER THE LAST FOUR DAYS IS SURGING IN THE ANNOUNCEMENT TODAY FOR THE IDEA OF THE FT REPORT THEY MAY BE PLENTY TO COMMERCIALIZE THEIR AI PRODUCT TO COMPETE WITH MICROSOFT AND ALPHABET THAT ON TOP OF THREADS IN THE YEAR OF EFFICIENCY, META-ON THE YEAR UP ABOUT 160%. CAROLINE: THAT'S PHENOMENAL, THANK YOU SO MUCH. LET'S TALK ABOUT WHO ELSE LOOKING INTO THE WORLD OF AI. ELON MUSK IS TAKING TO TWITTER
TO DISCUSS THE LAUNCH OF HIS CHAT GPI AT RIGHT. HE SAYS THE COMPANY'S MISSION IS TO UNDERSTAND THE TRUE NATURE OF THE UNIVERSE. >> FROM AN AI SAFETY STANDPOINT, I THINK IT IS TRYING TO UNDERSTAND GOING TO BE PRO-HUMANITY FROM THE STANDPOINT THAT HUMANITY IS MUCH MORE INTERESTING THAN NON-HUMANITY. CAROLINE: JOINING US FOR MORE IS ED LUDLOW IN SUN VALLEY. I'M PRETTY SURE THIS IS A HOT TOPIC OUT THERE. ED: ABIGAIL: XAI WAS A HOT TOPIC IN THE LAST FEW HOURS. I SPOKEN TO MANY SOURCES IN THE
AI INDUSTRY HERE AND ON THE PHONE AND THEY DON'T REALLY KNOW WHAT IT IS THEY ARE BUILDING. IS THIS A COMPANY THAT'S BUILDING A FOUNDATION MODEL OR LARGE LANGUAGE MODEL LIKE INFLECTION AI? OR ARE THEY DOING SOMETHING MORE SPECIFIC IN THE FIELD OF MACHINE LEARNING. WE KNOW THEY ARE HIRING IN THE BAY AREA AND THEY'VE ASSEMBLED THIS ALL-MALE ROSTER OF TENURED GOOGLE DEEP MINE RESEARCHERS AND SOME PRETTY KEY NAMES FROM ACADEMIA IN CANADA. CAROLINE: IT IS NOTABLE AT THE MOMENT, NOT A DIVERSE SET OF PEOPLE BUT WITH A WEALTH OF EXPERIENCE ACROSS PRIVATE MARKETS AND INDEED FROM ACADEMIA.
ULTIMATELY, HE WANTS TO BRING SOME SORT OF COMPETITION TO OPENAI AND HAS BEEN FRUSTRATED BY THE MICROSOFT TEAM. HE IS WORRIED ABOUT THE FULL PROFIT NATURE AFTER HE STEPPED DOWN FROM THE BOARD IN 2018. WHAT ULTIMATELY DOES HE WANT? HE SAID WE NEED TO PUT A PAUSE FOR SIX MONTHS AND NOW HE'S BUILDING ONE HIMSELF? ED: WE SPOKE ABOUT THIS EXACT ISSUE WITH REID HOFFMAN YESTERDAY. P ACKNOWLEDGED THAT OPENAI'S ORIGINS ARE DIRECTLY TIED TO ELON MUSK. HE WAS AN EARLY INVESTOR AND WAS IN ON THAT INITIATIVE. THE WAY TO READ HOFFMAN IS HE SAID I AM A SCANT AT THE IDEA THAT THIS IS SOMEBODY WHO SIGNED THAT PAUSE PETITION AND IN THE INTERIM, CARRIED ON WITH HIS OWN EFFORTS IN THE FIELD OF AI. IT DOESN'T REALLY ADD UP.
HIS CONCERNS ARE EXISTENTIAL, STILL WORKING ON IT. CAROLINE: AND HOLD TIGHT BECAUSE WE WILL JOIN THE CONVERSATION WITH THE GERBER KAWASAKI PRESIDENT. YOU WERE AN INVESTOR IN TWITTER AND BECAME AN INVESTOR WHEN TWITTER WENT PRIVATE. YOU STUCK WITH IT AND IT WAS FOLDED INTO THE PARENT COMPANY X AND THAT WE HAVE THE BIRTH OF X AI.
WITH A FIRM COMMITMENT TO THAT COMPANY, IS ELON MUSK >> >> TOO BUSY? YES AND NO. OF COURSE, HE'S BEEN BUSY FOR A DECADE NOW AND SOMEHOW HAS SURVIVED. A LOT OF THESE PROJECTS HE SPEARHEADS AND PUTS A LOT OF INITIAL INERTIA INTO AND THEN HE TURNS THEM OVER TO REALLY COMPETENT LEADERSHIP AND HE BUILDS GREAT TEAMS, ENGINEERS. WE KNOW HE'S GOOD AT THAT AND THAT'S WHAT HE'S DOING WITHX AI AND I'M NOT SURE HE KNOWS WHAT IT WILL BE. THE GENIUS OF ELON MUSK IS HE BUILDS THESE TEAMS WITH THE GENERAL GOAL BUT WHAT WILL COME OUT OF THIS I'M SURE HE HAS NO IDEA YET.
IT WILL PROBABLY BE PRETTY INTERESTING. ED: WAS THE IDEA OF XAI IN THERE AT THE TIME HE INVESTED? >> THEY KIND OF SAID THERE IS A LOT WE DON'T KNOW PEOPLE DO WITHIN THIS STRUCTURE. IT'S REALLY ABOUT ACQUIRING TWITTER. IF YOU UNDERSTAND ELON MUSK, HE ALWAYS SEES THINGS WAY FURTHER THAN I DO AS FAR AS THE WAY HE SEES THE FUTURE AND TWITTER IS JUST A WONDERFUL SOURCE OF DATA TO BUILD AN AI COMPANY AROUND. THERE IS A GRAND VISION. HE'S GOT THE DATA AND THAT'S WHAT HE IS PROTECTING IT SO MUCH WITH THE LIMITING OF THE SCREENING OF THE DATA FROM TWITTER AS HE TRIES TO PROTECT THE DATA BECAUSE HE KNOWS IT'S VALUABLE. META DATA IS MUCH MORE PERSONAL ABOUT PEOPLE IN TWITTER DATA IS ALL ABOUT THE WORLD.
IF YOU ARE WORRIED ABOUT HUMANITY AND BIGGER ISSUES, I THINK ELON IS BUILDING SOMETHING THAT COULD BE INCREDIBLE AS ALWAYS. ED: X AI TWITTER HANDLE TWEETED TO ITS FOLLOWING, I REPLIED SAYING COUNTY AGE 100S DO YOU HAVE IN REFERENCE TO THE NVIDIA POWERFUL GPU RELATED TO BUILDING ON THE INFERENCE SIDE. MANY PEOPLE SAID WHAT ARE YOU TALKING ABOUT? ELON HASD)OJO SO WHAT IS YOUR INTERPRETATION OF X AI AND THE WORK TESLA HAS DONE WITH MACHINE LEARNING? >> I AM NOT AN ENGINEER. I FAILED THOSE CLASSES IN SCHOOL BUT MY UNDERSTANDING IS IF YOU'RE GOING TO BUILD AI QUICKLY, YOU NEED NVIDIA CHIPS BECAUSE THEY ARE SCALING CHIPS THAT ARE CRUCIAL TO THIS. TESLA HAS THEIR OWN AI CHIPS AND THEY ARE BUILDING AUTONOMY AROUND THEM AND THEY DESIGNED THEIR OWN SHIPS. THEN THEY HAVE DOJO WHICH IS A TRAINING MECHANISM WHICH WOULD SPEED UP THE PROCESS OF LEARNING THROUGH THIS AI MECHANISM.
I DON'T SEE ANY WAY AROUND THEM BUYING LOTS OF NVIDIA CHIPS AND NVIDIA IS THE HUGEST WINNER IN THE AI REVOLUTION, BEING THE BRAINS BEHIND AI AND THE HARDWARE BRAINS. I THINK IT DOESN'T REALLY MATTER , THE NVIDIA AND TESLA CHIPS ARE SIMILAR IN MANY WAYS AND SERVE THE SAME PURPOSE BUT TESLA DESIGNED ITS OWN CHIPS AND THAT SOMETHING PEOPLE SHOULD PAY CLOSE ATTENTION TO. THIS IS REALLY ELON'S EXPERTISE. HE'S NOT GOING TO SOMETHING OUT
OF HIS RANGE LIKE TWITTER. I'M VERY BULLISH ON THIS. I THINK HE'S THE RIGHT PERSON. CAROLINE: THERE IS A DIFFERENT LEADER FOR TWITTER NOW. I'M INTERESTED MORE BROADLY ON THE RETURN ON INVESTMENT WE ARE LIKELY TO BE GETTING FROM THIS AND ULTIMATELY, WHEN HE BOUGHT TWITTER, IT WAS ABOUT MORE THAN THE PROFITABILITY AND THE REWARDS THERE. IT WAS ABOUT BUILDING SOMETHING HE THOUGHT WOULD ULTIMATELY BE BETTER FOR HUMANITY AS IS SPACEX AND NOW WE SEE IT WITHX AI.
HOW MUCH DO YOU PAY ATTENTION TO THE CONCERNS PEOPLE HAVE AROUND THE AI RISKS? HE'S GOT SAFETY ON BOARD AS AN OVERSEER. >> I THINK HIS CONCERNS ARE VERY LEGITIMATE. I AM HAPPY HE'S BRINGING THEM UP EARLY IN THE PROCESS OF THIS TECHNOLOGY BECAUSE IF SOMEBODY WOULD HAVE DONE THIS DURING THE DEVELOPMENT OF SOCIAL MEDIA, IT MIGHT'VE PREVENTED A MASS AMOUNT OF HARM THAT FACEBOOK AND INSTAGRAM AND OTHER SOCIAL MEDIA SITES HAVE CAUSED. THE FACT THAT HE'S STEPPING UP EARLY AND SAYING WE NEED TO LOOK AT THE GUARDRAILS AROUND THIS BECAUSE THE OPPORTUNITY FOR MISINFORMATION AND MISUSE AND ULTIMATELY BAD OUTCOMES FROM AI ARE A POSSIBILITY. I THINK HIS FOCUS ON THIS REALLY ON IS ACTUALLY A GREAT THING I THINK HE'S IN A POSITION WHERE HE CAN BUILD THE COMPANY WITH VERY LONG TERM FOCUS BECAUSE IT'S A PRIVATELY OWNED COMPANY WITH INVESTORS. I DON'T REALLY CARE ABOUT THE SHORT-TERM AT ALL. HE'S REALLY IN THE RIGHT
POSITION TO EXECUTE. CAROLINE: I REMEMBER WHEN YOU JOINED US, TO VENT SOME FRUSTRATION ABOUT LEADERSHIP AT TESLA, DISTRACTION CONCERNS, YOU ARE SO CONCERNED ABOUT IT AND YOU WANTED TO HELP TAKE A BOARD SEAT AND DRIVE THE COMPANY FORWARD. WHAT CHANGES WITH THE BIRTH OF ANOTHER COMPANY. WHAT GETS SACRIFICED AS AN INVESTOR IN HIS OTHER COMPANIES? >> HE DID FIND A CEO FOR TWITTER AND ALL THE THINGS I WAS PUSHING FOR HAVE HAPPENED NOW FROM AN ADVERTISING TO SUCCESSION PLANNING. WE'VE SEEN THE STOCK RECOVERS AS BEEN A HUGELY SUCCESSFUL CAMPAIGN FOR ME AND MY CLIENTS AND TESLA SHAREHOLDERS. I DON'T LOOK ATXAI AS SUCH A DISTRACTION LIKE TWITTER.
WITH TWITTER, HE WAS GETTING KILLED EVERY DAY. HE STILL GETS KILLED EVERY DAY WITH HALF HIS DECISIONS AND HIS WHOLE THING ON TWITTER, IS SOMEWHAT DETRIMENTAL TO HIS IMAGE. WHEN YOU LOOK AT DOING AN AI COMPANY, THIS RIGHT UP HIS ALLEY AND IS MOST CAPABLE OF CREATING A TEAM IN THAT AREA WITHOUT REALLY DISTRACTING HIM AND THERE'S LOTS OF ANCILLARY BENEFITS THAT TESLA AND SHAREHOLDERS WILL GET FROM THIS DEVELOPMENT VERSUS TWITTER WHERE THE RISK REWARD WAS MUCH WORSE. FOR TESLA SHAREHOLDERS FOR SURE. ED: ALSO IN THE NEWS CYCLE, ACTIVISION MICROSOFT AND YOU ARE IN ACTIVISION SHAREHOLDER. THE MERGER OF THE CHANCE OF THIS DEAL GOING AHEAD F 80-85% AND THE FTC FILED A LAST NIGHT.
WHAT YOU SEE CHANCE OF THIS DEAL GOING THROUGH? >> WITH FULL DISCLOSURE, WE SOLD MOST OF OUR ACTIVISION IN THE LAST TWO DAYS AFTER THE FTC DECISION AT AROUND $90 PER SHARE OR ABOVE. WE FELT THE RISK REWARD, IT'S A CASH DEAL AT 95 SO WE MOVED ON SO OUT OF DISCLOSURE. I THINK THE FTC WILL LOSE AGAIN. THE FTC HAS OVERSTEPPED THEIR BOUNDS AND TOOK VERY WEAK CASES TO COURT TO HER COMPETITION IN GAMING. THEY WERE NOT HELPING AT ALL.
THE FTC NEEDS TO REALLY RECONSIDER WHAT THEIR PURPOSE IS BECAUSE WE ARE A CAPITALISTIC SOCIETY. THEY NEED TO FIND BETTER CASES AND THERE ARE PLENTY OF GOOD CASES THEY CAN JUMP IN ON. HOW ABOUT THE LLV GOLF SITUATION? THE FTC SHOULD BE BLOCKING THAT 100%. THEY NEED TO FOCUS ON SOMETHING A LITTLE MORE MEANINGFUL.
CAROLINE: WE WILL LET YOU GET BACK TO SOME GOLF PLAYING NOW IT SEEMS BECAUSE YOU ARE ON VACATION AND YOU CAME ON JUST FOR US, THANK YOU VERY MUCH. ED LUDLOW IS IN SUN VALLEY AND WE WILL GO BACK TO HIM IN A MINUTE. COMING UP, WHILE WAY -- HUA WEI REVEALING OVER MILLION DOLLARS IN BUSINESS. THIS IS BLOOMBERG. ♪ CAROLINE: HUAWEI'S DESCRIPTIVES DISCLOSING ITS INCOME FROM ITS PATENT AND DEALS. THERE WAS U.S. SANCTIONS SO JOINING US NOW TO
SEE HOW THIS GALVANIZES GROWTH IN THE FUTURE IS STEPHEN GEISZLER, THE CHIEF INTELLECTUAL PROPERTY COUNSELOR AT HUAWEI. GREAT TO HAVE YOU. A LOT OF PATENTS, THOUSANDS THAT HUAWEI HAS. HAVE YOU ULTIMATELY LOOK TO MONETIZE ALL OF THIS? YOU BEEN WANTING THIS WEB -- WANTING THIS LIGHT -- LICENSING WEBSITE AND WILL HAVE BILATERAL LICENSING PROGRAMS. DO YOU SELL TO APPLE AND THE LIKE EVEN WITHIN THESE SANCTIONS? >> REGARDLESS OF THE HUAWEI SALES, OUR PORTFOLIO COVERS MANY OF THE TELIK MEDICATIONS PRODUCTS GLOBALLY. FOR INSTANCE, IN 5G ALONE, WE HOLD APPROXIMATELY 20% OF ALL STANDARD ESSENTIAL PATENTS GLOBALLY OR 5G. WHERE OUR COMPETITORS ARE OTHER MARKET PARTICIPANTS ARE USING 5G TECHNOLOGY, THEY WOULD NEED TO PAY FOR A LICENSE FROM HUAWEI. WE ARE NOT PRIMARILY CONCERNED
WITH MONETIZING AND MAKING REVENUE, ONE OF THE DRIVERS OF RELEASING THE NUMBER, 560 MILLION DOLLARS IN REVENUE LAST YEAR FROM PATENT LICENSING WAS TO SHOW THAT IN THE GRAND SCHEME OF THINGS WITHIN WHILE WAY, THE PATENT LICENSING IS NOT HER BUSINESS EMPHASIS. MY TEAM IS PROUD OF THE WORK WE HAVE DONE GLOBALLY IN LICENSING AND FOR TWO YEARS STRAIGHT, WE BEEN POSITIVE IN PATENT LICENSING. WHILE WAY CERTAINLY IS A PRODUCT AND SERVICES COMPANY. THIS IS TRANSPARENCY TO ALLOW PEOPLE TO SEE THE BIG CONTENT THAT IT STILL THE PRODUCTIZATION THAT HUAWEI IS DRIVING FOUR. CAROLINE: HELP US TO FIND WHAT HUAWEI IS NOW. IN MANY WAYS YOU HAVE PIVOTED. YOU ARE IN SURVIVAL MODE AND NOW IT'S FOCUS MORE ON B2B.
HAVE YOU SUMMARIZE WHAT THEY STAND FOR? >> WE ARE NOW AT A NEW NORMAL PHASE OF THE EVOLUTION OF THIS COMPANY. THE CONTEXT IS TECHNOLOGY IS CONVERGING, 5G, CLOUD, ARTIFICIAL INTELLIGENCE, THESE THINGS ARE CONVERGING. OUR STRATEGY WITH AN INCREDIBLE INVESTMENT IN R&D. WE HAVE 114,000 PEOPLE IN RESEARCH AND DEVELOPMENT. WE'VE BEEN ADJUSTING OUR
PORTFOLIOS TO BRING VALUE TO THE NETWORK, CARRIERS TO THE ENTERPRISES AND CUSTOMERS AND EMBRACING THE KEY TRENDS OF VISUALIZATION AND CARBON NEUTRALITY TO HELP REDUCE THE CARBON FOOTPRINT. WE ARE A COMPANY ABOUT CONNECTING THE WORLD AND BRINGING TECHNOLOGY TO EVERY HOME AND COMPANY IN EVERY ORGANIZATION. IT'S REALLY EXCITING TO BE A MEMBER OF THIS COMPANY. CAROLINE: IT'S HARD AND YOU KNOW THIS HAVING WORKED WITH THE WHITE HOUSE.
DO YOU EVER SEE A WORLD IN WHICH THAT WILL BE ALLEVIATED IN THIS GEOPOLITICAL ENVIRONMENT? >> THERE IS AN AWFUL LOT OF COUNTRIES IN THE WORLD THAT ARE EAGER TO DO BUSINESS WITH US. THOUSANDS OF COMPANIES WILL PARTNER WITH US. WHEN YOU LOOK AT THE WORLD, WE HAVE FORMED DIGITALIZATION PARTNERSHIPS.
267 OF THE GLOBAL 500 SO WE ARE NOT SO CONCERNED WHAT WE CAN'T DO. WE ARE EXCITED ABOUT WHAT WE CAN DO AND EVER BRINGING THE TECHNOLOGY TO THE WORLD INCLUDING 5.5 G AND AI FOR INDUSTRY WHICH WILL GENERATE QUITE A BIT OF REVENUE. CAROLINE: HOW MUCH FOCUS IS THERE ON AI IP AT THE MOMENT? >> I WILL DEFER TO ANDY ON THE AI. >> OUR COMPANY LOOKS AT THE LARGER WORLD WITH THE FUTURE OF COMPUTING IS EVERYWHERE. IT WILL BE INTELLIGENT WORLD
WITH INTERNET EVERYTHING. FIVE POINT G WILL BRING THAT ABOUT. WE THINK ARTIFICIAL INTELLIGENCE WILL REWRITE EVERYTHING AND SO HOURLY FOR WHAT WE CLOUD HAS SAID THE MODEL OF AI DOES NOT ABOUT WRITING POETRY, IT'S NOT GENERATIVE AI THAT GETS PUBLICITY. THE MODEL EMPOWERS EVERY INDUSTRY WITH AN INTELLIGENT SYSTEM TO MAKE THE WORKER MORE EFFICIENT IN A REAL LEARNING ENVIRONMENT. WE BELIEVE WHEN YOU LOOK AT AI GENERALLY, 95% OF AI WILL BE INDUSTRY AND ONLY 2% WILL BE CONSUMER. CAROLINE: IT CERTAINLY FEELS THAT WAY IN TERMS OF THE LEVEL OF CONVERSATION. WE WANT TO THANK YOU BOTH.
COMING UP, BLOOMBERG TALKING ABOUT THE FTC CHAIR. SHE IS IN THE HOUSE TESTIFYING. WE WILL HAVE ALL THE DETAILS NEXT, THIS IS BLOOMBERG. CAROLINE: SENATOR ELIZABETH WARREN SAYS SHE APPLAUDS THE FTC FOR TRYING TO TAKE ON MICROSOFT IN ITS MERGER WITH ACTIVISION. HERE'S WHAT SHE HAD TO SAY LAST
NIGHT. >> THE MERGER ITSELF IS NOT LEGAL. WE HAVE AN OPINION FROM THE JUDGE.
I WANT TO COMMEND THE FTC FOR TAKING ON HARD CASES, TAKING ON BIG COMPANIES, TAKING ON CASES THAT IN THE PAST OFTEN JUST SLID THROUGH BUT THAT ARE CLEAR VIOLATIONS OF THE LAW. I APPLAUD WHAT THE FTC HAS DONE AND I SAY STAY AFTER IT. CAROLINE: MEANWHILE, THE FTC CHAIR IS CURRENTLY TESTIFYING BEFORE THE HOUSE COMMITTEE ON THE JUDICIARY ON OVERSIGHT. LET'S GET TO KAILEY LEINZ WAS BUSY CONDUCTING THAT INTERVIEW WITH SENATOR WARREN.
SHE IS A DEMOCRAT AND SHE SPEAKS HIGHLY OF THE DEMOCRATIC LED FTC BUT IT'S KIND OF PARTISAN, THAT COMMITTEE IS AN EMBLEM OF THAT. KAILEY: EXACTLY, I JUST RETURNED FROM CAPITOL HILL AND I WAS STANDING OUTSIDE THE HEARING ROOM AND DEMOCRATS I SPOKE WITH LIKE SENATOR ELIZABETH WARREN HAD KIND WORDS FOR THE FTC CHAIR. REPUBLICANS, NOT SO MUCH. IN THE HEARING ROOM, THE CHAIR HAS BEEN ACCUSED OF BEING A BULLY WITH HER LEADERSHIP BEING A DISASTER. I SPOKE TO SEVERAL REPUBLICAN MEMBERS WHO SIT THAT SUGGESTED SHE IS AN IDEOLOGUE THAT'S POLITICIZED IN HER LOSING RECORD SHOWS SHE IS PURSUING CASES THAT DON'T ACTUALLY HAVE THE LAW ON THEIR SIDE. THERE IS A LOT OF GLITTER SCHISM -- CREDIT -- CRITICISM OF HER LEADERSHIP PUSHING ANTICOMPETITION AGENDA. I WOULD NOTE THAT THIS IS COMING AS SHE'S TRYING TO FIGHT THE FIGHT ON THE MICROSOFT ACTIVISION DEAL. IT'S THE IDEA THAT THE JUDGE
RULED AGAINST HER IN THAT CASE. THE FTC PLANS TO APPEAL. WHEN SHE WALKED INTO THE HEARING ROOM EARLIER, I ASKED WHY SHE WAS APPEALING AND IF SHE THOUGHT IT WAS SUCCESSFUL BUT SHE DID NOT ANSWER. CAROLINE: SHE'S ANSWERING QUESTIONS NOW. WE APPRECIATE THE TIME. WE WILL STAY IN WASHINGTON WITH A FORMER CEO OF CELSIUS IS CHARGED WITH FRAUD AND IS NOW SUED BY THREE REGULATORY AGENCIES. WE WILL HAVE ALL THE DETAILS,
THIS IS BLOOMBERG. ♪ CAROLINE: WELCOME BACK TO BLOOMBERG TECHNOLOGY. CHECKING ON THE MARKETS, WE ARE HIGHER BECAUSE INFLATION IS COOLING. WE HAD CPI YESTERDAY AND PPI TODAY AND IT ADDED FUEL TO THE NASDAQ 100 WITH BIG TECH ON TOP AND THE TWO YEAR YIELDS IS JUST A TOUCH LOWER. IT'S LOWER BY 13 BASIS POINTS. WE ARE SEEING BITCOIN GETTING HIGHER AS THE EURO-DOLLAR IS SLIGHTLY LOWER.
AMAZON PRIME DAY OR DAYS DID WELL, UP MORE THAN 2% FOR AMAZON AND ALPHABET IS GETTING A HIGHER PRICE TARGET FOR MORGAN STANLEY, UP 4.5%. THAT SEEMS TO BE THE MOOD MUSIC AROUND AI MANAGING TO WIN SOME HEARTS AND MINDS. WE ARE SEEING A CONTINUED FOCUS FOR THE BUSINESS.
WE ARE SEEING THE GOLDEN DRAGON CHINA INDEX UP ALMOST 2% NOW. CHINA IS ONCE AGAIN COMMITTING TO NOT PUNISHING THEIR TECH SECTOR. WE ARE CURRENTLY UP 2% ON SOME OF THE BIG PUBLICLY TRADED CHINESE COMPANIES THAT TRADE IN THE U.S. LET'S TALK A LITTLE BIT OF WHAT ELSE IS HAPPENING IN THE U.S. WITH A CRACKDOWN ON CRYPTO. THE FORMER CHIEF EXECUTIVE OF
CELSIUS ARRESTED TODAY AND CHARGED WITH FRAUD IN ADDITION TO BEING SUED BY THREE REGULATORY AGENCIES AFTER THE COMPANY'S COLLAPSE. WE HAD MORE. WERE WE ANTICIPATING THIS? >> WE KNEW THE INVESTIGATIONS WERE ONGOING LAST WEEK, I HAD REPORTED THAT THE CFTC HAD THEIR INVESTIGATORS DETERMINING THAT THE HEAD OF CELSIUS HAD BROKEN THE RULES AND THE COMMISSIONERS WERE GOING TO TAKE A VOTE. WE KNEW THE FTC WAS LOOKING AT THIS AS WELL SO IT WAS A LITTLE BIT ANTICIPATED BUT WE DON'T KNOW UNTIL WE KNOW. CAROLINE: ULTIMATELY, BITCOIN PRICES HAVE STABILIZED AND IT FEELS AS THOUGH THE NOISE HAS STARTED TO DIE DOWN EVEN THOUGH WE HAVE THE FTC REALLY FOCUSED ON SOME OF THE KEY CRYPTO PLAYERS IN THE UNITED STATES. WHAT DOES THIS ULTIMATE FOCUS ON THE DEMISE OF CELSIUS MEAN THE REST OF THE SECTOR? >> I THINK IT MEANS WE WILL CONTINUE SEEING THESE ENFORCEMENT ACTIONS SPECIFICALLY FOR COMPANIES THAT WERE PART OF THE TURMOIL LAST YEAR. WE NOW SEEING CRIMINAL CHARGES AGAINST EXECUTIVES AT TERRAFORM LABS WHICH WAS THE ISSUER OF THAT STABLECOIN THAT COLLAPSED LAST MAY. WE SEEM CRIMINAL CHARGES
BROUGHT AGAINST SAM BANKMAN-FRIED OF FTX AND NOW THE CELSIUS CHARGES. IT'S ALL POINTING TO THE FACT THAT WE CAN EXPECT THERE TO BE A LOT OF ENFORCEMENT GOING FORWARD. CAROLINE: RUN US THROUGH EXACTLY WHAT'S BEING ALLEGED. THE FACT THAT MAYBE HE WAS NOT PLAYING AS MANY AS PEOPLE WANTED HIM TO HIS KEY FOR THE CRYPTO ECOSYSTEM, TO SHOW THERE WAS WRONGDOING INVOLVED. >> THERE IS A SLEW OF ALLEGATIONS.
THERE ARE THREE REGULATOR LAWSUITS IN ADDITION TO CRIMINAL CHARGES. AT THE CORE OF IT, IT'S BASICALLY THAT THEY ARE ALLEGING HE LIED ABOUT THE FINANCIAL SUCCESS OF THE COMPANY INCLUDING THE AMOUNT THE COMPANY RAISED IN ITS INITIAL POINT OFFERING. THEY ARE ALLEGING THAT THE FIRM WAS PLACING RISKY BETS AND NOT DISCLOSING THAT TO INVESTORS.
ALSO THAT THEY WERE MANIPULATED THE PRICE OF THE NATIVE TOKEN CEL. IT'S A LOT OF MISLEADING CUSTOMERS AND INVESTORS, THAT SORT OF VIBE. WE ALSO KNOW THERE CRIMINAL CHARGES BROUGHT AGAINST ANOTHER CELSIUS EXECUTIVE, THE FORMER CHIEF REVENUE OFFICER. CAROLINE: WE WILL FOLLOW IT, THANK YOU SO
MUCH. MEANWHILE, WE WANT TO TAKE A HARD TURN AND THINK ABOUT AN AREA OF FOCUS WHEN IT COMES TO BLACK TECHNOLOGISTS AND ENTREPRENEURS. BLACK TECH WEEK STARTS TUESDAY AND IT'S IN CINCINNATI CONNECTING CEOS AND TO RISING BLACK ENTREPRENEURS. BLACK TECH WEEK AIMS TO BRIDGE THE GAP BETWEEN MINORITY COMMUNITIES AND TECH IN THE BUSINESS WORLD. JOINING US NOW IS THE LIGHT CHIP CEO.
HE'S RUNNING THIS EVENT AND WILL BE INVOLVED. BOTH OF YOU, WELCOME. YOU BROUGHT THIS ORIGINALLY I THINK IT WAS BORN IN MIAMI, FLORIDA AND YOU BROUGHT TO CINCINNATI, WHY? >> THINK ABOUT ALL THE FORTUNE 100 COMPANIES IN CINCINNATI. IT'S A GREAT PLACE TO CONNECT BLACK ENTREPRENEURS TO ENTERPRISE CONTRACTS AND THAT'S WHAT WE DID OUR FIRST YEAR AND WILL CONTINUE TO DO THAT. I THINK YOU PROBABLY KNOW THAT 1% OF THE U.S. GDP IS INVESTED IN VENTURE CAPITAL YET VENTURE CAPITAL ACCOUNTS FOR 57% OF THE U.S.
MARKET CAP. WE WANT TO MAKE CERTAIN THE BLACK FENDERS ARE INVOLVED WITH THAT IN CINCINNATI IS THE RIGHT PLACE TO DO IT. CAROLINE: LET'S TALK ABOUT A BUSINESS LEADER AND SOMEONE WHO MANY WILL WANT TO EMULATE.
THE FACT THAT BY THE AGE OF 25, YOU'RE AT STANFORD GETTING YOUR MBA AND YOU'RE LEAVING ONE OF THE FASTEST-GROWING MEDIA COMPANIES OUT THERE. I'M INTERESTED AS TO WHAT YOU WANT TO BE ABLE TO SPEAK ABOUT AND SHINE A LIGHT ON. MANY MIGHT FEEL THAT YOU ARE TO REPLICATE. >> YEAH, THE NOTION ABOUT MEETING HARD TO REPLICATE ALWAYS BREAKS MY HEART BECAUSE IN ORDER FOR BLACK PEOPLE TO SUCCEED, IT CAN'T BE THAT YOU HAVE TO HAVE THE PERFECT BACKGROUND AND CAN'T BE YOU HAD TO GO TO DUKE UNIVERSITY OR STANFORD TO MAKE IT. WHAT I'M HOPEFUL AND EXCITED TO
TALK ABOUT IN CINCINNATI IS THE NOTION OF THE IMPORTANCE OF BLACK PEOPLE OWNING AND CONTROLLING OUR OWN NARRATIVE. BLACK PEOPLE ACROSS THE WORLD HAVE HAD A PERCEPTION ISSUE WHICH I THINK ABSOLUTELY CONTRIBUTES TO THE POLICY ISSUES WE HAVE IN THOSE PERCEPTION ISSUES ARE DRIVEN BY THE STORIES AND NEGATIVE STORIES THAT HAVE PLAGUED US FOR HUNDREDS OF YEARS. IF YOU WANT TO CHANGE THE PERCEPTION, YOU HAD TO CHANGE THE STORY. IF YOU WANT TO CHANGE THE STORY, YOU HAVE TO CHANGE THE STORYTELLERS ON EXCITED TO HAVE AN OPPORTUNITY TO CHANGE THE STORY AND HOW WE CAN DO IT IN BUSINESSES BUT IN TECH, ONE OF THE STORIES WE ARE TELLING, JUST THE WAY WE SHOW UP AS TECH LEADERS AND ENTREPRENEURS, THAT'S A CONVERSATION WE ARE EXCITED TO HAVE. CAROLINE: I'M INTERESTED IN THE PERCEPTION OF THIS ECONOMY WHICH IS SLOWING AND ONE WHEREVC'S GO BACK TO BACKING ENTREPRENEURS. BANKS LEND TO PEOPLE WHO LOOK
LIKE THEM AND ULTIMATELY THAT'S THE MINORITIES THAT ARE NEW TO ENTREPRENEURSHIP THAT SUFFER, ARE YOU SEEING THAT WAS THAT THE WRONG PERCEPTION? >> THAT'S JUST THE WRONG PERCEPTION. IF WE CAN INVENT A NARRATIVE, WE CAN REINVENT A NARRATIVE. THE ENTIRE WEEK NEXT WEEK, YOU WILL SEE AMAZING FOUNDERS WHO WERE GROWING BIG THINGS. ONE COMPANY WAS JUST ACQUIRED AND SHE'S BUILT AN AMAZING BUSINESS THAT WILL BE A ONE BILLION-DOLLAR BRAND SOON. IT'S JUST TIME TO MAKE CERTAIN PEOPLE UNDERSTAND THAT THESE FOUNDERS ARE OUT THERE AND IF THEY ARE NOT LOOKING, THEY ARE MISSING OUT ON THE OPPORTUNITY OF A LIFETIME. CAROLINE: MANY AT THE MOMENT WOULD BE WANTING TO SEE A COMMITMENT WHETHER IT BE BIG COMPANIES CONTINUING TO PUT MONEY INTO DIVERSITY TO ENSURE WE GET DIVERSITY AT THE FOUNDING OF COMPANIES AND THE BUILDING BLOCKS OF AI.
HOW ARE YOU SEEING THE LANDSCAPE CHANGE THROUGHOUT YOUR LEADERSHIP OF THE BUSINESS? HOW DOES IT DRIVE YOU AS A LEADER OF COLOR AT THE MOMENT. >> I THINK WE ARE ALL HERE FOR A VERY SPECIFIC REASON. WHEN YOU LOOK AT THE UNFORTUNATE MURDER OF GEORGE FLOYD, WITHOUT QUESTION, IT'S PART NOISE AND MAKE PEOPLE WANT TO BEHAVE DIFFERENTLY. YOU SEE ADVERTISING AND BRANDS COMING UP WITH COMMITMENTS OF BLACK OWNED MEDIA NEW IF YOU THINK ABOUT WHAT IT TOOK TO MAKE THAT HAPPEN, YOU LITERALLY HAD TO HAVE A MAN BURNING TO GET THIS DONE. MY BELIEF IS WE ARE THE PEOPLE WHO ARE HERE FOR A REASON.
IT'S A VERY SPECIFIC MOMENT IN TIME AND IT'S UP TO US TO CREATE CHANGE TO SHIFT THE ALGORITHM FOR ALL OPPRESSED PEOPLE, LEADING A CHARGE AND ARE REVOLUTION FOR BLACK CULTURE AND BLACK STORYTELLERS. I THINK THIS IS A MOMENT GOING NEED TO LOOK AROUND AND SAY IT'S THE JOB OF THE OPPRESSED AND HOW DO WE FIX THE WORLD AND CHANGE THE WORLD MOVING FORWARD? CAROLINE: IS THAT HARTER GIVEN THE ECONOMY AND PEOPLE'S ABILITY TO PUT MONEY BEHIND MARKETING AT THE MOMENT? >> WITHOUT QUESTION, I THINK WE CAN ALWAYS BRAG ABOUT THE GROWTH AND TALK ABOUT THE FASTEST-GROWING BLACK-OWNED MEDIA COMPANIES IN THE WORLD RIGHT NOW. THAT SAID, YOU CAN STEAL MOMENTUM -- YOU CAN FEEL THE MOMENTUM START TO SLOW. WHEN THIS FIRST HAPPENED, THE DATA THAT WAS OUT THERE WAS BLACK ONLY WAS ONLY 1% OF THE TOTAL INDUSTRY. EVEN AFTER DOUBLING THE INDUSTRY OVER THE LAST TWO YEARS, WE'RE JUST NOW GETTING TO 1%. WE ARE STILL VALOR -- VERY MUCH ON THE CHALLENGE WHERE BLACK-OWNED MEDIA IS GETTING PENNIES AND THE ENERGY AROUND FUELING THE DREAMS AND TRANSFORMING THE MEDIA LANDSCAPE IS GETTING SMALLER. CAROLINE:
IN THE DISCUSSION AROUND BLACK TECH WEEK, THE AMOUNT OF FORTUNE 500 EXECUTIVES AND THE FOCUS. LESS THAN 1% IS PEOPLE OF COLOR IN YOUR INDUSTRY. I'M INTERESTED IN YOUR PERSPECTIVE AND WHAT YOU WANT PEOPLE WHO COME TO YOUR EVENT TO TAKE AWAY.
WHAT KEY POINTS IF I'M A BUDDING ON TRIP IN OUR WANTS TO DRIVE THIS CHANGE, WHAT TWO OR THREE THINGS CAN I GO AWAY TO DO TO BRING OUT -- TO BRING ABOUT CHANGE FOR MYSELF? >> WE ARE THE CHANGE. WE DON'T STOP REGARDLESS. ONE OWNER BOOTSTRAPPED HIS BUSINESS WERE PEOPLE NOTICED WHAT HE WAS DOING. WE'VE GOT FEARLESS IN BALTIMORE WHO BOOSTED HIS BUSINESS TO A ONE BILLION-DOLLAR VALUATION. WE ARE GOING TO KEEP PUSHING AND KEEP DOING IT. IT'S HARDER AND THAT'S UNFORTUNATE BUT WE ARE IN PEOPLE ARE TAKING NOTICE.
PEOPLE ARE LOOKING AT COMPANIES. WE HAD A $50 MILLION FUND. CAROLINE: THAT'S BEING COMMITTED AT THE MOMENT? >> THAT'S RIGHT. CAROLINE: COME TO US WHEN YOU HAD CHECKS TO TALK ABOUT. >> ABSOLUTELY. THANK YOU VERY MUCH. CAROLINE: THANK YOU BOTH VERY MUCH INDEED. COMING UP, WE WILL LOOK AT THE VC OUTLOOK.
WHAT ABOUT THE VC PULSE RIGHT NOW, KYLE STANFORD WILL BE WITH US. THIS IS BLOOMBERG. CAROLINE: PITCH BOOK IS OUT WITH THIS REPORT ON THE BC WORLD AND RESULTS ARE SOMEWHAT MIXED. KYLE STANFORD IS WITH US NOW. THINGS ARE PRETTY UGLY IN Q2? >> UNSURPRISINGLY, VC STAY PRETTY TEPID IN Q2.
LEVELED OFF AROUND 4000 DEALS WHICH IS ABOVE AND A QUARTER BETWEEN 2021. THE DEAL VALUE IS STILL PRETTY LOW. IT'S GETTING PUSHED UP BY OPENAI AND PUSHED UP BY THE STRIKE DEAL THIS YEAR BUT IT LOOKS DISMAL AND THE PUBLIC MARKET IS NOT OPENED UP YET. M&A IS REALLY LOW AS WELL. THE FTC IS THE MAKING SURE THEY ARE PUTTING PRESSURE ON THE M&A MARKET WE HAVEN'T SEEN MUCH MOVEMENT THERE EITHER. CAROLINE: CAN YOU BREAK IT DOWN GEOGRAPHICALLY FOR US? OFTEN, WE TRY TO REPRESENT TECHNOLOGY BEING BUILT EVERYWHERE AND IT'S BEING BACKED EVERYWHERE. REALLY, EUROPE AND ASIA IN PARTICULAR SEEM TO HAVE A BIG SLOW DOWN.
>> WHEN YOU COMPARE THE U.S. VERSUS SOME OTHER MARKETS, THE U.S. IS MORE DEVELOPED, LARGER GROUP OF INVESTORS THAT CAN PUSH UP THE DEAL VALUE. IT WILL LOOK A LITTLE LESS OF A DAMPENED MARKET THAN WHEN YOU LOOK AT EUROPE OR ASIA. CHINA OBVIOUSLY IS HAVING A
DIFFICULT TIME WITH THEIR VC MARKET AND IS BEEN A LOT OF TENSION BETWEEN THE U.S. AND CHINESE GOVERNMENTS PRESSURING THE MARKET THERE AS WELL. U.S. HAS STAYED RELATIVELY STRONG COMPARED TO THE OTHER MARKETS AROUND THE WORLD. CAROLINE: IS THERE A PARTICULAR RATE OF LIGHT? I THOUGHT AI MIGHT SAVE THE DAY. >> I THINK IT'S A LITTLE DIFFERENT THAN THAT.
GENERATIVE AI IS GETTING A LOT OF ATTENTION RIGHT NOW AND A LOT OF INVESTMENT AS A SUBSECTOR OF AI. WE SEE AN INCREASE OVER LAST YEAR IN THE YEAR BEFORE BUT AI IN GENERAL WILL NOT PULL BACK THE VENTURE MARKET OVERALL. AI IS LOWER THAN WHAT WE SAW IN 2021 AND HAS A BROADER MARKET.
EVERYWHERE WE LOOK, VENTURE IS LOWER THAN IT WAS IN 2022 AND SLOWER THAN 2021. CAROLINE: THE IPO MARKET IS FIRMLY SHUT FOR THE TIME BEING UNLESS YOU ARE AN ENERGY DRINK. EXITS, LIMITED IF ANY? >> VERY LIMITED. WE ARE STILL AT ABOUT 12
BILLION INDEX VALUE GENERATED THIS YEAR IN THE RECORD OF 2021 WAS 775 BILLION. YOU CAN SEE HOW MUCH LOWER THAT MARKET IS. 86% WAS IPO'S. WE'RE STILL LOOKING FOR THE S1'S TO BE FILED. IF YOU ARE A LIQUID DEBT COMPANY, YOU NEED THAT BUT WE HAVEN'T SEEN MATERIAL MOVEMENT YET. CAROLINE: DO YOU THINK REGULATION AFFECTS BIG TECH SPENDING? >> OF COURSE, YOU THINK OF MICROSOFT OR AMAZON WILLING TO TAKE ON THE FTC BECAUSE THEY HAVE THE CASH BEHIND THEM TO DO IT.
IF YOU'RE MAKING A MILLION-DOLLAR DEAL, DO YOU SPEND 00 MILLION TO GET THE DEAL DONE? MAYBE NOT. WITH THE NUMBER OF UNICORNS WE HAVE IN THE U.S., IPO WILL BE THE MORE COMMON ROUTE FOR THOSE TO EXIT.
WITHOUT THE PUBLIC MARKETS WILLING TO ACCEPT GROWTH AT ALL COST MODELS, WE WILL SEE A LOT OF THESE COMPANIES CONTINUE TO WAIT OUT THE MARKET. CAROLINE: WE THANK YOU FOR SHINING A LIGHT IN THE WORLD OF VC AND MONEY FLOWS. COMING UP, WE WILL BRING YOU TRANSPARENCY OF WHAT'S HAPPENING AT WALT DISNEY. EXTENDING BOB IGER'S CONTRACT FOR ANOTHER TWO YEARS. MEANWHILE, LET'S HAVE A QUICK CHECK ON APPLE. INTERESTING AROUND LABOR WITH TALKS WITH HIS FIRST UNIONIZED STORE. THE LABOR REPRESENTATIVES
FIGHTING A COMPLAINT TO WHAT THEY CALL BAD FAITH NEGOTIATIONS. THE IPHONE MAKER IS GOING AND HASN'T RESPONDED TO KEY PROPOSALS. IT'S HOLDING UP 0.3% ON A DAY WHEN TECH IS MARKEDLY HIGHER. I THINK BOB IS ONE OF THE GREAT CEOS OF OUR TIME. I THINK HE CARES A LOT ABOUT DISNEY. THE NEWS DOESN'T SURPRISE ME. I LEARNED ABOUT IT HERE AND I
DIDN'T ACTUALLY KNOW IN ADVANCE. IT'S PART OF WHAT YOU WANT TO SEE DISNEY DOING WHICH IS ACTING LIKE HONORS AND FEELING THE IMPORTANT THING IS THE LEGACY OF THE COMPANY WITH THE HANDS-ON TO THEIR SUCCESSORS. I THINK BOB IS THAT GUY. CAROLINE: REID HOFFMAN THEIR REACTION TO THE NEWS THAT BOB IGER'S CONTRACT WAS EXTENDED AT DISNEY. . ED LUDLOW IS STILL IN SUN
VALLEY. REID HOFFMAN TALK ABOUT BOB IGER IN THAT WAY ALMOST EXACTLY WORD FOR WORD, ONE OF THE BEST CEOS AT BANK CAPITAL. ED: IT'S BEEN A BONDS. THE BOARD'S THINKING ON THIS IS THAT THE CONTINUITY OF LEADERSHIP AND THE TIME FOR SUCCESSION AND THERE IS STILL THE QUESTION ABOUT SUCCESSION. DURING THAT EXTENDED INTERVIEW, BOB IGER WAS QUICK TO MAKE THE POINT THAT THIS IS PARTLY WHAT IT'S ABOUT AND IT GIVES THEM MORE TIME FOR WHOEVER COMES NEXT. IF YOU LOOK AT THE MARKET REACTION, THEY BASICALLY POINT TO THIS BEING EVIDENCED THEY HAD NOT COME UP WITH ANYONE. THE INTERNAL CANDIDATES WERE NOT GOOD ENOUGH SO THERE ARE STILL QUESTIONS ABOUT THE FUTURE OF THIS COMPANY BUT BOB IGER'S ON THE JOB. CAROLINE: HOW MUCH DID THAT UPSET SOME OF
THE CURRENT POTENTIAL SUCCESSORS? ED: WHAT SOURCES HAVE TOLD ME IS THAT THE CEO IN TERMS OF INTERVIEWS HAS BEEN ONGOING. DURING THAT INTERVIEW THIS MORNING, BOB IGER DISPUTE THE IDEA THAT IN TURN, PEOPLE ARE NOT READY TO STEP UP. HE SAID THEY DID HE THINK THEY ARE BUT THEY NEED MORE TIME FOR THE TRANSITION.
IT'S INTERESTING HOW CANDID HE WAS ABOUT THINGS DISNEY GOT WRONG. HE STOOD BY DISNEY PLUS BEING PRICED AT $6.99. I GOT THE MARKETING WRONG AND THERE ARE OTHER PARTS OF THE BUSINESS LIKE SPORT WHERE HE SAYS I WILL ACT. UNIVERSITY, THE RESPONSES BOB
IGER IS THE RIGHT MAN FOR THE JOB. HE IS THE ONLY PERSON THAT CAN GET THIS GIANT THAT IS DISNEY TRANSITIONING INTO MORE DIGITAL STREAMING FOCUSED BUSINESS THAT IS PROFITABLE. CAROLINE: THE CONVERSATION THAN STREAMING, WHAT ELSE WILL KEEP AND I ON TODAY? >> ED: THERE IS MASSIVE OVERHANG WITH ACTIVISION AND MICROSOFT. THE FTC APPEAL WITH A BIT OF A SURPRISE AND CAME LATE. -- AND CAME QUICKLY. EVEN THOUGH I LOVE A DEADLINE, UNTIL THAT POINT, THEY MIGHT EXTEND IT. CAROLINE: I KNOW YOU WILL GET THE GREAT NEWS FOR US, THANK YOU SO MUCH. ED LUDLOW IN SUN VALLEY AND
THAT DOES IT FOR THIS EDITION OF BLOOMBERG TECHNOLOGY. YOU CAN FIND US ONLINE. FROM NEW YORK, THIS IS BLOOMBERG TECHNOLOGY.
♪
2023-07-14 16:17
Show Video
Other news