Greatness never ends: The First Look 2021 | Samsung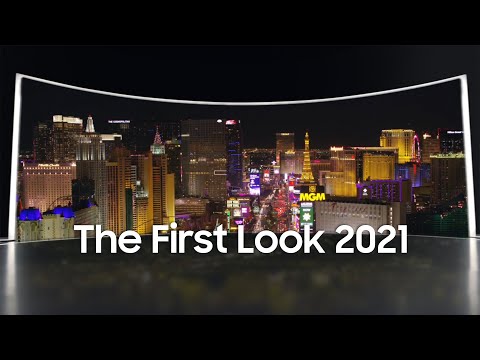 Show Video
Welcome to Samsung's virtual First Look event. It is my pleasure to be with you today, to talk about our advancements in technology for 2021. Every year, CES has offered us a chance to unveil our vision for the future, coupled with our new and exciting product portfolio. And while we would love to be together in Las Vegas, we recognize that the world is still navigating the challenges imposed by a global pandemic. So we are bringing First Look to YOU So you can enjoy CES safely, and from the comfort of your home. 2020 had a significant impact on all of us.
However, amidst so many uncertainties and daily challenges, we are gently reminded of the positive progress we are making as we come together, across the world. As we enter 2021, one thing has never been clearer – The pivotal role technology plays in helping us carry on and stay connected. At Samsung, this recognition inspired us to reflect on our priorities as we discovered a renewed sense of responsibility to helping the world around us. Our commitment as one of the leading technology companies Is to do our part and achieve sustainable management. Leadership, of course, is about more than being the best, Or being the first to market.
Leadership is about the pursuit of innovation to pave the way forward for everyone. It requires an ongoing effort on our part to advance human-centric technology while protecting our future and environment. This is why, for the first time in the industry, I am proud to announce Samsung TVs are Going Green. Our major long-term goal is to ensure sustainable production and consumption.
To that end, We will decrease our carbon footprint during the production process In a systematic and meaningful way. We will also reduce waste by extending the use and lifespan of resources. This means including more recycled materials across our entire TV lineup. When it comes to E-waste, we will affect change by providing products that are durable and cutting-edge, through continuous software updates and enhanced repair services.
Going Green is a critical response to the environmental issues our planet faces. We hope that by taking these steps, we will inspire others in the TV industry to follow. Our efforts are already underway.
Starting in 2021, most of our products will come in eco-friendly or recycled packaging with minimal add-ons to promote more upcycling. Our new SolarCell Remote Will use sunlight or indoor lighting to power itself, eliminating the need for disposable batteries. But it doesn't stop there… Hello everyone! I'm here to talk about the things Samsung has been doing to think clean and go green! If you've gone shopping for a screen recently, you'll notice how they keep getting bigger. The packages are getting bigger too, and more elaborate. That's because packaging is part of the branding competing for your attention.
Unfortunately, that also means they leave a bigger carbon footprint. So last year, Samsung decided to buck the trend and simplify. We steered the industry in another direction with Eco-packaging. Just in terms of size and volume, this presents an enormous opportunity to significantly reduce waste.
Eco-packaging goes beyond recycling to upcycling. Our minimalist package comes with a dot design that helps consumers cut and create their own projects. It gives new life to plain old boxes and invites you to get creative. We partnered with Dezeen magazine to promote upcycling through the Out of the Box competition. The results have been imaginative, clever, and completely delightful! I saw a pet house I just have to try with my kids. Take a look.
This has been one of the most popular competition that Dezeen has ever run. Our consumers share the same eco-friendly values that we uphold, and their ingenuity gave new life to packaging that was once considered trash. The best part of eco-packaging has been your response. Together, we'll do our part for a greener planet, spruce up our home décor, and have some fun! In 2021, Eco-packaging will expand to other products in our lineup. We will minimize embellishments like stickers or color ink, making the upcycling process even simpler. That's what's happening on the outside of the box.
What's inside is changing too. Take this remote control. You never really think about it.
That is, until it doesn't work and you have to dig up fresh batteries. Who has time to keep track of them? And we all know batteries create unwanted waste. So for both your convenience and the environment, we kept searching for ways to apply light energy. At the same time, we would have to develop extra efficient remote controls that could be powered by solar or indoor lighting alone. We also chose to use recycled plastic, which involved turning waste into resin that met our high standards. It wasn't easy, but we decided to go for it.
The result is the game-changing SolarCell Remote Control Based on the average life of TVs, which is about seven years, this saves the environment from over 99 million batteries. The reduction in carbon emissions is immense. Picture 759 football fields full of pine trees. It would take all those trees an entire year to do the same work.
Altogether, it was a complex process that took an incredible amount of expertise, dedication, and investment in R&D. Was our remote control worth the trouble? Absolutely. We're taking the initiative to conserve our planet. With the progress we make, It's good to know my three kids will grow up in a greener world.
Sustainability demands careful attention and extensive investment. But what we gain is priceless: A healthy planet, consumer trust, and a bright outlook for future generations. Packages and remote controls are commonplace objects that people take for granted. But we took a harder look and asked uncomfortable questions about these norms. While we sometimes embrace discomfort To disrupt the status quo, We are also aware this is not always a choice.
People with visual and hearing impairments Experience discomfort in their daily lives as a matter of course. At Samsung, we seek to provide them with the same level of viewing experience as all our consumers. This is their story.
It's easy to assume that people with Low vision, the Blind, the Hard of hearing and the Deaf can't watch TV On the contrary, they spend a great deal of time with their screens, even more than most, because screens are their windows to the outside world So at Samsung, we strive to provide features optimized for their various needs. This is about their experiences. For people with color vision deficiency, We made it possible for them to see more colors I thought there were green flowers but they are actually red This App allows my daughter to See Colors she couldn`t see before. This technology really great for us. For people with low vision, we developed Color Inversion. It changes the graphic menu into contrast colors, leaving the video as is. It looks simple, but to enable this technology, we had to start by reengineering the chip set I love this function. It's way easier to look at the menu.
It's really clear what I'm on, what I'm choosing, where I'm going - I've never had that before. Then there's Audio Description, so you can hear actors' gestures and expressions being described to you This opens up new experiences for people who couldn't appreciate movies and TV series before. This is such a great way to understand the scenes better. It's not just about the screen.
Something as ordinary as a remote control can feel totally unfamiliar. We made it easier to operate remote controls as well. In the Learn Remote Control mode, each time you press a button, it will tell you what that does. Users can listen and quickly memorize the location of each button.
And Voice Guide lets you know your current channel and volume level. RNIB have thoroughly enjoyed working with Samsung on creating this range of accessible TVs, and the feedback we've had from our customers has been absolutely incredible. You know, it's the first time that blind and partially sighted people can use the whole of the smart TV independently. In 2020, we awarded Samsung TV our accessibility accreditation. Their dedicated efforts have improved the lives of many.
We also offer technology for Deaf. Magnify the sign language area by up to 200%. It's literally there on the screen. You can see the signing really clearly, and the facial expression too. It's really easy to understand. You can magnify the sign language area by up to 200%.
that clarity was really great. Separate the captions so they don't cover the text of video Ah, finally i love to see that you can move the captions below the image. Which means I can see what's going on the screen and also, the tab is large as well so that's perfect. We seek a solution for every inconvenience through our technology.
That's because we don't want to exclude anyone. Our technology is for everyone. Including people like me. Accessibility has been top of mind for quite a while. So it should come as no surprise That we won the 2021 CES best innovation award for our efforts.
It's not why we do it, But it's still great news! By 2022, We will expand our Voice Guide so no one is excluded. We will also develop a Sign Language Avatar to guide through all the functions of Samsung TVs. We're also planning to add a Closed Caption feature to automatically convert any sound into text. In addition, We are developing technology that allows the use of sign language to control our screens, similar to how voice recognition works.
Samsung has already made substantial breakthroughs as a front runner in AI technology, Which we will use to enhance accessibility in our products. We hope to introduce many more features That offer every consumer a viewing experience without barriers. Last year, I stood before you, Looking about the same As I introduced our vision of Screens Everywhere. We set out to defy the limitations on when and where screens could be used as well as what content we could deliver.
We are determined to make another leap forward By expanding our vision to screens for all. Screens for all encapsulates Our mission to serve the needs of all. From our environment to its inhabitants. All of us, from young to the old, and everyone in between Whose lives have been impacted by 2020. We're always told to look in one direction: Ahead. To be at the front of the pack.
But when technology keeps pushing us forward… We say: pause and look back. Look back to make sure we're not leaving anyone behind. That our innovations are designed with people in mind. That everyone gets an equal seat on the couch. Look back to make sure the planet is not left as an afterthought.
That we make the world less wasteful. More conscious. So the next generation won't face the consequences of today's choices. Let's take a moment to stop, breathe, and be better to the world around us. True progress only moves us ahead when it leaves no-one behind.
SCREENS EVERYWHERE. SCREENS FOR ALL. That's our overarching mission. But you might be wondering… What does this mean for you? Well, I am so glad the wait is over, That I can finally share this next-level viewing experience with you. Let me introduce the Neo QLED. The Neo QLED is here to redefine what screens can do. What we want from our screens is a fully immersive experience.
Now more than ever, we want breathtaking details that take us closer to real life. Just in time, the Neo QLED lineup offers a gigantic leap in picture, design, and sound quality. Not only that, since what you watch and how you watch it has changed, the Neo QLED has evolved right alongside your habits. We're going to show you how. Here's David to guide you through just a few things you can do, at home, with Neo QLED. Hi there.
Our homes are transforming right before our eyes. It has become our workplace, classroom, gym, movie theater, and more. With more diverse and sophisticated features, Neo QLED is going to give you the power to achieve more than ever before. I'm here to show you how.
A lot of people are working out at home. Like him Is this right? His form could be better. He needs a little help. When you can't go to a trainer, just bring one home. All you have to do is turn on Samsung Health Smart Trainer. The avatar is on the right.
Using Samsung's AI algorithm the smart trainer will analyze and guide your form in real time. Now you're getting it. Thank you. Time to check your results. The Workout Summary has your total time, estimated calories burnt, form score and more.
There's no question about it. Neo QLED is going to be the best trainer you'll ever find. So stay fit! Being home doesn't mean you're alone.
And the best way to social distance and stay connected? Video calls. Let me help you out. Just tap your phone to the TV and voila! With Multi View, you can keep watching TV while you talk to your friends. Oh! One more.
Hey come on! They're all waiting for you! You can use Google Duo to see five people on the screen and call up to 32 people in a group call. And with a USB camera, the camera will follow your movements. It will automatically zoom in and out so you're just the right size, always in focus. Only Samsung can do this. Happy birthday! Have fun… This is my favorite part.
More time at home means more time for games. You're losing again? Let me just try something. Many games are designed for wide views.
It can be frustrating to play in the regular ratio. Go wide. And even wider, Whoa... I can see my target better now! or adjust the angle and position to your eye level. As gamers know, little things make a big difference. Game Bar displays all the information you need to monitor your performance.
And it's has FreeSync Premium Pro for smooth, tear-free gaming. The games we used to play on a PC or gaming console, will transition seamlessly to the TV screen. With Neo QLED, winning is easy. Yeah! Of course, it's not all fun and games.
Home is where you work. Urgh. I need to revise a file right now. Hey, that looks uncomfortable. There's a smarter way to do that. Use the PC on TV function. There… all the programs and devices you need.
Choose Samsung DeX, and you can get a familiar PC experience on Neo QLED, while you continue texting your friends on the phone. Everything is intuitive. Argh. I left the file in the office.
Need your office computer? No problem. Use PC on TV – Easy Connection to work on files from your office computer to your home screen. Minimal effort maximum efficiency. It's just what your home office needs.
Last but not least, your TV is your entertainment hub. Quick question. How many streaming services do you subscribe to? Um... Many?
Well, how much do you actually watch? Spent a lot though. Try Samsung TV Plus, it's all free. Samsung TV Plus comes with countless free channels, movies and TV shows.
Content is curated by genre, viewing history. even seasonal themes You can also continue watching where you left off. Anytime.
There's more. Mobile TV Plus. Enjoy Samsung TV Plus anytime, anywhere. It's game time! Now here's something for sports fans. Ever had to watch two games at once? Multi View has you covered.
Choose one of our preset options. Yesterday's highlights, today's game, grudge matches, your friend's reactions. see it all on one screen.
Multi View is fully customizable. Choose how to divide the screen, and what to see and hear. You can even adjust the volume for each section. Nice work. Transform your home with Neo QLED, and you'll always be making the most of your time Explore the possibilities. All these is possible with only Samsung Neo QLED.
What do you think? Excellent, if you ask me. I can't wait to try some of these features. For years, Samsung has led the industry with breakthroughs in screen innovations. This year, we're proud to build on our track record with this Neo QLED. Let me see if I can explain the mind-blowing new technology behind it. It all depends on the revolutionary Quantum Matrix Technology… … which begins with the Quantum Mini LED.
It's what I'm standing on right now! In reality, it is as small, as a grain of sand. Can you see the difference? In fact, it's 1/40th the height of previous LEDs. The reduction is made possible through Samsung's exclusive LED technology.
Instead of using a lens to disperse light, and a package to fix the LED in place, our Quantum Mini LED has one incredibly thin micro layer. That means we can fill the screen with more LEDs. A lot more. And when we apply light focusing technology, we can exert ultra-fine and precise control to the densely packed LEDs. This prevents what we call 'blooming' when brighter areas leak into the darker areas. With Quantum Matrix Technology, the difference is clear. Literally.
We were also able to increase the luminance scale to 12-bit with 4,096 steps making dark areas darker and bright areas brighter In a scene like this, details come to life. Exotic places you've never been to, friendly faces you miss, we'll bring them all to you. The radical reduction in LED made way for the slim and sleek Infinity One Design.
Beautiful from every angle. But these design innovations are about more than aesthetics. They exist to provide you with a dynamic and captivating viewing experience. The bezel is so narrow, it's imperceptible. We also minimized the size of our logo. It's like the Infinity Screen floats on air.
We're also introducing the Attachable Slim One Connect box, a simple and elegant solution for multiple inputs and cables. When you turn it on, everything but the content fades away. Total immersion. In an ideal world, we would always get the best possible picture quality.
But peak streaming hours and slow internet connections are the reality we face. You know what I mean, who hasn't had lagging issues? Samsung TV offers a solution With new and improved AI Upscaling. It uses deep learning to transform lower resolution content into higher resolutions, up to 8K with greater details. We achieve this through the trailblazing Neo Quantum Processor. In place of the single neural network like in previous models, the new processor uses up to 16 different neural networks, each focusing on a specific type of content.
Think of it as the difference between having one chef versus sixteen. For example, when you want fettuccine, you would call the chef from Tuscany. In a similar way, our neural networks have expertise in different types of content. Enjoy superior picture quality, whenever and whatever you watch! And thanks to this upgraded processor, your TV exerts perfect control over not only the picture quality, but also the audio system, from the two center speakers to all four corners', It'll provide you with the ideal audio experience, every time. Object Tracking Sound (OTS) uses audio positioning and scene analysis to match the sound effects with the onscreen movement. The new OTS Pro has a 6.2.2 channel audio system,
so sound effects travel dynamically from multiple positions and directions. OTS Pro also comes with greater voice clarity. We also developed SpaceFit Sound to refine audio calibrations.
No matter where you put your TV, SpaceFit Sound automatically analyzes how the sound travels based on the dimensions and acoustic characteristics of the room. It then delivers the optimal sounds for your home. When Neo QLED meets the Q-series soundbar, it creates Q-Symphony, a symphony of harmonious sounds from every direction. It's a new level of acoustic immersion. The technology is complicated. But the goal is simple: we do it for you.
So it's only fitting that our product lineup is as diverse as our consumers. Here's Adam, to tell us more. Hey guys! I'm extremely excited to share a truly unique collection of products for those of you who want something a little out of the ordinary. It's a lineup to enliven, uplift, and embolden your lifestyle. Let's start with The Frame: When turned on, you can enjoy amazing picture quality.
Turn it off, and The Frame transforms into a work of art. This year, The Frame will debut a makeover that includes a slimmer screen that makes pictures look even more like a real art. You can customize it to suit your taste and living space. First, there are more frame and stand options as well as a bezel you can decorate. And through Samsung's Art Store, The Frame gives you access to a variety of artworks from leading galleries around the world like the Tate and Prado Museum.
From classics to contemporary, Bringing your favorite pieces home. This is The Frame's invitation to you, to turn any space in your home into your own personal art gallery. No wonder it's a bestseller. Next is The Premiere. We introduced it last year to bring the full cinema experience into your home.
It's a HDR 10+ enabled, Ultra Short Throw 4K triple laser projector. Basically, it's phenomenal. It has distinct red, green, and blue light sources that make scenes appear more vibrant and even more colorful. The 4.2 ch 40W all-in-one sound is powerful enough to fill your entire space.
This all comes in a compact body that only needs to sit just a few inches from the wall. That's about how much space you need. Even in small spaces, you can still project 130 inches of cinema. Maybe that's why, both The Frame and The Premiere are winners of the 2021 CES Innovation Awards.
One gives you the experience of the world's art galleries the other gives you the experience of an entire movie theater. Both within the privacy and safety of your own home. Last year, we introduced The Terrace because we noticed how much people love spending time outdoors. They love to exercise, share a meal with friends, or nowadays, even just sitting on the patio for a bit of fresh air.
But what if there's a show you want to binge, or a movie you want to watch or a game you can't miss? Yet you still want to be outside? No problem. The Terrace has you covered. With uncompromised QLED picture quality and increased durability to battle nature's elements, rain, hot or cold temperatures, and even dust... The Terrace will stand strong. Bringing everything you enjoy indoors, outdoors.
Now the next one, The Sero, happens to be one of my personal favorites. I spend a lot of time on my phone, from streaming movies to social media. And that's why I love The Sero.
By becoming an extension of my phone, It maximizes my mobile media experience and adapts to both horizontal and vertical content. When I turn my phone, the screen rotates automatically to fit the content. On top of this, it delivers a full 4.1 ch 60 watt sound experience, which is great for when I'm watching a movie or my favorite DJ goes live.
It's all the mobile content I love, made bigger and better on The Sero. Last, The Serif. Both TV and furniture. Both functional and beautiful. With its distinctive form, it can be placed anywhere with or without a stand.
Created in collaboration with the French designers Ronan & Erwan Bouroullec, it will fit beautifully into any décor while offering brilliant QLED picture. The Serif will continue to attract design and tech enthusiasts alike. These products will compliment any space, no matter the size or style of your home, giving you the freedom to expand your world. It's with products like these That samsung is enriching lifestyles And bringing more joy to our consumers.
But already, we are thinking ahead. We are pioneering screens to break new ground. Things you haven't even imagined, are set to become a part of everyday life. That's the promise of MICRO LEDs.
We first debuted our plans for MICRO LED in 2018 with The Wall. Now only three years later, we're unveiling models that are ready to enter your homes. This is it. The Samsung MICRO LED has arrived. You've seen the spectacular new screens.
The 110 inch model is winner of the 2021 CES Best Innovation Award. Here's how it comes together. First, the technology that goes into creating these completely new LEDs. Like the name implies, these LEDs are microscopic. It is literally thinner than a strand of hair. Can you see it? It is hardly visible.
Though there are 24 million LEDs here. As you can imagine, it's not an easy thing to mass produce, and we were only able to succeed using Samsung's semiconductor micro processing expertise. It's not just about the size though. MICRO LEDs are self-emitting, colored light sources in red, green, and blue. There's no loss of brightness or clarity.
No other self-emitting display / does this. You get incomparable, true-to-life picture quality. But what good is quality if it doesn't last? Samsung MICRO LEDs boast the advantage of longevity. Organic LEDs have a finite life span. If your TV uses them, you might be dreading the burn-in. That's when the LED pixels degrade over time, leaving you with dimmer lights and discoloration.
In contrast, Samsung MICRO LEDs are made of inorganic materials which are longer lasting and more durable. They maintain flawless picture quality for 100,000 hours. Now that's something to look forward to. Wait until you see how we're using this technology. Let me start with our design innovation. Our Monolith Design gives you an uninterrupted, immersive viewing experience with Infinity Screen.
So the screen integrates seamlessly into the surrounding space. Its elegant simplicity is further enhanced by new / Ambient Mode Plus. Whether you want your screen to blend in, display weather conditions, or act as a work of art, Ambient Mode Plus can transform your space. Just watch what happens in our collaboration with the media artist Refik Anadol.
See? How cool is that! Next, we want to recreate a full theater-going experience. For that, sound is just as important as picture. MICRO LED comes with center speakers, a better support for OTS Pro. Sound travels more freely through the built-in speakers without additional equipment. This creates MICRO LED's Arena Sound, which gives you dynamic, multi-dimensional audio for the largest screen experience ever.
4Vue can also handle up to four inputs at the same time. It's like having four screens in one. For example, you can plug in four game consoles.
Call your friends over. All of you together, playing one legendary game. Everything you want... all on one screen. So far, I've been talking about MICRO LED as the screen that breaks new ground in video, audio, design, and usability.
But we've only just started to explore its full potential. That's because MICRO LED screens are made of / modular forms. Take this. It looks like a single unit, but it's actually made of many modules.
This means consumers will eventually be able to customize the size, ratio, and shape of their screens. MICRO LED screens will open up endless possibilities in how we see and live life. We'd like to offer you a glimpse of that amazing future. Today, we introduced the promise and innovation that represent our vision, "Screens Everywhere. Screens for All."
We are redefining when and where screens can be used as well as who can use them and what they can do. In the process, we have embraced sustainability for the environment and future generations. At every step, we were inspired by you. Now it's our turn. We hope our products can inspire you.
To all of you watching from home, thank you.
2021-01-09 02:49
Show Video
Other news