WORLD PREMIERE! The new BMW CE 04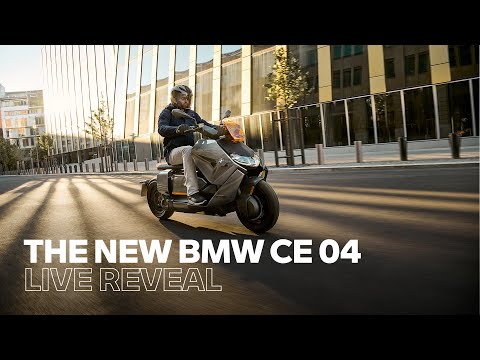 Show Video
Sustainability seamlessly integrated. This is how the BMW Group is transforming electromobility. Creating the best solutions for our customers is the driving force behind our pioneering spirit. The BMW iX, the BMW i4 and the MINI Cooper SE already prove, that our visions become series models. Get ready to meet the newest member of our zero-emission fleet ... It's great to see people here, back at the BMW Welt! Individual mobility remains important to many people — also during the pandemic.
And now we are moving forward, in a way that is electric, digital, and sustainable. We aim for more than two million electric vehicles by the end of 2025 — all of them representing zero-emission driving. We are also lowering CO2 emissions throughout the entire value chain and re-using valuable raw materials.
Our goal is the circular economy. Sustainability that's joyful — whether on four or two wheels. Just last weekend, I went on a ride on my motorcycle. Maybe next time, fully electric. Dear BMW Motorrad fans! We expect 2021 to be BMW Motorrad's best year yet.
Our customers can look forward to ten new models and model updates. And the new electric star for the city is our BMW CE 04. It will come to market next spring.
Today, we are celebrating its world premiere together. Just like the CE 04, all future new BMW Motorrad models for the urban mobility will be pure electric. Markus Schramm is responsible for BMW Motorrad. Hello Markus! Hello Oliver, recently we were out motorcycling together — and today we are at the world premiere of the BMW CE 04. It's great to see you at this very special event. And you are right, at BMW Motorrad we are fully committed to electric mobility, especially in the urban setting.
And the CE 04 is the next milestone in our e-mobility roadmap. That sounds great, Markus. Let's have a look at it! Well, this is a fantastic concept! It probably means I won't mind leaving my GS in the garage in the future.
The BMW CE 04 combines an e-drive with emotion and motorcycling fun, the latest technology, and the best battery cells, which also provide power in the BMW iX. BMW Motorrad benefits from the innovative power of the BMW Group. And as a customer, that's exactly what I expect from BMW. Yes, that was the goal from the beginning of the project. The CE 04 combines an emotional design aesthetic and lifestyle with outstanding riding fun.
Easy handling, impressive torque for a very fast start at traffic lights — it's always great fun to be on the road with the CE 04. That's really something you have to have tried out for yourself. But pictures say more than a thousand words.
Let's now take a look at what the CE 04 looks like in action ... BMW Motorrad clearly stands for innovation and design leadership in the field of urban premium mobility. Exactly 10 years ago we did pioneering work when we presented the Concept E. With the BMW C evolution, we were the first manufacturer to premiere a ground-breaking e-mobility product in 2013.
The visionary Concept Link was the starting point on the way to our CE 04 — the impressive result of our bold and curious spirit, always in search of the best solutions — solutions that are perfectly designed to make day-to-day life easier in an intelligent way, especially in urban settings. And when it comes to electromobility in particular, we have the great advantage over the competition to be able to access the huge e-technology know-how that exists within the BMW Group. For instance, the fifth-generation battery cells from the iX and i4 are used to power the CE 04. For our customers, this means they can rely on the high level of BMW quality and safety in the field of battery cell technology, as well as being able to access BMW charging services such as the wallbox.
Our goal was to think ahead and find solutions that inspire our customers worldwide. That's why we worked closely with our international markets from the very beginning to incorporate their urban mobility know-how into developing the CE 04. Now let's take a look at the importance of the CE 04 from the point of view of our French colleagues... Hello Paris... Here in France we're really excited about the arrival of the new CE 04.
Our country is in the midst of an accelerated journey to cleaner transport. In this context, the BMW Group's commitment is clear and concrete. The launch of the CE 04 is a key milestone for that transition, with its design, performance and connectivity features bringing the urban experience to a new level never seen before, a "silent" revolution so to speak. As a nation, France has a long-established culture of scooter use and the CE 04 logically arouses a lot of expectations. Our French customers were early adopters of e-mobility with the C Evolution which has been a big success since 2013.
More than 50% of the worldwide sales of this model have been in France alone, which illustrates the avant-garde of French customers. From Paris to the Côte d'Azur, we're all looking for more sustainable and easier ways to commute in the city, and the CE 04 is clearly a solution to these current challenges. The way we live, work and move around cities is changing, even more since the pandemic. In that context, two wheelers offer an individual and serene mobility solution. The CE 04 is the guarantee for responsible riding pleasure but also for everyday pleasure in the city, with optimized travel times, easy parking, and always with style. With up to 130 km achievable between charges, the CE 04 allows you to plan all your daily journeys comfortably.
As anyone who has already made the switch to electric-powered two wheelers will tell you, it's a smile under the helmet! So what are you waiting for to try a new urban experience? With a scooter you are unbeatably flexible in the city; and for me personally, scooters are the hidden champions of urban mobility! The BMW CE 04 is extremely fun to ride, believe me, and with its powerful maximum output of 41 horsepower, it is fast and agile to navigate through the urban jungle. But for entry-level riders, a performance-reduced version is available as well. The particular experience of the CE 04's electric drive is its outstanding acceleration — it gets up to 50 km per hour in just 2.6 seconds, which is faster than any other scooter.
The maximum speed for both versions is 120 km per hour. With a range of up to 130 km, the CE 04 enables relaxed, emission-free riding and ensures excellent day-to-day practicality. With advanced control systems such as Automatic Stability Control, Dynamic Traction Control, the newest generation of cornering ABS and four riding modes, the CE 04 offers everything to be desired for in terms of riding dynamics and stability. The short charging times are a big plus as well, thanks to charging technology based on the system used in BMW cars. Safe, straightforward charging is carried out with the integrated charger, either at a regular household socket, at a wallbox like you can see here, or at a public charging station. In just 45 minutes, you can charge the battery from 20% to 80% with the optional quick charger.
One highlight is also the standard 10.25-inch TFT display, — that we have here: This puts the CE 04 at the very top of the segment. Navigation, media and telephone are all easy to use. We will be offering the CE 04 all over the world, and I'm sure our customers will have just as much fun with it as I do. This scooter was designed to be integrated seamlessly into your daily life.
A new, future-oriented form of urban mobility together with innovative riding equipment, such as this cool jacket for example… Hello on behalf of BMW Motorrad Germany. We are very proud to share our excitement for the new BMW CE 04 with you today! I am sure that this innovative e-scooter will take two-wheeled electromobility in metropolitan areas to a whole new level. Because of its revolutionary design, we think that the CE 04 is going to particularly appeal to people who are open to new approaches and are constantly looking for smart, intelligent solutions for their everyday lives — people who want to be part of a sustainable mobility solution by choosing this type of new technology. Next-generation technology, superior safety features and innovative connectivity solutions come as standard with the CE 04, and with the extensive range of accessories, special equipment and color schemes on offer, it's you that decides exactly how your personal CE 04 will look. In the next clip, my colleague Alexander from Spain will tell you how urban electromobility feels in his city... We at BMW Motorrad Spain believe that this is the perfect time to rethink the current scooter concept and launch a modern and fully electric model on the market, like the new BMW CE 04.
As in many other countries around the world, Spain seeks to reduce pollution and emissions as quickly as possible. In this context, there is a big focus on increasing the electric charging infrastructure throughout the country and in our homes with a greater number of charging points available. BMW Motorrad sees the new CE 04 electric scooter as an important contribution to the transport mix in Spanish cities which are, of course, the perfect setting for electromobility.
We are very fortunate here in Spain to have one of the most favorable climates in Europe to ride all types of motorcycles and scooters. In this sense, it is clear that this future-oriented approach is a smart choice as an alternative to combustion engine concepts. We hope to see many of these scooters in our inner cities, which is where electric scooters are best suited to perform. But the CE 04 is also a viable alternative for traffic entering and leaving cities because of its greater autonomy, high degree of comfort, and maximum speed.
In addition to an exciting driving experience, we offer an advanced commitment to connectivity, turning this pioneering scooter into a true communication center — especially in terms of interaction between the vehicle, rider, and motorcycle riding equipment. Featuring an electric motor, this model is fun to ride and fully integrates with the rider's lifestyle. The CE 04 undoubtedly redefines the concept of a scooter. From a design perspective, the CE 04 is a great achievement for us too! For us designers it is always exciting to imagine how we will live and how we will move in the future. We think about questions such as: How will society and how will our living conditions, and therefore, our mobility change over the next decades? What do our customers expect from their vehicles? And what does digitalization and connectivity mean for our mobility needs in the future? So, as a link between the analogue and the digital world of the users, the CE 04 is actually both: It's a means of transport and communication for the urban commuter.
With its innovative package, it sets out to redefine the scooter segment with the flat battery storage for example, and the low center of gravity for dynamic riding fun and playful and easy handling. The low vehicle body with calm, smooth surfaces in contrast with sharply defined, clear edges brings a new, urban aesthetics. So, our aim was to bring an emotional quality into play alongside with the practicality of a classic scooter concept.
We set out to challenge the common perception of a regular scooter and I think we kept our promise: We brought this forward-thinking design of our Concept Link into series production. Highlights such as the floating seat bench, the side-loading concept, or the disc wheels for example, and the clear surface character remind me of very modern architecture — just like the BMW Welt here. We wanted to design a trendsetting scooter that the owner would be really proud of, and I am certain we delivered on this promise! Now, let's hear what our friend Hongyi and my colleague David in Beijing think about the CE 04 ... Hello, ladies and gentlemen, and riders everywhere! I am the motorcyclist Hongyi Zhao.
I'm super excited to be here today, to witness the launch of the fully electric scooter, the BMW CE 04. I'm also honored to have Mr. David Wei, Senior Manager of BMW Motorrad China Marketing with me to present to you this scooter. Hello, David.
Hi Hongyi, hello my fellow riders! What a delight to meet everyone here. Today, the BMW Group is launching the BMW CE 04. And China, being one of the four countries of its unveiling, shows how important the market here is for BMW. Absolutely. So far, China already has 18 cities with a population of over 10 million.
As the urban population grows, traffic congestion increasingly demands a resolution. And motorcycles are playing a very positive role here. At the same time, China's New Energy Vehicle volume is on the rise every year, and green mobility has become a clear trend. Chinese consumers are also very desirous of opting for eco-friendly mobility.
So there is a huge demand for fully electric motorcycles. Exactly. You know what, China's NEV industry and its know-how in battery production are world-class. Consumers here are open to this new mobility option. What's your expectation for this product in the Chinese market? I'm fully confident — because BMW Motorrad has always been a pioneer in innovation.
Built with our strong in-house prowess, the CE 04 comes with BMW Motorrad's most innovative electric technology and embodies its vision of future mobility. While offering BMW's typical riding pleasure, it is also green and sustainable. For this product, we are dedicated to cutting its end-to-end carbon footprint — from development, production, and the use phase to after-sales service. So, we are definitely positive that Chinese consumers will love it. Alright David, thank you.
So, let us look forward to the impressive performance of the BMW CE 04 in the Chinese market. Thank you, Hongyi! The BMW CE 04 is exactly the right concept for urban mobility. Fully electric and full of innovations. Electrification is one of the key objectives for all the brands at the BMW Group. What you see here is concentrated e-power: the BMW iX, the BMW i4, the MINI Cooper SE and our CE 04.
This picture shows perfectly how BMW Motorrad and the BMW Group are transforming. And be assured, there is much more to come. So, stay tuned and thank you for joining. And for all those who cannot get enough of our new BMW CE 04, we will now switch over to our live studio, where my colleagues Ralf and Alex are really looking forward to talking to you and going into even more detail about the technology, the performance and the design of this really cool, new scooter. Wow, good morning everyone.
What a fantastic day it's been so far! 303 00:21:29,304 --> 00:20:31,039 And what an exciting new addition to the model range. And what an exciting new addition to the model range. And this is just the beginning by all accounts. Right. Well, let's find out from a couple of guys who are both deeply involved in bringing us this new e-scooter. I've got Ralf and Alex in our Munich studio with the CE 04 so that we can take a much closer look. Anything you want to know, post in the comments.
Let's start with you first, Ralf. Good morning! Good morning, Andy, good to see you! Yeah, good to see you too, my friend. Well we've seen the excitement for the CE 04 from various scooter-loving countries just now, but I'm wondering what everyone watching really wants to know and of course, how much fun it is to ride. So can you please put that into context for us, Ralf? Yeah I had the chance to ride the scooter and I can tell you it is big fun.
Most of that is coming out of the-, from having this massive torque from the beginning, from the first meter you're riding. And we're talking about a lower powered version with 11 kilowatts and with 15 kilowatts. But in the peak performance, both are much higher. So we are talking about 23 or 31 kilowatts, which is more than 40 horsepower. And that of course gives you an idea of how it feels when you start at the traffic light together with all the other scooters that will stay clearly behind you. So how does that compare to, say a traditional motorcycle or scooter? On the one hand it is not only the acceleration, it is also the type of riding - everyone who has ridden an electric vehicle knows what I'm talking about - because on one hand we have a very very low centre of gravity, because of the batteries in the scooter themselves.
So the weight is mainly quite close to the ground and that gives you not only the acceleration, but also the cornering (ability) of the scooter which is outstanding here. It is a lot of fun to ride it. So let's go into some technical details here, Ralf. The weight is around 230 kilograms I believe, so that is about the same size as a mid-sized motorcycle, but tell us about the way that the CE 04 carries it's weight - it's a little bit different, isn't it? Yeah as i said before, the center of gravity is much lower than you are used to it from other motorcycles or other scooters simply because the batteries are very low and close to the ground. Then you have this acceleration.
Timo said it before, it is in 2.6 seconds from 0 to 50 km/h - which is a normal speed in most of the cities - there is no other scooter on the same in the same time on that speed and that gives really cool performance with it's peak performance. Of course we are talking about 11 and 15 kilowatts, but i said before: 23 and 31 of course is a totally different story. It is very very easy to handle and we know that it is mainly ridden in cities. So it is about how to get through traffic and everyone will find out that this is really the perfect scooter to travel not only in the city, but also from the outskirts to the city because of the long range we are talking about - 100 or 130 kilometers - even with the with the higher version.
And 130 kilometers gives you easy possibilities to travel from your outskirts, from the valley or wherever, to the city and back without fearing that you are running out of battery. That's absolutely fantastic. That takes away a lot of the worries about things and you mentioned the acceleration - did you say 2.5 or 2.6 seconds from 0 to 50 km/h? That's really impressive. Can you also say something about the different riding modes of the CE 04?
Yeah, we have different riding modes and the easiest one to understand is of course, rain mode, as you need other settings for the scooter when the surface is wet. But we have also a fun mode and an eco mode, where you have more acceleration and and get faster to the peak performance for even more fun in the city with the bike. But it is not only about the riding itself, it is also that we want the CE 04 to be an active part in your life. Sewed into your life, not only for getting from A to B, but also with all the connections in there. So connecting your phone to the bike, having map navigation on this 10 inch TFT-Display in there then the possibility Then the possibility to take phone calls, play your media list, and even more when we come to the beautiful jacket that we will also launch together with the CE 04.
You have already seen the jacket in the film, Timo was wearing it, there are a lot of gadgets in the jacket that is connected directly with the scooter. Even some - let's say gimmicks - you can change the colour of the lights from green to yellow to blue to red. Whatever suits you or fits to your daily outfit: your shoes, lipstick, etc And it also gives you the possibility to take phone calls directly from the sleeve of your jacket or change the color if you say: "hey now I'm in a different mood, I want to have another colour", then you just touch the sleeve and the colour is changing. Or you take a phone call by touching it. Or you switch to the next song in your media playlist.
So we tried to build a surrounding, really, around the use cases of the CE 04. That was very important so that it is not only about the outstanding scooter that we have now seen in the film and in the interviews with my colleagues, it is also really integrated into your daily life when it comes to being connected. Your phone is connected to the scooter, your jacket is connected to the scooter, and you can - if you don't want to touch the sleeve - also use the TFT-Display to change the colours for example. Superb. That sounds brilliant: "seamlessly connected", I like that and yeah all you need is a decent battery power as well. Just going back to the batteries for a second, Ralf, because I noticed earlier in the film that the fuel cells in the CE 04 are the same fifth generation battery cells we see in in the latest iX and i4 cars. So, having this BMW Group synergy, it's a massive advantage isn't it, when a new product comes out like this? Absolutely, you're totally right! Here is our big advantage that we are part of the BMW Group and that we can benefit from the work of our car colleagues.
And as everyone knows, the battery is the heart of the thing and we are benefitting from the newest technologies that will come out on some of our cars like the iX at the end of this year. So here the fifth generation of batteries is serving us in the CE 04 and that is a big benefit of course, having a big company in the back putting a lot of effort into research & development of battery technologies. Yeah and you had mentioned it already that thereally good range of the CE 04, which I believe is about 130 kilometres or more - depending on how you ride it how hard you pin the throttle.
We talked about the Group synergies, but everyone's really interested in charging times, obviously. I guess we top up the battery in the same way as we would our phones, I mean I plug my phone in when it gets down to about 20%, but i rarely charge it fully, I just take it off after a couple of hours. So what are the realistic charging times with this escooter and what the options for standard and rapid charging? Yeah you're absolutely right. You don't wait until zero and then you have to leave your scooter where you are at the moment. So because of that, it is very important to consider the time between the 20% and the 80%. I think that is a normal life let's say. That is what you do, and what you used to with your cellular phone. And 20-80% of the battery is charged in around 45 minutes.
The 11 kilowatt version, even 5 minutes less So with the fast charging options, you are - after having a coffee or taking a phone call etc. - you are on 80% after 45 minutes or even 40 minutes with the lower version and you can ride 130 kilometres. 398 00:30:41,064 --> 00:29:21,840 80 of these 130 kilometers uh i think It is a big advantage that you don't need to fear that you have to wait for hours until you get the battery charged again. From zero, if you really ride it to zero, to 80% it will be around an hour. I think also that is possible when you're riding somewhere, going somewhere, having a coffee, going for lunch or shopping.
I think an hour is a good time frame to get your CE 04 charged. Yeah absolutely, that's seriously impressive isn't it? Time it takes to have a coffee um and then you're off on your way again. Let's have a look if our forecast was right! We are going to see in a few years. 405 00:31:59,785 --> 00:30:00,960 completely gets rid of that range It completely gets rid of that range anxiety thing that we used to know in the past. So yeah, good stuff - good to know! Listen, thanks ever so much for now, Ralf, we will will come back to you shortly but I'd like to bring that guy who's sitting quietly in the corner into the conversation. Alex, I'd like to talk about design issues! Good morning, how are you doing? Hey good morning, Andy, I'm fine. Yeah, Andy, shoot!
Well, look Alex, we're really living in a period of big change in the world at the moment. What an exciting time to be a designer and trying to predict our future needs and desires. I like that one: "predicting the future". As you know, Andy, we have that huge crystal ball, but unfortunately I lost mine so I had to use my boss's small one. But seriously, we've been facing tremendous and fundamental changes and it's great to be a part of that.
As a designer, it's great to at least deliver some chunks for the appearance of our age, so to speak. We don't see ourselves as as predictors, it's somehow exaggerating the reality. I mean, of course we feel the vibes, the beats and the trends around us and we try to decode them and to amplify them, but we are more like let's say: "amplifiers". We try to bale those vibes, those beats, those trends and the technical solutions and try to translate them into a design expression. Into a design-, let's say,
yeah, it's a design expression. That fits best I think and of course i'm really excited to be a designer and it's really nice to do something fundamental as we did with our CE 04. This is definitely like that, Andy. Yeah, i mean it looks fantastic sitting there in the studio, it really does, but I'm intrigued to know where your starting point was, design wise, for it because you know, over the past decade we've seen various escooters from bmw motorad that have led us to this point. But apart from the Concept Link, the CE 04 doesn't actually bear any resemblance at all to any of them. So where did that inspiration come from, Alex? Well, Andy, you're totally right I mean, the idea the idea behind the CE scooter was to rethink everything and instead of keeping all these learned, thought patterns alive.
And I think this is the huge strength of BMW Motorrad and it shows, or it visualizes you know, let's say the unconditional desire of being the innovative leader in the two-wheel world somehow. In fact we turned everything upside down, nothing was left, just you know, the BMW badge as well as our C-shaped DRL. These are of course no-brainers. This is not negotiable in any way. This is the brand identifier! But let's let's start like that. I mean the main claim behind that idea "CE" was
to become familiar with a- let's say new "customer mindset", so to speak. Above the motorcycle. Greater. For that journey, of course you need to be maximaly open minded and a little bit disruptive, too. You can compare it a bit with a with a balloon flight: first you have to drop all your learned knowledge in order to lift and to get the the balloon into motion. The closer we get to our customers, we better understood these urbanouts. Especially in these metropolitan regions, such as Barcelona, Milan, Madrid and Paris, these urbanouts have a need for maximum versatility. Because their way of mobility and their entire lives must be maximum seamless.
They use different mobility concepts during the day: from our CE to the underground, the suburban train, bicycles etc. Because of that, this is mega important too, even their gear and garment needs to be seamlessly integrated into a daily lives. To compare, for example with other protective gear so to speak, that's why our jacket has that distinctive casual smell or style, because they don't want to look like a fish outside the water when they are in front of a bank, at a bus stop or something like that. Beside that there is an intrinsic need for communication, digital as well as analog. To make it short: the main inspiration behind the CE scooter is/or was to gain maximum versatility and a kick ass appearance by non-conventional thinking. This is the mind inspiration or how my inspiration led right away to let's say five points: more flex due to reachability of both package compartments; more flex by the flattened floating seat of course; connectivity; the blank-canvas-like huge and calm surfaces for communication; and finally, the casual style garments.
This is the inspiration and finally the reason why our CE 04 is so radically different compared to all other scooters in the market. Fantastic. Thanks for that detailed explanation there, Alex. That's brilliant. It's hard when people from Marketing and PR ask designers to explain what reasons why and and how they think about the things they do but it's a really good one, so thanks for that! Listen, when I first saw pictures of that Concept Link back in 2017, I was riding across Southeast Asia at the time on a GS and all the streets there they were choked with noisy polluting scooters and by contrast, the pictures of that concept bike I saw on that day, it looked so clean. It looked so futuristic and here we are today!
The CE 04 i can see there has lost none of the original concepts' edge, despite the usual constraints of serial production. You must be delighted from that, you know from a design perspective: to keep it so close to the original vision .. Yeah Andy, you're totally right! I mean what a question!! Yes, I'm definitely delighted. I'm insanely delighted. It's always cool when you can deliver something that you've promised. It's mega nice because we are that incredibly close, you named it already. We are that incredibly close to our Concept Link. Yeah, I'm mega delighted about that!
Superb. Now let's talk about ergonomics for a minute because great design and user-friendly ergonomics don't always go hand-in-hand. How much effort went into maximizing the appeal and versatility of the CE 04 for all types and all sizes of users, without actually compromising on the design? Yeah Andy, I got your point but in fact, ergonomics are somehow a no-brainer, let's say hygienic to BMW Motorrad. We always spend a lot of energy into finding a purpose-driven versatility and to find the right balance between expression and ergonomics. Don't forget that these main features-, the key features for more versatility was somehow let's say conceived by the design. So that's why things like our baggage compartment, as well as the flat and floating seat were part of our sketches since the beginning.
Look Andy, for example if we talk about the side loading baggage compartment, now you could reach both compartments while sitting on the scooter. So it's much more comfortable compared to conventional scooter because it's not needed anymore to stop the scooter, to hop off you know, to put it on the main stand, flip the seat to reach the trunk. Now you can sit easily on your scooter and reach the glove box as well as the site loading baggage compartment.
How cool is that? This is really really special and definitely a USP for our CE 04. Besides that we also have the longboard-like, flat and floating seat and even here: Every body type, doesn't matter how tall or short, everyone will find their individual seat position. And on top of that, you can even adjust your riding position according to the traffic circumstances.
This means that if you would like to sit more active, of course you can move closer to the bike. If you would like to sit more relaxed, you can move the seat towards the back so you have a feet forward position. This is somehow really really special about our scooter. To cut a long story short: since we had that idea with the side loading bagage compartment as well as the flat floating seat, they became a somehow permanent companion in our sketches. So it was from the beginning on involved in the design process. It has massively affected all the rest of the styling of the CE scooter. In fact, the longoard-like floating seat was somehow the starting point
for all vertical and horizontal lines. So it was definitely from the beginning on, a part of the expression and definitely not a contradiction. It's funny just sort of seeing you sitting on it in the studio there and now i'm trying to imagine it parked in the street next to a traditional scooter. Now I'm pretty sure it would the typical scooter seem quite dated. So do you think this significant shift in design language could influence the way that other scooters are actually going to look in the future? Again, I mean I lost my crystal ball so it's really difficult to predict that seriously. But yeah, especially in terms of the pure styling there is a potential to influence other scooters. But we're gonna see somehow, more or less in a way - we're gonna see! Okay. Pure styling, so that was something you just mentioned there. Just talk us through some of the styling behind Is that the Avant-Garde model that you're sitting on there? And also maybe some of the options and accessories available in terms of seating and expandable storage space? Let's talk about the Avant-Garde, I really like that one! I really like it and it's my personal recommendation to the audience too and I guess Andy, it would fit even to you really really nicely! Our Avantgarde model has all of the main body panels painted in a grey colour called Magellan grey metallic.
I guess my dear colleagues from the colour and trim department made a great great job because this special treatment or this special paint for the bike give a certain depth and a certain movement by the reflections to the CE. So it's already pretty prominent and expressive in a way. It's somehow the contrabalance to these huge and calm surfaces. So it works fantastic with the CE. it's It's the ideal solution for all of those that don't want to individualise their CE scooter. Basically for all who want to keep it in stock condition. The Avantgarde is already pre-equipped with lots of stickers and pre-configurated with the fancy, flashy orange windshield. Together with the black and orange seat, both are really important to increase the contrasting look of the bike. I guess seats is the right keyword because we're making six different seats available together with the stock seat. We have a few with an integrated backrest and some without.
But just the ones with an integrated backrest will also be available in two different seat-heights from 780 to 800, the highest and most comfy one. But just the ones with an integrated backrest are also available with different backrest positions - a fore and aft position! And to make it even more complicated, just the low ones are available in black and orange. So much easier to understand is the one without a backrest, we have just in 780 and two colour combinations: black and orange and black and grey. And on top of that we have some more options for expandable storage spaces like the Vario Topcase. As the name already suggests, you can increase the storage space in two easy steps:
from 25 to 25 litres. And on top of that we also have our waterproof Urban Collection soft bags, available with two soft bags and a rear/top bag - totally waterproof - keep that in mind. Wow there's a lot going on there that's for sure! So what about in terms of individualisation, what other options are there to really personalise your CE 04, Alex? The CE 04 is screaming to be individualised because of those specially treated surfaces. During the process, we made tons of different sketches. We made lots of artworks and a few of them I have here today on the shelf.
May I inspire you just in case you would like to individualise your scooter. So let's start with our street art version. Can we show it? Yes! Perfect. This stuff is really bold, it's a bold graphic. The airbrushed look is really colourful and
the more i look at that picture i see a kind of ammunition bed running around these baggage compartments loaded with spray cans - this would be really awesome! but anyway the next one we have is our California Edition, with these fancy colours and ape hanger bars maybe this is a little bit naive to do that but it shows what you can do out of that and the latest one is my personal favourite. Forget about this spring seat, this is not possible. But that black bold colour, I really like that on the scooter, especially with these bold white grahics from wheels and waves. I really like that so keep that in mind, it's a nice way to individualise your CE scooter! But again, in case you would like to individualise your CE scooter, of course my personal recommendation would be in most of the cases, the pure white one. The more reduced one. The more calm one. The understated one. The light white uni version. This is the best base for that because on that one your message stickers will have definitely the biggest punch, the biggest impact. For all of those that liked our 2019 show scooter, yep that one! This is really cool and it's called Definition CE 04.
We are going to deliver a sticker kit, not surprisingly called Style Definition. We have that kit in two options: with sitckers for the rear wheel and without. But of course my recommendation is with the stickers for the rear wheel as it fits brilliantly to this scooter so keep that in mind! This is a nice opportunity to "pimp up" your scooter, your extraordinary scooter, into something daring, something extraterrestrial! Absolutely brilliant, yeah! Moving the goal post, yet again, Alex. Make no apologies for the football analogy but loads of choice and some real USPs for BMW Motorrad. Well I guess you're all talked out now but we've maybe just got a few minutes left so let's see if we've got any questions that have come in from our community! So I might have to bring you back into the floor for this one, Ralf at the back! Okay let's have a look at the first one. "How safe is it to ride in the rain? Can you get an electric shock?!". Of course not, everything is waterproofed.
We have done our homework and we have a long history making waterproof bikes. That holds true also for the batteries in our normal combustion bikes. So don't fear about that, it is all safe and waterproofed. Also the luggage compartment is waterproofed, so it's not only the battery but also your laptop that is safe. So it's not just going to be sold in sunny climates, in the UK it will work as well! How much distance per full battery? "How much distance?". For the 11 kilowatts it's 100 kilometres and for the 15 kilowatts we are talking about 130 kilometres of range. Of course that is going to depend on your style of riding on the scooter, so if you have 20 traffic lights in a row and always accelerate maximum, then probably the 130 kilometres are not reached. But that is an average for normal use in town: 130 kilometres.
I think people will just enjoy putting the throttle as much as possible and then just plugging it in again - why wouldn't you? "I'm nearly two meters tall..." - I'm nearly two meters tall actually - "...would I be too big for this scooter?". This could be from Anthony Müller or it could be from Andy Dukes! I love that question because um we chose Alex not only because he's brilliant designer, but also because he is nearly 2 meters tall! So Alex, sit on it - you're 190 and a little bit I think and he's looking great! So it's 190 and it fits. I guess 2 meters should fit too I guess. Especially with a seat bench where you can find your position as you would like it. Exactly. I think that is a big advantage compared with normal seats from the market.
Here you can go towards the back and put your long legs into the scooter, no problem! Good stuff. I guess the answer is no one too tall, no one too small. So absolutely brilliant! Okay. "Is the motor completely silent? Can you hear it when riding?". Good question! The motor itself is silent but there are other things on the bike that you hear, for example the tires on the street, the belt drive in the back - they all make sound. To give you an insight: even with the combustion engines, above 50 or 60 km/h you don't hear anymore the engine itself - we hear mostly the wind and tires on the street. And of course these sounds stay also with an electric vehicle. Little sound but of course much less than in a combustion engine. Okay, good to know good - no noise pollution.
"Does the CE 04 get warm from the motor and battery cells? How is it cooled? And does the cooling affect the rider?". Good question, Josepha! Yes, of course it gets warm. There's a lot of energy in there and when it's working it gets warm. We cool the motor and the batteries with water. But this cooling is not affecting the rider, so don't fear that you need to have a jacket because of the liquid-cooled motor and battery. Okay next question please! "Great design, but what is the weather protection like?". Always the practical questions - I might put that one to the designer just to see what his answer is!
Yeah of course we thought about the weather protection, too. And as you see, we have a huge front, basically coming from a huge scooter. So that means you have definitely the same protection as on a conventional scooter. So there is nothing different. We also have two windshield options: a small one and a big one. So don't fear about that, we have definitely enough stuff on the shelf to protect you and keep you cosy.
Okay. "Which driver's license is needed?". Yeah, good question! Ralf? Complicated question because it depends very much on the country you're living in. Most european countries you can ride 11 kilowatts versions with 16 years of age with the A1 license. And from 18 years on - in most of the countries - you can ride the 15 kilowatts variant. But that differs from country to country, so I can't say how it is in your country. Sorry.
No problem at all. I think the answer to the question is to check out with your local dealer. Alright, storage space! "How much storage space is there in total, and what are my options for more? Great scooter by the way!". Thank you! I guess we have to answer that together. I know that the main compartment has at least 20 liters, which means you can fit most helmet in it. But besides that, as I mentioned, we have lots of side bags, this top case. Look at this Vario Topcase for example, it has 25 to 35 liters capacity. The softbags have 10 liters each, and for the topcase itself... Maybe Dr. Ralf knows it?
I don't know but it has a certain space - I can promise you! It's a little bit below 20 liters and also expandable, so there are a lot of options to load your luggage on the scooter. Not only the compartment itself, but also the topcase, side cases and these beautiful soft bags. I mean you can travel around the world with just one bag so there's definitely enough luggage capacity for sure. Okay we've got a doubter! "I don't think the battery will last that long". Here again, the experience from the BMW Group and our car colleagues comes into the game. We are really benefitting out of that, that we have the huge research and development department from the car colleagues in the back. And here, of course we tested it so massively. We charged it again and again and again. So that is the reason why the scooter itself has 2 years of guarantee but on the batteries, we guarantee for 5 years at least 80% of the initial capacity.
So 5 years of guarantee because we are so convinced about our battery's technologies. Good confident answer there - thank you for the answer, Ralf. "I like to work on my bike and get my hands dirty - is the CE 04 completely maintenance-free?". Where do these questions come from? I like that one! Can you still get your hands dirty? Can you still fiddle around with it? I would recommend to dirty your hands via individualisation of the scoother with the beautiful things Alex showed earlier. But the maintenance is not totally free, but it is much better than combustion engined bikes and scooters, where you are asked every year for a service. Here it is only every second year and the first service is after 10 thousand kilometres. So it is not only completely maintenance free but the intervals are much longer.
Yeah, and do what a lot of us do, right Ralf? We get ourselves an old-timer so we can get our hands dirty and use one of these for moving around in the city. I think we have time for one more question so here we go! "I like belt drive - had an F 800 GT with one once - Did you also consider chain or shaft-drive for this model?". Not for this particular model, I can tell you here that the belt-drive is really the perfect solution. Very low maintenance - actually maintenance free - running for thousands of kilometres. They are also very quiet compared to chains. So that was from the beginning the perfect solution. But when we're talking about electric mobility for the future of BMW Motorrad, there's more to come and we see also other versions - like we have shown in some of our concept bikes. There's also the possibility for a shaft-drive, for example.
Interesting times ahead - that's for sure! Well listen, we're pretty much out of time, in fact we've been rolling for just over an hour so I guess that's - you could have charged the CE 04 for that, couldn't you? So thanks Ralf and thanks Alex for all your input. We really appreciate getting these insights! And a big thanks to all of you across the globe for joining us today. Certainly exciting and more sustainable times ahead, that's for sure. If we've got you curious and you want to learn more about the silent revolution, We've got loads more info right across our channels and you know where to find this! Also I think some of the national markets will be doing deep dive podcasts in their own languages, or even road shows on the seamlessly integrated new world of the CE 04.
So look out for those two! Until then, stay safe, keep the shiny side up and the rubber side down. Bye for now!
2021-07-10 22:15
Show Video
Other news