WATCH LIVE | Biden delivers remarks on Russian assault on Ukraine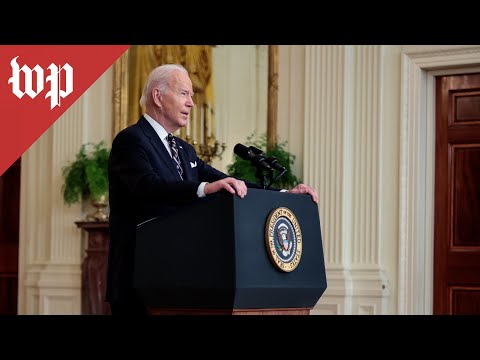 Show Video
>>> SOMETIMES YOU HAVE TO SEE TO BELIEVE AND WITNESS HISTORY AS IT UNFOLDS. WHEN THE NEWS IS BREAKING, WATCH WITH THE NEWSROOM OF "THE WASHINGTON POST." WE EXPLAIN WHAT'S HAPPENING AND WHY IT MATTERS. THANK YOU FOR CHOOSING TO WATCH THE HEADLINES AS THEY'RE BEING WRITTEN BY OUR JOURNALISTS. YOU
CAN SUBSCRIBE WITH A SPECIAL OFFER AT WASHINGTONPOST.COM/WATCH/WATCH. SUBSCRIBING TO THE LINK LET'S ADD ON HERE, FROM THE FRONT LINES THE CONTROL ROOM, LET YOU KNOW THAT YOU HAVE THE FIRST AMENDMENT AND WILL FOSTER A HEALTHY DEMOCRACY. WE COULD NOT DO THIS WITHOUT YOU. >>> EXPLOSIONS ROCK MULTIPLE CITIES IN UKRAINE, AS THOUGH LONG-FUELED RUSSIAN ATTACK ACROSS THE BORDER HAS BEGUN. AT THIS HOUR, THERE ARE REPORTS OF HEAVY RUSSIAN TROOP MOVEMENTS AND CONTINUED FIGHTING. SOME UKRAINIANS ARE
FLEEING. OTHERS, TRYING TO PROTECT THEMSELVES IN PLACE. YET OTHERS ARE VOWING TO FIGHT. THIS, AS WORLD CONDEMNATION GROWS A OF RUSSIAN PRESIDENT VLADIMIR PUTIN. WE ARE LOOKING
NOW AT A LIVE IMAGE OF DOWNTOWN KYIV. IT'S 7:00 . THERE, QUIET, FOR THE MOMENT, IN THIS LOCATION. EXPECT IT'S THE, PRESIDENT JOE BIDEN WILL ADDRESS THE NATION, LAYING OUT WHAT IS NEXT FOR THE AMERICAN RESPONSE. THE PRESIDENT ISSUED A STATEMENT SHORTLY AFTER THE ATTACKS BEGAN, CALLING THEM COMICAL, UNPROVOKED AND UNJUSTIFIED. THIS IS A SPECIAL REPORT FROM THE NEWSROOM OF "THE WASHINGTON POST." I'M LIBBY CASEY. LET'S START OUR
CONVERSATION OUTSIDE THE WHITE HOUSE WITH NATIONAL REPORTER HANNAH JEWELL, WHO HAS MORE, WE CAN EXPECT PRESIDENT BIDEN TO SAY THIS AFTERNOON. ANNA? >> Reporter: WELL, LIBBY, WE'RE INSPECTING TO HEAR FROM PRESIDENT BIDEN AS ABOUT 12:30 EASTERN TIME BARRING ANY DELAYS. IN THAT STATEMENT, WHICH SPEC TO HEAR MORE DETAILS ABOUT FURTHER SANCTIONS AGAINST RUSSIA IN LIGHT OF THE ATTACK ON UKRAINE OVERNIGHT. LAST NIGHT, AS YOU SAID, BIDEN CONDEMNED RUSSIA'S ACTIONS IN A STATEMENT, SAYING, RUSSIA ALONE IS RESPONSIBLE FOR THE DEATH AND DESTRUCTION. THIS ATTACK
WILL BRING A RESPONSE FROM THE UNITED STATES AND THEIR ALLIES IN A UNITED, RESPONSIVE WAY. THE WORLD WILL HOLD RUSSIA ACCOUNTABLE. THIS MORNING, THE PRESIDENT CONVENED A MEETING OF THE NATIONAL SECURITY COUNCIL IN THE SITUATION ROOM TO DISCUSS FURTHER SANCTIONS IN LATEST DEVELOPMENTS IN UKRAINE. HE'S ALSO SPOKEN, OVERNIGHT, WITH PRESIDENT ZIELINSKI OF UKRAINE, WHEN BIDEN CALLED THE MILITARY ACTIONS UNPROVOKED AND UNJUSTIFIED. HE HAS ALSO MEANT
VIRTUALLY THIS MORNING WITH THE GROUP OF SEVEN, CANADA, FRANCE, GERMANY, ITALY, JAPAN, THE UK AND THE EU, MEETING TO DISCUSS TO COORDINATE FURTHER SANCTIONS. BIDEN HAS, OF COURSE, BOWED CONSEQUENT AS FOR RUSSIA, BUT HAS ALSO PROMISED TO KEEP U.S. TROOPS OUT OF UKRAINE, WHICH IS, OF COURSE, NOT A NATO MEMBER, RATHER, WE CAN EXCITE AN ESCALATION IN THE SORT OF ECONOMIC SANCTIONS WE BEGAN TO HEAR ABOUT THIS WEEK, TARGETING OLIGARCHS, RUSSIAN BANKS, TRADE, AND THE RUSSIAN ENERGY SECTOR. WE CAN ALSO EXPECT TO HEAR FROM BIDEN ABOUT WHAT THIS MIGHT MEAN FOR AMERICANS ON THE DOMESTIC FRONT, AND RISING ENERGY COSTS AMID A TUMBLING STOCK MARKET THIS MORNING, LIBBY, AND SO WE CAN DEFINITELY EXPECT TO HEAR BIDEN TALK TO AMERICANS ABOUT WHAT A WAR IN EUROPE MIGHT MEAN FOR THEM. >> TAKE A POINTLESS DOWN TO
RHONDA COLVIN HERE IN THE NEWSROOM. RHONDA, WE'LL TALK ABOUT WHAT'S HAPPENING ON THE GROUND IN UKRAINE IN A FEW MINUTES. FIRST, LET'S GO TO YOU FOR THE REACTION HERE IN THE UNITED STATES AMONG LEADERS IN CONGRESS, AS WELL AS THE PUBLIC AT LARGE. >> YEAH. AS YOU KNOW, CONGRESS IS OUT RIGHT NOW FOR PRESIDENTS' DAY WEEK RECESS, BUT LAST NIGHT, AS SOON AS SOME OF THESE IMAGES AND REPORTS ARE COMING OUT OF UKRAINE THAT AN ATTACK HAD HAPPENED, I STARTED CHECKING MY EMAIL AND SAYING, THEY WERE MEMBERS OF THE SENATE AND THE HOUSE WHO HAD READIED THEIR OFFICIAL STATEMENTS. THEY WERE GIVING A
LOT OF RESPONSE LATE LAST NIGHT AND EARLY THIS MORNING AS WELL. YOU KNOW I'VE BEEN TRACKING WHAT MEMBERS OF CONGRESS HAVE BEEN SAYING ABOUT THIS FROM WEEKS AGO, SINCE THIS SITUATION SEEMED TO ESCALATE. IT STARTED OFF WITH DIFFERENT RESPONSES THAT CONGRESS WOULD SUPPORT UKRAINE, AND THAT THEY WERE CALLING ON SANCTIONS. WE
KNOW BEFORE THEY LEFT TOWN THEY TRIED, ATTEMPTED, TO DEVELOP A SANCTIONS PACKAGE IN THE SENATE. IT FAILED. BUT LAST NIGHT I WAS REALLY STARTLED BY SOME OF THE BOLD WORDS THAT MEMBERS OF THE SENATE AND HOUSE WERE USING IN THEIR STATEMENTS FOR INSTANCE, MARK WARNER, WHO IS THE SENATOR FROM VIRGINIA, HE ALSO HAS THE SENATE INTEL COMMITTEE IN HIS STATEMENT FROM LAST NIGHT WHERE HE SAID, WHAT IS HAPPENING IN UKRAINE IS A TRAGEDY, AND ONLY FOR UKRAINE, BUT FOR THE RUSSIAN PEOPLE AS WELL. THEY WILL PAY A STEEP COST FOR MY SKU RECKLESS AMBITION IN BLOOD AND ECONOMIC HARM. SENATOR
MENENDEZ OF NEW JERSEY CHAIRS THE FORWARD RELATIONS CITY IN THE SENATE AND JOE BIDEN SAID, I'M COMMITTED TO ENSURING THE UNITED STATES UPHOLDS OUR RESPONSIBILITY TO EXACT MAXIMUM COSTS IN PUTIN. SO THERE ARE A LOT OF BOLD WORDS BEING SAID. IT APPEARS THAT MEMBERS OF THE SENATE AND HOUSE ARE BACKING THE PRESIDENT RIGHT NOW. YOU'RE NOT SEEING TOO MANY DIVISIVE STATEMENTS. MANY FOLKS ON THE HILL ARE STANDING BEHIND THE
PRESIDENT IN BIPARTISAN FASHION. YOU'LL ALSO REMEMBER, LAST WEEK, BEFORE THEY LEFT, MEMBERS OF THE SENATE, IN A BIPARTISAN WAY, PUT OUT A STATEMENT, SAYING, THEY WILL STAND BEHIND THE PRESIDENT. THEY WILL STAND BEHIND THE PEOPLE OF UKRAINE. I EXPECT, WHEN THEY COME BACK TO TOWN ON MONDAY, THIS IS GOING TO BE A COURT ISSUE FOR THE HILL TO HANDLE. BUT RIGHT NOW THEY'RE LOOKING TOWARD BIDEN TO DISCUSS THESE FURTHER SANCTIONS THAT WE'RE EXPECTING TO HEAR ABOUT, OR A FURTHER RESPONSE FROM THE WHITE HOUSE. >> THANKS, RHONDA. LET'S GO TO
JAMES HOMAN TO TALK MORE ABOUT WHAT'S HAPPENING ON THE GROUND AND WHAT WE KNOW ABOUT THESE RUSSIAN ATTACKS INTO UKRAINE. JAMES? >> LIBBY, IT'S THE SCENARIO THAT THE UKRAINIANS FEARED THE MOST. WHAT WE ARE SEEING IS A PINCER MOVEMENT WITH RUSSIAN FORCES MOVING ON UKRAINE, ATTACKING UKRAINE, FROM THE EAST, FROM THE SOUTH AND FROM THE NORTH. RUSSIAN FORCES, THERE ARE ABOUT 200,000
SURROUNDING UKRAINE. YOU HAVE THE WHOLE COUNTRY FACING MISSILE STRIKES, AND WE CAN ZOOM IN TO SEE WHERE THERE HAVE BEEN CONFIRMED MISSILE STRIKES TO GO TO. WE HAVE A GRAPHIC HERE. REALLY, ACROSS THE COUNTRY, AS FAR WEST AS LIBYA, WHERE THE U.S. EMBASSY EVACUATED FROM KYIV. THIS IS THE
POLAND BORDER RIGHT OVER HERE. BUT YOU'RE SEEING STRIKES ACROSS THE COUNTRY. RIGHT HERE, THIS IS THE CAPITAL OF KYIV, A CITY OF NEARLY 4 MILLION PEOPLE. YOU'RE SEEING EXPLOSIONS THERE. I WAS TALKING TO A MEMBER OF THE SENATE INTELLIGENCE COMMITTEE, WHO'S BEEN BRIEFED BY THE INTELLIGENCE COMMUNITY, SAYS, THERE IS A BATTLE FOR THE AIRPORT THAT IS ONGOING HERE, RIGHT OUTSIDE THE CAPITAL. RUSSIANS ARE FLYING IN AIRPORT TROOPS. THIS IS THE SAC OF THE CAPITAL. IT HAD BEEN.
THE ATTACK THE UKRAINIANS HAD HOPED COULD BE AVOIDED. UP HERE, YOU'LL NOTICE THERE ARE SOME STRIKES. THIS IS BELARUS AND RUSSIA. THIS IS CHERNOBYL, THE SITE OF THE 1986 NUCLEAR PLANT MELTDOWN THAT HAS LEFT THE AREA UNOCCUPIED AND UNINHABITABLE. THERE ARE REPORTS FROM THE UKRAINIANS THAT RUSSIAN FORCES HAVE MOVED INTO CHERNOBYL, ESSENTIALLY A LARGE AREA. THERE'S NOT A POPULATION CENTER. SO THEY CAN COME TOWARDS THE
CAPITAL THIS IS AN AREA WHERE THEY'RE NOT WATCHING, MISSILE STRIKES, BECAUSE THERE'S A LOT OF NUCLEAR MATERIAL. THEY DON'T WANT TO BREAK UP, BUT IT DOES SUGGEST THE RUSSIANS ARE ATTACKING KYIV PROPER, AND UP HERE ARE THE PINS MARSHES, WHICH ARE STILL FROZEN OVER. IN NEXT FEW WEEKS, THEY'LL START TO THAW. WE'RE HEARING REPORTS FROM
OUR OWN FOLKS, WHO ARE ON THE GROUND AND IN-COUNTRY IN THE REGION, THE RUSSIAN MILITARY VEHICLES ARE MOVING TOWARD UKRAINE FROM THERE. HERE, IN KYIV, THE SECOND LARGEST CITY IN UKRAINE, MILLION PEOPLE HERE. OUR REPORTED SOUNDS OF MILITARY VEHICLES AND EXPLOSIONS COMING TOWARDS KYIV PER THIS IS WHAT ARE THE REGIONS THAT COME EARLY THIS WEEK, RECOGNIZED AS INDEPENDENT, SOVEREIGN COUNTRY. HERE'S CRIMEA, WHICH WAS ANNEXED IN 2014. IT HAS MOBILIZED QUITE A LOT OF RUSSIAN
TROOPS WHO CAN COME INTO THE COUNTRY THIS WAY. SO THIS IS THE FULL PINCER MOVEMENT, THE FULL ATTACK THAT PRESIDENT ZELENSKY HAD FEARED THE MOST. >> THANK YOU SO MUCH, HAS A POINTLESS GO TO SOME OF THOSE PLACES THAT JAMES WAS TALKING ABOUT IN WASHINGTON. THE COLLEAGUES HAVE BEEN COVERING THE EVENTS IN UKRAINE FROM THE GROUND. ALL OF THEM HAVE HAD A
VERY UNEASY PAST 24 HOURS HERE, OVERNIGHT AND INTO THE MORNING. ONE OF THOSE PEOPLE IS VIDEO JOURNALIST WOULD BE SHIFTY. SHE'S BEEN BASED OUT OF KYIV FOR OVER A MONTH. WHITNEY, SO GOOD TO SEE YOU. FIRST OF ALL, LET'S START WITH WHAT'S HAPPENING RIGHT NOW. IT IS NOW DARK THERE, 7:00 P.M. WHAT IS THE MOOD LIKE? WHAT IS THE ATMOSPHERE LIKE? ARE YOU HEARING EXPLOSIONS AND ATTACKS? >> HEY, LIBBY. YEAH. WE HAVE NOT HEARD ANY EXPLOSIONS IN QUITE A
FEW HOURS. I THINK IT SEEMS PRETTY CALM RIGHT NOW. A FEW HOURS AGO, THERE WERE SIRENS. OUR HOTEL SHUFFLED US INTO THE BASEMENT, WHERE THEY SAID, IT WOULD BE SAFE. WE ALL STAYED FOR MAYBE A HALF AN HOUR, AND THEN THEY SHUFFLED US OUT. AT
THE MOMENT, IT'S VERY CALM. THE STREETS ARE VERY, VERY EMPTY. YOU KNOW, JUST LAST NIGHT, WE WERE WALKING ALONG AND IT WAS BUSTLING HERE. YOU KNOW, THERE ARE PEOPLE ALL OVER THE SIDEWALKS, AT THE BARS AND RESTAURANTS. YOU KNOW, THE CITY WAS VIBRANT LAST NIGHT. NOW IT'S VERY, VERY QUIET. PEOPLE ARE STAYING
INSIDE, OR THEY'VE LEFT. >> SO THIS ALL STARTED EARLY THIS MORNING, AROUND 5:00 IN THE MORNING YOUR TIME. HOW DID YOU KNOW THAT THIS WAS UNDERWAY? WHAT WOKE YOU UP THIS MORNING? WAS IT OVER TO YOUR PHONE? WAS IT THE SOUND OF EXPLOSIONS? >> YEAH. SO A COLLEAGUE ACTUALLY HEARD SOME OF THE SOUNDS OF THE EXPULSION. SHE HEARD I THINK
FIVE OR SIX BOOMS IN THE DISTANCE. SHE HAD THE HOTEL CALL MY ROOM. SHE'S IN THE HOTEL AS WELL. SHE CALLED IN FROM THE FRONT DESK AND HAD THEM CALL AND WAKE ME UP. AND SO I GOT UP QUICKLY, GOT DRESSED. YOU NEVER KNOW IF YOU'RE JUST GOING TO
HAVE TO LEAVE, OR WHAT THE SITUATION IS. IF YOU HAVE TO BE READY. THEN, PRETTY SOON, I STARTED TO HEAR SOME OTHER SOUNDS AS WELL. IT WAS FAR ENOUGH AWAY THAT IT DIDN'T FEEL LIKE WE WERE IN IMMEDIATE DANGER, BUT WE COULD CLEARLY HEAR THAT THERE WERE EXPLOSIONS HAPPENING MIKE WHITNEY, WHAT DID YOU HEAR AND SEE WHEN YOU WERE OUT TODAY? YOU BEEN REPORTING FROM UKRAINE FOR OVER A MONTH NOW. YOU BEEN TALKING TO PEOPLE ALL ALONG
THOUGH. WHAT WAS THE SENSE OF UKRAINIANS TODAY? >> YEAH. TODAY, WE WENT TO A TRAIN STATION, THE MAIN TRAIN STATION NEAR KYIV. IT WAS JUST FULL OF PEOPLE TRYING TO GET OUT OF TOWN. SO MANY OF THOSE PEOPLE WERE STUCK OUTSIDE, UNABLE TO GET TICKETS, BECAUSE EVERYTHING WAS SOLD OUT. A LOT OF PEOPLE WERE TRYING TO GO WEST. THEY FEEL LIKE THAT'S
SAFER, NEAR POLAND. BUT YOU KNOW, JUST LOTS OF REALLY FRUSTRATED PEOPLE, TRYING TO FIGURE OUT WHAT THEY COULD DO. I TALKED TO ONE WOMAN WHO HAD BEEN AT THE AIRPORT. SHE HAD JUST COME FROM GERMANY, IN LAYOVER, AND ALL OF A SUDDEN, SHE HEARS AN ANNOUNCEMENT, THAT WE WERE TOLD, THE AIRPORT HAD TO BE EVACUATED. WE WERE SHUFFLED OUT OF THERE REALLY, REALLY QUICKLY. SHE DESCRIBED THIS REALLY HARROWING,
TERRIFYING EXPERIENCE. THEN THERE SHE WAS, AT THE TRAIN STATION, UNABLE TO GET BACK HOME. SO I THINK IT'S BEEN A REALLY TOUGH DAY FOR A LOT OF FOLKS WHO ARE JUST TRYING TO FIND A SAFE HARBOR. >> ALL RIGHT, WHITNEY SHIFTY, THANK YOU SO MUCH. JOINING US LIVED FROM KYIV. PLEASE STAY SAFE. THANK YOU FOR ALL OF YOUR WORK THIS
MORNING. LET'S GO TO ANOTHER ONE OF OUR COLLEAGUES ON THE GROUND THIS MORNING. IS VELCRO SHOOTING, AND HARKEY, WHICH WE HEARD JAMES TALKING ABOUT, THE EASTERN PART OF THE COUNTRY. ISABEL, THANK YOU SO MUCH FOR JOINING US. FIRST OF ALL, TELL US WHAT'S HAPPENING WHERE YOU ARE. WHAT'S BEEN HAPPENING TODAY? >> Reporter: YEAH. SO, YOU KNOW,
MUCH LIKE MY COLLEAGUES IN KYIV, WE WERE -- HEARD THE BOOMS RIGHT AFTER, YOU KNOW, PUTIN'S SPEECH AT 6:00 A.M. MOSCOW TIME, 5:00 A.M.. YOU KNOW, OUR TIME. THERE HAD BEEN A LOT OF CHATTER OVERNIGHT THAT THIS COULD BE THE NIGHT. I ACTUALLY SAW AN ALERT THAT PUTIN WAS GOING TO BE SPEAKING AND IT FELT LIKE A LOT OF PEOPLE IN SOCIAL MEDIA, A LOT OF UKRAINIANS, WERE ALSO AWAKE. THIS IS THIS SINKING FEELING OF NOT BEING ABLE TO GO TO SLEEP, BECAUSE YOU WERE WAITING FOR SOMETHING TO HAPPEN. AS SOON AS HE KIND OF FINISHES HIS SPEECH, YOU START TO HEAR THE EXPLOSIONS. AS MUCH AS MAYBE WE, AS JOURNALISTS,
WERE EXPECTING THAT AND KIND OF HAD THOUGHT THAT THIS COULD HAPPEN WHERE, YOU KNOW, FOR OVER A MONTH NOW, BUT THE AMAZING THING TO ME WAS, YOU KNOW, WALKING AROUND KHARKIV THIS MORNING, A LOT OF PEOPLE WERE ASKING ME WHAT JUST HAPPENED. WHAT'S GOING ON. I HAD TO TELL THEM, YOU KNOW, THIS WAS AN ATTACK BY RUSSIA. YOU KNOW, YOU SAW A LOT OF LONG GAS LINES, PEOPLE WAITING IN LINE AT THE ATM, GOING TO THE GROCERY STORE. PEOPLE WHO WERE JUST NOT PREPARED BECAUSE THEY WERE EITHER TOLD BY THE GOVERNMENT NOT TO PANIC, OR, YOU KNOW, THEY JUST DIDN'T BELIEVE THAT THIS WAS EVER REALLY GOING TO COME TO FRUITION. >> ISABEL, THERE WAS A MESSAGING FROM THE UKRAINIAN PRESIDENT, A MESSAGING THAT REALLY SEEMED TO TRY TO CALM ANXIETY, TAMPED DOWN EXPECTATIONS. BUT IT WAS VERY DIFFERENT FROM WHAT YOU'RE
TALKING ABOUT. WE WERE HEARING FROM INTELLIGENCE AGENCIES AROUND THE WORLD, FRANKLY, ALSO FROM THE PRESIDENT OF THE UNITED STATES. SO HOW ARE PEOPLE INTERPRETING THE UKRAINIAN PRESIDENT'S LEADERSHIP RIGHT NOW? HOW POWERFUL IS THIS MESSAGING AT THE MOMENT? >> Reporter: YEAH. I DON'T THINK PEOPLE HAVE STARTED TO KIND OF WRAP THEIR MINDS AROUND THAT YET. I MEAN A LOT OF PEOPLE, YOU KNOW, WE TALKED TO -- WE'RE JUST SHOCKED -- YOU KNOW, THEY WERE JUST WORRIED ABOUT WHAT THEY WERE GOING TO DO NEXT YOU KNOW, SOME OF THIS, BECAUSE OF KIND OF THE SCALE OF THIS ATTACK AND THAT IS COMING FROM MULTIPLE DIRECTIONS, YOU KNOW, IT'S NOT LIKE YOU CAN EVACUATE KHARKIV AND GO TO KYIV FOR SAFETY, BECAUSE KYIV'S UNDER ATTACK TOO. PEOPLE ARE JUST CONFUSED ABOUT WHERE THEY GO, WHERE TO SHELTER. YOU KNOW, WE DID TALK TO A FEW PEOPLE WHO SAID,
YOU KNOW, THE GOVERNMENT'S JUST NOT GIVING US ANY INFORMATION. THE LACK OF PREPARATION WAS REALLY SHOCKING. TO ME, BECAUSE THIS IS SOMETHING THAT, YOU KNOW, A LOT OF PEOPLE IN THE WEST WERE SCREAMING ABOUT FOR A VERY LONG TIME. YOU KIND OF SAW IT STARTING TO HAPPEN HERE, EVEN THOUGH, YOU KNOW, THE PAST WEEK, WE WERE TALKING. KHARKIV IS ONLY 25 MILES FROM THE RUSSIAN BORDER. THIS SHOULD BE A CITY THAT HAD ITS GUARD UP AS MUCH
AS ANY. I REMEMBER, A COUPLE OF DAYS AGO, WE WERE ASKING PEOPLE AND THEY WERE LIKE NO, I HAVEN'T PACKED AN EMERGENCY BACK. NO, I DON'T HAVE FOOD. THAT WHICH IS KIND OF THE ATTITUDE THEY OWE, IT'S NOT GOING TO HAPPEN. THERE'S BEEN RUSSIAN AGGRESSION FOR EIGHT YEARS, SINCE PUTIN SEIZED CRIMEA. WE JUST DON'T
BELIEVE THIS WILL HAPPEN. ONE WOMAN, TODAY, SAID, FOR A COUNTRY THAT CALLS ITSELF A BROTHERLY NATION OF UKRAINE, THIS FELT LIKE A BETRAYAL. >> ISABEL, A BIG QUESTION ABOUT JUST HOW MUCH UKRAINIANS WILL FIGHT BACK AND DEFEND THE COUNTRY, ESPECIALLY WHERE YOU ARE, IN THE EAST. DO YOU HAVE A SENSE OF, YOU KNOW, HOW MOTIVATED PEOPLE ARE TO FIGHT BACK OR TO RESIST? >> Reporter: YEAH. DEFINITELY.
YOU KNOW, IN THE EAST, ESPECIALLY, THAT IS WHERE THE UKRAINIAN MILITARY IS POSTED. THEY HAVE A LOT OF PRIDE. THEY'VE BEEN SAYING FOR A WHILE, WE'RE NOT THE SAME UKRAINIAN MILITARY, YOU KNOW, THAT WAS CAUGHT UNAWARE, WAS CAUGHT UNPREPARED IN 2014. WE'VE IMPROVED. WE'VE HAD HELP FROM, YOU KNOW, THE U.S. AND OTHER NATO COUNTRIES, AS FAR AS BEING ARMED. BUT THEN, ACROSS THE COUNTRY, INCLUDING HERE THE EAST, YOU HAVE SOMETHING CALLED THE TERRITORIAL DEFENSE, WHICH IS JUST, YOU KNOW, NORMAL CIVILIANS WHO SIGNED UP. GRANDMAS EVEN, YOU KNOW, MOTHERS, FATHERS, I.T. WORKERS,
YOU KNOW, WHO WENT THROUGH THESE TRAININGS ON WEEKENDS AND LEARNED HOW TO USE A FIREARM, CAN GO TO THE PRACTICES OF, YOU KNOW, I GUESS DEFENDING YOUR COUNTRY. AND THEN ZELENSKY SAID TODAY, THEY'RE GOING TO OPEN THE ARMORIES AND LET PEOPLE ARM THEMSELVES. I THINK THAT COULD CREATE A LITTLE BIT OF A MESSY SITUATION IF YOU'RE ENCOUNTERING, YOU KNOW, RUSSIAN TROOPS. THERE IS SUSPECTED TO BE AN INSURGENCY HERE THOUGH. THIS ISN'T THE SAME EASTERN UKRAINE THAT COME YOUR, IN 2014, THERE WERE A LOT OF PRO-RUSSIAN SETTLEMENT SENTIMENTS. NOW THERE'S A LOT OF
PEOPLE WHO HAVE A LOT OF RESENTMENT FOR RUSSIA, AND I REALLY, REALLY ANGRY ABOUT WHAT'S GOING ON. >> ISABEL, THANK YOU SO MUCH FOR JOINING US LIVE IN FROM KHARKIV. PLEASE STAY SAFE . HAVE A GREAT MORNING.
>> Reporter: THANK YOU. >> WE ARE AWAITING PRESIDENT BIDEN SPEAKING. HE'S NOW BEEN PUSHED BACK. OR, HE HAS PUSHED IT BACK, THE PRESIDENT OF UNITED STATES, HIS ANNOUNCEMENT TIME, UNTIL 1:30. WE WILL BRING THAT YOU LIVE. UNTIL THEN, WE WILL STAY WITH YOU AND CONTINUE REPORTS, DIGGING INTO EXACTLY WHAT'S HAPPENING ON THE GROUND IN UKRAINE, AS WELL AS WHAT THE INTERNATIONAL RESPONSE IS, INCLUDING WHAT WE MAY BE ABLE TO ANTICIPATE IN TERMS OF A FRACTION OF SANCTIONS FROM PRESIDENT BIDEN, AS WELL AS FROM OTHER WORLD LEADERS. LET'S GO NOW TO MISSY RYAN, WHO COVERS DIPLOMACY AND NATIONAL SECURITY FOR "THE POST." MISSY, YOU'VE BEEN COVERING EVERY PART OF THIS STORY. LET'S
START WITH THIS, FIRST OF ALL, YOU HAVE REPORTED THERE IS A GRAVE WARNING. IT'S HARD TO TALK ABOUT THIS AFTER TALKING TO OUR COLLEAGUES IN UKRAINE. THERE IS A GREAT WARNING THAT THOUSANDS OF PEOPLE COULD DIE IN THIS PROCESS, DEPENDING ON HOW AGGRESSIVE VLADIMIR PUTIN AND THE RUSSIAN TROOPS ARE PEERED GIVE US SOME SENSE OF THIS SCALE.
>> Reporter: SURE, LIBBY. THANK YOU. IN THE WEEKS LEADING UP TO THIS MOMENT, WHICH REALLY, AS IF WHAT ELSE, OUR COLLEAGUES HAVE NOTED, REALLY CULMINATES THESE MONTHS OF INTENSE WARNINGS FROM THE UNITED STATES IN THIS TIME PERIOD BUT WE HAVE HEARD WARNINGS FROM TOP U.S. OFFICIALS THAT THE DEATH TOLL COULD BE AS HIGH AS 50,000 UKRAINIANS DEAD AND WOUNDED. YOU KNOW, REALLY, THAT'S JUST AN ESTIMATE BY THEM. NOBODY REALLY KNOWS, BECAUSE WE'VE BEEN WAITING TO SEE WHAT SORT OF WEAPONRY PRESIDENT PUTIN EMPLOYS, AND WHAT, REALLY, HIS GOALS ARE IN UKRAINE. REALLY, THE LAST 12 OR 13 HOURS, WE STARTED TO GET SOME CLUES ABOUT HOW THIS IS GOING TO UNFOLD THE FACT THAT WE'RE SEEING THESE BALLISTIC AND CRUISE MISSILES BEING STRIKE, THE FACT THAT WE'RE SEEING FORCES PUSH IN BELARUS, CLOSE TO KYIV, THE FACT THAT YOU'VE HAD THIS INTENSE ATTACK THAT ISABEL WAS JUST DESCRIBING IN KHARKIV, REALLY SUGGESTS THE WORST COULD BE AHEAD OF US. THE STORY WE WROTE YESTERDAY PUT DOWN WHAT THE HUMAN TOLL OF THIS COULD BE.
IT'S SOMETHING THAT, YOU KNOW, AS THERE'S BEEN THIS INTENSE DIPLOMACY HAPPENING IN RECENT MONTHS, WE WANTED TO MAKE SURE THAT PEOPLE ARE FOCUSED ON WHAT THE UKRAINIANS REALLY COULD BE EXPERIENCING. CIVILIANS, ANY WORK SITUATION OR WHAT THEY COULD SUFFER, AND HOW THIS POTENTIALLY COULD BE DIFFERENT THAN SOME OF THE CONFLICTS THAT WE'VE BEEN FOCUSED ON IN THE LAST 20 YEARS, THE COUNTERINSURGENCY CONFLICTS IN THE MIDDLE EAST. >> MISSY, YOU'VE BEEN IN A PRESS CONFERENCE WITH THE UKRAINIAN AMBASSADOR. WHAT CAN YOU TELL US ABOUT WHAT SHE SAID? >> Reporter: SURE. WE HEARD FROM AMBASSADOR OKORAFOR, UKRAINE'S AMBASSADOR OF WASHINGTON. SHE HAD A MESSAGE OF DEFIANCE AS SHE ADDRESSED THE BORDERS IN WASHINGTON. SHE PROMISED UKRAINIANS WOULD RESIST AND
ACKNOWLEDGE THE POSSIBILITY THAT RUSSIA IS ATTEMPTING, OR WILL ATTEMPT, TO DECAPITATE THE UKRAINIAN GOVERNMENT, BUT SHE SAID, PRESIDENT ZELENSKYY REMAINS IN UKRAINE, THAT HE INTENDS TO CONTINUE GOVERNING, CONTINUE SERVICES, AND, MOST IMPORTANTLY, AT THIS VERY URGENT MOMENT, CONTINUE FIGHTING BACK AGAINST PRESIDENT PUTIN AND THE FORCES THAT HE HAS SENT INTO UKRAINE. SO SHE ALSO HAD A MESSAGE OF SORT OF AN APPEAL FOR OUTSIDE POWERS TO CONTINUE THEIR SUPPORT TO UKRAINE. OBVIOUSLY, WE WERE SEEING SOME NEW SANCTIONS BEING ANNOUNCED, AND WE'RE EXPECTING THE KOBY MOORE FROM THE UNITED STATES AS WELL. SHE ALSO MENTIONED MILITARY AID, THAT SHE THINKS THAT IT'S IMPORTANT, JUST LIKE WE HAVE HEARD FROM LEADERS OF KYIV, IT'S IMPORTANT, AS THIS ENTERS A NEW PHASE, FOR THE MILITARY SUPPORT TO CONTINUE TO THE UKRAINIAN GOVERNMENT PEERED REMEMBER, THEY'RE ALREADY MASSIVELY OVERMATCHED BY RUSSIA, MUCH LARGER, MUCH MORE DEVELOPED MILITARY. SO ANYTHING THAT THEY CAN GET IN THE WEST IS GOING TO
BE REALLY IMPORTANT TOO. >> MISSY, WHAT IS THE PENTAGON REACTION TODAY? TALK TO US A BIT ABOUT, YOU KNOW, OPPORTUNITIES OR RESPONSIBILITIES THAT THE UNITED STATES HAS AT THIS POINT. >> Reporter: EXACTLY. WHAT WE HEARD FROM THE SENIOR DEFENSE OFFICIALS, BRIEFING REPORTERS OVER AT THE PENTAGON TODAY, DETAILS ON THIS ATTACK, AND AS ISABEL WAS DESCRIBING, YOU KNOW, IT IS THIS THREE-PRONGED ATTACK, INCLUDING THIS PRETTY OVERWHELMING ARRAY OF ADVANCED WEAPONRY THAT IS TARGETING, AT THIS STAGE, KIND OF MILITARY STATES, COMMAND AND CONTROL SITES. WE DON'T REALLY KNOW WHAT THE IMPACT OF THAT IS JUST YET, BUT WHAT THE PENTAGON IS SAYING IS THAT THEY'RE GOING TO TAKE UNDER CONSIDERATION WHETHER THE UNITED STATES NEEDS TO TAKE FURTHER MEASURES TO REINFORCE ITS POSTURE, AND THEN THE NATO POSTURE IN EASTERN EUROPE BUT REMEMBER, THE PENTAGON SAID, I THINK IT WAS EARLIER THIS WEEK, THEY WERE GOING TO MOVE ADDITIONAL FORCES FROM GERMANY TO EASTERN EUROPE WITH F-35S IN EUROPE. CERTAINLY, THERE'S THE THAT THE COMPANY AGAIN, THE CAVEAT IS THAT THE BIDEN ADMINISTRATION DOES NOT INTEND TO SEND FORCES INTO UKRAINE AND SO FORTH. >> YOU REPORTED WITH
A COLLEAGUE JOHN HUDSON A FEW DAYS AGO ABOUT THIS, ESSENTIALLY, A KILL LIST, OR A LIST OF PEOPLE THAT THE RUSSIAN GOVERNMENT WOULD BE INTENDING TO KILL OR PUT INTO CAMPS. IN AN INVASION, THIS WAS A LETTER YOU REPORTED WAS SENT TO THE UNITED NATIONS. TALK TO US ABOUT WHERE IT CAME FROM AND SORT OF HOW YOU VERIFY ITS SIGNIFICANCE. >> Reporter: YEAH. SO IT WAS A
PRETTY CHILLING WAY TO SEE WHAT THE U.S. GOVERNMENT WAS SAYING THEY HAVE INFORMATION OR INTELLIGENCE ON, TO SUGGEST THAT RUSSIAN FORCES ARE COMPILING LISTS OF DISSIDENTS, JOURNALISTS, POTENTIALLY POLITICAL ACTIVIST, MEMBERS OF THE LGBT COMMUNITY, THAT COULD BE TARGETED FOR REPRISAL OR FOR A VIOLENT ATTACK OR BEING SENT TO CAMPS. THAT'S WHAT THE LETTER SAID. THAT WAS A LETTER THAT WAS SENT FROM A SENIOR U.S. DIPLOMAT BASED IN GENEVA, EXCUSE ME, INDIANA, TO THE UNITED NATIONS.
IT SORT OF WAS AN INDICATION OF THE LEVEL OF URGENCY FROM THE BIDEN ADMINISTRATION, AND ALSO, I THINK, AN ATTEMPT TO DRAW ATTENTION, GOING BACK TO THE HUMAN TOLL OF THIS WHOLE SITUATION. THE VULNERABILITY OF UKRAINIANS AND WHAT THIS COULD MEAN IF EITHER RUSSIA TAKES OVER AS AN OCCUPIER, OR IF THEY INSTALLED A PRO-KREMLIN GOVERNMENT. YOU KNOW, IT'S SUFFICE TO LOOK AT THE HUMAN RIGHTS SITUATION IN RUSSIA TO BE CONCERNED ABOUT WHAT WOULD HAPPEN TO UKRAINIANS IF RUSSIA DOES GREATER INFLUENCE OVER THEM. >> ALL RIGHT, MISSY RYAN. THANK
YOU SO MUCH. REALLY APPRECIATE YOU TALKING WITH US. LET'S GO BACK TO JAMES, AND TO DIG MORE INTO SOME OF WHAT WE'RE LEARNING ABOUT WHAT'S HAPPENING ON THE GROUND IN UKRAINE. JAMES, THERE SEEMS TO BE THIS DISCONNECT BETWEEN WHAT PRESIDENT BIDEN AND OTHERS WERE WARNING COULD HAPPEN. SECRETARY BLANK AND, AND
WHAT THE UKRAINIANS WERE, YOU KNOW, LEADERSHIP IN UKRAINE, WAS THINKING WOULD HAPPEN ON THE GROUND THERE. WE ARE SEEING, REALLY, THIS WORST-CASE-SCENARIO THAT HAD BEEN LAID OUT BY U.S. INTELLIGENCE. >> Reporter: WE REALLY ARE, LIBBY. WE ARE BEING VERY CAREFUL WITH WHAT WE SHARE WITH VIEWERS. ONLY INFORMATION THAT WE REALLY CAN CONFIRM, EITHER WITH EYE WITNESS ACCOUNTS OR PHOTO EVIDENCE. OBVIOUSLY THERE'S A LOT OF DISINFORMATION FROM
RUSSIA. THE UKRAINIAN FORCES ARE MUCH STRONGER THAN THEY WERE IN 2014 WHEN PRUDEN ANNEXED CRIMEA AND BASICALLY MOVED IN. BUT THEY'RE STILL MUCH SMALLER, CONVENTIONAL ARMIES COMPARED TO RUSHER. YOU CAN SEE
HOW LARGE RUSSIA IS. THE SECOND-YEAR IS MILITARY IN THE WORLD BEAST AND THE UNITED STATES. LARGER THAN CHINA'S. PUTIN HAS INVESTED TENS OF BILLIONS OF DOLLARS INTO MODERNIZING THE RUSSIAN MILITARY. WHERE UKRAINE REMAINS, PARTICULARLY WEAK, POTENTIALLY IT'S ACHILLES HEEL, IS IN ITS AIR FORCE AND AIR DEFENSES. IT DOES SEEM, FROM THE INITIAL OPENING HOURS OF THIS ATTACK, THAT THAT IS WHAT PUTIN IS TAKING ADVANTAGE OF, THAT THE RUSSIANS ARE EAGER TO WIPE OUT THE AIR DEFENSE CAPABILITIES THAT THEY HAVE, AND THAT RUSSIA IS REALLY LEANING HEAVILY ON ITS AIRBORNE FORCES TO INSERT TROOPS INTO THE GROUND, BECAUSE UKRAINE DOESN'T HAVE THE ANTIAIRCRAFT BATTERIES THAT A LOT OF OTHER COUNTRIES DO TO SHOOT THEIR PLANES OUT OF THE SKY. YOU KNOW IT'S A HUGE COUNTRY WE'RE TALKING ABOUT HERE. WHEN YOU LOOK AT UKRAINE, IT'S ABOUT THE SIZE OF
THE STATE OF TEXAS. IF YOU PUT THE EASTERN PART OF UKRAINE, WE ARE BUSY JUST HEARD FROM ISABELLE IN KHARKIV, THE EASTERN PART OF UKRAINE WOULD BE NEW YORK CITY. THE WESTERN PART WOULD BE IN CHICAGO. SO IT ISN'T A LARGE COUNTRY, WHICH IS WHY PUTIN HAS MOBILIZED 200,000 TROOPS, NOT TO MENTION, COUNTLESS BATTALIONS IN THE BLACK SEA, TO BE ABLE TO TAKE A COUNTRY THIS LARGE. >> JAMES, LET'S TALK ABOUT A
MESSAGING THAT PRESIDENT PUTIN IS GIVING, AND WHAT HE WAS SAYING IN THE EARLY HOURS THIS MORNING. RUSSIA TIME, UKRAINE TIME, LAST NIGHT, FOR US HERE ON THE EAST COAST OF THE UNITED STATES, LET'S TALK ABOUT HIS MESSAGING, BOTH THE TONE OF IT AS WELL AS THE RHETORIC HE'S USING, AND THEN THE LIES THAT HE'S TRYING TO GET ACROSS TO SOMEHOW JUSTIFY RUSSIAN'S ACTIONS. >> Reporter: TOTALLY, LIBBY. WE HAVE HEARD THREE TIMES THIS WEEK FROM PUTIN. EACH OF HIS PRESENTATIONS HAVE BEEN UNHINGED IN DIFFERENT WAYS. WE FIRST
HEARD FROM HIM ON MONDAY. THEN THERE WAS THIS MEETING THAT HE HAD WITH HIS NATIONAL SECURITY COUNCIL, WHERE HE BASICALLY PRETENDED LIKE IT WAS AN OPEN-QUESTION EVENT, WHETHER THEY WERE GOING TO MOVE IN. THEN THERE WAS THE SPEECH THAT WAS DELIVERED AT 5:45 A.M., MOSCOW TIME, AND IT REALLY WAS REALLY STRIKING. KIND OF WENT FROM BEING REALLY SUBDUED TO
BEING REALLY ANGRY. AND IN THIS DECLARATION OF WAR, PUTIN REITERATED THAT UKRAINE ISN'T A GOOD COUNTRY THAT DOESN'T HAVE THE RIGHT TO EXIST, THAT DOESN'T BELONG IN THE WORLD BUT THE RUSSIAN EMPIRE. IT IS A STARTLING STATEMENT THAT PUTIN HAS SAID BEFORE. LAST JULY, HE PENNED A 5000-WORD ESSAY THAT BASICALLY SAID, UKRAINE ISN'T A REAL COUNTRY, AND THAT THEY WERE WRONG TO RECOGNIZE IT AND THAT MICHAEL GORBACHEV WAS WRONG TO ALLOW UKRAINE TO HAVE AN INDEPENDENCE REFERENDUM ESSENTIALLY WHAT PUTIN IS SAYING IS THATIN 1991.
UKRAINE BELONGS TO RUSSIA, SO I NEED AIR RUSSIAN PROPAGANDA SAY, THEY HAVE NO INTENTION OF OCCUPYING THE COUNTRY, THEY ARE SAYING THAT, BECAUSE THEY BELIEVE UKRAINE IS PART OF RUSSIA. IT'S A PREPOSTEROUS CLAIM, IT REALLY HAS LITTLE TO NO HISTORIC MERIT, BUT THAT IS THE ARGUMENT THAT THEY ARE MAKING, AND WHEN YOU MAKE THAT ARGUMENT, IT BECOMES ESPECIALLY SCARY FOR THE DOZEN OR SO OTHER COUNTRIES THAT ARE A PART OF SOVIET UNION, THAT WERE INDEPENDENT REPUBLICS INCLUDING, THE BALTIC STATES WHICH ARE RIGHT HERE, ESTONIA, LATVIA AND LITHUANIA, THE SAME ARGUMENTS PUTIN IS MAKING TO SAY THAT UKRAINE SHOULD BE A PART OF THE RUSH IS, THOSE THREE COUNTRIES, SMALLER THAN UKRAINE BUT THEY ARE MEMBERS OF NATO SO UNITED STATES WOULD HAVE A TREATY OBLIGATION TO DEFEND THEM IF THEY WERE TO ATTACK. >> WHAT ARE YOU WATCHING IN THE NEXT 24 HOURS. NIGHT HAS FALLEN IN UKRAINE, TALK TO US ABOUT CONCERNS AS WELL AS AREAS TO FOCUS ON? >> WELL, WE WILL CONTINUE TO WATCH WHERE THE MISSILE STRIKES ARE HAPPENING. THE RUSSIANS DO SEEM TO BE TRYING TO GET CONTROL
OF THE AIRFIELD WHICH MAKES SENSE. I'M WATCHING THE SOUTHERN COAST OF UKRAINE VERY CLOSELY. THEY ALREADY CONTROL CRIMEA, PUTIN MAY TRY TO GET FULL CONTROL OF THE SOUTHERN COAST OF UKRAINE. IF HE DOES THAT, UKRAINE BECOMES A LANDLOCKED COUNTRY, ESSENTIALLY. YOU SEE HERE THE PORT OF ODESSA, YOU THINK THIS WORKS HISTORIC CITY BUT THIS IS A VITAL PORT BECAUSE THIS IS ACTUALLY AN INCREDIBLY RICH AREA OF SOIL, LOTS OF FERTILE LAND, AND, IT IS THE BIGGEST SHIPPING PORT FOR WHEAT IN THE WORLD, A LOT OF THE WORLD WHEAT, COMES THROUGH THE ODESSA PORT. PUTIN ALREADY CONTROLS ALL OF THIS LAND, ALREADY CONTROLS
CRIMEA, HE HAS DOZENS OF SUBMARINES AND DESTROYERS HERE IN THE BLACK SEA, SO, YOU COULD SEE AN AIRBORNE ASSAULT ON ODESSA, AND IF THEY SEIZED CONTROL OF THE PORT AND THE AIRPORT, ESSENTIALLY THEY WOULD CONTROL SOUTHERN UKRAINE AND THEY COULD MOVE FORCES UP FURTHER. OBVIOUSLY, HE HAVE IS THE BIGGEST PRIZE, BUT, THIS IS THE AREA THAT I'M WATCHING TO SEE IF THERE'S ANY MOVEMENT, ALSO, THE PENCIL MARSHES UP IN HERE, RUSSIA ANNOUNCED THEY ARE DOING THESE 10 DAY EXERCISES WITH BELARUS, THOSE WERE SUPPOSED TO AND OVER THE WEEKEND THEN THEY ANNOUNCE THEY ARE EXTENDING THEM, THEY MOVED A LOT OF BALLISTIC MISSILES ALL ALONG HERE, IN WHICH THEY COULD LAUNCH A LOT OF STRIKES, THIS IS A PART OF THE COUNTRY THAT IS ALIGNED TOWARD EUROPE BUT THIS COULD ALLOW THEM TO BRING FORCES ON BOTH SIDES OF TF, C, THIS WATERWAY, THIS IS REALLY THE DIVIDING LINE BETWEEN EASTERN AND WESTERN UKRAINE. AND, IT'S A PRETTY BIG RIVER ON THE WESTERN SIDE OF THE RIVER, IT'S WHERE THE PARLIAMENT IS, IT'S WHERE ZELENSKI , THAT'S WHERE HIS OFFICES ARE, YOU KNOW, A LOT OF THE POPULATION OF THE CITY IS ON THE EASTERN EDGE SO WE ARE GOING TO BE WATCHING CAREFULLY, TO SEE, HOW AND TO WHAT EXTENT RUSSIA ENCIRCLES CARE OF, FOR WHAT BIDEN SAID IS A POTENTIAL SACK OF THE CITY AGAIN OF NEARLY 40 PEOPLE. THE D.C. METRO AREA IS ONLY 5 1/2 MILLION PEOPLE, SO A MAJOR UNDERTAKING BUT THOSE ARE THE AREAS THAT I AM WATCHING IN THE COMING HOURS AND THE RUSSIAN MILITARY HAS THE ABILITY TO CONTINUE TO MANEUVER AND OPERATE AT NIGHT. THEY CAN USE THE BALLISTIC MISSILES TO WEAKEN A LOT OF THE UKRAINIAN GROUND FORCES, SO THAT DURING THE DAYLIGHT HOURS, SMOTHER REGULAR INFANTRY CAN MOVE IN ADVANCE ON THE COUNTRY. >> WE ARE WATCHING FOR PRESIDENT BIDEN TO SPEAK IN ABOUT AN HOUR'S TIME. JAMES YOU'VE GIVEN
US CONTEXT IN THIS, GIVE US SOME PERSPECTIVE, JAMES, ON, WHAT THIS MEANS, TO SEE RUSSIA ATTACKING ITS NEIGHBOR , TO SEE A EUROPEAN COUNTRY, YOU KNOW, FACE THIS, HERE IN THE YEAR 2022. >> THIS IS THE BIGGEST INCURSION LAND WAR THAT WE'VE SEEN IN EUROPE SINCE 1945. IT'S BIGGER THAN ANY OF THE CONFLICTS THAT WE SAW IN THE 90s BOSNIA, YUGOSLAVIA, THIS IS THE BIGGEST MOVEMENT OF RUSSIAN TROOPS SINCE THE INVASION OF AFGHANISTAN, IN 1979 . LAST NIGHT, I HEARD FROM A EUROPEAN DIPLOMAT WHO SAID, THIS , THESE ARE THE FINAL HOURS IN WHICH THERE WILL BE PEACE IN EUROPE, FOR A VERY, VERY LONG TIME. THERE'S A LOT OF CONCERN
THAT THIS WILL BE DESTABILIZING AND UKRAINE IS OBVIOUSLY A HUGE COUNTRY BUT IF RUSSIA GETS CONTROL OF UKRAINE, IT CHANGES THE ENTIRE GEOSTRATEGIC BALANCE OF EUROPE, ALL OF A SUDDEN RUSSIAN TROOPS ARE GOING TO BE ON THE BORDER OF ALL OF THESE NATO ALLIES BUT COUNTRIES THAT ARE VERY MUCH ALIGNED WITH THE WEST. ALREADY, WE ARE SEEING TENS OF THOUSANDS OF PEOPLE LINING UP TO COME ACROSS THE BORDER INTO POLAND. THERE WILL BE SPILLOVER, YOU CANNOT HAPPEN ATTACK THIS LARGE AND NOT HAVE SPILLOVER INTO THE REST OF EUROPE. THE EUROPEAN DIPLOMAT I SPOKE TO SAID THEY ARE EXPECTING THE BIGGEST HUMANITARIAN CRISIS SINCE THE SYRIAN REFUGEES, AMID THE CIVIL WAR THERE. SO IT'S A HUGE DEAL FOR EUROPE, NOT SEEING ANYTHING LIKE THIS IN OUR LIFETIMES. >> RHONDA, LET'S TALK A LITTLE ABOUT WHAT WE KNOW ABOUT HOW AMERICANS ARE INTERPRETING ALL OF THIS. WE HAVE BEEN WARNED BY BIDEN THAT
AMERICANS COULD FEEL PAIN AT THE PUMP, WE'VE SEEN THE DELL FALL INTO CORRECTION, SO, WHAT IS THE LATEST ON AMERICAN ATTITUDES? >> YEAH, AND YOU ARE RIGHT TO MENTION THAT, THAT'S BEEN THE CENTERPIECE A LOT OF HIS ADDRESSES OVER THE LAST SEVEN DAYS, THAT HE IS PREPARING AMERICANS FOR A POTENTIAL BACKLASH OR NEGATIVE IMPACT HERE ON OUR SOIL, HOW IT AFFECT US, HE'S TALKED ABOUT CYBER ATTACKS, HE'S TALKED ABOUT THIS IN FACT AFFECTING INFLATION, THE RISING COST OF EVERYTHING, SO HE'S BEEN PRETTY UPFRONT WITH AMERICANS, AND THAT'S LIKELY WHY IT'LL BE A PART OF WHAT HE IS GOING TO COME OUT HERE SOON AND TALK ABOUT. BUT I HAVE BEEN TRACKING THIS BECAUSE IT'S AN INTERESTING QUESTION TO ME, HOW AMERICANS ARE FEELING ABOUT THIS. WE'VE ALL BEEN WATCHING THIS ESCALATE FOR A NUMBER OF WEEKS, AMERICANS HAVE A LOT OF QUESTIONS AND THERE WAS A NEW POLL THE AP DID YESTERDAY, AND IT ASKED RESPONDENTS, HOW BIG OF A ROLE SHOULD THE U.S. PLAY IN ANY FURTHER CONFLICT INVOLVING UKRAINE, AND ONLY ABOUT A QUARTER OF AMERICANS SAY THAT THEY WANT AMERICA TO BE INVOLVED IN THIS, AND A MAJOR WAY, IT WAS ABOUT 26%. SO THAT SHOWS YOU THE APPETITE BUT WHEN YOU LOOK A LITTLE BIT DEEPER INTO THAT, AND BREAK THAT DOWN BY POLITICAL PARTIES, THIS IS WHAT I FOUND INTERESTING, 52% OF DEMOCRATS SAY THE U.S. SHOULD PLAY A MINOR ROLE
WHEREAS 54% OF REPUBLICANS SAID, THAT THE U.S. SHOULD PLAY A MINOR ROLE. AND PULLS ABOUT A NUMBER OF ISSUES, YOU RARELY SEE THAT CLOSE TO THE MARGIN BETWEEN DEMOCRATS AND REPUBLICANS, SO IT APPEARS THAT A LOT OF AMERICANS ARE ON THE SAME PAGE, THAT HOWEVER LONG, THEY DON'T REALLY WANT TO BE INVOLVED IN ANY MAJOR WAY, WHEN IT COMES TO THIS. BUT OF COURSE, WE KNOW THAT NATO HAS NOT YET INVOKED THE ARTICLE 5, BUT IT APPEARS THAT AMERICANS MAY NOT WANT TO GO ANY FURTHER.
OF COURSE, THAT'S A PART OF THE PRESIDENTS MESSAGING OR THE WHITE HOUSE MESSAGING, THEY NEED TO TELL AMERICANS, THIS IS WHAT WE KNOW AND THIS IS WHAT WE ARE PREPARED TO DO. AND IF YOU TALK TO A LOT OF PEOPLE, FRIENDS OR FAMILY MEMBERS, SO MANY PEOPLE HAVE QUESTIONS RIGHT NOW OF HOW CAN WE STOP INVOLVEMENT OR WHY ARE WE GETTING INVOLVED IN THIS, AND THAT IS SOMETHING THAT I POST TO REPRESENTATIVE QUIGLEY WHO IS THE COCHAIR OF THE UKRAINE CAUCUS ON THE HILL, HE'S ALSO A LONGTIME MEMBER OF THE HOUSE INTELLIGENCE COMMITTEE, AND HE SAID , YOU HAVE TO REMEMBER THAT UKRAINE AGREED ACCORDING TO THE BUDAPEST MEMO, THAT THEY WOULD NOT HAVE ANY NUCLEAR WEAPONS, SO THAT DID KEEP THAT REGION AS WELL AS THE WORLD, SAFE, AND HE ALSO POINTED OUT THAT AMERICA HAS TO BE ON GUARD EVEN IF SOMETHING IS NOT HAPPENING ON OUR SOIL, WE HAVE TO BE ON GUARD BECAUSE THERE ARE RAMIFICATIONS THAT COULD AFFECT US ALL. SO THAT IS SORT OF THE CELL HERE THAT MEMBERS OF CONGRESS HAVE BEEN TELLING CONSTITUENTS AND WE ARE SEEING BIDEN DO THAT AS WELL. >> WE WILL SEE AS THINGS MATERIALIZE ON THE GROUND AND WE SEE THESE PICTURES AND IMAGES, IF THAT ALTERS PEOPLE'S ATTITUDES, LET'S SEE WHAT'S BEEN HAPPENING IN UKRAINE, FOLLOWING A NIGHT OF EXPLOSIONS. ONE FAMILY WONDERED WHAT THEY SHOULD DO NEXT AND WHERE THEY COULD GO, TO FIND SAFETY. OUR COLLEAGUE, WHITNEY LEMMING SPOKE TO THEM, LET'S WATCH.
>> MY WIFE WOKE ME UP AND TOLD ME THERE WERE LIKE BOMBINGS. MAYBE LIKE TWO HOURS LATER OR ONE HOUR LATER, THAT'S WHEN I ALSO HEARD IT. TODAY I HEARD LIKE FIVE BOMBINGS, NO SHOOTINGS AND I'VE SEEN LIKE VIDEOS ON TELEGRAM, OF LIKE, SMOKE FROM THE BOMBINGS.
>> I WOKE UP FIRST AT 5:00 A.M. IN THE MORNING, AND I HEARD THE SHOOTING SOUNDS AND I STARTED TO CHECK THE TELEGRAM CHANNELS AND I WROTE MESSAGES TO MY FRIENDS IN ODESSA, TF, AND THEY ALSO CONFIRMED, THAT THEY ALSO HEARD THE SOUND. SO, FOR ME, THERE WAS NO DOUBT ANYMORE THAT SOMETHING HAPPENED. >> FIRST OF ALL, PERSONALLY,
DISAPPOINTED AT THE WAY THE GOVERNMENT HANDLED THIS THING. THEY KEPT TELLING US UNTIL YESTERDAY THAT WE SHOULD STAY CALM, NOTHING WAS GOING TO HAPPEN AND I KNEW IT, I KNEW SOMETHING WAS GOING TO HAPPEN. EVERYBODY IS PANICKING, THEY COULD HAVE PREPARED US BETTER, SO LIKE THIS THING HAPPENING NOW MAKE IT MAKES ME A LITTLE BIT LIKE, I WOULD SAY, UPSET, ALSO, I'M UPSET THAT THE GOVERNMENT HAS SAID NOTHING, JUST SILENCE. >> I HAVE TICKETS AND I'M SUPPOSED TO FLY TOMORROW IN THE MORNING. BUT NOW I KNOW THE AIRPORT IS CLOSED SO I DON'T KNOW WHAT TO DO. FOR NOW, WE WILL SEE.
>> I DON'T KNOW HOW TO DESCRIBE HOW I FEEL. YOU CAN JUST HOPE, YOU KNOW, YOU CAN'T JUST HOPE LIKE FOR ME, I JUST HOPE THEY CAN GO OUT OF HERE, YOU KNOW. I CAN'T DO ANYTHING, WITH A BABY, IT'S IMPOSSIBLE. SO THE SOONER THEY GET OUT OF HERE, THE BETTER. >> VIDEO RECORDED BY OUR COLLEAGUE, WHITNEY LEMMING WHO IS THERE IN UKRAINE, GETTING A SENSE OF WHAT PEOPLE THERE ARE WRESTLING WITH. ONCE AGAIN, WE HEAR ABOUT THIS DISCONNECT BETWEEN CIVILIAN SAYING, YOU KNOW, I WAS HEARING ONE MESSAGE FROM MY UKRAINIAN GOVERNMENT, ANOTHER MESSAGE PERHAPS ON SOCIAL MEDIA AND NOW I'M COPING WITH A VERY ABRASIVE AND FRIGHTENING REALITY ON THE GROUND.
>> IT'S SO GOOD TO SEE THAT REPORTING, PAINFUL TO WATCH BUT IT IS A REMINDER OF THE HUMAN CONSEQUENCE. WE ARE TALKING ABOUT A COUNTRY OF NEARLY 40 MILLION PEOPLE WHO ARE IN A SIMILAR BOAT. A MUCH LARGER COUNTRY THAN AFGHANISTAN, WHERE THERE WAS OBVIOUSLY SO MUCH TRAUMA LAST AUGUST AND ONE OF THE THINGS THAT WE ARE SEEING, AND HEARING FROM THE PENTAGON AND INTELLIGENCE COMMUNITY AND ANECDOTALLY FROM REPORTS ON THE GROUND IS CONTINUING RUSSIA CYBER ATTACKS, DENIAL OF SERVICE ATTACKS, THAT HAVE SHUT DOWN A LOT OF ATMS IN THE COUNTRY SO PEOPLE ARE LINING UP TO PULL OUT CASH FROM THE ATM BECAUSE THE BANKS ARE CLOSED BUT THE ATMS AREN'T WORKING, THE RUSSIANS, ARE CYBER ATTACKING A LOT OF UKRAINIAN GOVERNMENT WEBSITES WHERE PEOPLE MIGHT GO FOR DIFFERENT SERVICES OR PAPERWORK AND SHUTTING THEM DOWN. THEY ARE
PUMPING A LOT OF DISINFORMATION INTO WHAT THE RUSSIANS CALL INFORMATION SPACE, REALLY CONDUCTING INFORMATION WARFARE, AND SO, ALL OF THAT PUTS COUPLES LIKE THE ONES WE JUST SAW IN A MUCH MORE PRECARIOUS, MUCH MORE SCARY PLACE, AND YOU KNOW, WE ARE SEEING REPORTS FROM THE UKRAINIAN INTERIOR MINISTRY THAT UKRAINIAN AIRCRAFT ARE BEING SHOT DOWN. A LOT OF HELICOPTERS AND PLANES, SO CERTAINLY, IT'S NOT SAFE RIGHT NOW, TO FLY ANY KIND OF COMMERCIAL AIRCRAFT IN UKRAINE IN FACT THERE'S A TRAGIC HISTORY AND RECENT YEARS OF RUSSIAN PROVIDED MISSILES BEING USED BY THE SEPARATIST TO SHUT DOWN A COMMERCIAL AIRLINER IN EASTERN UKRAINE, SO, IT'S INCREDIBLY SCARY, AND IT MEANS THAT THE ONLY REAL WAY OUT OF UKRAINE RIGHT NOW IS THE OTHER ROADS AND THERE'S KIND OF THIS FOG OF WAR, THERE'S SO MUCH UNCERTAINTY, AND A LOT OF UKRAINIANS DO FEEL THAT. FROM THE PERSPECTIVE OF PRESIDENT ZELENSKI AND THE UKRAINIAN LEADERSHIP WHO SPENT MONTHS DOWNPLAYING THE EVENT AND COMPLAINING THAT THE US GOVERNMENT WAS SAYING AND INVASION WAS LOOMING, THEY DIDN'T WANT TO SEE PEOPLE FLEEING THE COUNTRY. THEY DIDN'T WANT TO SEE A RUN ON THE BANKS, OR THE CURRENCY COLLAPSE, OR FOREIGN INVESTMENT DRY UP, SO THEY GAVE PEOPLE FALSE ASSURANCES THAT EVERYTHING WAS GOING TO BE OKAY. THEY
CONTINUE TO DO THAT THROUGH RECENT DAYS AND SADLY, IT SORT OF WHAT WE SAW IN AFGHANISTAN LAST SUMMER, TOO, WHERE THE AFGHAN PRESIDENT KEPT SAYING THE CAPITAL OF KABUL WAS GOING TO BE FINE AND ALL OF A SUDDEN HE FLED AND EVERYONE ELSE WAS LEFT HOLDING THE BAG. AND SOMETHING SIMILAR IS HAPPENING AND UKRAINE. THE ULTIMATE, ULTIMATELY, IT'S A CHALLENGE, FOR THE UKRAINIAN LEADERSHIP, BECAUSE THEY ARE GOING TO TRY TO BE COMMUNICATING WITH THEIR POPULATION AFTER SPENDING WEEKS AND WEEKS TELLING THEM THAT THINGS WERE GOING TO BE OKAY.
>> LET'S GO BACK NOW TO NATIONAL REPORTER HANNAH JEWELL FOR AN UPDATE ON THE PRESIDENTS EXPECTED REMARKS, HANNAH? >> SO, WE ARE STILL WAITING TO HEAR FROM PRESIDENT BIDEN ABOUT WHAT NEW SANCTIONS THE US-MADE BRING AGAINST RUSSIA IN COORDINATION WITH AMERICAN ALLIES, THE PRESIDENT HAS BEEN ON THE PHONE TODAY, WITH MEMBERS OF THE G7, WITH PRESIDENT ZELENSKI AND OTHERS, MEETING WITH HIS NATIONAL SECURITY TEAM. AND WE ARE WAITING TO HEAR FROM HIM ABOUT 1:30 P.M., EASTERN TIME, ABOUT AN HOUR LATER, WE DON'T KNOW THE CAUSE FOR THE DELAY BUT IN THE MEANTIME I'VE BEEN MESSAGING WITH A FRIEND OF MINE WHO IS UKRAINIAN, CURRENTLY LIVING IN GERMANY BUT HER WHOLE FAMILY IS IN UKRAINE AND I ASKED HER, WHAT SHE THOUGHT THAT AMERICANS MAY NOT UNDERSTAND ABOUT WHAT IT'S LIKE TO BE UKRAINIAN RIGHT NOW. SHE SAID, SHE EXPRESSED TO ME HER BITTERNESS ABOUT, AT THE TIME OF THE DISSOLUTION OF THE SOVIET UNION, UKRAINE ACTUALLY, THE TERRITORY THAT BECAME UKRAINE WAS HOME TO THE THIRD-LARGEST NUCLEAR STOCKPILE IN THE WORLD AND MAY GIVE UP THOSE NUCLEAR WEAPONS IN EXCHANGE FOR GUARANTEES OF PROTECTION AND SHE TOLD ME, OUR GUARANTORS LIED TO US, DIDN'T HELP US TO MAINTAIN OUR SOVEREIGNTY AND TERRITORIAL INTEGRITY, AND UKRAINIAN STILL LIED TO AND THE TRADE, ALL THESE GRAND WORDS ABOUT DEMOCRACY ME NOTHING AT IF A BIG PLAYER AND RESOURCES ARE NOT AT STAKE, SHE TALKED ME ABOUT HOW THERE'S A LOT OF THIS BITTERNESS ON THE GROUND THAT THERE HAVE NOT BEEN AS SHE FELT CAPS PROMISES AND WE ARE STILL WAITING TO HEAR ABOUT THE NEXT LEVEL MORE INTENSE SANCTIONS THAT HAVE BEEN PROMISED ALL ALONG, NOW GOING TO HEAR ABOUT THAT AT 1:30 P.M. FROM THE PRESIDENT. IN THE MEANTIME, PEOPLE LIKE ANNA, ARE HEARING FROM HER FAMILY INCLUDING LONG LINES FOR GAS, ATMS RUNNING OUT OF CASH, HER FAMILY IS ACTUALLY FROM CRIMEA, HER FAMILY HOME IS THERE, AND SHE WORRIES THAT IF THERE IS RETALIATION AGAINST RUSSIAN FORCES OF COURSE, THAT MIGHT HIT HER FAMILY HOME. SO REALLY A LOT OF FEAR AND
UNCERTAINTY AS WE WAIT TO HEAR FROM THE PRESIDENT. >> AS HANNAH SAID, WE DO EXPECT TO SEE PRESIDENT BIDEN SPEAK AT 1:30 EASTERN TIME. WE WILL BE WITH YOU THROUGHOUT AND DURING THAT SPEECH, AND THEN ON THE BACK END OF THAT TO PROVIDE SOME ANALYSIS HERE LIFE FROM THE WASHINGTON POST NEWSROOM. LET'S BRING AND NATIONAL POLITICAL CORRESPONDENT
OLIVIER KNOX . HANNAH GAVE US IMPORTANT HISTORY AND CONTEXT. CONCESSIONS THAT UKRAINE HAD MADE, AND THERE'S THE QUESTION OF SORT OF HOW DOES THE REST OF THE WORLD HOLD ITS COMMITMENT TO UKRAINE EVEN THOUGH IT'S NOT A NATO NATION. TALK TO US ABOUT THE RELATIONSHIP BETWEEN UKRAINE AND NATO AT THIS MOMENT? >> SHE WAS REFERRING TO THE BUDAPEST MEMORANDUM WHICH WAS SIGNED BY UNITED STATES AND RUSSIA. UKRAINE HAS BEEN PUSHING FOR NATO MEMBERSHIP FOR YEARS AND THEY ARE ON SOMETHING CALLED A MEMBERSHIP ACTION PLAN . NOW PUTIN HAS BASICALLY IMPOSED A RUSSIAN VETO ON THAT BECAUSE IT'S UNTHINKABLE THAT UKRAINE WOULD BE INVITED TO JOIN NATO WITH ITS ORDERS IN DISPUTE AND AN OCCUPYING FORCE THERE. AND SO, IF YOU'VE BEEN LISTENING TO THE PRESIDENT OF THE UNITED STATES FOR THE PAST TWO WEEKS YOU'VE HEARD ONE REFRAIN WHICH IS THAT HE IS BEEFING UP THE AMERICAN PRESENCE IN NATO COUNTRY BUT HE WILL NOT SEND AMERICAN TROOPS TO FIGHT RUSSIA AND UKRAINE. THAT'S AN IMPORTANT DISTINCTION.
>> I WANT TO BRING RHONDA AND, RHONDA, YOU ARE BREAKING DOWN THE LATEST POLL NUMBERS FOR US. I WANT YOU TO STOOD OUT THE MOST TO YOU? OLIVIER WROTE ABOUT THIS IN HIS DAILY 202. WHAT STANDS OUT THE MOST TO YOU IN TERMS OF HOW AMERICANS ARE INTERPRETING AND DIGESTING WHAT THE ROLE OF THE UNITED STATES SHOULD BE? >> IT'S THAT FIRST QUESTION, TO THE PEOPLE WHO WERE PULLED, AND IT'S HOW BIG OF A ROLE DO YOU THINK THE UNITED STATES SHOULD PLAY IN THIS AND IT'S ONLY 26% OF AMERICANS THAT FELT THE U.S. SHOULD BE INVOLVED IN THIS IN A MAJOR WAY, SO, THAT REALLY GIVES YOU SOME INSIGHT ON HOW AMERICANS FEEL RIGHT NOW. AND OF COURSE, THAT QUESTION WAS
ALSO BROKEN DOWN AND ASKED AMONG THOSE WHO ARE FOLLOWING THIS CLOSELY AND THOSE WHO ARE NOT FOLLOWING IT AS CLOSELY. THOSE WHO ARE FOLLOWING AN ISSUE CLOSELY EITHER BY MEDIA OR UNDERSTANDING THE HISTORY BETWEEN THEM, THEY BELIEVE THE UNITED STATES SHOULD BE INVOLVED IN THIS IN A MAJOR WAY AT A HIGHER MARGIN BUT IT'S REALLY THAT QUARTER OF AMERICANS SAYING THAT THEY REALLY DON'T WANT A MAJOR ROLE IN THIS. THAT TELLS YOU ALL, AND I'M CERTAIN, YOU KNOW, BIDEN'S AIDES AND THE WHITE HOUSE, UNDERSTANDS THIS, THIS MAY BE THE REASON WHY HE HAS GIVEN REGULAR SPEECHES ON THIS, AND THE LAST FEW WEEKS, AND YOU WILL RECALL, BACK IN EARLY JANUARY WHERE HE GAVE THE FIRST OF THE YEAR PRESS BRIEFING. HE DID TALK ABOUT THIS BEING AN EMINENT THREAT. HE WAS
CLEAR ABOUT THAT BEFORE EVEN THOUGH THERE WAS SOME CRITICISM THAT HE SHOULDN'T CALL IT EMINENT BUT HE HAS AT LEAST BEEN CONSISTENT IN THE WAYS THAT HE'S BEEN TALKING ABOUT THIS TO THE AMERICAN PEOPLE SO I'M SURE THAT'S A PART OF THE CALCULATION WITH THE WHITE HOUSE IN TERMS OF HOW TRANSPARENT THEY WANT TO BE ABOUT THIS BECAUSE OF COURSE, THIS IS COMING AFTER THE WITHDRAWAL FROM AMERICA'S LONGEST WAR IN AFGHANISTAN, OF COURSE, BIDEN TOOK A LOT OF CRITICISM FOR HOW THAT WAS HANDLED, SO, I'M SURE THAT WAS ON HIS MIND, TOO. BUT THAT STATISTIC KIND OF TELLS YOU ALL, 26% OF AMERICANS SAY WE SHOULD NOT HAVE A MAJOR ROLE, SO THAT SHOWS THE WHITE HOUSE HAS WORK TO DO WHEN TRYING TO EDUCATE AND CONVINCE AMERICANS THAT IF WE PLAY A BIGGER ROLE, THIS IS WHY. >> OLIVIER, YOU WROTE ABOUT THIS TODAY. AND WHAT KIND OF A LIFT THE WHITE HOUSE AND BIDEN HAVE TO DO NOW ESPECIALLY AS RHONDA MENTIONED, COMING OFF THE HILLS OF AFGHANISTAN. >> I THINK THE POLL WE ARE TALKING ABOUT THE ASSOCIATED PRESS, IT SUGGESTS THAT BIDEN HAS A FAIR AMOUNT OF ROOM TO RUN HERE BECAUSE AS SHE NOTED THE MORE PEOPLE FIND OUT ABOUT WHAT'S GOING ON IN UKRAINE, THE MORE THEY ARE WILLING TO EMBRACE A LARGER U.S. ROLE. ONE OF THE FRUSTRATIONS AND I'M SORRY TO DO ANY MEDIA ON MEDIA FILES BUT ONE OF THE FRUSTRATIONS FROM THE POLL IS THE MAJOR ROLE MINOR ROLE, AND SO IT'S HARD TO GAUGE HOW THE WHOLE INTERACTS WITH BIDEN'S ACTUAL POLICIES THERE.
BUT AND I EXPECT THE PRESIDENT TO DO IT NOT JUST IN HIS REMARKS THIS AFTERNOON BUT IN THE STATE OF THE UNION, HE WILL LAY OUT THE STAKES WHICH HE'S DONE CONSISTENTLY SINCE JANUARY FIRST BUT ALSO TALK TO AMERICANS ABOUT WHAT THEY CAN EXPECT TO SEE. THERE IS A NOT TOTALLY IMPOSSIBLE SITUATION WHERE THE UNITED STATES COMES OUT WITH SWEEPING SANCTIONS AND PUTIN DECIDES IT'S TIME TO SHOW OFF SOME OF HIS CYBER WARFARE CAPABILITIES. WE ALREADY SAW CYBER ATTACK SHUT DOWN AN AMERICAN PIPELINE LAST YEAR. THERE COULD BE OTHER BAD ACTOR EVENTS. HE'S TALKED A LITTLE BIT ABOUT CYBER ATTACKS BUT ONE OF THE THINGS THAT STOOD OUT TO ME IN THE POLL IS, IT DID NOT COME THROUGH THAT A LOT OF AMERICANS HAVE BEEN THINKING ABOUT THIS AS AN IMMEDIATE PROBLEM FOR THEM. SO I THINK THE PRESIDENT HAS TO TALK ABOUT WHAT AMERICANS CAN EXPECT TO SEE AND EXPERIENCE AS A CONSEQUENCE . >> IN ADDITION TO BIDEN'S WORDS, WHAT ELSE IS ON YOUR MIND RIGHT NOW? >> I SAW BEFORE I CAME ON, SOME OF THE NEWS OUT OF THE UK OF THE SWEEPING BRITISH SANCTIONS AND ONE OF THE THINGS I WANT TO GO BACK TO THAT, YOU CAN GET SOME CLUES ABOUT WHAT THE UNITED STATES WILL DO BASED ON WHAT ITS ALLIES ARE DOING. I WANT TO SEE WHICH BANKS THE U.S. WENT AFTER.
IT HAS LEFT ALONE A LOT OF THE LARGEST BANKS IN RUSSIA SO WHAT I WANT TO SEE IS AFTER THOSE SMALLER BANKS IS THE UNITED STATES GOING AFTER THE KINDS OF FINANCIAL INSTITUTIONS THAT IF THEY ARE HIT, ORDINARY RUSSIANS SO TO SPEAK, WILL ALSO FEEL SOME PAIN. I'M WATCHING FOR THAT. >> WE HAVE SOME TAPE OF THE UK PRIME MINISTER, SPEAKING EARLIER TODAY. LET'S WATCH WHAT HE HAD TO SAY. >> PRESIDENT PUTIN OF RUSSIA HAS UNLEASHED WAR IN OUR EUROPEAN CONTINENT. HE'S ATTACKED A FRIENDLY COUNTRY
WITHOUT ANY PROVOCATION AND WITHOUT ANY CREDIBLE EXCUSE. TODAY, IN CONCERT WITH OUR ALLIES WE AGREED A MASSIVE PACKAGE OF ECONOMIC SANCTIONS DESIGNED TO HOBBLE THE RUSSIAN ECONOMY, AND TO THAT END WE MUST ALSO COLLECTIVELY SEES THE DEPENDENCE ON RUSSIAN OIL AND GAS THAT FOR TOO LONG HAS GIVEN PUTIN HIS GRIP ON WESTERN POLITICS. >> OLIVIER, HOW IMPORTANT IS IT THAT COUNTRIES SORT OF WORK TOGETHER IN UNITY HERE IN RESPONDING TO RUSSIA, NOT JUST EUROPEAN COUNTRIES, BUT OTHER COUNTRIES AS WELL? >> ONE OF THE TERMS YOU WILL HEAR IS BACKFILL, THAT REFERS TO COUNTRIES THAT DON'T AGREE TO GO ALONG WITH SANCTIONS PROPOSED OR ENFORCED BY THE UNITED STATES, AND THEREFORE, THEIR BUSINESSES, THEIR FINANCIAL ENTITIES, BACKFILL, THEY COME IN AND THEY TAKE THE ROLE OF WHAT AMERICAN INSTITUTIONS WOULD HAVE PLAY. IT'S IMPORTANT. THE UNITED FRONT THAT WE ARE SEEING IS SIGNIFICANT ESPECIALLY SINCE NUMBER OF COUNTRIES IN EUROPE ARE HEAVILY, HEAVILY DEPENDENT ON RUSSIAN ENERGY. SO THEY STAND TO TAKE A REAL HIT. THAT'S IMPORTANT TO WATCH. ONE OTHER THING I WANT TO MENTION, WE'VE
SEEN SOME INTERESTING MANUFACTURING OF CONSENT. PUTIN DID THAT THEATRICAL MEETING WITH HIS NATIONAL SECURITY COUNCIL WHEN HE INSISTED THAT EACH COME OUT IN SUPPORT OF HIS POLICIES AND THEN WENT AND DEMANDED A VOTE AUTHORIZING HIM TO USE THE MILITARY OUTSIDE OF RUSSIA'S BORDERS. TODAY, HE HELD A SIMILAR MEETING WITH OLIGARCHS, ONE OF WHOM, VERY NERVOUSLY, ASKED HIM NOT TO DO ANY MORE DAMAGE TO THE RUSSIAN ECONOMY AND IN THE MEANTIME HE'S THE BLADE A MASSIVE POLICE PRESENCE TO CRACKDOWN ON EVEN THE TINIEST ANTIWAR DEMONSTRATIONS IN RUSSIA. A LOT OF PEOPLE ARE SAYING, WHY WOULD PUTIN CARE
ABOUT THE SANCTIONS, WELL HE SEEMS TO CARE ABOUT THREE PEOPLE HOLDING AND ANTIWAR SIGN, SO WHATEVER ELSE WE ARE SEEKING, AS POWERFUL AS HE IS HE TO BE CONCERNED ABOUT FISHER'S IN HIS SUPPORT. >> JAMES, WHAT OTHER COUNTRIES ARE YOU WATCHING IN TERMS OF THE INTERNATIONAL RESPONSE? >> IT IS REALLY STRIKING, EVEN CHINA, WHOSE LEADER MET WITH PUTIN DURING THE OLYMPICS IN MANY WAYS THEY BEEN COMING CLOSER TOGETHER, AFTER A LOT OF TENSION. CHINA DISTANCING ITSELF, FROM RUSSIA GOING INTO UKRAINE SAYING, THEY SHOULDN'T DO THAT . SAYING THEY WERE CAUGHT BY SURPRISE. THAT IS PRETTY STRIKING, ESPECIALLY BECAUSE IF CHINA MOVES ON TAIWAN, THEY'RE GOING TO WANT RUSSIA SUPPORT. OBVIOUSLY I THINK CHINA IS WATCHING HOW THE WORLD REACTS TO RUSSIA GOING INTO UKRAINE, TO SEE WHAT THEY CAN GET AWAY WITH, VIS-À-VIS TAIWAN AND OTHER COUNTRIES, AND WHAT THEY SEE AS THEIR SPIRIT OF INFLUENCE. ON
THE EUROPEAN CONTINENT, IT'S INTERESTING TO SEE WHAT COUNTRIES WANT EXEMPTIONS, YOU KNOW, BELGIAN ONCE JEWELRY TO BE EXEMPTED, SODAS ITALY, THERE ARE COUNTRIES WITH LARGE FINANCIAL INSTITUTIONS LIKE GERMANY, THAT DON'T WANT TO KICK RUSSIA OUT OF THE SWISS FINANCIAL SYSTEM, WHICH BASICALLY LETS THEM BE A PART OF THE NETWORK , TO MAKE IT EASY TO TRANSFER MONEY AROUND. IN THE LAST FEW MINUTES, ADAM SHIFF, THE DEMOCRATIC CHAIRMAN OF THE HOUSE INTELLIGENCE COMMITTEE, CALLED FOR KICKING RUSSIA OUT OF SWIFT, WHICH WOULD BE A HUGE STEP THAT THE WHITE HOUSE HAS BEEN RESISTANT TO BUT HE'S SOMEBODY THAT HAS A LOT OF JUICE WITH THE ADMINISTRATION AND INFLUENCE ON CAPITOL HILL, BUT, PLACES LIKE LONDON AND BERLIN WITH LARGE BANKS, ARE AFRAID TO TAKE THAT STEP, SO FAR THOUGH, THE BIDEN ADMINISTRATION HAS DONE A GOOD JOB, KEEPING EVERYONE AT LEAST PUBLICLY, IN RECENT DAYS, AND PROJECTING A UNITED FRONT. THE QUESTION IS, HOW FAR WILL THE PRESIDENT GO AND ANOTHER THING, THAT I'LL BE WATCHING WITH OTHER COUNTRIES, IS THAT THERE HAVE NEVER BEEN SANCTIONS IMPOSED PERSONALLY, ON PUTIN. AFTER THE RUSSIANS
ANNEXED CRIMEA, AFTER THEY INTERFERED IN THE 2016 ELECTION, THERE WERE A LOT OF SANCTIONS ON RUSSIAN OLIGARCHS, MEMBERS OF RUSSIA INTELLIGENCE, BUT NEVER SANCTIONS DIRECTLY ON PUTIN, THAT HIT HIM PERSONALLY, IN THE POCKETBOOK, AND THAT MIGHT CHANGE. THERE'S SOME RESISTANCE TO TARGETING INDIVIDUAL LEADERS, FOR UNDERSTANDABLE REASONS BUT THIS IS ONE OF THE BIG OPEN QUESTIONS AS WE WAIT TO HEAR FROM PRESIDENT BIDEN. >> WE KNOW PRESIDENT BIDEN WAS SPEAKING WITH G7 LEADERS AND NATIONS EARLIER TODAY. JAPAN IS THE ONLY ASIAN MEMBER OF THE G7. TALK TO US ABOUT THE ROLE THAT JAPAN PLAYS IN THIS IN TERMS OF RESPONDING. OUR COLLEAGUE
HAS BEEN REPORTING ON JUST HOW THE RESPONSE HAS BEEN, AND WHY IT'S SIGNIFICANT, SO WE ARE WATCHING THE JAPANESE PRIME MINISTER. >> WE SHOULD BE WATCHING JAPAN, SINGAPORE AND TAIWAN, THESE ARE EXPORTERS OF TECH TO RUSSIA, THEY COULD BE CORRALLED BY THE WHITE HOUSE TO CEASE THOSE EXPORTS AND THAT WOULD HAMPER RUSSIAN INDUSTRY AND MILITARY, IT'S ACTUALLY REALLY IMPORTANT TO WATCH. IF I COULD DEVIATE A TINY BIT, ONE OF THE COUNTRIES TO WATCH IS SAUDI ARABIA WHICH HAS -- BECAUSE OF THIS CONFLICT, THE UAE HAS ALSO NOT BEEN SUPPORTIVE OF THE AMERICAN LINE. WITH THE ASIAN COMPONENT OF THIS, WE NEED TO WATCH IT VERY CLOSELY BECAUSE IN ADDITION TO SANCTIONS ON BANKS AND INDIVIDUALS, WE WILL SEE EXPORT CONTROLS AT SOME POINT HERE, MAYBE IN 30 MINUTES. WE MAY SEE EXPORT CONTROLS AND
THOSE CAN BE DAMAGING AS WELL IF THE GOAL IS TO HOBBLE THE RUSSIAN ECONOMY. >> LET'S GO NOW TO NATIONAL SECURITY REPORTER JOHN HUDSON WHOSE JOINING US FROM THE STATE DEPARTMENT. JOHN, WE HAD WARNINGS, PREDICTIONS, EXPECTATIONS, HOW ON THE NOSE WERE THEY ABOUT WHAT COULD AND WOULD UNFOLD? >> IT WAS VERY ON THE NOSE AND I WAS TRAVELING WITH THE SECRETARY WHEN HE MADE THAT LAST MINUTE STOPPED AT THE UNITED NATIONS WHERE HE SPELLED OUT IN UNUSUAL DETAIL JUST WHAT A RUSSIAN INVASION WOULD LOOK LIKE, WHAT SORT OF PRETEXT WHAT HAPPENED, AND WHAT WE WOULD SEE ONCE RUSSIAN TROOPS STARTED MOVING IN. WHEN WE WERE WATCHING IT, I WAS STRUCK BY HOW UNUSUAL IT WAS TO SEE A SECRETARY OF STATE SPELL OUT SOMETHING THAT HADN'T HAPPENED BEFORE, AND IT SEEMED SURREAL AND IT SEEMS EVEN MORE SURREAL NOW, HOW CLOSELY THAT HAS SKEWED TO REALITY. I MEAN, EXACTLY WHAT
THEY SAID WAS GOING TO HAPPEN, STATEMENTS FROM PRO-RUSSIAN SEPARATIST, CALLING FOR THE RUSSIANS TO SUPPORT THEM, YOU KNOW, FALSE ACCUSATIONS OF UKRAINIANS TRIGGERING MILITARY ACTION. WE HADN'T SEEN ANY EVIDENCE OF THAT, NOW, AS WE SEE, PLANES BUZZED BY, AND THE EXPLOSION TO VIOLENCE HAPPEN, IT IS A REMARKABLE MOMENT IN TERMS OF THE PRECISION WITH WHICH THIS WAS FORECAST BY U.S. OFFICIALS. >> HOW MUCH OF A SENSE OF COORDINATION ARE YOU GETTING BETWEEN WHAT'S HAPPENING AT THE STATE DEPARTMENT AND WHAT'S HAPPENING IN OTHER COUNTRIES IN EUROPE. WE WERE TALKING ABOUT ASIA A FEW MINUTES AGO. THERE SEEMS LIKE THERE'S SO MUCH CONVERSATION HAPPENING RIGHT NOW ON SO MANY LEVELS TO SO MANY DIPLOMATIC CHANNELS. >> IT'S A TON OF DIPLOMATIC DISCUSSIONS GOING ON RIGHT NOW.
YOU HAVE BEEN GETTING INTO THIS DISCUSSION WITH THE PREVIOUS INTERVIEWEES ABOUT THE SANCTIONS GAME, THAT'S HUGE, HOW HAS THE WESTERN COORDINATION SPOTS BEEN, THEN THE OTHER LEVEL IS THE POLITICAL RESPONSE, AND THAT IS HAPPENING A LOT WITH OFFICIALS, HERE AT THE STATE DEPARTMENT AND DIPLOMATS WHO REPRESENT THE UNITED STATES WORKING IN NEW YORK. I CAN TELL YOU, WE HAD A BRIEFING THIS MORNING, ON HOW THE NEXT STEPS ARE GOING TO PLAY OUT FOR THE UNITED STATES, AND THE WAY THEY ARE GOING TO MOVE THIS FORWARD IS A RESOLUTION CONDEMNING RUSSIAN ACTION AT THE UNITED NATIONS AND LDL IT'LL BE HELD UP FOR A VOTE TOMORROW. WE HAVE ALREADY HEARD A LOT, AND EVEN CASUAL READERS WILL RECALL HEADLINES IN RECENT HOURS ABOUT, THE UNITED STATES, CRITICIZING RUSSIA AT THE UNITED NATIONS. WHAT'S DIFFERENT ABOUT THIS IS THERE GOING TO PUT FORWARD A RESOLUTION PREVIOUSLY THESE WERE JUST REMARKS, AND NOW THIS IS A RESOLUTION, SO, THIS IS A REAL SCRAMBLE TO SEE WHAT LIKE-MINDED NATIONS COME BEHIND THIS RESOLUTION THAT WILL CONDEMN THE RUSSIAN MILITARY ACTION. OBVIOUSLY, THE FAMILIAR ALLIES WITH THE UNITED STATES ARE LIKE TO BE ON BOARD, BRITAIN, FRANCE, OTHER EUROPEAN GOVERNMENTS LIKE IRELAND AND NORWAY, ALSO EXPECTED TO SUPPORT SOMETHING ALONG THESE LINES. THE BIG QUESTION MARK IS
COUNTRIES LIKE INDIA AND CHINA, WHAT DO THEY DO? DOES CHINA ABSTAIN, DOES CHINA VOTE WITH A U.S., OFFICIALS ACKNOWLEDGE, YES THE RESOLUTION IS GOING TO BE VETOED BY THE RUSSIANS BUT THEIR GOAL, IS TO ISOLATE RUSSIA ON THE INTERNATIONAL STAGE AND REALLY EMBARRASSED RUSSIA FOR ITS ACTIONS, AND THAT, IS REALLY TO BE SEEN, HOW WELL THE UNITED STATES DOES IN BROKERING DEALS BEHIND THE SCENES, FORGETTING NATIONS BEHIND THEM. IT'S TRUE THAT RUSSIANS RATHER RUSSIA'S ACTIONS ARE THERE GREATEST LIABILITY THAT THEY HAVE ENOUGH CAUGHT THE NUMBER OF LIABILITIES, SOME THAT DON'T EVEN REALLY SEEK TO CRITICIZE RUSSIA IN PUBLIC TO SAY SOME PRETTY STRONG WORDS IN THE LAST SEVERAL HOURS AT THE UNITED NATIONS. >> WE SAW A REMARKABLE SPLIT SCREEN LAST NIGHT, THE UN SECURITY COUNCIL WAS MEETING, THIS WAS AN EMERGENCY MEETING HELD AT THE REQUEST OF UKRAINE, SIMULTANEOUSLY WE WERE HEARING THE RUSSIAN PRESIDENT SORT OF YOU KNOW, MAKE THIS A VERY NEWSY BUT ALSO VERY FRIGHTENING SPEECH, AND THE ATTACK ON UKRAINE WAS LAUNCHED. SO WHAT IS THE ROLE RIGHT NOW OF THE UN IN TERMS OF HAVING HAVE TO AND MUSCLE? YOU TALKED ABOUT ISOLATING RUSSIA, ARE THERE OTHER VEHICLES THAT ARE SEEN AS WAYS TO DO THAT? >> AT THIS POINT , THE SPLIT SCREEN WAS INCREDIBLE, AND IT ALSO LAID BARE THE LIMITS OF THE WORLD BODY THAT IS THE UNITED NATIONS SECURITY COUNCIL IN BROKERING OR COERCING IN ANY SORT OF WAY. THE REALITY IS WHEN YOU HAVE A UN SECURITY COUNCIL MEMBER, A PERMANENT SEAT, THEY CAN VETO ANYTHING, AND SO, REALLY, THE ONLY THING THAT YOU ARE GOING FOR IS NAMING AND SHAMING. OTHER THAN THAT, IT
IS PRETTY MUCH JUST A CAB FAST, AND THAT'S WHY THERE'S FRUSTRATION AS YOU SAW BASICALLY, YOU KNOW, EXPLOSIONS RIPPING ACROSS UKRAINE, IT ALSO CAME AS NATIONS , REPRESENTATIVES IN NEW YORK WERE SAYING, LET'S CALL FOR DE-ESCALATION. LET'S STOP WAR FROM HAPPENING, AND IN FACT, YOU KNOW, MILITARY ACTION WAS ALREADY WELL UNDERWAY. AND AS A RESULT, YOU HAVE MEMBERS COMING BACK AND UPDATING THEIR REMARKS FROM SAYING, LET'S NOT GO ACROSS THE RUBICON, AND THEN SAYING YEAH, ACTUAL
2022-02-27 16:36
Show Video
Other news