Unreal Engine 5 Release | The State of Unreal 2022 Keynote Presentation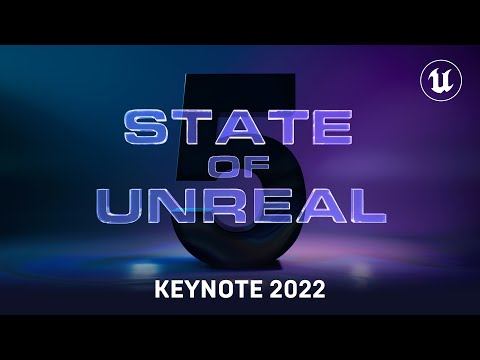 Show Video
TIM SWEENEY: Thanks for joining us. Epic was founded on building great games and sharing all of our technology openly with the community. We succeed when you succeed, and we want all developers to have the advantages we have ourselves when building games like 'Fortnite'. Unreal Engine 5 is the latest chapter. We released the Early Access Preview back in May, and the community has built some amazing things in it.
Let's take a look. Today, we're launching Unreal Engine 5.0 to all developers. It's been battle-tested in 'Fortnite Chapter 3', launched last December.
So download it today and get started. What's most exciting now is that real-time 3D is bringing industries together with Unreal Engine 5 as their common medium. Among game developers, 48% of announced next-generation console titles are powered by Unreal. Automotive designers, fashion designers, and architects are doing everything from design visualization to brand activations and entertainment crossovers.
Film and television producers are using Unreal for virtual production on set and for final pixels on the movie screen. Then they're bringing their content to games and live events on a mass scale. We're seeing the emergence of a new medium connecting people around the world, live, in shared experiences. Whatever you build today is a stepping stone to bigger things in the future. So come join us in the journey, and we'll build this future together. Next up, I'd like to introduce Kim Libreri, CTO of Epic Games.
KIM LIBRERI: Hello, everybody. I can't believe it's been eight years since we shipped Unreal Engine 4, and seven years since we made it free for everybody to use. Since then, we've seen huge growth in engine usage, spanning games as well as many other industries. This incredible journey has afforded us the opportunity to work with some of the best creators from all over the planet. It's the work which has driven us to keep pushing the envelope to the point where we are today, which is the release of Unreal Engine 5. One of the founding principles of the company is that we bring the lessons we learn from our own game development back into Unreal.
The scale and success of 'Fortnite' took that model to a whole new level. Putting all that work back into the engine has made Unreal Engine way better across all platforms. I joined Epic because I've always believed that real-time technology has the power to revolutionize the creative process across all industries. Being able to make instantaneous decisions within a near-photoreal interactive environment is utterly transformative. It empowers you to make big changes to a scene and see them immediately in context.
This is a better, quicker, and much more efficient way of creating content. It's been fantastic to see our customers using the engine in so many different ways, from indie creative projects all the way up to AAA games and even movies. But for us to really be sure that Unreal Engine 5 has achieved the goals we set for it, to really change the way interactive and linear media is made, we needed to push the engine to a new extreme. And that's how 'The Matrix Awakens' demo came about.
NEO: How do we know what is real? KIM LIBRERI: I was fortunate enough to have worked in the first three Matrix movies at a time when visual effects was revolutionizing the movie business. Having the opportunity to work on another Matrix project and push technology yet again was really special. It was a privilege for us to bring the Matrix universe to a whole new generation of viewers and players. We wanted to show that high-end visuals at a massive scale were possible in a living, breathing, and believable open world. And we wanted to show it that a player could be immersed in an exciting cinematic scene that would normally only be possible in a blockbuster film.
What's been fantastic is seeing how a fully-interactive set can change the process of filmmaking. In what can be described as life imitating art, we actually filmed the cinematic sections of the demo inside the Matrix city we had built, where our artists would drive cars, set up stunts, and place pyrotechnics, all inside a fully-simulated world. And because this is a simulation that can be recorded by Unreal, we can then place optimal cameras in the scene after the fact to give maximum cinematic impact.
Unreal Engine 5 isn't just about making existing ways of doing things faster. It's about finding whole new approaches to transform the way content is made and experienced. Nanite micropolygon geometry allows for billions of triangles on the screen at any moment, and Lumen's real-time global illumination enables highly realistic lighting. They combine together to generate real-time content at a level that would have seemed like magic only a few years ago.
For the building of the Matrix megacity. We didn't have a huge environment team, so we had to build it in a really smart and efficient way. We wanted to create a large-scale city with fidelity and complexity beyond what is typical in an open-world game. And for this, we deployed procedural content creation techniques, including partnering with our friends at SideFX to use Houdini and Houdini Engine. Developer efficiency is a recurring theme that goes beyond Unreal Engine and into our other products. MetaHuman Creator and Quixel Megascans show how we're enabling creators to make very high-quality content more quickly than ever before.
Pulling together the city for The Matrix Awakens and bringing it to life would have been impossible without these tools. Unreal Engine is revolutionizing how creators tell stories, and how people experience them, enabling developers to leverage one set of assets for whatever type of content they can dream up, from games to linear animation and even to live action shows and movies. One of the most important aspects of creating The Matrix Awakens demo was our commitment to release the city as a sample content.
We want to show in a step-by-step manner how we created this world together, and to provide a starting point for others to make their own worlds, tell stories, even build new games on top of this incredible digital city. Unreal Engine 5 is the foundation of next gen content creation. So what are you waiting for? Go make something amazing! NICK PENWARDEN: Starting today it's never been easier to bring your creative vision to life. We built UE5 by looking at each individual aspect and asking ourselves, what technical hurdles can we remove to help developers put creativity first? We redesigned the Unreal Editor UI, making it easier to use with a streamlined, modern look, keeping you inside the 3D world that you're building.
And we built tools for animation and modeling directly into the editor, enabling developers to fine-tune and iterate on content in context without round trips to external packages. Lumen frees developers to create dynamic worlds with high quality global illumination. Nanite relieves developers from worrying about draw call, polygon, and memory budgets from a geometry perspective. And our new open world tools allow developers to collaborate in a single massive level.
And to get you building even faster, alongside UE5, we're shipping Lyra, a new starter game. It's a complete end-to-end networked multiplayer game project that is an excellent foundation to build a game upon without having to start from a blank slate. It's built from modular components, utilizes Epic Online Services for matchmaking, and is designed to run on PC, console, and mobile. With Lyra, you can jump in, customize it, add new content, and begin play testing from day one.
To see how easy it is to build on top of Lyra, let's jump in the editor with Zak Parrish. ZAK PARRISH: So here we are in the Unreal Editor. And this is the Lyra project.
And this is the Expanse Level, one of three different Levels that ship with the Lyra project. And I'm just going to jump right in and play the game. So, I'll click the Play button.
And, boom, we're playing Lyra inside the Editor. And I know there's a bot waiting for me up here, and he's going to try to get the shotgun. And I can't let that happen, because it won't go well for me. Come on, I can do this.
OK, well. Saw that coming. It's probably going to happen a lot throughout this demo.
Now, what we're going to be focusing on is how we can take this level and modify it, and really start to make Lyra our own. But before we do that, I want to call out the lighting. This level is lit primarily with just the sunlight. As a matter of fact, if I move the sun around, you can see how Lumen just takes that light, and naturally bounces it around the scene.
And the light is influenced by the surfaces it hits. So if I was to take the floor, for example, and just drag and drop a new material on it-- like red, for example-- you can now see there's red light bouncing around the scene. And if you really just want to crank it up to 11, I could drag and drop this neon green color that I imported from the early 90s.
And you can see that the sunlight hits that, and floods the whole scene with green light. Now I would never leave it that way, because that looks awful. Now in addition to bounced light, Lumen also allows us to illuminate our scenes using emissive materials. So here's a ball that has an emissive material on it. And it is casting light into the scene, but it's hard to see with all this sunlight. So let's just take the sun, and tuck it up underneath the level.
And now you can see that the ball actually is casting light, and there is no light actor there. This is all happening by way of the material, thanks to Lumen. In fact, if I take the material and change its color, we can change the color of the light. And if I increase that emissive value, we can actually flood the scene with more light. And in the process, make a sphere that's actually painful to look at.
Now, that light is dynamic. You can see, as I move the ball around, that lighting is following along. So let's take a look at modifying our Level. I'll just tuck the ball up here into the corner. And let's bring the sun back Now, Lyra was designed from the ground up for you to build your own games on. And to help with that, we've created a series of tools to help you out.
So this looks like a regular Static Mesh of a window that I just duplicated off the back wall. But actually, this is a Procedural Mesh. So if I get it into the middle of the room. And then right click on it, and go to Scripted Actor Actions, I can swap this out to its Generated Mesh. And now we can see a selection of handles that I can move around, and you see how that updates the object.
So I can move the window around inside the shape. And if I go over to the Details panel, I can increase the wall's width. We could increase its height. We could actually-- you know what, let's take the opening, and we'll change it to make this into like a bunker that I can hide behind, to give me some protection from these bots. So we'll make that narrow, we'll slide it down a little bit. Maybe I'll increase the width by just a little.
And when I'm done, I just need to convert this into a regular Static Mesh. I'll do that by clicking Generate New Static Mesh, and then right click, and choose Swap to Static Mesh. And boom this is a mesh just like any other that you'd use to build a level.
Now, of course, we're not limited to just duplicating existing meshes. If I wanted to, I can bring in fresh ones from the Tools menu that's included in the Lyra install. And you'll find that this is full of a series of these procedural tools that are all built using Blueprint on top of the already existing modeling tools in the Unreal Editor. So I can bring in this panel, and just move this handle around to quickly drag out a ceiling for our little bunker. And if I'm happy with that, just right click and swap that over to a Static Mesh .
I do need a way to get up here-- which, I'll admit. The whole thing was just an excuse for me to show you this really cool procedural stairway. So if I drag this in-- check it out, I'm going to rotate it around and aim it where it needs to go.
And then we're going to move it way far back. And obviously, these stairs leave a little bit to be desired in terms of where they're going, but if I grab the handle in the upper corner, watch this. We can increase their length, and we can increase their height. And the system just automatically generates stairs for me. So we'll just connect those right up, and make a couple of quick edits, there we go. That looks pretty good.
And we can also make them wider, so we'll just slide that out like so, I don't why it needed a sound effect, but for some reason I feel like it did. Now, we can also change the number of stairs as well. So I can take the Step Height, and you can see I can adjust that. We can make these into floating stairs.
Let's make sure that they are creating some collision. And I have to mention this, because it just it makes me so fundamentally happy. But if you get right down on the stairs, we can actually turn on Bevel. We can add just a little bit of Bevel to the edge of the stairs, which really helps when the light hits them just so.
If we're done, if we're happy, we can just right click and go back to Scripted Actor Actions. Swap that out to a Static Mesh, and there we go. We've built a new part of the Level. Of course, it does have this really cool prototyping-grid material. But let's make it fit the scene just a little bit better.
We'll add some color to it. We'll bring in some red for the top area, and we'll make the stairs blue, because that's what I have handy. And there we go. Now, it'd be great if I also had some armaments. And we have access to the entire gameplay library that makes Lyra.
So here is a Weapon Spawner. And, by the way, this is defined entirely in Blueprint. So if I wanted to open this up and change its behavior, I could. I wouldn't even have to write a line of code. But all I'm going to do is change some settings.
So let's take the Weapon Definition, and we'll set that over to Rifle. And I'll take the color, and set it over to pink, so that everybody knows that this is my rifle, and I'm the only one who gets to use it. And, if I wanted to, we could just test this out.
So let's hit Play. And I'll quickly run up the steps. And I know that bot is coming, I can feel it. Come on. OK, they went upstairs. All right, well, let's take our bunker.
We'll grab our rifle. Now I've got cover. Here we go. Yeah, that's right.
Come on. Come on. [SHOOTING SOUNDS] I don't why I'm adding sound effects. I can't help it. But see, there you go.
Just like that, I was able to change the overall flow of the Level, from something very open and frenetic, to someplace where I have cover. Where I can pick up a weapon, and really try to control the situation. And I did that using procedural tools that are already included with Lyra. Now, of course, we're not limited to that. We have the entire Epic Games ecosystem. We have the Marketplace.
We have Sketchfab. We have Quixel Bridge. There's even ArtStation. And you can bring in content from those, and really make Lyra look like anything you want it to be. So here's a statue that we actually had from a previous project. So I could just drag this in, and of course, this looks great.
It has a lot of fantastic detail. But it doesn't quite fit the overall flow of Lyra. So, let's just fix that. I'll just drag a new material on it.
Surely, no art director would have a problem with that. But the point is that you can just add whatever content your heart desires, and really start turning your Lyra Levels into anything you want them to be. So now you've seen how you can build your own games and experiences inside of Lyra. And this was using just one of three modes available inside the project.
We have Elimination, which is like a standard deathmatch. We have Control, which like a capture and hold mode. And there's even Exploder, which is like a top-down party game.
And all of this is available to you today. NICK PENWARDEN: That's great, Zak. Thanks. Even though this is the first release of UE5, we've made sure the engine is ready to ship projects from day one. We're proud of the demos we built to drive development of Unreal Engine 5.
'Lumen in the Land of Nanite', 'Valley of the Ancient' for our Early Access release, and 'The Matrix Awakens', available to players around the world on Xbox Series X and Series S and PlayStation 5. But to really put the engine through its paces, last December we shipped chapter 3 of 'Fortnite' on Unreal Engine 5 across all platforms: PC, PS4, and PS5, Xbox One, Series X, and Series S, Nintendo Switch, and Android. We completed a rigorous process comparing the performance, memory, and stability of 'Fortnite' on UE5 with 'Fortnite' on UE4 and we were able to make the transition smoothly without any major modifications to 'Fortnite's code or content. And the 'Fortnite' team was able to take advantage of the new editor and workflows in UE5. Having taken the plunge ourselves, you can be confident that UE5 is battle-tested and ready for production. Now our goal has always been for all developers to be able to take advantage of UE5, whether you're already working in UE4 or starting anew.
We made sure the path to transition from UE4 to 5 is straightforward and well-documented so you can hit the ground running with all of the new features right away. This is just the beginning. Future updates will include new features, improvements, and optimizations, and we're arming you with an arsenal of libraries and additional tools to put the power of creation in your hands day one.
To preview some of these incredible tools, let's go to our friends at Epic Stockholm in Sweden. TEDDY BERGSMAN LIND: Hey, everyone. Teddy here. High-quality photoreal content is incredibly expensive and time consuming to create. Our mission is to bring you vast libraries of high-quality assets already made for you, and awesome tools for creating your own photoreal content and digital humans more quickly than ever before, so that you can concentrate on what matters most--creating amazing experiences. I founded Quixel over a decade ago with the vision to build Megascans, a massive library of ready-made photoreal assets to simplify digital world creation for developers, all built with state of the art scanning technology.
A single such asset contains millions of triangles, and in the past, making use of such high-fidelity content to create billion-polygon scenes was limited to the motion picture industry and could simply not be done in games. But now, with the advent of Unreal Engine 5 and Nanite micropolygon geometry, it's finally possible to use this movie-quality content as-is to create real-time experiences that are indistinguishable from reality, regardless of which industry you're in. When Quixel joined Epic, we immediately made the entire Megascans library free for use with Unreal Engine, and started work on integrating it into the engine itself to enable you to use all of these incredibly high-fidelity assets directly in engine. With the release of Unreal Engine 5, you can now access the world's largest library of the highest-quality scans for free, fully Nanite compatible, without ever having to leave the editor.
With a simple drag and drop, you can instantly stream in photoreal Nanite content to build any world imaginable. And if you need even more assets and can't find what you need in the Megascans library or Unreal Engine Marketplace, we've joined forces with both ArtStation and Sketchfab, working to make millions of additional Marketplace assets more accessible to developers. We're solving the problem of content creation at scale, with libraries of free assets and paid world class assets from creators, featuring the best revenue share in the industry. Sometimes, you might not find exactly the asset you're looking for and would like to create it yourself.
But take it from me, scanning custom assets has always been incredibly hard work that requires a great deal of training, as well as specialized and expensive hardware and software. For this reason, we've been working to distill our scanning experience and technology into an easy to use phone app, bringing the gold standard of photogrammetry straight into your pocket. We're calling this app, RealityScan. It intelligently guides you through the scanning process in AR to ensure optimal quality, processes all data automatically in the cloud, and publishes the final asset straight to Sketchfab for use anywhere-- all for free.
Our goal is to make it as easy as possible for you to create and share your own custom photoreal content, whenever you need it. For the exact same reason, we also released MetaHuman Creator-- a free cloud-based app that empowers professionals as well as beginners to create photorealistic digital humans, complete with hair and clothing, in minutes. This used to be incredibly challenging and time consuming. But now, you can create your own digital humans at the quality of the best-looking games out there. So by combining this incredible free creator ecosystem of best-in-class tools and movie-quality content with the power of Unreal Engine 5, creating amazing photoreal games and experiences has never been this easy.
With all these new free tools, you'll be able to start building in exciting new ways, developed by both you and the community as a whole. And to tell you more about another great community resource, here is Sjoerd. SJOERD DE JONG: Thank you, Teddy. The community of creators all over the world is something that is very dear to us at Epic. I started my personal journey when I first discovered Unreal Engine 23 years ago when I was just 15 years old. I started creating levels for Unreal Tournament, joined this community, and it changed my life as we have seen it do for so many others.
We are excited to provide the engine and our whole ecosystem of tools to everyone, but we're equally thrilled to ensure that we equip creators with the knowledge and support you need to succeed, making it as easy as possible to find and share knowledge across the community. With the next generation of Unreal Engine launching, we have been working on a new community site, dev.epicgames.com/community. The site brings together a number of different community channels and tools to make it easy to find all of our resources in one place, learning content, forums, questions and answers, and code snippets.
The learning section is a centralized, fully open, and accessible library of all kinds of courses, tutorials, live streams, and tech talks for you to browse through and read or watch. And what I really like is that anyone can write tutorials and contribute to this library of content through an easy-to-use tutorial editor that lets you freely build up your page using text, image, video, and code widgets. If, for example, you discover how to do amazing procedural animation using Control Rig to add secondary motion to your characters, you can share those learnings with other devs.
The Unreal Engine forums have been fully integrated in order to give you a space to showcase your cool projects, discuss things with other devs, or to find solutions from others. There is also the snippet repository to share and store snippets of code, such as C++ and Python, or text-based assets, such as Blueprint, Materials, MetaSounds, and so on. For example, in the Lyra starter game, one of our devs made a Blueprint setup that measures the running speed of the player and then uses that to drive reactive music via MetaSounds. If you have an interesting setup like that you could simply copy and paste that from the Unreal Editor to the snippets on the site and by doing so, store things you would like to remember or, more importantly, share with others so that they can use your work as a foundation. And lastly, activity is captured and represented through your profile that you can personalize to represent who you are and what you create.
If you're looking to up your skills or if you have questions and you need help with something or perhaps simply to show your awesome work or discoveries, come and join us in the Unreal Engine community at dev.epicgames.com/community. I'm always so inspired by all the amazing work that is being created by everyone around the world. We count ourselves fortunate to be able to give back to our amazing community in the form of MegaGrants and fellowship programs. Today we are proud to highlight some of the astounding work being produced by the community and here's just a sample of all that amazing work.
DANA COWLEY: It is awesome to see so many inspiring projects from game developers, filmmakers, and creators of animated entertainment lifting up their voices and vision through the power of Unreal Engine. We are thrilled to confirm that all of the amazing studios you see here are a part of the Unreal Engine 5 community, which continues to grow every day. This represents an insanely talented population of creative and technical talent, spanning thousands of people across the planet who are working on just about any and every type of project you can think of. And many of these teams are hiring. This year officially marks 20 years of Unreal Engine on Xbox, along with unprecedented adoption of Unreal Engine across Microsoft's internal teams who are building games that the industry will be talking about for the next 5, 10, 15 years. And that leads us to a world class studio that is very dear to Epic, The Coalition, the team behind the 'Gears' franchise.
They have been instrumental in helping the rubber meet the road where it really counts. It is my pleasure to turn it over to Kate Rayner and Colin Penty. KATE RAYNER: We've been working with Unreal Engine 5 for over a year now, and we've already seen a lot of the benefits. COLIN PENTY: Our relationship with Epic has really impacted positively the 'Gears of War' franchise, whether it's collaboration or calls about various systems or contributing code.
We've been creating numerous prototypes and demos, and we're happy to show you some of the results today. KATE RAYNER: What you're seeing now is our Alpha Point demo. It was an early access demo that we showed at GDC in 2021.
There are a few different components, an abbreviated character cinematic, and a early, large world, technical test. COLIN PENTY: The open world tech test was built to test a few things. It was built to test the landscape system. How does it react with Nanite? How does the World Partition streaming function? And how do these all come together and perform on Xbox? So MetaHumans came out about halfway through our character rendering visual tech test demo and so we immediately sort of stopped what we were doing for a bit, took a look at MetaHumans and wanted to see how it could augment our existing character that we were building.
So we pulled things like materials from MetaHumans and eyeballs and teeth and bring it all together just to see what level of fidelity we could hit, throwing all the latest tech in Unreal Engine 5 at it. KATE RAYNER: This cinematic demo brings the character quality of the new rendering systems, the environment technologies, the new Lumen rendering system all together to create a real-time cinematic experience that goes beyond anything that we've done in the past. COLIN PENTY: I'm personally very proud of them. They were all labors of love for myself and the art team and engineering teams, and really opened our eyes towards what the next-gen quality visual bar could be.
And so it was a huge learning experience for us. And I think it actually set us up really well when Epic came and asked for help on 'The Matrix Awakens' demo. KATE RAYNER: The fact that we were able to ship this experience on Xbox Series S with all the same features, including ray tracing, that we had on the Xbox Series X at such a high quality level is really amazing.
With the launch of Unreal Engine 5, what I'm most excited for is the developer efficiency that we have for our team. We really are able to deliver a AAA experience that we've always wanted to without the compromises. VIDEO GAME CHARACTER: Hell yeah! COLIN PENTY: Unreal Engine 5, I feel like, is a huge game changer. And I feel like we haven't fully even realized how much of a game changer it's going to be. It basically democratizes game development across the world. And yes, there's accelerations for AAA developers like ourselves, but it also is a great entry point for indie dev studios.
And so I think it furthers along Unreal Engine 4's vision of everyone can build a project and build a game, and I think it's going to change the entire industry. DANA COWLEY: Thanks so much, Kate and Colin. The work across Microsoft and The Coalition make Unreal Engine better for everyone.
CD Projekt RED are experts in open-world game design with 'The Witcher 3' and 'Cyberpunk 2077', combining freedom of exploration with compelling storytelling in unparalleled fashion. Through a new partnership with Epic, CD Projekt RED is building a brand new 'Witcher' saga with UE5. PAWEL ZAWODNY: Our cooperation with Epic has just started. It was the shift towards open world support that brought Unreal Engine 5 to our attention. JASON SLAMA: So there was one demo that happened last year that was the Medieval Environment demo where at one point there's a notice board that looks strangely familiar to things we've done in the past that has even a sign that says, monster slayer wanted.
And I'm like, hmm, are they trying to tell us to come over to Unreal Engine? Look how great your games look on there. Was that whole demo made with that nefarious purpose? I don't know, but it definitely caught my eye. PAWEL ZAWODNY: This opens a new chapter for us where we really want to see how our experience in building open-world games gets combined with all the engineering power of Epic. JASON SLAMA: One of the things that is really important to keep in mind when talking about open-world games versus, let's say, linear games is the possibilities of the things that can go wrong or the scenarios that you have to consider are exponentially higher than linear games. Players can go in whatever direction that they want, they can handle content in any order that they want theoretically, and to really encapsulate that means that you need a really stable environment where you can be able to make changes with a high level of confidence that it's not going to break in 1,600 other places down the line.
JAKUB KNAPIK: Unreal Engine is like a toolbox which has a lot of features, a lot of solutions already there that allow teams to just try new stuff. The fact that Unreal is used by a lot of teams already in the world, a lot of perspectives are projected into the design of the tools and that helps the tool to be way more agile. So all in all, it's a really, really cool technology to prototype and make environments really quickly, really beautiful, and very realistic. PAWEL ZAWODNY: Epic and CD Projekt Red are the two companies that really want to achieve something great. We won't stop just now by developing some features. We won't stop there, yeah? We will continue to work together to achieve something extraordinary in the end.
DANA COWLEY: Thank you to the CD Projekt RED team for providing this great insight into why you are placing your bets on UE5. We've touched upon how great storytellers are turning to Unreal, and this applies to many different disciplines. Whether you're a game designer or a cinematographer, that common language, that real-time parlance is Unreal Engine 5. Few people understand this better than Aaron Sims.
AARON SIMS: Unreal Engine 5 allows for a creative to be able to create anything that they've dreamed of into reality. After being in the industry for over three decades, I've seen a lot of changes in the visual effects industry. I've seen a lot of great innovations. But there's been nothing like Unreal Engine 5. I think it's still new to the community in some ways as far as looking at it as a storytelling tool.
A lot of people think of it as a game tool or other things. And I think that there's so much capacity for storytelling. So it was exciting working on 'Valley of the Ancient'. It was our first look at Unreal Engine 5. And all the different tools were amazing. But the Control Rig is one aspect that I think is really exciting.
It's so important to actually have realistic movement, not only the look and feel and the lighting of the character, but the movement has to be realized in a way that as the audience, you believe them. And so you have all the tools using Control Rig, the Face Rig. And being able to use MoCap for me was a lifesaver. And to be able to bring it in engine and just rework a few things here and there and it was done all in Unreal is pretty amazing. The great thing again about Unreal, it's a lot of fun to be able to play within that sandbox. And what's also important is to be able to have access to assets.
The Marketplace is a great resource. There's a lot of free content. And we, as a matter of fact, actually added to that library. And it's a creature from our film called 'THE EYE: CALANTHEK'. MetaHumans create this ability to have an artist tell their story with a human character and believe them.
The fact that the shaders and the textures, the skin is very realistic. And even the hair and the eyes and everything have really taken the human character to the new level. When you thought about making a film or making a story, I think those limits that used to be, you can actually put those away. The fact that a small group of people can create stunning worlds that are believable and characters that have so much emotion and be able to tell compelling stories, there's nothing like Unreal Engine 5.
It's an artist's dream. DANA COWLEY: Thanks, Aaron. We are blown away by your work, and the sky is the limit moving forward.
We are thrilled to be working with so many incredible partners who are using Unreal Engine 5 to move the state of the art forward. In fact, we have one more friend to introduce. DALLAS DICKINSON: Thanks, Dana. Crystal Dynamics is proud to be a part of the launch of Unreal Engine 5. This new engine translates into next level storytelling in gameplay experiences.
And that's why we are thrilled to announce today that we have just started development of our next 'Tomb Raider' game powered by Unreal Engine 5. Our goal is to push the envelope of fidelity and to deliver the high-quality cinematic action/adventure experience that fans deserve from both Crystal Dynamics and the 'Tomb Raider' franchise. We can't wait to take this journey together. Thank you, and congratulations again to the Epic Games team. DANA COWLEY: Wow.
Thanks, Dallas. We can't wait to see what the next chapter of 'Tomb Raider' holds. So at the end of this very exciting hour, let's recap. Unreal Engine 5 is out and available today in addition to the Lyra starter game, an awesome project you can use to build and ship your first UE5 game, not to mention thousands of free assets from 'The Matrix Awakens', buildings, MetaHumans, vehicles, everything you need to get going building dynamic open worlds.
All of this is free to download and use. And be sure to check out the brand new Community Hub for even more resources and to help you get going and connect with other developers. Let's build the future together.
2022-04-10 04:47
Show Video
Other news