TPG, Breakthrough Energy Ventures, US DOE Leaders on Investing in Climate Technologies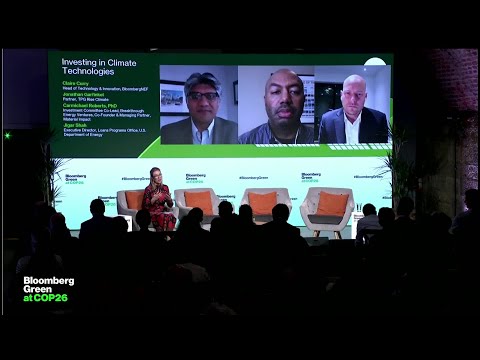 Show Video
CLARA: GREAT, THANK YOU SO MUCH FOR COMING AND THANK YOU TO OURS SPEAKERS FOR JOINING US AS WELL. I HOPE THIS ALL WORKS OUT AND WE GET A GOOD CONNECTION. THERE HAS BEEN A LOT OF TALK AT COP ABOUT TECHNOLOGIES NEEDED TO REACH NET ZERO. ONE OF THE BIG LEVERS IS THE FINANCE BEHIND IT. THE LAST FEW YEARS, WE HAVE SEEN RELATIVELY SMALL AMOUNTS OF VCPE MONEY AND LITTLE PUBLIC MONEY GOING INTO STARTUPS. THIS YEAR HAS BEEN VERY
DIFFERENT. JUST BETWEEN JANUARY AND SEPTEMBER TODAY'S, WE HAVE SEEN OVER $40 BILLION OF MONEY GOING FROM THE VCP'S TO START AND WHAT WE WOULD CALL CLIMATE TECH, AND THERE HAVE BEEN DOZENS OF IPO'S AND SPAC'S AS WELL HELPING GET ACCESS TO CLIMATE TECHNOLOGIES AND PUBLIC MARKET FUNDING. I AM EXCITED TO BE JOINED TODAY BY THREE GENTLEMEN WHO KNOW THE SPACE INCREDIBLY WELL, AND WE WILL BE TALKING ABOUT RECENT TRENDS, WHO IS RAISING MONEY, WHOSE INVESTORS ARE, AND WHAT WE EXPECT TO SEE IN THE NEXT YEAR OR TWO. I HOPE THIS WILL BE VERY
INTERESTING. I WANT TO START OFF BY TALKING A BIT ABOUT CLIMATE TECH OR CLEANTECH 1.0, BECAUSE WE HAVE SEEN THIS ONE YEAR AGO. THERE WAS A BIG RISE IN THE FUNDING INTO CLEANTECH, SOLAR, WIND, STORAGE. SOME OF IT HAS HAD SUCCESS AND SOME OF IT HAS FIZZLED AWAY. JIGAR SHAH, DO YOU WANT TO START BY TELLING US HOW THIS TIME IS DIFFERENT TO WHAT WE SAW IN CLEANTECH 1.0?
HOW IS THE ASSIGNING OF OUR STARTUPS NOW DIFFERENT? JIGAR: THANKS FOR THAT QUESTION. I WOULD SAY PEOPLE GET CONFUSED ABOUT THE RETURNS THAT INVESTORS MAKE IN VENTURE CAPITAL AND THE RETURNS THAT THE PUBLIC MAKES IN DECARBONIZATION. WHEN YOU THINK ABOUT CLEANTECH ONE POINT OH, GOVERNMENTS SET UP ALL SORTS OF LEARNING CURVE POLICIES, AND AS A RESULT, WE HAVE SEEN TRILLION DOLLARS SCALE IN SOLAR AND WIND, AS WELL AS IN MANUFACTURERS. NONE OF THAT WOULD HAVE OCCURRED WITHOUT THE LEVEL OF INVESTMENT EARLY ON. WE REACHED TRILLION DOLLARS SCALE IN THOSE MARKETS. THE QUESTION NOW, WHAT ARE THE NEXT MARKETS WHERE WE ARE GOING TO HIT TRILLION DOLLARS SCALE? MANY OF THEM ARE STILL HERE. HYDROGEN IS ONE OF THEM, FOR
INSTANCE. I ALWAYS SAY AT CONFERENCES AND PRESENTATIONS FOR HYDROGEN IN 2003, 2005, TECHNOLOGY IS IN A PLACE WHERE YOU CAN SEE A TRILLION DOLLARS SCALE IN HYDROGEN, WHERE IT WAS NOT READY IN 2005. CLAIRE: SO IT'S A CASE OF THESE TECHNOLOGIES NOW BEING READY TO RECEIVE THOSE MONEYS AND DO SOMETHING WITH IT. JONATHAN, WHEN YOU LOOK AT THIS SPACE, WHAT ARE THE SECTORS AND INDUSTRIES RECEIVING THE MOST INTEREST FROM EARLY STAGE AND LATER STAGE VC'S AND PE'S? JONATHAN: WE ARE EVALUATING A VERY BROAD SPECTRUM WITHIN THE CLIMATE ECOSYSTEM, AND THAT RANGES, IN OUR CASE, WE ARE LOOKING AT SITUATIONS THAT HAVE GRADUATED BEYOND VENTURE CAPITAL AND ARE INTO THAT GROWTH AND SCALING PHASE.
THAT'S PICKING UP EVERYTHING FROM LONG-DURATION STORAGE, BIOFUELS, SUSTAINABLE AVIATION FUELS, SOFTWARE THAT IS POWERING GRID MANAGEMENT AND SO ON. MATERIAL SPACE. IT'S VERY BROAD. WE ARE REALLY THINKING OF CLIMATE AS A SECTOR THE SAME WAY YOU WOULD THINK OF HEALTH CARE AND TECHNOLOGY, AND THAT OPENS UP A BIG, UNIVERSAL OPPORTUNITY. CLAIRE: THANK YOU. CARMICHAEL, COMING TO YOUR WORK IN BREAKTHROUGH ENERGY VENTURES, PART OF THE MANDATE IS TO INVEST IN TECHNOLOGIES THAT MAYBE AREN'T ATTRITIONAL HE ATTRACTIVE TO QUICK RETURNS AND EXITS. WHAT ARE THE TECHNOLOGIES YOU ARE LOOKING AT THAT HAVE NOT RECEIVED AS MUCH VC/PE FUNDING AS THEY SHOULD OR YOU ARE INTERESTED IN HIGHLIGHTING? CARMICHAEL: CAN YOU -- CAN YOU HEAR ME? >> YEAH. SHE JUST ASKED ABOUT THE NEXT
GENERATION OF VC, TECHNOLOGIES THAT MIGHT BE MISSING OUT. CLAIRE: OK, MAYBE WE CAN COME BACK TO CARMICHAEL WHEN HE HAS AUDIO SORTED. DO YOU WANT TO ANSWER THAT FOR US WHILE WE WAIT? JONATHAN: I THINK WHEN YOU THINK ABOUT TRILLION DOLLARS SCALE, THE PLACE OF GOVERNMENT HAS CREATED A CLEAR PATHWAYS IN, FOR EXAMPLE SUSTAINABLE AVIATION. YOU SAW THE ANNOUNCEMENTS YESTERDAY, FROM SOME OF THE WORLD LEADING PRODUCERS SCALING UP WITH THE CARBON CREDIT PROGRAM IN CALIFORNIA. I ALSO SEE A HUGE AMOUNT OF MONEY GOING INTO SMALL, MODULAR REACTORS, MICRO REACTORS AND EVEN FUSION. I THINK WE SAW A FEW BIG ANNOUNCEMENTS THERE.
WHEN YOU THINK ABOUT THE NEXT SET OF TRILLION DOLLAR MARKETS, WE ARE STARTING TO SEE A HUGE AMOUNT OF NOT JUST INNOVATION, BUT INNOVATION TURNING INTO COMMERCIALIZATION INTO THE SECTORS. I ALSO TALK ABOUT PLASTICS, RECYCLE PLASTIC SEND THE CIRCULAR ECONOMY. ALSO CRITICAL MINERALS, BATTERIES -- IT USED TO BE THAT WE WERE ALL SAYING THAT LETH -- LITHIUM-ION BATTERIES WERE GOING TO BE AT, BUT NOW WE ARE SEEING MORE CRITICAL SUPPLY CHAINS THAT ARE BECOMING STRONG AND ARE ABLE TO MEET THE SAME AMOUNT OF COST PERFORMANCE AS WELL AS VALUE PERFORMANCE.
CLAIRE: GREAT, THAT'S HELPFUL. CAN YOU HEAR US NOW, CARMICHAEL? IT DOESN'T LOOK LIKE IT. JONATHAN, YOU MENTIONED YOU WERE IN THE GROWTH EQUITY SPACE. WHAT A LOT OF CLIMATE TECH STARTUPS HAVE STRUGGLED TO DO IS GO FROM THIS SERIES A AND B THEY HAVE BEEN RAISING ACROSS THE VALLEY OF DEATH TO THE LARGE AMOUNT OF MONEY THAT WILL HELP THEM COMMERCIALIZE THE TECHNOLOGY. JIGAR WAS MENTIONING THINGS LIKE FUSION, BATTERIES, THINGS THAT REQUIRE A LOT MORE FUNDING THAN A SOFTWARE STARTUP DOES, FOR INSTANCE. CAN YOU TALK ABOUT THE GROWTH EQUITY IN THIS SPACE PARTICULARLY? WHAT DO YOU THINK SPECIFICALLY THE ROLE YOU CAN PLAY IN GROWTH EQUITY FOR CLIMATE IS? JONATHAN: THAT'S A GREAT QUESTION AND IS VERY MUCH A DRIVING FORCE BEHIND THE CAPITAL WE ARE RAMPING UP AND RAISING AT TPG. WE CAME TO THE MARKET EARLIER
THIS YEAR ON THIS PREMISE THAT THESE ARE VERY CAPITAL-INTENSIVE , PHYSICAL TYPE COMPANIES. VERY DIFFERENT FROM THE TECHNOLOGY REVOLUTION WE HAVE ALL GONE THROUGH IN THE PAST COUPLE DECADES. WE HAVE RAISED THE PRIVATE EQUITY STYLE FUNDS, WHICH WE HAVE CLOSED ON A LITTLE OVER $6 BILLION AND ARE ON OUR WAY TO $7 BILLION WHEN ALL IS SAID AND DONE HERE, SO WE CAN BE A GROWTH SOURCE OF CAPITAL FOR COMPANIES, AS WE ARE OUT IN THE MARKET EVERY DAY TALKING TO THEM, THEIR BUSINESS PLANS HAVE $300 MILLION, $400 MILLION, $500 MILLION IN MANY CASES. WE SAW MANY COMPANIES JUMPING TO THE STOCK MARKET -- SPAC MARKET BECAUSE THAT WAS ABLE TO FUND THOSE PLANS, BUT WE ARE OFFERING AN ALTERNATIVE FOR COMPANIES THAT MIGHT NOT BE READY FOR PUBLIC MARKETS. WE ARE HAVING INTERESTING DIALOGUES IN THE MARKET EVERY DAY WITH COMPANIES THAT NEED A LOT OF CAPITAL, AND WE ARE HAPPY TO BE BRINGING THAT PRIVATE EQUITY TOOLKIT TO HELP THEM GROW IN SCALE.
BY THE WAY, PER YOUR INITIAL QUESTION, THAT'S A DIFFERENCE BETWEEN CLEANTECH 1.0, HAVING THESE RULES OF CAPITAL, WHETHER THEY ARE COMING FROM THE GOVERNMENT THROUGH THINGS LIKE WHAT VIRGINIA IS DOING, OR THINGS THAT WE CAN PROVIDE, TO HELP THEM GET THROUGH THAT NEXT BIG PHASE IN THEIR EVOLUTION WITH THE CAPITAL BEHIND THEM TO SUPPORT GROWTH. CLAIRE: YEAH. CARMICHAEL, CAN YOU HEAR US NOW? CARMICHAEL: YES, I CAN.
I WENT OFF THE HEADSET AND I'M GOING THROUGH THE COMPUTER. CLAIRE: WELL, YOU DIDN'T MISS MUCH. [LAUGHTER] CLAIRE: WE WERE TALKING ABOUT SOME STUFF.
WHAT IS IMPORTANT HERE IS HIGHLIGHTING THE AREAS THAT ARE REALLY HARD TO SCALE. CAPITAL IS IMPORTANT, MAYBE TRADITIONAL VC'S WOULD NOT HAVE GONE THERE. WE ARE LOOKING AT SOFTWARE OR MAY BE SCOOTER SHARING PLATFORMS, THINGS -- I DON'T KNOW IF YOU HEARD HIM, BUT THINGS LIKE NUCLEAR FUSION, MODULAR REACTORS, HE MENTIONED PLASTICS. ARE THERE THINGS YOU ARE LOOKING FOR THE VC'S IN THE AUDIENCE, WHAT THEY SHOULD BE LOOKING TO, OR WHAT OTHER INVESTORS SHOULD BE LOOKING INTO? CARMICHAEL: MAYBE INSTEAD OF JUST NAMING SPECIFIC TECHNOLOGIES, I WOULD LOOK AT WHOLE AREAS THAT ARE UNDERMINED. LOOK AT STUFF IN OCEANS. THERE'S PROBABLY MORE GOING ON IN OUTER SPACE THAN WE ARE REALLY DOING IN OCEANS.
DOES THAT MAKE SENSE, WHEN YOU THINK ABOUT THE RICHNESS OF WHAT WE CAN DO IN OCEANS? WITHIN SUBSETS LIKE THAT, I THINK THERE ARE LOTS OF OPPORTUNITIES. I AGREE WITH A LOT OF THE TOPICS THAT JIGAR BROUGHT UP. WE ARE SEEING A LOT OF TOPICS, FIVE YEARS AGO PEOPLE WOULD NOT HAVE TOUCHED THEM WITH A 10 FOOT POLE, BUT TODAY THEY ARE BEING ADDRESSED. CLAIRE: YES, DEFINITELY. JIGAR, THE POINT JONATHAN WAS MAKING, WE ARE BEGINNING TO SEE VC'S ENTER AREAS THAT A DECADE AGO WERE BEING SEEN AS TOO RISKY OR NOT ENOUGH RETURNS. THE OFFICE STEPPED IN AND SAID,
WE ARE GOING TO NOT ONLY PROVE THAT WE CAN MAKE MONEY IN THIS SPACE, BUT WE CAN SCALE STUFF. CAN YOU TELL US ABOUT THE ROLE OF THE LPO NOW AND HOW THAT MIGHT CHANGE OR NOT CHANGE IF WE SEE THIS BIG INFLUX OF PRIVATE CAPITAL ALSO SCALING THE HARD PART TO SCALE OF CLIMATE TECH? JIGAR: IT'S A GOOD QUESTION. IN GENERAL, THE SPAC MARKET AS WELL AS THE PRIVATE MARKET IS VERY IMPORTANT. BUT THAT PITCH THAT INVESTORS MAKE IS REALLY A PITCH AROUND THE FUTURE. OR AROUND THE FUTURE OF HOW THINGS ARE GOING TO GET BETTER. MOST OF THESE ENTREPRENEURS -- MOST TRILLION DOLLARS SCALE REQUIRES DEBT.
WHEN YOU THINK ABOUT LPO'S MISSION, WHEN THE SECRETARY CAME IN, WE HAD ALMOST NO APPLICATIONS. TODAY, WE HAVE 100 APPLICATIONS THAT ARE IN THE OFFICE ARE BEING ACTIVELY RESEARCHED -- OR BEING ACTIVELY RESEARCHED. IT'S FOR ABOUT $80 MILLION OF CAPITAL, SO IT IS BEING MATCHED WITH EQUITY, AND IT IS ACROSS 17 SECTORS. IT'S A PRETTY BIG DIVERSITY FROM MANUFACTURING BATTERIES TO CRITICAL COMMENTS AND NUCLEAR. WE HAD OUR FIRST NUCLEAR
APPLICATION IN, AND WE HAVE CARBON STORAGE PROJECTS AND OTHER THINGS THAT ARE COMING IN. IN GENERAL, THE WORLD NEEDS A BETTER FRAMEWORK AROUND HOW THIS WHOLE EVOLUTION AND MIGRATION FROM THE PAST TO THE FUTURE WAS OCCURRING. WHEN YOU THINK ABOUT NEW OIL INDUSTRY AND OTHERS, THEY WERE VERY TRADITIONAL, CORPORATE EQUITY IN DEBT. THE SOLAR AND WIND INDUSTRY CHANGED PROGRESS FOR GOOD AND THE CLIMATE SPACE. THE VAST MAJORITY OF ENTREPRENEURS IN THIS SECTOR HAVE NO IDEA WHAT I JUST SAID. THEY DON'T KNOW HOW TO USE DEBT, PROJECT FINANCE. AND YOU THINK ABOUT HOW ALL OF
THESE PIECES ARE GOING TO COME TOGETHER, WE NEED TO CREATE A DEMAND SIGNAL. YOU SAW THE PRESIDENT MAKE HUGE ANNOUNCEMENTS IN THAT AREA, MAKING SURE WE ARE BUYING RAIN CEMENT AND GREEN STEEL AND ELECTRIC VEHICLES AND ALL THOSE THINGS, BUT WE ALSO HAVE TO FIGURE OUT HOW TO BUILD A BRIDGE TO BANK ABILITY FOR THESE ENTREPRENEURS. THE DEBT MARKETS ARE NOT GOING TO MEET THEM HALFWAY OR THREE QUARTERS OF THE WAY. EITHER YOU QUALIFY FOR SENIOR COMMERCIAL DEBT OR YOU DON'T KNOW HOW TO RAISE IT. THE LPO HAS STEPPED IN AND IS PROVIDING GUIDANCE TO ENTREPRENEURS AROUND, HERE IS WHAT IT LOOKS LIKE. HERE'S HOW WE FIGURE OUT HOW TO PUT THESE PIECES TOGETHER.
AS A RESULT, ONCE WE PROVIDE A LOAN TO THESE ENTREPRENEURS, THEY ARE SOUGHT OUT BY THE COMMERCIAL DEBT MARKETS, BECAUSE NOW THEY ARE READY TO BE SERVED. IT'S NOT A TECHNOLOGY THING, IT'S REALLY A CONVERSATION AND AN EMOTIONAL THING, WHERE THEY HAVE TO MOVE THEIR BRAINS AWAY FROM EQUITY AND TOWARDS DEBT. CLAIRE: YOU ARE RIGHT. THAT'S HELPFUL, IT'S A COMPLEX TOPIC, SO IT IS NICE TO HEAR IT EXPLAINED SO WELL. JONATHAN, GOING BACK TO WHAT
YOU WERE SAYING EARLIER, GROWTH EQUITY MIGHT BE ANOTHER ALTERNATIVE ROUTE TO AVOID GOING PUBLIC TOO SOON FOR OTHER COMPANIES. HOW DO YOU LOOK AT YOURSELF MAKING AN EXIT, OR HOW DO YOU LOOK AT RETURNS FOR YOURSELF? IF YOU ARE FUNDING COMPANIES WITH HUGE VALUATIONS, OR FUNDING THAT THE SERIES -- TWO SERIES D AND E. PREPARING THESE FOR PUBLIC MARKET, IS THAT ROUTE OR SOME OF THESE LARGER CLIMATE TECH EXITS? JONATHAN: I DON'T THINK SO. I THINK PUBLIC MARKETS WILL BE A ROUTE, BUT NOT THE ONLY ONE. WE ARE REALLY SEEING IT'S THE EARLY DAYS OF THE SECTOR.
ONE OF THE THINGS WE ARE REALLY FOCUSED ON, WE HAVE A DUAL MANDATE TO MAKE FINANCIAL RETURNS AT IMPACT. WE THE THAT AS IT RELATES TO OUR CLIMATE INVESTED -- WE MEASURE THAT AS IT RELATES TO OUR CLIMATE INVESTMENTS, CALLED CARBON YIELDS. WE HOPE TO HELP TO SCALE THESE CLIMATE COMPANIES, THE IMPACT THEY WILL HAVE, THEY WILL HAVE INCREASED INTEREST IN BEING BUYERS FOR THE PUBLIC MARKETS. THE PUBLIC MARKETS, AS WAS RECENTLY RESEARCHED TODAY BY BANK OF AMERICA, THE COST OF EQUITY IS 10% LOWER FOR ESG FOCUSED COMPANIES, SO THE MARKET IS PAYING A PREMIUM FOR FORWARD THINKING COMPANIES ON ESG AND CLIMATE IN PARTICULAR. WE LOOK AT IT AND SAY, A LOT OF THESE COMPANIES, LIKE THEY JUMPED EARLY TO THE PUBLIC MARKETS EARLIER IN MY CAREER IN THE LATE 1990'S, WHEN IT WAS SEEN AS A GOOD THING TO JUMP TOO SOON, WE ARE SEEING SOME OF THAT REPEATED HERE.
I PERSONALLY EXPECT THERE WILL BE A SLOWDOWN IN THE JUMP TO THE PUBLIC MARKETS, AND COMPANIES WILL SEEK TO STAY PRIVATE FOR LONGER, JUST LIKE YOU HAVE SEEN COMPANIES LIKE UBER LASTING IN THE PRIVATE MARKETS FOR LONGER PERIODS OF TIME BECAUSE THE CAPITAL BECAME AVAILABLE TO SUPPORT THEM THROUGH THAT PHASE, AND TERRIFIC PUBLIC COMPANIES, WE VERY MUCH CAN SEE THAT TREND REPEATING ITSELF. THERE WILL BE STRATEGIC BUYERS. WE HAVE COMPANIES THAT HAVE INVESTED ALONGSIDE OF US AS LPS AND WHAT IS A REASONABLY UNNATURAL ACT, TO COME OFF THE BALANCE SHEET, TO BE INVESTORS ALONGSIDE US. THE REASON THEY ARE DOING THAT IS TO HAVE THIS ABILITY INTO THESE TYPES OF COMPANIES SO THEY CAN WATCH THEM GROW AND POTENTIALLY WANT TO ADD THEM TO THEIR PORTFOLIOS OVER TIME. CLAIRE: OK, THAT'S HELPFUL, ACTUALLY. IT LEADS INTO THE QUESTION I
WAS GOING TO ASK CARMICHAEL NEXT, ABOUT DIFFERENT KINDS OF INVESTORS ENTERING THIS SPACE. JONATHAN, AT TPG, YOU ARE QUITE SPECIALIZED, BUT SOME OF THEM MIGHT NOT KNOW ABOUT THIS SPACE, AS WELL AS PRIDING ITSELF IN HIRING MANY PHD'S AND SCIENTISTS, BUT THAT'S NOT THE NORM FOR VCS. YOUR ROUTE HAS BEEN A LITTLE BIT DIFFERENT. YOU ARE MEETING AT EVENTS AND CO-INVESTING NOW WITH INVESTORS WHO DON'T KNOW MUCH ABOUT THIS CASE, OR ARE LEARNING QUICK ON THE JOB. HOW DOES THAT CHANGE THE KINDS OF INVESTMENTS YOU ARE SEEING AND WHAT IS GOING ON NOW? CARMICHAEL: I JUST HEARD JIGAR AND JONATHAN SAY SOMETHING THAT RELATES TO THIS. ONE THING THAT IS HUGELY DIFFERENT RIGHT NOW, THE AMOUNT
OF COLLABORATION WE SEE RIGHT NOW AROUND CLIMATE. IT'S FUNDAMENTALLY -- YOU TAKE A TOPIC, THIS WILL COME OUT IN ANNOUNCEMENT SOON -- YOU TAKE A TOPIC WHERE YOU MAY HAVE ONLY HAD A CERTAIN, SELECT KIND OF FOLKS WHO WOULD PUT MONEY IN IT. YOU WILL START TO SEE FINANCINGS , YOU WILL BE SHOCKED AT THE DIVERSITY OF INVESTORS IN SOME OF THESE NUCLEAR COMPANIES ON A TOPIC LIKE NUCLEAR, THAT A LOT OF PEOPLE CANNOT REALLY UNDERSTAND. THEY UNDERSTAND IT QUITE WELL,
AND THE WHOLE COLLABORATION ACROSS THE BOARD. THE DIFFERENT TYPES OF INVESTORS AT DIFFERENT STAGES, DIFFERENT LEVELS OF EXPERTISE. YOU CAN SEE MY PERIODIC TABLE THAT IS BEHIND ME -- WE LOAD IT UP WITH SCIENTIFIC EXPERTISE ON THE BUSINESS. KEEP THAT IN MIND, RIGHT? THERE'S THAT. I COME BACK TO SOMETHING JONATHAN SAID AS WELL, THIS OPTION BETWEEN PUBLIC AND PRIVATE. I COULDN'T AGREE WITH YOU MORE,
JONATHAN. YOU SAID WE ARE GOING TO SEE IN THE FUTURE MORE AND MORE COMPANIES OPTING TO STAY PRIVATE. I CAN TELL YOU THIS YEAR, IN THE FIRST HALF OF THIS YEAR, WE HAD OVER, I AM GOING TO CALL IT 15 OF OUR COMPANIES GET APPROACHED TO GO PUBLIC VIA SPAC. WE HAD MAYBE TWO OR THREE GET APPROACHED TO GO PUBLIC THE OLD-FASHIONED WAY.
WE HAD MAYBE 10% TO 20% OF THEM SAY THEY WANTED TO DO IT. THINK ABOUT THAT FOR A SECOND. THIS IS A SECTOR THAT HAS BEEN HISTORICALLY STARVED FOR LARGE AMOUNTS OF CAPITAL. AS YOU THINK ABOUT THE CAPITAL YOU NEED TO BUILD YOUR BUSINESS AND THE OPTION OF GOING PUBLIC NOT BECAUSE YOU WANT TO BE A PUBLIC COMPANY, BUT BECAUSE YOU CAN LOAD YOUR BALANCE SHEET UP WITH THE CAPITAL, AND TO JIG AR'S POINT, MOST VENTURE CAPITALISTS DO NOT KNOW ANYTHING ABOUT IT. LESS THAN 10% SAID THEY DID NOT WANT TO DO IT.
IN RESPONSE, THE PRIVATE MARKET RESPONDED TO THE OVERTURES FROM THE, THE SPAC OVERTURES, AND INTRODUCED A VARIETY OF INVESTORS THAT WOULD MAKE YOU SHAKE YOUR HEAD IN A POSITIVE FASHION AND SAY, THAT'S COLLABORATION. WE HAD 10 OF THOSE COMPANIES DO SPECTACULAR PRIVATE FINANCING. SO JONATHAN'S POINT, OPT FOR THE PRIVATE ROUTE AND TO STAY PRIVATE. THEY JUST WANT TO THE CAPITAL TO BUILD THEIR BUSINESSES. AS THOSE EXAMPLES EMERGE, SOME OF THEM HAVE BEEN ANNOUNCED ALREADY, BUT AS THEY BECOME MORE PUBLIC, AND ALL OF OUR CO-INVESTORS IN OUR FIRM -- IT'S AN UNUSUAL TIME RIGHT NOW FOR FINANCING. CLAIRE:
DO YOU THINK THAT THE RUSH OF MONEY, THE LARGE AMOUNTS OF MONEY AND THE EASE WHICH SOME COMPANIES ARE RAISING IT REFLECT THE LACK OF POTENTIALLY ATTRACTIVE TARGETS? THERE ARE LOTS STARTUPS OUT THERE AND LOTS OF INTERESTING ONES, BUT THERE IS A LOT OF INNOVATION GAPS STILL. DO YOU THINK WE ARE SEEING THE FULL POTENTIAL OF STARTUP INNOVATION, OR IS THIS HUNGER FOR INVESTING A REFLECTION OF HOW WE NEED MORE ENTREPRENEURS AND MORE INNOVATION? JIGAR: YEAH, I WOULD SAY THAT THE PARIS AGREEMENT WAS REALLY ABOUT COUNTRIES COMING TOGETHER AROUND INNOVATION, RIGHT? YOU HAD A MISSION INNOVATION, BREAKTHROUGH INNOVATION. BUT WHAT HAPPENED IN THE LAST FEW YEARS, THE INTERNATIONAL ENERGY AGENCY MAPPED OUT 436 TECHNOLOGY PATHWAYS THAT WERE BASICALLY PROVEN SCIENTIFICALLY, BUT NOW NEEDED TO BREAK OUT. WE SAW THE COLLABORATION BETWEEN THE LOAN PROGRAMS OFFICE AND BREAKTHROUGH ENERGY. WE ARE NOW EMBARKING ON BREAKTHROUGH DEVELOPMENT AND BREAKTHROUGH DEPLOYMENT, RIGHT? AS MUCH AS THIS SECTOR IS COVERED BY THE MEDIA, I WOULD SAY THERE ARE LARGE POCKETS OF INNOVATION THAT ARE REALLY READY FOR PRIME TIME THAT HAVE NOT BEEN HIGHLIGHTED BY THE MEDIA.
THERE ARE TWO COMPANIES WE ARE WORKING WITH THAT HAVE ADVANCED, YOU KNOW, PLASTICS CONVERSION FROM RECYCLING TO NEW, USABLE PLASTICS WITHOUT THE DEGRADATION. THE MEDIA IS COVERING THEM WITH PLASTIC STRAWS. BUT THEY ARE BEING SOUGHT AFTER BY THE WORLD'S LARGEST COMPANIES BECAUSE THEY GET THE FACT THAT THIS IS GOING TO BE A HUGE AREA. I WOULD SAY THAT AS MUCH AS PEOPLE THINK THIS AREA HAS BEEN PICKED OVER, WE'VE ONLY JUST GOTTEN STARTED. CLAIRE: GREAT. WE ARE ALMOST OUT OF TIME, BUT I WANT TO FINISH WITH A QUESTION TWO, THIS IS A MOMENT FOR YOU TO PITCH ONE OR TWO EXCITING COMPANIES THAT ARE IN YOUR PORTFOLIOS. IN JONATHAN OR CARMICHAEL'S CASE, OR JIGAR, IF YOU WANT TO DISCUSS A COMPANY YOU HAVE COME ACROSS.
I AM SORRY I DID NOT PREP YOU FOR THIS, BUT -- JONATHAN: I BETTER BE ABLE TO ANSWER THIS. WE ANNOUNCED, A LITTLE OVER TWO WEEKS AGO NOW, A BILLION-DOLLAR INVESTMENT INTO TATA MOTORS IN INDIA, SPINNING OUT EFFECTIVELY THEIR EV BUSINESS. WHAT WE THINK IS INTERESTING ABOUT THIS, YOU HAVE AN EXISTING , TRADITIONAL CAR BUSINESS WHERE THEY ARE SAYING, WE WANT TO DELIBERATELY SEPARATE OUT THE EV BUSINESS, WHICH IS A UNIQUE BEING, BECAUSE TODAY, YOU HAVE THE OPPORTUNITY TO INVEST IN COMPANIES LIKE TESLA THAT ARE DOING EV'S IN AND OF THEMSELVES, YOU HAVE THE GENERAL MOTORS AND FORDS THAT ARE PURSUING BOTH STRATEGIES. THIS IS AN OPPORTUNITY TO PARTNER WITH AN INCUMBENT TO DEVELOP THEIR EB BUSINESS, AND WE ARE VERY EXCITED ABOUT WHERE THAT COULD TAKE US, AND WE ARE ABLE TO SPOTLIGHT WHAT THEY ARE DOING, A LOT OF GREAT THINGS ON THE EV SIDE. CLAIRE:
CARMICHAEL, ONE ABOUT YOURSELF? CARMICHAEL: THIS IS WHERE WE COULD GET OURSELVES IN A LOT OF TROUBLE. I'M GOING TO ANSWER IT WITH THE CAVEATS. I'M GOING TO PRIORITIZE TWO COMPANIES THAT I THINK YOU WILL SEE SOME INTERESTING NEWS IN THE NEXT 30 TO 40 DAYS. I MENTIONED NUCLEAR. I WOULD LOOK AT FUSION SYSTEMS, CFS, IT'S REALLY A SPECTACULAR FUSION COMPANY OUT OF M.I.T.. THEY HAD A GREAT RESULT THIS
SUMMER THAT THEY TALKED, THEY ACTUALLY PUBLICIZED IN REAL TIME , AND I THINK YOU WILL HEAR SOME INTERESTING, EXCITING NEWS ABOUT THEM IN THE NEXT 60 DAYS. THE OTHER ONE THAT I PICK IS SOURCE, SO THIS IS A COMBINATION, THIS IS CAPTURING WATER AMBIENT LEAVE FROM USING SOMETHING CALLED A HYDRO PANEL, SUNLIGHT AND AIR. THAT COMPANY IS A REALLY INTERESTING ONE, BECAUSE IT HAS A STRONG CLIMATE STORY IN TERMS OF WHAT IT DOES IN MANUFACTURING , BUT IT IS AN OVERALL, DO GOOD FOR THE WORLD STORY, PROVIDING CLEAN DRINKING WATER. CLAIRE: JIGAR, WHICH OF YOUR CHILDREN DO YOU LOVE THE MOST? JIGAR: I DO NOT THINK I AM ALLOWED TO DISCUSS ANY CHILDREN, BUT THE EARTH SHOT PROGRAM IS IMPORTANT. WE HAVE A PLAN OF REACHING TRILLIONS IN CARBON CAPTURE AND STORAGE. WE HAVE A CLEAR UNDERSTANDING OF HOW THESE COST REDUCTIONS ARE GOING TO OCCUR AND WE ALL AGREE THAT IF THE COST REDUCTIONS DO OCCUR BY 2030, ALL OF THESE TECHNOLOGIES WILL [INAUDIBLE] CLAIRE: THAT'S A GREAT ENDPOINT TO LOOK AT.
I WANT EVERYONE TO GIVE THESE GENTLEMEN AROUND OF APPLAUSE FOR GIVING US THEIR TIME. [APPLAUSE]
2021-11-19 11:15
Show Video
Other news