Vakabular Vlog #2 (Koh Phangan, July '22)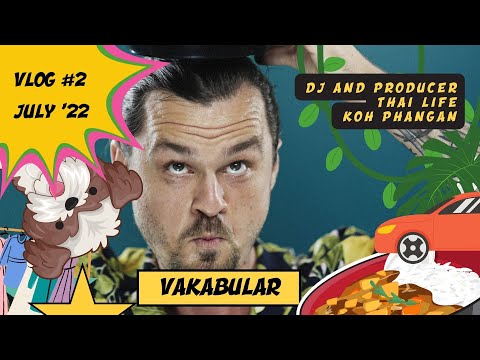 Show Video
Was rainy last few days... But then sun will come. But we keep doing our weekly Saturday Event My good old friend - Loong cutting the trees with only his machete He did it within 5 minutes He never stops working. Just wake up and do the things. Day By Day, Hour after Hour, Minute after minute... Preparing the area for next week So our guests and friends can be happy)))) Pretty slow - village style Just cutted the tree. Maybe we gonna use for charcoal. If so - i will show you how we do Charcoal Oven in the ground This is Pi Rai - He builded every thing what you see around So Hot... Day Time... Why not to dig the ground?)))) But Pi Ray is like that. Work hard - eat well.
Unstoppable. Hot or Cold - no matter This week i will have three performances. Saturday - Hollystone Wednesday - Seaboard, and sunday is Barcelona Afterparty I will have to take a boat to get there.
Many things need to Be Done Now i need to go bring Denon Decks back to post office, Do some thing with my car and shoot some videos. Ok let's go - and have a ride. Funny Fact:I am Dj and Producer But 5 years since i am driving with same CD in my Car Album from My Friends Band - "ZAP" Only when i need to control my new tracks - i am listening them to check Two Days since my Friend Can not Do Technical Observation Talking about Japan People coming to Koh Phangan after WW2 Deep Facts about History Ok Folks, If you need to do Blue Book Quick - You should go for Toyota and not MG brand And better know History of Thailand Ok see you tomorrow and will play some chess!) You can do Blue Book Update right in Koh Phangan - Here (no need to go Koh Samui) One thing is done. You need to do it once a year, pay 2000thb Tax and Insurance This Is Seaboard, Every Wednesday they have Bizzar Bizzar - It's local market for crafty things, beside nice music and stunning sunster on the beach -What is this car? - It's Stage car Did set up - and ready to go for tonight. Since Paola (Owner) not alowed to film event - you have to believe me it was nice
So it's Saturday already and tropical rains I think the weather will be fine Hm... Water is coming from sealing here... Roof not so good. I don't know - for five years was never rain with this angle - i think should be fine... We start at 8pm, plenty of time - let's go eat Real Thai Green Curry with Chiken...
Salad with Cucumber (Spicy #) Cucumbers from our garden... Plenty of them... Red Curry with Eggs (Spicy ###) Chiken Green Curry (Spicy ##) Bon Appetit Well, it's not for beginners... I think most of you would never eat this on daily basis, but i am fine. You might regret even if you eat this... Specially after you eat)))
Today winner is Red Curry with Eggs - The most spicy of the evening Slava Omg came to support (and try green curry) We gonna check sound and electricity power We need 220v - We have to use Stabilizer to have i You can see we have 219 (pretty good) If not Stabilizer we could have 180v now which is not so good for sound Because Electricity Power is like a blood for our Sound System Now we setting every thing up and ready to go Good morning every one! Last night have passed It's Sunday and i need to go Had Yuan for Barcelona After Party But before i give you small hint how to check the level of last night party in Hollystone You need to walk around parking area and count motorbikes More bikes - better vibes! Totally we have 4 bikes and one car - Not Bad! Ok let's go to Had Rin Beach We get to Had Rin beach already... Boats leaves from here to Had Yuan Let's look how beach looks in morning Hello - Sawadekrub!!!! Hey How are you??? WE did not slept tonight Barcelona is great After party on Sunday, many people coming here after Eden Bar or any other places. Music not stops till next morning I will not shoot here much - and let people have fun...
I think gonna be nice party see you after few hours So we decide to go back by walk throw jungle and climb to mountain (it's 5km) and 1.5h walk Ok, after 1.5h we came down to Had Rin - here is my motorbike I will go now to eat hot soup And see you next week - i will play Hooligan Bar on Monday - Oxa beach on Thursday, Sabai Bay on Friday and Hollystone On Saturday... Thank you every one for watching and have fun!
2022-07-14 02:09
Show Video
Other news