Two Days in Miami: Lebanese Restaurants We Visited, Day 2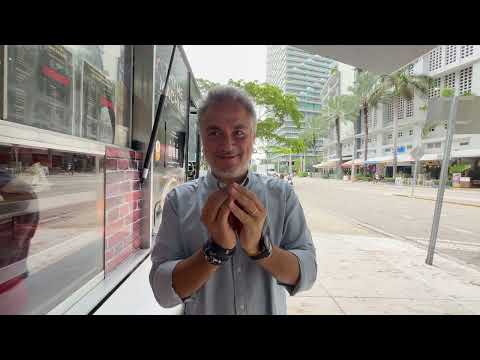 Show Video
I am waiting, I should have started with the coffee and then the Manakish. But I got tired of the smell, I enjoyed it. I felt its crispiness, its thin dough, thyme, labneh, and vegetables as I like. In Miami, all people talk about food trucks. Probably the only food truck. A food truck sits in the middle, in the center, called the time machine.
Its story is very nice. Very nice. I will not tell you about it now. Watch the story.
Nice. My parents used to work together. We were raised with my grandma. We used to live with my grandma.
My grandma used to tell me that if I get hot in the morning, I should get a doctor to help me. So I got a doctor and went to America. When I arrived in America, my grandma told me that I don't have time.
She told me that I will die tomorrow and I won't be able to go to the funeral. My grandma died in 2018. I couldn't go to the funeral in Lebanon because I was still on the visa papers. I felt that I missed out big time. 6 months ago, I got the U.S. passport. I said that I want to create a time machine to go back in time and relive the moments with my grandmother.
She used to make a lot of things, manoucheh, and mostly saj. So the time machine is mostly saj. There is no oven. It's just to remember my grandmother. It's a time machine, time as in zaatar.
Also, it's a connotation for a traveling machine that goes back in time to the oldest Lebanese streets, to the good vibes of Lebanon. I stopped to eat a manoucheh. Emotional. Coffee.
Najjar. Bonjou. Tarbouche. Fairouz is playing in the streets. Tracy is happy and making saj. She came from Aleppo.
It's very nice. The smile is nice. The vibe is nice. They have a zaatar manoucheh just like my grandmother's. Grandma, your manoucheh is very delicious. I wanted to meet Rachid.
I really wanted to meet him. I followed his account not a long time ago. I saw him touring Lebanon and came to Lebanon. He went to Krikor and ate manoucheh.
I followed the story of what is happening. Today, Rachid is traveling. He is not here, but great job.
This concept is really amazing. Today, he is ready to franchise. He is ready to go further. They have another truck. They can take him to events. Stay in touch.
Connect with them. The account is on Instagram. You will see what they do.
Their manoucheh is light and clean. The menu is very small. But it really has passion and love. This girl inside is working from her heart.
It is crunchy and delicious. It is not chewy. Now, we will taste the Mhamara. She made a cheese platter for me.
Thank you so much. They have Labneh, cheese, Halloumi, and olives. The Lebanese flag does not go from here. It is present on the food truck. So that all people can see it. Thyme with cheese and others.
Of course, we will start with the Lebanese coffee. A coffee that was launched twice. Either like this or without. Let's taste them one by one.
To your health and to our health. Wow, beautiful. It is unbelievable. The Lebanese coffee outside Lebanon tastes better because it has a big chunk of emotions. Very very very good manoucheh. Very good manoucheh.
Simple, good manoucheh. It has sweetness, amazing bread, amazing thyme. It is hot.
Oh how delicious. It is not hot. Enjoyable. This one with cheese. Thyme with cheese. Biscuit.
Biscuit. Unbelievable. What amazes me? The simplicity. The sitting on the road under the rain. What amazes me is the taste of love. What amazes me is the Lebanese thyme.
The Lebanese Kashkia. The Lebanese Kashkia. I felt like I am in Ferdoubien. Rachid, good job man. Good job.
From Hakim to a manoucheh place. Great job man. Super great job. Cheers. In the end, Nutella, bananas, and sweets.
With Nutella, the dough becomes softer. And it is amazing. Nutella and sweets. Best combination. And then. Nammoura, homemade.
Made in Miami. Wow. It doesn't need to be shown on camera. You introduce them to me and tell me how you do them. They are amazing. Good job.
They are amazing. So all the hands that you saw from the beginning till now, are of this very cute girl that I don't want to film. She doesn't need to be famous.
But her food is delicious. And the manoucheh is delicious. Miami. Miami. You have been popped. I really liked you.
Thank you. From the bottom of my heart. Thank you. Your smile and your energy. I found you and I got to taste the manoucheh. She makes Nammoura.
Come to eat Nammoura. Thank you. Thank you. Thank you. Thank you.
Thank you. In the previous episode, you saw how happy I was with Fousia Barchour. I was very happy with Barchour. I was surprised. I was happy. I ate something delicious.
The crowd, the people. These people are growing more and more. Today, we reached the design district.
Beautiful district. Beautiful district. From the shops, the colors, the vibes, the luxury. And then, Anthony Barchour.
Tableau. A new restaurant. Michelin quality. Definitely, it will win awards. It is still new on the square.
The seating. The music. The colors. The decor and design. The pink chairs.
The beautiful white table. The fork. The kids. The spoon.
All the details. Each plate is a piece of art. Homemade bread. Super peggy. Super light. It rests for minimum 48 hours.
And then comes the meat. Extreme quality meat. Beautiful quality meat. You feel the taste of the beautiful, hard, raw meat of the village.
With more finesse, spices, and intensity. High end, elevated Tartare. Thank you. Big great Jouet. Imagine the taste of caramelized onions. The pickle that gives you this sweetness, no comparison, it's like the Big Mac.
Oh, this is good for you. Tuna quality, top. But the spices used and the way it's made. You know yesterday when you told me, Hussam, that you should go to the table. I said, fine, next time, no worries, next time. And then, we had an hour left, we made it happen, now it's done.
Very casual, decontracted, people came here happy, sitting, no movements. But the food is very fresh, summery. High end, upscale, colorful. Great choice. Great job. Wow, the pickles are delicious.
We opened this location four months ago, it's the latest location from Chef Antonio Mathur. This is a modern French cuisine with a Lebanese twist. Two of our newest desserts are called Petit Gâteau, small spongy cakes. This one is called Berry Tart, it has a almond cake, strawberry compote, vanilla with ganache, and this is called Sunshine, like the state of Florida, and it has a lime mousse, mango creme mousse, mango creme, mango compote, and almond cake. Not only the layering, the taste, the layering, the coldness, less coldness, fresh, and then sweet, and then creamy, enjoyable.
What a beautiful mix, texture-wise, from the bottom to the top, texture-wise, oh my God. Here, the coulis, the almond cake at the bottom, the cream at the top, and what a cream. And then the vanilla bits, high end, premium quality, real vanilla seeds.
Welcome, welcome. Hello. My mother told me, don't sit here waiting for a sign, so I think you may be, it's time I put my trust in you. We are from the apple orchard, a small village, but a big one. We came to this country in 1984.
We worked here for 9 years, then we opened this shop. With my mother, my father, and my whole family. If it wasn't for them, we wouldn't be here. Today, we are number one in Miami, and I am the oldest chef in Miami.
We thank this country, we thank the people who came here to serve us, because they love us. I started in Ehden, in the Hotel La Mariette, Ehden. I didn't want to do this, but I was forced, and I succeeded.
Today, we are very strong, and we want to become better. I have been here for 40 years, in America. If I tell you to sit on my head, yes, because I love Lebanon. We are a family, we work together as a working team. Everyone has an important role.
Maroun, the husband, is the boss, the head chef, he is everything. He is trying to diversify the Lebanese food, according to the menu we have. We have pure Lebanese food. Authentic Lebanese cuisine. As for the rest of the family, we cooperate in almost everything. There is me, and Laura Slefteh.
There is Jenny, Maroun's sister. Jenny started with Maroun when the restaurant opened here. I don't say much, only 20 years. I help in almost everything. When Maroun was young, he used to sit with my grandmother in the kitchen. My grandmother was a chef.
Her food was very delicious. All our friends used to come here to eat her food. She used to cook foreign food, and we didn't understand it. We didn't want to eat it, so our friends came to eat it. Maroun used to sit with him, especially when he made kebbeh for us.
He helped him taste and feed him. One day, I told my mother, I saw this boy who wants to be a chef, and he will be successful in his life. Look what happened to him.
Now he misses my grandmother. That's why. He is a very good chef. Because there is no recipe.
Just click, click, click, click, click, and taste his food. When you eat his food, it's different. We learn from him, and the food is never the same. We help each other because we are all brothers and a family. We started with my mother, my father, and my mother.
May God have mercy on her. She worked a lot in the kitchen and helped us a lot. She is the one who put us on our feet. We continued.
God bless you. We are known. People come from all kinds. Even from Mexico, they stay together. Koreans go and eat the food in Korea.
Especially for kebbeh, tabbouleh, and rice. No one makes rice here in America except us. We got used to it here.
Even Americans, when they sit and eat rice, we say, it's fat inside. It doesn't matter. It tastes delicious. When you see the customers eating, you feel happy. You think that you did something amazing for them. It's art.
Food is art. Maroun is successful in this. We helped him and pushed him. But he is the main one. Your manners. They are all in Australia.
What are you doing here? His cousins. They are all in Australia. They are fighting like us.
This is the war that brought us together. Are there other apple farms here or only in Florida? There are many. Not many, but there are. I went to an apple farm. I love it a lot. There are no apples. There are a lot of apples.
Its houses are old. I went to my grandfather's house. Okay. The oldest house in the village, but it is destroyed. I visited our house. What a small world.
We met again in the end of the world in Florida. He is Lebanese. Half of the world, so here is the end of the world. I will come back. Keto, you made me cry with you. We will go to the apple farm.
You are making important achievements. You are a Lebanese ambassador in Florida. If you know what people talk about you.
300 messages, 200 of them want to come to you. You are a hero. You too. He is our star.
Unbelievable. I cried and cried with him. Many people told me to come here. I didn't understand.
I thought it is a restaurant like others. I went inside and understood. The rush, the love, the emotions inside. We were all together. Anyway, no one leaves Lebanon and doesn't want to come back.
No one leaves his country and doesn't want to come back. I felt today how happy and successful people are, but they are eating from the inside that they want to go back to where they were born, where they worked, and hopefully they will open a restaurant in Lebanon. I am taking a breath. We will go back to show you the food. I am excited for the Kebbeh.
I haven't eaten Kebbeh yet and I am sure it is going to be amazing. ? ? ? ? ? ? ? ? ? ? ? ? ? ? ? ? ? ? ? ? ? ? ? ? ? ? ? ? ? ? ? ? ? ? ? ? ? ? ? ? ? ? ? ? ? ? ? ? ? ? ? ? ? ? ? ? ? ? So it's just fat casual. Mainly take away, and there's someone who eats hummus, hummus with meat, chicken, labneh, appetizers, raw kebbeh, everything, hot fish, rice, beetroot, soujouk. The authentic Lebanese food. Like whatever my mom makes at home, the food we raised, it's what we're feeding and we're giving to everybody.
So I love when everybody comes in here, they actually get to experience the true authentic Lebanese food in all of Miami, I promise you. Money bag guaranteed. I loved it. Let's go. A tour with the plates. Music So we were born in Doura, Mar Youssef street.
I was 20 years old when I left to America. But what a story, I don't know the village at all. I went there once when I was 9 or 10 years old.
3 years ago I got to know the village, seriously, through the episodes I made about the village, and we've been going to the village for 3 years. Unbelievable experience, it really brought us back to Lebanon. What a feeling, what a feeling. Unbelievable, yes of course, we visit.
Every year we go, we go in the summer with the family, and in October I go fishing. And now we're going fishing in the village because we built a house up there. So yeah, we went to Tannour, and all the restaurants that he went to, I went to meet them and tell my friends, I was like, how did you meet them, from Anthony, from the TV. So yeah, it was amazing.
Where should I start, should I start with the kebbeh, the labneh with Lebanese thyme, with the hummus. I feel like starting here. Yes. These restaurants really have good food. What is this, look how stuffed it is.
The sourness is amazing. Unbelievable. The sourness. The most important thing in the world is the sourness. Sometimes people change the recipe because they say, they're not the Americans, the Canadians, the Australians, they don't like sourness.
This is the sourness that goes into the labneh in a very nice way. Even if it's in oil, look how it's dripping. Look, look, look. Wow.
Incredible. Wow. Marissa, this is good. I'm not joking. I made it. It's very good.
Wait a minute. The vine leaves are very, very, very good. For the first time, I love vine leaves this big, because they don't have seating, because it's grab and go. You take 5 vine leaves, you finish them in the car before you get home.
Exactly. A big vine. So you always buy 2.
One for the car. Like Daouieh in Beirut. One for the car, one for the family.
This is super good. I didn't know about this plate from the start. You can eat something else. Since I got here, I felt this kebbeh at home. You didn't have lunch today, right? I didn't have lunch today.
I didn't come to have lunch with you. Taste, taste, taste. Perfect wife. You cook very delicious food. Amazing. Did you taste the kebbeh? Yes.
Very delicious. The kebbeh is right. It's home-made. You don't feel the bulgur.
Nothing is crunchy. The meat is perfect. The kebbeh is right. It's well-tasted. It's well-thinned.
The meat is perfectly minced. We give it a 10 out of 10. High quality food.
We give it a 10 out of 10. Yes. Thank you. And we give it a 10 out of 10. I will fry the kebbeh for you.
Let's go. With hummus. You know what you like. One to one. Me and you. I reached a small kebbeh shop.
A small shop on the street. I felt it as a kind of snack. I said, what will we eat? We will roll sandwiches. The bread might not be tasty.
You know when someone enters and you say, okay, I don't know what will happen. And then, impressed. Impressed by the quality in such a small shop. It doesn't have a seat.
It's not a fancy restaurant. It doesn't have waiters. It doesn't have a crowd.
It doesn't have a fork, knife, and spoon. All are details. And you are able to take food.
We are late for an hour. The food is here. They are cold and still very tasty. In 2 months. What is the big dream? How many branches? I want to take over Miami.
That's cool. Lebanese ladies taking over Miami. And then, last but not least. Do you eat meat with Labneh? This is Labneh. You eat it alone. I eat it like this.
Like this, it's tastier. Good job. Very good job.
Thank you. Bravo. Regards and respect to your mom. Thank you. Chapeau. You should be proud of your sister.
You come and eat, right? Yes. And I'm impressed. The branding is nice. The place is nice. The vibe is nice. The grill is clean.
The kitchen is super clean. They closed it only an hour ago. They will open it again. That is ready to export. Ready to grow. Everything is placed inside plates.
Small and cute. Very nicely packaged. Their hummus is tasty. The Kebbeh is tasty.
This is amazing. Top. Bravo, recommended. I'm impressed.
Put them in perspective. I'm telling you the secrets of the job. Imagine how much I ate today.
And how much I toured today. And how much this episode has passed for today. 3 quarters. Thank you for watching until now. And I was still able to eat with such a desire.
This much tasty. I'm impressed. Young lady. A big dream.
I hope it will come true. In the end, Mhellabieh. It brings you back to Tripoli with a bite.
The taste of the Arabic sweets. The city of Tripoli. I love it. Amazing. Bravo. If my hands weren't full of Kebbeh, I would have told you bravo.
Feel the love. I feel it. Impressive. Impressive. Really impressive.
Because this is a special day. Bravo. We say bravo to Melissa. And we say to my queen mother, my queen, Jo's mother.
You raised her. I really raised her, right? This girl left Lebanon 2 or 3 years ago. She wasn't made fun of in Lebanon.
Her passion is so good. We really enjoyed it. We met Jo.
He watches all the videos. Me too. Me too.
She reached out to me. She was telling me, please, mom is not here. But we love Anthony a lot.
I was like you, saying ok. Then she told me, please come. She insisted.
This wasn't part of the schedule. We came. Tell them all the news together. Because I always surprise you.
What impresses me the most is that I asked her, why do you eat Lebanese food? Why didn't you open a burger? She is 33. A girl. Unbelievable. She is very happy and proud of a young Lebanese person who is still eating. This is the next generation.
This is what will continue. What you are doing. Please, leave our food.
Don't be shy. Make the tastiest Hummus, Kafta, and Falafel. Did you see how happy she is? Man, today I am the happiest in the world. Look, a ready project will cook you.
You will ruin your house. Amazing day. If we continue, I will call you again.
Amazing, amazing, amazing day. Lebanese people are amazing. Amazing, amazing, amazing.
Unexpected Florida. Unexpected. I am not waiting at all.
Yesterday and today, amazing days. Let's go. Thank you for watching.
There is still a stop, God willing. Check out. Remove my bag from the room before they close it. A long night. 5 hours of driving to Orlando. Thank you Rabiha.
We still have a stop. No, no. Not food, not food. Wait. I think we ate enough today. Now, we will leave a break for dinner.
It is a very nice stop. Nahla and Mazen came to our gathering yesterday. I met them and sat with them on the table. I enjoyed being with them.
They told me their story. They spoke only Arabic. They are Lebanese. They were born in Venezuela. They lived their whole life. They came to Lebanon.
Now, they have been here for more than 6-7 years since they came to Lebanon. We are here in Miami. They have a very nice business. Architecture, design, kitchens, related to food. I wanted to visit them before leaving.
I will show you how successful people not only in the restaurants, but everywhere and in a lot of things. They did their business and they are famous. They even have their own factory. Invite me to come and watch.
2023-09-02 06:26
Show Video
Other news