Touring a $45,000,000 Colorado Mega Mansion on a Mountaintop (With a Private Lake)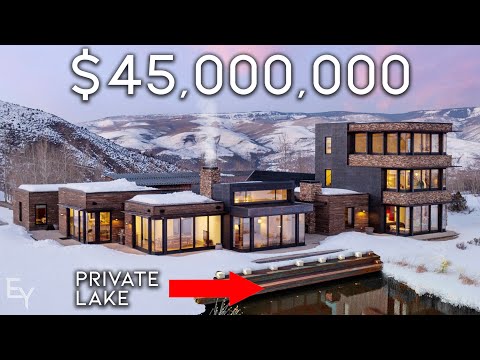 Show Video
(gentle music) - So the importance of natural light in Colorado is one of the first things we think about. We wanna really allow every location in the house to have natural light come in. A lot of the rooms in these houses, the art is actually the scenery, the view. And it could be, you know, Golden Aspens in the fall or Finnegan's Peak, that's just framed perfectly. So taking advantage of views in nature and natural light really begin to make up the style of home that really people are gravitating to.
(gentle music continues) - It's interesting to observe nature and architecture interact with each other. A perfect balance between the two can be accomplished through organic material selection, smart design choices, and an immense focus on connectivity to the outdoors. And all these qualities combined is what we are looking at today, a home that lives in harmony with this mountain environment. So, welcome to Edwards, Colorado, and let's go check out this incredible property. (punchy music) (punchy music continues) All right, everyone, welcome to Edwards, Colorado. I'm really excited for today's tour.
And before we continue, I want to mention something. A lot of times on these tours, I point out details, finishes, design elements, but I don't really go into details in regards to why these design elements and why these finishes and textures are chosen for the houses that we tour. And on this episode, I want to go a little bit more in depth. I wanna explain some of the architectural lines and why they chose certain materials for the exterior, as well as the interior to blend in this house with its surroundings and to make sure this house functions really well in a mountain environment, and with the weather conditions we have here in Colorado. Now, let's go this way for a second.
This is your long private driveway that brings you up to the property. And look at our views, look at the mountain ranges that's behind us. I'm in awe every time we come to Utah or Colorado. We are just so taken by these views. - [Mikey] Yeah, it's really pretty. I'm gonna try not to talk about the snow too much today.
- Talking about it too much. - Yeah, exactly. But it's beautiful, we're outside of Vail, Colorado and we love being here. - And excited for this tour.
All right, let's face this way. Let's look at the exterior for a second. I really like this vertical siding design, where you can see the unfinished surface of the wood panels.
It kind of gives you this rustic feel. Your garage door is here, clad with copper. And then over on this side you can see the overhang design, which makes this entry covered. And I say entry because behind this barn door, we have a door here that opens up to this wing of the property.
It's a nice, clever detail and to blend in the look, you just close this. Very nice. - Yeah. - Now coming back to the driveway, it's heated. You can probably park 12 to 15 cars here very easily. And going to the other side, you can see the walkway that takes you to the right wing where we have the pool house and the pool.
We're gonna cover that section later. This main entry is also covered. And you can see the Beetle Kill Pine siding that's installed in a horizontal pattern.
And I really like how they stack these corners on top of each other. So you get this really unique design element. And let's talk about why they chose these materials on the exterior. Number one, the woods that we're seeing on the exterior are locally sourced.
So these materials come from Colorado. Number two, if you look at the exterior, again, it's mostly darker tone materials. Now you want to have darker tone on the exterior because number one, it retains heat better, it reflects less meaning because we have snow around us, it's already a reflective environment. And if you make your home more on the beige or white tones, it's gonna reflect even more. It's gonna be so hard to look at the property.
That's why a lot of times these mountain homes have darker tones on the exterior. - [Mikey] And it's kind of a more natural way to heat the house, right? It's soaks in the heat. - Well, exactly. It retains it better. - [Mikey] I feel like in your neck of the woods where you're from, a lot of the homes are white to reflect the sun, so it's always cool inside, right? - Bingo. Absolutely. And yeah, this is the entry, nicely covered. And then we have this beautiful door opening up to the foyer.
As we step inside, you'll immediately notice the unique and interesting layout of this home. It's connected by a walkway that ties the first floor together, creating a cohesive and inviting space. The kitchen, dining area, and family room are all located on this side of the walkway, providing a great space for gathering and entertaining. One of the highlights of this home is the courtyard situated in the center. It's a tranquil and serene space that brings a touch of nature to the interiors. Later in the tour, we'll check out the three story tower that contains the primary bedroom and two guest suites stacked on top of each other.
The unique architecture of this home and it's connectivity to the outdoors was inspired by "Walden," the novel by transcendentalist writer, Henry David Thoreau. It's a fitting tribute to a novel that celebrates the beauty of simple living in natural surroundings. Now, let's make our way back to the front entry and continue exploring the rest of this stunning home. I really like the warm tones here, wood clad ceilings.
On the floors, we have Douglas Fir End Cut hardwood floors, which looks stunning. And they have these floors throughout the property as well. Off of the entry, that door opens up to a powder bathroom.
Stone vanity with chrome legs, beautiful chrome fixtures, just a tasteful powder bathroom off the entry. Now coming here, you'll have your coat closet. I love the color here and how the cabinetry contrasts nicely with brass fixtures. We have a light fixture above, and for the openings, they have the screens. And behind the screens we have these curtains and all of it's coming together with the carpet and hardwood floors. It's just a playful take on a coat closet.
Now on this side, we have a staircase that goes down to the lower level. On that floor, we have a massive laundry room and access to the utility areas of this property, which is quite impressive. You can pretty much access the electrical panels, water fixtures, water heaters, air conditioning systems, down below very, very easily. Now follow me this way. This door opens up to the first bedroom suite. Faces the west, super spacious king size bed, built in cabinetry there, TV's on the corner, ton of natural light coming in.
I gotta say, this house gets so much natural light. It's so nice to walk around this property. Every room is flooded with natural light. And you even have a cute little desk here, amazing views, which we'll talk about throughout the tour as well. And yeah, nice cozy bedroom off of the entry, nicely separated from the rest of the bedrooms. Now, coming here we have the full bathroom.
Glass enclosed shower, nicely tiled, with a vent above, I like this detail a lot. You have your heated towel rack, beautiful vanity with chrome legs, chrome fixtures. Just a great bathroom for the bedroom that we just toured. All right, back to the entry.
Now, look how beautiful this hallway is. Same wood clad ceilings continue. This door here opens up to a small patio where they have their barbecue. It again, faces the west, and it serves as a nice light and air tunnel because on the other side, we have the sliding glass doors opening up to a courtyard.
Now this courtyard is such an important aspect of this property. Floods the first floor with natural light because all these glass panels or sliding glass doors that you're seeing right now, are facing the same hallway. And this hallway connects all the rooms to each other.
On top of that, talking about integrating every single room, every single moment to the exterior, this courtyard really accomplishes that. This section is also covered. Few chairs, you can sit down, relax, read a book.
Same vertical siding detail that we saw on the exterior, they also brought it here. And yeah, I think this courtyard does a fantastic job bringing light and life to the center of this home and distributing this beautiful energy to the interior. All right, now let's close the door here and continue our tour.
This hallway takes us to the kitchen, dining area, and the family room. But before we go there, I want to talk about the specs of this property. We have seven bedrooms, nine bathrooms, 10,515 square feet of interior space. Main house is built on two plots that total up to 70 acres.
And this offering comes with additional two plots. So in total, you get 175 acres with this property. It's valued around $45 million, and I want to give big things to Tye Stockton for making this tour possible. As always, you will find more information about this property in the description of this video. I'm excited to be here and let's continue our tour. Now, we have this opening, taking us to the kitchen.
White modern cabinetry, massive island in the center, bar seating, stainless steel countertops, as well as the back splash, hood vent above, 30 inch Viking gas stove, dishwashers in the center. They fabricated the sinks out of the same stainless steel material, so there's a nice cohesion here. Casement window opening up to the patio where we have the grill, ton of natural light coming in.
This is a very usable kitchen. I mean, these are very durable materials so you can, you know, get the best out of this kitchen. And coming here, we have these pendant lights.
I was thinking, how come we don't see more rose gold in the homes that we tour? It's such a timeless material, contrasts nicely against these white walls. And yeah, these fixtures look beautiful. - [Mikey] That's your question to answer, as to why we don't see more rose gold? But I thought it was copper at first because there is a lot of copper kind of incorporated into these mountain homes. But yeah, they look really cool.
I like 'em a lot. - Beautiful tone. And let's take everybody this way. It is little windy outside, but I gotta do this, Mikey. From your kitchen, you walk straight to the outside and look at these views. I mean, this is breathtaking.
You just walk outside, patio's heated. Snow, mountain range, sun and peace and tranquility. - Yeah. - I love this.
- [Mikey] I love snowy climates. And I know that you and I travel a lot to film these homes in the wintertime. But in the summertime it kind of takes on a totally different personality as well. - Absolutely. - [Mikey] And I feel like a lot of people associate these homes as kind of ski getaways and kind of winter homes and that kind of thing. But it may be even more beautiful in the summertime.
- I just love that this is your surrounding. This is where you live, you know. All right, let's go back in. By the way, off of the kitchen, we have a small seating area, TV, another door that opens up to the patio.
Rest of your built-ins, fridge and freezer, ovens down here. And yeah, just a beautiful kitchen. Now let's continue. We have a service hallway here, coffee maker, a few refrigerator drawers.
And this hallway takes you to the dining room. Beautiful rustic, oval table in the center. Seating for 10, two chandeliers above, fireplace around the corner, very cozy space. We have walls of glass opening up to the outdoors, to these amazing views. And I wanna talk about these sliding glass doors.
On the interior, we have this beautiful wood finish. And you can change the type of wood you want to use or you can even have a metal finish with these sliding glass doors. They're very customizable. In fact, this kind of wood finish on these sliding glass doors, we saw it on another episode in a property in Malibu where they used the wood finish on the sliding glass doors to warm up the interiors. And yeah, this is the dining room.
By the way, this fireplace is double-sided. The other side we have the family room, which we're gonna check out next. So follow me this way. Before we leave, on this hallway, we got this beautiful kind of a discreet bar.
I say discreet because you can actually hide it if you want to. How nice is that? It looks like a just regular closet. - [Mikey] Yeah, I like that.
- Then I have a surprise for you here, Mikey. Obviously, it's dressed beautifully, you have glass shelves, copper countertops, some cabinetry down below, sink here. This beer tap is connected to the room that's on the lower level where they brew their own beers. - Really? - Yes. I had to point that out.
All right, follow me this way. Another long hallway, again beautiful wood clad ceilings, custom light fixtures, faces the courtyard. And now we're on this side, we have the family room. I love the space.
Curated furniture, textures, colors, simplicity of the room. And of course the focal point is the sliding glass doors facing the views. Look at the mountain ranges, clerestory windows. These wood clad ceilings that run to the exterior.
Well, technically the wood doesn't run to the exterior, but you can see the copper shingles and light fixtures, openings, corners being all glass, your double-sided fireplace. A lot is happening in this room, but the way they designed it, it has this minimalist and just a light feel. You just feel very comfortable being in this room. You even have a low coffee table here with few chairs. I would love to spend time here.
- [Mikey] The frame that I'm looking at on camera right now, looks really cool with a clerestory window above you. Those light fixtures, I really like those. It looks like you can kind of change the angle of the light being cast. They look really cool.
- It's a very poetic property, like each room has an identity on its own. And even though we're looking at the same view corridors, give or take, because of the orientation and furniture selection and how these rooms interact with the exterior, each one of the spaces feel totally different. It's like each room is an experience on its own. - [Mikey] Yeah. And y'all will see that more as we kind of move through the space. - Absolutely. And honestly,
this is why we travel around the world to showcase these amazing properties with the location, the way the houses is designed, all of it coming together. These are very unique experiences and I hope y'all are enjoying this tour. And if you do, make sure to give us a like and consider subscribing to our channel. - [Mikey] Please do. It's not easy flying all over the world to check these houses. - No, it's not.
I mean, it's not super cold outside, but we flew yesterday. We woke up at like 6:30 AM this morning. We'll be shooting this property for the next two days, then we're gonna shoot another one.
We have, it's five of us, it's a lot of work. Then that's just the shooting aspect of it. Then we gotta go back, edit it and make sure we showcase this property at its full potential, you know. - We have to do it justice. - Exactly. You also have a Steinway & Sons piano here, complementing the space.
And yeah, let's continue our tour. Hallway takes you to the other wing, opens up to the courtyard. But let's take everybody outside to this patio. Beautiful frame, fireplace here, some wood beams above us. We can see these copper shingles a little bit closer. And this is it.
I mean, this is breathtaking. Every time we travel to Colorado and you just look outside and that's enough. It does the talking for you, you know? - [Mikey] Yeah. It's beautiful. - It's beautiful. And I know it's hard to believe, but this is a pond. It's currently frozen right now.
They even have a pond cabana right there. And this view is a lot to take in during the day, but at night it's something else. You don't have any neighbors. You have this entire space, all the mountain ranges to yourself. It's peaceful, it's quiet, it's serene. And this is what you get off of your patio.
It's just amazing. Now we're gonna extensively cover the exterior in a minute, but let's take everybody back inside because we still got a lot to see. Back to the hallway. Also, I wanna mention these hardwood floors. I love them, so much character, right? And last time we saw floors like this was in another mountain home in Park City. - [Mikey] Oh yeah. Most expensive in Utah.
- Exactly. They didn't have the same floors. That one was more of an end cut joined together as a veneer. And this one is more individual pieces, so there's a little bit more character. It's a little bit more labor intensive. Two different takes, but both of them look really, really good. - [Mikey] You said labor intensive.
Are these floors as hard to install as they look? Are these individual pieces that they've basically put in here and then joined together? - I'm not fully certain, but I think they're individual pieces. One by one laid. Because you see there are some gaps. It's not perfect, it's not machine fabricated.
- [Mikey] And they're all different sizes as well. - Exactly. So, but the color palette, again, going with the organic textures, bringing the exterior to the interior, it accomplishes that really well. Now, I'm gonna get nerdy again, one more detail. I'm sorry for keeping everybody on the hallway for too long. Can we pan up to the ceiling? So, if you look at the length of these hallways, wood planks run perpendicular.
Now, if you run them parallel to the hallways, it'll make the space feel a little bit bigger. But it will also kind of take the intensity of these wood planks. And when you run in perpendicular, there's a little bit more character, a little bit more depth, it feels a little bit more intense. On top of that, on the corners here, since we have one hallway here, one hallway on this side. - Where the hallways join.. - Exactly.
They have a herring bone pattern and it's so cleverly laid out. Then you have these light fixtures perfectly aligned on each hallway, all of it coming together. Character, floors, reflections, textures.
It's beautiful. This is not another corner or another hallway. Wanted to mention that. All right, enough with the details.
Let's go check out the library. This has gotta be up there as one of the coolest, coziest and stylish libraries we have ever seen on this channel. It's not the biggest, but with all the books, fireplace, nice textile, carpet textures and this beautiful frame, it's an experience to sit down and read a book, I bet. I haven't read one here, but I'm dying too.
I would chill in this room and just spend so much time. - [Mikey] I think this is my favorite room in the house and I can't really put my finger on the style or design of it, but it just... - It's all the accessories, it's all the details.
These wall mount wall sconces, right? It's the books. It's the darker tones, textures, brass hardware with the hinges and door handles. Then you have a really nice fireplace here.
It's not the biggest, but it cozies up the space. Your view, this little bench right in front of the window. I'll keep going. - [Mikey] To me, it has this very filmic look. Kind of like a Wes Anderson movie, you're like knives out or something like that.
- I dig that. I dig that. And there's also a pocket door here, sealing off the room. Now, this staircase takes you up to two bedrooms that we have above us because this is the bedroom tower section.
First, let's cover the bathroom here. Another stunning vanity, polished to perfection. It's hard to believe that owners are staying in this property. It's in immaculate condition, every corner. Everything's so clean, well maintained.
Chrome fixtures, you have your walk-in shower here. These tiles go all the way into the shower as well as this wall, towel heater. Nice bathroom and this is more for the common areas. Now, let's go check out the first bedroom on this wing. (gentle pulsating music) - You know, when I think about great design in mountain homes, I think it first starts with here because lifestyle is such an important element, is how does the house flow? And then when you get beyond that, we like to think about accessibility to the outdoors. So whenever possible, you want bedrooms to have patios that go outside.
'Cause a lot of people, literally in the morning you get up and you're inspired and you just walk outside. So, those are design elements that we haven't even gotten into materials and style. But if you don't have that right in a mountain-style home, it just doesn't flow right for people.
(gentle pulsating music) - I love the layout here. Walls of glass opening up to the outdoors and the placement of furniture here. Bed is situated on this side, but right in the focal point of this bedroom, we have this glass desk. Talking about getting some work done, while looking at amazing views.
Leave me in this bedroom and I'll be a happy man, like... - [Mikey] Well, we have pretty creative jobs, you know. Week in, week out we kind of have to think of new stuff and you know, Enes and I work inside most of the time, in a room with very few windows, with just big screens in front of us. But like, I can only imagine just the creative workflow of being able to look out at the mountains all the time like this, this would be incredible. - Being able to just walk outside for some fresh air and then come back in. And you have a nice lounging chair here.
I don't know what they call these and I'm gonna try this out. - [Mikey] Like egg chairs or something. - And when I was looking at it, there's an audio connection here, like you listen music here and just kind of zone out. More for inspiration, you know? Super comfortable, also.
Mikey, let's turn this way. We have this red padded wall. I think it's wool actually that kind of gives warmth. You even have built-in speakers for the bed frame, modern wall sconces, a lot of curated pieces and yeah, this is the first bedroom on this wing. There's a door here that opens up to a full bathroom.
Design elements are pretty much similar with the other bathrooms that we toured already, but color palette is a little bit different for each bathroom. You have a freestanding tub here, chrome fixtures, walk-in shower, casement window opening up to the outside. And this floating vanity with a wood top is a very sophisticated touch. - [Mikey] I really like the wooden vanity. I don't remember ever seeing that.
- Look, you need to maintain it, you need to upkeep with it. But it ages beautifully over time and it just gives so much character to the space. - [Mikey] It reminds me of something you would see on like a classic sailing yacht or something like that, you know? - Exactly.
It almost has a nautical feel to it. And yeah, this is the bathroom. Right next to us, is a walk-in closet, some built-ins and open shelving. Over here you can see the main built-in cabinetry with the screens, just like the coat closet that we saw for the entry. And yeah, beautiful textures, details. Let's continue.
Back to the hallway landing again. We have the staircase going up to the two floors that's above us. Coming this way, we have another amazing lounge. This is more of an entertainment space.
We have a pool table right here, chandelier above. And as a foreigner, I learned something new the other day. I used to call these tables, pool or billiard tables and turns out there's a big difference. Pool tables have six pockets versus billiards tables have no pockets. - Really? - Yeah. And I'm pretty sure in one or two of our episodes, I called it wrong.
So my apologies, I'll make sure I'm more factually correct moving forward. - [Mikey] Well I can say, I don't know if that's 'cause you're a foreigner, I didn't realize that either. I thought billiards tables were slightly larger than pool tables for some reason.
- That's what I thought. For some reason I thought it was just like a size difference. But no, there's a big difference.
So, this is a pool table. All right, now let's check out this entertainment space. I love the textures used here. Look at the built-in seating. You have two fun bunk beds above and I just love the hardware, again, finishes and textures they use. You have a table here, built-ins, massive TV, sliding glass doors opening up to the outside.
And here's another fun fact. This is not our first time in Edwards, Colorado. It's our second time.
We came here to tour another one of Tye's listings. That property was amazing as well. Incredible views, remember? - Mountaintop one? - Yeah. Exactly. Like a few months ago. - [Mikey] We had a really good sunset on that one.
I do remember, we had beautiful drone shots. - Exactly. And again, big thanks to Tye, he's like our Vail advisor. - Our Vail connection. - Exactly. And we're stoked to be here.
All right, another hallway. Again opens up to the courtyard. Now, let's check out this bedroom. Super spacious, high ceilings. In fact, you can see the slight angle on the roof.
Opens up to the outside, curated furniture. Big congrats to the design team as well. I mean, what an amazing home.
Architectural lines, finishes, details, these textures. I'm almost overwhelmed, I'm wanna point out as much as possible. All right, bedroom comes with its own bathroom, free standing tub. They had to build this little stone tower here to house all the fixtures, water lines, inverters for the fixtures.
So that's a nice clever detail. - [Mikey] I like the way it looks. - Gives a little separation to the water closet. Massive window, walk-in shower.
Beautiful vanity comes with two sinks and this room or this bathroom connects to the room next door, which is the office. L-shaped couch, built in cabinetry, walls of glass, amazing views. And yeah, this is the office. Now, let's go back to the hallway. This is the door I mentioned on the exterior that opens up to this wing.
So you have an easy access here and the last door opens up to another bedroom or you can use it as another office or another bedroom. With that said, we're done on this wing. Now let's go check out the bedroom tower.
(contemplative music) - 32 Years ago I moved to Vail from New York City and I came out here a couple years previous to that on a guy's trip and just fell in love with it. And I fell in love with the mountains and mountain towns in general have become really popular escapes for people. So, what I love is they each have different personalities.
And Vail is unlike any other mountain town, in that it was built to be a ski resort or a mountain resort destination. We have this intimate little village with this giant ski resort that offers something for everybody, back bowls skiing and hiking and world-class mountain biking. And then we have, you know, outdoor amphitheaters.
So we've had presidents and you know, dignitaries come here. And so I love to say this sleepy little community in the mountains allows something for everybody and the whole world comes to see us. (contemplative music) - This is the second bedroom within the bedroom tower that's on the middle floor, come on in.
Again, same hardwood floors. Bed is situated on this side and I'm going right to this ceiling mounted chair. I'm gonna try this thing out. Okay, now it makes sense. When you have views like this, you just wanna hang out here.
Just swing and... - [Mikey] You just hang out and read a book, look out at the views, it's great. - It's amazing. And elevation helps. Then you have this built-in seating area.
We have the window open. Great flow, views are fantastic. By the way this bedroom comes with its own full bathroom. Finishes are pretty much the same with the other bathrooms. So it's just a great space, secluded from other bedrooms. And then you look out and you have these incredible mountain views and it's just so beautiful.
Now that's it for this bedroom. Right above us is an amazing primary bedroom suite. Faces the same amazing views, glass windows open up. And coming in, this is where we have the bedroom. King size bed, I like this pony wall design, allowing natural light to travel through the room, but at the same time it gives a nice foundation to the king size bed. Then we have another desk here facing these views.
And speaking of the views, which I want to apologize, we mentioned it probably a couple hundred times already, but on the east we have Vail's Gore Mountain Range, on the south we have New York Mountain Range and just these peaks, elevations, landscape here is just unbelievable, I'm out of words. It's like this place, once you walk into this property, you feel some type of way. You know, it's just like it just hugs you and you are part of it now.
- [Mikey] Something about mountain homes, just like the views, the snow, the finishes, the warmth of em, I just love 'em. - And the air, all of it coming together. And this is the primary bedroom on the minimalist side. You have a TV here, obviously gets great light.
You have automatic shades. And continuing this way, really unique wall sconce here. We have the walk-in closet. That pony wall actually serves as a closet on the other side. Dressing table in the center. Again, these screen fronts, brass hardware and yeah, this is where you store all your clothes.
Now going through the opening, let's tour the bathroom. Beautiful vanity with two sinks, chrome fixtures, light boxes on each side of the mirror. Then we have the glass enclosed walk-in shower on this side.
All chrome fixtures, freestanding tub here, your towel heater, casement window facing the views. Just a beautiful and timeless bathroom. And this is such a legacy estate. Not only the house is so beautiful, then you get 140 acres and you can do so much with these beautiful grounds and you still have amazing potential with this property.
The architecture and design of this property is beautiful, but what makes it really special is the exterior and the incredible grounds that it's built on. This property comes with so much land and you have it all to yourself. It's private, it's tranquil. Then you have these breathtaking views and we're gonna cover some architectural details.
Now, we saw the horizontal siding on the exterior, they have it also on this side. I love this copper shingle design that runs throughout the property. This is the bedroom tower. You can see the Anasazi Silver, thin veneer stone to create contrast between these three materials. All of it coming together, looks beautiful again, it's more of the darker tones, so it retains heat really well, it doesn't reflect.
Mountain environments with snow reflects a lot. I mean, I need sunglasses right now. You can't even look outside without sunglasses. As beautiful as this property looks in the snow, it's actually hiding an important exterior detail, the pond. This is crazy.
You can paddleboard on this pond. Can you believe that? - [Mikey] Well, I really wish we could go out there today. - [Enes] They even have a pond cabana.
- [Mikey] And is this pond natural? - I think so, I think they've expanded it a little bit. So it's bigger than what it was, but it is natural. And they also spent, obviously we can't really see it right now, but they also spent a ton of money landscaping the property and making sure that it really blends well with the surroundings. So again, in spring you can see it better. Now let's wrap around.
This is a totally different view. We are facing the mountain that's on the side. And I also forgot to mention one more thing. This property comes with a three bedroom cabin, that's down below. We passed it the other day driving up.
That's where the caretaker lives right now. - [Mikey] Well, you told me it was the caretaker's home, but it looks like... - A proper house. - [Mikey] It's a full sized house, you know? - Yeah, exactly. And again, it comes with the property.
I like these steel cantilevers. Well, they're not all steel. The panels in between are wood, but the frame is steel and it just diffuses the light. Cool architectural detail, contrasts nicely.
Pretty cool property. (gentle pulsating music) - You know the first time I came to Walden House there were a few things that really stood out to me. A lot of the mountain homes, when you wind up the road to get to a place, you know you're probably gonna get this beautiful view because you've earned it by driving up.
But few sort of plateau and have this big flat area that really gives you these expansive views. So it allowed them to put a nice lawn on the side and the outdoor pool and the detached gym. They wrapped the house with wood and steel and stone and they used the Pine Beetle Kill to face the house. And we're fortunate in Colorado that we can do it in such a way that it blends in with the natural surroundings and the environment. (gentle music) - Let's see what else we got here. Walkway that takes you to the pool house.
Pool is winterized right now. Now, I don't know what that means exactly. I'm assuming they added a chemical to the pool so the water doesn't freeze. But you still have the pool cover, which is what we are looking at right now, and that is frozen. Let's check out the pool house. Carrying out the same design theme as the main house, this pool house could really be used for so many different things.
Alright, pool house. Well, it's a gym. It is staged that way. Sliding glass doors open up and I'm so intrigued by this massive contraption.
You have a screen here, camera, LED lighting. You know what I wanna do here? I want to come into this space and like get ready for like a UFC boxing match. Like you know, camp here for six months and use the hot tub every single day.
Work out here, I'll be in such good shape. Also wanna mention, comes with a full bathroom too. So you kind of have everything you need here. You can just come here, work out, shower, go back to the main house. Another great angle.
That's the house, mountain ranges, pool. It's amazing scenery, weather is fantastic. I'm loving it out here.
I'm so glad we came here. - [Mikey] I have one more architectural question for you. So on a lot of these mountain homes, typically we see kind of steep roof lines. So when they get a lot of snow, the snow will kind of naturally just fall off. This has a lot more of a flat roof. Is there any thought process there or any reason for that? Or is it just kind of style and design? - I think it's style and design.
And obviously because it's a flat roof, they have to go out of their way to waterproof it and make sure it can carry the snow load and at the same time, stay watertight. But personally, as far as I know, it's just a design choice because they wanted to have a modern property. The moment you put a pitch roof, it just changes the look of the house and the way it is, is pretty perfect. So I would leave it as is.
And with that, we're done with this property, but of course we're gonna see this place at dusk. (dramatic music) (dramatic music continues) All right everyone, that's it for the tour. Hope you'll enjoy this video. Big thanks to Tye Stockton for making this tour possible. And as always, you can find more information about this incredible property in the description of this video. Lastly, if you enjoyed the tour, give us a like, subscribe and we'll see you guys next week.
(dramatic music continues)
2023-04-04 17:48
Show Video
Other news