Sev V-Logs - South Korea (Seoul) 2022, Pt. 1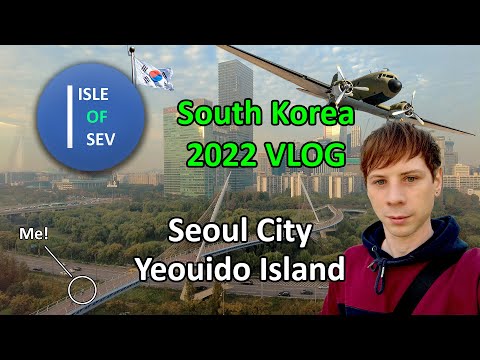 Show Video
Hello Guys, Welcome to this new series of my trip to South Korea. This series will be broken up into several videos that will get released over the next few weeks on Youtube and Odysee. I would like to invite you guys to enjoy these videos with me and I would very much appreciate it if you guys can give this video a like and if you want to see more of this, please subscribe and click on the bell icon to stay updated. If you have any question, or just want to say hi, you can leave your message in the comment section. I do read them all, including the "constructive criticism".
In this video, I pack up my things, and move to Antwerp Central Station in my home city, where I'll board the Thalys High Speed Train to Amsterdam Schiphol. I stayed there for the night, and boarded the plane with destination Paris, Charles de Gaulle Airport. From there I took another plane to Incheon International in South Korea and after I landed and got passed border control, I took the AREX towards Seoul City Station (서울역) and transferred to the number one line bound to Singil, my final destination where I have my AirBnB. I'm telling you guys all of this because unfortunately, I did not really started vlogging yet until then and I didn't film everything on the way there.
Also because the duration of the flights was over 15 hours, and by the time I got to the Airbnb, I was awake for almost 24 hours straight, without any sleep and by the time I got to sleep, I went almost 30 hours straight. So, you can imagine that I really was in no state to film anything at that time. This being said, also be aware that this is actually my first time vlogging. So, not everything is top level of what you would usually find on other vlogging channels, with more experienced vloggers. In fact, as I'm telling you all of this, I'm actually reading this back to from a script that I wrote.
So, please bear with me through the journey. Anyway, I hope you further enjoy this video, and even though it will be a short one, the next videos, I will go all out and show you my experiences in Seoul and beyond. It was quite a travel yesterday. I mean, I think I left the day before yesterday at 6 AM ~ 6:30, In Amsterdam at my hotel. There were 2 flights, one to Paris and then from Paris to Seoul then I had to take the train from Incheon to Seoul. And then from there to the hotel here. So, all of that took about...
I don't know... ...nearly 30 hours. I can tell you, the mind and the body doesn't like that. Not at all. The view is magnificent. So that's the suspension bridge I've already been there yesterday and I have a time-lapse for that on the (DJI) Pocket, but it didn't really go so well. I've just received this. Yeah, it's a thing in (South) Korea. You get bombarded by "Emergency Alerts".
Corona. Ah, it's something about Corona (COVID-19). As you can see, I'm a little behind schedule. I'm supposed to be in Seonyudo island, but because I'm so Jet-Lagged, I'm gonna take it easy today.
Easy and slow. I'm at the Yeouido Park. And check this out. So, that was the first day. Today's plan was... Yeouido Suspension Bridge, Yeouido Park, Seonyudo Island, Yeouido River Park and the 63-Building + market. Also the Hangang Ferry Cruise, which I didn't do. Maybe...
Maybe I'll do it later. I don't know yet. The 63-Building I didn't do either. I went past it, but I didn't go inside. And there was also the market. So this is where we are right here, Singil.
I went to the suspension bridge right next door. I went up here. Through the park, and I went here... All the way down again And all the way around.
The other park where I was supposed to go... Yanghwa Hangang Park, but it's very small. I don't think there's a lot (to see) there. Seonyudo Park, which is an Island that was first used for sewage treatment, but they turned it into a park, so... So, tomorrow I have to change hotels, because... Well, this hotel was only for two nights.
I'm going to (Photo) Park Guesthouse. I went to the supermarket. I bought some new milk.
I bought this, I don't know it is. And... this. I was looking for... some bread. But nope. No bread. Just bagels. So yeah... I think it's gonna be bagels tomorrow. One last thing.
It's very cold at night. I mean, in the daytime it's kinda nice. It was like 14 - 15 degrees (Celsius) And in the sun, the sun was really warm. But I came back at around, I don't know, 5 o'clock, 5-ish.
So, I came back to the hotel to drop off my stuff, and I wanted to go for... Do some night-photography. So, I went back outside and the temperature really went down. Cold nights. A reasonable day temperature. But, yeah... Very cold nights. See you tomorrow. (Next video)
2022-11-21 23:23
Show Video
Other news