S04E07 Lake Superior Provincial Park Review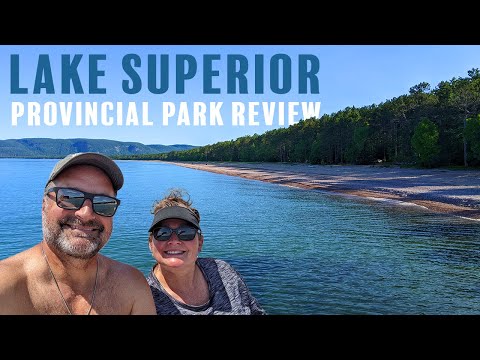 Show Video
Welcome to Lake Superior Provincial Park. This place is paradise. You got to come and check it out yourself. But in the meantime, check it out with us.
We are Cheryl and Ben Coles. We've been camping together for over 35 years. A few years ago, we started doing video reviews of Ontario Provincial Parks to help people when researching places to visit. We are now on season four of our park reviews. We hope this helps you when deciding where to have your next camping adventure.
Thanks for coming along Camping with the Coles. Lake Superior Provincial Park is 1550 square kilometers of spectacular scenery, cliffs, beaches, river valleys, waterfalls and inland lakes. Located on the eastern shore of Lake Superior, it is known for having one of the darkest night skies in North America. We have our site. We are 103 and, A103, A103.
Um, where did we come in? A103 is somewhere around there. Here's the visitor center. Oh, here's the dump down to the left.
We're coming here. So we'll go to the left? Yes. Okay. And then 103's right on the waterfront right there. Okay. Can you see? Okay.
It's a little tricky to get here. When you're coming down Hwy 17, there's a sign that says Agawa Bay Visitor Center, turn left. We kind of went past that sign and Google Maps told us to go into a right turn, about 300 meters down the road. We kind of did that and then realized, no, we've been here once before and the visitor center was at the campground.
So we came back and pulled into the campground. Once you go past the main gate, you check in. You turn left to the dump station. It has two dump spots, one for each direction and only one hose to fill it out.
It is not threaded. Then when you continue around this loop, you end up being at the water fill station just over here. It has a bypass lane and a main lane and one water fill up and it is threaded. We're all set up.
Site number A103 in Agawa Bay. Oh, I should probably show you the other view. That's right.
We got waterfront. Let's check out the full campsite. There are two campgrounds 39 kilometers apart for a total of 57 electric and 94 non-electric sites. Agawa Bay has 37 electric and 56 non-electric sites.
Site numbers in the three hundreds are radio free. Rabbit Blanket, which has 28 electric and 38 non-electric sites. And all along here, everything along there are true waterfront sites. No road in the way.
Now, one of the cons of this place is it is right next to the highway. So you are going to hear some traffic. This is the road closest to the highway. This is the dump station at Rabbit Blanket. It's right next to the main gate.
There's one dump spot, one dump hose that is not threaded. And there's a water fill up that is threaded. There are three comfort stations, two in Agawa Bay and one in Rabbit Blanket. They all have toilets, showers and laundry facilities and all are handicapped accessible. There are three beaches, one at Agawa Bay Campground, one at Katherine Cove and one at Old Woman Bay.
There's one dog beach, and this is it at Agawa Bay. There's a visitor center at the Agawa Bay Campground. And there's also a park store here and one at the Red Rock Lake Park office. Cell reception varies widely in the park. I can talk about Bell, Telus, Virgin Mobile and Koodo.
In Agawa Bay Campground we have very good service. You can watch YouTube, send messages, make phone calls. Everything's good that way.
But elsewhere in the park, as you're driving through it, as it is a huge park, there's areas of zero service. But if you're coming to Agawa Bay, you're going to do okay. Here we are at the amphitheater but as you can see it is currently not in use. There's one boat launch and it's at Agawa Rock. I think it's the most beautiful scenery that I've ever seen from a boat launch.
Kayaks and canoes are available for rent at the gatehouse houses at Rabbit Blanket and Agawa Bay and also at the park office. There are 169 backcountry sites with eight access points for canoes or hiking. There are eight canoe routes totaling 150 kilometers.
There are no group campsites and there are no designated cycling trails. There's 11 hiking trails in this park totaling 130 kilometers, and they range from the 500 meter Agawa Rock pictographs to the 65 kilometer Coastal Trail. This one, the Pinguisibi, just guessing on the name, Trail takes you to Lady Evelyn Falls. It's all along a beautiful river and some beautiful falls. We're going to check it out.
We're at Lady Evelyn Falls on the Sand River. On this entire trip that we're doing all these parks, Sue and John are going to be with us. You've seen them in a lot of our previous videos. They do a lot of trips with us because they love Camping with the Coles. What are we getting ourselves into here? Really? We're going to be checking out Bathtub Island near Katherine Cove.
It's on a beautiful beach. Now we have to walk through the water to get to that island. And that water's cold.
I was a little concerned. I'm 5'11". It just goes up to upper thigh. But not to a part where it really does hurt. My legs are hurting. Come on. Just run in.
You're going to slide on your bum? Oh, I'm in it now. Oh. Oh my god. Okay go. Let's go. Quick, it's cold. To our Lake Superior 2022 tour. All right Agawa Bay.
Agawa Bay, yes. Time for Cheryl's Loo Review. Okay the vault toilet situation at Agawa Bay Provincial Park in Lake Superior. They are much improved since we were here in 2014. There is a plethora of them. They are all nicely woodly constructed.
These ones have green roofs but I think some of them have clear roofs. There's no artificial lighting. What I like is their full countertop.
Double sink with running water. They have soap. This one has mirrors but most of them don't. Actually some of them have a dishwashing station on the other side of them. That's more in the Non-Electric section.
Somebody put a roll of paper towels, which was nice, but there's no garbage because of the bear situation. We don't want to tempt the bears. Right. These toilets all are vaults. I'm sorry, all pit toilets, which are just a hole in the ground. No plumbing.
They have a lid, which is good, because you want to keep the lid down, keep smells down. And what I like are hooks on the doors for hanging your knapsack or whatever, when you're in transit, you need somewhere to hang your bag, not on the ground. Yeah, they're eventually they have a mesh screen in the back. I think that's it. So smell not too bad wtih them.
And they're they're very plentiful, which I really appreciate. I think that's everything. Overall, I think I'm going to give them a thumbs up. That's a flower. How is it, John? Not too bad. Really? Lake Superior. I feel like I should, my beer should be in here.
Actually, you know what? I thought it was going to be a lot worse. No, we'll go in just another step. Yeah, I know we're only in about an inch.
64 kilometers north of Agawa Bay Campground and a couple kilometers north of Rabbit Blanket Campground is Old Woman Bay. It's an area to pull in and rest and enjoy the beauty. This is Old Woman Bay and right over here is the old woman.
Hey! Actually, right over here is the old woman. Across the street from Old Woman Bay is the Nokomis Trail. This trail is not an easy trail. It's a lot of uphill to the lookout then some downhill.
A lot of rocks, a lot of routes, but great payoff. All right. Here we are Lake Superior Provincial Park, Agawa Bay.
Time for Coles Notes. Well, I got to say, this was stunning place. Fabulous. Amazing. Beautiful.
Scenic. Incredible. Yeah. These are all words to describe this park. As you can tell, we're pretty happy with it. Yeah, and it's not just in Agawa Bay.
We went out on the highway and went into some different areas of off the highway. Yeah, this park is similar to the Algonquin Park, where it's a really, really big park and we just have the one campground here. So this isn't based just on staying in the campground.
We're staying in the park for this whole review. And, you know, one of the trips we made was 65 kilometers away from our campground and we're still in the park. And that was to Old Woman Bay and the Nokomis Trail.
That Old Woman Bay. Oh, baby. That is some beautiful old woman. Mm hmm.
That is an incredible beach and bathtub island. Bathtub island was like we were in the Caribbean. Yeah, in the Caribbean.
Or just...With ice cold water mind you. We were in paradise there. It was just. It was. It was amazing. The beauty was stunning. Yeah. And just even driving the highway is stunning, too.
Yeah, just beautiful vista after beautiful vista as you're driving the highway. Yeah. This is more of a scenic camping trip. Yeah, there isn't. There is no biking trails.
There's a few trails to hike, which we did. Two or three? Yeah, there's several hiking trails. Yeah. But you have to drive to get to them, right. As far as like children's programs and that sort of thing. I don't think there's no I didn't see any of that. I didn't actually see a whole lot of staff in this park.
Yeah, it's. Maybe they're on skeleton crew. I don't know, but. Right. It's pretty. Yeah. Yeah.
So we said all these great, beautiful, scenic things and stuff like that, but amazing sunsets, too. Oh. So at home in southern Ontario, the sun sets at 9:02 p.m. right now. It's July 14th and the sun sets at 9:02. Here it's at 9:35.
We were sitting by the campfire at 10 p.m. and there was still light in the sky. Still a nice sunset. It's like it goes down and then it kind of comes up again or something. It's a forever sunset. It just doesn't end. I tried to do a time lapse on it and my camera battery died because it just never seemed to really lose the color in the sky.
We've also wanted to stay up to see this is a dark sky preserve. So it's supposed to be some of the most beautiful stargazing here. But we're so active during the days and we're doing so much, we can't stay up late enough.
We're going to bed at 11:00 and the sky isn't dark enough yet, so that's pretty amazing. So what do you think about the sites? Well, we have a waterfront site. We're in A103 and the site is huge. Like in some other parks, this might be two, three, maybe even four sites.
Even on the other side of the trailer. We've got a ton of room. Yeah there pretty wide for a pull through sites. And we basically have an unobstructed view of the water. There's a couple of trees, but we're seeing Lake Superior and an island, just incredibly beautiful.
It's pretty Awesome. When we filmed our Grundy Coles Notes, we filmed it here. We had the camera on the other side so that you could see the background.
But it turned out you can't even see the background because it's so bright behind us. It was just all white. So that's why we turned it around this way. You're not going to see that beautiful view anyway when we're talking. But so there's not a lot of privacy between these sites, but they're pretty far wide and the trailers pretty much block you in so and there's a we're giving up privacy because of these beautiful tall pine trees. They're pretty cool.
And I'm quite happy to give up some privacy for this this look. Yeah. And just walking down the roadways, just going to the comfort station, walking on the roadways and the beautiful tall pine trees.
It's just such an incredible look. The further down you go in the non electrical, they're more secluded. Mm. Right. Yeah. And the uh, we're, we're kind of waterfront but there is the, the roadway in front of us because this is a pull through site. But down when you get into the non-electric sites, you are actually on the other side of the road.
So you are truly waterfront. So your campsite is the beach. That's right. Mhm. The really only negative thing about this park is how close it is to the highway.
Yeah. You hear the highway quite a bit, mostly trucks going by. But you know what, this park is so incredible that that's one of the things you just have to put up with. During the daytimes we're not spending a lot of time in the campground. We're out, we drive to all these different places for hikes and and journeys. And speaking of driving all these places, there are no gas stations on this road, if you haven't been here before.
The Voyager Trading Post, which is, I don't know, back down Pancake Bay way, south of us here. That's your last fill up station. So if you're kind of going low on gas, I suggest filling up there before you come here because you're going to have to be driving to go to all the other things and there's no gas stations anywhere on the highway. They actually have a sign at the Voyager saying last gas for 150 kilometers.
Otherwise you're waiting til Wawa? Yeah. So pay attention to that if you need some gas, get gas before you enter the park because the park is big and there's no gas in the park. That's right. And as well, for groceries, like everything you need, you'll have to get at the trading post and it's what, half an hour, 45 minutes from here. Yeah, something like that. Yeah. So keep that in mind.
There's two comfort stations you said. Yeah. And what did you say about the showers? Oh, yeah. I'll have to post a picture. That's like the best shower I've ever had.
It's like, yeah, it's got, it's a system and it's got good force for the water and you can adjust the temperature. That's the best shower you've ever had? I think so. In a park or just in life? I think in life.
Definitely in a park. Yeah. This was like the best shower. I wish all the other parks would follow suit. And that brings me to the point. If you've never been to here before, the sign was a little bit confusing. It just says Visitor Center and it has some symbols underneath.
But the words say Agawa Bay Visitor Center. So you think that's just the visitor center, so you just keep driving and it's Google Maps actually doesn't take you to even though it says Agawa Bay, it doesn't take you to the Agawa Bay campground. It takes you a couple of hundred yards down the road to some like logging road or something and tells you to turn right in there when it's a left turn to get into Agawa Bay. So you can't trust Google Maps on it. So if you are coming to Agawa Bay Campground and when you see the sign visitor center, that's the entrance you take.
Right? And we went past it and our friends went past it. Yeah. And they went, they went quite a distance past it like 40 kilometers past. We went past it and what was very fortunate as our friends were filling up at the trailer fill station and they saw us drive past and they saw us drive past and phoned us and said, You just passed the place. So we're very fortunate for that.
Yeah, good thing our cell service was working for that part. And we've been here before. So when we drove past and we saw the sign said Visitor Center, we're talking to each other going, Oh, I thought the visitor center was at the campground. Maybe they made a new visitor center away from the campground.
No, still here. Yes. So you think we're at time for a rating? Yeah. Yeah, I think so. Yeah.
I would say this is pretty much this is as close to a ten as you can get. We'll say, yeah, we can't give it a ten because the road being so close and one other negative that I forgot to mention is and it can't be helped but that water is cold. Lake Superior is cold. We did walk through when we went to Bathtub Island. You have to do that. Yeah. And it hurt.
Yeah, it hurt. But there's no way you're going swimming. Well, some people. Oh yeah. Go in and. Yeah, I think they're crazy but yeah it's, there's no way I'm submerging myself in there. And on that note too, I'm a little leery about going out on a paddleboard. I rarely fall from the paddle board, but it does happen and that's a cold dip and I tell you, I'd get back up on that paddle board faster than you've ever seen me move.
So yeah, that takes away from the ten. The swimming the swim it's not the best for swimming. Like there's nice beaches here, but the swimming is like really cold.
Right. But we're still going to give it a nine and a half. Okay, so tomorrow where are we going? Sleeping Giant. We are going to Sleeping Giant. That's our main destination.
It's been on the bucket list for a while. Yeah, we're going to do four nights at Sleeping Giant and Cheryl is going to hike up to the top of the Giant. That's my goal. We'll see what happens. Stay tuend She trained for it today as she did the Nokomis trail. I didn't like that trail. No, it's a very rough trail.
Yeah, yeah. We'll just we'll see that. We'll see how the top of the giant works out. You might hear back from me, you might not.
Until then, we'll see you later and happy camping. Bye.
2022-08-23 18:09
Show Video
Other news