Raising minimum wage for LA's tourism workers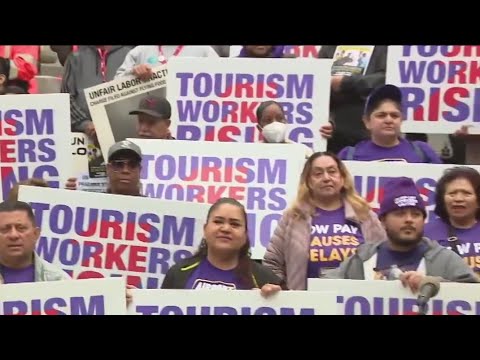 Show Video
foreign good morning as it stands right now here in the city of Los Angeles these workers are making at least 16 an hour and council member current price wants to bring that up to 25 an hour and we're awaiting the council member but you can see this group of workers here the chanting continues they've been uh chanting they demand respect there are about a hundred tourism workers and union leaders who heavily support this proposal and it would impact hotel and Airport workers council member price says it'll ensure the future growth of the tourism industry and fix loopholes to keep these workers housed and healthy and we know the tourism industry here in the city is gearing up to host huge Global events the 2026 World Cup coming up as well as the Olympic Games in 2028 uh the unions out here SEIU United service workers West and United here at local 11. obviously the hotel industry will have something to say about this it could lead to many employers finding other ways to cut costs the city's minimum wage for all workers right now it sits at 1604 and in July it'll go up to 1678 again uh current price wants to increase that to 25 an hour for these workers so we'll have an update coming up in the next hour we'll send it back to you in the studio for now all right Mario thank you so big news from across the pond in London this morning Prince Harry will attend the coronation of his father King Charles III the announcement came this morning from Buckingham Palace after months of speculation however he will be going solo the announcement says Harry's wife Megan will remain in California with the couple's two children Archie and a little bit so if you're headed to National Park this summer Google Maps is launching some new updates to make it a lot easier for you to get around among the changes popular Trails will be mapped out from start to finish you'll also see pictures tips and reviews from fellow users key tractions will be easier to find as well and there will be more detailed directions for Park entrances and Trail heads park maps will also be available to download offline and if you are headed to a park this summer make sure you keep your car packed with all the essentials there's a conversation online about some common items that you should have in your car that maybe you haven't thought of some of the most popular answers a first aid kit napkins or tissues and then you have to have things that help you out in a pinch too like jump starter batteries a flashlight a portable tire inflator and an umbrella and then they're the convenience items like sunglasses a phone charger one thick plastic bag and a change of clothes ah change of clothes you never know when that Rain's Gonna hit not just that but if you're a parent you have spare clothes in your car you know better think about all the states crafts kids yeah wipes wipes wipes always have the wipes for the face the hands yep I carry on wipes I think I will for the rest of my life yeah it's forever although at my age yes it is yes at his age for sure it is put it behind for everything else okay all right in San Francisco a whole food store that's only been open for a year now shutting down company officials say they're temporarily closing due to public safety issues employees who work at the store will be transferred to other locations crime in San Francisco has been in the spotlight after several recent high profile incidents however violent crime actually fell in the city last year which is compared to the year of 2019. 906 on this Wednesday morning and so wait Maria you were talking about this earlier how everyone's wearing purple look at this I noticed the same thing Jen I will tell you I saw you guys yeah I thought it would be best to work with what we got here versus go against the color scheme yeah I get it I try to compliment as well not not matchy match but to complement when I can so but this all happened it happened it was all happenstance right with with Jen and myself and Melvin earlier definitely in the pylons at LAX so I think where's the the Laker mood I want to say is what's happening with the colors I do want you to pay attention to this I noticed something I always look for something in nature and our satellite radar pictures but I want you to see what's going on here not just because of the clouds in the Marine layer but notice if you see something evolve here in the last frame of this graphic do you see it guys do you see something peel it closely isn't that cute yeah I love when I see things like that like a heart or a face anyway I just thought I'd share that today because it's just a nice little sweet surprise when I can find it definitely seeing the clouds and that Marine layer extending all the way Inland we had some fog this morning and also some drizzle that also reduces visibility so just drive carefully please as we are looking at just a 1.7 mile visibility in Ontario it's improved quite a bit through parts of Santa Monica Camarillo four miles three miles there in Burbank and just a mile in Riverside the Marine layer will burn off a little bit I think later today but that being said we're still going to look for a chance for some light drizzle due to the strong onshore flow it's gives a little extra lift in the atmosphere the mountains and foothills really the aim and the target for those light sprinkles along with those gustier winds those winds coming from the West Northwest temperatures right now mostly in the 50s 62 in Lancaster 57 in San Bernardino 54 in Corona Heist today a little cooler than yesterday even 67 for downtown near 7 for the valleys and the Inland Empire The Hot Spot Palm Springs 88 degrees there today I'll show you the extended Outlook coming up just a few moments back to you all right Maria thank you 909 here are some red faces at a Florida Art Museum after a North Hollywood man admits to the Feds that the best got paintings he sold are actually fake but Bob De Castro is live this morning at an exhibit that's guaranteed to be 100 the real thing good morning Bobby D not just the real thing yeah we're talking about hundreds of never seen before works of art from the late John Michelle Basquiat and we're taking you on a journey through his life and his legacy through this incredible new immersive exhibit and exhibition in downtown L.A next [Music] good [Music] [Music] [Music] see a breaking news story or have a news tip Good Day LA and Fox 11 wants to hear from you download the Fox 11 News app and click submit a news tip or call the Fox 11 and Good Day LA news desk at 310-584-2025 or email us at Fox 11 News at fox.com
[Music] thank you [Applause] [Music] thank you [Music] foreign [Music] [Applause] [Music] foreign [Music] [Music] [Music] a North Hollywood man admits to lying to the FBI about fake painting seized last summer from a Florida museum 45-year-old Michael barsman has agreed to plead guilty in a fraud scheme where he allegedly created fake artwork and claimed they were painted by artist Jean-Michel Basquiat the paintings ultimately wound up at the Orlando Museum of Art before they were seized last year the Scandal rocked the museum and led to its CEO's departure prosecutors say in 2012 barsman began making the counterfeit artworks and selling them on eBay so you just saw some fake basket at work how about the real thing let's go to the real thing ain't nothing like the real thing baby as they say so a new exhibit dedicated to the legendary street artist is now open to the public in downtown Los Angeles and that's where we find Bob De Castro is at the Grand LA to check it on out hey Bob hey it's really incredible and we're not just talking about one real thing we are talking about get this hundreds of real paintings works of art done by Basquiat that has never been seen before by the public the family thought it's time for the public now to view I was telling you the story before of how he lived in New York City you think about New York City and how he didn't drive and guess what uh here's proof of that I've got Patrick here to tell us a little bit more about this what are we looking at right here yeah this is Jean-Michel basquiat's bicycle that he used to ride around New York City uh one of the reasons that he really took to a bicycle was as you referenced earlier he was not able to get cabs in New York City as a young black male uh wearing dreadlocks in the early 80s uh he was certainly had difficult times and he would ask friends to hail caps for him but he really took to riding a bicycle around uh New York City this quite often this facade here is a replica of what the Great Jones building in New York City the building is still there but this is a replica of the front here's where Jean-Michel lived and uh worked he had a studio and an apartment and actually rented the building from Andy Warhol so let's really quickly take a look around here it's a little bit of a walk around but you have uh what part of the exhibit you've replicated or recreated the apartment that he grew up in and this is a part where you actually replicated the studio itself yeah so this is a replica of his Studio based on photographs videos and uh his sister's memories of visiting him in the space it's a really Dynamic piece of our exhibition you can really get a sense of how Jean-Michel was his creative juices working because he was somebody that would have numerous canvases around the space and would work on all of them at the same time he would walk around the space and had music playing had videos playing and we've tried to replicate that feeling and feel of when he was working in the space here for people to experience and it blows my mind that all of this stuff the family basically just kept for decades right like all of this had been in storage and they really felt like now was the time for people to uh to experience more about about his life he was really sort of like a man ahead of his time yeah indeed I think that this is really a a fantastic opportunity for people to come and see a really unique and personal perspective and presentation of Jean-Michel who he was how he worked the work that he created in so many different ways uh there's a lot to take in here uh and and it's a fantastic presentation from a really personal perspective it's personal because the sisters I know they're the ones who put it together and so they knew him fast and they decided time it was time for them for the world to see all of this uh the works of art here foxla.com is the information you need to know to learn more about this exhibit that goes on until the end of July in July here at the Grand in in downtown L.A it's such a cool space here as you see the video here of Jean Michelle painting you almost feel like he's in this space creating these incredible works of art for all of us to enjoy uh for our lifetimes we'll send it back to you that is really cool I I like how you mentioned the sisters I watched a documentary about him a while back and they talk about just growing up with him what a prankster he was and as a kid they had so much fun because he's always pulling some kind of joke and that was just kind of a spirit a free spirit and you kind of see that reflected absolutely you know yeah and you hear the family's stories as you walk through this exhibit you hear them throughout you hear jean-michel's Voice through here throughout and uh it really is tragic you know when you think that he died of a drug overdose at the age of 27 years old so much talent so much promise and um yeah all of all of this stuff is is new to the public Bobby you're telling me how he dated Madonna and I looked it up and there's all these pictures of them like canoodling together back in the days yeah it's interesting all right thank you you said Madonna those were the days yeah for a reason setting me up right I know yeah so this is interesting Mario as in Super Mario as an It's a Mario Madonna and Mariah have been added to the national recording registry the Library of Congress selects these artists titles for preservation for their cultural and historic importance to the American soundscape so besides the Super Mario theme song which titles from Madonna and Mariah okay [Music] completely different flavors flavor so we have like a virgin from Madonna the Super Mario Brothers theme song from the iconic video game and a holiday staple song All I Want for Christmas which basically Mariah Carey doesn't have to work another day in her life she can just take the royalties from that song every season so our pull this hour is this if you had to listen to one of these songs for 24 hours straight no breaks repeat that's why why you got to be so extreme I know we like extreme hair are you choosing Madonna Mariah or Mario you can go to boxallet.com vote to let us know or skin that QR code to weigh-in what are you interesting that no one is choosing All I Want For Christmas thus far interesting indeed yeah I think everyone is over it you know but maybe they just think oh it's summer coming up mindset right now I choose to break the radio hahaha not an option it is not we couldn't fit that in the poll this time what would you choose I would probably choose Like a Virgin because it just brings me back to like the 80s and my favorite decade yeah classic and I think our good daily DJ has what I would choose or a little bit resembling it you have it oh they broke the radio it broke the radio like you said I would actually choose Super Mario Brothers you know why no no uh lyrics Just music I was thinking the same thing yeah that would drive me crazy but I did Cover the opening of Nintendo World where I did hear that song about a hundred times so I think I'm already halfway there yep okay all right well we'll see what people have to see what they say thanks Amanda all right 9 20. uh coming up good news for people who take Metrolink or Amtrak trains through South Orange County when the San Clemente tracks will reopen and fans of Sriracha hot sauce may be soon going through withdrawals are you one of them I love Sriracha you love Sriracha yeah okay so it's gonna be scarce on the shelves we'll tell you why coming up 10 Francis has it for the 10.
[Music] [Music] see a breaking news story or have a news tip Good Day LA and Fox 11 wants to hear from you download the Fox 11 News app and click submit a news tip or call the Fox 11 and good daily news desk at 310-584-2025 or email us at Fox 11 News at fox.com [Music] friends [Applause] [Music] thank you [Music] foreign [Music] [Applause] [Music] [Music] [Music] [Music] see a breaking news story or have a news tip good day Olay and Fox 11 wants to hear from you download the Fox 11 News app and click submit a news tip or call all right good morning to you on this cloudy kind of cool Wednesday good daily weather is sponsored by Pechanga Resort Casino and yes even a chance for some light showers today anywhere from 10 to 30 percent chance and of course greater chances over the mountains and foothills we've got the onshore flow that's continuing to bring us that cooler air mass also the winds Gusty winds over the mountains and deserts not to worry though if you've got plans Outdoors this weekend Friday into Saturday and Sunday you'll notice the warming Trend certainly and we will warm those temperatures back up we've got a little Coastal Eddy that's spinning you can see that here counterclockwise circulation that's what's helping to push that cloud cover even all the way Inland the wind's not too bad right now but they are going to be a little bit more Gusty as we get to the afternoon that's why the national weather service has issued that wind advised we all the areas shaded in that tan color out towards the high deserts the mountains those wind gusts nearing 45 miles an hour so the Heiser whether the wind advisory means that hazardous driving conditions exist so just be careful if you've got a high profile vehicle or you might just want to postpone that travel due to those hazardous driving conditions area of low pressure up to the north that's helping to carve out this trough or this dip in the jet stream that's what allows all that cold air to Sag south over SoCal also the clouds the drizzle will be around eventually high pressure will settle back in for the weekend and that's what we're looking forward to along with those warmer temperatures in the meantime today at 3 30 not so warm in Fresno 69 55 in Santa Barbara 65 in bird Banquets and partly cloudy skies 85 that's the warm spot in Palm Springs I'll show you the seven-day forecast in just a few moments back to you thank you in the meantime let's talk about this this is serious you guys there's still a lot of sriracha missing from store shelves the hot sauce made in Irwindale as you may know the company says it's struggling to keep up with demand because a chilly shortage which is being blamed on the drought in Mexico last summer so Sriracha has been hard to come by for months now however there are other similar sauces available but if you're a die hard yeah you don't want any secondary sauces no you know all right well it could soon cost more to send that birthday card to your grandma the U.S Postal Service is asking for another postage price hike the new hike would boost the price of a First-Class stamp to 66 cents it was only January when the USPS won approval to raise stand prices from 60 to 63 cents it says the new hike is needed to offset inflation it would take effect in July and if approved stamp prices will have risen 32 percent since the early since the early 2019 and that was when they cost 55 cents a potential strike by UPS workers has Transportation officials concerned about the trickle-down effects on the U.S
economy so the shipping giant employs about 350 000 Teamsters as warehouse workers and drivers negotiations on the new contracts start Monday the current contract expires July 31st now among the union demands here are some things higher pay for all workers more full-time jobs than and to force overtime the elimination of a two-tier wage system and protection from workplace safety hazards including heat the contract negotiations come just months after UPS reported record profits of more than 100 billion dollars the City of Irvine moves to turn a stinky troubled plant site into a massive Park we're gonna have details coming up and maybe robots can take your jobs after all oh no that is cannot take good news the major fail by one bot who just got tired yeah it happens it's raining in Long Beach look at that wow all right Morgan's gonna have our forecast she's also not going to like that we're shocked by that fact nope [Music] thank you [Music] see a breaking news story or have a news tip Good Day LA and Fox 11 wants to hear from you download the Fox 11 News app and click submit a news tip or call the Fox 11 and Good Day LA news desk at 310-584-2025 or email us at Fox 11 News at fox.com [Music] thank you [Applause] [Music] foreign [Music] foreign [Music] [Music] foreign [Music] this morning medical workers at UC campuses are rallying for higher pay we're live at UCLA major development this morning in an effort to requiring California schools to out transgender students to their parents we have the details on the update oh hey everybody welcome to Good daily at 9 30. I'm Jen Lammers oh I'm Roxy car baby here we go yeah you already you already knew that let's get to our top story right now in rallies our plan today at UC campuses and medical centers all across the state the reason increased wages for their lowest paid employees yeah let's go to Christina Pascucci live in Westwood with warm hi Christina here though good morning to you and as you can see behind us here some of the action has started at outside a meeting that's taking place right now I am with Catherine lyberger the president of athlete's local 3299 who can talk about what you guys are fighting for this morning thank you so much for joining us first off you your union represents 30 000 of some of the least paid workers within the University of California can you tell us more about them that's right these are the custodians uh dining Center workers you know security guards people who showed up during the pandemic we call them Heroes they showed up every single day and so these rallies will be happening at some of the different medical campuses across the entire State what is the message at all 10 campuses five medical centers across the state we are saying that the cost of living has far outpaced wage increases so you know and never mind the rent someone who's bringing home three thousand dollars a month but paying over two thousand dollars a month in housing that's not sustainable people so we're saying both that UC needs to raise the minimum wage to 25 but they also need to divest from corporate landlords and actually invest in affordable housing so that people can live where they work I was thinking of someone from the union earlier who said a lot of the workers are whether they're saying their car or they have to work over an hour away from or live an hour away from work in order to afford the housing or live in a small one-bedroom apartment with a huge family that is a reality they're facing absolutely in fact the people who can least afford to live where they work bear the extra burden of having to pay all the gas money and all the times that commute in from far away we have people living in their cars in front of where they work in front of relatives homes that's ridiculous they're making uh you know working full-time here at the same time the region saw fit to give a half million dollar raise to one Chancellor and actually extend the housing subsidy to all the chancellors thank you so much for talking to us last thing I just want to know this is a rally not a strike this is more for awareness and so this shouldn't impact operations today in any way shape or form just so people are aware right that's right if anything by raising the wage we expect UC to be able to staff up and improve operations thank you appreciate your time we have reached out to University of California of course for a statement as well they just called me seconds before we went on air with you and said they're they're sending a statement uh so as soon as we get that we'll bring you that part of the story as well I'll send it back to you Christina thank you a bill in the state legislature that would require School staff School staff to out these transgender students is Dead on Arrival the bill was put forth by two Republican Congress members and it did not make it out of committee it would have required school districts to notify parents in writing within three days if a student is identifying as a gender that does not match with the sex on their birth certificate the Democratic chair of the education committee refused to even schedule a hearing on the Bill saying it could be catastrophic to transgender students whose parents aren't accepting of their gender identity a new state program designed to help people afford a down payment to become a first-time home buyer has already run out of money the program was announced just a few weeks ago the state set aside 300 million dollars to loan to people up to 20 percent of their purchase price of a home but so many people applied all the money for that project was already earmarked within just the first 11 days of this program the City of Irvine is moving forward with the plan to buy a controversial asphalt plant the price tag 285 million dollars City officials expect to offset the cost of the purchase by selling a piece of land donated by the Irvine Company under a payment plan unveiled yesterday the facility must cease all operations by November the plants on Jeffrey Road has been the focus of lawsuits and complaints from Neighbors who say the facility has made the air unsafe to breathe the project includes the creation of a 700 acre Nature Preserve next to a housing community on the North End of the city Metrolink is set to restart full passenger train service through southern Orange County after nearly seven months repairs in the washed out train tracks in San Clemente are nearly complete Metrolink service connecting Orange County and the Inland Empire is scheduled to start on Monday service on the surfliner trains to San Diego County will also resume next week service was stopped in September after erosion threatened the tracks there heavy rains delayed repairs former Orange County Congressman Harley Ruda is ending his campaign for the seat being vacated by Irvine Democrat Katie Porter the Democrats served one term before losing his re-election bid in 2020. he was
injured in a fall last month and says he suffered a traumatic brain injury but will fully recover a new ordinance would make it illegal to possess an unattached catalytic converter unless you can prove it's yours Los Angeles city council member John Lee co-presented the motion while pointing to the skyrocketing number of thefts get this in 2018 in a little under 1 000 converters reported stolen compare that to 2022 when it shot up to almost 8 000 thefts that's an increase of more than 700 percent NASA leadership and a Congressional Delegation traveled to Pasadena to get a first-hand look at the latest Innovations at JPL as Alex Michelson shows us scientists at the lab they are working on something that's never been tried before NASA is testing the process of returning samples from Mars right now the Rover name perseverance is on the surface collecting dirt a future Mission will send those samples off the red planet towards an Orbiter in outer space that will catch the samples carry them back towards Earth and send them on a journey traveling at over 150 miles per hour towards our planet this is the size of one of the samples they eventually go into this they put the top on top of it and hope that that's able to stay intact so this is a first of its kind Mission Dimitri labco is a mechanical engineer at JPL he says we've never transported anything off the red planet before these samples expected to return to Earth from Mars in the 2030s they could teach us a lot about Life as we know it it's a lot easier to bring the samples here than to bring our Labs over there and and our people over there at this point NASA's administrator visiting JPL in Pasadena to see the progress firsthand you've got a diamond right here in Southern California called the jet propulsion laboratory which makes the impossible possible before Bill Nelson was a longtime Democratic senator from Florida he was a NASA astronaut who spent time in space can you talk about what goes through your mind when you see this technology here today whenever we see this technology and Technology developments in other NASA centers the three of us who have flown would like to climb back on the top of a rocket however my critics would like me to go on a one-way trip on the one hand Republican congresswoman Yoon Kim and democratic congresswoman Judy Chu this is a long-term project that needs continued support from Congress and that means additional support we must invest in this and I I look forward to supporting JPL and NASA in every way possible this type of project should be bipartisan three two [Music] one [Applause] oh that's awesome that is awesome that was Alex Michaelson reporting just last week they announced the astronauts expected to orbit the Moon next week well you know roxia technology is fascinating but it's not always foolproof yes take a look at this fairly even robots get tired watch this poor guy named digit who fell to the ground after doing 20 hours oh my Lord 20 hours of live demos at a trade show in Chicago that'll do it to you this wasn't actually his only fall of the day though a digit went down a couple of times during the marathon session but as handlers say he was successful 99 of the time oh my gosh even robots need a break that's right that's right wow well coming up we've all faced this dilemma what do I wear and does this even look good on me good questions we have a styling expert here to share with you what you choose to wear can affect your mood and how others see you that's right after the break oh look there I am picking out the right colors yeah look at beautiful Santa Monica right now those clouds will hopefully break up and it'll be a nice Beach day and we're looking forward to the summertime aren't we yes we are yes yes yes sorry are you talking to yourself [Music] foreign [Music] [Music] [Music] see a breaking news story or have a news tip Good Day LA and Fox 11 wants to hear from you download the Fox 11 News app and click submit a news tip or call the Fox 11 and good daily news desk at 310-584-2025 or email us at Fox 11 News at fox.com [Music] thank you [Applause] [Music] foreign [Music] [Applause] [Music] foreign [Music] [Music] [Music] see a breaking news story or have a news tip Good Day LA and fox 11. welcome back all right so we've all been there trying on a bunch of outfits we don't really like anything or feel great about it your clothes play a big part in your mood as well as how others perceive you our next guest is stylist and author of a Common Thread Jen Principe she says the way we dress actually makes a bigger difference than we realize Jen hello looking gorgeous thank you I'm so excited to be here palette thank you look at this yes I think it's a theme today I even saw Christina Pascucci wearing pink today I know I think she might be wearing that dress that I'm wearing right there it is all right we're going to start with um does what really we wear really make a difference yeah a huge difference I think clothes it are is one very powerful tool for you to feel self-confident more self-assured you can maximize your opportunities when you wear certain clothes you can enhance enhance your experiences when when you wear certain clothes it has a very powerful impact and I think it's really underestimated if you think about the aphorisms dressed for Success versus dress to impress we're talking about two different things that clothes do for us one is we dress to impress others and the other is we dress to feel better about what we're wearing so dress for success is about that mind shift that we go through when we wear something we put it on our bodies and we feel more powerful like you were just saying Pink's not your color because you like to be in control and right pink is a very playful color so colors play a huge role so dress for success you're dressing for yourself so that you can shift your mindset in a certain way and dress to that's dressed to impress is impressing other people impress I don't mean like impress in the sense that we need to impress them but to leave a lasting impression especially today because we have such a limited amount of time I think to make that first impression 17 seconds really is what they say to make that first impression 17 seconds 17 seconds so you want to you're essentially the covers of your own book so you want to create your cover that's recognizable that's memorable and that it's you want to stand out do you want to stand out and sometimes I notice when people go to big events everyone's wearing black black and in the back of my mind I've trained it so I want to stand out so I'm picking a bolder color yes and there's really a difference in what you're dressing for so I'm going to show you some examples these are some outfits off of my Instagram I want your opinion because sometimes what I would wear in life and on television are different so this is an example of a jumpsuit what are your thoughts okay first of all you look fantastic by the way and you wear black really well I'm a proponent of color because black is Chic cool and so easy and slimming but black all the time I think is boring so I think if you just popped a colored bag in here just to kind of give it some Vibrance and maybe just something around your neck or a bigger earring I think you would just make the outfit pop more but that's a great cut for you oh thank you you're welcome I'm getting into the jumpsuit until you have to go to the bathroom that's a different story okay I did this one for an event right there okay it's hard to see it's had sparkles on top it's actually a jumpsuit and yes it is sequence up top ready and then just black pants yeah pretty again I think I would pop it with some sort of like a garnet colored earring or something to just kind of bring some color up towards your face because interesting the face is so beautiful thank you see I thought because there's already so much going on off top to keep it simple with the earring and I was afraid to do something bold but I don't think so because the bottom half is I don't know what shoe you're wearing it keep that super simple just like a basic black pump um here's another color that I like what do you think I love that color on you yeah I stalked your Instagram oh you did and you wear you wear a lot of red because you you wear it really really well I love to this is a beautiful color for you I think you know that again accessorize just you know some sort of a statement earring would be beautiful gold and this color work really really well together so probably something in a gold that's interesting again to me like already it's a busy neckline so I went not out of line you would do you would do a necklace no no I know but I'm saying because this was busy I thought earrings were would be too much no especially a gold I think the two colors would work really well together I hear you say a Roxy be more daring I'm going to take down what about this this is as you mentioned a color I do gravitate towards a lot I do like red it is a power color for most people yes well red gets the blood pumping by the way and it's a great color if you're single because it will Attract it to you men love red on women yeah there's a lot of scientific proof behind that but this is beautiful on you then the cuts great I love that you did a nude shoe I think it looks again some sort of a you know a statement earring or even like a gold cuff okay you know gold would be really pretty with that and I would love to see you in an emerald green oh I have a ton of that trust me yeah I'll show you that after I like velvet too you love velvet and emerald green my favorite no yeah yeah okay absolutely look at my cover um so what do you think like do you need to spend a ton of money to be fashionable is that is that a true statement No it is absolutely not a true statement in fact I do my TJ Maxx runs my Nordstrom my Nordstrom Rack runs I love to do that and prove to people that you don't need to spend a lot of money to look like a million bucks in fact one of the things I developed it's on my website jpstyles.com it's called the Wardrobe wisdom Club it's absolutely free for everybody and what I do is live tutorials and I teach people everything I've learned from body shapes to um accessories to tailoring Etc they're tutorials they're me yeah and so I'm doing these tutorials teaching people but then I put Links of where to buy things at a Luxe price put and then at a lower price point that look eventually identical so no you do not have to spend a lot of money to look like and also this is I mean I think people know by now you can have an expensive pair of jeans but you can have a simple t-shirt from Target and it will work perfectly yes I'm the queen of that mixing so if you were to give one styling tip about a personal presentation for one person what would it be I mean you're You're The Branding of your own book so you know think of that when you're going out so that you can maximize your opportunities while you're out there but I would say um relax it's not a tattoo like I think I think people just they're nervous they're afraid they're going to make a fashion faux pas or fashion mistake and you will and you'll be okay and it's the one area like we have control over we don't have control over a lot and it's fun yeah it's playful don't you love dressing up don't you feel better more self-confident more self-assured when you look good yes yes absolutely even at home sometimes I know I'm just at home but when I wear things that actually match and not oversized or with holes in it I feel better yeah go figure uh Jen your book beautiful book beautiful cover a Common Thread is out now we did mention the website please go check it out also Instagram that's a great place where you can get some tips jpstyles.com
thank you so much for coming in oh my gosh thank you so much for having me I'm so excited and it was a pleasure to meet you Roxanne we love it we love fashion around here Maria yes we do Jen actually helped one of my best friends in Orange County and what I loved what about what you did Jen was you went shopping in her closet and you got rid of a lot of stuff that she didn't need but then you also kept really key pieces and even though you got rid of stuff you actually expanded her wardrobe because somehow you showed her how to mix and match those items so anyway you're amazing and you're beautiful and and follow her you guys if you don't follow her already on Instagram anyway some good stuff there uh all right let's dress for the weather today how's about that we've got some chillier or cooler conditions because of this stronger onshore flow this is one of our computer models really picking up the cloud cover as well as a little bit of that moisture that light drizzle out there a little bit more widespread as we look into tonight into tomorrow this is nothing heavy measurable rain perhaps but less than a tenth of an inch which we could use we haven't had any rain at all for the month of April so this will be nice as you plan ahead though for Friday into the weekend it looks much clearer as you can see and maybe even a slight offshore flow will develop as high pressure builds in and that's going to produce the warmer conditions right now though we do have those windy conditions expected over the mountains and foothills so that for the mountain deserts as well we're looking at a wind advisory for those wind gusts that could potentially get to 45 miles an hour so just keep that in mind as you're planning your travel especially with those high profile Vehicles Ventura County three to four feet a little bit more consistent Orange County with the surf Heights three to five seven day forecast we'll show you that cool down the next couple of days and then that warm up to the upper 70s for Saturday and Sunday Coachella Valley cooling to 73 tomorrow but then back to the low 90s by Sunday all right back to YouTube all right thank you Maria coming up one mom proves just how Fearless she is wait until you see what she pulled out of the engine compartment of a car yeah and then we're going to show you what happened when a couple of kids challenge an officer to a foot race just ahead thank you [Music] foreign [Music] [Music] or have a news tip good day Olay and Fox 11 wants to hear from you download the Fox 11 News app and click submit a news tip or call the Fox 11 and good daily news desk at 310-584-2025 or email us at Fox 11 News at fox.com [Music] thank you [Applause] [Music] foreign [Music] [Music] foreign [Music] foreign oh wow she is the mom of Steel a Texas mom is going viral for fearlessly pulling a snake from her daughter's car engine she believes it was a rat snake that got into the engine after slithering away from a nearby Chicken Coop the mother used a ruler and gloves for the capture and then released it a safe distance away wow wow moms are awesome uh in South Carolina a boy challenges the sheriff's deputy and ends up that Deputy on the losing end so my man Eli saw me on a traffic stop right and he was like I could beat you in a Race So you want to race yeah go all right Richmond County Deputy Braylon Salman leaves a little Ally in the dust this is all from this virtual video in which the deputy lost a foot race to the young boy and he had pulled him over and Eli saw the video and wanted a chance to race the deputy the officer had learned a thing or two since he was all right coming up at 10 wow that flew huh yeah um so she's a convicted felon who has done time for Grand Theft Auto now she's a tick tock star sharing tips on how to keep your car from getting jacked by and this one is sure to make your mouth water it is National grilled cheese sandwich day everybody and we're gonna be uh going to it live to take it to the next level what's your favorite grilled cheese just plain do you have like I like bacon in my grilled cheese oh [Music] thank you foreign [Music] [Music] or have a news tip good day Olay and Fox 11 wants to hear from you download the Fox 11 News app and click submit a news tip or call the Fox 11 and good daily news desk at 310-584-2025 or email us at Fox 11 News at fox.com [Music] [Applause] [Music] thank you foreign [Music] foreign [Music] [Music] [Music] hotel workers and others in the tourism industry say they are struggling to make it now they're demanding a living wage an armed robbery turns violence and now a teenager is dead we have details on the horrific crime and we've got a thick Marine layer that's out there the onshore flow is with us so clouds are transfer drizzle and some Gusty winds I'll have all the details in my complete forecast and Ariana Grande is getting personal and addressing criticism that she's facing regarding her weight what she's saying to fans and what she reveals about how she looked in the past good morning everyone ahead of schedule by just a couple of seconds here uh welcome in Roxy Carpathian and I'm Jen Lammers in for Sandra endos let's get to our top story right now in La it might be a world-class tourist destination but airport and hotel workers are barely making a living wage many of them have second jobs just to get by yeah but that could soon change with the possible pay raise let's go to Mario live in downtown L.A where a press conference is just it looks like wrapping up or just wrapped up Mario good morning good morning that's right we're just outside City Hall and a lot of these tourism workers that we heard from there as it stands right now making about 16 an hour council member current price uh he was just here he outlined his plan to almost double that in the next five years listen I'm going to be introducing an ordinance this morning that will impact more than 36 000 tourism workers across Los Angeles this includes all hotel workers employed at the city at hotels with 60 or more rooms and workers employed in certain occupations at LAX such as janitors as security workers my proposal would increase the hourly wage of Tourism workers to 25 later this year and then move it up to thirty dollars by 2028.
and council member price confident that this ordinance will be approved once it's drafted by the City attorney says it'll ensure the future growth of the tourism industry and fix loopholes to keep these workers housed and healthy as the city gears up to host Global events like the 2026 World Cup and the Olympic Games in 2028. meanwhile there's still the big question if you have these employers who are forced to pay many of their workers a lot more how will they offset those costs will they be increasing hotel prices for example or cutting costs in other ways fewer job hires that Still Remains to be seen for now reporting live here in downtown we'll send it back to you Mario thank you so the LAPD is looking for the shooter who killed a 16 year old boy last night in LA's Pico Union neighborhood police believe was an attempted robbery gone bad the victim was sitting in a parked car when the suspect approached and at some point opened fire the boy was hit the driver sped off eventually flagging down nearby police but it was too late the teen died and his name has not yet been released a 13 year old boy whose leg had to be amputated after being struck by a hit-and-run motorcycle rider remains hospitalized but police now have a suspect in custody video from the scene shows the motorcyclist right they're slamming into Josh Mora who was walking in a marked crosswalk on Whittier Boulevard in Boyle Heights well this happened on March 30th the motorcyclist gets back up on his bike and takes off the accident led to renewed calls to reduce speeds in the area police relied on tips from the public and arrested the suspect in Banning he is facing felony hit and run charges the CHP has launched a Statewide Manhunt for a missing five-year-old girl who was allegedly abducted from North Carolina they say faith Lee Harris was allegedly taken by 84 year old Orion Douglas Mehmet he's her grandmother's ex-husband apparently so authorities say Harris was flown to California it's believed Mehmet could be driving a 1990 Chevy truck with California a license plate two s1z734 the CHP issued the advisory for San Bernardino Riverside la and Butte counties contact the CHP if you have any information on their whereabouts in Northridge there is a massive sinkhole in the middle of the street after an early morning water main break it happened just before one in the morning on North Melvin Avenue the guys are flooded at homeowner's garage and sent water streaming down the street no word yet on when it's expected to be repaired also new this morning Santa Ana Police on the lookout for a driver who struck two children with his car but then just kept on going security video did capture this on South Bird Street on March 29th two kids run into the street their one of them's hit only one was injured it was minor thank God and that child is back home well North Hollywood man admits to lying to the FBI about fake paintings seized last summer from a Florida museum 45 year olds Michael barsman has agreed to plead guilty in a fraud scheme where he allegedly created fake artwork and claimed they were painted by artist John Michelle Basquiat the paintings ultimately wound up at the Orlando Museum of Art before they were seized last year the Scandal rocked the museum and led to its CEO's departure prosecutors say in 2012 barsmen began making the counterfeit artworks and selling them on eBay wow well that was the fake stuff now to the real stuff yes all right so a new exhibit in downtown Los Angeles is open to the public Bob De Castro is there to check it out this has been fascinating to see Bob it is so fascinating and it really shows John Michelle Basquiat in an authentic way because it's been curated by his sisters his family himself we showed you his childhood apartment in Brooklyn that had been recreated his uh Gallery as well that was in Manhattan and he also spent a lot of time at the Palladium in New York here he is at that famed Club so old pictures of him in there he hung out with Andy Warhol here's pictures of Grace Jones and Dolph Lundgren who also were in that uh big uh nightclub as well so look at this as I turn around here and you can see they've also recreated the Palladium don't you hear the music it's pumping in here you actually feel the energy I'm bringing in Ramon to tell us a little bit more about this this is uh just a spectacular room and and part of the reason why Basquiat loved this space was he showcased some of his works of art here right he did so this is a recreation of the mycotago which was one of the VIP rooms in the Palladium and he created these two large-scale paintings that were the there throughout the whole time and there were nervous before seeing until the Palladium was torn down decades ago I I this this painting right here could speak volumes right so we're looking at this long painting how big is this and it's the painting that basically sat over the huge bar area at the Palladium that is correct this one right here it is approximately 41 feet long it's called the new Nile and uh it did sit in the Palladium back in the 80s um right behind the bar there it's amazing to me that the family I get when when Basquiat passed away the family decided it was time to take that these these paintings and bring them somewhere and store them uh and and they've kept it this whole time that is correct so it was really important for his father Gerard to go around and collect all his artwork so he can and continue his legacy and that's how he formed the basket state if we look at this painting over here this is also a large one that was also at the Palladium back in the 80s yes that's correct that was also in the micro Tad room in the vid which is one of the VIP rooms in the Palladium it also features this wall of videos that you see behind us over here where you can see photos videos of The Nightlife of uh that era and you'll see that it contains photos from the Palladium as well as the area nightclub and I know you're saying that the sisters they really wanted to be here today and they're they're traveling but why was it important for them to bring all of this to the public now well they really wanted to Showcase all you know and keep uh John Michelle's Legacy alive and this is one of the ways that they are able to do that by allowing these all these amazing artwork to be seen by the public so it's really important to them and this is a great place to come with your family it has a definitely a family atmosphere it's great to visit with your children's and share the stories it is really an expansive place so it's at the Grand in downtown L.A and is here till the end of July we have the information on our website foxla.com you walk into this place as I send it back to you and you can just imagine being at the Palladium those were the days poning up to the bar the music was filling the room yeah all those like half clothed people dancing around [Laughter] [Music] I just love the fact that well not love this fact but the story behind the fact that when he was in school it was hard for him to focus and he wasn't into the conventional way of learning right and he had a lot of talent and there this is a message for parents and kids out there sometimes when your kid isn't doing exactly what you think they should be doing you know don't give up on them that they have you know maybe a bigger Mission ahead so keep that in mind and and you love that and you love that the parents did celebrate him and if you look at all the stuff that they saved from his artwork as a child to photos to mementos there's so much here you know my I've thrown everything away since my childhood but so much has been collected and curated here so so much to see here in terms of his life and how successful he was unfortunately until he died at the age of 27. all right good Bob thank
you great great stories this morning all right so this morning we have some news here Royal news royal family news Prince Harry officially confirms that he will attend the coronation of his father King Charles up until now it was kind of unclear whether the prince would be there there's a lot of tension as you know in the royal family the massive ceremony also happens to go inside with Prince Archie's fourth birthday however it looks like Megan may not be attending the coronation will take place May 6th yes yes yes yes I'm not surprised that she wouldn't be going I would be surprised if she actually did go yeah that'd be that'd be the shock right right that would be the story all right that part interests me uh this part interests me as well the salad radar pictures showing you quite a bit of that Marine layer we've got the low cloud cover we also have some high and mid-level clouds the rain producing clouds are at least the heavier stuff for staying to the north we do have a deep enough Marine layer however that it could squeeze out some light drizzle or sprinkles which we were seeing earlier uh one of our cameras are showing it I believe in Long Beach but really that chance will continue throughout the day today anywhere from 10 to 30 percent chance also visibility down a little bit because of that fog earlier this morning in some areas still seeing some of that fog visibility down to about a mild and Riverside a little bit over two miles in San Bernardino and in Ontario but that really shows you how far and how extensive that Marine layer is all the way into parts of the Inland Empire higher I think parts of the cello Valley Palm Springs seeing a little bit more Sunshine there right now 78 degrees otherwise it's 57 in Riverside 59 in downtown L.A just 53 in Simi Valley and in Pasadena 55 in Ontario the winds will also be the story we do have a wind advisory which I'll show you in just a little bit for portions of the mountains as well as the high desert areas you can see the brightly colored areas the wind not too bad in Palmdale but certainly that drive into the Mojave area or if you're driving to Las Vegas today you should be prepared for some gustier winds near 40 to even 45 miles an hour so all these areas shaded in that tan color where there's that wind advisory the National Weather Service issues that when they see those wind gusts getting up to 40 45 miles an hour and that can mean that there are material or debris on the roadway and also those winds can really blow you around especially if you've got a high profile vehicle highs today going to be staying below average mostly in the 60s to near 70s in the valleys and the Inland Empire eventually getting up to 88 in Palm Springs I'll be back with the seven day in just a few moments back to you all right Maria thank you 10 11. it was the state program that offered cash to help first-time home buyers but officials say you know what the money is all gone okay so what happened also preventing car theft the tips you need from someone who actually knows a woman convicted of Grand Theft Auto we're going to talk to the source coming up [Music] oh farmer's market Wednesday food is kind of busy down there it's always busy yeah the farmers market for sure [Music] [Music] [Music] see a breaking news story or have a news tip Good Day LA and Fox 11 wants to hear from you download the Fox 11 News app and click submit a news tip or call the Fox 11 and good daily news desk at 310-584-2025 or email us at Fox 11 News at fox.com [Music] foreign [Applause] [Music] hello [Music] beautiful [Music] [Applause] [Music] foreign [Music] [Music] Fox 11 wants to hear from you download the Fox 11 News app and click submit a news tip or call them a new state program designed to help people afford a down payment to become a first-time homebuyer has already run out of money it's called the California Dream for all program the state set aside 300 million dollars to help first-time home buyers make a 20 down payment on their home purchase but so many people applied that all the money all 300 million with are that was already earmarked within the first 11 days the state says about 2500 home buyers who are currently under contract will get help all right thousands of people follow her on Tick Tock now a woman with a felony conviction for Grand Theft Auto sharing her tips on how to prevent your car from being stolen let's hear it she's 22. 22 Alana Flynn of Oregon says park by windows so you can keep an eye on your car okay if you if you can in Los Angeles because parking is not such a nightmare get a steering wheel lock even if you have an alarm she says no one's going to take the time to saw it off good point good news is if you have a luxury car she says most car thieves are you know looking for the older model vehicles because they're easier to steal and Chop Shop yeah that too she also says add stickers that hint at a high-tech alarm system or say you're on camera and finally keep any valuables hidden so thieves don't get any ideas I guess the takeaway is if you make it easy for them they're gonna right it's like a crime of opportunity exactly yeah I always keep my my bags don't say whatever hidden okay hidden hidden yep all right always looking out thank you don't get overconfident and think you're in a safe place that's where things happen yeah yeah okay so spraying a fever spring cleaning fever sweeping the country at this point the end result can be life-changing but getting through all the Clutter all the wiping all the sponging all the mopping what did I leave out I was gonna say you're exhausting me just going through that list it's stressful it really is it sure is and Fox's Lauren Blanchard takes a closer look at how you can simplify your to-do list and gain a new lease on life it seems many people are coming down with a bit of spring cleaning fever [Music] even though chores may not be fun all the extra elbow grease can come with some extra benefits for your mental health the idea of spring cleaning really is to have a new beginning and to bring some order out of the chaos of Our Lives according to medical professionals at the Cleveland Clinic reducing the clutter in your home can help clear your mind and refocus your energy on o
2023-04-13 14:08
Show Video
Other news