Quebec, a beautiful city in the world.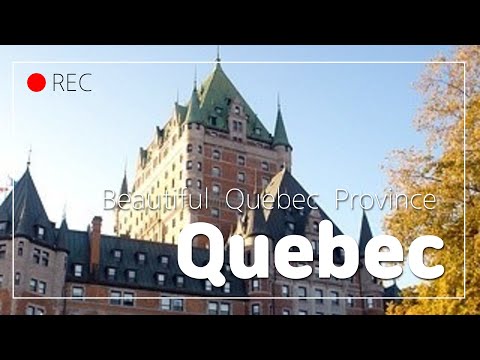 Show Video
hello. This is Sunny. Quebec is the capital of the Canadian province of Quebec, with a population of about 550,000, making it the second largest city in Quebec after Montreal. In Quebec, we will go to Terransse Dufferin in Upper Town, see the Saint Lawrence river, some Hotel Chateau Frontenac, etc.,
and tour the spacious fortress, and then we will travel to the Lower town. It is located at the point where the river narrows suddenly at the mouth of the Saint Lawrence River, and the name Quebec means "the narrowing of the river" in the Alcongquin language. Quebec is considered one of the oldest cities in North America, after the French explorer Samuel de Champlain established a settlement here in 1608 . The walls surrounding Quebec's Old City Center are the only remaining walls of the city in the United States and Canada, and in 1985 the Old Town area was declared a World Heritage Site. As a key city in the French-speaking Americas, Quebec is the most important city in eastern Quebec and one of Canada's major cities. One of the oldest European settlements in North America, founded in 1608.
Quebec was also the colonial capital of French New France and British Lower Canada, and for a short time was referred to as the "Old Capital" as the capital of united Canada. Since 2001, Quebec has been the fourth most economically developed city in Canada after Calgary, Edmonton and Saskatoon, and also has the lowest unemployment rate in the province of Quebec. Quebec's growth areas include biotechnology, manufacturing, tourism, life sciences, health and nutrition , insurance and applied technology. Quebec is also an important city with a port. The Port of Quebec is Canada's
second-busiest port after Vancouver , attracting large numbers of tourists, including cruises and ferries. To announce that the city was designated as a UNESCO World Heritage Site in 1985, the flower beds are decorated with large flowers, so anyone can easily recognize them right away. Of course, you can also see the official signage. Now we have arrived at our first destination, Terrasse Dufferin. It's a more enjoyable trip when the weather is sunny, but today there are a lot of clouds , and it's morning, so there's even fog. Lawrence is hard to see and the usual cruise ships are nowhere to be seen. Now, let's take a break at the observatory shelter and walk around the port . Personally, I am visiting Quebec for the second time here, and I was healed by walking here last time, and it was autumn at that time, so it was a road I wanted to come back to where the autumn leaves were really beautiful . Various performances are held here in Darm Square, and many people are having a good time. It is
a small square in front of the Chateau Frontenac Hotel, but this is the center of it, and there is a narrow road that goes about 50m along the Saengtan Street, which is the street in front of the tourist information center, and then turns right . There are many painters who paint croquis and detailed portraits especially for tourists, so it looks like Montmartre, Paris, France. Chateau Frontenac is a landmark hotel in Quebec City, Quebec, Canada. It was designated as a National Historic Site of Canada in the 1980s, and during World War II President Roosevelt and Prime Minister Churchill met. It is said that the hotel was named after Louis Boud, Count of Frontenac, who was governor of Nouvelle France . St. Situated along the Lawrence River, it is a French Romaneque architecture featuring a turquoise copper roof, brick walls and white edgings on the windows . As a result of the extension, it consists of a high-rise building and five low-rise buildings surrounding it, and it is said that it has a total of 600 rooms . In 1953, it was the setting for Alfred Hitchcock's film "I confess" and "I confess".
Now we are going to tour the Lower town. It is the most visited place by tourists, and it is famous as a place where you can do various activities such as various things to see, eat, and enjoy . Lower town has mostly all historical relics destroyed and there is less to see than Upper town. I wanted to go to the port, but I couldn't due to time constraints, so I'm going to the parking lot to pick up my car.
On the way home, I went to the island of Orléans, but it was too late and I had to turn around.
2022-07-19 13:31
Show Video
Other news