Narkanda to Sangla | Travel Vlog | Kinnaur | Himachal Pradesh | EP1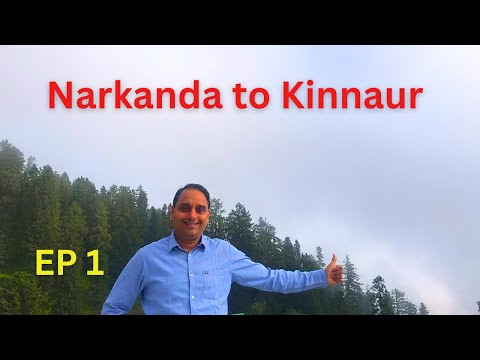 Show Video
Hi, namaste, good morning, today our journey is starting from Narkanda village of district Shimla of Himachal Pradesh. Our plan is to explore district Kinnaur. As we all know, district Kinnaur is a very beautiful district in Himachal, there are many beautiful places there. For our plan we have selected like Sangla valley which includes Chitkul, Reckong Peo and Kalpa. And if time permits we want to explore Spiti and Kaza regions.
We reached Narkanda last night. I'll definitely tell you the workaround for budget travellers to visit Kinnaur. And I'll also tell you about hotels, homestays or guesthouses at Narkanda and I'll add the information in the description box. I'll show you the view of Narkanda village, it was foggy earlier, it's monsoon season. The fog has cleared and this is Narkanda.
Here is a small market and here are some hotels and homestays. We'll have tea and move ahead and I'll give you more information further. Friends we have started our descent from Narkanda and I'll show you the view here. Clouds have descended and are getting scattered everywhere, or they're going up. And if you can hear the crickets, that's another add on.
Friends we have come about 10-15 kms from Narkanda and found a breakfast point, Amar Bhojanalay. It was good, very clean and we ordered aloo parothas which were quite large. Aloo parotha, curd, butter, no doubt, awesome and after that breakfast I'll show you this area. We came through here from Narkanda, this is Amar Bhojanalay, there are toilets too. I'll show you here's the parking and this is the area of Amar Bhojanalay.
If you don't want to sit inside, you can request and sit outside. Now we'll reach Rampur, then further to Jeori and then Kinnaur district starts from Jeori or before that. I don't know that, we'll check on the way and I'll show you views further on the way. Friends, Rampur is about 20 kms from here and I'll show you the Sutlej river. Here is the Sutlej river. It starts from the Mansarovar lake in Tibet and enters Himachal and goes ahead via Kinnaur and Shimla district.
This is Sutlej river and now we won't halt at Rampur, we'll continue further. Friends we have reached a point from where Kinnaur is about 5 kms, we've crossed Rampur, Jeori and Jhakri. District Kinnaur starts about 5 kms from here. I'll show you the view here, below is the Sutlej river and here are three waterfalls, one, two and three. Beautiful! And the roads are not good now, I probably updated you at Narkanda too. At Amar Bhojanalay which is about 17 kms from Narkanda I was telling you that I will update you about the road.
The road is not good, rains have caused damage, but the road is being made and it may be done in about 1-2 months. Friends we have reached a point where district Kinnaur starts, I'll show you the gate here. It's written that the district government welcomes you in God's land Kinnaur, Kinnaur gate. I'll show you one more thing.
Here is the Sutlej, it was broad there, now it has become narrow. So this is the Sutlej river flowing through, we're going alongside the Sutlej river. Let me tell you that the roads are not good, work is in progress, it will take time, it may take 1-2 months. But if you visit in September, October onwards then you can get better roads, but right now it's not good. I'll tell you that we saw a signboard of Sangla, it was at Jeori or further, it showed 71 kms. If the road is good we'll reach else it will take time and if we find a good place on the way, we'll have lunch.
Friends we have reached a famous tunnel in Kinnaur, I'll show you here. You may have seen this on many YouTube channels, travel channels or on TV. This rock has been cut for the road, this is a great engineering example. We'll cross this tunnel and go ahead, let's go.
Friends we have reached a diversion point where one road goes towards Sangla, Chitkul and one the other goes to Kalpa, Reckong Peo and Spiti, this place is called Karcham I'll show you. Here is the signboard, Sangla 18 kms, Chitkul 42, Reckong Peo and Kalpa 32. We'll go via the right side to Sangla and Chitkul and Kalpa, Reckong Peo is to the left and Spiti ahead. After we crossed Bhaba nagar we got good roads and we got a fuel station 5-6 kms from Bhaba nagar and we fuelled up.
Further there is a fuel pump at Tapri then at Reckong Peo then Pume and last one is at Kaza. We haven't had lunch, if we find a good dhaba or restaurant then we'll have lunch and continue for Sangla. I'll show you, we came from this side and this is the Karcham area. Friends we have reached a point which is about 15 kms from Sangla.
Ahead of Sangla is Raksham, Basteri and finally Chitkul which is the last village in India at the Tibet border. Basna river starts near Chitkul and meets the Sutlej river ahead. I'll show you, here is the Basna river and we'll go ahead, you can see how dangerous the roads are. See the Valley and road, PWD has done great work here, this is an old road and see the view. Friends we have reached Sangla and we had seen a hotel Prakash Regency on the internet, on Google search. We visited here and saw the rooms which are very nice.
There are many properties in Sangla, we saw one more property I'll tell you about that in detail later, but Prakash Regency is also a very nice hotel and the room is very nice it's quite big and it has three beds. I'll show you, tariff is different for two beds and three beds, we've kept our luggage, so here's the room. A double bed here, one bed here, there's ample space for sitting, there are chairs and a sofa, and a balcony which I'll show you.
Here's the balcony view, these are apple orchards, there is a sitting area. This is also a hotel of Prakash Regency, it's the old one so it has no balcony view. Rooms there start at Rs.2000 onwards and rooms at Prakash Regency where we are at, also cost Rs. 2000 and above.
And since it's off-season now, this room costs 3500 and you can get it for 3000 or 2500. I gave you a room tour and I'll show you the bathroom, there's a western toilet, geyser, it's a big bathroom. Almira, wardrobe.
There are quite a few things here. This is a lovely little portrait picture of Sangla village. I'm missing something which I'm looking for, there's no kettle for hot water. We'll ask, if they have it, it will help us. I'll have to search charging points, I can see only one there and I'll ask if we can have a kettle. We'll freshen up and give you further information and tell you the plan ahead, so see you in some time.
Friends we have freshened up and now I'll share some information with you. Firstly Narkanda, we stayed there last night at Snow Trail bed & breakfast. It was within our budget and we got a room for Rs.1400 and I selected it because the food was home cooked. There are many staying options at Narkanda and premium hotels like Piyush residency, it's a newly built property and tariff starts at 3500, then Hotel Mahamaya, Himalay Inn and Hotel Mount View. Balcony view and rooms of Hotel Mount View are nice, these are some hotels, we saw few homestays. Since we brought our car we decided to stay at Narkanda not Shimla because Shimla is crowded and there is traffic.
We continued our journey from Narkanda and reached Karcham via Rampur Bushair, Jhakri, Jeori. There is a diversion at Karcham towards Reckong Peo and Kalpa, and another road goes towards Sangla, Chitkul. There are good options for budget travellers, direct buses of HRTC the government bus service run from Delhi to Reckong Peo, there are ordinary buses and few deluxe buses. They start from ISBT Kashmiri and you can reach Reckong Peo. And there are buses from Chandigarh to Reckong Peo and that service is also by HRTC.
These are options for budget travellers, but that will be hectic so one way is you reach Shimla, halt for a night and rest at Shimla and the next day there are many buses from ISBT Shimla to Reckong Peo. There are both, private bus service and government bus service to Reckong Peo. I'm saying Reckong Peo because, if you deboard at Karcham there are not many options, you'll have to cross the bridge, you may or may not get a taxi and if you wait for buses, they come from Reckong Peo. So you reach Reckong Peo, it's a beautiful place, stay there, explore the place and the next day hire a taxi or there are private and government buses to Chitkul via Sangla.
Sangla is on the way but if you go to Chitkul, you can explore that place too. From Reckong Peo you can visit Kalpa and explore and the next day you can travel to Sangla and Chitkul. You can either hire a taxi or take a private or government bus, this is a good option. At Sangla I saw premium hotels and budget hotels too. We are at Prakash Regency and since it's off-season, it's monsoon, we got this room in budget.
Other than Prakash Regency I saw another property called INERJ run by Mr. Sikander Singh Negi. I saw the rooms there, they're very nice, they have an apple orchard, a rooftop and bonfire facility. That was a good hotel, I saw few premium hotels and some budget hotels and homestays too. And they say there are hotels at Basteri, Raksham and Chitkul. We haven't visited there, we've planned it for the next day. This is the information I got and I'll share the contact details of hotels at Narkanda and Sangla, you will get their contact details in the description box.
And I'll also share the link of the HRTC service website. So friends, let's go, see you the next day in another episode. I'll end my Day 1 vlog here. Friends, please like, share and subscribe my channel and press the bell icon. Bye friends.
2023-10-19 17:33
Show Video
Other news