Motoran di Australia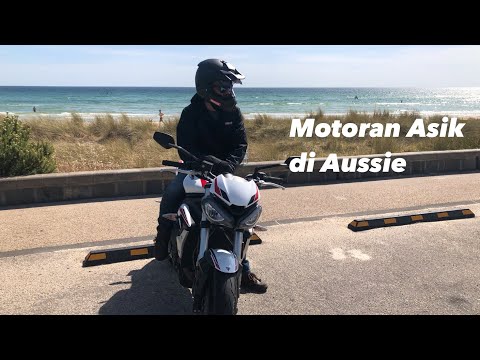 Show Video
Hi everyone! How are you? In this occasion, I will have a fun trip in a neighboring country which actually is in a different continent. OK! Let's get on board there, guys. And after boarding a flight for 6.5 hours we'd finally arrived in Sydney, but only transit, then continue the flight to Melbourne for about 1 hour 40 minutes. Finally, again, we'd arrived in Melbourne I wasn't travelling alone, guys I was with my friends Hassan Alaydrus and Revy Vamella Of course, you guys know who they are, right.
And some more, we are a group of 8, guys Just arrived in Melbourne, we were welcomed by sunny weather, plus the hotel is in the heart of this city, must be nice strolling around hotel, even though I felt really tired because of long flight, but we didn't want to miss the sunset moment beside Yarra river. I am with the group we wanted to go around Melbourne by this classic train or trem Turns out we are too late, guys and it is 6.30 pm, not in service. So we have to go back here tomorrow. We were hanging out at the mall too long as we chatted and enjoyed the meal, anyway we still have tomorrow. Okay, this is the situation here in Marina City, Melbourne it is beautiful and pretty quiet, although it's a big city and it's almost eight in the evening but wow It's nice hanging out here well so my trip with friends from Jakarta, in Melbourne is full of drama. Firstly, the flight from Jakarta to Sydney was smooth.
Right from Sydney, we had a connecting flight to Melbourne, domestic flight. We were late when picking up the luggage. We'd spent too much time because of the long queue. And when we took the flight from Sydney to Melbourne, got late and they changed the flight schedule. Right when I got on board the plane that was about to take off, which was 1 hour later, I was asked to get off the plane and wait for next flight, maybe some technical issue so the plane was not allowed to fly.
After that, we finally arrived in Melbourne it was late in the afternoon. What are we going to do in Australia? I know you are guessing Stay tuned for our adventure in this Kangaroo Country. Because of the time difference here +4 hour from Jakarta, I think we were having a jet lag. For that, we needed something that could beat the jet lag like doing an entertaining activity. Definitely, it would be entertaining to choose to have a motorcycle ride around the city of Melbourne Ok, bro n' sis! We've arrived at a motorcycle rental store in Melbourne. It's everywhere and worldwide, it's Eagle. I knew that EagleRider is also located in LA, USA and some locations.
Here's the collection of motorcycles. I will choose motor sport touring Motor sport, Superbike, Harley, and Sport touring adventure. Let's choose my motorcycle, guys! Wow, it's similar to Rumba, guys.
This motorcycle is really suitable for touring and long trip. I've chosen the Kamen Rider Black motorcycle aka fierce motorcycle. The BMW F 850 GS black edition. For you guys who wants to ride in foreign countries you must have a International Driving Permit for our best experience of riding in foreign countries They already have the IDP -They are playing with their handphone. -Yes, we have to have the permit and also the safety.
Like helmets and jackets. The important thing is that we have fun together anyway today, and the event tomorrow will be even more fun. Stay tuned! Unfortunately, my motor had a flat tire I hadn't proceeded with it. So, my choice was fall into Harley Davidson Fat Bob. Today will be really fun riding in Melbourne with sunny weather and blue sky because it usually rains here. Okay, after taking the motorcycle from EagleRider I am with the group We are taking a break. It's hot today
about 32 degree celcius and it's sunny so just feels hotter. We are at a cafe beside the road We park the motorcycle here, covered by the tree Guys, can you please tell me in comment section, what type of Harley is this? It is Triumph Speed Triple 660, I guess. -Felt nice riding it -And the sound? Eargasm Even if it is hot, it's important to have no traffic. The wind
-...help cool off... -the machine and the rider. Machine and the rider Today, we are continuing and going southward to the seaside, through winding roads. The wind was so strong, making it shaky when I rode on the highway. We took the highway because our goal was to enjoy peninsula located south of Melbourne, Victoria Wow! That was cool and enjoyable riding to find a beautiful beach.
Unfortunately, it was already late afternoon so we have to go back to Melbourne to return the motorcycle. I switched my motorcycle with Hassan's so I can feel the roar of three cylinders of Triumph Speed Triple on the highway. Wow, it was really an exciting ride around Melbourne. It reminded me of Wheel Story season 4, back in 2016, having on a tour in Australia and New Zealand but riding the Honda CB500X. So that was our experience riding in Melbourne today with Motul. We will
go back to the hotel. So, see you in the next video, bye! It was time for us to go back to the hotel, to recharge my energy for tomorrow event, because it kept getting better. Good morning! This Saturday, we will have a lot of fun in the Phillip Island circuit. We will be there with Revy and also Hassan and more friends for the companion. This is our boss, we'll crop him. JK. Well, this time we take this Van because it will take us 2 hours.
So he is the one who knows routes in Melbourne and he is also a citizen here He knows best here, he is Mr. Doni Good morning, sir. The next day, we woke up early to have breakfast and was picked up by Mr. Doni, this trip will take 2 hours toward the Southeast of Melbourne. On that cold morning, I could see some bikers were heading to the same destination.
There it is! After this bridge, we move from a vast land to a small island, Phillip Island. We then arrived at the Phillip Island Grand Prix Circuit We came here to watch live Motul WorldSBK Australian Round 01 Watch our favorite rider live That Saturday, I will be covering news of Race 1 for Supersport and Superbike, guys. Not long after entering Phillip Island circuit, we were greeted by Fabrizio, as the Communications and Sponsorship Manager of Motul globally, guys. We were invited to Dorna's office for briefings on matters of taking photos and videos in the area during this event is taking place. We also have the
access to various spots here, guys. But the weather was not really great It was cloudy and then rain was pouring. We didn't want our shirt to be wet outside, so we found a place to take cover. We took cover in a special place in the paddock of the D34G racing team. What made it more special was we can see directly the Ducati Panigale V2 being assembled in front of us, guys. This Ducati is in the Supersport class dominated by 600CC, 4-cylinders.
Actually this Ducati is a 2-cylinders and has a capacity of 955CC Well, for now, the Supersport class is opened for a large capacity motorbike over 600CC with balanced performances. By the way, I'm sure you're curious about who is this Ducati's rider? It is Oliver Bayliss, the son of a legend, Troy Bayliss. Ok, this is for Superbike, the engine oil used for these Superbikes is same as in the market.
Motul 300V Meanwhile observing the paddock of D34G racing team, firm practice 3 Superbike started. OK, guys, there's a break before the race. We are allowed to, in a certain time, walk near the pit of all teams. Thank you very much -Yeah, I got it. Different? -Different
Different racer Toprak Right in front of his paddock, number 54. This is the motorbike We are at the right time Continued the pit walk to take a peek of Superbikes of each of the team which were being prepared before the Race 1 Motor WorldSBK Phillip Island. Well after that me, Vamell and Hassan could enter the starting grid to take a video of World Supersport racers before the race 1 started. We are in front of Danilo Petrucci's paddock He is one of my favorites, amazing! They are the officers of this race it's been really tight to get close to the Supersports Tomorrow, I will have the experience of being in the safety car for 2 laps Now the Supersport has started to come around to their starting grid -How is it? -The riders will come around They will stop there, and we can approach them there We can approach there. So we can take a look of every motorbike unit But don't take it home -Or take the engine key -Or asking for a ride They don't have a pillion This is the first experience for me What about you? -This is my second -The first one in? -Mandalika -Mandalika! Okay, now I am at starting grid of Supersport They are about to start the race I only have 5 minutes here It is so exciting, see it first hand Oli Bayliss and his Ducati that was assembled and now ready for the race. Due to the rainy weather, then we watched the race from the pit lounge area which is more comfortable while having a fine lunch there.
We were craving for coffee -What did you order? -Ice Latte -What about you? -Plain Brewed Coffee -I said one Plain Brewed Coffee -It is prepared now by the girl with blond hair And finally, the Supersport Race 1 was over Race in wet track. Thank God we can experience the sensation of watching Superbike in Phillip Island with Motul. -Tell us your experience -It's super good! -Will watch another Superbike? -Of course. Congratulations to Nicolò Bulega, Nicholas Spinelli, and John McPhee for the 1st, 2nd and 3rd position of Supersport class Race 1. Even though the weather was cloudy and rainy, I was enthusiastic to cover news of WorldSBK racer at the starting grid before they race for Race 1 Motor WorldSBK. The atmosphere is really exciting at the starting grid. I'd approached in person
Álvaro Bautista, Jonathan Rea, Alex Lowes, Iker Lecuona Toprak and other racers guys. The result of Race 1, Alvaro Bautista from Aruba Ducati managed to finish in 1st position followed by Jonathan Rea from Kawasaki Racing team and the third position was Toprak from Pata Yamaha Prometeon. This fierce race was held in wet track conditions, amazing! Big thanks to Motul for taking me to Australia to watch live Moto WorldSBK at the Phillip Island Circuit. But, don't worry there will be more videos to watch for the Race 2 in the next video, guys
2023-03-25 00:18
Show Video
Other news