MEXICO CITY'S BEST NEIGHBORHOODS? (ROMA & CONDESA)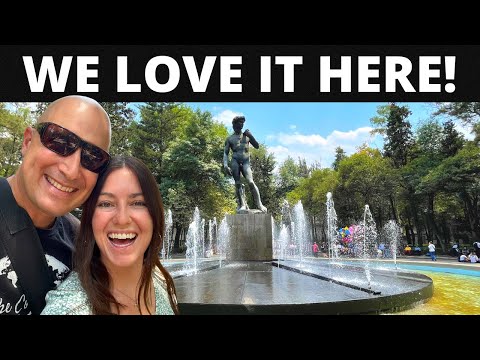 Show Video
Hola! Bienvenidos! Welcome to beautiful Mexico City! Buenos Dias! Good morning Country Collectors! If  you saw last week's vlog you know we explored   the Centro Historico here in Mexico  City. Today we are going to continue   that series and take you to two of the more  safe, popular and trendy neighborhoods here,   Colonia Roma and La Candesa. But before we get  started make sure to hit that subscribe button   and ring the bell so you don't miss out on any  of our future adventures! And make sure to stick   around to the end for some surprise action  you don't want to miss! Let's go! Since we're staying in Roma why don't we start here.
Roma is  divided into two neighborhoods, Roma Norte and Roma Sur. We found our accommodations in Roma Norte on  airbnb for 46 dollars a night. It has a big open living room, a full kitchen, including laundry,  two bedrooms, two full baths and a rooftop patio.   Sweet deal right! Since these neighborhoods are located so close to the historic center they've become very popular with tourists and locals alike due to the fact that you can be part of the action but you can also escape the hustle and the bustle of the city.
All right well let's go explore. As you're walking around the neighborhoods you're going to notice some leaning or crumbling buildings like this one right here which is due to the fact that the city was actually built on a lake and  it's sinking up to 20 inches per year and also that is prone to earthquakes which have unfortunately caused these lasting effects. Anyone want to go for a ride? This is actually a place where you can lock your bike up. Very cool! Another great thing you'll notice about the  neighborhoods is there is no lack of street food and you know we love street food! Like right here they're selling some Tortas con pollo. It seems like everyone around here is eating tortas for breakfast and i can get behind that. We even saw ones that were tortas filled with tamales.
Oh that sounds like a carb sandwich to me! Anyone else want to start the day off with some nice  jugo? Let's go check this place out. And lucky for us and for you there are no shortage of juice stands like this one here. We got this beet, carrot and orange juice for 20 pesos which is one dollar. Sounds like an UN-BEET-ABLE deal to me! It really is!
Wow! Check that out. That is increíble! Behind me here is Parroquia de la Sagrada Familia. It is the architectural jewel of the neighborhood Colonia Roma. It was actually the first church built here completely with Mexican funds by Mexican hands and it is gorgeous. And compared to the central historical these neighborhoods have a lot more character when it comes to art, like funky colorful eclectic stuff. So make sure to keep those Peepers Peeping People because you don't want to miss out on this! Taking a stroll around Roma is one of our favorite things to do and it's how we've come to fall in love with this place.
These tree-lined streets and the art deco architecture are absolutely captivating and were actually designed and built  based on European styles. So you'll notice that influence, Like right here in the center of Plaza Rio De Janeiro. Let's check it out. Hola DAVID! This park right here is very chill. It's a great place to come down and hang out.
They even have a little skate park over here on the side. And on Sundays they turn this into a little market that's definitely worth checking out. Let's keep walking.
See any similarities here? (Laughing) The other day we went on a walking tour through the neighborhoods which we definitely recommend to do on your first couple days here to get a lay of the land. We learned that this road right here behind us, Orizaba, was actually one of the first roads or the first road built in Mexico City for cars. Pretty neat stuff! And if you like dogs Mexico  City is the place for you. In a lot of these parks you'll see dog obedience training going on. It's  really cool. But we noticed these ones over here tied to the fence and Adam said, That would be the me dog right there because i'm not very obedient! That's true, you said it! Across from the park you will find this apartment building that might just put a spell on you! It's name is Edificio Rio de Janeiro but it's also known as La Casa de Las Brujas or the Witch's House.
The name comes from the face that is formed on the corner of the building here. You can see her witch's hat and her eyes and her mouth there. SPOOOOOOOOKY! Let's get out of here! If you're into food La Roma is the place for you. It has a wonderful culinary scene with no shortage of restaurants, bars and cafes. We've been lucky enough to sample out a few of them most notably, Porco Rosso, the brisket is divine. Madre Cafe is incredible as well. Two words there: burrata pizza.
Taco Orinoso, for some mouth-watering tacos and if you're looking for vegan or vegetarian options, Por Siempre Vegana has got you covered. Even Adam liked it and you know the carnivore he is. Well they did MEAT me halfway because it looked and tasted like real meat. Along Calle Colima here is where you can find some really great spots. We've heard that Panaderia Rosetta is a great place to go. So let's pop in and see what they have. I can not EXPRESS-O how much I need this coffee right now.
We have secured the goods. Yes! And we heard there was one thing that you have to try here and it is the rol de guayaba. It's almost as big as my head this seems like a trend here and it looks like it's a croissant that's  filled with some guayaba on the inside. Adam is really hungry so i'm gonna give him the first bite. You're the best babe. Whew! Wow, that smells so good... Let's jump in! You almost forgot  you're so hungry! MMMMM! Let's see it. Oh wow!  
The guayaba has like this very pure natural  flavor to it. Is it tart? There's some cheese in there and this is the most crumbly little croissant looking pastry I think I've had it in a while. I may have given him the first bites but I'm gonna get the last. Mmmmm!
I guess that's right but we are gonna have to go get some more treats soon. Let's keep going.   One good thing that has actually come out of the pandemic is that they had to create this outdoor seating. So they took some of the parking spaces in front of the restaurants and made these beautiful little seating areas and you will see them everywhere. It feels very European to me!
Something really great about Mexico City is its wide range of accommodation options. You saw where we were staying earlier. I even saw rooms as low as $16 USD on airbnb and they also have these luxury offerings like this hotel behind me this is called Brick. Adam just went in and got the pricing and the rooms ranged from $850 up to 1500 USD. He thought it was in pesos and he came out and he was like we should stay here for one or two nights it's great and i'm like nice try. It seemed like a great deal to me and  it looks BRICK-TASTIC so yeah it's in USD so hey,   if you got the funds this looks like a great  place let's keep going.
And earlier we mentioned how they love dogs. We have seen dog bowls like this outside of many businesses. It's really nice. The road we are on right now is called Álvaro Obregón. It's the main street that runs through Colonia Roma. Here you'll find not only places to dine but also a lot of exhibits and galleries like the Casa Lamm cultural center and gallery. The entrance is free so make sure to pop in and enjoy the music and art exhibitions and maybe even down at the in-house restaurant. We heard it's great. Look what Adam found! You know I'm a sucker for a good fountain and here's another beautiful one.  
Go run through it. Let's do it! Leave me your bag! You're lucky! Almost unscathed it felt  really good though a little splash on the dome. Last night we had the absolute pleasure of meeting   one of our new patrons right here  at this restaurant called Fonda Fina.   Alan it was such a pleasure meeting you. The food  was great but the conversation was even better.   And what a better place than to give a heartfelt  shout out to our other new patrons: Camilo, Michelle, Nah, Kate, Alan and Troy. Thank you so much for all of your contributions we're so happy and grateful to have you a part of this community.
You really help keep us on the road creating this content and we appreciate you from the bottom of our hearts. If you want to join our Patreon community we will put the link in the  description below. All right let's keep going! At the western end of Colonia Roma you'll run  into this beauty right here. This is Fuente de Cibeles and if you've been to Madrid it might  look familiar because it is a replica of the   fountain there. It was actually donated  by the Spanish community here in Mexico   as a symbol of brotherhood between the two cities.
We definitely recommend coming down here to check it out. And right here down by the fountain the city actually provides tables, umbrellas and chairs so you can come down have a snack read a book and just enjoy the view. Right across from the fountain on the other side  of the road you will find the Turibus ticket booth. This is a hop-on hop-off double-decker bus  that takes you on four different routes around the city. We've heard from our subscribers it is a  great way to get all the highlights around town.
We highly suggest it. It's 160 pesos for one day 180 for two days with unlimited hops on and hops off! It's been great exploring Roma but let's head over to La Condesa and see what it has to offer! Let's go. There are many different ways to get to Colonia Condesa but we're going to take Avenida Oaxaca right here.
You can see it is this beautiful palm tree lined avenue. It'll take us right to the north of the neighborhood. Let's do this! And on the way down make sure to stop by Tweety bird and  give him a little Tweedly deedly deeet Tweedely deedly deet Tweedly deedly deeet So cute! Another great feature of the city is that the street signs actually don't just say the street name they also have the neighborhood  that you're in. So you always know where you are. Right across the street here you can see Sumesa. It is one of the better supermarkets in town.   At least that's what our Airbnb hosts said.
And check out that cool little bus over there. That's neat. Looks like we made it to Condesa, and it's  beautiful! We actually learned that La Condesa translates to the countess because this entire area used to be owned by two countesses! How very posh! This neighborhood is actually broken up into  three separate neighborhoods: La Condesa, Hipodromo and Hipodromo Condesa. Like Roma, Condesa is also full of restaurants, bars, shops and galleries. But what differentiates it are its green spaces like this behind me. This is Parque Espana. There's also another park named Parque Mexico that we are going to take you to later but right now let's go explore this one! Come along.
I love this. They have an Audiorama here. It's a place that is dedicated to quiet and relaxation. I could use a little bit  of that right now let's head in. They even have a little library right here where you can grab  some books. This is very cool! What a unique and super relaxing place here. Look at these little chairs they're like those egg chairs I love this. And they have some nice like singing bowl music going on some meditation music. And people are just over there reading and relaxing. I think this is just really special.
Something that they created here for the people of the city to come and just take a break. I love it. Another great thing you'll notice around both neighborhoods is they have free wi-fi everywhere. So even if you don't have data you can still stay in touch. Can you hear that barking over here? I think I see a dog park. Let's go check it out!
We told you Mexico City is a place for dog lovers! Yup and right in front of us here is the dog park. Some commotion going on! Chasin' tail! Wow what's going on over here? It looks like some sort of martial arts training with a sword or something. They're also doing boxing lessons and there's this giant hand sculpture that looks really cool! Oh my gosh I have never seen better behaved dogs. I was just gonna say that actually. In Mexico and Mexico City especially it seems like the dogs are so well behaved. So many of them are not on leashes but they've really maintained their distance. They stay with them they're not begging. They walk around they don't run out in the streets. They don't jump on you, they don't bark so much.
I like it. Looks like another obedience training going on here. And this one over here even has its legs crossed. So proper. And it looks like there's a giant playground over here. So you can drop your dogs off to be trained, your kids can hang out over here and you can just sit and enjoy the beautiful nature! Oh yeah girl get it! So we've had some questions over the time of our youtube channel asking about different gyms in different areas.
And if you're coming to Mexico City you could get a membership at an indoor gym but they do have places like this. Outdoor parks that are gyms. They have a bunch of equipment for you so you can come here and you don't have to pay anything. You can use this at your leisure and stay fit! Wow this place is beautiful! And as you can probably tell by now these neighborhoods just have such a nice relaxed vibe. It really feels like home here. It does.
And if you're in Condesa and looking for some elevated traditional Mexican food we've heard Azul Condesa fits the bill. And if you're looking for some great tacos say hello to Tacos Hola el Guero and grab some of these gigante tacos! We got a chorizo con papas and the... Rajas con queso. They're 24 pesos each which is just over one  dollar. Let's jump in!
And like Adam said these are gigantic so we would recommend starting with one or two. I mean... Another food as big as your head? Almost as big as my head! Let's jump into this! But not as big as your ego! Wow and I like that they put  the guacamole on top of that. Wow! The guacamole is so fresh. The chorizo and the papas are just like so tender.
I'm digging this! If you're vegetarian and looking for something with a lot of flavor we  recommend getting the rajas which is chile poblano. And this looks like it has a nice sauce on it. It  is dripping everywhere. Very saucy! Let's taste it out! That was a nice little snack and it really hit  the spot so let's keep exploring! Adam is in need of another little pick-me-up so we stopped here at  Cafebreria el Pendulo. They have a couple of these around the city. I think it's a chain. It's a mix between a cafe, restaurant and bookstore. And it looks like they might even put on some events here. So let's pop in and see what's going on! Man I was starting to feel a little  depressoed - and this is a great pick-me-up!   I am loving this space. Not only can you come here  and work they have a great wi-fi signal by the way.  
But it's also a great place to come hang  out with your friends, read a book, just get   away from the hustle and bustle of the city. Now  that we're fueled up let's head to Parque Mexico! Looks like we made it to Parque Mexico! It  sure does and it is already so shady and green. Honestly this city has just amazed us so much. I've been all over the world but I feel like Mexico City has more of these spaces than anywhere else we've ever been. Parque Mexico is located in the Hipodromo neighborhood here in La Condesa and does anybody know what Hippodromo means? Well enlighten us! It actually means racetrack  which makes a lot of sense because this park is in   the center of what was once the Countess's horse  racing track. Yeah when you look at a map from up  
above you can definitely see that a lot more  clearly. See how doing a little bit of research can really enhance your experience? Now let's go explore what the rest of the park has to offer. And even the washroom is decorated really nicely check out these murals! And in the park you will find this beautiful clock tower. Unfortunately  it doesn't seem like it is in working order.
But you know what they say even a broken clock is  right twice a day! Just like me! Maybe once a day! What's woofing on with these guys? Sir barks a lot! This is the Parque Mexico's dog park. It's a great place to come down with your pet and just spend some time outdoors. On Sundays this entire place gets jammed. Around the outside here you'll actually see open adoptions for cats and dogs so you can come down here and bring home a new family member if that's something you're looking to do.
And just across the street from the dog park is like this nice open plaza, gathering area. Right now there's a soccer game going on. We came here on the weekend and there was so much action. There was music playing and street vendors. Everyone was just having a great time so definitely come and check it out!
As we've been walking around today we've shown you lots of European influences especially in the fountains like David. But here it's different. This is an indigenous woman that has been portrayed holding two jars. It's to honor the culture and heritage of the people. And honestly it's one of my favorite ones we've seen in Mexico City. Same.
Wow and look over here! Are those ducks out there? They sure are. They look like they're having a quack-tastic time! God you're full of it! And check it out they have another one of those Audioramas right here. Just another peaceful place to be in a city that we had no idea had so much to offer everyone. We are absolutely loving it here and we  hope you're having as much fun as we are today. Let's keep moving on. Earlier I mentioned how La Condesa has a lot of green spaces. And as I'm sure now you can see why I said that. That is just a little difference between La Roma. And these parks are just fabulous.
Parque Mexico seems to be a lot bigger and it has a little more stuff to do. It has the fountains and stuff like that. So yeah we definitely recommend coming over here and checking them out. But I am a little hungry and we heard there is one of the best churro spots in Mexico right next to the park so let's head over. That's a Chur-iffic idea! I can smell them! Adam's picking up speed! We have made it to El Moro and you can smell the cinnamon in the air. I'm so excited I'm going to go get line. Woo hoo! My legs are shaking under the table like a little school girl, I am so excited for this! Me too! Like a little school girl? Well...
We actually got packet number one which included four churros and a hot chocolate for 100 pesos. We got two sugar churros and then two with the cinnamon on it. But I added some whipped cream and marshmallows so that added 26 pesos. I cannot wait for this! Oh and also the churros are 100 vegan so if you're vegan come on down here and try them out. All right let's jump into this! Now this is my kind of balanced meal a churro in each hand! Now let's do this the way you're supposed to do it you dip it right in that hot chocolate with the whipped cream on top.
Oh look at that! That looked like a deer! Mmmmm Wow! Those just came out of the fryer they are... Chur-perfect! I don't know how you're  supposed to drink this without making a mess! I'm pretty sure they're gone there's so much  cinnamon and sugar in the bottom of this bag. Man I still have one bite left! I can definitely see us coming back here that'd be Chur-okay with me! Now that my sweet tooth is satisfied. I feel  like your whole mouth is sweet teeth. It Chur-is!
We have one more neighborhood we wanted to share with you it's called Polanco and you should definitely check it out! Polanco is located just northwest of the Roma/Condesa area and it definitely caters to a more high-end clientele with its designer stores and fancy restaurants. We had the pleasure of going to two Japanese restaurants over there El Japonez and Ryoshi. Ryoshi was definitely our favorite. They were both really good but Ryoshi was just, you know we love sushi and they had some wonderful stuff. So we definitely recommend checking it out if you have the time. We said earlier to stick around for some action so we hope you're ready for...
Lucha Libre baby! Just on the outskirts of Roma you'll find Arena Mexico that hosts Lucha Libre, which is professional Mexican wrestling fights three times a week on Tuesdays, Fridays and Sundays. We heard that the area can be a little sketchy so we decided that an Airbnb experience would probably be the safest way to attend. And it was awesome! It started with meeting at a local taqueria for some beer, mezcal and of course tacos! We then went to the park to learn all about Lucha Libre and we're gifted our own masks from our guides.
From there we went and sampled some real street tacos that were so so good! And then off to the arena for the show. Check it out! Oh what an insult! It was so much fun and we definitely recommend  the experience we did. We will put a link to it in the description below.
Unfortunately we're gonna have to say goodbye to you now. Before he gets choked out! Thank you so much for coming along with us today! It would have been nowhere near as much fun if you hadn't been here! If you enjoyed this video give us a big thumbs up, comment, subscribe and don't forget to... DLING, DLING, DLING, DLING the bell! We'll see you, next time! Or maybe I'll just see you! Adios!
2022-05-07 03:56
Show Video
Other news