Italy Day 6: Mortadella, Fine Gourmet Burger Meat, Arriving to Nerano, Chef Fabrizio Mellino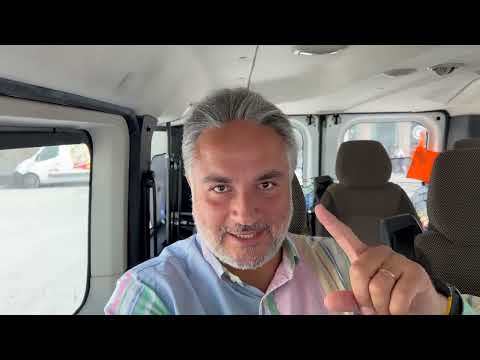 Show Video
We're going to start our day with 2 things. First, I want to say thank you to Dory for hosting us. He made a Lebanese house in the campaign. Maybe the only
one with the wings you've seen a few times. I want to say another thing, we ate a lot of delicious food. The best food I've eaten in the last 5 days is from this lady.
Dory's cousin's wife. Your food is the best. The best ever. We ate in restaurants, we ate at Pizzayat, Grand Chef, Etoile, and so on. It's like the Italian food at home.
Wow. Dory, thank you so much. You're welcome. Look at the wings, and the Lebanese house that made a mess here. Wings down, wings up. They all look at the village and say, what is this? From here, we're going to say bye. He's going back to France.
We're going to continue to go to Amalfi Coast, and continue 4 days of our trip. There are also nice things now. We have Michelin star chef, we have a lot of pizza, we have the beautiful scenery, drone shots, if you watched the previous episodes, go watch them. Stay with us for the next episodes. A new day starts now.
Let me tell you about the Panda. We talked about the Panda, we have the old Panda and the new Panda. The Panda is like Rolls Royce. If you have an old Panda, it's a big deal.
You look at it on the streets, and say wow. The Panda reaches, delivers, it's hard, it lasts, and the Panda is a very important thing. We know Fiat 500, Fonda Locally, Fiat 500, for our country. We're trying to forget these things, because Mark wanted to buy plates. It's good that you brought the oven with you to Lebanon.
Bye bye, ciao. The oven followed us. He bought plates, oven, and pasta. I don't know how to deliver them without breaking them. We're living the vibes with you. He bought 2 bags of pasta. We're going to carry them handily.
Let's go. Hello, my name is Roberto Calabrese. We've had the butcher shop for 25 years. Next year, we'll be doing 25 years of business, since 1999. I've always been a butcher, I'm 47 years old. I've been a butcher for 30 years.
Slowly, we've created this butcher shop. We had a small butchery, then we bought a big one, with the restaurant, the restaurant. Today, we make mortadella, hamburgers, our wussers, Serverland, wussers made by us. Lots of hamburgers, lots of minced meat, rubbia, caiega, simmental, manzetta prussiana. We have a bit of all the meat.
Japanese Wagyu, and Neapolitan. We have a bit of everything. Japanese Wagyu. It's a pleasure to have you here today.
Our battle horse is the mortadella. It's a steal. It's a steal every day, mortadella with hot focaccia. We've made the third place at Modena Fiera, this year, as the best artisan mortadella, made by butchers. Butchers all over Italy, It's a pleasure to have you here, guests from us, with our great friend Calabrese, my name, Calabrese. Why did you win? Because it's a mortadella made with local pigs, here in Benevento, in our area of Avellino.
There are no allergens, it's 100% natural, everyone can eat this mortadella. It was selected among 10 mortadella selectors, in Modena, the motherland of mortadella. Welcome to the butchery, look at the cleanliness, the colors, the music, the refrigerators, he likes wine, so you come here to drink wine, it's from 5 to 2,000 euros, he has everything, and not only that, he has meat, and they say he has one of the best burgers. He won the third best mortadella in Italy, he makes mortadella with only salt and pepper, nothing more than that. Premium ingredients, so we came to the butchery to taste the mortadella and see why.
The color is bright, there's always pistachio, it's finely chopped, it smells very nice, very fresh, it doesn't have strong aromas or synthetics that we usually see in mortadella in refrigerators. Moist, very nicely textured, very nicely textured, it's a bit like butter that came out of the fridge, it's very light, a pinch of pepper at the end, the pepper exploded, sausage, German sausage, you can grill it or not, but it came out of the fridge. What is this? Let the German come and learn.
First of all, the skin is super thin, it doesn't feel like a hot dog, and on the inside, very soft, very tender, high-end cocktail of flavor meat. Oh my God. We're in a village called Montoro, it's halfway between Amalfi Coast and Avellino. So if anyone is on the Amalfi Coast, from Vietri to here, 10 minutes, and from Avellino to here, 10 minutes. Don't you have any ideas? Now we'll ask if they'll take us to Lebanon, but in the bag it's hard. Burger in Market Jana, in the big market, meat, chocolate, Have you ever seen a burger like this? We ordered a burger with ketchup, mayonnaise, and tomatoes, but none of these are available.
Have you ever seen a burger this big, this juicy on the inside? It's dripping from the outside, it's well-cooked. It's a shame to call it a burger. What is this? It doesn't look like any minced meat I've eaten before. I don't know how they do it. They make a nice searing on the outside, very nicely fatty, intensely flavorful, and look on the inside, it's a single piece of meat, and it cost us a shirt, it's all the same. Without exaggeration, it's like eating a burger, they add salt and pepper, it's like eating a burger that's cooked on the inside.
It's like eating a burger, minced meat, soft or rough, it's easy to eat. How did this man make a burger without salt or pepper? Of course it's minced meat, but it's sticky, without the feeling of a kaffa, he's a hero, as you can see, a few tables, he only has meat, he doesn't have sandwiches, bread, pasta, but they have a very nice wine, a nice seating, he's a character. Music From Salerno, which needs a minimum of 2 days. It's very beautiful, the houses are beautiful, the streets are beautiful.
The colors remind me of Alexandria, Gemmayzeh, how they all look alike, the houses are sticking to each other, and the washbasins. Salerno, not this time, we will go from here to Nerano. Just to tell you the story as it is, so you pay attention. We ordered a taxi, the first taxi to pick us up from home, which costs 700 L.L. We did a tour, we got here to the train station, it costs 300 L.L.
We did another tour, we met another person, he said, can I take 130 L.L. from you? Imagine the prices when they first find out that he is a tourist. Pay attention, and don't enter, no matter how, in a taxi, to be picked up by an old person. First class Second class Third class Fourth class Fifth class Sixth class Seventh class Eighth class Ninth class Look at this, an old house, the sea, I walked for 15 minutes and in the middle of nowhere there is no sound of a car, relaxation time. In the heart of the rock, I don't know if there is something here, in the heart of the rock there are windows, a very old building, neat and clean work, a clean bathroom, a kitchenette, a room, another room, and here, in the heart of the rock, an entrance to the village, going down to the sea, in front of these windows, the wind is coming from the sea, wow, beautiful.
We forgot a challenge, which room is better than the other, let's see Mark's room. So good morning everyone, we are in Nerano, a small place between Capre and Positano, we are in the restaurant Quattropassi, two Michelin stars, I'm Fabrizio Nellino, very nice to meet you. We started this restaurant, my parents started this restaurant in 1983, and they took the first Michelin stars in 2001, the second in 2011, and it's a family business, so me I'm in charge of the kitchen, my brother and my father are in charge of the people upstairs. Libiamo, libiamo negli edi calici che ta bellezza infiora, che l'acqua fuggevo, fuggevo all'ora si nebbia con l'umultà.
Libiamo negli dolci fremiti che suscita l'amore, poiché quell'occhio al cuore ogni potente va. Hello, my name is Raffaele, I'm here at Quattropassi working and looking after the dining room. I'm in charge also of the wine list, I'm the sommelier, and I've been working here for now five years. This is the bar area where we usually use before dinner and after dinner for cocktails, for our guests to enjoy, sit down. We also use the space in the front with the tables in the morning for breakfast and for our guests staying in the hotel.
And eventually when the nights are very busy or lunch are very busy, we also sit for lunch and dinner on this space. Here, a real escape. The chef, the restaurant, the room, the sleeping area, the beach area in a very small village called Nerano. Have you heard of pasta Nerano? This is what we're going to have for lunch today. The restaurant opens for lunch and dinner.
Three brothers, two brothers and a father, a family, who have taken two Michelin stars, and this is a small thing. I'll tell you how many there are in Italy or around the world. They're going to have a casual pasta dish for lunch, before we prepare ourselves for dinner, today and tomorrow, to show you the experience differently, either on a card or the set menu. Pasta Nerano Look at this, there are no cars and no taxis. It started to rain.
We are waiting. We found a garbage truck and we are looking for its owner. We will take it out in 20 minutes.
He came. Hi. Can you take us to the hotel? Here, Quattropassi. We pay for the ride. Yes, I will stand.
Ready? Okay. It's fixed. He can't believe that this is a garbage truck. He was drinking beer and we took it from his place. Interesting story.
He will clean the bottles and we will take it out. The village in Lebanon is better. We took it out in vans and pick-ups. He can't believe it. He is asking for 200 EGP.
Thank you. Did you recognize this small Piaggio with one door in front? I think we will be in trouble. He can't believe it.
We need to get out of this garbage truck to have dinner in a 2-star Michelin restaurant. Bye bye. Let's go. We arrived. I don't think that this car can handle this much weight because it was going up and down.
But really, we did our best. I hope no one is my customers. Thank you so much. Yes, we are coming to have dinner here. You are the best. Thank you.
The day after so good evening everyone we are again in Quattro Bassi the culture of the food is around the Mediterranean Sea so our food is a basic of extra virgin oil and fresh fruits and fresh vegetables of course fish because we are an exclusive you can see my brigata my team all the people are very young like me and this is a new generation of cookers we love to we love to cook we love to make a experimentation and we try to make grateful it's a rocket jet I'm gonna mess up I don't know totally you're gonna have to Asha Asha be my time in the then you should actually I mean you know what I'm gonna come and fan of him smeet my time but I and remove the stickiness of the calamari and give them this amazing flavor and texture. And then comes this, I have to tell you about spaghetti pomodoro, my favorite, you know which would have been waiting for me whenever I came back from any trip. Three kinds of tomatoes, spaghetti al dente definitely, it is rolled on the fork in a very nice way. It remains the taste of the tomatoes which have creaminess, it has a little bit of gooeyness, it has a touch in a way that I have never seen before in a tomato sauce. It is like a reduction of a tomato sauce, a reduction of a tomato sauce.
It is sour, tasty, it is a great pasta. And a great flavor. My amazing experience started with sparkling wine, continued with white wine, one of the most expensive glasses that I think they talk about, the bread that I had for lunch, the olive oil that I didn't tell you about for lunch and I didn't show you if it will show up, how it is sparkling.
And when you put them back down, it takes time to come back down, it doesn't clump, it doesn't have water at all. The tzini and everything in between. A memorable evening.
Here we are, we are now going to continue with the fusilloni pasta, they are cooked into some sea urchin, on a base of a salted custard, served with a cannella of red prawns and orange zest. Let's continue with a grilled turbot, served with a Mediterranean garnish. Nearby, you are going to find some green beans, you are going to find some vinegar, then finish with some red berries. Enjoy, bon appetit. A great dinner on a card.
Tomorrow, we are going to do a tasting menu. But before that, I want to show you something very nice. I want to show you this kitchen that is being cleaned, in all the well-organized restaurants, in all the well-organized restaurants in the world, no one cleans it, only the chef cleans it, and no one enters and sleeps before cleaning everything.
The grill that has been white for 10 years, the stainless as if it was installed today, an unbelievable cleanliness. It is necessary for us to learn from it, it is necessary for every chef to learn from it, it is necessary for everyone to learn from it. We see it sometimes in the cafes, in very small places, there is a team of 6 that cleans it, and the employees pack their stuff and leave. We finished dinner, but the guys are working. From now until the next hour or 2 hours, no one should leave before the kitchen becomes white again. Here, we are preparing to make a pizza.
We are going to make the pizza in 3 days, because it needs 3 days to be prepared, now it is working. What we are doing is the Quattro Passi, a restaurant in Touareg Michelin. He wants to put the pizza here, and he chose the normal pizza as we said before. We are going to start preparing now, and we will show Chef Fabrizio how we do it. Do you want a croissant? Do you want a croissant? Yes.
I left them inside, they are fighting. I counted correctly, no I didn't. I counted correctly, no I didn't.
We will meet them tomorrow to continue the recipe which takes 3 days. I didn't know that a pizza needs this much time. A great day, really. It was a long trip, we toured, but we ate delicious things, whether it was breakfast, lunch, or dinner. There are more beautiful things tomorrow, and we still have 4 days to travel. I hope you are enjoying the video, and we
will meet in a new episode. Campania, Italy, this great country, which needs many more trips to discover. Good night.
2023-09-29 20:12
Show Video
Other news