Inside the MOST EXPENSIVE Hotel Room in the WORLD!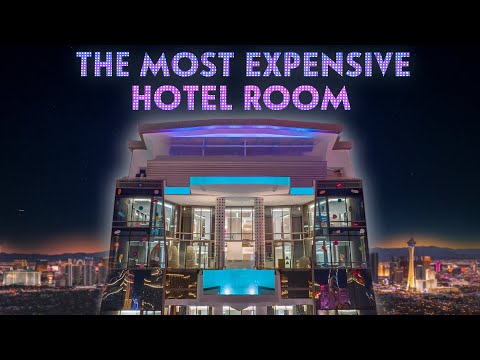 Show Video
Las Vegas. From an oasis in the middle of the Mojave Desert to one of America's fastest growing cities, Vegas has become the entertainment capital of the world. Year after year, people swarm to this town for all the same reasons incredible nightlife, high stakes gaming, and Vegas's unparalleled hospitality industry. Luxury hotel after luxury hotel line the streets, offering top of the line suites and amenities. But Palms Casino Resort offers one suite that's like no other.
The pinnacle of luxury. 34 floors above the Strip. Featuring $39 million worth of art and interior design by British artist Damien Hirst. It's a spectacle to behold. And a true testament, to the extravagance of the Las Vegas experience.
And that is why we brought you to the most expensive hotel room in the world. I'm Cynthia Kiser Murphey. I'm so proud to be the general manager here of the Palms Resort in Las Vegas.
We are very, very unique because we are the first tribally owned and operated casino in Las Vegas. We have an amazing resort, and I look forward to telling you about it. All right, everyone.
Welcome to the empathy suite at the Palms Casino Resort. I'm really excited for today's tour. That's the entry right there.
We have a really cool art piece on that side, which we're going to cover later. And now I want to bring everybody to this side. Now, this penthouse was designed by Damien Hirst. He's one of the most famous living contemporary artists of our time.
His work is just incredible. And throughout this unit, we have incredible pieces that we're going to cover. The art pieces in this penthouse was recently evaluated between $36 to $39 million, which is just insane. And this is one of them. This is actually not a medicine cabinet. This piece is called Vegas.
And it's basically this really colorfully designed medicine cabinet valued around $1 million. Not meant to be touched. No, you can't touch it. As soon as you touch it, security gets a ping and they come over here and they politely warn you that you shouldn't be touching that. - [Mikey] When we first got here, I mean, obviously we prepared for this episode, but I had a headache and I was like, I wonder if anyone has ever just tried to take something in here.
Don't do it. Yeah, don't do it. - [Enes] Now, this is the landing. Beautiful marble floors. We're going to see a lot of these butterfly design elements throughout the penthouse as well.
And now let me take everybody right here to the main seating area. This has to be the longest couch we have ever seen on our channel. It starts right there, wraps around the column, and goes all the way to that side. They even have butterfly details on this couch as well. Look at the carpet.
Same, butterflies. Mikey, I feel like you need to count how many times I say butterflies on this tour. Yeah. Let's put like a count check. Yeah, they are all over the place in the dining area, living room, entry, bar. - [Enes] And then you have some ottomans, coffee tables, double sided TV, which is an art piece on its own. You have some chrome legs, ceiling mount, and I feel like you can easily entertain 40 to 50 people just on this space alone.
- [Mikey] Yeah, this is kind of a perfect event space, party, location, anything. Amazing views. Amazing views of the Strip. I mean, this is the daytime, obviously. At night, I'm sure they look better, but this is Las Vegas, so I think a couch this size kind of justifies itself.
- [Enes] Without a doubt. And then you have these doors opening up to your private balcony with your own pool. And we're going to see that space later. Now, follow me this way. We have the bar here, but first we're going to go to the other side so we can cover the dining area. Beautiful marble table.
Look at all these chairs. On the outside, we have pills. On the inside, butterflies.
That has to mean something. It's Damien's design. It's beyond me. And we have that theme throughout the penthouse.
And then if that wasn't enough, you have this crazy art installation here. It's a mirrored wall of pills. And each one of these shelves are all glass, and they have an angle to them, so when you look up, it gets even crazier. Each one of the shelves were also designed and planned. So these are not just random pills spread throughout. This is insane.
Yeah, it's definitely a first on this channel. I can't imagine how many of these there are. Just trying to put all this together and planning this out. I can't imagine.
We've been told that it took them, like, few weeks to put it together, basically. Yeah. Insane. And you have your dining area here, amazing views. Your penthouse, life is good at the Empathy Suite. Now, let's cover the specs for a second.
9,156 square feet of interior space. It spans the top two floors of the Palms, 34th and 35th floors. You get a 24 hours butler, bunch of other perks.
It's for $75,000 a night, but a two night minimum. And as far as our research goes, this is the most expensive hotel room in the world. If you know any of the hotel rooms that are more expensive than this one, let us know in the comments below. We'd love to check it out, but as far as our research goes, this is the one.
Now, you may be asking yourself, what makes a hotel room cost $75,000 a night? Is it the views, maybe the over the top luxury that comes along with such a price tag? Well, we had the same question, and luckily, the general manager of the Palms stopped by to answer that question for us. I would say the Empathy Suite is like no other. Whether you're having a party, whether you're hosting an event, whether you're simply enjoying it with family and friends. The most spectacular view, beautiful art.
The only suite that Damien Hirst has available anywhere in the world where you can stay among his amazing art. And it's art that you can consume by staying in it and shooting pool and playing foosball and having great food and drinks and experiencing it all day parts. And at night, the glittering Las Vegas landscape.
So it's incredibly unique, not only in Las Vegas, but around the world. Now, next to the dining room, we have the kitchen. I love the bar fabrication here. Out of the same marble that we have on the floors. Sink, you have your paneled fridge and freezer here.
Nice little wine rack and bunch of cabinetry on this side. And this is actually your staff access that opens up to the entry. That way your bartender, your butler, can come directly here if they need to.
Pretty cool spot. Now let's walk back to the other side, so we can check out the bar, which is pretty amazing. This hotel, between the purchase price and the remodel, cost over $1 billion. $1 billion? Correct. That's wild. That is wild, right?
And welcome to the bar. Now, I feel like this is the heart of the penthouse. You can actually see the two bedroom suites on the second floor from here as well. Really cool art pieces above us, which I'm going to cover later. And then you have your bar stools, 13 person seating. And the bar design here is really interesting.
Mikey, let's get a close up right here. So we have gloves, syringes, scissors, bunch of medical waste. And obviously you have a glass tub, so there's a separation. But it's such almost a controversial piece by Damien Hirst.
And then you have the chrome bending around it. What do you think? - [Mikey] It's really interesting. There's a lot of aggressively artistic things in this apartment that you wouldn't usually see in other places.
But everything has this cohesive design and actually serves a purpose when you understand what it's all about. And it all ties together, too. Not to mention Damien Hirst. I feel like he likes to walk that fine line between life and death. And that's why throughout the unit, we have these art pieces that are, meant to contrast with that subtext. Exactly. And speaking of that subtext, let's look up for a second.
We have two Marlins in a glass box. One of them is in great shape. One of them is just a skeleton. Right. This art piece is called Here for a Good Time, Not a Long Time.
Yeah, I think the right one stayed for a little bit too long. Correct? I think so, too. Now let's check out the other side of the bar. Obviously, you have your sink, ice maker, fridge, all that good stuff, your drinks.
You have sliding glass windows opening up to your pool deck. And the views from this angle are incredible. I'm sure it's going to look even better at night. And having these sliding glass doors really connects the outdoors to the indoors. So your bar can serve here.
Also, this penthouse comes with a 24-hour butler. Hello. My name is James. I'm one of the butler team here at the Palms, and we look after the most valued of our guests. 24-hour butler service is exactly as it sounds.
One of us is here or more many times, 24 hours a day. If you call us, we'll be here. And we're very quick at coming here. So in this suite, you'll find 16 major pieces of art from Damien Hirst.
The evaluation originally was about $33 million. It's just been revalued at $36 to $39 million. So some of my favorite things about the unit are actually his playfulness of the art.
So, for instance, you're playing on a pool table that he designed. How cool is that? I really enjoy the fact that he's making you interact with the art and he's making you have fun with the art. So really, everything that we do is designed to make your stay better and is unique, and that's the difference for us. We hope you're enjoying your tour here at the Palms up in the Damien Hirst Empathy Room. And we very much look forward to welcoming you in the future back here to the Palms.
Now, another detail I want to mention. We're not staying in this unit, but we are staying at the Palms for the next few days. So we want to give everyone a little bit of taste.
Like what's to be, in this hotel, in this resort. What's like to walk around here and maybe use some of the amenities that this penthouse comes with. And I know we have a nice dinner coming up, so I'm excited for that. I am excited for that, too. Now that's it for the bar. Let's go this way.
Open up this door right here so we can check out this amazing private balcony. Now, this has to be the coolest feature of this penthouse. You get unbelievable views. Right in the center, you have your own pool, and this pool cantilevers over. So you're suspended up in the air looking to the Strip.
And we have these two massive columns framing the pool. And I really like the tile installation here, how they brought some color. They brought that Damien touch to the pool area as well. And again, we have the views. I'm sure the drone shots of this pool area in this penthouse look sick.
- [Mikey] Yeah, it looked incredible. We did my Instagram reel here. Yeah. So we did this pullback reel with a drone earlier for Enes's Instagram. Follow me on Instagram if you want to. Follow him, if you want to check it out.
It's going to be cool, but it looked insane. That's all I'll say. Amazing. - [Enes] Let's continue. Now, on each side of the pool, we have outdoor seating areas. This entire balcony is covered.
Lounging beds. I don't know what these are called. They're just very comfortable chairs, I guess. Yeah, I can't help you there. And just like the interior, two bedroom suites.
Also look into your pool area. That's the primary. You have the VIP on the other side. It feels good to be in Vegas. Weather is fantastic. I'm trying to remember when was the last time we were in Vegas.
I think it was with Afrojack. So the reason we're in Las Vegas is we're actually starting a music label with Afrojack. He literally signed a contract two days ago to start a label together with him. We're going to his show. The next few hours of this night is going to be legendary.
We'll leave a link in the description if you want to check it out. And, yeah, this is your private balcony. Pretty amazing. Now let's go back inside. Right next to the bar. We have another seating area on this side.
Ceiling mount chairs, glass table in the center. You can sit six people here. Mikey, we need a close up. Look how cool this table setup is.
Glass with butterfly etching. Then you have butterflies on these leather chairs. This has to be the most modern chess set we've ever seen on this channel. We've been seeing a lot lately. We saw one at the invisible house. Yeah.
That was interesting. I really, like these pieces, pick up, like, the king or the queen and, show what it looks like. It's glass and it's etched. It's really cool. Pretty cool, right? And then let's talk about these ceiling mount chairs for a second.
You're looking at the Strip. You have these chairs that can pivot, I'm sure, at night. Again, views are going to be fantastic. And, yeah, we're on the 34th floor of the Palms.
Follow me this way. Another seating area. This is more like your TV room. I love these coffee tables, L-shaped couch, butterfly details, views. And then throughout the penthouse, we have these, glass panels with pills on them, with backlighting, mood lighting above. This penthouse is so crazy that even Mr. Beast was here.
Even he shot a video here. Yeah. And he doesn't go anywhere unless it's really wild. Surprised that he was here in person. He usually will.
With the whole team. Voice it over and be like, yeah. No, he was here. That's crazy. All right, let's continue our tour. I'm trying to pick a direction, actually. Why don't we walk this way? So right behind this wall, we have the gaming room, pool table, foosball table, two really cool art pieces.
And I really like this pool table. I feel like it's one of those design where you mount, a paint can to a ceiling and you just spin it with different colors. And whatever you get is whatever you get.
Obviously, this is also designed by Damien Hirst. It just looks really interesting. I've always wanted to try that. I see a lot of those on TikTok and Instagram. It looks like they're super popular. It looks like it'd be very satisfying.
And another cool fact about this pool table, there's a photo of Alicia Keys on the table here a few years ago. Really? And I'm sure a lot of celebrities have been in this hotel room in the past. Yeah, I mean, Vegas is known for its shows, live events.
I'm sure when Mariah Carey comes in town or something like that, this is the biggest and the best in Vegas. Yeah, this is like the hotel room in Vegas for sure. All right, next we have a foosball table. It's all glass, super cool. But I really want to talk about this piece right here. So this is a diamond wall.
There's actually only one real diamond on this lineup here. Rest are all Swarovski crystals. And when you book this room as a guest, you get one chance to pick a diamond here. And if you pick the real one, you get to keep it.
If I pick the right one, I can keep it. Every guest get a chance to pick one, right? Every guest gets one pick, and you get a chance. So if you guess the right one, we'll get security and we'll open it up. Perfect. Well, how about this piece right here? No? Okay.
Did anybody ever get close to picking the right one? We'll never tell you that. And how much is the diamond piece worth if you pick the right one? Well, the diamond piece will be worth quite a lot. This entire piece of art here is $1 million to $3 million worth of art. Each of the Swarovski crystals which you actually see here was individually placed, too. Incredible. So it wasn't just a random pattern. It was designed to look and be shelf this way.
Absolutely. And again, just like the pill display, it came in shelves and it came in boxes, and they actually had to put it together to plan. Wow. Incredible.
Now, can we cover this piece here? This is super cool. We have two suspended bull sharks in formaldehyde. They are real sharks. They are real sharks. And do you know how Damien fabricated this piece? So these pieces are suspended in formaldehyde, and the most fun thing for me is how we get to clean them.
How? We have to use a single feather on a stick, and they come in, and they go from the top, and they gently, gently, gently feather the sharks. Really? This piece is $5 million to $6 million. Believe you me, you're going to be very, very careful when you touch it. Now that's it for the gaming room.
I want to talk about two more details here. Number one, we also have a TV here, by the way. They have these iPads throughout the penthouse, and you can literally control shades, lighting, and you can even say Do Not Disturb. So that way you don't get room service if you want just privacy.
No house cleaning. Yeah. Not to mention you have your 24-hour butler. But still, it's nice that you can control that function. This is like a digital butler. Exactly. Pretty impressive. Then we have this leather paneled wall, and they have these embossed butterflies even on the walls.
- [Mikey] Yeah, I noticed that earlier. I feel like that was one of my coolest or my most favorite butterfly details right there. - [Enes] And this door opens up to a powder bathroom for the first floor. Look at the wallpaper here with all these pills, chrome fixtures.
Then you come to this side. Obviously, you have a beautiful vanity with a massive sink, LED lit mirror, toilet room, or your water closet on this side with a TOTO, of course. Who doesn't like a good TOTO? That's right. And that's it for the first floor.
Earlier in the episode, I mentioned that, the team and I were going to dinner. But Scotch 80 isn't just a dinner. It is, in fact, a world class experience for foodies.
Located on the first floor of the Palms. It's going to be a fun dinner. They have a private room for us. Let's go in.
What was once the beloved N9NE Steakhouse, was part of a $700 million dollar renovation. That the Palms recently went through. Transforming it into the modern 21st-century aesthetic. We now behold, its unique ambiance.
The artwork and architecture let you know that Scotch 80 is the pinnacle of state of the art steakhouse dining. Scotch 80 is way more than a steakhouse. It starts with curated cocktails, some of the best. That is a very smoky old Fashioned. Oh, that is properly smoked.
- [Enes] Thank you. - [Mikey] Thank you. I love when they do crystal clear blocks of ice. Especially, is this the logo? That's Scotch 80s logo on top of it, isn't it? - [Enes] That is correct. - [Mikey] That's a really, good old fashioned.
With our cocktails in hand, it was time to eat. The dinner was curated by, executive chef Marty Lopez, and his culinary team at Scotch 80. The first course began with a steak tartare with foie gras and quail egg, followed by two salads, a fresh beet salad, and their famous Scotch 80 salad.
Then we were treated to a surprise cameo by Chef Lopez, who presented a true delicacy. We have A5 Wagyu from Kagoshima. We have a little bit of truffle bomb in the middle, and golden Oscietra caviar from Bjork, and a little bit of goldflake because it matches our decor here. Thank you. I'm excited.
All right, Mikey, I'm going to do the honors. Ready for this? This looks insane. That might be one of the best bites of my life. That was incredible. Keeping with the flair, that exudes from every pour of this world-class steakhouse is a pure showstopper a seafood tower ablaze in a banquet of all the sea has to offer. - [Sandra] That's insane.
I've never had crab just like fall off like that. - [Mikey] The lobster is good, but I think the crab is better. - [Enes] After what can only be described as a divine first course, chef Lopez pulled out all the stuff for our entree. We haven't even started eating the entrees, but they look incredible. I'm so excited. While Tomahawk steak and Osso Bucco kept us delighted, the jaw dropping millionaire's mac and cheese topped with poached egg and gold leaf elevated this traditional steakhouse dish to new heights.
Let's dig in. What a fantastic meal. I think I'm ready for the next course. Dessert. For the final course. Chef Lopez still had plenty up his sleeves, and he did not disappoint.
A smoke-filled glass adds texture and flavor to the chocolate cake. While the presentation of their famous s'mores, approaches a uniqueness unmatched in some of the finest eateries in the world. The Creme Brulee.
I love Creme Brulee's. I love them. I love them. Like, this is all I dream of.
I feel like if I'm sad and if I can choose a food to eat day night. Creme Brulee. - [Mikey] Let's stop talking. Let's see you try that. Top three. It's really good.
- [Jayson] Uh-oh, I didn't get B-Roll. I want to thank Chef Marty and his team for an incredible dinner. This was a stellar experience that our team and I will never forget. All right, that's it for the dinner. I'm so tired because I ate so much. Look at our table right here. It's insane.
Desserts, appetizers, entrees. It was great. Everybody's quiet because we had way too much food. So let's go back to the top.
Right next to the bar, we have this beautiful marble staircase bringing you to the second floor. Glass railing, chrome hand rail, butterflies throughout. And off of the landing, we have this hallway that brings you to the 35th floor entry. We have few other cool rooms on that side, but first, I want to take everybody this way. So on this level, we have two bedroom suites. This is the VIP bedroom suite.
Again, off of the landing. Beautiful art piece. I just love the angles. It's almost like a dresser. Then you have this painting here, and then opening leads you to the bedroom itself.
King size bed on this side, as expected. I really like the art piece on the back. Mood lighting, bedside tables.
TV right in the center. Also double sided, because on the other side, we have a nice, cozy seating area. Views are fantastic. We're in Vegas, and can you imagine staying in this room? - [Mikey] Yeah. This is wild. Vegas it's not a city that's famous, for the way it looks during the day either.
So I'm sure at night the views from up here are insane. - [Enes] Absolutely. And from your bedroom suite, you can look down on your pool area, or you can look down to your bar, because this entire wall is all glass. Obviously, you have your blackouts, shades. They're all motorized. Pretty amazing.
And I also hope everybody is enjoying this tour. This is our first proper hotel tour, I feel like. And if you do, just let us know in the comments below.
We'll do more. - [Mikey] Enes likes to schedule shoots, when we do the first of things, he likes to do it big. Yeah, that's true. Our first yacht was a $100 million dollar yacht. Our first hotel is the most expensive hotel room in the world.
Our first house, not so much, but not so much. We had to work our way up. Another fun detail.
So on the first floor, the curtains have feathers on them. But on the second floor, we have butterflies. I don't even know how many times I said butterflies on this tour. It's getting out of control. Quite a few, but it's just a nice, clever detail.
This is the bedroom. Follow me back to the landing because we have the bathroom on the other side. So this door right here opens up to your walk-in closet. And then we have this door opening up to the bathroom.
Even though this is not the primary bedroom suite, the bathroom here is incredible. You have marble floors, this raised tub here, all marble clad, amazing views, chrome fixtures. And the same marble wall continues on this side where you have a makeup area. Then you have your two sinks, vanity with a towel rack on the bottom. These are not chrome, I think, but they do look like chrome, meaning the sinks to match the fixtures.
And then right in the center, you have a TV within your mirror that's LED lit. How cool is that? - [Mikey] Really cool. It's a little bright in here to see. It's there I promise.
Yeah, it is definitely there. And yeah, it's a beautiful bathroom. And follow me this way. Your water closet with a pill wallpaper, TOTO. You can hear it. Then you have your walk in shower.
It's all glass, obviously. That way you can enjoy the views. We have mosaic tile on the floors, mosaic on the ceiling, body sprays, rainhead, shower head. And I appreciate a good toiletry set. This one comes at Molton brown.
You always know, either you're staying at a nice hotel or you're going to get a good shower experience. We always see them in the houses we tour. And then you even have a steam outlet, steam feature in this walk in shower.
Now follow me this way. Right on the other side, we have a massage room. I can't stop talking about the butterflies throughout this penthouse. They even have it on the massage table. Every single piece in this unit, even like down to floors, have been curated for the penthouse. Is there any kind of like, correlation between the butterflies and the pills? Obviously, we have this pill wallpaper everywhere.
We have butterflies everywhere. Well, butterflies are beautiful. They only live a day, and they live a good day. And maybe there's some connection there. Yeah. And pills.
Pills, they help you live longer, I guess. Exactly. That's also true. Then you have a nice vanity here with another sink. You have a massage room within the VIP bedroom suite. Gets better. Then we have this long hallway leading us to another room.
This is technically your gym. You have a treadmill, TV, opens up to the landing again. And then we have this door opening up to the hallway that we mentioned. On the other side is your salt room. Now, when they turn on the steam feature in this room, you're supposed to sit down, relax, breathe in all that Himalayan salt. And that's supposed to help cleanse your toxins, which is incredible.
And we're in Vegas. There's a good chance you may go out, you may have a good time. There's a good chance you may have some toxins. Exactly. This is within your penthouse. I guess this is the same reasoning behind why a lot of people have those, like, salt lamps.
I'm assuming this is a little bit out of my expert realm of knowledge. Exactly. But this is crazy. And not to mention, we have butterflies within the Himalayan salt walls. And here's another interesting fact. There's actually a skull here. Damian Hirst is known for his skull designs, but on this penthouse, he only placed one.
And it's right here. It's actually really hard to see. I'm just going to push past you and see if I can show that on camera. Yeah, I think you can see it from here. And it's super clever to me that he only put it in one place. And it's right here. Yeah. All right, that's the salt room.
We're going to go back to the hallway again, so we can hit the landing and then go check out the primary bedroom suite. $75,000 a night. Pretty crazy. Yeah, it's wild. Now, by the way, a lot of different butterfly art pieces on the walls as well.
There's one off of the staircase landing. There's one right here. And then we have this door opening up to the main suite, as expected. Scale here is insane.
We have the bed on that side, double sided TV, seating area, coffee table, unbelievable views. I know I mentioned the views a lot, but how do you not? And then over here we have the ceiling mount Lounging bed. I'm trying this thing. This thing has been intriguing me all day. Oh, it's super comfortable, actually.
I would love to just lay back. There, read a book, and then take a nap. Look out over the city at night. Yeah, take a nap.
And it's crazy. Your pool is right there. Like, I can't imagine staying in a hotel room like this where you have a 24 hour butler at your service. And our experience in this hotel has been amazing so far. Not to mention from this angle, you can actually see the main pools of the hotel. Not tomorrow, but the next day.
We're actually going to enjoy one of those private cabanas. That they have up there. Those cabanas have their own pools, too, so I'm assuming it will be a lot of fun. So today is the pool day.
They gave us this amazing private cabana which comes with its own pool with a glass front so you can look down to the main area. We're going to take it easy today. Enjoy life a little bit. Yeah, it's going to be fun. - [Collin] I've always in my life just wished that I had a boatload of fries. And now my dream has finally been complete.
- [Sandra] Every time I go to the bars, I always order a mojito. But there's something different about being in Vegas and getting a mojito. Having your own private pool, from the food and the service to the drinks and private pool, everything is just insane. You have the view of the entire property. I'm having a great time.
Erman's having a good time. Just an amazing day. Super thankful for it. That's it for the pool time. It was a lot of fun. We had great food, amazing ambiance. Weather is amazing.
Life is good in Vegas. The Palms, we are a completely full-service resort right here off the Strip, and we can offer a full gaming experience in our slots, our table games, and it's a very relaxing and fun place to visit. I mean, we're all the way in Vegas. Of course we got to gamble. We're not big gamblers.
But, hey, it's time to let loose a little bit, have some fun. That's why we're going. High-Limits. Because we're getting this experience through the Palms. They're kind enough to teach us some of the tricks of the game and it's just really fascinating.
So let's gamble more. Let's double more. Let's see what happens. Oh, there we go. Blackjack. It could be said that Vegas, just wouldn't be Vegas without its colorful nightlife. So while the rest of the team.
Was preparing for the next day, Sandra and I headed to the 55th floor. To check out the Palm super chic ghost bar. - [Sandra] The vibes are incredible.
Honestly, I was not expecting a view like this in Vegas. I just didn't know it existed. It's reminding me of like, a really fancy, more fun New York. - [Sandra] Palms came through And viva Las Vegas. - [Enes] The ambiance of this rooftop bar was amazing and it made for a great spot to connect with my good friend Jeremy and get his thoughts about our YouTube channel. - [Jeremy] It's the best, it's out there, but it's the only channel on YouTube.
I put on the big TV. Subscribe. Like, that's all I got to say. All in all, Palms Casino Resort has your whole experience covered from day to night and if you wish, from night back to day again. Which takes us back to our tour.
Of the Empathy Suite. We're not here to just tour this unit. We are also touring the Kingpin Suite.
And that will be released on our second channel. Enes Plus, we'll also leave a link in the description for that as well. We're touring two different rooms. Full bowling alley in that hotel suite as well, right? Correct. And I'm excited for that tour.
Now, right on the other side of the TV, we have the king size bed. Considering the price point of this suite, this being the most expensive hotel room in the world, I expect this bed to be extremely comfortable. So I'm going to give it a try. Oh, it's super soft, actually. Yeah. And I always appreciate how many pillows they provide with these hotel rooms. Like, who needs this many pillows? - [Mikey] On yachts also.
Oh, my god. It's out of control. Yeah. When we were staying on this last yacht, they probably had like twelve pillows on the bed. They dress it up for you. It's part of the service.
It's part of the experience. Then you have this beautiful butterfly art piece. Leather walls, bedside tables. This is your bed. Very nice. All right, let's continue. Of course, this primary suite comes with an amazing bathroom.
We have a hallway here leading to your walk-in closet. I actually want to talk about a detail here. So you have this dresser, right? Look at inside. Okay. There's tying up the theme together.
They have the wallpaper inside of the drawers. They're committed to this vision. And then you go to the door on the other side.
And we have the bathroom. It has the same design elements as the other bathroom, but this one is a little bit more spacious. Again, you have your jetted tub here, chrome fixtures, amazing views. You can see all the way to the Strip, mountains on the back. It's pretty scenic.
We're quite high up, and we don't really have a lot of tall buildings around us. So view corridors are extremely open. Love this marble. They have it throughout the penthouse.
And again, more butterflies. I'm sorry I said butterflies so many times. Your water closet with another TOTO.
And then we have the vanities here. I think I forgot to mention on the other bathroom. It's designed like.
Do they have that on the other bathroom? I think they do. And your sinks, LED lit mirror with another TV. And then this is your walk-in shower. You have your rainhead, body sprays, all that good stuff. And continuing here, we have a massage room. Of course, this bathroom comes with a massage room as well.
Now, this was our first hotel tour. I hope everybody enjoyed it. But our tour wouldn't be complete unless we see this penthouse at dusk. All right, everyone, that's it from Vegas.
Big thanks to the Palms for making this tour possible. Penthouse looks amazing, views are incredible, and let us know in the comments below, if you want us to do more hotel tours in the future. Now, as always, you can find more information about the Empathy Suite and the Palms, in the description of this video. Make sure to check it out.
And if you enjoyed this tour, give us a like, subscribe, and we'll see you guys next week.
2023-05-23 15:52
Show Video
Other news