Inside One of the Best Architectural Homes in South Africa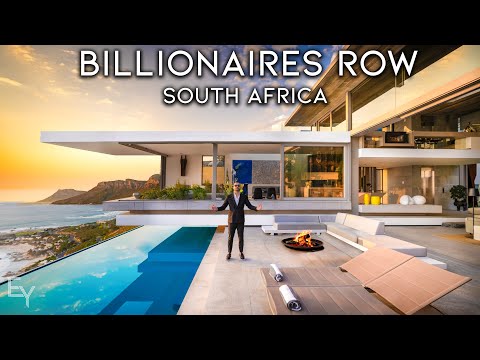 Show Video
- [Stefan] Luxury means different things to different people. I see space as luxury. I see view as luxury. Light, sun, great weather, and that all combining with the architecture to create something exceptional.
I think that's what this house tries to achieve. I'm Stefan Antoni. I'm a director at SAOTA, and we are in my personal house Beyond in Clifton, Cape Town. Design, architecture, stunning landscapes, and vistas. Today, we're touring a property that embodies all of these elements. Designed by SAOTA and nestled on the slopes of Lion's Head here in Cape Town, South Africa.
We are truly standing on what some may call the Edge of the Earth. Now, I've been waiting for the moment to tour this property and finally see it in person. So, it is my great privilege to welcome you into the Beyond house.
The entrance to the house is, on purpose of very powerful, almost spiritual space. I want it to be quite a moody, mystical, mysterious kind of space. Almost like you are going into a tomb of some kind.
That you are going into Mother Earth. And so the materials there are all stones, stone on the floor, stone on the walls with thin slots where the light shines up the walls. With a very dramatic sculpture on the far end.
And a very raw steel and glass staircase on the one side. And then you go into the lift. And then the lift brings you up into this level.
And throws you out into almost the clouds. The transition from deep in the earth to sky. Welcome to the fifth floor of this amazing home. We're currently in the great room.
Seating area, formal dining room, kitchen on the other side. And of course, we have these sliding glass doors seamlessly opening the great room to this amazing terrace and to these incredible views. I know we're supposed to cover some of the spaces first, but I wanted to take everybody outside so we can acknowledge these views. This is absolutely insane. - [Mikey] We've seen a lot of crazy views since we started this channel, but this might be one of the most stunning views I think I've ever seen in any house.
The way we have the mountains, the ocean, and this infinity edge pool just dropping off to the sea. It's incredible. Couldn't agree more.
It's jaw-dropping. Welcome to the fifth level, which is the main floor of this home. Now, let's cover the seating area. L-shaped couch, few chairs, beautiful marble coffee table. I really like the light fixture here. Great volume.
I mean, look at the ceiling height and this concrete ceiling is so beautiful. It extends out to the exterior. And I'll talk about the ceiling design later as well. Last thing I want to mention in this space, we have another sliding glass door opening up to the back section of this property.
We currently have it closed because it is a little windy today and this property gets a great cross breeze, but we just want to make sure it stays a little bit calm here. Now, welcome to the formal dining room area. Solid wood table, seating for 12, modern chandelier above. I really like the dining area is right next to the kitchen.
Space is very open, and even from your dining room, you can enjoy these amazing views. Now, on my left, we have the chef's kitchen, leading you to the service kitchen. But before I cover this section, I want to talk about the specs of this beautiful home. So we have six bedrooms, seven and a half bathrooms. This home is available for short-term rentals. Starting from R135,000 per night, and it can go up to R185,000 depending on the season that you rent this property.
I want to give big thanks to the booking agent, Philip Gullan. In Residence, who manages this incredible home. And Stefan, the owner here for making this tour possible.
As always, you can find more information about this listing in the description of this video. Make sure to check it out. And what a cool opportunity for people to come in, rent this place, enjoy it, enjoy its amenities and the lifestyle it provides.
But you also get a chance to appreciate architecture and Stefan's work. This is incredible. It's incredible. The way we've been treated since we've been in South Africa. Not only have we been able to get a one of a kind architectural lesson and experience, but we've really just been spoiled and taken really good care of since we've been here. Absolutely. We also had a chance to stay at this
property for a few nights, and it lives incredible. I mean, being able to wake up in that primary bedroom, just walk out to the balcony, or every day have our breakfast, dinner here, it's been fantastic. I mean, what an incredible home. That's all I'm going to say. Not a complaint in the world. All right, now let's cover the kitchen, island in the center, bar seating. Rest of the base cabinets are on this side.
Induction cooktop, oven, uppers above. And I really like, how they decorated this wall here with these beautiful African art pieces. They even have a skylight to bring more natural light. I really like how this section fills up this great room beautifully. They also have two concrete planters with real trees that warms up the space.
And if you follow this hallway, it takes you to the service part of the kitchen. And there's also a spiral staircase that takes you down to the staff quarters. And with that, we're done with the kitchen. Now I want to take everybody back outside so we can really appreciate and enjoy this beautiful terrace.
Outdoor dining area, these beams cantilever out. You have your pizza oven and built-in shelves on the other side. Outdoor shower, your infinity edge pool. Look at this pool for a second. Look at our elevation. Being able to swim here every single morning, get your day started, and being able to sit at the edge of this property to enjoy these views, it's something else.
I mean, look at this, Clifton Beach is down below, Twelve Apostles. We are on the slopes of Lion's Head, which is literally right behind us. This view, in my opinion, is so raw and so primal as Stefan would say.
This is the Atlantic Ocean, and we're literally on the tip of Africa. Yeah, this is absolutely incredible. All my life, I've been reading about this strip of water off the southern Coast of Africa because for a long time, it was one of the most dangerous passages to get from the east to the west.
This passage around Africa is basically why they dug the Suez Canal because it was so difficult to pass around the Horn of Africa. But with a view like this, it's just absolutely beautiful. The way this entire property is designed is to channel this view and bring it to the interiors. In fact, look at this cantilevered section here. That entirely opens up to the ocean, to these views.
I just love this roofline, how this bottom section extends over the infinity edge pool, and the entire space basically pulls you right in. In fact, Mikey, let's go up there because we got to show that space to everyone. We need everyone to see what it's like to be in that room to enjoy because that roofline really helps you frame this view even better and just makes it more intimate. We have a small seating area on this side, skylight above bringing natural light, and check this out.
They have a glass floor here that looks down to the infinity edge pool and then built-in seating area, fire pit, and the views. This is a sliding glass window that opens up the entire corner. I have to say, this section right here is my favorite moment in this house. In fact, the day we arrived to Cape Town and walked into this house, I grabbed my laptop, I lay down there, had my espresso, and just enjoyed these views. I even put a story up on Instagram because I was so inspired. You even took a little nap also.
Yes, I did, because it took me a while to get to Cape Town. I had to get on two long flights. But long story short, look how beautiful this place is, and look how incredibly this section captures these views. This is an iconic SAOTA design.
Every single SAOTA home we toured. Had some sort of a cantilever, one way or another, and we toured a lot of them, to name a few, Ori's property in Bel Air. We toured Michael Chen's development in Beverly Hills. We toured another one of his developments in Bel Air, home in Dubai, Belhaven, Hollywood Hills. We got a chance to understand and appreciate their work.
And seeing this space here in Stefan's personal residence, it's all tying it together, and I'm loving it. Now, that's it for this section. Before we move on, I want to showcase this bar to everyone.
The way they cut and fabricate this piece is so cool. I love the angles. They call this section the sky bar, and behind the sky bar, we have a staircase that takes you up to the office.
This has to be one of the coolest spaces within this property, small seating area, TV. There's a good-sized balcony with full glass railing to really take in all the views. Then we're at the loft section on this level. Skylight above, bring in natural light. I got to say, look at this skylight opening, how each corner is curved beautifully.
Then you can really appreciate the volume of the great room. Look at this board-formed concrete ceiling. You can see all the variations.
There are some sections that are sunk in. Some sections are a little bit more proud. There's actually a really cool story here. So, the wood planks they used to form this ceiling has been repurposed down below on the bedroom level.
Because they kept these wood planks in these forms for over a month, all the water from the concrete, all the chemical reactions had an effect on these planks. It gave each one of the planks a very unique color and texture. It is nice that same material is reused down below on the bedroom level on the ceiling.
It kind of ties the whole story together. From the ceiling here to the ceiling down below. Yeah, when we interviewed Stefan, I was very surprised to learn about that. But as we walked through that space, Enes will point that out again, I'm sure. Absolutely. Look at all the clerestory windows bringing more natural light.
On the other side, we have another office that is pretty similar to this one. Then we have these sliding glass doors opening up to the back section of this property. Something that I'm really taking away from Beyond House is Stefan Antoni's focus on permanence. Seeing the minimalist approach and the use of strong materials like steel, concrete, wood, and glass really opened my eyes to his vision. To him, the house is like a blank canvas or frame. Connecting to the environment around it, and providing a structure that remains.
And that's a perspective I really admire. One of the key things about being sustainable is if you're going to build something, give it permanence. This house was built so that no one would ever need to knock the house down. Concrete gives us the opportunity to create these amazing spans to create a fluidity because you can form it in whichever shape you'd like. You can give it a beautiful texture.
So steel, glass, and concrete have been very much our signature, but again, very much in the context that it gives permanence. I guess you can technically call this your backyard. Even though we're five stories above the street level, we have this grass section right in the center, cool art pieces, concrete columns, architectural lines, and we have two sets of sliding glass doors opening up the great room and the seating area here to this section. It's nice. It's private. Right behind, Mikey, we have a trampoline which is a nice fun touch. Towards the hillside, we have another outdoor seating area with a fire pit, outdoor dining area on my right.
There's also an outdoor kitchen next to that. I really like how they extended out these beams to create a partial shade for this section. This house also has access to Lion's Head. If you see the door right there, it actually takes you to a private trail, and then private trail connects to the public trail that takes you all the way up to the Lion's Head. Really nice space. Let's turn back for a second.
Look at all the architectural lines, cantilevered concrete, glass, steel. It flows right back in to this part of the home. Now we also have a small seating area here, leather sectional couch, coffee table in the center, wood-burning fireplace. This section is built out of board formed concrete, and it goes all the way to the ceiling, but it doesn't quite touch the ceiling because they wanted to leave that revealed for some clerestory windows and picture windows to maximize the natural light that comes into this room. Now, if you follow this hallway here, it takes you to a powder bathroom with two water closets that services this section of the home. And if you wrap around, there's actually another powder bathroom here that is more close to the great room, which is on this side.
Overall, fifth level is incredible. This is the heart of this home, and we really enjoyed our time here. All right, now we're on the fourth level where we have the majority of the bedroom suites. Behind me is the elevator landing. And check out this bridge that takes us to the other side and the volume we have on this level, the way this ceiling is designed and how it curves beautifully, is something to be admired. Now, we talked about the board-formed concrete ceiling on the top floor.
These are the wood planks they use within those forms to create the textures and the dimensions. And what's so cool about these planks is the fact that they sat in those forms over a month curing with the concrete. And because of that, a lot of the water, chemical reactions from the concrete was ingrained into these wood planks.
You can see the color variation, texture variation. And, Stefan did a fantastic job reusing these planks here on the ceiling as a ceiling treatment. Yeah, Stefan loved talking about these board forms, and he was really excited to be able to repurpose them on the ceiling. They look really cool, but my favorite part of this room is the cliff in front of you down to the level below. That's third floor where we have the entertainment level.
Super cool space. We're going to tour it after this level, and I agree with you. The way this bridge is curved, how it allows natural light to transfer from both levels, and at the same time, it just makes the experience fun, walking to the other side. Now we have the seating area, sectional couch, really cool chairs, gorgeous light fixture, TV.
Sliding glass doors open up to the side of the property. You even get a peek of the ocean from this room as well. Like I said earlier, this services the bedrooms on this level. Speaking of the bedrooms, this one is the first one, comes with a queen bed, full bathroom, walk-in closet, located towards the hill side. Now, facing the ocean, we have three bedrooms. By the way, they even have a fireplace over here, and this level is also filled with beautiful African art.
All right, guest suite number two, the design of this bedroom is really open. In fact, you can just walk in, your incorporated tub, beautiful vanity, vessel sinks, LED lit mirrors. And you have a walk-in shower and a water closet. Nicely glass enclosed, of course, with a towel heater. Now, going in your wardrobes.
King-size bed and sliding glass doors open up to these incredible views. What an experience. Yeah, I actually stayed in this room while we were staying in this house, and it was incredible to wake up every day and look out at these ocean views and watch the sunset here.
It's just so beautiful, and there's an awesome balcony. Actually, let's go take a look at that balcony. We're going to take everybody out there right now. Fun detail. There's a door that opens up and takes you to the guest suite number three. Layout is pretty similar to the room that we just toured, but first, let's go check out this amazing balcony.
I mean, look at this place. It's unreal. The perspective you get looking down from these incredible slopes gives you a perfect sense of your surroundings. Gorgeous beaches. Stunning mountain ranges, and the town itself, winding along the foothills, all part of Stefan's favorite place on Earth. Getting a chance to sit down with him and get his insight helps me understand how his designs really capitalize on the surroundings.
And Beyond House is a perfect example as it amplifies your experience of Cape Town's breathtaking beauty. Look, in my personal opinion, Cape Town is the most beautiful city in the world. And, Clifton is a remarkable little enclave in Cape Town.
It's just unique. It's got the most beautiful bays over here, the 12 Apostle Mountains, Lion's Head just behind us here and Table Mountain, the very famous Table Mountain. So, it's all in this one space. And the most incredible thing is that we have a summer wind here, which is called the southeaster, and this Lion's head just behind us here actually protects Clifton from that wind in summer. So whereas the rest of Cape Town might be blowing a gale, Clifton is absolutely calm, and that is unique, and that's remarkable.
So it's like the gods definitely blessed this little enclave incredibly. Cape Town is so beautiful. I feel like we've been saying that a lot on our tours here, but it's hard not to. It's hard to deny. Exactly.
And this house, its story, its location, we're here in Clifton. And something about this place, I think the rawness of it and its natural landscape is really jarring. Yeah, Enes and I. Have nothing but good things to say about Cape Town, and the scenery, and the people, and the experience we've had so far. Without a doubt. All right, let's go back in. Again, layout is pretty similar.
You have your king-size bed, desk area, open bathroom, toiletries, details, house is in an immaculate condition. Big thanks also, In Residence for hosting us throughout our trip here. Everything is so well taken care of.
You can actually see their details throughout these properties. Like I said earlier, this one is available for short-term rentals. And how meticulously maintained and organized this property is. It shows their attention to detail. For sure. Now, welcome to the primary bedroom suite.
It starts here, off of the entry, you have a nice walk-in closet, LED lit, and then the hallway takes you to the bedroom itself. Nice seating area. Bed is elevated on this platform, king-size facing these incredible views. Volume is great. And just like the other bedrooms, the entire space is open. Your bathroom is on this side, and this is the room you wake up to every single morning.
With the main bedroom, what is lovely is that the bed is raised by the two steps, which means that when you lie in bed, when you're lying like this, you get a lovely view out the sliding doors of the Sea of the Twelve Apostles, which is a very well-known mountain range here. I always like the bedroom space and the bathroom space to be integrated. For me, it's your private space. The shower and the bath, and the basins are all part of the ritual of the bedroom.
So bedroom is not, in my opinion, just about sleeping. It's really about the ritual of waking up in the morning, cleansing yourself, freshening yourself up, getting ready for the day in the evening. It's the reverse process.
It's then cleansing the day's experience in the bath or the shower. The bath has a little fire trough, and there's something very primal and beautiful about being in water with fire, with the elements and the connection to the view. Now, let's talk about the bathroom, built-in tub on this side. You have your vanities here, two sinks, LED lit mirror, which are also your medicine cabinets. Mikey, we're going to take everybody into the walk-in shower.
It's all glass with a caisson on this side, two rain heads above, and this is your showering experience. Yeah, and you have an outdoor bathtub as well. We're going to see that in a second. It's right there. I mean, it's incredible to be able to just look out over the ocean while you shower. Exactly. Right behind, Mikey, another walk-in closet, makeup area, storage areas, and the water closet.
That's pretty much it for the bedroom. Now, let's check out this balcony one more time. Like Mikey said, this is the tub that's outside of the walk-in shower on this balcony.
Look at the steel screen detail that's above us, adding up to the contemporary architecture of this home and the views of the Atlantic Ocean. Honestly, it feels unreal that we traveled almost across the world to come to this place and got a chance to enjoy these views. Welcome to the entertainment level, located on the third floor.
Behind me is the elevator landing. This door opens up to a really nice powder room for this level. Check out this space. Volume is fantastic. You have a ping-pong table, pool table, nice seating area, balcony.
But first, I want to bring everybody's attention to this side because we have a really nice bar here with a popcorn machine, really cool ceiling-mount chair that is supposed to sit as an accessory or a feature. Yeah, you're not supposed to actually sit in that. That is just decoration, I believe.
Precisely correct. We can walk straight into the movie theater. Now, the way they design this room is really interesting. Obviously, ceiling height here is fantastic and push of a button, you can just close off the curtain. Get a little bit of privacy. Exactly.
I'm just going to open it up because I want everybody to see the space. Two comfortable couches, speakers, projector, screen on the other side. It's just a nice, cozy place for you to hang out. You don't even necessarily have to watch a movie here. It's just a nice hangout spot. Now on the other side, we have some of the games and entertainment.
Pool table, table tennis. We've actually spent quite a good amount of time here hanging out and enjoying the room and the way it's designed, even the wall paneling that goes up all the way to the ceiling and the fact that you can still get these amazing views from this level is super cool. You even have a foosball table, small gym, spa that we're going to check out in a second. But for now, Mikey, let's actually bring everybody here.
Because we skipped the detail that I want to address now. If you look up, you can see the fourth level from here. And there's actually a utility door there. If you open that door and go through the smaller door within that room, you arrive to somewhere really special.
Come with me. I know I came into that situation all wrong, bro. Welcome to the squash court, located on the fourth floor towards the back side of this property.
If you look above, you'll see the concrete beams and the concrete ceiling that ties this home back to the hillside. Because this property is built on such a steep lot, you'll end up with interesting outdoor spaces like this. In this case, they turned this one into a squash court. Mikey, pass the ball. This is super fun, huh? You need to work a little bit on your basketball.
And they turned it into a squash court. And then also... Well, it leads to this really cool space, and it's also a basketball court. That was a terrible shot. But regardless, this is part of your entertainment in this house.
Now, let's go back to the entertainment level so we can continue our tour. I'm really impressed with the volume here and the ceiling height, considering the fact that we're currently on the third floor of this property. Like I mentioned earlier, I just love that we even have outdoor access on this level.
Now follow me this way. Right in front of us is the spa. You have sliding glass doors opening up. And above that is the second floor of this section.
That's actually a bedroom. Just like the spa, it opens up to this space where you can look down. If you're wondering how you get up there, there's a staircase right next to the powder bathroom that takes you up there. It's a very spacious room, comes with a king-size bed, has a full bathroom, and it is uniquely positioned on that level. Now, let's check out the spa.
Two massage tables, nice punching bag. You have your sauna, steam shower, all LED lit, and then sliding glass doors open up to this small garden and then eventually to the views. It's really interesting to me to find these spaces within this property because the layout is so unique. We have six levels, and you would not assume that on the third floor you would have these amenities, but this property delivers and it gets better because we still have more spaces to see on this floor.
What do you think, Mikey? You know I like this space. I was very surprised when we first got here, and I just saw the scale of this room and how it connects to the bedroom floor above us. It's obviously very impressive, but to be honest, I spent most of my time down here working on my computer in the movie theater. I hear you. Just looking at this wall, all the art pieces, color variations, fireplace, it is just really cool.
Now, on the other side, we have a pocket door, which is right here, that opens up to the James Bond suite. This is the part of the home that you can easily see from the exterior because this section cantilevers out. I love that it's floor-to-ceiling glass.
Your views are truly unobstructed. You have a small seating area here, obviously built in shades throughout, just like the rest of the property. Your bed is on this side, LED lit, bathroom is all open, freestanding tub, walk-in shower, beautiful natural stone floors, vanity is on this side, built-in cabinetry right here. Really impressive guest suite. There's a reason why they call this room the James Bond Suite. Now, I want to bring everybody back to the views one last time.
Obviously, look at the backdrop. This is incredible. I feel very honored that we got the opportunity to tour this place, get a chance to talk to Stefan, understand his vision for this property, and be able to share it with all of you. If there's anything that people could take away with them when they come to this house, it's how architecture can involve itself in its context and just bring this beautiful combination of the power of the mountain, the sea, the environment within their being. I think the way architecture can frame a view and just elevate it from just something that is just too large to engage with into something that is beautifully composed and framed and experienced.
And you can actually run your eye along that. And it enters your conscious and your subconscious. Sometimes just standing in the mountain, it's just too big. I think architecture has that ability to somehow funnel it and frame it and draw it into your mind. Looking back on our travels these last few years.
I realized. The more we understand and appreciate the art of architecture. The more we get a clear perspective of how these spaces affect human life. And how they contribute to our day-to-day experience. I'm so inspired by Stefan Antoni's holistic approach to architecture, one that connects the homes design to its natural surroundings.
He focuses on how it frames our experience and holds the concepts of sustainability and permanence as primary values. As for our team, we're just excited to be on this journey together. And we cannot wait to find more amazing people and more amazing properties. That will inspire us as much as Stefan Antoni and Beyond House. So we can continue to share these incredible experiences with you. All right, everyone, that's it for the tour.
Hope you'll enjoy this video. Big thanks to the booking agent, Philip Gullan, In Residence and SAOTA for making this tour possible. And as always, you can find more information about this property. In the description of this video, so make sure to check it out.
Now, if you enjoyed our tour, give us a like, subscribe, and we'll see you guys on the next one.
2023-11-14 13:44
Show Video
Other news