Indian Travelling to China for the First Time (SHOCKING EXPERIENCE)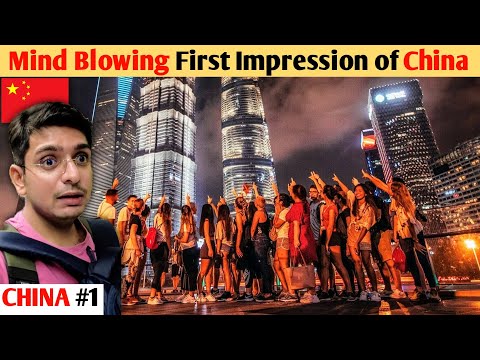 Show Video
I cannot believe that I am going to China! I came to the boarding gate and they stopped me. They have upgraded my seat from Economy to Business class for free of cost. My first impression of China is very good. Hey guys, very good morning and welcome back to the new Vlog. My name is Tourvashu. Currently, I am at Indira Gandhi International Airport, Delhi.
Today I am going to a New country and starting my new adventure. Today I am going to China and I cannot believe that I am going to China! China was on my wishlist for the past 4 years but it was not possible to go. China tourism was closed after the covid.
After 3 years China has opened its borders and allowed tourism. When China resumed their tourist visa, I applied for the visa. Nobody knows that China also has a tourist visa.
When I went to apply for the visa at the visa application centre, all the applicants were for business visa, I was the only one for the tourist visa. Everybody thought that I have also come for a business Visa, but I told them that, 'I have come for tourist visa'. China visa is not very difficult and it is easy. You have to fill out an online application form. They asked bank statement for 1900$.
They just need the return flight ticket, hotel booking and travel itinerary and photos. These are the only five documents which I have mentioned on the screen. They have a normal service visa in which you get the visa after 5 days.
They have another Express service visa in which we get the visa the next day. The fee for a normal visa is 73$ but for me it was 104$. The visa is valid for 3 months and I have got 30 days to stay with a single entry. 3-month time limit started when I received the visa. Now the time is 8:30 and I have a flight at 11:30 to China via Kazakhstan. From India, I am going to Almaty which is the largest city in Kazakhstan.
I have 6.5 hours of layover in Almaty. After that, I have a flight to Beijing which is the capital of China. The flight from India to Kazakhstan is 3 hours and the flight from Kazakhstan to Beijing is 5 hours. Beijing is there in the north-east, so it is very far. When I was preparing for the trip, the flight cost was 220$. After getting the visa, the flight expense was more.
This flight costed me 305$ from India to China. I booked a flight 15 days back and if you book a flight the prior month, you will get it for 220$ for 1 way. I am very excited about China and my wishlist is going to be completed.
I am going from Delhi to Beijing. Check-in has started, so let's check-in. There are no restrictions in China regarding the pandemic. So there is no requirement for an RTPCR test or any other documents. We just have to fill online self-declaration form which I have already filled out. I will meet you after completing the process.
I have got both boarding passes. India to Kazakhstan and Kazakhstan to China. Immigration and Security Checks is done, everything was very easy.
Officer just saw my self-declaration form which I filled out on the internet. At the immigration counter, they asked about my destination. I told him, 'I am going to China'. They asked me, 'For which purpose are you going to China'. I told them for 'Tourism purposes'.
They told that... 'You are going for tourism, but nobody is going for tourism purpose form past 3 years' I told them that... 'There are many tourist places in China but nobody visits what can I do about that' Maximum people go for business or study purposes.
They have put the stamp. Now the time is 9:30 and I still have 2 hours. Nowadays all travellers will have a Debit or Credit Card in which they get Lounge access. I also have 2-3 cards and all the cards have Lounge access. I will go to Lounge and eat something. The lounge is crowded.
It is morning, so there is no lunch, so I have taken the breakfast. I have taken dosa, poha, Pav Bhaji and fruit juice. I did my breakfast and I am going towards my gate, the gate number is 6.
The flight is at 11:30 and it is already 11:15 and the boarding has started. Let me board the flight. I am travelling in Air Astana for the second time. The first time I came to India from Kazakhstan through Air Astana but I was not there on YouTube. This is 5 years ago.
I had booked an economy class but for the first time, I got an upgrade to business class. When I came to the boarding Gate, they stop me. They have upgraded my seat from economy to business class free of cost. Welcome to the Republic of Kazakhstan.
We have come to Kazakhstan which is the biggest country in Central Asia, by taking a flight from India. Kazakhstan is the ninth-largest country in the world. It is also the largest landlocked country in the world.
Kazakhstan is the biggest country excluding the Ex-Soviet countries apart from Russia. Currently, I am in Almaty international airport which is the biggest city in Kazakhstan. But this is not the capital city, the capital city is Astana. Almaty was the capital long back, so this is the former capital of Kazakhstan. Now the time is 5:30 pm.
I have 6-hour layover in Kazakhstan and I have a flight to China at 11:00 pm. There is no direct flight between India and China, but it is there for Hong Kong. I have to go to China through a transit country. When I came to Almaty, all the transit passengers were called by the airline.
They checked the boarding pass because we had got both boarding pass from India. They told us to wait in the transit area. I have transit for more than 6.5 hours, so I wanted to exit from the airport. I want to enter the country and then come back. But the officers told me that I might not get an entry for 6 hours in Kazakhstan.
Then officers advised me not to show the boarding pass and tell them that I have come to Almaty. They also told me that I might get an entry afterwards. I went to the immigration officer and he asked me whether I have come for tourism. I told, Yes.
He did not ask any other questions and he gave me entry into Kazakhstan. Finally, I have entered Kazakhstan. Indian passport holders can stay in Kazakhstan without Visa for up to 14 days. Currently, I am outside the Almaty International Airport.
It has been written 'Airport Almaty' in Kazakh language. This is a very small airport. It starts from here and it ends there. There is a bus to City Centre from the airport in which we will reach the city within half an hour. I can go to the city, explore a few places for a while and then come back to the airport. But I have already visited Almaty, so I don't want to go again. I will stay at the airport.
Airport Wi-Fi is not working and it will work only for people with Kazakhstan Sim. This is the view outside the airport there are many cars and Cabs. All the taxi drivers are calling me. I am doing a transit, why will I need a taxi? I had taken entry for only half an hour in Kazakhstan. I have also taken an exit from this country after half an hour.
I was in this country only for half an hour. When I came inside the airport and went to the immigration, I still had four hours for my flight. They asked me how did I get the boarding pass check-in has not yet started. Everybody was shocked and I told them that I had a transit here. But nobody does the transit for half an hour here. So guys, boarding has started for the Beijing flight.
The flight is at 10:10 and this is going to be a 5-hour flight. I have come inside the flight. India to Kazakhstan flight was almost full. But the flight from Kazakhstan to China is only half filled.
So guys, finally welcome to the People's Republic of China. I have reached the capital city of China which is our neighbouring country. I was sleeping on the flight because this was an overnight flight. Now the time is 5:00 am. I am going to immigration and let's see how immigration goes.
I have got the arrival form on the flight which I have to fill it now. The time zone of China is GMT 8. China is 2.5 hours ahead of Indian time. In China, the time is 5 am so in India, it will be 2:30 am. China is the third biggest country in the world by land after Russia and Canada.
This is almost equal to the size of the USA. According to this, they should be more than 4 time zones in China. But still, there is only a single time zone in China. It might be the day in East China and night in West China. This is the difference! I have finally entered a new country, China. Once again welcome to the People's Republic of China.
We landed at 5 am and now the time is 6:30 am. This is a very big airport named 'Beijing capital airport' It is both a domestic and international airport. No questions were asked in the immigration, my photo and my fingerprint were taken. I have collected my check-in baggage I thought I will be questioned in the immigration about my stay and return flight ticket. But no questions were asked by the immigration officer. When they scan our passports, all the announcements were done in Hindi which is generally not done.
Where is the Subway? -You have to go down on the -2 level. -I will exit from here and you have WhatsApp. I have met Zahid here. So you are from Srinagar? -Yes, I am from Srinagar. How long have you been in China? -I am coming here for the past 6-7 years. Do you come here for business purposes? -Yes I have come here for business purposes.
The City Centre of Beijing is 30 km. You can take a taxi, shuttle bus or also a metro. This will connect the City Centre so I am going to the ground floor. From where I can get to the Airport Metro. This is the capital AirPort Express.
There is an ATM here in the airport, let me withdraw some money. I don't know how much to withdraw, let me see. There is a problem here.
When you come to a new country, the most important thing is a sim card and local currency. When I went to purchase a SIM card... I think only two network companies are here in the airport. The shop is closed and it will open at 10 am.
And they have a new law for foreigners. We don't get the SIM card at the airport. We have to go to the city, register there through our passports and then purchase a SIM card. I cannot purchase a SIM card here.
If it was open also I couldn't take it but anyways it is closed. There are many ATMs here in the airport. I went to withdraw the money, but the keyboard was covered. You can see the numbers only if you look closely. I inserted my card and put my pin. The keypad here is the opposite of the Indian keypad.
In India numbers 1 2 3 starts from the top. But in China number 9 8 7 starts from the top. I put in my pin and it should it is wrong. I did not notice the keypad and I tried 3 times. When I saw the keypad and put my pin correctly, it popped on the screen that my pin limitation is exceeded.
My card is locked for 24 hours and it will be open tomorrow. I was standing and an Indian came towards me. He told me that he watches my videos on YouTube. He has a business in China and he is here for past 17 years.
I explained the situation. He has given me 500 local currency. When I get the internet, I will transfer the equivalent money to him in INR. This is the China currency and it is known as Renminbi or Yuan. The currency starts from 1 and it is there till 100. These are 5 notes of 100 each.
This is how the currency looks. 1 Renminbi is equal to 12 INR. 500 Renminbi is equal to 6000 INR. The Renminbi is the fifth most-traded currency in the world. Renminbi and Yuan are very complicated.
Both the names are the same so people call at differently. People tell that the currency is the Renminbi but the unit is Yuan. Whatever you call them but both are the same. When I had planned to come to China 4 years back, 1 Yuan was equal to 10 INR. But now, 1 Yuan is equal to 12 INR.
We have come to the Subway near the Airport Express train. It will take us to the city centre. This is the vending machine, I will purchase the ticket from here.
All the ticket counters are closed at 7 am. The first train is at 6:30 am and the last train is at 11 pm. This is the Airport Express ticket for 4$. They have given me the remaining change. They have given me notes of 5 and 10. All the officers whom I met at the airport are super friendly.
They are greeting us and treat tourists very nicely. The officers' behaviour is very good. I am waiting for the airport train, the frequency between the train is 15 minutes. 1 Train left from here while I was purchasing the ticket.
You can withdraw the local currency at the airport. But you have to be very careful while entering the pin. I should purchase a SIM card after going to the city. The airport is very empty. The airport is very big and people are spread throughout the airport. This is the airport Beijing Capital Express and this is also empty.
You know that the trains in China are very modern and fast. We will cover a distance of 30 km in 15 minutes. I welcome you all to Beijing, the capital city of China. The airport metro dropped me at the city centre of Beijing.
Beijing is the world's most populated capital city. Compared to all the capital cities in the world, Beijing is the most populated capital city. New Delhi is the capital of India but it is not so big. Delhi is big, but New Delhi is just 10% of Delhi. Beijing is the biggest capital city in the world. Beijing is the second-largest city in China.
The largest city in China is Shanghai which we will visit soon. Look here. They have made a separate Lane for cycles and Electric bikes.
Either these all are cycles or electrically operated two-wheelers These might be Scooty, bikes or electric cycles. Everything is electrically operated. There is also a closed e-rickshaw in this dedicated lane. I have come to a square and I don't have internet so I am not able to understand anything. My host house is very nearby but I am not able to find it.
I am not able to understand anything on Google Maps. I have to ask someone. I met a stranger and I am asking him for my address.
I showed him my address in Chinese language and he is seeing it. He told me to go straight and take a left, it is 500 m from here. I have to walk for 500 metres, how should I cross the road? Everybody is not following the rules! I will cross the road with someone so that I can understand the rules.
Look at the view, so beautiful! These roads have more than 6 lanes. There is high wind here. I asked him my address and he told me and he had gone away. But he has come here again on his cycle. He will show me the address and drop me at my home. I had not expected this in China! That I will take help from a stranger and he will be generous enough to drop me at my address.
He is coming along with me and he will drop me at my home. These all are small electrically operated vehicles. We all have heard that the infrastructure in China is very good.
This is just the beginning. This is the first impression and everything looks good. The infrastructure is amazing. The airport, the metro stations, the Highways and underground passes are very well constructed. China is open for tourism after 3 years.
I am in the first group of travellers who have come here after covid. All the restrictions are uplifted but still, people are wearing masks. I think I have reached my destination.
This is the local neighbourhood society in Beijing. There are fruit and vegetable shops at the entrance of the society. This is a very modern society and there are many big apartments. My host house is somewhere here. Look at the car! This is a small one-seater electric car. There is only one seat inside this car.
These all are one-seater electric cars. This is a two-seater but a family can easily go in this car. I don't know who was he! What should I tell him? I can only talk with him in the actions.
He is very helpful. Chinese are very awesome. My first impression of China is very good. All the officers and local people are very friendly and very helpful. My host house is there in this building. I don't know whether he is there in the house or not because he goes to work in the early morning and comes in the evening.
He has kept his house key in this... This is a letterbox and he has kept his key in this. He told me to take the key and go inside the house. This is the lock code and he had told me the lock code earlier.
It has opened. This is normal life in Beijing. These are the local house and apartments in Beijing. He has also put his phone number on the key. If the key is lost, we can easily get back the key because the number is mentioned here. It has opened.
This is the house of my host in this apartment. Nobody is there in the house, I am the only one here. This is how the house looks.
These are the normal houses in Beijing. There are stairs but I don't know what is there on the top. I don't want to go anywhere by myself. This is the kitchen. This looks like a Studio apartment.
This is the kitchen and this is the washroom. This is the washroom. My host is Chinese and he is from Beijing. I have not met him, we just talked earlier. He has given me the key and the complete house. I am a stranger to him but he is still trusting me.
I have experienced this in many countries and it is the same here also. People trust strangers very easily here. There is Wi-Fi here and he has also given me the password. I will purchase the SIM card by night or tomorrow. I have not slept enough for the past two days. I have Slept for only 3 hours in the past 2 days.
There is another problem here. In China, WhatsApp, Google, YouTube, Facebook and Instagram are banned. It is restricted and we cannot use it here. They have their own search engine and messaging app.
They have their local applications here. To use YouTube, Google Maps and WhatsApp I have to use a VPN. Hey, guys very good evening the time is 6 pm.
It is dark and I have come out with my host. My host told that there is a shopping complex or mall within 50 metres. We have come to a shopping mall next to the house to eat something. My host doesn't want to appear in my video, so I am not going to show him on camera. We have just come out for an outing let's see the Ambience and vibe of Beijing.
I will eat something if I get some good food. This is a normal shopping mall. This is not a very popular or special Mall, there are thousands of malls like this.
Its evening and the temperature is 22 degrees. You will feel cold if you wear a normal T-shirt. It will be good if you are wearing a full sleeve shirt or Jacket.
You will feel cold while wearing a simple T-shirt at 22 degrees. In May, it will be very hot in India. I am exactly in the city centre of Beijing.
This is the prime location or you can also call it downtown. As you can see people are wearing full sleeve shirts or Jackets. Very less people are wearing a T-shirt. People tell that China is filled with modern and ancient culture.
You can easily see it here! The architecture is ancient but also modern. This is a restaurant and people are waiting outside. All the restaurants here are of the same type.
So many people are waiting outside the restaurant to eat. Everything is sorted out and there are many rules. There is no need to hurry. This is a neighbouring country, but everything is very different here. This is just the beginning and we haven't seen anything yet. This is not even the 1% of my travelling, this is just the introduction video.
The name of the street is Gui Jie and it is 3 km long. There are restaurants on both sides of the street. People are enjoying themselves outside.
People have come in groups, couples and also family. We have come to a restaurant and this is a multi-level restaurant. The architecture is very beautiful! The architecture is also modern and ancient Style.
This is God's idol. This is a traditional Chinese restaurant, let's see what we can eat. We ordered a soup and in the local language is known as 'Godhaka' This is a soup it contains vegetables, corn, eggs, tomatoes and capsicum. Mushroom is also there in this soup.
This is not very spicy for an Indian. This is a little spicy for the Chinese. As the Chinese eat a lot of noodles, we have also ordered it. This is vegetables. This is Tofu, which is made from Soya. The bill for the food was 1000 Yuan, I was about to pay for it.
My host told me to split the bill as we both shared the food. Per head, the cost was 7$.
2023-05-20 04:01
Show Video
Other news