Got Arrested Crossing the Dangerous Mali Border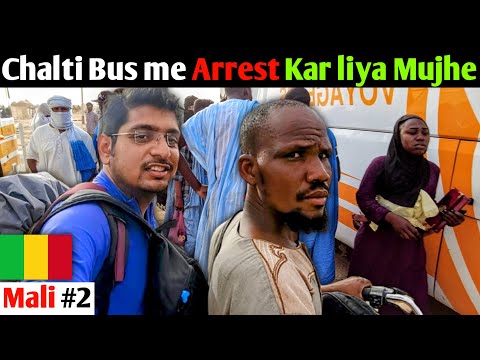 Show Video
Since last 7 hours, bus is still standing here. Guys, Right now we are in No Man's land They took all my luggage and left me there They were 2 militants in normal or Civil clothes Al-Qaeda militants roam here freely It's 9:00 PM and it's dark outside Mali and Mauritania's International border is still 120 Km away from here We will reach there between 11:00 PM - 12:00 AM in the night I don't think so I will be able to record more after this, I will try my best to record on border As it is not at all safe People are very insecure there and rebels are found everywhere there I told my friend in India that I am going to Mali in bus, he sent me some articles and screenshots Saying Mali comes in world's top 10 most Danger and Unsafe country Same like Somalia, same like Libya Many countries like U.K. , U.S.A. completely refuses to visit Mali for travelers for tourism Let's see what will happen It is not suggested to visit there but let's see Al-Qaeda group is very active around Mauritania and Mali International border and kidnapping and terrorism is very common here at the border I will have to maintain low-key and low-profile till I reach capital of Mali, Bamako There's no other extra option to eat here rather than meat and non-veg since I left Nouakchott.
It is very tough for me. I am just surviving on bread, cheese, cereal bar and biscuits. There were many police check posts on our way here Our bus was fully checked They are questioning the ones who looks suspicious to them and checking their bags too It's just starting Bus had just started to go to the border and I noticed something in bus that I am the only tourist in the entire bus Some people are from Mali and some from Mauritania in the bus No one from other country I am the only one. We are at the Mauritania - Mali border sitting in a bus We didn't went out It's 12:00 AM They only took our passports It's almost 1:00 AM and an hour had already passed Bus has stopped and passports are with them for the stamps I don't know what will happen next ? When will we get our passports or get stamps on it. It's very dark now, they have also dimmed off the lights of the bus.
So guys very Good Morning and Welcome back from Mali and Mauritania border We reached the International border at 12:00 AM in night and now it is 7:00 AM in the morning Only I know, how I spend the last 7 hours in the bus Since last 7 hours, bus is still standing here. There was no space to move inside the bus, my whole body is paining At night border get closed and it gets very unsafe, people get attacked too. Rebels stops the bus at night and they loot all the belongings of the people. That's why bus don't move at night. That is the reason border remains close. I won't be able to record for longer time as people here are staring me I don't know why, you can see them behind me.
Everyone is staring me. They took my passport last night at 12:00 AM I didn't got me passport back, I don't know when will I get it Some people are here for currency exchange, see the guys with bag They are exchanging from Ouguiya to CFA I already exchanged in Mauritania So this is the International road which is going from Mauritania to Mali There is the main border, Mauritania ends here Many trucks are also standing here which carry goods to Mali from Mauritania. Everyone is waiting for border to open. These all are goods truck, as you can see. Along with Mali and Senegal there are 8 countries in West Africa which have same currency which is West African Franc CFA It is pronounced CFA Current rate is 1 INR = 8 CFA Mauritania, Mali, Senegal and some other neighboring counties here share same time zone Their time zone is GMT and all these countries are 5:30 hours behind India In Mauritania 99% of population follow Islam but in Mali 90% follow Islam, 5% follow Christianity and rest 5% follow their Indigenous beliefs We have travelled 900 Km from Nouakchott.
The shortest distance to Bamako from here is 500 Km as suggested by google maps. It depends on the bus which route it will follow, I only hope that I reach there by evening and not by night. At night it is very unsafe. Let's see what will happen.
I just asked them and they are saying that this bus of Sonef Mauritania will not go to Mali, it will not cross border Now I have to leave bus here only and see further procedure I don't know whether I have to cross it by myself or someone will help, they are not able to explain things This is a headache Guys right now we are in No Man's Land I have took the moto-taxi So guys I am just standing on the border of Mauritania and Mali As you guys saw I came here by bike, local helped me and I have bought the sim card for Mali This is Orange company sim card and this costed me about 100 Ouguiya I was only left with 100 Ouguiya and I bought sim card of it. I recharged for 2,000 CFA which is 30 rupees INR and I got 3 Gb of data in it. The barricading part is the exact border and other side it is Mali and this side it is Mauritania Border is still closed So guys, Finally officially Welcome to Republic of Mali This is my 39th or maybe 40th country Finally we are in Mali and many things happened at the Mauritania's border and Mali's border too Right now I am in Sonef bus The bus that came from Nouakchott to border was different and this is different The condition of that bus was better than this bus. That bus had AC and everything, this is also a Sonef but look at the condition of this bus. This bus is shattering from everywhere Look at the condition of the bus Seats are not good AC vents are broken It has nothing in it Around 9:00 AM official procedure for border crossing started and now it's 10:00 AM Whole procedure took 1 hour, half hour here and half hour there. When I reached the Mauritania's immigration they were taking 100 Ouguiya for stamping, irrespective of the Nationality whether the person is from Mauritania, Mali or other third country.
So I had no Ouguiya left with me, so I went to the officer and asked him to take money equivalent to 100 Ouguiya in CFA He agreed and asked me for 5,000 CFA and for 100 Ouguiya it is 1,500 CFA, which means he is asking me more than 3 times of the actual amount. Then I went outside, converted CFA to Ouguiya again went to the office gave them money and they stamped it. It almost costed me 200 rupees for stamping.
Between Mauritania and Mali there is a 1 Km stretch of land which is called No Man's Land. You can find moto-taxi here, they are actually locals which transports you through their bikes. After that I reached to Mali embassy and there they asked me many question Checked my documents, They checked my visa first and then told me that we don't know this visa, there is no sticker on it, it just had a stamp on it.
I told them this is the original visa that I got from the Nouakchott embassy, if you have any doubt you can ask them and then they told me it's okay no problem. Then they checked my yellow fever vaccine card, I already had it. I took it last year Basically they were finding any reason to put extra charge on me and make money from me and after that they were taking 2,000 CFA from everyone irrespective of their nationality They asked me for 10,000 CFA which is 5 times more and then I told them through google translator that Nouakchott embassy told me that you don't have to give any money on border 2 officers were there and they agreed and told me to give local 2,000 CFA and continue I gave them the money they stamped it on the passport and said Welcome to Mali and after that I came to the bus which was near immigration I don't know when will this bus move.
I think when all the people will complete their formality. I can't record outside as it not at all safe. Many rebels roam here I am not safe until I reach Bamako One interesting thing will happen in capital of Mali, Bamako I'll tell you once I reach there. Actually my host in Bamako is local Malian and I cleared with him that I am not sure whether I will come to Mali or not, everything depends on the visa and day before yesterday when I got the visa, I messaged him that I got the visa and I will take the bus tomorrow and will reach Bamako after that. He replied that I am sorry I am going out of Bamako for 1 month, I will return here after 1 month. 1 problem got solved and then other problem got arised.
When I didn't got the visa, there was a host and now when I got the visa, host is not there. This was the most tough, rough and adventurous border crossing in my travelling history and yes longest too. This is also the riskiest and unsafe border crossing for me. Total cost for border crossing including both immigration and moto-taxi it is 5,000 CFA which is around 625 rupees INR. I managed everything. Distance from Mali border to Bamako is 500 Km I don't know how much time will it take, I think it will take 8-10 hours to reach I will most probably reach at 10:00 PM at night.
There is nothing to eat at the border only tea Attay is available, cold drinks and water too but no food items. Maybe low quality biscuits are available. I am just surviving on cereal bar which will help me to go to Bamako Generally I don't drink soft drink, but today in Mali I took this cola This is American Cola it is of 250 CFA It's been an hour since we left the border, and these were all my co-passengers which came with me from Nouakchott and they will not go ahead from here.
We have to cross so many army check posts in our way. In every half hour an army check post arrives and bus stops at it. We have reached to s small town many people can be seen here and there is so much of rush here You can see there is a market there, you can find meat there eggs and many eatables. People are looking normal and markets too There is a huge difference between the news, international media, different government advisories and many things that we hear of this place versus what you actually experience here. He is from Guinea, neighboring country of Mali One thing is sure, 99% of people are good in any country only 1% of the people are bad Those 1% of people makes a real mess. You can notice one thing, the moment I have entered in Mali everyone is asking for money, specially the kids are asking.
Mali have a very low literacy rate, it has only 30-40 % of literacy rate in whole country. Women literacy rate here is more less if compared to men. One thing is making me sad, if anyone is throwing empty cola bottle or water bottle outside the window from the bus, the kids are just fighting to grab it There is so much poverty in this country Mali is one of the poorest country in the world I will tell you an interesting part related to it, once we reach Bamako.
Bamako is 500 Km away from the border, and we have just covered 150 Km and 350 Km are still left and it's almost 5:00 PM. I thought that we would reach Bamako between 9:00-10:00 PM but now will reach there at midnight or tomorrow morning. So guys after covering distance of 1,500 Km and travelling of more than 40 hours, We finally reached the capital of Mali, Bamako. It's very dark, and it's 12:00 AM, can you imagine it is 12:00 AM right now I have to tell you many things, but I am not able to as it is so dark I can't see anything.
Right now I am in a taxi, here actually moto-taxi works but the place where I am staying suggested me that it's night time and moto-taxi is not safe. It's better to take car taxi. As you guys saw, last time I was in a town and after that I was detained for 2 hours here. This taxi costed me about 3,000 CFA almost 375 INR. I don't know the distance.
This taxi driver is asking me, whether I am from Pakistan, I told him I am from India and he is saying India-Pakistan same same. Day before yesterday I departed from Mauritania in morning at 6:00 AM and now third day has started when I reached Mali The place where I will stay, I have reached to that area or locality. This is some kind of building or apartment I have reached the place, where I wanted to come.
This is the room which I got. This is bed, this is pillow and this is blanket. Extra mattress is also there. They also have a cupboard and this is my bag. I have not taken shower from last 2 days, my full body is dirty, when I am touching my hairs sand is coming out from them.
I'll meet you guys after some time. So guys I took the shower, and now I am feeling better It's 2:00 AM and I can't speak loud I will eat something Finally after such a long time I will eat Indian food. My 2:00 AM dinner is ready and this is Chapati with curry. I will tell you what happened today, after crossing Mali-Mauritania border I didn't went out of the bus for even once, I was inside the bus whole time.
I was just recording and clicking footage inside from the bus itself After crossing the town we came to highway and nothing was there around us Everything was barren only road was there Then suddenly a pick-up type car arrived, it overtook the bus and stopped it. There were 2 militants sitting inside it, both of them were looking very weird and they both had a gun with them too Maybe it was an AK-47 or other gun. They stopped the bus and came to me, told me to take all your stuff with you and come out of the bus and let the bus go. I got scared what is happening here, there was no one near around Everything was so quite They told the bus driver to leave and informed him that they will take me. Then I took all my luggage and came out of the bus. They made me to sit in their pick-up car and those 2 militants were in normal, civil clothes.
I was so scared, as I don't know what will happen to me Who these guys are ? I have heard so much about Mali in news. Kidnapping and terrorism is common here. Al-Qaeda militants roam here freely. They took me to a small house They also didn't knew English They were all speaking in local language and in French. The first thing they did, when they reached the house is they snatched my phone, my passport and some other stuff too.
They emptied my whole 2 bags and checked each and every thing. They checked everything very thoroughly. I had no idea what was happening, I am gone today. Whole procedure took 1 hour, then they packed my bag, put me in their pick-up car and took me to other place.
When I was sitting in the pick-up car I was sitting between them they both had guns in their hands. They took me to some kind of office and once I reach there, I saw a flag which was of police or army. Some kind of government organization name was written on it. Then I was relieved, that these guys are not militants and I have reached to a police or army office.
I will be more safe here, worst they will deport me, send me to Mauritania, ask for money or bribe at least I would be safe here. I could have lost my life, if I was caught by militants. 3-4 officers came, they were in police or army dress They even don't knew English after that they took me to the main head He knew a little bit of English He asked me Why are you here? For which purpose you are here? On which visa you are here? They took all my information Where I will go ? Where I will stay ? After that they asked me Why I took the photos and made videos of police and army in Mali ? I told them I didn't took any photo of a policeman or any army officer You can check my phone and camera. They checked my phone and my camera too and fortunately they don't focused on my camera and made me delete all the photos and videos from phone which I restored from recycle bin. After that they sent me to a weird dark room and they had my bag, my passport and all my belongings.
You are not looking like tourist, you have other motive. You are not here for tourism, no tourist come to Mali You have other purpose here. We don't recognize this visa, it is not valid. They were behaving like they don't recognize Nouakchott embassy I explained them again and again and after few hours they were getting convinced They sent a person to photocopy my passport and I stopped them and told that why are you sending him I also have a copy of it with a smile Then they also smiled They took my local number asked me where I am going I told them Bamako They said go to Bamako but you will not open your camera and phone once Also will not talk to anyone or come out of the bus for once. My bus already left, they arranged other bus for me and then sent me to Bamako I could have reached Bamako at 10:00 PM but I got delayed as they detained me for 2 hours So I reached here at 12:00 AM I talked to my friends in India and told them about this scene They told me it was just a warning for me, Thank god that the militants you got turned out to be police man Imagine in the worst case if they turned out to be real militants, than there were no options left for you.
Mali used to be a safe country 10 years ago, Tourism was very good here. In past 10 years condition got very poor here. North part of Mali is controlled by militants, extremist and rebel groups. They wants Sharia Law in Mali, that make a lot of problem between government and militants.
This is the reason this country have civil war and called most dangerous country in West Africa Maybe some of you guys know about Uma Telugu Traveler He is a great friend of mine He stayed in Mali for a very long time and have good contacts here Before coming on YouTube he was living in Mali So the day I got visa for Mali I talked with him and informed him that I am going to Mali and I don't know anyone here. He gave me a contact of someone, from here. They are Indian They told me to go to their place, they live in Bamako You can live with them for as long as you want without any problem.
Right now I am with an Indian who is living here from very long time. He told me that you can shoot anywhere in home, but I don't want to come on camera. So I won't be able to show you guys Thankyou So Much Uma brother, if you are watching this video Thankyou for helping me in such an emergency situation.
I will stay here for 3-4 days and will see if there are other safe places in Mali I will travel here and if I don't get any safe place then I will leave from Bamako to Senegal In next video we will explore Bamako, capital of Mali. We will explore more but mainly focus on the safe places.
2022-09-22 23:44
Show Video
Other news