Forbidding No More S2 极境之旅 S2 EP9 | Colombia Part 2 - Amazon Jungle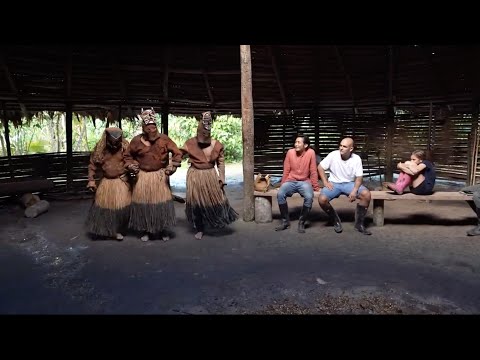 Show Video
The forbidding not only refers to the destination itself, but it also includes everything you encounter in your journey Let's enter an ancient city together... and explore one of the New Seven Wonders of the World Riding a donkey up the hill Get up close and personal with wild animals here! Look, elephants! The people here use movement... to interact with the picturesque scenery Follow the cheers of the locals... and appreciate the football spirit here! Goal! This is known as "Killer Lake"... and it's a great place to fish Follow us Let's take a trip together Forbidding No More! Alberto, the host of Forbidding No More , continues his journey in Colombia A vast expanse of a lush jungle can be seen from the plane's window What is the destination of this flight? I'm finally here! Guess where I'm at? This is the Amazon jungle, also known as the "lungs of the planet"! The air is fresh and rich in oxygen Follow me as we explore... the Amazon region within Colombia! The Amazon rainforest is located in the Amazon Basin of South America...
and stretches over 5.5 million square kilometres It has the largest tropical rainforest... and the river with the highest discharge on Earth, spanning across nine countries in South America The Amazon region in Colombia...
is bordered by Brazil and Peru With more than 51,000 different species, it's one of the most biodiverse ecosystems in the world In this journey, Alberto will explore the Amazon jungle... and get up close and personal with nature This amazing land... not only provides a habitat and source of life for the aboriginals, but also nurtures the species that lives on its land and in its waters I'm at Leticia, the entrance city to the Amazon from Colombia I'm filled with excitement... as I'm at Tanimboca Nature Reserve Besides experiencing nature here, what's more exciting is that I'll be staying in the jungle today! 11 kilometres from the city of Leticia, the capital of Amazonas department, Tanimboca Nature Reserve covers about 30 hectares Within the protected forest, a professional team offers adventurous tourists... eco-tourism activities Alex, thank you for the help You're welcome Before arriving at his accommodation, Alberto has to go through the dense jungle To think that finding my room has become an adventure of its own Along the way, there's a variety of trees, medicinal plants and flowers These are natural treasures in the Amazon jungle I've walked for about 10 minutes, but we're not there yet We're still a distance away from our accommodation Follow me! It's up there Up there? -Yes Can you see it? My room is on the tree That's right This aboriginal traditional tree house... located about 15 metres above the ground...
is where Alberto will be staying tonight What a primitive house I'm going to live like a primitive today I wasn't kidding when I said I'm going to live like a primitive today There's no electricity here I didn't expect that it would really be such a simple room There's a bed and most importantly, a mosquito net What else do we have? Oh, a bathroom There's a bathtub! Let me see There's no internet access here What am I going to do then? We're going for a night exploration Are you ready? Ready -Let's go After dinner, Alberto follows the guide into the Amazon jungle again... to observe nocturnal animals and insects more closely The first creature we'll encounter is the gecko Its colour is very similar to the tree bark What's that sound? It may be from a frog There's a frog here It's poisonous. Have a look at it It's a tiny frog Although it looks adorable, this frog is actually poisonous If you spot a frog with vibrant colours, that indicates that the frog is poisonous The vast Amazon jungle... is home to many species of animals, plants and insects Come have a look at this wolf spider They're not very poisonous, right? That's right But they're still poisonous, right? These large and poisonous spiders...
are known as "wolf spiders" due to their agility and aggressiveness Is this the typical size or are there bigger ones? There are bigger ones As big as your head? No, the size of my hand We might encounter spiders as big as his hand Look at these spikes It was so thrilling It was really an adventure There's another one here Where? -Here I think our guide is amazing He has really good eyesight I can barely see anything here Do you enjoy these walks? Yes, I like them very much Led by the professional guide, Alberto had the chance to closely observe and interact with... many animals and insects in the Amazon This has been a very exciting night I'm both eager and apprehensive of what I'll encounter next There were animals that came out to greet us We saw frogs and dragonflies Unfortunately, we didn't spot any rarely seen animals Can we go back now? Yes Staying overnight in a traditional aboriginal tree house in the Amazon... is a unique first experience for Alberto All right, time for a bath It's just a decor! We cannot take a bath here The tub doesn't have a drain stopper! Staying in a tree house is a very unique experience Without the internet and a phone, you're just left to completely immerse in nature This is heaven's will... for me to fully enjoy nature Listening to the sound of nature, there are some... strange sounds that can be a little frightening But once I'm used to it, these sounds seem to have a healing effect This is the power of nature I'm going to sleep now Good night. See you tomorrow
This is really tiring I would've said that I don't want to go on the zipline! What's that sound? This frog is poisonous This has been a very exciting night Look at these spikes I'm both eager and apprehensive of what I'll encounter next Alberto bravely entered the Amazon... and spent an unforgettable night in the jungle Hello! Good morning, Alberto! Yes, good morning! Is it Goran? Yes, it's me Okay! Let me come down to you That's Goran, the owner of this tree house He's here to fetch me There are many jungle activities in store for us today Come on, let's go! What a lovely place you have here It's beautiful I really love this place It's big. It's actually my private garden, you know? In 2001, Goran, who's a German, decided to fulfil his dream of being close to nature, understanding nature and protecting nature With a like-minded architect friend, he bought a piece of land in the Amazon... and built Tanimboca Nature Reserve Over the years, they have worked to preserve this area How big is the area here? This is about 30 hectares altogether When we first started our project, it was more like a hobby...
because there was no tourism in Colombia And then, finally, about 10 years ago, the tourism industry started taking off... and this became like a full-time job for us Since it is a nature reserve, they used a very special method to build the tree house Without a single nail or rivet, the tree house hangs from the tree due to gravity Goran said that this not only leaves the tree unharmed, but it is also very safe Why is there no electricity? At least a day in your life without things like electricity, or Wi-Fi... so that you can listen to the surroundings, enjoy the symphony of creatures and what's around you, especially at night Watch your step Goran led Alberto through the Amazon jungle to explore nature, while teaching him some outdoor survival skills Trees like this with big flat roots... All right People here use them for communication -It's like their mobile phone, you know? -Okay When such big trees are spotted in the jungle, you need to take good care of it... because it's the jungle "mobile phone" If you require assistance or help, you just need to hit it You can even feel it in the ground The sound can be transmitted a long distance When someone hears it, they'll respond to you Always remember that in the jungle, these trees are your friends They are your communication device Alberto's exciting journey in Tanimboca Nature Reserve is beginning Welcome to the zipline Wow, that's high! When you're in mid-air, that's when it'll look really high I built this zipline system in 2001...
and it's actually the first in Colombia The entire zipline system... has environmental protection at its core... and is built without harming the trees We have a system based on suspension by gravity... with dynamic platforms... which move with the trees during storms Hold on here with this hand They didn't use any nails for this structure I think that's very impressive Tanimboca is a project for life... with eco-tourism as its foundation We finally made it My legs are trembling! You're shaking. Are you scared?
I know, I'm shaking Oh my gosh, I dare not do it Stand up If I had known I had to climb up such a long rope, I would've said that I didn't want to go on the zipline Hey, Alberto! How is it going? How are you doing? Very regretful Don't make me look down! This is so tiring Just a bit more to go Alberto, you can do it! I finally made it! My thighs are weak My legs are trembling I've just completed my exercise quota for the year I'm ready The journey just now was just a warm-up Look here This is the main event! I'm petrified! Next, to travel from one platform to another, Alberto has to use the zipline... to "fly" from one tree to another Compared to climbing up earlier on, this is 100 times more relaxing This is so relaxing Do we have more? Yes Follow us on this journey of... Forbidding No More ! Finally, Alberto needs to abseil to return to the ground Alberto, I'm waiting for you here All right You're back on the ground It's so good to be back on the ground It's good to be back alive After completing the jungle experience in Tanimboca, Alberto follows in the footsteps of local aboriginals... for his next appointment in the Amazon They took me to a straw cottage What will we be doing here? I've been waiting for you Why did you bring me here, Juan? I brought you here... because this is a very important place in the Amazon This is the common lodging for the aboriginals, and a holy place where majority of the food is prepared In the past, this cottage was a gathering place for the aboriginals There are so many things here! All of these products are indigenous to the Amazon In the Amazon, there's an abundance of resources, not only in terms of fauna and flora, but also in terms of food Juan is a renowned chef in Colombia 12 years ago, he began using ingredients used by aboriginals in the Amazon... and came up with an Amazonian cuisine palatable to the city folks and tourists This is so that the public can pay more attention to the Amazon It's very refreshing The Amazon plays a key role People are still unaware that the Amazon is being destroyed...
so we're trying to raise awareness through food Thus, when you're in the Amazon, you must try the traditional food of the aboriginals What are we having for lunch today? Let me show it to you No! It turns out that we're going to eat this! No, thank you This insect is called mojojoy or suri It's known as suri in Peru, and mojojoy here in Colombia This is one of the iconic dishes in the Colombian Amazon It's the larva of a beetle that lives in palm trees It's actually full of nutrients... which are beneficial to our bronchial system Due to its nutrition value, these larvae form the main diet of many tribes in the Amazon There are many ways to eat mojojoy Some of the locals will eat them live Eat them live? Yes, do you want to try it? No, thank you! No passport or visa is required We can come and go as we like Can you believe that we're currently in Brazil? Stand up This is really tiring If I had known I needed to climb up such a long rope, I would've said that I didn't want to go on the zipline In the traditional aboriginal abode in the Amazon, Alberto experienced their daily life and tried the local cuisine It turns out that we're going to eat this! We're now going to skewer the mojojoy on the bamboo... and roast them later The stick will have to go through the worm Oh my, it's still moving I've decided to give these products to Alberto... because they're very important elements in the local kitchen Insects are also a major element of aboriginal nutrition It's your turn! -No! Yes, you have to! I dare not I can feel it squirming around The larvae must be roasted to crisp in order to bring out its flavours While waiting, Juan is preparing another traditional dish of the native Amazonians Cassava is one of Colombia's staple foods It has a high nutritional value It is eaten in many ways in Columbian cuisine He's just spreading it around with his bare hands on the hot surface Isn't it hot? Let me try It's definitely hot. It's very hot!
Slow roasting on low heat is the preferred way that aboriginals cook Slow and steady is the way Patience in exchange for tasty food Wow, it's so big! What a gigantic flatbread! The locals here eat this in place of bread It's tasteless and usually eaten with other dishes They're ready It's ready I'm not very keen to try at all The roasted larvae are crispy and chewy Paired with the cassava flatbread hot off the pan, it makes a mouth-watering nutritious meal in the daily diet of aboriginal tribes Why did I sign up to try these things? Why must I taste these things? I don't feel good touching it If I hadn't seen it wriggling earlier, I might still be able to stomach it But since I've seen it wriggling, I really can't bear to eat it It's very sweet! It's like a dessert It looks scary, but it's quite tasty Delicious -Yes, it's tasty! If you come to the Amazon, will you dare to try mojojoy ? The aboriginals have also prepared a surprise for Alberto... to welcome him for coming from afar Go! It's a traditional dance They wore skirts and masks... and they asked me to dance with them With the traditional Amazonian song and dance, Alberto's cultural experience in the tribe comes to an end Leticia in Colombia, Tabatinga in Brazil, and Santa Rosa in Peru...
are known as "The Three Frontiers" As a tourist, one mustn't miss out... on the challenge of "having three meals in three countries in a day" In a single day, three meals in three countries With these three different currencies, I'm going to complete today's challenge For our first stop, we're at the market in Leticia It's bustling Let's see what's being sold here Leticia is the southernmost town in Colombia It's located at the intersection of Colombia, Peru and Brazil It's also the only port on the Amazon River in Colombia To experience the hustle and bustle of this frontier town, you'll have to take a walk around the port There's so much packed food They also have plates of food that are ready to be served It's similar to the economy rice in Singapore The difference is that they've selected the dishes for you You just have to pick the staple This is like lotus leaf rice They've wrapped rice and chicken in it Let's try it out May I have one? How much does it cost? 3,000 Colombian pesos -3,000? Wow, that's less than US$1 for lotus leaf rice This is actually a Mexican dish... that Colombians tend to have for breakfast It contains yellow rice, and chicken When the owner was unwrapping this, she added a banana for me Delicious! Thank you! This is my first meal in the first country, Colombia It tastes fresh and light I first tried a very traditional breakfast in Leticia I didn't expect that their breakfast would be so heavy There are dishes like fish soup and meat It's very hearty Such a hearty breakfast only cost 15,000 Colombian pesos That's around US$4 Here's 16,000 pesos Now, I'm continuing my challenge Let's head towards the second country! Hello Thank you Hello. Have a seat I'm headed to Brazil See you in a bit! Alberto got on an auto rickshaw...
and is headed towards the border between Colombia and Brazil In terms of time, how far are we from Brazil? 15 to 20 minutes 15 to 20 minutes? That fast? Yes, sir. We're close It takes about 15 to 20 minutes to get to Brazil by car Unbelievable, isn't it? Along the way, Alberto kept a look out for the signs of the border checkpoint He wanted to snap a picture as a memento Can you please inform me when we are crossing the border? Currently, we're already in Brazil What? We're already in Brazil! The driver told me that we were already in Brazil I was shocked This is an invisible border If not for the signs being changed from Spanish to Portuguese, one probably wouldn't know that they're already in Brazil There are no checkpoints, and no need for a passport or visa We can come and go as we like We're already in Brazil, can you believe it? Is this the place? It's here, my friend. "The Three Frontiers" restaurant Tres Fronteiras Wow, we're here! This is Tres Fronteiras , The Three Frontiers restaurant See you later! See you later, my friend! This restaurant with a beautiful garden... is known as the cutest restaurant in Tabatinga It serves authentic and traditional Brazilian dishes This is my second meal in the second country, Brazil It's a spread! Brazilian churrasco... with a variety of meats Brazilian churrasco is a popular type of barbecue in South America Different meats are skewered and grilled over charcoal... before consumption This Brazilian drink...
is known to ease any discomfort in the early stages of a flu I haven't had barbecued meat in a long time Brazilian churrasco with a sugarcane cocktail It's a perfect combination So much food for a single person It's so decadent Alberto paid about US$14 for this lavish spread I'm so full! I've finished my second meal in Brazil Now, I'm going to the third country to continue eating! Are you ready? Can we go to Santa Rosa? Of course! 5,000 Colombian pesos? Let's go! We're taking a ferry as we need to cross a river to the Peruvian border Off we go to Peru! The Peruvian border town, Santa Rosa, is just a 10-minute boat ride from Leticia, Colombia We're almost in Peru There's also no visible border nor checkpoints I didn't need to present any documents to arrive in Peru from Colombia It's unbelievable I visited three countries within a day I'm now on a small island in Peru Hello! How are you? This is a small fishing village in a remote part of the island It's far less developed than the border towns of Colombia and Brazil We're here! Is it here? -Yes, this is it This is where I'll be trying Peruvian cuisine Hello! Hello! I'm finally in Peru for the third part of my challenge, my third meal! This is ceviche It's marinated raw fish... served with some corn, lettuce, and onions Let's dig in! Ceviche originated in Peru... and it's considered a national dish It has a rich lemon flavour, and the fish is very fresh It's very refreshing... and a fitting dish to cool you down on a hot summer day This drink is a traditional Peruvian beverage It's made of purple corn, some lemon juice and cinnamon It's very refreshing This challenge of "three meals in three countries in a day"...
took Alberto about seven hours Three meals in three countries in a single day Challenge completed! If you have a chance in the future, would you try... the challenge of "three meals in three countries in a day"? Do I hold it in the middle or the back? The middle It takes about 15 to 20 minutes to get to Brazil by car Unbelievable, isn't it? I haven't had barbecued meat in a long time Alberto completed the "three meals in three countries in a day" challenge He's now continuing his adventures in the Amazon The Amazon is the largest tropical rainforest in the world Visiting the Amazon... must be the dream of many adventurers Today, aboriginal hunter, Harry, will bring me deep into the jungle What will we encounter? I'm nervous and excited. Let's go!
Harry? Yes -How are you? I'm fine Following closely behind the hunter, Harry, Alberto steps carefully in the Amazon jungle To protect this tropical rainforest, the Amazon's aboriginal tribes are hunting less When we are in a populated area, we don't hunt We only hunt in areas away from the population and only for survival Alberto, I'm going to teach you something very important - how to climb a palm tree It's the first skill to learn before learning how to hunt Alberto's first lesson on outdoor survival is how to climb a tree Tree-climbing is an essential skill Besides being able to flee from animals, we can also pick fruits All right, we're going to try climbing up this tree Can you demonstrate? Yes He's really climbing just like that That's really high up It may be easy to climb up the tree but coming down is another story It's easy! Yes Hunter Harry quickly crafted the tree-climbing equipment... for a novice like Alberto Let me try it out How did you do it? Press down You need to press down with your feet, using the centre of your soles I rarely use the soles of my feet Let's give it another shot I didn't want to take off my shoes initially... but I'm going to give it my all to conquer this challenge I can't do it My feet hurt! Everyone, don't be misled by how easy it looked when Harry climbed up the tree It's actually very difficult Let's learn other skills instead Tree-climbing, failed Alberto This is a palm tree that is used to make spears Harry is going to show us how to use the plants in the jungle to make a spear What animals are hunted in the jungle? We can hunt many rodent species in the wild... with the spear We can actually hunt many rodent species in the jungle He said that some rodents can grow up to 10 kilograms With Hunter Harry's guidance, Alberto successfully made a spear Next, he will learn how to use it to hunt One foot forward and one foot behind This way, you'll have greater momentum He has great aim! What's the trick? I don't know either I'll just mimic him Do I hold it in the middle or the back? The middle Was that good? It's good Okay, let's do it again. I'll try again That won't do. Let's do it again
Then, you have to increase the momentum I can only say that he's a very good hunter, but not a good teacher He didn't guide me at all I kept asking him questions and he just said, "Like this" Almost there! Alberto's spear-hunting practice has unfortunately ended in failure too Next, Hunter Harry will teach Alberto how to make a basket from plants The leaves from behind. Look Harry has a pair of skillful hands Anything in his hands can be fashioned into useful tools very quickly Okay, let me show it to you This is made by our teacher This is made by me I'm going to cheat here This is mine and look at his! What's the purpose of this basket? This is the size of an egg... and it fits perfectly into my small pouch The weather in the Amazon is unpredictable It started pouring out of the blue Harry is amazing He made his own umbrella He can make use of anything in the jungle Everything is his tool We're following the master... to catch fish We need to be quiet Our master is not messing around I think he saw something! Hunter Harry followed his parents into the Amazon jungle when he was 10... and learnt how to survive in the jungle All his knowledge and skills were imparted to him by his parents He said that he would also pass these down to the next generation How big was the largest fish you were able to catch with this spear? It was about 45 centimetres long Really? Our master... has caught a fish of 45 centimetres in length with a spear before Did it escape? Yes Unfortunately, we didn't catch it It's gone? Yes, it's gone Bye Although they were unable to catch any fish, Alberto's adventure in the Amazon has been a fulfilling one I got to see the Amazon differently with the company of a hunter I understand it better now In the final segment of this journey in the Amazon, Alberto sailed on the Amazon River by boat What exciting events await him in the Amazon? The Amazon river dolphin is the world's largest river dolphin There's a legend about them It's said that the dolphins transform into suave men at night to charm girls They'll then return to their original form the next morning Today, I'm going to try spotting the Amazon river dolphin I hear that sightings are dependent on luck Wish me luck To increase my chances of seeing the river dolphins, the boatman took me to a protected area...
where a fishing ban is enforced Tarapoto Lake is a beautiful jungle lake... famed for its pink and grey river dolphins... and the "walking tree", attracting many tourists around the world The Amazon river dolphins have a cute nickname, "Pink Dolphin" It's the largest river dolphin in the world As humans continue to destroy their habitat, they've been listed as an Endangered species Are there any tricks to attract the dolphins? Whistle or clap. Both work Yes, something like that Can you demonstrate? Let's see who will be able to attract the dolphins There's one there Alberto's forbidding adventure in Colombia ends at the Amazon River It's a perfect conclusion to his journey To me, Colombia is full of vigour, colours and music It's always lively Singapore...
What amazed me most... was seeing how Medellin has changed What left a big impression... was watching the sunset from the top of The Rock of Guatape Wow! It was indescribably beautiful What was most interesting was being in Leticia... and completing the "three meals in three countries in a day" challenge From Colombia to Peru Hello! Through eco-tourism in the Amazon, I not only experienced nature, but I also realized the importance of protecting the ecology If you have the chance, I welcome you to visit Colombia...
to personally experience the unique charm of this country If you're particularly interested in forbidding places, Colombia is definitely a country that adventurous travellers... would not want to miss Subtitles: CaptionCube
2023-03-11 03:58
Show Video
Other news