Forbidding No More S2 极境之旅 S2 EP11 | Rwanda Part 2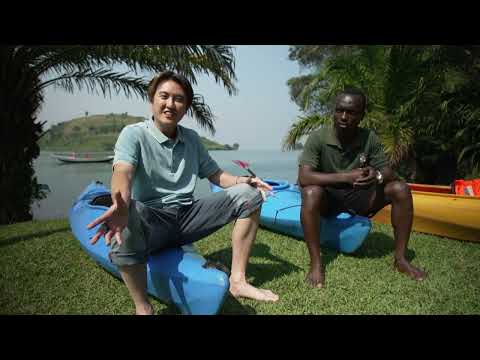 Show Video
The forbidding not only refers to the destination itself, but it also includes everything you encounter in your journey Let's enter an ancient city together... and explore one of the New Seven Wonders of the World Riding a donkey up the hill Get up close and personal with wild animals here! Look, elephants! The people here use movement... to interact with the picturesque scenery Follow the cheers of the locals... and appreciate the football spirit here! Goal! This is known as "Killer Lake"...
and it's a great place to fish Follow us Let's take a trip together Forbidding No More ! When the name "Rwanda" is mentioned, the Rwandan Genocide in 1994 is often the first thing that comes to mind However, there is more to this country than its tragic history We decided, let's work hard and build our nation, and live it as a single people After visiting the Kigali Genocide Memorial, located in the capital of Rwanda, host Huang Jing Lun has fully immersed himself... in the simple yet vibrant lives of the locals Congratulations, my friend Now you're going to have Rwandan clothes Muraho Rwanda! It's going so fast! He's also witnessed the natural scenery that Rwanda prides itself on, with a leisurely yet exciting trip to its national parks This is the highest point of this canopy walkway Here, we are at 70 metres high They're so fast This is so difficult I'm getting the hang of it After enjoying some fragrant tea among the lush greenery, Jing Lun continues on his journey to explore Western Rwanda I've finally arrived at Rubavu after a six-hour car ride from Nyungwe What's so special about this place? Let's find out Rubavu is a small town located on the shores of Lake Kivu Its fine sandy beaches and crystal-clear waters... have made Rubavu one of the best places in Rwanda...
to relax, soak up the sun and engage in a variety of water activities I'm at Lake Kivu now It's the first time I've seen a lake with a beach This lake has the highest altitude in East Africa It's also one of the largest lakes in Africa Lake Kivu is also known as "Killer Lake" That sounds very scary Maybe there are piranhas or killer whales in there I'm not sure I'll probably have to go out on the lake to find out Muraho ! - Muraho (Kinyarwanda) My name is Poppy (Kinyarwanda) My name is Yazidi -Nice to meet you, Yazidi -Nice to meet you too -Let's go -Welcome to Yazidi Kivu Boat Tours Rwanda is a landlocked country, yet it has as many as 32 lakes, the largest of which is Lake Kivu, with a surface area of 2,700 square kilometres It is also 1 of the 20 deepest lakes in the world, measuring 480 metres at its deepest point This entire area is so pretty Let me tell you something You see that? That's the Democratic Republic of the Congo We're so close to Congo Lake Kivu lies on the border between Rwanda and Congo Congo is to the west of Lake Kivu, while Rwanda is to its east About 1,000 square kilometres of Lake Kivu is located in Rwanda Beneath the calm waters of Lake Kivu... lies a terrifying secret Is that a volcano? Yes, that is the volcano It's the Nyiragongo Volcano, it's an active one It's active? -Yes, it is! You see the smoke coming out, it's from inside, over there Wow! When was the last eruption? On 22 May, last year Last year? -Yes This has given rise to "Killer Lake", Lake Kivu's hair-raising moniker The bottom of the lake contains 55 billion cubic metres... of dissolved methane, carbon dioxide and other flammable gases If a large amount of lava was to spill into the lake when the volcano erupts, the lake water could heat up to the point that harmful gases are released into the air Scientists are worried that it would spell a catastrophe Despite the hidden dangers, life goes on as normal... for the two million people that live around Lake Kivu Do people fish over here? Yes, they do We're going to see the fishermen there We can see how they fish I have been fishing for the last 28 years I earn a living from this lake I am able to send my kids to school because of this job Both my present life and my future depend on this job So, this lake is very important to me Lake Kivu has a total of 70 fishing cooperatives, consisting of 3,800 fishermen Every evening, the fishermen row out to the lake in their handmade boats, singing traditional songs in a dying language, as a form of encouragement and good wishes for a fruitful haul Everyone at Lake Kivu has to take responsibility for their own dinner, so I've decided to catch some fish for myself I'm following these fishermen, but I don't know if there'll be a good catch Is this a traditional boat? Yes, this is a traditional boat. It's called " amato "
When three boats are tied together, it's called " ikipe " So, I am on an ikipe ? Ikipe , yes Why must these three boats be tied together? It's just for the balancing of the net That net is heavy, it's more than 100 kilograms One boat won't be enough to support the net I see -Yes Lake Kivu is teeming with sambaza, small fishes that resemble sardines, and tilapia As these fishes are attracted to light, the fishermen choose to cast their nets into the deep waters of the lake at night They continue fishing all through the night Fishermen use electric lamps and kerosene lamps when fishing The electric lamps are lowered into the lake to attract fish that are deep in the water The kerosene lamps are placed on both sides of the boat... to attract fish that are in the surrounding area Can I try to light the lamps? Is it safe? Yes, it is I'm going to try lighting this lamp I literally need to add oil ( jiayou ) -Is it very hot here? -No, it's not hot Like this? -Yes I thought I would be able to do it easily Just do it faster Oh, it's a little brighter now Yes Yes, wow! You did it Once the lamps have been lit, all they have to do is wait for the fish to take the bait So, you'll wait for two hours doing nothing? Do you sleep? Yes, we sleep Right now, this is the first round -The first area -Yes, this is the first area After taking the net up, they can't cast the net here again They will move to another place and try to catch more fish there How can you detect the fish? How will you know where the fishes go? -Nobody knows -Like which place has the most fish? It's like going hunting It's a gamble Yes The whereabouts of Jing Lun's dinner is still a mystery as of now... because it just so happens to be a break in the fishing cycle... when the fishermen leave the fish to reproduce We've cast the net for about two hours now The fish will be placed here later They're pulling the net up Will I have any dinner today? I felt a little helpless when I went fishing with them, because there was nothing I could do to help They applied many skills and mechanisms... that I wasn't familiar with Trying to help might have hindered them instead I did eventually help to pull the net up Pull? Keep on pulling? If you want any fish, you'll have to catch them yourself I can finally help out It feels sticky We caught so many fish! Just take a look There's even tilapia Do you see it? Those are sambaza Wow! There are so many fish This is considered a small haul for them We only stayed for two hours, which isn't very long There would have been a lot more fish if we had stayed until 4 or 5 am Although they went on this fishing trip to accommodate our shoot, they are still very happy You can see how happy they are, singing Rwandan songs while rowing the boat I can feel how each fishing trip is a source of great hope for them You can't travel all the way to Africa without going on a safari Will Jing Lun succeed in spotting the famous "Big Five" of Africa? The sky is slowly turning dark We can't spot anything at all Stop Stop, where is it? There is something there Great view Lake Kivu, otherwise known as "Killer Lake", is still relatively safe It's also a good fishing spot for the locals If you want any fish, you'll have to catch them yourself We caught so many fish! Rwanda may be a landlocked country, but it offers a large variety of water activities It's why I'm back at Lake Kivu again this morning Hello, Yazidi -Hello Kayaking today? Yes, we're going kayaking today This is my second time going kayaking The first time was 25 years ago Lake Kivu is surrounded by mountains on all sides Many small islands can be found on Lake Kivu Kayaking is the best way to take in the beautiful sights of Lake Kivu Where are we going now? We are going to Paradise Island Why is it called "Paradise Island"? It's because of the beauty it holds It looks near, but it's not that near Will we need 30 minutes to reach there? It'll take 10 or 15 minutes -Really? Paradise Island is one of the 56 islands on Lake Kivu, situated about two kilometres from the shore We're almost there Finally They're so quick to help us Oh, thank you Yes! I'm here at Paradise Island Paradise Island is a private island that is managed by a hotel Despite a small size of about 20 square metres, the locals often come here to camp or hold weddings After taking a short break on the island, Jing Lun prepares to return to the shores of Rubavu We've had a look around the island Now we're going back to the mainland Shall we have a competition? Sure Ready? Let's go! Jing Lun, your courage in taking up this challenge is admirable, but you're no match for Yazidi, who lives by the lake He's too far away I'm going all out! No! It was good exercise The journey to Paradise island takes about 10 to 15 minutes I only took nine minutes I lost even though I gave it my best shot Nevertheless, I still feel like a winner I saw some beautiful scenery, visited an amazing little island, and enjoyed a great experience all around I had a lot of fun It's just that my arms are very sore now All right, you win Let's go for a drink I need a massage tonight. I'm aching all over
That massage will have to wait for now... because an even more wonderful experience awaits at the next destination That's right! I'm heading to the Akagera National Park! I'm going to get up close and personal with the animals... while riding in this open-top jeep Which animal will I see first? I'm so excited! Akagera National Park, located in northeastern Rwanda, is the largest wildlife reserve in Rwanda, with an area of 1,122 square kilometres Akagera National Park is a tropical grassland, in other words, a savannah The park is home to a variety of ecosystems For example, the grasslands, woodlands, wetlands and lake Such an environment allows for the co-existence... of carnivores, herbivores, primates and birds You can enjoy three distinct experiences in this national park I'm going to try the night experience first What kind of animals will I encounter tonight? This is my guide, Justus -Nice to meet you -Nice to meet you too The Akagera National Park...
gives opportunities to the people from the community I like being a guide because I meet different people I also like the animals Every day is different No visit to Africa is complete without a safari experience In the past, the word "safari" referred to the hunting of Africa's Big Five As ecotourism gained popularity, safaris became a common way for people to admire wildlife Africa's "Big Five"... refers to the top five sought-after trophy animals in Africa They are the African lion, African elephant, African buffalo, African leopard and the black rhinoceros They are known as the Big Five not because of their large size, but because of how difficult they are to hunt down Jing Lun has chosen the night safari tour... as his first experience in Akagera National Park Will he succeed in witnessing the Big Five in action? What are the things we need to look out for? No feeding or something? Yes, no feeding the animals. No getting out No littering And the speed limit is 40 kilometres an hour You might hit some animals if you drive fast How about shouting? No? Our voices should be at minimum volume...
so that we don't scare the animals away The sky is slowly turning dark We need to look out for reflections According to the guide, an orange reflection... means that there's a carnivorous animal If the reflection is green, it's an herbivorous animal Stop! -Where is it? -There's something there I don't see anything, how did he spot it? It's not moving. Maybe it's a tree, not an animal Oh, okay He saw it wrongly You might misjudge what you see sometimes Half an hour into the safari, it is nightfall Jing Lun, who has yet to encounter any wildlife, finally spots some movement in the grass Is that a rabbit? A rabbit. The scrub hare
They are still active at night? Yes, they are active at night... because they know that they have a lot of enemies, like leopards and owls Many carnivorous animals, such as lions and leopards tend to be active at night Consequently, their prey, such as rabbits and zebras, can't rest easy at night either That's why it's common to see them moving around... when going on a night safari There are two zebras They move together in a big group There are usually 5 to 15 of them in a group If you only see two zebras, they are probably a new family The safari gets off to a good start Jing Lun continuously spots more and more wildlife, witnessing their authentic behaviour in their natural habitats This is the spotted hyena They are the biggest type of hyena Look, they raise their heads to smell the surroundings They have a keen sense of smell Will Jing Lun be able to ride this wave of good luck...
and spot Africa's Big Five in action? Where is it? There. It's walking there It's so tiny I see it Although the Akagera National Park has about 80 African Leopards, they are one of the most difficult animals to spot on safari tours... because they are solitary animals Their movements are elusive... and they're highly adept at hiding among the trees at night This is also the first time that the local staff accompanying Jing Lun...
are seeing an African leopard After more than an hour in the car, we finally spotted a leopard It's resting on that small hillock This is such a rare sight and at such close proximity too I thought it was just an ordinary cat when I saw it from afar I didn't expect it to be a leopard It feels great I want to take a photo Now that I've spotted a leopard, let's see if I can spot a lion, an elephant... or even a rhinoceros next Towards the end of the tour, the lion, elephant and rhinoceros were still nowhere in sight However, Jing Lun did succeed in spotting another member of the Big Five The African buffalo Is this an adult? It's an old male Oh, it's an old male African buffalo live in herds Those that travel alone are either old or injured They may look docile, but they are fierce and aggressive in reality They are among the animals to have caused the most injuries to humans in Africa Wow, that was amazing! I was on my feet for the whole two and a half hours... because I was too excited Although we only saw two out of the Big Five, the buffalo and the leopard, we did spot some other animals Snakes, zebras, owls, rabbits and even hyenas It's a very rare opportunity I was so excited I hope that I'll be able to see all of the Big Five tomorrow I'm going to rest now He won't stop until he's seen all of the Big Five! Jing Lun's safari tour will continue shortly Look! We've found another of the Big Five The elephants are on the move We're going to Paradise Island It looks near, but it's not that near After enjoying the scenery during a kayak ride on Lake Kivu, Jing Lun headed for one of the oldest national parks in Rwanda, Akagera National Park, for a night safari tour, an experience that's unique to Africa Where is it? It's walking there It's so tiny Akagera National Park was founded in 1934 At the start, it spanned an area of 2,500 square kilometres After the genocide in 1994, many Rwandans returned here to live in the park and its vicinity This resulted in the clearing of a large area of the woodlands Many of the animals were also hunted for food A huge park like this must have someone to manage it Let's go meet these unsung heroes Hi! Good morning -Good morning Are you in charge of the dogs over here? Yes What do the dogs do here? This is the K9 Anti-Poaching Unit We use these dogs to track all illegal activities inside the park There are 10 patrol dogs in Akagera National Park They patrol the area every day The park rangers will conduct obstacle course training... and teach them to obey simple commands In 2010, African Parks partnered the Rwandan government... to manage Akagera National Park They set up the K9 Anti-Poaching Unit, hired more park rangers, and implemented more security features This reduced poaching activities by a significant amount This is where the park is managed from Here, we monitor rangers in the field We need to know the situation in the field The rangers will move around to make sure they recover snares They see everything in the field, and make sure it's very safe and protected It's a very good system We also monitor the elephants using the same system Have you seen the elephants? Not yet. I'm going to see them now
This is the highlight of the day We're embarking on a six-hour exploration I've invited a different tour guide today Let's welcome Amour! Hi -Hi, how are you? Nice to meet you -Nice to meet you After visiting the park's unsung heroes, Jing Lun embarks on yet another safari tour This time, he's travelling from the south to the north He will pass by the grasslands, woodlands and wetlands Let's hope that he will spot the rest of the Big Five It's the dry season The grass is very dry everywhere There's no water anywhere That's why you don't see many animals There are swamps and lakes up north The animals are getting the three main things they need Water, food and security As long as we keep driving north, we are more likely to spot animals Amour said there wouldn't be many animals around here, but we spotted a baboon soon after It was walking on the road It wasn't afraid of the car Just as Amour said, after a two-hour journey from the drier south side, more animals started to appear near the wetlands and lakes Hippopotamus They were very fierce They wanted to charge over once they saw us A magnificent scene unfolded before their eyes, just when they least expected it That elephant is eating leaves in the middle of the road It couldn't care less about us It just keeps eating The African elephant is the largest mammal on land As elephant tusks are one of the main targets of poachers, African elephants have been listed as a critically endangered species In 1975, about 26 young elephants were brought to the park... as a result of a cull in Southern Rwanda There are about 130 elephants living in the park now Look, we spotted another of the Big Five It's the African elephant Their whole family is here They're grazing here The guide said they'll be heading to a water source to drink water It's about noon now When it's hot, they all go into the shade The northern exit of the park is on the horizon Jing Lun is still looking for the last two "heavyweights" of the Big Five Why are they "heavyweights"? It's because they once disappeared in Rwanda We finally spotted one of the last two, the rhinoceros The black rhinoceros was once the most prolific rhinoceros in the world Due to poaching and the destruction of their habitat, their numbers dwindled from a total of 70,000, reaching a low of 2,500 in 1990 In 2007, they were announced to have gone extinct in Rwanda It was only in 2017 that the Akagera National Park... brought 18 black rhinoceroses from South Africa to Rwanda Just like the black rhinoceros, the African lion went missing in Rwanda, after the genocide in 1994 In 2015, the Akagera National Park...
brought seven African lions from South Africa to Rwanda Under the protection of the park, the lions, also known as the "King of the Jungle", have now grown to 40 in total Unfortunately, the lions are the most difficult to spot in the day As nocturnal animals, they prefer to stay hidden among the trees, away from the roads I spotted four out of Africa's Big Five in just six hours It's a pity that we didn't get to see any lions We have 20 more minutes before we reach the exit Hopefully, we'll be able to spot a lion in those 20 minutes Don't lose hope! Okay, let's go I'm very excited to be here at the Akagera National Park I didn't experience this vast grassland the last time I visited Africa What I find the most exhilarating and fun is that... the animals don't have a designated area to roam in You need to search for them yourself Whether you see them or not depends entirely on your luck I felt very engaged because I was constantly on the lookout for them Just now we saw the elephants eating and walking around It's different from what we see in zoos I think that this is their most natural state My only regret is not seeing the lion, out of all the Big Five We saw the rest Little did Jing Lun expect, that Lady Luck would smile upon him On the way to the exit, he saw the African lion! I just told the director... not to film the end yet, since we still had 20 minutes left I told you! We spotted a lion in those 20 minutes! We spotted all of Africa's Big Five And a male lion at that It frightened me It was sleeping, but it suddenly woke up... and looked over here I know exactly what it was thinking It must have thought that its food had arrived Let's admire this majestic lion Now we can leave this place with no regrets This path is getting tougher and tougher to walk on After the eventful safari trip, Jing Lun will be bidding Rwanda farewell soon Before that, there's one more "celebrity" he can't miss out on We're going in to look at it The "celebrity" is in there! Look -It's the leader The silverback The elephant is eating leaves in the middle of the road For animal lovers, being able to witness wildlife living in their natural habitats...
is an amazing experience Besides safari tours, Rwanda has another unique experience... that allows visitors to immerse themselves in the world of wild animals Good morning, it's only 6.30 am Look, the sky just turned bright I have to make a move before my voice has even warmed up Where are we going? We're going to chase a "celebrity" Jing Lun's last destination in Rwanda... is the Volcanoes National Park in northwestern Rwanda Just like its name, this park is made up of five volcanoes in the Virunga Mountains With an altitude range of 2,400 metres to 4,507 metres, it's a primary montane rainforest and bamboo forest I'm too late! There are so many people here to chase the "celebrity" Let me tell you, it's not easy to chase the "celebrity" Everyone here is rich One entry ticket costs 1,500 US dollars Just who is so famous? Even more than me? One of the rarest gorillas in the world, the mountain gorilla ( daxingxing )... is the Volcanoes National Park's "celebrity" ( damingxing )! Due to poaching, the destruction of their habitat, human diseases and war, they are on the brink of extinction There are only 1,060 of them worldwide...
and they are spread across three countries... in Congo, Uganda and Rwanda's nature reserves Let's ask someone Muraho ! (Kinyarwanda) How are you? (Kinyarwanda) I'm good I have been a guide for 12 years... and this is my village When I was a little boy, I grew up watching the mountain gorillas I saw how they looked like us, how the mothers care for their children... and how the silverback led his family Wow, I really want to work with these guys 380 mountain gorillas live in the Volcanoes National Park Of which, there are 12 families, consisting of 200-odd gorillas, that visitors are allowed to observe The rest are subjects of scientific research To track the mountain gorillas in the Volcanoes National Park isn't easy Visitors must have a permit to be allowed to enter the park with the guide Only eight permits are issued for each family of gorillas per day One permit can cost up to 1,500 US dollars Here we have a bamboo nursery A nursery? We are trying to plant the bamboos and we have a plan to expand the park We want to buy land from the communities, so we can plant the bamboo again... and the gorillas would have food and a place to live While the permits are expensive, the revenue goes into protecting the gorillas, their habitat... and funding the park's operations 10 percent of the revenue is used to improve the lives of the community Emmanuel, how long more till we get to see the gorillas? Oh, it's not very long It's going to take us 30 minutes to get to the edge of the park The distance? The distance is about two kilometres Two kilometres? Okay, that's not too long Yes, it's not too long Are we there yet? The guide lied to me. He said that two kilometres would take over 10 minutes
I think we've been walking for longer than that and it's so cold here I'm a little giddy How could it be easy to track a mountain gorilla? They only live in forests that have an altitude of 2,400 to 4,000 metres Thus, upon reaching the designated location of the gorilla family, they need to walk for 30 minutes up to 4 hours For the ease of filming, the guide assigned the crew... the gorilla family that is closest to the foot of the mountain Before we meet the gorillas, I need to introduce the silverback I have to ask him if we can come I'll ask if we can join If he says no, it means you are not lucky enough to meet him If I say... and he replies... it means no If we hear that, we shouldn't move That means no We need to hear this It means good This means good You need more practise, my friend When you get to meet the gorillas, please don't take the sticks because these gorillas have been poached... and people had hit them with the sticks So, if they see the sticks, they'll remember the bad experience We're going in to see them The "celebrity" is inside there! Wow, we are finally in the forest There are no signs, how do they know where to go? He's amazing The Volcanoes National Park has a gorilla tracking squad Every morning, they search for traces of the gorillas Once they spot some traces, they will inform the guides of the location...
so they can bring visitors to those spots Do you see that? They're making a path It probably means that no one has been here before When we are tracking the gorillas, we always look for the poop they leave behind I can tell how old this poop is It's still warm Is it 10 minutes ago More like five minutes Look, this is from the silverback You can see this one is pointing this way... meaning that the gorilla is there We are getting closer to the gorillas We are near! Come Mountain gorillas are the largest primates now Don't be deceived by their fierce appearance They are actually gentle creatures They spend most of their time searching for food, playing or sleeping Look -Oh, the big one The silverback Is that the papa? Yes, the papa. He's coming After they are sexually mature, male silverbacks... grow silver hair on their back Thus, they are called silverbacks His name is Uburanga and Uburanga means handsome You can see how handsome he is If I was a female gorilla, I would love him as well This "handsome chap" is the leader of the Hirwa family, which means lucky in Kinyarwanda, It's a lucky family It's a family with 14 individuals The mother...
gave birth to the youngest gorilla in the mountains It's about three weeks old Is it common to have such a big group together? It's not very common to see them together this way Today is a special day Look, the babies are playing in the tree They're climbing a tree that's not strong The mum is trying to tell them... to come down and be careful because they might fall down That's her worry You are a gorilla translator Thank you Honestly, I wouldn't particularly want to see gorillas if I go to the zoo However, after interacting up close with them, I realized that they are very cute They were so close too They said there should be a 7-to 10-metre distance between us, but the closest one was just 3 metres away Wow, it's cute Heaven wasn't on our side, though Halfway through it started raining I think it's such a pity It's starting to rain He's going to seek shelter He doesn't like the rain, so he'll go hide This is a very amazing encounter I felt like an adventurer at such close proximity It was great! Many endangered animals require protection and care Through this way, they can help the mountain gorillas facing extinction... grow in numbers again They made this a tourist destination... while protecting the animals... and providing the community with another source of income They hit three birds with one stone Honestly, before coming, I thought that African countries were undeveloped...
or third-world countries Coming to Rwanda completely changed my mind If we put it bluntly, the country turned itself from a state of ruin... into what it is today in a span of 20 years I think it's truly a feat They refer to the Rwandan people as one people... and a thousand mountains That was quite an apt line The view is fantastic The environment there is like heaven The most memorable part of the trip... was the safari tours at Akagera National Park It was the first time I sat on an outdoor jeep too It was exciting to search for the nocturnal animals at night... because you may not get to see them That feeling is unbeatable It made me feel like it was so worthwhile to come here This is such a rare sight! If I get the chance, I would like to come here again There's a sense of familiarity here Also, everything here gives me good vibes See you next time on Forbidding No More ! Murabeho Rwanda Africa isn't scary What's scary is our biases against it Only by experiencing it yourself, will you realize that this continent has so many wonders in store for us Subtitles: CaptionCube
2023-03-22 12:31
Show Video
Other news