EP #3 ലോക സഞ്ചാരി Ibn Battuta യുടെ നാട്ടിൽ | Tangier in Morocco, Is this Europe of Africa?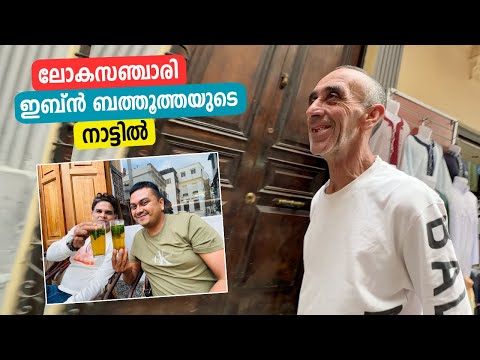 Show Video
I am at Ibn Battuta's birth place. Morocco is famous for many things When we say Morocco, Keralites think of Suneer Kandy The world wide traveler Ibn Battuta's tomb is here Last time I had gone there but couldnt see it. We are in search of the tomb now.
We drove nearly 450km from Casablanca to Tangier Where are you going? It is that side. We shall believe him, right? Or we will have to walk up and down today He is talking about some other place People here are very friendly Did you shoot me give him a kick? Should I give it a bgm? Isnt this the ferry? This is the route. You have ferry to these places This is Spain This is how I take my car We can cross from these 3 locations Where is Gibraltar? This small area That is a different country It is a territory in UK What you see here is the sea When you walk little upwards, you will see a mountain. That is Spain. He is behind Sunnebhai Lot of tourist come here to Tangier You have beautiful restaurants and hotels here You can see the traditional Moroccan culture here You can buy souvenirs here Suneerbhai is walking fast. I cannot shoot and reach him You can see the olden buildings here You should be careful here because there are robbery and thefts Be careful with your mobile, purse etc..
Lot of tourists come here now Indians can take an e-visa and come here It is very simple If you go to Morocco site, you can apply for the visa Within 24hrs, your visa will be approved You can come here with that Gulf Air is affordable for people flying from Kerala Those at UK and Europe, can take Ryanair and fly here The last time I saw narrow passages like this was at Varanasi We are going this way in search of Ibn Battuta's tomb I smell something fishy. We dont see anybody here People are looking at us and saying Shah Rukh Khan and Salman Khan Do I look like Shah Rukh Khan? Or do you look like Salman Khan? Looks like people here dont know to walk, but run They are walking so fast Here also you have 1st and 2nd of many brands. You can see them at all the shops here Is it this one? Let's go and see We are reaching close to Ibn Battuta's tomb We have to go through these narrow passages, up and down to reach there This is his sister's house He has two mother's. I have heard 2 fathers All these are Instagram friendly places I think it's a white city. You see white buildings all over I think this is a house. Look at the entrance to the house
All are very friendly and loving to us That was love for making business They are showing their products inviting us That is a barbar shop A tailor shop in this narrow passage Road side stall selling betel and paan I understood. Didnt he say it is a small place and will be difficult to find out? Take the right and then the first left I understood It is written Ibn Battuta Rue Should they be doing Ibn Battutas tomb in a more accessible way? I am wondering why is it like this for such a great person First let us find it out We have been walking for a long time. Where are we going? We reached finally This is the one. It is written there
Finally we have reached in front of Ibn Battuta's tomb This is the small building Unfortunately we cannot go inside. People living behind this said it is always closed So we cannot go inside. We can only see it from outside. History on Ibn Battuta is given here. A map on his travel route is also given here Biggest pride for us is Calicut marked and shown here He traveled to China by ship from Calicut That is what history says He has gone to Kannur too. He went to place called Panoor. It seems he is the one who named that place He had tea from my house and then went to Kannur So that is how you reached Morocco, right? You reached here in that love and bonding Ibn Battuta the explorer was born in 1304 He was born here at Tangier He began traveling at the age of 21 He began by going for Haj He went for Haj at the age of 21 It is from there history began with him traveling around the world This happened in 1300s It was 28 years of journey. Hats off to his courage for that Imagine how it would have been those days.
Today we have flights with business class, fist class, ships to travel Today we can travel in many ways He traveled 28yrs in that period. As he traveled at each place, he explored the places, interacted with the locals there. He understood about their language, culture, means of income, religion etc He even documented them is the main highlight about him In these 28yrs, he traveled nearly 1.25lakh kilometers it seems. He traveled by ship, by road, walking and completed 1.25lakh kilometers In 3 continents, he traveled to 40 countries in those days You can imagine those days 40 countries. India wasnt a country then Pakistan wasnt a country He traveled to 40 countries of those days He wrote a book in the name of Rihla It had all about his travel. That later became a historical document.
Rihla told us on how people lived, traveled, means of living in 13th century We can clearly read and understand all that from his writings in that book He came to India via Afghanistan during Muhammad Bin Tuglaqs time as Delhi Sultan He came to Kozhikode in 1346 His writings in the book tell us that he traveled to China from Kozhikode. Apart being a traveler, he was also a scholar in Islam He left the world when he was 65yrs old, in 1369 This is where his tomb is placed now. There is a mall in Dubai in the name of Ibn Battuta A shopping mall It has themes like Pakistan, India etc We can hear the prayers while standing here I hope it wont break. Please be careful Suneerbhai She lives behind this and said if we look through that window, we can see the tomb Thank you so much Thanisha Can you see? Will you shoot for me? They havent opened this place after covid. You can only see it this way This is how we are seeing it now.
A sister from that house brought a chair to stand and peep in Many like us have come to see like us I was my wish to see the explorer's tomb Last time we came, we walked many ways. How do we find this out? Do you know the way back? No He left too We gave him little money and he left We shall ask and find out the way out I am anyways happy we could see it. Many have said that they dont get to find this place. They miss it. Let's have Moroccan tea and then have food. Then we shall do some local sightseeing We shall plan our day like that.
Kids are playing football here Even small kids play football here Morocco is becoming popular for football too How about exporting some onions? Nice aroma. I thought these didnt have any particular taste I meant in the taste. It What do you have to say about Morocco football? Good question. We reached world cup semi finals and you're asking this question Thats what. Morocco was not heard much till then How did they rise so much in football all of a sudden I think they got more supporters this time since it was at Qatar Including Saudi, they had good support from the Middle East You could see in the world cup, JC company was almost red.
But all in the red were not Moroccans. The kingdom here gave lot of free flights to them Qatar provided visa soon They had lot of supporters on ground and they played well too Lot of souvenirs in this shop Full of Tangier souvenirs They love Indians, right Suneerbhai? So much of fun You have Louis Vuitton and Gucci bags here Look at these rings He asked me if I am a Hindu He said he understood hearing my language. Can you understand like that? Where have we reached? Where do we drink Moroccan tea from? Shouldnt we be going down? That side, right? Full of confusions A shop that sells Arabic coffee These are shops that are here from 1924 They sell clothes here. You get tea here but we shall sit outside and drink You get a good vibe when you sit out and drink This is Barad. Moroccan tea is made in this tea pot They make and drink it from that You find lot of olives here Morocco is famous for olives You have varieties of olives. Let us buy some to have now You can mix and buy. Which all do you want
Buy something that is spicy and sour That doesnt look like gooseberry But that is plain. Take something spicy and sour. What is that? This is so colourful Look at the olive oil This is pure olive oil This is lots. Who will eat all these? We shall take them.
You are hungry I guess. We havent had anything. This shop is full of olive products He tied a knot and gave it to us We will have to bring someone on visit visa to have all these My mouth is filled with saliva seeing it. Very salty You find lot of tourists here in the evenings All these are a part of Spanish colony You see lot of buildings of Spanish colonization here You have shoes and clothes of all brands here Duplicates of all the brands We are in search of a table to have Moroccan tea.
Their culture is like nobody sits inside the shop Here all sit outside, talk, have food and have tea Finally, we got a table We bought some mixed nuts We have ordered for tea. What is this? He is taking some sweet It is fun to sit outside with all and enjoy I love this feel. You cannot sit like this in Kerala It was there long back in villages But you dont see them now Now all goes to coffee shops Here people sit like this all day and night You find many people like that Do you know what is it that I enjoyed the most in Morocco? Last time and even now, this is the moment I enjoy the most Sit like this and have tea It is fun You can have how much even tea you want. It is very crowded there. We sat for nearly 20mts and didnt get tea We shall go to another shop So much of demand for a cup of tea? Why is it like this Suneerbhai? How about sitting here? We might get tea fast from here. It isnt crowded This is how it is here. You find lot of people here
You have people sitting from morning till night, some sit in the evenings We also came and sat here. You enjoy sitting here, right? You become lazy sitting here That is the specialty here Our Moroccan tea is here Suneerbhai, finally our Moroccan tea is here They are fond of Indians The relation between Morocco and India is good They have a friendly relation We had see how people were when we came last time. Tourist are arriving in vehicles to stay here All you see on top are hotels Many tourists come and stay here to experience the local feel This is Northern Morocco When you order from here, they put mint in a glass and serve tea in it. They have added sugar also to this Usually they give you sugar separate Those who want adds But when you go to other places, they serve in Barad, the teapot You can pour and have The pure taste is felt when sugar is not added. All can have it the way they like I liked it without adding sugar. But this already has sugar in it.
They give us a bottle of water also with it As you all have seen, Morocco is at the end of Africa You find a mixed culture here You dont feel it is an African country But you cannot call it an Arab country too But its not Europe too You see mixed cultures from Africa, Europe n Arab countries here in Morocco Morocco is 100% Muslim country 99.5 yes It is a kingdom Mohammad 5 rules Morocco now As I said earlier it was French and Spain colonies long back Later it got independence and became a country called Morocco Morocco is rich in culture You will see lot of history on Morocco on internet The language spoken here is Moroccan Arabic language Originally the language was Berber Later Algeria, Tunisia and Morocco sounded in a slang. It is different from Middle East Moroccans can understand Middle East Arabic But they will find it difficult to understand the Arabic here Which Arabic do you speak in? I speak Moroccan style I can understand what others speak like when I go to Saudi or elsewhere But they dont understand what I say Thats the issue It is like Tamil and Malayalam Small differences like that The official language here is French Yes. They have made it like that. This is a country that doesnt have English at all. Last year onwards, they are trying to develop it They have included English as a subject in all the schools But we are able to manage at tourist spots Not much of an issue People are very friendly here We can see how people here behave to us in our videos It all depends on how we behave to them too Moroccans love Indians I think its because of the movies.
It might be Let it be someone from Saudi or America or Europe. They love Indians That is why I am staying here only They recognize us as soon as they see us. Is it our eyebrows? Many are looking at me and asking if I am a Hindu Its not Hindu. They call us Hindi What they mean is are you from India I mistook it So its not the way I thought They are referring Indians to Hindu/Hindi You can see an Indian flag in that shop We were talking about it and we got to see an Indian flag at that shop It is for sale Indu or Hindu are all referred to Indians That is how we are known at many Arab countries Are they talking or fighting? They are talking. They wont fight like that. I could see lot of Indian tourists also here In the flight I came last day, there were 10-15 Indian tourists coming here Many are saying Namaste and calling us Lot of Indians are coming here now a days Is this a mosque? 80000 e-visas were produced in 6 months.
E visas are very helpful for us Isnt this a mosque? Looks beautiful. What a mosque The entrance looks amazing There is an awesome view point here. Lets go there You can see Spain far there The sea you see from Tangier is Strait of Gibraltor You can see mountains on the other side of the sea Those mountains are Spain The mountains you see this side is Morocco Around 15km if you travel 30-45mts by ferry, you can reach Spain Cruises that come from USA and Europe come here and to Casablanca harbors These are new and made of wood What you see here is the remains of some fort.
You can see the old guns there Moroccan leather is also very famous. You see more of it at Fez We will be going there tomorrow or so If you want to buy anything of leather from here, buy from Fez I am beginning to feel cold Day time it was hot Now it is windy and cold A beautiful place. At nights the lights are on and it becomes a different vibe I shall show you that when we go out to walk for dinner You can see a mosque far there You can see the remains of the fort we saw from up there Though parts of the fort were taken over and big building have come, You can still see the huge compound walls here Last time when we were here at Tangier in search of Ibn Battuta's tomb, We were informed about lockdown and airport being shut down Unfortunately, we couldnt escape. We had to wait for 93 days to leave the country By the time we ran, caught a vehicle and reached Casablanca, it was 6pm Cannot forget those moments. I had said about it yesterday
Just imagine being stuck in a country Old benz car You can see a lot of old things like this here What did she say? If I buy that, I get that Davidoff free Suneerbhai smokes a lot You would have seen the other video... You should put a sound for that too They were promoting cigarettes there They are asking us to buy this, you will get that free .. It is 6.30. Here the sun sets only at 8.15pm We get more day light here Let us go to a hotel now You find lot of old Benz vehicles here It would be so many years old We had got into an old Benz taxi before Lot of tourists from Europe and other countries are seen here I think most of the tourists are from Europe and Arab countries Like Saudi, Oman, Dubai, Bahrain etc Y You have Air Arabia flights to Morocco You can take it from Sharjah You can catch Fly Dubai from Dubai You have Emirates, Gulf Air etc When traveling from India, it is most affordable to come via Gulf countries I found Gulf Air as most economic People in UK can take Ryanair.
You get it for 50 Euro or 50 Pounds I think If not, Suneerbhai has started a new business. His own travel agency We are going to the hotel we are staying in We are now driving through the sea side road Nice beautiful roads and buildings Where you see lifts, you have shops and parking spaces below. People who want to jog, can come that way On the right side of the road, you have a slope area You can see houses looking like stacked up Houses also looks so beautiful All are done in a unique colour paint More of light colours You have place for public to play volleyball, football etc here Lot of sea view hotels here. Even if you are away from the city, you have lot of hotels. Beautiful greenery and landscapes and trees This is the hotel we are staying in today Hotels in Morocco are very expensive It is just like how we went to Japan If you look for a good hotel, you will have to pay around 10000/- per day A Polaris vehicle We parked our car. Let's go to our hotel now This is the restaurant and coffee shop here A nice and big swimming pool A coffee shop outside too. Awesome!
Awesome swimming pool. I guess because it's slightly cold, nobody has got into the water Beautiful ambience. All these are artificial grass You can see people sitting and having tea and food The hotels are so crowded Even when we came last time, room rents were high That time crowd was less. Now it is full It is crowded everywhere Luckily we got a room 412 Including breakfast our rate came to nearly 10000/- It is actually the normal rate here You have lot of Europeans here Actually it is a cheap rate We took the cheaper one It is a small room Is it like this? Going to the toilet will be a big issue.
When I go to the toilet, you go to the balcony. There is no balcony for the room. It is a small room. We didnt get a twin bed too There is a sofa bed Actually 3 can be accommodated in here What do you see from here? Pool view Can see the pool, but it is far away All are chilling down there This is our room This is a mirror A wash basin below it You can have bath here and can close the toilet door too You have a door so not an issue. This is the shower area. You can close the door here too
They have a coffee maker, hair dryer You have hand wash, towels etc You have an open wardrobe here A small fridge with 2 bottles of water Then me too It is 7pm. It is time for dinner Let us go out to have dinner I had a nice hot water bath and fresh to go outside Its so nice after you have a hot water bath It is slightly cold at night It is 10pm We have come to have dinner I am surprised seeing the night life here Look at the crowd. You can see lot of people walking on the streets at this time too You have tourists, locals and all kinds of people here.
You have restaurants and supermarkets below. On top it is apartments and flats Lot of place for people to walk and in between you have palm trees too We thought of having Turkish food We have come to BeyMen Turkish restaurant I think it is a fine dining restaurant. Let's go inside and see We sat inside and got the menu card BeyMen steak house. You get good steak here You get nice beef steak here You have lot of burgers and steaks here We can order steak or grills Nice shining plates. Look at the cutleries When you come to a Turkish restaurant and order food, You first get a bread like this By the time you eat this, you stomach would be almost full Remaining food will be a waste. That is the problem We ordered this. It is meat cooked in tomatoes
When you are hungry, get into a Turkish restaurant. You immediately get this first This is buttermilk Looks amazing. Lot of this. The question is where to start and end This is amazing. He told us what all these are. I didnt understand much I know this is chicken This is lamb This is lamb chops, not that one That is beef. You have two kinds of rice It is very tasty We are done for the day and back in our room Suneerbhai has gone outside. He has many phone calls to do
I have to edit and upload the video. Only then can you see it tomorrow I can sleep only after that I have to take a bath once more We have planned to go to another place tomorrow. You can see that tomorrow. Wait for amazing videos from Morocco If you have liked our video, do comment below Those who havent subscribed to our channel, do subscribe today itself See you tomorrow with another video, until then bye bye.
2023-05-03 08:05
Show Video
Other news