EP 1 Exploring Srinagar | Shikara ride in Dal lake | Wazwan | Nishat Garden | Kashmir Tourism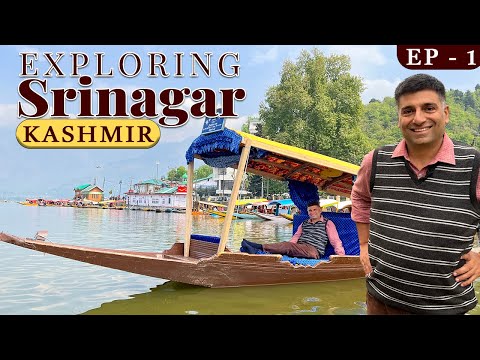 Show Video
Hello friends ! Welcome to Visa2Explore I'm your host Harish Bali As of now, I'm in Srinagar, standing by the Dal Lake We're starting our day at 12:30 PM It's starting at 12:30 PM from here Because, in the morning, we'd set off our journey from Delhi We reached here We checked in at "Heemal Hotel" And then we came here Firstly, here, we're willing to ride in "Shikara" See, at the bank of Dal Lake, so many "Shikaras" are anchored And this place is spectacular Because, On one side are anchored "Shikaras" ..where I'm standing And, in front, over there, so many houseboats are present Very nice Somebody had told me, If I wanted to ride in Shikara, It's better to begin ride from Ghat No. 23 Because, from there, you can easily.. ..sail across to "Char Chinar" Char Chinar is an island That's also nice Here, we'll enjoy view for 5 -10 minutes, Then, we'll go to Ghat No. 23 .. to ride in Shikara By the way, I got it learnt from somebody Rs. 770/- is the charge for one hour In that amount, they ride you in Shikara If you want to see floating market, You can see it as per your choice Awesome ! I'm feeling great Visibility is little down Mountains over there are looking stunning But, they've been enveloped by clouds So, they're not very clearly visible And, see this road also, How is the road opposite to the lake? And, so many hotels are in my front Means, hotels are in abundance Even standing here, at least, I'm watching 10 to 12 hotels Now, the scene is.. Char Chinar is near from here At moment, which ghat are we at? Ghat No. 20
From Ghat No. 20, Char Chinar is near to it Basically, it's an island, ..having "Char Chinar' trees on it But, we sail across to that point, So, we'd miss close-view of houseboats Therefore, let's do one thing, Today, we.. .. take a closer look at houseboats And will return tomorrow to visit Char Chinar This idea seems better to me So, brother, you do one thing, Drive us till half a km in return Then, drop us there Around Ghat No. 10 or 12 From outside Ghat No. 14,
we're hiring Shikara Brother Javed will show us round Where is your Shikara? This is my Shikara Ok Located in our front, is it a floating post office? Yes, floating post office Really.. Its one & only in India and across world Floating post office Awesome It's a great enjoyment, I mean.. We're just into.. ..first minute of our Shikara ride But, I'm getting that feeling, which I never experienced, in the last 8 to 10 years of my travel This experience is too different Moments ago, we talked about floating post office Look at it located in the front Too spectacular What I've noticed here is.. There're 1 or 2 booking agents at ghats To talk to the customers, To whom we talked, He made us meet brother Gulzar That you go with him and.. Enjoy your 1 hour sailing As we came here in noon, What's the best time for Shikara ride? Is it in morning or evening? Best enjoying time is in evening Many people advised me ..
...to enjoy Shikara ride in evening Why evening time is worth enjoying.. ..because sun sets at that moment, It offers a breathtaking view We'll revisit in evening as well We're here today as well as tomorrow If we want to go to Char Chinar now, By the way, we're not going, But, we want to go, how long does it take to reach there? Sir, around one and half hour will take Because we've come from back ghats Which ghat is closest to Char Chinar? Ghat Number 24 is the closest Means, Char Chinar is closest to Ghat No. 24 It's geographically located opposite Char Chinar Oh ! From there, it'll take 15-20 minutes Ok, 15 to 20 minutes only One thought is repeatedly striking my mind, The experience you get.. .. in Shikara ride on Srinagar's Dal Lake ..is unmatched Do boat riding in any lake, but.. It is unique Very unique it's been half an hour since we set sail See, how many houseboats are here, Anchored back to back Let's randomly visit a houseboat To see how it looks from inside As per a rough count, On Srinagar's Dal Lake, Around 1200 to 1400 houseboats are there This is what somebody told me in morning What a view ! While riding in Shikara, If you wish to eat chicken/mutton tikka, You can eat it here, because, People are riding in Shikaras alongside, who would serve it for you Seekh is being prepared live, ..to be served on the spot Wow ! TV has been installed inside The houseboat in which I'm at present..
..it contains three rooms, One room's charge is Rs. 6000/- Rest, the rates fluctuate as per the season Breakfast is included in cost of Rs. 6000/- Lunch & Dinner aren't included Check-in & out time is from 12:00 to 12:00 PM It's an experience to stay in houseboat So, I feel, one day should be spent here But, we're not staying in houseboat We'll stay in our hotel, where.. ..we've booked "Heemal Hotel" in Srinagar We'll stay there One challenge lies staying in houseboat Your mobility is restricted If you're at hotel side, anytime, you can walk around, But, that's ok, you're enjoying Many people told me, When you go to Nigeen Lake side There too, You'll get to see so many houseboats Here is also nice There you get different environment Great ! Few moments ago, we're at other side of the lake Then, we're seeing houseboats And, now, from houseboats, We're seeing that moving traffic And beautiful hill is before our eyes Earlier, one program came, Gul Gulshan Gulfam Where is that houseboat? Over there, at front side, Which one? In the frontline, The side from which you got on the Shikara, That side is called frontside That way or this way, No, no, this way, Ok, this side So, these 3 houseboats are separate Yes, they're separate How is their customer service? Do they provide good service? Yes, Gul Gulshan Gulfam is a great houseboat Brother Gulzar, tell me one thing, Yes, sir In this area, Are shikaras sailing in large number? Is this a market area? Yes, it is a market area So, are these all floating markets? Yes, floating market Hmmm People buy clothes from here ..shawls and suits Ok They purchase from inside this market Hmm Means, woolen stuff is more Yes Brother, what do you have ? Kahwa? Kahwa, coffee, hot chocolate ,cappuccino, Bournvita, Complan, Mohabbat ki Sherbet You're carrying so many things ! Yes, sir.
Very nice Give us a Kahwa How much does it cost? Rs. 50/- Is it hot? Yes, sir, very hot Add less sugar What all ingredients did you use in Kahwa? Cardamom, cinnamon, ginger, green tea, Kesar, badam, And honey Since you added honey, what's the need of sugar? For those, who need more sugar, Take it By the way, Kahwa is winter drink, isn't it? Yes, sir When there's a snowfall It's anti-oxidant cum energy drink Hmm Brother, what are these seeds? It's badam (almonds) crush Ok, Badam crush Thank you Sir, how's the taste of Kahwa? I've not tasted it yet Sir, please taste it See, it's taste is nice Honey is on little upper side Ok, honey is little more Even then it's nice It has a new taste Thank you sir It's new taste for people like us Thank you Ok, nice brother Thank you Have a good day sir Oh, thank you Having explored around, We took turn, We're heading towards our ghat Opposite to that post office It's 2:10 PM as of now Now, let's have lunch It'll be fine After having our lunch 2nd half of the day will be for sightseeing When time is 1:30 PM, I start feeling like having lunch Don't get late When you've to take lunch, What's the point in having it at 4 PM? Better it is to have it on time So, in winters, Around November-December, when snow falls, Do these Shikaras go off? No, sir, Shikaras continue Shikara sails when snow falls Really.. These 4 curtains are drawn in Ok Shikara boatman stands here Customers sit there at ease Despite rain or snow, Shikara continues to sail Means, Shikara is available through the year Yes, but, if lake is covered in full ice, Means, if snow continuously falls ..for 2-4 days throughout nights Then, it gets difficult for Shikaras Ok Today morning, when..
..we're going from Airport to Dal Lake I saw a bridge over Jhelum river That is called "Zero Bridge" I'm talking about that bridge in front We're crossing over that bridge When we're crossing it, Then I noticed, It's a beautiful bridge made of wood So, I thought, during the day, We could see bridge closely So, now, 10 minutes before, I reached at that corner, From there, while slowly walking across, Besides enjoying view of both sides of Jhelum, I've come across to bridge's other side View is nice from here Why is it called Zero Bridge? Why is it called Zero Point? That I don't know But, what I'm surely perceiving During morning or evening time, You can enjoy spectacular views from here Though, view is nice at this moment, But, during early morning or evening time, It will be even nicer For instance, If we stand over here, Look, how beautiful the view is Going down a few steps, You can sit close to river It's your choice Nice, beautiful Actually, to have our lunch, we're coming over there Both things happened simultaneously JKTDC restaurant is in front I was told, It is made in shape of houseboat it looks the same By going inside, We'll have our lunch Let's hang around for 5-10 minutes And, then, we'll have our lunch In the restaurant, I got to meet Mr. Abdul Salam, He is the manager at this restaurant Around 11:00 AM, I'd phoned you to tell we'd like to have our lunch here In Wazwan feast, We want to try something My idea was to have 1 or 2 dish If there's some thali system Then, he suggested, He'd prepare mix items of both veg & non-veg Sir, I've prepared 2-4 veg items And, 5 items in non-veg Ok I'd an idea, it'd be 4 to 5 items in total But, it seems 7-8 items are there Wazwan is an elaborate meal We've kept it limited though No tension, it's nice Otherwise also, I've also a team with me So, how long will it take to ready? Sir, within 10 minutes Ok Ok, done So, either in 10 or 15 minutes, as soon as possible, You get it ready Right? We'll sit over there Ok sir It is TASHT-E-NAARI First, we wash our hands in it During Kashmiri Wazwan feast What do we call it? TASHT-E-NAARI, KASHMIRI It's famous in Kashmir Ok Usually, do you observe the same .. ..tradition in your homes also? Yes, in our homes also Ok In weddings or other functions as well What is this? It is Trami for one person For one person who, , prepares food in it Does it get covered like this? Yes It has a lid to keep the dish warm Wazwan feast can also be eaten together by 4 people Ok For 4 people, large tureen is used What's this? It is copper glass Copper glass It is mutton kebab It is also pounded meat Ok Yes It is called Takhta upon which.. ... it is pounded with chopper Give me one piece These people are veg So, serve it to me only We'd serve veg also It's Kashmiri Chutney ..mixed with dry fruit, radish, et al Green chutney Dry fruit? Walnut is added in it Ok Does it also have mint & coriander? Little coriander as well as curd Ok It's Kashmiri Mutton Rista It is a pounded meat, needing more labor Ok Yes It is pounded on a stone Then it is made round shape Rest of Kashmiri spices are added Ok Rista What's this praan masala? Praan is a Kashmiri spice Can we see this Praan masala? Do you have it now to show us? No, we don't have it right now We've already kept it in mixture form Ok, so.. It is only made in Kashmir Ok It's "Nadru" It is called "Nadru Yakhni" Lotus stem? yes Lotus stem This is veg for you all What else do you have in veg? Veg menu also has "Dum Aloo" I'll have "Dum Aloo" later "Aloo Dum" Yes First of all, you start Serve veg at that side It'll be better Nice Good How's the food? It's nice It's nice for spicy food lovers Is it spicy? Sir, "Dum Aloo" is spicy Hmm Have you tried this one? Not yet sir Ok Oh, it's served whole It is pounded on stone It resembles mutton ball Only mutton Does it take effort to prepare it? Yes, both effort & time Ok Then, it's cooked Hmm.. I savored the taste of Rista All items are edible As you're telling, it is made by pounding For that reason, it's tasting too different You people, in your food preparation, Do you use tomato? Don't you? We don't use tomato in it In it, spices are added plus Pran is used Wazwan is primarily made of it Ok Meat is ultra soft Due to its pounding by hand, It's taste is too good How many total items are in Wazwan? 20-24 items Ok, from 20-24 items Do all these items usually..
..get prepared in weddings? Yes, they're prepared in weddings, but ..in restaurant lesser items are made It is "Mirchi Korma" It is "Gushtaba" So, this ball in Mutton Gushtaba, It is same It is same, but.. It's gravy is different Is this gravy made of curd? Yes, it's curd gravy Gushtaba Dry fruits are also added in it Really.. It's called "Waze Haakh" Also known as "Haakh Saag" in Kashmiri Both "Haakh Saag" and "Waze Haakh" These are its leaves Yes, leaves Saag in itself is very tasty ..and the gravy in which it's cooked It's awesome I'm noticing about tomato, It is used very less here Tomato is used mainly in cheese It's also used in home-made saag Hmm Why I'm finding "Wazè Haakh" so tasty.. Because..
Owing to Garam Masalas, it's spicy in taste And, gravy is too good Give me little rice That's enough Owing to curd, there's little sourness in it Rest, the taste of mutton balls ..it is all the same tasty In Mirchi Korma, you get more taste Really? It's taste is different It's taste is different Whatever I've eaten here so far The item I found the most delicious is.. ..Mirchi Korma It's very unique Because it's spicy, plus, it has its own flavours, Wazwan offers taste of varied spices Yes, personally, I found it tasty Mirchi Korma Along with "Haakh Saag" It's also called as "Waze Haakh" "Waze Haakh" These two items are awesome "Aloo Dum" I haven't tasted, My stomach is already full of these things So, you've used so many.. ...Garam Masale in it Yes, "Garam Masale" are added, Along with, cinnamon, cardamom, Mixed with almonds (badam) We'll join you after finishing food Thanks for your time You're welcome sir Nice We'll have only 2 to 2.3 hours ..to hang around It'll get dark at around 6:30 to 6:45 PM Then, sightseeing can't happen Only then can we have dinner only Right Let's see you again in a while To share with you our next plan The gate you're seeing in front, We got inside from there And climbing up these steps, the moment I saw the view, What should I say? It's magical We haven't started seeing garden yet While standing here only, I'm getting that feeling, It's going to be an awesome experience ..in the upcoming half hour or so What a beauty ! Before we move on, Look at this aerial view of the, "Dal Lake" How breathtaking it's looking Means, from here, if you click, photograph will show Dal Lake in backdrop If you take it from here, then, this side, in the backdrop, Zabarwan Mountain will be in view Are you able to see that? It is Zabarwan range This hilltop is a part of it Zabarwan mountain Lovely ! Everything is so spectacular here That you take two steps forward As you see view, you feel as if, View is changing every few steps For instance, I've come here, so.. Fountains have been put up in line How beautiful they all are looking And..
These plants ..have been planted in great symmetry Mountain is in backdrop as I told you Immensely mesmerizing Let's move forward By the way, in the garden Some areas are such that.. ..are actually no-entry zones For example, you can't trespass ..into this area. You can behold flowers from outside And can take photographs This is the passage to move along But some areas are here, where.. ..while sitting inside the garden, or by standing as your choice, You can take pics For example, You can go inside it Inside "Nishat Garden" Look at 380 years old Chinar Tree Here it is written It's 150 feet high And.. It's size is huge 380 years depict what? In Kashmir valley, We've been told, almost everywhere, We'd get to see Chinar trees During autumn, Its leaves turn red Shade switches to 2-3 colors So, I was reading it somewhere When one Persian traveler, saw Chinar trees in the jungle, while travelling through, One word rolled off his mouth Chi-nar It means, Is it fire? From that incident, the tree got its.. ..name as "Chinar" Nishat Garden was made by .. ..Shah Jahan's father-in-law Asaf Khan Time dates back to 1634 AD One interesting story is associated to this garden When Asaf Khan got this garden built The way how we got impressed, At that time, it'd have been..
..considered even more impressive So, Shah Jahan visited this garden And he showered praises on the garden Shah Jahan nurtured an expectation, to get garden gifted to him by Asaf Khan But that didn't happen So, Shah Jahan ..out of annoyance, stopped water supply to this garden Time went by Asaf Khan found it annoying ..that Shah Jahan stopped water supply But who could complain to .. Emperor Shah Jahan Why water supply was stopped? And restore the supply So, while walking around, one servant of Asaf Khan ..restored water supply from Shalimar baag Shalimar garden is 3 KMs far from here From there, he opened water supply And that water flowed down to here Later, Shah Jahan learnt this episode Asaf Khan was afraid of Shah Jahan What would happen now? Conversely, Shah Jahan appreciated.. ..this act of restoring water He appreciated that servant who ..was loyal to his master means, he's loyal to garden So, it's an interesting story Shah Jahan liked this garden so much that.. ..To get this garden, he stopped its water supply When we climbed up those stairs, Then we..
Every few distance, we got terraces ..while climbing up steps we got to some height For instance, This is one terrace After climbing 4 steps, we gained height Then we went there From here, we'd go further up One more terrace would appear In total, there're 12 terraces Garden is very well maintained.. ..with beautiful fountains These are old chinar trees Here, board has been put up 375 years old tree Height is approximately 160 feet It's quite large tree In this line, And in that other line, Only Chinar trees are grown Means, I'm only not talking about this place I've been seeing them for long time while reading about them I'm getting to see lot of chinar trees In fact, chinar trees are before my eyes While walking, we've reached to the top point There's nothing beyond it Look at here Boundary wall is present Right.. So, The view visible to me from down This view isn't as beautiful as was previous one However, from a height, if you see anything, aerial view seems beautiful But.. That central platform made over there View is awesome from there Anyways, The bottom-line is; our visit to Nishat Garden got successful I found it very pleasing Great ! We're ending our today's episode here This episode is small because, We didn't have ample time We'll start our day little early So that we could.. ..explore Srinagar in a better way In coming days, we'd visit Sonmarg, Pahalgam, Gulmarg We'd surely visit these places, Besides exploring many different places Right ! As of now, I bid bye to all of you We'll see you again soon Till then, Thanks for your time We're seeing clouds so closely Sir, we're yet to get into these clouds Will this sight get even better? Yes sir, Sir, this is nothing Consider it just a trailer Picture is pending ~Hearty Laughter~
2023-05-14 14:11
Show Video
Other news