EP 132 കൈ നിറയെ സമ്മാനങ്ങളുമായി താഷിയുടെ വീട്ടിലേക്ക് | Visiting Our Guide Thashi's House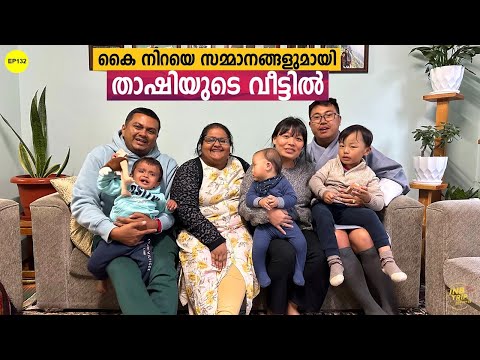 Show Video
I thought it was a shopping mall and reached in front of a bank It looks like a shopping mall It looks exactly like that. Look inside Our visa expires today We are at Bhutan's capital city Thimphu Before our visa expires, what do we do first? Pay money Or else we will have to pay fine and face other issues It will become overstay Cash in my hand is over and not enough to renew visa and car permit We have come to take money We are going to do some things at Bhutans capital Thimphu Welcome to a new video of Tech Travel Eat It seems they accept all these The ATMs here accept Indian cards. I dont understand why Why is the ac on? They do accept Indian cards I dont understand why do they write not valid for exchange in Bhutan and Nepal Got 15000/- Last time we tried 20k and then 10k That means we can get 15000 Ngultrum 15000/- Royal Monitory Authority of Bhutan 1000 Ngultrum You can see the King's photo on this side There are notes with the old Kings photo too They print new notes when the new King comes Oh ok We shall withdraw once more In one transaction, they take 300/- service charge It is taken by the bank here. You can use an international card anywhere You just have to enable international transactions in your card before you leave Usually the bank charges you 300-500 for one withdrawal Sometimes your bank may withdraw some amount. Normally with a 500-600 ATM withdrawal, you can use from any country I usually use my credit card or normal card at shops Or I convert some dollars or withdraw cash from any country using my card That is what I usually do All are the same, card or currency exchange In a bank, you will get original notes.
Dont know if exchanges give us duplicate notes. We may fall in trouble in an outside country Be careful on such things Thats it. Use cards as much as possible Your card will be accepted any any country You will just have a small difference in conversion fee But in Bhutan, they accept only cash and no card. We got into that bank What was that? It was awesome Too good. What all do they have in there Our banks are nothing Our private banks are nothing. This is amazing
I couldnt take videos in there. Or would have shown you It was an awesome bank You can see a Land Cruiser Prado Oh ours is this one. I thought it was the other one Let us go straight to the immigration office Now let us go to the immigration office. Hope you have taken our passports We came to take money from the bank 20/- for parking fee. This is the immigration building We have parked our car here An awesome black hilux This is the RBG, Royal Bhutan Governor's car It is a government vehicle Kerala government says Hilux cannot be registered in Kerala as private It can only be used as taxi All such rules must change All the countries have Hilux as private, taxi and any how. Only Kerala says it can be registered as taxi only That is rules We have to fill up the form to extend our entry permit Our name, entry number, validity, address, Why are we extending and all the details are to be given here You have to give the applicant or group leaders name and address Pay the fees and get the permit extended We have again paid 10800/- This is as sustainable development fees We got our passports, extended our permit by paying the fees Now let us go and pay for our vehicle. You have to pay 4500/- for the car now
Where have we come? The RT office here Yes. We are at the RT office here This is the RT office parking ground I was wondering how much parking space do we have in our RT offices How many police stations have parking? In our place, public parking is a big issue Here there are lot of space for public parking Let it be police station or anywhere, you dont have an issue for parking Let us extend the car permit as extended in our passport We have to pay 4500/- per day again You can see few buses below the RT office That is the bus stand When we went to the office, they said it has to be paid at the ground floor This is Thimphu's only bus stand You have buses to 20 provinces of Bhutan from here We had seen 2-3 day buses from Thrashiangtse and Thrashiang All those come here It starts from here too It is written that you have buses to Phuentsholing at 10am Each private company would have an office here 99% of the buses here are privately operated A very neat and clean bus stand. You can see different company offices here You can take a ticket from whichever company you are traveling by All the timings for buses are given here You have online and pre booking options This is where we have to pay our fees The RT office is so good We will reach Phuentsholing the last day evening We will be staying there that night and exiting next morning If they want, they can take the 4500/- of the exit day Thashi requested, they called someone and all and avoided that He saved 4500/- for us Thashi and the officer thought of it If they want, they can say you have to pay because you are in Bhutan that day They said we can stay at Pheuntsholing the night, park the car n leave next morning We shouldnt go anywhere else True. If anything happens anywhere, we will be in trouble Hasnt he slept yet? You said he was going to sleep Who said? Dont you want to sleep? Where are you going? We shall go to Toyota and fill Ad blue When I saw Volvo here, I thought I hadnt seen any cars But this isnt for cars but for these We have reached STCB Toyota This is Toyota's service center in Thimphu, Bhutan Look at the Fortuner here It is for sale If we had the same system in our place too, it would have been so good. We came to their center and bought a can of ad blue like buying from a shop It is expensive here. 1700/-
It is written 557/- or so. They have scraped that And now they say 1700/-. So we bought just one We shall do the rest from India If these came in India, tempo travelers would stand back It costs 50 lakhs The one we have like this is of Tata and not Toyota This is 50 lakhs here. when it comes to India, it will be 60Lakhs You get a tempo traveler for 15 Lakhs. So who would go for this? That is the problem. But this would have comfort, durability and reliability
Bill shows Toyota Adblue 5L 1781 Ngulturm That is too much We shall pour it from here and go Thashi says we get to buy Ad Blue outside Shall see if we get Toyotas there and see if they are cheating us or not They said the hike in rate is due to some transportation issue Last time some Indians made some problems or something like that Even I didnt completely understand what they said He does everything. Fills Ad Blue, drives and anything He is our darling This is dusty. We have to clean all that in this times service That is how we drove in Bhutan We were literally going up and down mountains But we didnt drive like Harrier. We had gone upto Umling la in Harrier We have parked our car at Thimphu now Today our lunch is from Thashis house We decided to buy some gifts for Thashis kids Some toys and more We have comet o Thimphu to shop now We are taking Thashi with us Only he knows where to go We have parked our car We somehow got a space to park It is difficult to get a parking space during day time We are at a shop named Koja. Swetha is checking out toys Nice and cute This is not a kids shop Cant we buy some toys for them? Shall we go to toys shop We bought a Unicorn So cute. We shall give this to the small baby
We came to a toy shop and bought toys for Thashis children What all have you bought? These are books like Rishis books Rishi loved it. We guess they would also like it Paw Patrol toy Whats that? Its a cartoon and these are the characters vehicle I have bought this vehicle now Builder to build There is a small one there or I would have bought a gun He may aim to the lil one, so we dropped that idea I took two socks for our lil one Doesnt this child look like Nila baby? Isnt it? We bought gifts. Now let us bill and go We saw some bags at the dry clean shop We asked some to put our used clothes. We said we shall pay. But they said no need to pay and gave us the bag We bought gifts too. Anything else to buy? Nothing. Let us go to Thashis house
I am feeling hungry Even they call Appa That is Thashi's eldest son Come let us go inside. We parked our car outside Thashi's house A nice house at a nice location. They have family all around Thashi stays at the ground floor This is his uncle's car He is a travel agent Your whole family is in tourism industry Only my uncle This is Thashi uncle's son Rishi is not liking it. He is not moving from Thashi He has no issues Take Rishi here Nobody is minding him You are our baby They are Thashis children His 2 sons He is looking at who took his books We shall go take the tuna and come Swetha, Thashis house is a playhouse They have these and a tent too Our tasty nibbles pickle We have been taking Tasty Nibbles products with us for many days We shall give all these to Thashi Tasty Nibbles have a lot of Tuna products I am going to make Thashi eat all these today You can buy a lot of varieties from Tasty Nibble site I have posted the link in the description box. You can buy all these from Tasty Nibbles site Lot of them This is a sandwich filling.
All these are ready to eat products. You can make anything with these that you do with tuna Tasty Nibbles has a lot of tuna products Let us give all these here. Thashis wife will prepare them We are going to make tuna salad now Many people are saying that we speak a lot of English in the video. But people with us dont understand Malayalam.
That is why we speak English to them Please forgive us for that If I speak Malayalam in front of them, they wont understand what I say Thats why Pema is transferring the tuna to a bowl She has topped it with some cabbage Finely chopped tomatoes Finely chopped onions Finely chopped spicy green chillies She has kept avocado too She suggests ripe avocado But she got the raw ones. She is finely chopping and adding them to the salad See how healthy this is Drizzling some of the oil from its can A pinch of salt and pepper too We can adjust the taste as per our likes. You can garnish it with coriander leaves if you want Whats happening here? Annu means brother. Whom is he playing with? Elder or younger child Look at him kissing him He liked the books. Look at him playing with it So cute He is 9 months and the elder one is 4 years old The elder child is very soft Rishi, is that food? Give him the book She has already prepared everything We got late to reach Or else we could have learnt to make ema datshi and shoot it. Missed it! Anyways it's ok. You can check You Tube and find out.
There is our ema datshi Our favourite ema datshi Sauted vegetables Potato stir fry Whats that? Beef or Chicken? Chicken Rice in this Pema is serving us food Isnt this our red rice? It is almost the same. I had said that day Red rice and fish curry. Awesome We are going to have our fish curry with our Bhutanese dishes Let us see what all she has made I have already shown you all the dishes Everything is served on a plate now Swetha has begun to eat I am very hungry Poor girl. Feeling hungry. It is 1.30pm
Rishi is busy playing He is not feeling hungry. He had The stir fry is just like we make at home It is awesome You have to make this for me after we get back home Let me try having ema datshi and fish curry together They dont have a watery curry like in their food Most of their dishes are solid Did you like it? How do you know Bhutanese language? He might have been here ages back. Might be true Abhi took two servings and is still having After food, kids began to play, began shouting and then fighting All were jealous. He ended up crying We later made them sit, took photos and stopped him from crying All kids play for long, then fight Look at him smile. So cute
Too much. All strong ones Let him grow. You will see True. Nothing to say then Now itself he is attacking Why are you irritating him. He cries if you touch him Give him one more kiss He is not stopping his kisses Let us go? Very happy to have spent time with them We shall go back to our hotel now Lot of things to do.
You can see the rest in tomorrows video at 12 noon Wait for our videos A kiss from us
2022-11-19 16:31
Show Video
Other news