Ep. #10 Wines of Romania Podcast cu Marcel Vulpoi, coproprietar Gramofon Wine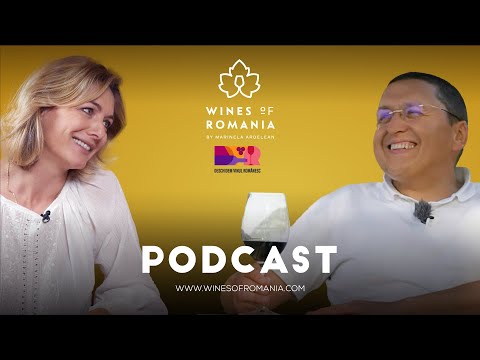 Show Video
My favourite joke, since I entered the wine world is "What do wine and an accountant have in common?" And what is it? Easy. Get a cheap one and your headache tomorrow is guaranteed. Welcome to a new episode of Wine of Romania's podcast. We're at Gramofon Wine and my guest is Marcel Vulpoi, owner of the winery. Welcome, Marcel! Good to see you, Marinela! Better yet, you're the one welcomed.
Where are we now exactly, because we're not in the real cellar we're in the middle of the vineyard. What's behind us? What did you build here? Behind us there's a houselet. We made here something that should have been done ages ago in the region of Dealu Mare. A place to sleep. We built a few houselets in the middle of the vineyard and we hope to build more.
We have five so far, you already saw them. That's about it. Are there more plans on the table for developing the wine tourism? We usually leave the future plans for the end of the episode, but I have to ask, not only for my own curiosity, but I bet our followers are just as curious about what's next. Five houselets, one prettier than the other, very inviting and all… So what's to be expected? Well, I think we should talk more about wine tourism and about having fun, first of all.
You know I'm not really very familiar with wine technology. In my opinion, what I repeatedly stood for, is that wine is about stories. The wine has a story that should be shared and sold as an experience, not by explaining tannins or measuring a 5 seconds aftertaste, nor any of that. I'd rather talk to you about it becoming an experience, about fun, good mood, cheerfulness. We have five houselets so far, in this stage.
You also saw our tasting room, so experience is next. Lots of experiences. The cellar will grow bigger, we'll build more overnight facilities, but it's all about having fun and feeling good. Parties and much more. You mentioned earlier that you are not a wine expert and now I just have to say it.
You are an expert accountant, and not only an accountant working on the highest level, but also a professor. How do the two worlds interact? Well, my favourite joke, since I entered the wine world is "What do wine and an accountant have in common?" And what is it? Easy. Get a cheap one and your headache tomorrow is guaranteed. I'm glad I never told you this joke before. That's pretty much the similarity between a wine and an accountant. Tell me about a few of your hobbies. Considering the way you talk about life and the way you share your joy of living, your desire, your passion for life… there are not a lot of people like you, so I guess you have more things that you enjoy in life.
In brief, I am a collector. A lady psychologist once told me that frustrated people start collecting things. Which should make me believe I have a lot of frustrations in my life. I collect paintings, you probably saw some of them at our wine bar, The Great Hill. We also have a new project, I think this is the first time I make this public We'll open a new wine bar, a showroom for the wines made in Dealu Mare, at the Bragadiru Palace.
I also collect coins, medals, wines… and let's just stop here, so we don't show too much evidence of frustration. Just as I said, two or three hobbies, that's enough. On the same note, the motto of our winery is "wine, art, food and music – the guilty pleasures in life". And I have always said that one who doesn't enjoy their wine, art, music and food has even bigger problems in life. Surely, definitely.
If one out of these four you don't like, you may have big problems. Can you tell us a bit more about what will happen at the Bragadiru Palace? We'll put up some of the things that we tried at the Great Hill wine bar, where we first tried to open a closed-circuit, members-only wine bar, to see what happens and to my suprise people enjoyed a lot visiting us, despite the fact that it seems, at first glance, an elite-level location even so, with wines from Dealu Mare and an art collection. And good music in the background. The Bragadiru Palace aims at taking the Great Hill concept to another level. The Great Hill is a funny literal translation of Dealu Mare, while Bragadiru works its way to becoming a cultural hub. For all those watching or listening to us, and are not yet acquainted with Gramofon Wine, I'd like you to tell the story of the way this project was born. Because it's a project, it's more than just wine.
It's simply having fun, as I said. This project – let's call it project, it's a fashionable way to refer to it – The Gramofon Wine project was born like this. My current associate, Marcel Pascu, the one who was working here today, while we were drinking, came to me in 2018, asking me to be his accountant. At that time, I gave him a quota for our company's services we're not by far the cheapest on the market, fortunately He felt the fee was outrageous, if I may use English words, and said he can't afford to pay that kind of money for accounting so I suggested that he pays our services in wine.
And this is how I started to drink Gramofon wine. And not just me, my colleagues and many of my friends, until the end of 2018, when I sent bottles of Gramofon wine as end-of-the-year gifts to all our traditional partners, it was the flagship Feteasca Neagra – Gosh, I like how that sounds. But the bottles didn't have the Gramofon labels, but one with a fox drawing, reading Vulpoi's Wine (Old Fox's Wine) by VTM. I still have a bottle, too bad I didn't bring it here. At that moment, a lot of clients started to call me, asking where was that great wine from, saying they expected it to be some cheap booze from... I forgot we can't say names. They said they wanted to buy some more, many of them were restaurant owners, so they didn't say that just to flatter me or because they were being nice.
So that was the moment when I asked myself why shouldn't buy that wine directly fom me? Let's keep the money in the register, as the saying goes. Then I went to meet Marcel, I suggested we become partners, we did that, 50/50, we shared tasks – he ramained doing what he does best, taking care of the vineyard – just look over there if you want to see what we got… I was supposed to take care of the market positioning and promotion. I enjoy everything I do. When I don't enjoy it, I stop doing it. It's the secret to a happy life, I believe, doing what you like. That's what I think, as well. How do you see yourself in ten years from now? I see myself having just as much fun as today. It's a simple answer.
I would also like to make it fun for as many people as I can. The important thing is to play nice with all the parners, friends or collaborators. To take things as they come naturally. Everybody seems to take things personally these days, we forgot to play play nice, we argue over nickles and dimes, about how good or bad the wine turned out, how much was sold, let's fire that guy… I tell my clients in accounting the same thing I tell my wine clients. If you like my wine, put it in your menu, sell it, buy it from me. If you don't like it, let's go drink another wine, no problem at all. As I tell them into accounting, if you're not happy whith our services, no problem, we end the contract right now, let's go drink until midnight. Earlier you spoke fondly about the Great Hill. Maybe tell us more about what happens there,
it's such an unique place in Romania, it's not just a wine bar. What is at the Great Hill wine bar? The Great Hill in Cotroceni is a place where I'm so glad I got to display my paintings, well, some of them at least. The purpose of art is to be seen and admired, not just be kept in a locked room or in your bedroom where – hopefully – just one person gets to see it.
So that's how it started. I wanted to make a place as I would like to visit. So this hobby of mine, collecting art, met the wine affairs. And I thought it was fair to address, first of all, the area that I represent. We re, as you said, the largest small winery in Dealu Mare. I asked our friends in Dealu Mare if they want to be a part of this project which is, obviously, conceived by an accountant… so what are the odds of a pub made by an accountant to ever become profitable? The odds are great! Right, that's correct, that's a good answer, 7 grade, you passed the exam. Perfect! They supported me, we are now involving 12 wineries from Dealu Mare.
That's how the story started, making a place that I'd like to visit. I was pleasantly surprised to see that a lot of people appreciate the place, a location that attracts the right kind of customers. Not that I have anything against other kinds of clients, but there are other places for them. So, basically, this wine bar is a place to experiment. The most appreciated products we sell are the wine flights. Those who visit us taste up to five wines, half glass each. So they discover new wines and… you know how it works. I used to be a traditional wine consumer, a classic consumer
Used to be. I was a classic wine consumer, I didn't know what I was drinking. In front of the shelf, I'd always chose the same wine or one of the same five labels every week, or every month, not every day, I still don't have wine everyday. But I was not experimenting.
I was thinking why should I spend 100 RON, let's say, for a wine bottle that I may not like? So in this wine bar, people get to experiment. They are able to taste wines from wineries that they never heard about, just as it was with the case with Gramofon. They can taste more wines, paying a price less than the equivalent of a bottle. You can taste five wines and it costs less than a bottle would cost. People thus start discovering. Which is the cheapest wine flight? The cheapest flight has three wines and costs around 40 RON or something like that.
So with 40 RON you get to taste three wines, or five red wines for 75 RON, which is the most expensive flight, each of those wines would be over 80 RON per bottle in a wine shop. You said earlier that art is one of your hobbies - collecting paintings, art objects, beautiful things. Even if you don't mention it, one might discover this in your wine labels. Yes! You brouht a bottle here, we needed one to make it look good for the camera in this podcast episode. So you brought this bottle, with this label, and I thought that it's a shame not to see the back label as well, because for each bottle there is a very nice story here. And it's not about wine taste or aromas, it's a story about how important it is to enjoy life and how wine can help in doing that. But, returning to the main label, and its connection to the art.. will you tell us what it is?
So far we have three labels, painted by great contemporary artists. One is Maria Jarda, who made the label for Sonorum, Ladies First, mister Andrei Damo, who painted the label for Gramofon Vals, then it's the Opus Fabula label, also by Maria, and recently, our latest wine, which will be launched after a public consultation, Vox Populi Vox Dei – Sonorum Feteasca Neagra, made by a very young and promising artist, Mihai Glodeanu. So, basically, I tried to combine all these things, and if you take a look to the back label… Not on this bottle, though Yes, not this one, we don't have one on this bottle, but there's a text there saying – and I quote it approximately, "Because you'll never hear a great story starting with someone having a salad".
In fact it says that we won't tell you about taste and aftertaste, tannins or other stuff – not stuff as a word, but you get the point but we'll tell you that great stories don't start with someone eating a salad. What's your opinion about the We Open the Romanian Wine program? Well, We Open the Romanian Wine it's a very nice project developed by Carrefour. In fact, I was very susrprised when I met them, about six or eight ago, to make this wine for them, They came to us, and we're just a small winery after all, a rock on the road compared to the sacred monsters in the Romanian wine industry God, this came out just right! When you arrived with the top management… The CEO was there, the buyers… Marketing, the whole team, yes. I was glad to see there are people having a reality check.
In my opinion, this is what everybody should do. To come down from the majestic heights of the marketing offices and down to Earth, see the potential for yourself, see that there are more producers to promote than the usual… Again, no names. I haven't mentioned any names this far, but you see it's difficult to abstain. So, I appreciate that they invited a winery like us, which gained visibility only in the past two or three years on the Romanian wine market. They trusted us, they came, we tasted, we blended wines, did all sorts of things, and I think that how the things should always start. Coming down to Earth, not only walking on mountain tops and see who comes out of the clouds. Because that, I think, is the main problem with the Romanian wine industry, in my opinion. Maybe you disagree.
Just so the people at home know what we talk about, it's a Chardonnay, under the Vals label – great name, Gramofon Vals – a wine that can be discovered, appreciated and found exclusively at Carrefour, within the We Open the Romanian Wine program. Now, tell me a few words about this Feteasca Neagra. What do we have in our glasses? In fact, in our glasses, we have a Sonorum Feteasca Neagra, although we show a different label on the background. I didn't think you'd be this honest. I thought you'd rather talk about the wine in the bottle… It's best to be honest. The best lie is the truth, I always say.
Let's talk about this one, then. If it's still good, you know how it is. I'm not making those gestures, you know, smelling and stuff.
It's the Sonorum we had earlier. It is Sonorum. The earlier one. It's a wine with a funny story. It all started with the Feteasca Neagra harvests between 2016 and 2018, our most successful wines and the reason we are here, on this porch. A lot of finger poining back then, people criticizing the fact that we only had semi-dry Feteasca Neagra Me too.
Present company not included, of course. Truth be spoken, being in Dealu Mare, having all these resources, a dry Feteasca Neagra was required. Correct!T he project was prepared it started with the launching of our premium range – oh, I hate how crappy that sounds. What does premium mean? That's why I say it sounds like crap, what did I just told you. It's not crap, really.
That's how some pet themselves, taping their own shoulders – we have have "premium" wines. Ok, dude, can't we just say we have some better wines? So that's when we launched Sonorum, it was a pretty interesting project, we had a partnership with three sommeliers. If you trust this wine, put your name on it, we said. Just as Beyonce said, put a ring on it, we said put your name on it. So the project involved Sergiu Nedelea, Julia Scavo and Virgil Manescu. We launched three wines, an oaked Chardonnay, a rose and the long-awaited dry Feteasca Neagra.
Sergiu knew how to chose. How to position himself. How to choose, yes. Sonorum doesn't have a label on it yet, otherwise it would be here, on the table... Yes, but I've seen it and it looks great.
You've seen a picture. On the phone On the phone, yes. Looks very good. So the story of this wine starts with having it sent to international competitions, organizing tastings with Gabriel Lacureanu, Sergiu Nedelea, Marcel Pascu and other people who understand more than I do about wine.
We established the blend ratios and I thought, if we came so far, why not sending it to a contest to see what happens? And it won third place, which was great, the we sent it to another contest, Vinarium, where it won gold. So this encouraged us. A lot. We had already decided upon the price, before any results. So how much does it cost? It's 150 RON. An honest price. Starting price or end price? The problem is that 10% of it is sold before even labeling it. So we'll sell it only here, at the cellar.
You can sell the labels separately. Yes, yes. It happened with Opus Fabula, do you know the story? I know, but maybe our viewers want to hear it too. Initially, we didn't have a price set for Opus Fabula, we had it in a tasting, at a party. to be specfic, everyone could taste it, as some wine-savvy citizens came...
In fact Sabina, my colleague told me that some gentlemen want to buy Opus Fabula What price should I ask? So I say we don't have a price yet, because it's not even labeled yet, it doesn't have the capsule on the neck, just the half-liter blank bottle. So, just to put an end to it – and now I'm sure that one of those citizens will comment again "I have that bottle without label, I paid 100 RON for it!" - I said ask for a hundred RON. And the answer was ok, I want twelve bottles. And I was, oh, first sale, and for this reason I decided the price should be 200.
It's a wine that soon will be no longer available. So then we took the wine and oakes parts of it. Because we still talk about Opus Fabula. Yes, but this is Opus Fabula Maximus, all the wine passed through oak barrels, it is the same with the famous Opus Fabula, but with oak and in only 1.200 bottles, for 100 Euros per bottle. We hope we don't sell it as fast. I was a bit sad.
Gabi as well, when he made the wine with Marcel, he said it's a wine you can make once in seven years. So I thought that 200 RON per bottle will make it sell in seven years, until the next one is ready. I'm an accountant, you know… And when I saw it's sold out after one year and a half, I said great, now… please don't but this wine, it's very expensive.
People will wonder how much we tasted before recording, but I can assure you, that how he is, all the time. Those who don't know Marcel should get to know him. They'll say we were drunk while shooting this.
Thank you very much, Marcel. I'd love to stay and tell and hear stories for a long, long time. I know that the people that watch us, listen to us – I know, I hope they enjoyed your words, your thought, your jokes just as much… We have to have fun. Actually, many jokes were half-jokes. As my grandmother used to say, truth is often spoken as a joke. Exactly! Thank you for listening, for following us, we invite you to visit the Gramofon winery, to discover everything we lived here today – as you (Marcel) do so very often, to discover and enjoy the Gramofon wines and don't listen to the owner – buy the wines.
I also invite you to subscribe to our YouTube channel – I never said it, but being here with an accountant highly experienced in management and business… I see briefly and learn. Correct! The invoice comes next. All jokes aside, I invite you to come to Dealu Mare and discover this beautiful place, truly beautiful place, a piece of Paradise, I dare to say, not only the gorgeous houselets, or the great-looking vineyard, but there's also an energy worth being enjoyed by fine people, who appreciate life and a good wine. This podcast is inspired by the We Open the Romanian Wine national program, a project developed by Carrefour Romania. I invite you to follow us, subscribe and meet us on the next episode of the Wines of Romania podcast. Cheers! Cheers!
2022-07-02 23:59
Show Video
Other news