EP130 കിഴക്കൻ ഭൂട്ടാനിൽ എത്തുന്ന ആദ്യത്തെ കേരള വണ്ടി | Trashi Yangtse Last Village of Bhutan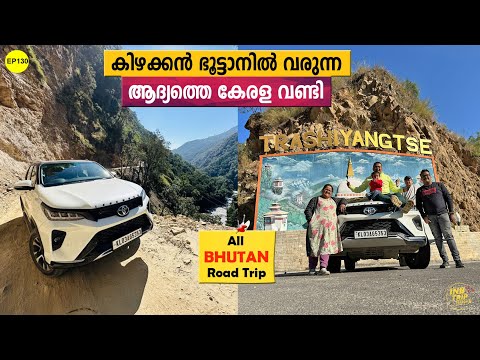 Show Video
Could you understand anything he said? We didnt understand anything Thashi said an intro in Bhutanese language I made him say that We are now in Eastern Bhutan We are going to Thrashiangste, the last province here We have check out from the hotel we stayed Welcome to a new video of Tech Travel Eat. We are keeping our things inside He has reached in front. Why are you taking my bag. Our passport is in it. Dont take that
Is Rishi going to drive today? We poured wiper fluid. Is this how you open it? You should open it well That was great Tomorrow we shall say in Malayalam I will make him say for sure Let us check the air of the car. We have been going on bad roads the last days We doubt air is less All say to check the air in the morning before we run much Or due to heat, the air pressure will not be seen So to see it correctly, always check the air pressure in the morning itself They are taking a huge tractors tyre That would be so heavy and difficult to put it down In Bhutan you have to pay just 20-30/- We forgot to give Thashi room key. So we are going back to the resort now Good we didnt go too far We noticed that when we got in to fill air Thashi is running to give the keya We have reached a check post You have a bridge near it When you take right after the bridge, you enter Thrashiangtse district 542km to go back to Thimphu We are now going to Thrashiangtse, right from here, 44km You have roads only upto there Then it is the end of Bhutan You have other roads to the right from here Let us go upto the end and come It is like going from Kanyakumari to Kashmir.
You have bikers who come here For them 3-4 days is enough to do an All Bhutan trip We need long to do an All India trip also They come with sports bikes We did Kanyakumari to Kashmir Now we are doing one end to the other end of Bhutan In UK we did the same. My next dream is to travel from one end to another in each country Our dreams shouldnt come to an end We should see a lot of dreams We will achieve them too We have reached Thrashiangtse, the last province of Bhutan You can see a huge welcome board here A Buddha stupa here Lot of Thrashiangtse specialties are drawn here You can see 2 crane like birds on both the sides Beautiful frame. We are feeling very sleepy and that is when we stopped to click pics Rishi and myself are on the car and took photos Give all a kiss Now he calls Amma well I took an awesome pic using the tripod He pressed the tripod with my finger in it We told him uncle and he calls Aku Dont spoil the Legender Take a single for him Now how will you call and come to me? I came to the back Sleep fast I didnt ask you to sleep. Put him to sleep I didnt sleep. I am putting him to sleep.
Why are you sleeping then? We stopped when we saw a good bridge You have good roads only upto here You dont have a road from here Road is over 50km more. Will it be like this? The whole of Bhutan was like this before That is from one end to the other. Now it is widened and renewed The road is over I didnt expect it to be like this Another 35km more Look at this We have reached Gom Kora Rishi has slept. We shall go and see the place Go and come. Show me the visuals when you come I shall go inside and tell you what Gom Kora is We have parked our car. Let us go down You dont have anyone here We came around 10km from the place we took pictures We didnt see a single car till now There are a lot of specialties in this place Guru Rimpoche or Padmasambhava, both are the same This is a place Guru Rimpoche meditated Evil spirits came as snakes to distract him Then Guru Rimpoche transformed to an Eagle and attacked the snakes.
That is what history says We are now at a place where such a history took place Guru Rimpoche is a Buddhist master. There are many Buddhist masters in many places and beliefs The place you see now is where people that Guru Rimpoche has meditated It is an old building It is made using stones and wood and built in their style You can see a place where they burn fragrances here in the front You dont find anyone here. I think it is closed. You have prayer wheels here which is a main thing everywhere here We cannot see any caretakers here. It is completely closed
Nobody inside? What do you see there? Rocks Can see a huge rock and a stupa A lady is rotating the prayer wheel here That is what you hear now Where did you see the waterfall? This side has lot of paddy fields Is it the sound of waterfall or the sound of the rive? It is the sound of the river The river is flowing in full force You can see an old banyan tree here There is a huge rock that looks like a mountain here. It is covered with a boundary wall You can see prayer wheels on the wall Thashi and Abhi have gone to explore down there A vehicle has come near us Few people got down I understood that they were Indians One is a Keralite He works for the Indian Army There is a huge presence of Indian Army here The neighbouring country is China You cannot trust them simply Indian Army has come to train Bhutan Army To be a support for them too is what I understood They are on a deputation for 2 years There was a Keralite from Palakkad He said he is on a 2 year deputation. He stopped seeing a Kerala registration vehicle Indian Army plays a great role in Bhutan There are a lot of Keralites in the Indian Army Many of them are in Bhutan and many have contacted us too In Thimphu, Indian Army has a hospital We will be visiting that place The Eastern side here is a bit crucial We are near Tibetian border. Borders dont have roads
It is on top of mountains etc I came to know that there isnt much of problems from China here in Bhutan But sometimes they come to irritate just like they do to us Bhutan love Indians They are not so fond of China We know the situation of Tibet Tibet is a Buddhist country China took over that country Many people who were stuck at Tibet was accommodated in India That is one main reason for Bhutan to respect and love India Bhutan and India has a very good relation When you speak to Bhutanese, you can see the respect and love they have for us Rishi is asleep Rishi lost his bedspace when we came to Bhutan Are we driving up? They have left the rock there and building roads on both the sides. Road work is under progress at many places here A different monkey If anyone knows its name, do comment Look at its face. Its so different 2 of them. Look at it climb up
There are many of them Anybody knowing it, do comment The hair on its neck is brown in colour The front portion is brown in colour Back portion is ash colour Towards Eastern Bhutan, road work is going on Lot of them on the trees and here Big and small ones The roads here are very bad. The areas are very remote too Less people, different kind of people, different language too They overall look different too compared to the rest of Bhutan You can see a lot of such difference when you come this side Google map shows 15km to Chorten Kora I shall give a tip for people doing road trips like this You may find network issues at many places You can download a particular area in Google map for offline use I have downloaded Bhutan map completely for offline purpose You can keep that map for nearly 2 months on your phone Otherwise it will get deleted automatically You will get lot of details from offline maps You can find routes and places using offline map That is available for all maps. People traveling can do that Only thing you wont get traffic update But the rest is available Go slow Look at the road They are just building roads here They made a small road long back but didnt pour tar over it All narrow roads here Water is flowing like milk Beautiful river and thick forest You dont find pine trees here but normal trees like in our places Are you feeling scared? What for, right? This is a tropical forest It looks amazing downstairs there. We have a car behind. So dont stop It is dusty Look at this. I am scared to stand here
This can break and fall any moment. I am standing backwards This is the same river we have been seeing for a while. It flows from some mountain You can hear the sound of flowing river Dont keep moving forward taking videos Why did you wash the car yesterday? Why did you take a bath yesterday? Wont you get dirty again today? Why didnt you wash the car daily then? I will wash it when I feel like Get inside now Some view point is made here but I dont find anything to see Awesome waterfall Didnt see anything at the viewpoint but saw a waterfall here Awesome You can see sun rays there Water then flows down and passes under the road to the other side A small waterfall You can see an old Dzong of Thashiangtse on the other mountain You have to go around down and climb up to go there. We are not going there now. It is an old Dzong here
Can only see Dzong and not a single person A small route. Another 3km to go You have Prado here In 2 hours we reached Thrashiangtse from Thrashigang You can see entries like this everywhere You can see the King's family photo there This is an end of Bhutan, Thrashiangtse, a small village This is an famous pilgrimage center Chorten Kora There are lots to say about it I shall go down and say baout it Thashi gave us a half an hour class from the car It is a pilgrimage center Like Sabarimala, people from Arunachal, Nepal, India and other parts of Bhutan Come here during Bhutanese New Year I think that falls in February - That is a famous stupa there It is at the banks of the river. You can see Chorten Kora village there You cannot call it totally end. You have a forest route of 20km seen in Google map
I saw forest routes to Tibet in the map After lock down, this is the first Indian vehicle that has come here We are at Thrashiangtse, Eastern side of Bhutan Indians would have come. But after lockdown, ie after 2.5 years nobody came If anybody has come, do comment Army soldiers do come Whenever we say we are the first, Somebody or the other comes up with someone else who came before So we can never say first anywhere They will say we are saying so to show off We are not doing anything to become first We are just achieving what we can We have no plans to hit a record or become first Anyways after lockdown, this may be the first Indian vehicle to come here This is said by many here We have reached Thrashiangtse A very calm and quite place You can see pick ups and trucks, coastal vehicles going far away are seen often Rishi is running around at Thrashiangtse Bhutan Where are you going? Look at him go Since it is Bhutan it is ok. Vehicles come very rare That is a long distance vehicle. It just started its journey He is walking like he is in heaven An old Hilux You can see Chorten Kora lodge and place to play snooker Could see snooker boards here and there A general store, beauty parlour etc. This is a small shopping mall This is how it is here Lot of shops in here You wont feel like there are so many shops here You have all kind of shops in here I am hungry All I ate was a sandwich this morning It wasnt enough We are on top of that building This is a building next to it I think it is their house This is another house. Is this a restaurant? Looks awesome Restaurant and its kitchen. Is their house also here ?
It is a lodge. They have rooms here All these are rooms. This is the restaurant You have everything here You get all the drinks at all the places Arent you ashamed? Why should I feel ashamed? He doesnt want a juice Every time you enter a shop, you want litchi juice Another baby here When I went down, I saw many people around our car All are looking at the car and trying to figure out which one it is I said we are tourists. They were surprised This is the place they wash the vessels from Here on the 1st floor, they have lot of plants Just like we keep plants in a flat They have added salt or something and kept the chillies to dry to preserve You can hear the sound of the river flowing You can see Chorten Kora here Nice hot tea in the cold weather In a big cup It is very windy outside We are now at a town 6000ft high above sea level All are veg. I have ordered for 3. It will come That is for you, this is for Swetha, where is mine? Let it come This is for us It is awesome In Ladakh it was maggi and in Bhutan it is Koka noodles K5 is a whiskey and this is its box They have cut that box and is using it as a tissue box THey cut it to half, make a hole and filled the tissues in We had food and the total bill came to 560/- Had lot of drinks, tea, noodles etc Now let us go outside.
Who is this? You know to wear them? Look at him playing This is the main town of Thrashiangtse You can see a stupa in the middle We are going to see what is there to see here I think they still dont know that Prem Nazir passed away As you come this side, everything turns out to be expensive All has to come from Thimphu That is why everything turns out to be expensive You can see a stream pass by These are winter clothes brought from somewhere to store here They are stored here Most of these things come from Bangladesh and China This is a general shop They have bed, mattress and many more for sale They are taking the stock and will then keep them inside Someone is burning fire here. I am surprised seeing the green catch fire All of them do this It smells good when it is burnt That is pine leaves They are burning green leaves to smoke it here They are using green leaves for smoke to come It gives a good smell Boards to different places are placed here So neat and clean. No noise pollution too No dirtying the environment too That is Bhutan Abhi has gone to rotate the prayer wheel. It is very big It is a bit difficult to turn alone. He is able to do it This is the way people take kids here You can see this in all the villages in Bhutan They will tie the babies in a cloth on their back Let it be small or big children Kids also sit comfortably Will our Rishi sit like that behind us? I think they are used to it from the time they are born So kids sit like that This is a transport company office here A taxi stand. You can see a yellow line saying taxi parking
I saw many MG electric cars in the hilly areas I think maybe because it performs well I saw many electric cars here. It is a hilly and high altitude area I have seen only MG electric cars here in Bhutan The number plate is like our place only, green in colour It will be written electric taxi You can see a wooden bridge It is to cross this stream of water You can see water flowing over it As I said, vehicles under Thrashiangtse will be written Thrashiangtse Like everywhere, taxi drivers are having their leisure time too The people here look different It is not like we see in other places of Bhutan They are playing with a mobile We still play throwing a dice They are advanced. They are playing on a mobile Nice plants are grown here They have kept a wooden log and placed the plants over it They have done it in a tyre. They cut the sides to a flower shape, filled it with mud and planted a plant in it We could see many Mahindra Boleros here The benefit of this vehicle is that you can take many luggage and 5 can travel too This is the wooden bridge we saw earlier. It is well maintained
A new bridge is constructed for vehicles to cross and go You can see a tourist hotel below the mountains there If you cross that mountain and go to the other side, Its India, Arunachal Pradesh After Bhutan we will go to Assam and go that side as the rest of our trip We reached here. Now we will see all these places and go beyond this This is Cypress tree, Bhutan's national tree Looks like someone has cut and made it stand straight Looks like gardeners have cut and shaped it here You see a lot of Tata tippers here People have kept chillies to dry on the sides of the road That is the RST office of Thrashiangtse Like our LIC, this is Bhutan Insurance limited You can see a lot of vegetables, garlic, rice and many more kept for sale here Sangay transport has a bus trip to Thimphu every Wednesdays 32 seats capacity They have to report at 5am The bus leaves at 5.30am It takes 2 days to reach Thimphu 600km to the capital city 2 days to travel 600km Even we have to drive back to Thimphu We should also reach in 2 days That is our plan It is not possible to drive in one stretch Or else will have to drive 18 hours a day Tomorrow you will be seeing our 2 day drive back to Thimphu That is what my plan is for now That would be an amazing drive I shall drive the bad roads Why is just one indicator working like this He is having fun in here Who switched on the indicator? Is it you? He has done something and all. Has put the tablet, lip balm and all down
What were you doing here? I have been pulling him back many times Go behind. Enough playing Call the police and come Police will catch you if you stand in front without license. Go behind He is not bothered at all You are not supposed to horn here Look at him looking Take him and give him at the back What you see behind me is Chorten Kora stupa We would have seen this at another place before It is similar to Boudhanath stupa in Kathmandu, Nepal We can even say that it is a replica of that You might be wondering how did they make a replica of this That person was the nephew of Zhabrung Ngawang Namgyal who unified Bhutan When he went to Kathmandu, he saw this stupa and wanted to build one here He carved the stupa on a radish he had with him and brought it here This was in the 16th century At that time, they didnt have proper transportation People had to walk and come By the time he came here, the radish shrunk That is why the stupa here is a shrunk version of Boudhanath stupa The main reason to have this here to to put the evil spirits away Another reason was people found it difficult to travel to Nepal to see this There is a story, the Queen of Tawang went inside to meditate and didnt come out So many people from Tawang and Arunachal Pradesh come here So this Chorten Kora has a lot of specialties amongst Bhuddhist Some riders I guess.
They have come in Royal Enfield classic 500/- That is with Helmet and this is Royal Enfield new Himalaya My cap boy is out to see Chorten Kora He is going near the dog What a beautiful place With the mountains behind and you can hear the sound of the river too He fell there. Nobody saw that Get up and come Dont go near the bike. It will be hot When you come here, like everywhere you have 4 huge prayer wheels Leave him down. He will turn it
Dont say anything. Let us see what he will do I told you. He is trying to rotate it He understood that it is to rotate Now he is going to rotate that Turn it. Look at Rishi turning it All coming here, take go around this That is why people come here mainly for They turn all these prayer wheel and go around this place I say if you rotate these prayer wheels and go around, your wish will be fulfilled I am praying for many things. Hope all will work It will I did a whole round of Chortan Kora It seems people who come here do this the whole day My hand pains after doing it for one round They believe that what we wish for will be fulfilled Only good things will come to us Abhi is now completing one round of his You have two water prayer wheels here Water is flowing in high speed You have a big prayer wheel here It is bigger than the other one The whole place is windy You have places to sit and a washroom too A beautiful place How was Eastern Bhutan? It was awesome I dont want that ? We came in our Indian vehicle, Kerala vehicle, Pathanamthitta registration KL03 vehicle. We came and did a whole Bhutan tour We began from Pheuntsholing and reached the other end Thrashigangtse It was amazing. The nature, people, culture etc all are different here
That is Bhutan Now we have to drive back the same route to Thimphu Nearly 600km to reach Thimphu It is a 2 day trip See you tomorrow with that disastrous 2 day trip That would be an amazing trip now After that we have to go to Paro We have to extend our permit at Thimphu There are few things that we havent done yet too So many things are pending for us We have to go to Thashis house So many things under plans See you tomorrow with another video Until then bye bye Say bye bye Say bye or give a kiss He wont give a kiss You dont have to kiss that. Bye bye
2022-11-17 22:27
Show Video
Other news