Ella Odyssey journey in FIRST CLASS | Most Luxury train in Sri Lanka | Colombo to Badulla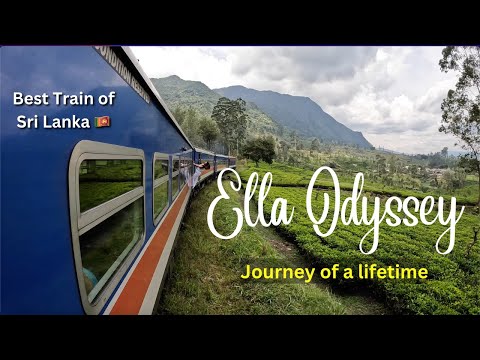 Show Video
[Preview] The train slows down at all tourist spots Alongside the lunch they have given dry vegetables You would get bread, puff, lunch and breakfast in the dining car. I am enjoying a lot in this train He is just honking for no reason [Series Intro] Hello Ladies and Gentlemen Welcome to Episode 7 of Sri Lanka series Today we are going to do one dream journey Right now its 04:54 am in the morning, our train is at 05:30 am This is the best train in Sri Lanka. It is the Ella Odysey Express Foreigners who come to Sri Lanka ride this train once. and the reason is, the train is a premium train and it goes through a very scenic route. Beside mountains, tea gardens and waterfalls
There is a famous place named Ella, which is a must visit place with Kandy Ella will a halt in our journey, so I will show you that Anyways lets go inside the station, if you are coming from outside, I will guide you about the bookings. Everything about trains, food, interiors halt etc I booked my ticket online, and today we are travelling in AC FIRST CLASS There is also 2nd Class and 3rd class in this train, but weather is a bit hot AC is required because its a long journey. We will reach Badulla by 5pm. Hence 12hr journey time I booked my ticket from this website. It is easy to use by foreigners Just give your name, passport number and pay by credit card Anyways let head to the station, I have paid around 5000 LKR for this journey. If you have online tickets, still you have to print it from the railway station For some reasons the counters are crowded.
Maybe the counters arent open yet I got my ticket printed. So if you take online ticket, just arrive the station some time early. They will check passport and ask for Ref No. Initially the number was 1041 but now they are following 5 digit number system due to increase in trains My coach is C and seat number is 34. There is a display board with all the information Our train is standing at Platform 1 This is class S14, basically a trainset.
This is the interiors of AC FIRST CLASS You would get 2*2 seats in this train. This is similar to our executive AC Chair car in India. One digital display is there, with station and speed info and a TV is also there. You have reading lamps on every seats Seats are rotable in this train. Specially for families its a convinient thing.
Anyways this is not my coach, I am showing you this since its empty. Coaches are great. I think they can justify their tagline, journey of a lifetime For now its good, let me see how is the food and other services Its a 12 hours journey, so food should be good In this train you would find total 4 AC First class, One dining car which I will show you soon and rest Second Class In the second class, there are 2*2 seats as well, it seems to be comfortable Our loco is S14 Class, Made in China by CRRC That is a diesel electric loco, works on generator model Lets see how well it power ups our train! Seats were looking comfortable, but now I dont feel that. Headrest is soft but not adjustable Fews days ago I have shown you the journey of Kandy Intercity, so today we will fast forward our journey to Kandy The scenic section starts after Kandy About the amenities, you have water bottle holder and a table. Leg rest is there as well as a seat pocket This bottle holder can hold small bottles only Time is 05:34, with a short delay we are departing.
Right now its too dark, I will show you the sunrise soon. The train used to run between Kandy and Demodara when it was inaugarated. But now it is extended from Colombo to Badulla. It runs only on Saturday and Thursday You can see the train speed there. It is 60km/h Today we will be stopping at many tourist points so that you can take photos.
This train is actually made for the tourists only. The door is not opening, it is probably locked now. Anyways lets see the dining car Sunrise is there, so lets have a coffee with it.
This is the dining car. There is arrangement for food and beverages in this flight. Seats are there but those are 3rd class reserved seats You have chips, juices, breakfast items, puff, tea coffee as well Train is not getting full clearance now. I took the Milk Tea here In India we get it for 10 INR (40 LKR), So our Pantry Managers might get shocked! But when I travelled in Yal Devi, Tea was good and for 100 LKR They have lunch as well You would definately enjoy this train ride. Its 7am in the morning and we are in Polgahawela Its a junction station as the line to Kandy and Maho seperates from here Scenic section will start soon. Enjoy this vlog!
We are stopped here due to crossing. Station is Rambukana As said, journey of a lifetime is mentioned in the locomotive This is the class S14 Loco, I like the window blinds of them!! In 3 hrs, we have reached Kandy. Yet it took 10mins less in Kandy Intercity Our train will reverse its direction now [Frustated] CC will be updated soon.
2023-05-11 14:03
Show Video
Other news