Bojo House Homestay Gangtok Review | Gangtok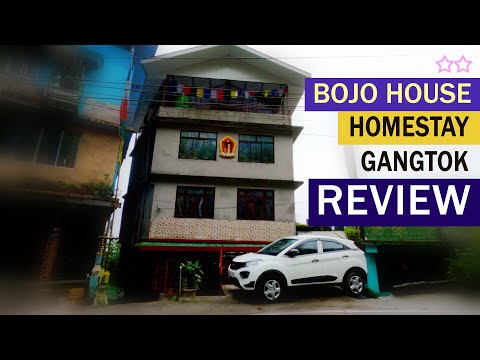 Show Video
So we are now in Sikkim Gangtok, at Bojoghari area. And this is Bojo guest house. The upper floors are actually occupied by the owners, and the guest rooms are on the lower floor. And that's pretty much the parking situation here There is a little difficulty in parking here So if you bring your own car, talk before you bring it. Although we talked about this earlier, Still there was a problem with parking when we came here. So you must talk about parking before you come.
So guestrooms are on the lower side and This is the private entrace of the guest room. And that is the entrance of the owners Stairs are quite high If you have older people with you you must be a little careful. And this is.. the private entrance to the guest room This passage actually is for the owners to enter There are two rooms here, two bedrooms This is the main bedroom among them.
The first thing that attracts you entering this room is Its huge window And from here the scenery of Gangtok is quite clearly captured. Admittedly, from here the scenery is quite gorgeous Now take a look at the furniture in the room As furnitures there is a seating area here a low bed and a small table. Besides there is no such notable furniture The room is big anyway The light here is a bed lamp another bed lamp here, another small lamp Our luggage are not racked yet.. and
there is no such place to keep them either. Looking at all this it is understood that the house is quite old If you go out of the room and go through this side, there is a bathroom here. I'm coming here next.
And the second bedroom is here. This room is relatively smaller than the previous one and the furnitures in this room are all these cupboards we has A sitting space And a low bed. Now let's see the condition of bathroom is. The bathroom door is quite old And when you get inside The place is fairly large There is a geyser, and a.. semi-automatic washing machine I don't know if it works And..
It's Indian style. There is a Western style bathroom upstairs which is relatively smaller than this That is usually used in the case of a guest in the upper room. Since there is no guest at moment in upper room we have been told to use that bathroom. So this one is a small bedroom and here is the main bedroom And this is the drawing cum kitchen area.
Let's look at some of the items in drawing room small cabinet and a very old TV There is wifi here And these are the places to sit There are several cup plates stored here A gas oven and some more cup-plates here A washing basin A place for dish washing and a geyser And a very old.. refrigerator So the time we came here There was no such thing as cooking utensils here Except cup plates. After telling them some utensils have been arranged for cooking purpose Besides it can't be called a tidy kitchen. There are a lot of cupboards here Some contains cup plates Dechki Big dechkis and such things And being a tidy kitchen for cooking, is not it is.
There are lots of cup plates here, but very few cooking utensils. and they also had to collect by asking separately there was nothing here before. Since it's a room below ground level so a damp feeling can be observed A fewer light sources here Speaking of lighting arrangements a light on this side and a light on other side In this light, the dark or damp environment here does not go very well. One of the big big irritation here is these flies. We still don't know where the flies comes from, even though all the windows or doors are closed.
See The ceiling is full of flies And these flies are sitting on us falling on cloths falling on bed All around here, are flies. They are sitting on our body Crawling on the bed while sleeping All the walls, ceiling covered with flies. Windows are closed here All the windows and doors are already closed here. Yet where they are coming from, we still don't understand.
Look at here Flies are all over There's one sitting here, now flying And it become very irritating at night while sleeping they fall over us sit on our face This one is very irritating. So, now let's come to the expenses. We were there for five days, and our total room rent in five days' was Rs. 11,500, excluding tax. That is, we spent per day on rent Rs. 2,300,
excluding tax. This includes two rooms and a kitchen. Guests can cook in the kitchen if they wish or can talk to the host and arrange meals separately. Gas cylinder there.
If you use gas, you will be charged extra, two hundred rupees per day. This homestay rents to accomodate four people to one single group or family. If it's over four people an additional charge of Rs. 400 per head will be made. Now let's talk about the good aspects. Spacious rooms.
If there are more people in the group, it can be easily accommodated. Bed and blanket are comfortable. Adequate sitting space. 4/5 people can sleep easily.
It has kitchen. If you want to self cook, it can be arranged. Market, shops are everything nearby so it should not be a problem to get raw materials and vegetables. There is a local feel and, anyway.. it is a local residence only.
There is internet. However, in the the condition of the TV it is better not to run than to run. Bathroom is big but in Indian style, so be aware on that.
There is an western styled bathroom upstair which is comapratively smaller than Indian styled one. But it's being told to us we can use that if upper floor guests do not come. Incidentally there was no guest upstair when we was there. So we able to use both the western styled bathroom upstair and the Indian styled bathroom downstair.
Let me share an important information here.. from Bojoghari to MG Marg shared taxi fare is Rs. 40. Adequate shared taxis are available there. So you shouldn't worry about the shared taxis. So it is Rs. 40 per head on shared taxi to go to MG Marg.
But from MG Marg to Bojoghari it is Rs. 60. Because the road is steep that time so, it is Rs. 20 extra at that time, Rs. 60. And, after 7/8 PM, shared taxis are no longer available. At that time if you need to come Bojoghari from MG Marg, you would have to come after reserving the whole taxi.
and the cost also become higher in that case, it almost Rs. 350 - Rs. 400. So be aware on this, if you travel on this route. Now let's talk about the things that are not liked in the homestay.
Firstly, due to being below ground rooms, daylight movement is very less and, it's a bit moist inside. The light in the room is also very low after the evening, it becomes like a slumber inside. There is no carpeting on the floor of the rooms So during the cold floors are, floors become quite cold. But anyway, it is not something that is deal breaker.
There is no clothing hook for hanging clothes in the house. Our clothes and towels were always rolling here and there. Over the sitting place, over bed, over table.
So large house it is but, there is no clothing hook. Lack of many basic amenities at home. As example, towel, soap etc. and that's why we took a towel with us I mean, we have only towel with us.
But when we reach there we see, there is no arrangement of towel, soap in the room a soap can anyway bought from nearby shop, when we asked about towel we were told, do one thing, go to the market and get one. Anyway, we said, what are you saying we saw your advertisement on Airbnb that usually you provides towels these are basic amenities, also given in small hotels. To talk a little about all this, he said, OK I'll get you a towel. And brought a towel from upstair and gave it to us.
Such another thing is, mirror. There is no mirror in any room. There's only one, in bathroom. Boys are different, may go without a need of mirror But ladies have things about makeup and such, will they always go to the bathroom and use the mirror? It is a basic amenity even in small hotels they provides mirror in room. So when we told about this, here too you go to the market and bring it, it is said.
In the Indian styled bathroom downstairs, there is a very old semi-automatic washing machine but don't know if it works because, it looks like the pipes are open maybe you need fit things before using it, but we didn't do any experiment with that. Firstly, there were no cooking utensils in the kitchen. Guests are about to come, they needed to be arranged in advance, and especially when it was said before, we like to cook ourselves.
But when we arrived, beside some cup-plates and gas oven, it's good to say that there were no such of a cooking utensils. Then, my wife had to talk to host's mother, and arranged some cooking utensils, but they were this much that it is possible to arrange rice and dal two times. Apart from that there were not much utensils to do much experiments in cooking.
Despite being told earlier, nothing being pre-arranged, and then looking for things to collect, we found this annoying. Two hundred rupees per day if you use gas. We ate out the first day, so there was no need to use gas.
Since then we have used gas for the next four days. It was also clearly told to the host, that we used gas for four days the first day we didn't use it and as of four days you will get 800 rupees total. Although he accepted that we used it four days but there was not much trustfulness in his style of speech. We found it very uncomfortable, we didn't say much about it though. But, this distrust in the way of speaking we didn't like it. We are travelling by spending so much money, will we be rich by deceiving his two hundred rupees? This untrustful attitude from host towards his guests, we didn't like it.
We were there not for one or two days, but for five consecutive days And, there are flies.. It's better I not say more about this I have already given in videos, you will understand. When we said this to the host over phone, it's like he doesn't want to accept it.
Instead, he gave me suggestions clear the sink, don't let the mess accumulate in the house.. because of these reasons flies come, as if we have turned the house to a garbage ground. Littering where we eat.. as if we do the same in our own home.
Then host arrived the day before our return. Basically came to collect the payments, and tighten the windows here and there But the flies problem again in the evening. Now come to the experience of staying. how was the experience of staying. I would rather tell you about the experiences we have had, one by one.
When we arrived there, Then with car parking some undesirable incidents happen. Although we said before that we'll bring car, and we'll need parking, but when we reached, we found that no parking was arranged. We called even an hour before arrival, that we are coming, but when we arrived no parking space was pre-arranged.
After we arrive, the host is making the arrangements by removing their own car, and put our car there. And in the circle of all this, some undesirable things happen at that time. It was not our fault, nor in our control.
But now it turns like this, we had to stand outside for a long time. We could not understand what to do, For those undesirable matters, keep expressing our condolence to the host.. or what else to do, we could not understand. With child and wife, we was keep standing outside. We saw the host even so stricken with sorrow, the guest has to be entered into the room, guests came across long way, standing aside with the child, as if he's not seeing at all.
and we can't figure out what to do either. We only stood like guilty. A long time passed, and not understanding what to do, we started to get the luggage from the car took the luggage down and brought them to the door.
After such a long journey, we was really tired and then these bad things. Not being able to enter the house. At some point host regained conscious and show us our rooms.
We ourselves carried our luggage into the room, but we have no hard feeling on that ! but such indifference from host, his ignorance, it was a big disappointment. From that time, I got a glimpse of how the next five days would go. Coming into the room and before freshen up a bit, but we saw there's no towel, no soap not enough cooking utensils. Now there was almost no cooking utensils in the kitchen we called the host, and told all this then himself he came and when saw this, said "yes, there's nothing, Okay, I'll see..". And, after that my wife was put in touch with his mother, and since then my wife asked and collected some cooking utensils from her. Let's say here, that Uncle Aunty is very kind and, they listens to the problem, but the host is opposite to that.
Host seems habituate with cross-questioning, which we felt at least while interacting with him, tendency to express his views first guest's words can come later, but his words are foremost and tendency to convey that, there was such things to feel you uncomfortable. Of course in Airbnb he's a five star host, but we are sepaking what we have experienced, nothing much nothing less. I went there having lot of good thoughts, like there would be a great time spending with the host, but, after reaching here I see the complete opposite. And is very awake about the money he owes, in terms of business, it can be said good, though. Whenever I had a chance to interact with him, he reminded me about the money I needs to pay, reminded me often, as if that is the most important subject to him.
Generally one of the most interesting things to be at a homestay, or earning is to connect with the locals, through the host. But here the host is vanished. On first day shown the house and collect his payments, and then disappeared.
And came once the day before our return to collect the money he owes. In between, if there is any difficulty for the guests, or do they needs anything, who will gonna ask? From so many places I have heard that, many have traveled from this or that homestay, and how the hosts were there helpful, cared, attentive. But here it is opposite, here when the host has no sign, who will see or who will ask. What we felt there is what we saying here. So, this the review I wanted to give, hope you got a rough idea about homestay.
Thank you.
2022-07-30 21:21
Show Video
Other news