Beyond Extreme Life Inside World's Biggest Floating Slum in Nigeria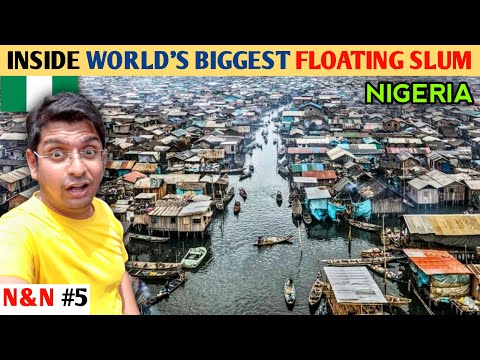 Show Video
It is getting denser once we come in. They are bathing and playing in this river. These types of houses are constructed.
He is calling me. There are many people here! There are some people on the other side of the river. There is a shop inside the boat and they are selling items on the boat. There is a traffic jam and we are stuck. My phone fell here! This is the local fish which we get in Makoko slum.
Hey guys, very good morning and welcome back again. Currently, I am in Lagos in Nigeria. In the last video you that I was about to go somewhere. But we couldn't go due to the traffic and the rain.
Yesterday we couldn't go anywhere, this is the next day. Currently, I am with Aurenga. This is the next day and the time is 11 am.
We are going to the place which we wanted to visit yesterday, it is Makoko slum. Largest floating slum in the world. There are many slums in the world. But they are very less floating slums and this is the world's largest floating slum.
It is situated above the water this is going to be a very crazy experience. We are going there. We have come to the entrance of Makoko. It is not correct to talk here, I will go inside and I will show you the lifestyle if it is possible. Because this area is restricted and we might face the problem as a tourist while recording.
These all are TVS and Bajaj auto-rickshaws. Both are Bajaj auto rickshaws. This is also a Bajaj auto rickshaw but there are some TVS auto rickshaws also. I have to go to the streets.
There is water everywhere even before reaching the floating slum. This path is very long. People walk here daily. These children go to school. Makoko region has started and we have come inside. There are many shops and houses, there are shops inside the houses.
This is the local locality. This is a shop inside a slum area. Makoko slum is located on both land and water.
That is why it is also known as a floating slum. These are the houses inside the slum. There are many people inside this.
These are the local localities. I have come inside a house in Makoko Slum. These houses are made of wood and this is a temporary settlement. They cook food here. They cook fish. It's afternoon, so they have finished the food here.
These are the small room and there are many families inside these rooms. This is a small grocery store in Makoko. This is a street this is a street. There are many streets here.
They are welcoming us. Makoko is located on both land and water. The Makoko slum which is situated on the water is known as the world's largest floating slum. Look at the houses. Look at the houses constructed here! There are people everywhere. They are calling me.
Houses are made of wood and this is a wooden ladder. Let's go to the house. These stairs are very dangerous. This is a house in Makoko we have come to the second floor and this is a very small room. People permitted me to come inside the house. This is the balcony and there are more houses here.
People stay here and there are many houses. It is very difficult to get down, there is a very big gap between the steps. This is another house in Makoko.
This is a local fish of the Makoko slum. They are grilling the fish. I will zoom it and show it to you. They have made it in a round shape and this is the final product of the fish.
Look at this. They are cleaning the fish before cooking it. He is eating the fish. Makoko is an informal settlement.
There is no record of the population and the house is situated in Makoko. This is a formally unrecognised area by the government. Many government officials did not recognise this area for a very long time. This area has been recognised recently and people are staying here for more than 200 years. This area is old than 2 centuries. My phone fell and it has become dirty, I have to clean it.
He is cleaning my phone. The water went inside the cover. They have cleaned the phone. This is a local school in Makoko. The name of the school is 'Doyisem best academy'.
There are many children's and classes going on. Children are studying. Look at them.
The children are very happy after seeing me. Many people have gathered here. Children are Standing on top of the table. They are the local Gangs of this area, many people are sitting here. Till now we were on the land slum of Makoko. Now it has ended because it is situated on both land and water.
The floating Slum of Makoko has started. There is a Boat or a canoe. People use this as a mode of transport. These slums are located on the water. The water act as the road and the boat acts as the vehicle.
This is a very big slum! These people are staying on the other side of the river. They are also selling something. I am going on this, but this is very shaky! I have to be careful. This is the mainland of Lagos and not the island. This is completely a water settlement. Aurenga is over there.
These houses are constructed on the Makoko. This is made of wood. This is for the support of the house. All the houses are constructed on wooden stilts. This is a very low-income community.
There are four ways here. Inside the slums, there is water which divides into different paths. There are many boats and it has a traffic jam. This looks very similar to Venice in Italy.
I have to bend my head. Due to these structures, Makoko is also known as the Venice of Africa. There are boats everywhere. Currently, we are in Venice of Africa. It is getting denser as we come in. All the houses are on top of the water.
The wooden sticks which you can see are known as stilts. Everything is built on top of wooden stilts. This is their life and Lifestyle. They spend their entire life in the floating slum. The fish which you saw earlier was caught from this river. It is very difficult for fish to live here.
The City Centre or downtown of Lagos is very near to this area. This area is located very near the downtown. There are shops on top of the floating slum. Makoko is the only mode of transport to come to the shops. There is a shop here. There is a shop on top of the boat and people are selling items.
Some people are not coming, if they do so it will be a traffic jam again. Some people are happy and some are angry. Look here, there is a traffic jam again.
We are stuck and it is very difficult to go out of this area. These are some kids. There are boats in the back and also in front of us, we have got stuck in the traffic. It is very difficult to get out of here. There are boats in lines. I thought only one or two, but there are many boats here.
I welcome you all to Venice of Africa. She is selling fruits. She is selling fish on boats. Look at this house. Some houses are single-storey and some houses are 2-storey on top of the water. She has opened the confectionery store on the boat.
She was selling cool drinks, chips, Namkeen, biscuits and everything on the boat. This is a very big shop. She is selling t-shirts, garments and many other clothes on this boat. This is another shop. This is a floating school on top of the water. Kids are studying.
This is the industrial area of the slum. There are machines inside the house which are emitting a lot of sounds. Food items are made and packed in this Industrial Area. Not many people stay here but this is an Industrial Area.
This is the business centre of the floating slum. This is a school boat. There are many schools in this floating slum. Kids are studying and they are waving their hands.
You can also see a bridge which is far from here. The bridge is there on top of the water body. People are advising me not to move and stand on the boat otherwise, the boat might drown. Look here, people are swimming.
They are swimming and also bathing in the same river. They are enjoying in the water. Kids are telling me 'Yabo' which means White man. He was inside the water for a very long, now he come up. The new house is being constructed in the Makoko slum. This is a floating slum which will be ready in a few days, people are constructing it.
Makoko floating slum is very big we are in the water for more than an hour. We have come to a place from where we can see this Bridge. We are using this Bridge since yesterday. This area is visible from the top of the bridge.
This Bridge connects the mainland to the island. Makoko Slum was unrecognised and the government never recognized the place. This place was not even on the map for a few years. 6 to 10 people live in a single house. 6 to 10 people live in a family. The population of the Makoko slum is more than 1 lakh...
The population of Makoko slums is from 1 lakh to 1.5 lahks. The estimates vary from organisation to organisation. Some organisations tell 1 lakh, some tell 2.5 lakhs. Some sources also tell the population here is 5 lakhs. Since the government never recognised this place, there is no official number of the population.
1 lakh to 1.5 Lakh people lives in the slum. People live in very difficult conditions. The main occupation of Makoko slums is fishing and salt making. Many people are involved in fishing. They catch the fish, cook the fish and sell it. This is how they generate income. Many real estate companies are threatening the people living in Makoko.
The government also offered Makoko people to relocate to a better place. But the people rejected the offer. They are earning by fishing and salt making, which they don't get in the relocated place. They want to stay at this place to generate income.
There is a washroom and bathroom inside the houses. All the sewage and household water comes to this river. This place is inhabitant for the past 200 years. There was no electricity here for many years, recently electricity has been introduced. The wire which you can see on top is the electric wire.
This is the electric pole made from a wood stick. There is also a hospital which is recently opened in this floating slum. There was no Hospital here before. There is a hospital in between these houses. People are getting ready to go for a bath.
I just got to know that there are no washrooms and toilets in the houses. A single toilet is shared by 15 families. 60 people use a single toilet here. The condition here is very bad.
The waterway is congested. He got scared! There is a mini bank here, you can withdraw or deposit money into your bank. There are many kids here. Kids are going back to the house from school.
They are going to school or going from school. Everybody are students here. Before coming to Nigeria, I was in Benin. In Makoko, many people came from Benin 200 years ago.
They are not Nigerians, they are from Benin. At those time, this country was not there. People living here are fishermen, who came 200 hundred years back and their generation is still here. Many kids are taking baths in this water. The kid is bathing by taking water from the bucket.
We have come back to the mainland from the floating slum. Everybody in the slum belongs to the low-income group. The illiteracy rate and fertility rate is very high. In Nigeria, the fertility rate is 5 children per woman.
But the fertility rate in the slum is more. The fertility rate might be 8 kids per woman. Despite the people being poor and financially unstable, they are very friendly. Everybody is talking with me. He is pulling the hair.
These kids are going back to their houses from school. This is the tomato, it is very big. These are very big tomatoes.
This looks like a snack, what is the name of this? I had shown you this in Benin and this is a local snack. I don't know the name of this in English. I had shown you this in Ghana, this is known as Tiger nuts. We have come out of Makoko slum. He told that there are many gambling shops here. There are many gambling shops and it is not safe to go inside.
Many people were fighting inside the gambling shops. I will end this video here. Please do give a like and share this video with your friends. If you have not subscribed to my channel, please do subscribe to my channel.
You can follow me on Instagram and Facebook. My Instagram and Facebook ID is 'Tourvashu' which is written down. My 15 countries of West African trip ends here. I crossed all these countries through the land border and I did not take any flights.
I took a flight only to and from India. Other than this, I did not take a single flight. I completed this entire trip by crossing the land border. After this trip, I have come back to India.
I will meet you in my next video in a new country and continent. The next series will be very amazing and interesting. I will meet you in my new video series.
2023-05-12 20:26
Show Video
Other news