BEST10 JAPANESE FOOD & DRINK TOUR IN TOKYO: IZAKAYA BAR HOPPING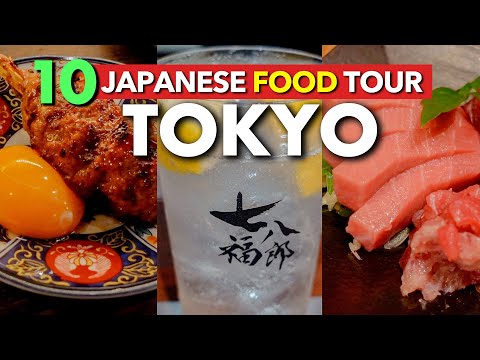 Show Video
Number one, Shibuya Pichiten, located just a four minute walk from Shibuya Station. This restaurant is halfway up the hill towards six Osaka. It's situated underground in a building. If I had to describe its unique feature in one sentence, it would be a hidden and stylish tempura sushi izakaya.
As you descend into the basement, you might get the impression that the restaurant is a bit cramped. However, once inside, you'll notice the high ceilings exposed concrete ambiance combined with the warmth of wooden tables, creating a very calming space. They have a counter which is typical for an izakaya. There are about 30 seats in total, including counters, seats, tables and semi-private booths. We started with drinks.
I ordered a roasted matcha drink mixed with Gyokuro green tea while a friend ordered cola. The alcoholic beverage was priced at ¥500, which is typical for izakaya. First up, among the many types of rolled sushi available, we ordered the eel for ¥800. The sashimi selection changes seasonally, always offering fish at its peak freshness. Prices start at ¥750. The luxury of eating tempura and sashimi together is quite unique and not something you see often from the restaurant's signature dishes.
I ordered the seafood namero four 688yen. It's made primarily from minced fish, particularly sardine mackerel or horse mackerel, combined with miso, green onions, ginger and sometimes other ingredients like shiso leaves. The assorted tuna plate for ¥1,700 is a popular dish available throughout the year. It offers various parts of the tuna for a delightful tasting experience. Kappa-maki for ¥400 as a sushi roll with cucumber as a standard you find in any sushi place in Japan. Torotaku for ¥780 as a roll with pickled radish and fatty tuna, it's a staple dish.
Frequently seen in Japan. Take a marquee for ¥500. A simple tuna roll is also a must have as the name ten in the restaurant's name suggests, they have a wide variety of tempura.
The selection ranges from vegetable tempura to crab and shiitake mushrooms. Adjusting based on the season. The sushi assortment starting from ¥1,500 is visually delightful and sure to lift your spirits. Classic toppings like salmon and tuna are included. It's an absolute must try dish. Also, as those who watch the video might realize, the presentation of many dishes is charming.
Corn tempura for ¥400 is sweet and something you'd want to eat repeatedly. I believe it's a universal favorite with its izakaya vibes combined with a touch of modern esthetics. This is a recommended spot.
It's casual with a hidden gem feel boasting a menu that everyone would undoubtedly love. Next up is Higashi Shinjuku Station. NO.2 Shitifuku Hachirou. Let me show you what's inside. Just a three minute walk from here as a restaurant tucked away in what seems like a residential alley from the outside. This place gives off a vibe of being a quaint, hidden gem with its discreet ambiance.
If I had to describe this sees a fire. In a word, it would definitely be a hidden gem in the backstreets of Shinjuku. You can get away from the hustle and bustle of the city and enjoy delicious food and drinks. The Izakaya offers unique monthly menus that showcase seasonal ingredients. The seating area is somewhat cramped and you can see the kitchen across the counter, giving it an old school izakaya vibe.
On the other hand, stylish tiles are placed here and there and the lighting gives off a modern feel. Creating a sophisticated space for adults. True to its name, the restaurant serves dishes that pair wonderfully with alcohol. I was impressed by the array of dishes perfect for alcohol enthusiasts. We started off with the Otoshi. We ordered the fresh, raw white liver for ¥1,280, a signature dish of the restaurant.
We also ordered the seasonal citrus and chrysanthemum salad for ¥680. The crispy chrysanthemum gives a refreshing taste. It's quite a mature flavor. The drink selection is extensive, ranging from standard saké and shochu to more exotic options. And what's even better is that you can sample for free from the limited quantity raw white liver to a menu that changes every month.
There's a vast selection to enjoy on each visit. The variety of drinks from saké and shochu to unique sours and gins showcases their dedication. It truly is a hidden spot for adults looking to enjoy good food and drinks. A must try when visiting this place is that Sichuan Mapo tofu priced at ¥1180. They serve a generous portion right in front of you. The visual impact is outstanding and it's unique in that a whole block of tofu is included which you crumble and eat.
If you love mapo tofu. This is a dish you absolutely must check out. This particular dish seems to have been featured quite a bit on social media and TV, making it a popular and well-known menu item. NO.3 Sumibi Yakitori
Tsukada Nojo. Tsukada Nojo is a local chicken izakaya chain, mainly expanding in the Tokyo metropolitan area and the Kansai region. It's one of my favorite izakaya. Especially this Izakaya is recommended when you want to drink in a casual yet stylish space in Shinjuku. Describing this place in a word, it's a restaurant where yakitori is easily enjoyed. However, this branch has many unique features, different from the usual Sukarno Joe, which I found interesting, and hence I'm introducing it.
First off, you can sense from the entrance that it has a more modern atmosphere than the usual Tsukada Nojo with contemporary gray and brown based interiors. It's spacious with about 100 seats available with a distinctive curved calendar near the kitchen table seats, sofa seats, etc. It offers various seating options. There are also many people enjoying at the counter in pairs, making it feel user friendly.
The age group mainly consists of people in their twenties and thirties, creating a lively atmosphere where you can casually enjoy yourself. Orders inside the shop are done via mobile ordering. After the staff come to recommend some items. You're free to order at your own pace. English notation is available. The menu is abundant with izakaya dishes, starting with their specialty local chicken and various poultry dishes, including yakitori.
Quickly the dishes arrived! First up, the shop's signature potato salad for 580, and it's topped with an egg that you break and eat together with the salad. The crispy onion fries are addictive. The drinks also arrived. I ordered a mango sour for ¥530, which contained fully ripe mango. Apart from mango, there were many menus where fruits like strawberries were the main feature. Next, we ordered charcoal grilled local chicken with cheese flavor.
Priced at ¥1,880, they blend four types of cheese that pairs excellently with the charcoal grill. The hot melty cheese is irresistible. Then we ordered a refreshing cold dish cucumber is eaten with miso called Miso Kyu for ¥521. All the dishes are roughly for two people, so it's easy to share and the prices are quite reasonable. Next from the main menu we ordered a rich egg and local chicken Oyako Don for ¥780, which is very photogenic.
The eggs are fluffy and melty. This gentle, comforting Japanese style taste is something special when you come to Japan. This soya coat and is certainly a dish you'd want to try. The business hours go until 11 p.m., so it's opened quite late. It's just a few minutes walk from Shinjuku Station, so it's a spot I'd recommend even for people visiting Tokyo for the first time.
It's an off the beaten path, but a must visit izakaya. Make sure to check it out. NO.4 Warayakiya Roppongi.
A restaurant located about a three minute walk from Roppongi Station. Roppongi is one of Tokyo's most lively party neighborhoods, filled with restaurants, bars and clubs that stay open late. The specialty of this place is precisely for. A traditional cuisine from Tosa, Kochi Prefecture Warayakiya refers to the method of searing the surface of skipjack tuna Katsuono Tataki by setting bundled straw on fire as you walk down along the slope.
You'll likely see a restaurant that looks like a standalone house brimming with the authentic Japanese izakaya ambiance. It's quite easy to spot its appearance. Resembling a traditional Japanese veranda is quite striking.
Walking with branches in various locations in the metropolitan area, such as Shinjuku and Akasaka is a pub where you can enjoy Tosa cuisine. The Roppongi branch offers various seating types, including a large counter open tatami rooms and sofa seating. Perfect for groups. When I visited around 8 p.m. on a weekday, it was almost fully booked and it seemed like they were not accepting new customers.
So reservations are a must here. While there weren't many foreigners, the atmosphere was welcoming. In Japan, it's common to order a beer to start off. Often you might hear "Toriaezu beer", especially in large drinking parties and older dramas. The menu leans heavily towards meat dishes first, and Toshi arrived.
This refers to a light dish served after placing the initial order, usually costing from ¥300. Designed to accompany your drink. Whereas many places serve flavorful Otoshi to help your drink go down. Here it was vegetables. Quite unusual.
This restaurant allows you to enjoy robust warayaki of abundant and tasty ingredients produced in Kochi Prefecture, such as Katsu of Skipjack, Tuna ,and "Jidori" free range chicken. The interior, modeled after traditional Japanese houses, plays music from Coach's Yo Saki Festival and you can eat Kochi cuisine while watching the Dynamic Star grilling performance, offering a slightly different experience than other Izakaya. So I ordered the variety of Katsu a first ¥1,749. Astonishingly, it is said that nearly 100% of orders that were I acquire include this iconic menu item. It's marvelous since it's grilled at a high temperature all at once. The umami is condensed and the fragrant aroma of the straw adheres to the surface, allowing you to enjoy the intrinsic flavor of the ingredients.
It's delicious with salt or wasabi. Next, I ordered tempura of IOC seaweed for ¥759. AOC Seaweed grown where? Rivers in the sea merge is soft with a seashore scent and becoming tempura enhances its flavor. Next up, do you recognize this? It was my first time trying it. A specialty dish from Kochi Nore-sore for ¥649. In Kochi, young eels are referred to as "Nore-sore".
They have a smooth throat feel and texture, leaving a slightly sweet taste in your mouth, providing an addictive, unique texture. We also ordered another Kochi specialty. Imoten, which is Sweet potato tempura for ¥649.
It has a fluffy texture inside and offers a rustic, sweet taste since it has a lively adult izakaya ambiance. First timers are welcome in this lively place. It's also easy to visit with a group, so please try it out.
So now I have arrived at Sangenjyaya. NO.5 Sancha Ikkyu. Sangenjyaya as a station and neighborhood in Setagaya Ward, located just to the west of Shibuya on the Tokyo Denen Toshi Line. Sangenjyaya is also the terminus of the light rail. Setagaya Line. It is home to many bars, cafes and restaurants.
If I were to encapsulate the concept of this restaurant, in a word, it would be a sociable yakitori place for adults. Perhaps you're not familiar with yakitori. It's definitely a must try dish when you visit a Japanese izakaya. Each skewer is handcrafted with care and grilled over bingo time charcoal, with the restaurant's signature being its generously sized yakitori. You can order from a single skewer and with a wide variety of natural wines available.
Pairing them together is the style of this place. I ordered the restaurant's signature and supposedly most popular item, the impressive raw tomato sour first. Next was melty prosciutto egg with truffle cream sauce for 550. And I chose this from the quick to serve cold appetizers. What is this? It's made only of my favorite things. You can distinctly sense the truffle aroma, too.
This is a must order item. Of course, I had to try some skewers as well. Each one was quite large, offering a satisfying bite. First I ordered the heart. Each yakitori skewer starts from ¥275. Considering that many chain stores in Japan price it around ¥300, it's slightly pricier, but this is about the standard for regular izakaya.
Next, I ordered the chicken breast topped with wasabi, providing a refreshing flavor profile. Eating with wasabi is a uniquely Japanese experience, so this is a dish I'd really recommend. Then came the large moon viewing. Shiso included Soo Cooney. Uber eats the yolk on top and let it envelop the Sukumar. A chicken meatball.
The sweetness of the sauce was exquisite and the Shiso provided a refreshing touch, making it delicious. Lastly, I ordered another signature item of the restaurant, the grilled Onigiri for ¥716. It's topped with a raw egg yolk, which you break and eat.
The culture of eating raw eggs might be uncommon in other countries, but it's typical in Japan. I hope this serves as an opportunity to break any preconceived notions you may have. Back to Shibuya Station again.
NO.5 IGOR COZY, though it's in Shibuya. Just a little walk from the station takes you to this calm izakaya where you can forget the hustle and bustle of Shibuya. Let's go in right away. It's nearly full.
At 7:30 p.m. This time we went at 1845 and there were already a couple there, but it was relatively empty at that time. When it gets crowded, they implement a 2.5 hour time limit. Boasting comforts eager cozy characterized by its white wall exterior, is an izakaya, where shochu and charcoal grilled dishes are the main focus.
They pride themselves on dishes that let you feel the seasons created from ingredients packed with the producers passion and vegetables delivered directly from farms. First, I ordered the mushroom salad, a rare dish that serves mushrooms, rock the olive oil and pickled cheese decorated on top are truly the best match. It's crisp and fresh. The aroma is amazing.
The specialty Kurokawa chicken Tataki came served with breast and tie me to silver charcoal even without dipping it in soy sauce. The flavor is rich due to the charcoal aroma, so you can eat quite a bit. Most customers come in groups of at least two.
The overall wood tone interior has a calm adult atmosphere. A big feature of this shop is the counters seats the space where you can enjoy the live feeling of the open kitchen and enjoy your food while watching it being made is wonderful, isn't it? Moreover, I ordered another specialty. The Asian style chicken pot rice. It is served in the pot and the staff will played it for you on the spot.
You can change the flavor as you like, with cilantro, nuts, fish sauce, etc. while eating. For dessert, I ordered ice monaca, which is Japanese bean sweets. It uses seasonal sweets. I went in August this time and the fruit used was peach.
NO.7 JIDORIYA TSUKADA. Surprisingly, it's only about a one minute walk from Shibuya station. It's located in a narrow building just around the corner from a pachinko parlor near the Inokashira Line. Given its somewhat hidden location, many might not know of its existence.
The atmosphere of the restaurant is incredibly calm and relaxed. Not what you'd expect being so close to the station. It feels like an izakaya for adults. Tables are arranged around a central counter and there are no private rooms. The counter in particular was popular just like the previous place I described.
It has an open kitchen feel allowing patrons to watch their food being prepared over charcoal grills. This setting adds excitement to the dining experience, making you wonder if what's being cooked is your order. This interactive environment likely explains why many couples choose to sit at the counter. Highly recommended. The meal started with shawarma.
She steamed egg custard as an appetizer priced at ¥500. It had a strong flavorful broth. The menu changes seasonally. Even their fruit infused sours.
On this occasion I had a pineapple sour. The sashimi assortment included three types of meats white liver, heart and gizzard, all for ¥980. The staff meticulously explained which sauce or salt goes best with each meat. The white liver, which is slow cooked, literally melts in your mouth. Garlic Shiso mackerel is priced at 715.
Despite the restaurant's main dish being grilled chicken, the fish was incredibly tasty, making me regret my initial skepticism. They have a wide variety of local saké. In addition, they also offer whiskey and craft beers. The main dish, Jidori charcoal grill, is priced at ¥1,980. Unlike typical yakitori skewers, the chicken here is served in large blocks, ensuring each bite is packed with flavor, not skewering the chicken helps retain its juiciness, making it incredibly succulent.
The crispy skin is so delicious it makes you wonder if you've ever had chicken this good before. NO.8 falo. the concept of this place as Italian cuisine using charcoal fire. Located just a few minutes walk from Daikanyama station. The restaurant is situated underground in a quiet area of Daikanyama, where luxurious residential buildings line the streets. When you descend underground, the restaurant's interior is visible through glass walls.
Upon entering, the most striking feature is the massive counter, which takes up about half of the restaurant. The kitchen is visible from all sides of the counter, and there is also a strong grilling station in the center, providing a lively, open cooking atmosphere. The hidden, intimate feel typical of underground spaces and the warm atmosphere created by the wood make it an ideal spot for adults to leisurely enjoy their food.
Although you might imagine an underground space to be somewhat compact even from the outside, the area gave a relatively spacious impression. First, I ordered the green and bean potash. The soup changes with the seasons using ingredients that can be deliciously eaten during that particular time.
Next, white corn chilled tofu. This also appears to be a seasonal item available until about October due to its popularity. It's been a summer staple on the menu for about six years. While various corn dishes tend to emerge in the summer, this method of eating was unique and delicious. Grilled Rock oysters with Straw with Basil.
Spike Shiso, and other herbs from both Japanese and Western culinary traditions. Plus boiled rice underneath. It's a dish that oyster lovers simply cannot resist.
Moreover, they are genuinely large and incredibly voluminous. Grilled wild boar thigh meat in a fragrance salad with me, Suba, Saari and Galan chrysanthemum provide a recommended dish with little gamey this and a hearty flavor. When you want something substantial to eat. I also ordered charcoal grilled green asparagus.
It's served in the most delicious way, found through the chef's thorough research and experimentation. Enjoying the aroma right before your eyes is unique to counter seating and the proximity through which you can feel the heat is sufficiently arranged to experience alive, vibrant sensation. The ambiance with its speakeasy vibe unique to underground spaces, accentuated by the warmth of down lights in, would truly provides an atmosphere where adults can leisurely enjoy their meals. Furthermore, there is a complete lineup of wines and you can decide on one leisurely while chatting and consulting with the staff. Moreover, rather than being a high end Italian restaurant, it's a place that can be used casually, which I think becomes a pleasant point considering the balance.
NO.9 Mizunotori. This hidden gem of an izakaya is located about a ten minute walk from JR Ebisu station. Ebisu as a sweet little area of Tokyo.
It's quite different from other parts of the city in that it is really laid back and so proves a refreshing break from the chaos. It is more of a residential area, even though it's near bustling spots such as Shibuya. Ebisu is known for its cozy and small restaurants pubs. If I were to describe this place in one phrase, it would be a high end izakaya of creative Japanese cuisine that you'll want to visit on special occasions. A notable feature is the provision of saké by a saké sommelier who offers selections tailored to customers preferences and paired with the dishes.
The interior mainly consists of counters seating designed in a circular fashion around an open kitchen, allowing patrons to enjoy watching their meals, being prepared right in front of them. On this visit, we arrived around 6 p.m. on a weekday and by around 7 p.m. the counter was nearly full.
Given its pricing, it's more of a place for an occasional treat rather than a casual drop in and reservations are a must. Firstly, we ordered the fish miso with blue cheese, nuts and real sand show for ¥800. Then came the mackerel wrap item for ¥1,000. We chose this from the staple menu items of the restaurant.
The mackerel fried to a crisp is rolled like sushi. The perfectly balanced saltiness made it an excellent match for our drinks. Next was the corn cottage for ¥1,000. It was served, freshly made and piping hot. The deep fried corn was sweet and exquisite. A top tier dish where the natural sweetness of the ingredients shown.
What's particularly nice is that there isn't an overemphasis on recommended items, which makes it very easy to order quite freely. Shima rg sashimi for ¥1,600. There are about five kinds of sashimi and it seems they offer seasonal fish sauce according to what's currently in season. All of them are rather uncommon items and it might be a good idea to order while asking the staff for advice.
Enjoying saké with one dish at a time paired for the full experience is also possible. Crab Miso Brulee for 715. It had a sweetness resembling that of a dessert. Does crab miso naturally have this sweetness? It was truly delicious with a rich lingering flavor in the mouth. The restaurant itself is not particularly spacious and is a well-known spot.
Among those in the no reservations are essential. NO.10 Sushi to win San Francisco. Let's go in without further delay. The last Izakaya to introduce is located about a three minute walk from Gakugei Daigaku Station. The name of the place is Sushi co, not San Francisco.
This is a rare shop where you can enjoy the pairing of wine and sushi. Gakugei-daigaku is situated on the Toyoko Line in Meguro. The concept of this shop is to casually enjoy the marriage of hand pressed sushi with red vinegar crafted through fresh fish and artisan skill. Paired with wines meticulously selected by a sommelier.
This time we ordered a standard course for 4500 young men. The course we ordered started with the first dashi broth made from shiny clams. Seriously? Delicious.
What followed was even more incredible. A truffle scented tyawan-mushi, steamed egg custard. Truffles and chawanmushi might seem like an unexpected Japanese food combination. But the fluffy chawanmushi and truffles were as delicious as if they'd become as commonplace as Onigiri.
The appetizer was water, octopus and watercress with balsamic vinegar. Refreshing and satisfying since the octopus was fried. Next up, the awaited Nigiri sushi. It continues with sumiika cuttlefish, Edomae kohada,izzard shad, gari roll, and seasonal nigiri.. grilled sablefish with Kyoto style miso. This was really tasty.
While I think everyone wants to try sushi when they come to Japan, grilled fish is also a must try. What came next was a dish called Tuna Trio. This is quite a luxurious dish with three different parts of tuna, including two toro medium fatty tuna on one plate.
The menu continues with Akira, which is salmon, roe and toro fatty tuna hand-rolled. You wrap the negative scallion and toro with seaweed by hand and eat it. The toro melts in your mouth and is supremely delicious. The final dessert as black bean mascarpone. When drunk in combination with this wine, there was a very friendly, easy to dine and easy to talk atmosphere since they also explained the dishes and spoke with us. All right, so that's my top ten izakaya in Tokyo.
If you like this video, help me out and subscribe to our channel more. See you in the next video.
2023-10-16 01:05
Show Video
Other news