An Overlanding Adventure In Corsica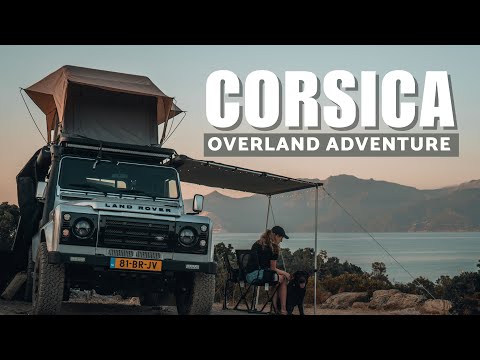 Show Video
So here we go. Our first trip with our  Land Rover Defender and Labrador Lewie both prepared for the overland lifestyle To escape from our daily lives, we feel  the need to disconnect from society   and immersve ourselves into nature,  off the grid places and new memories This is the adventure of Lewie  and the Rover destination: Corsica As always we first drove hours  and hours on the German Autobahn  The difference this time is that we're  going nice and steady on the right lane We arrived in the Austrian Alps. And we were so excited to take the Rover up into the mountains   for the first time. As we drove through small  and steep roads we greeted some alpine cows We stopped at a viewpoint. Great opportunity  for Lewie to stretch his legs and run around.
After driving around most of the  day we searched for a camping spot   and we all needed some food,  drinks and relaxing time. The next morning we made it into Italy,  Lewie and the Rover's fifth country.   Welcome to the Dolomites.
This place has something magical, we have been  here before and were very excited to go back again   and even more now that we have Lewie with us We spent the day walking around the beautiful  scenery, had lunch and a beer at a mountain   hut and then we went off to search for a place to sleep close to the hiking trail of the three peaks It was 5 in the morning; the air was  crisp and the sun was already rising.   The beautiful Tre Cime hike is around 20  kilometers and it took us 7 hours including breaks.   We were so lucky, there were no  crowds, the weather was beautiful,   our bags were full of snacks and our hearts  full of joy. The views were unbelievable It so great we got to experience  this together with lewie,   This definitely is one of the most beautiful  places we have ever been. Sometimes it takes   seeing it with your own eyes that the world  we live in is absolutely incredible beautiful. On our way to the ferry in Livorno  we made a pitstop in Tuscany.
Just relaxing and ofcourse  eat a lot of Italian food. One of our first evenings we  could set up all of our camp stuff   and enjoy a lovely summer night. We had little expectations of Corsica because  we had little time to plan this trip.  
Maybe it's for the better to visit  places sometimes with a open mind. But let us tell you this.  When driving through Corsica   you can expect open blue skies, remote  beaches and epic mountain peaks. Plus,   you will get welcomed by friendly  locals ready to help you anytime. Welcome to Corsica We started our first day on the island  driving an off-road route in Desert Agriates.   We didn't have any experience with the Rover  so in the beginning we were a bit anxious   but slowly we got the feeling we got  everything under control and ate a pain au Choco.
This desert gives you the feeling  you are on a tropical island.   Sand mixed up with green vegetation and  the sea always painted in the background. And then finally we found a place where you can  only dream of. A remote beach with white sand   and crystal-clear water. First, we thought  we were fouled. Why is there nobody here? But soon we saw a boat arrive and we realized  we were not going to be the only ones all day.  
After 5 pm all other people  left and we set up camp. And look at this, isn't this  what overlanding is all about? After our morning swim in the sea,  we continued our route in the desert   this route was a lot more challenging. High  clearance and a real 4x4 are a must. The   rocks and stones can be a real threat for  puncturing your tires so we took it slowly.   Another factor what made it challenging was  the heat. We tried to do most of the route   before midday but it was still very hot and  we stopped a few times when we saw some shade.
The reward was epic. This time did  have the beach all to ourselves.   It was Lewie's perfect day, swimming getting  all the attention and some more swimming. The last part of the route was pretty though.  But hey, this is what those vehicles are made for. Not for everyone it was a fun experience. We  passed a vehicle which got into serious trouble  
Sadly we didn't have the right  equipment to pull them out.   But no worries. An Italian defender  pulled them out with a winch. From the burning heat along the coast up  to the rain in the mountains. The contrast   from the coastline and the mainland is  huge. It's a totally different world. We spent some days here high in the mountains  to do some hiking and avoiding the heat.  
Would you expect a waterfall in a scenery  like this and say its Corsica? We wouldn't. Time to leave the mountains and drive  for a few days along the coast again.   It was warm during the day so  Lewie found shelter under the car.  
The next days we relaxed,   ate and swim and drove along a epic  coastal road up into the mountains again. We never say we are going  on vacation. We always say   we are going to travel. Traveling isn't  always easy, it isn't always comfortable.   But reaching places where time seems to  stands still changes you. We travel to grow.
Lewie was perfect on his first trip. We noticed   he is fine with everything  as long as we are together. It's so lovely to see how much he enjoys it all.  
Swimming, hiking, just going on adventure.  This is where Labradors are made for. Even the ferry went perfect. We were more  stressed then Lewie. Sometimes we worry   so much for him. But he is just fine. Well we  also have to adjust to traveling with your dog. We spend the last few days high in  the mountains of the French alps. Like we said before. This is where we came for.  
Relax in the middle of nowhere. Enjoy each others  company and disconnect from our daily lives. We did some more awesome hikes  and drove Lewie crazy with all   the high fives we needed for our Instagram video. On our last day we enjoyed an epic  mountain pass on the way back to home.
We enjoyed every minute of our trip. A little  bit proud everything worked out like we planned   out. We absolutely had no idea how it would be  to travel with your dog for a longer period.   But we can tell you, traveling with  your dog is one of the best things there   is. We came home a physically a little tired,  but our personalities had grown a bit more
2022-07-13 22:56
Show Video
Other news