Готовимся к Playoff | NAVI ВЛОГ С IEM Rio 2022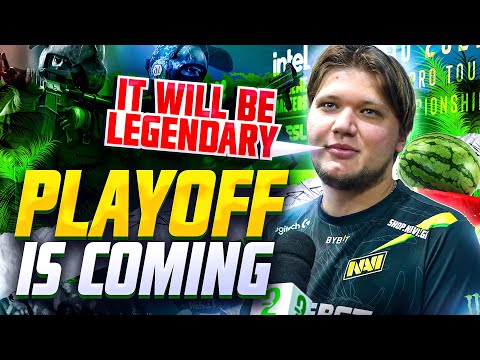 Show Video
Hi there! We've made the playoffs! We enjoyed it, got some rest and it's time to get back in action. It's media day today ahead of the playoffs. We're going to the arena that hosted the Legends stage. The plan is to do some photo and video shoots, just the usual. So join us on this day.
- Congrats. - Thanks. I missed your game yesterday but I watched it in my room and cheered for you. I fell asleep for a bit but I did believe you'd make it.
- And you did, so congrats. - Thank you. Let's talk about the game against BIG overall - You played Mirage and Dust2. - Yes. You started pretty slow going 6-9 in the first half. Yes, it was 3-9 and it was really tough. Did you expect such a slow start in this game on your pick? I think everyone expected it to go easier but we knew it could happen, so we kept our composure and got some extra rounds on the T side. Then it was easier on the defense because we have a good CT side.
It does look like all teams are struggling on the T side at this tournament, have you noticed that? Yes, there have been a lot of upsets and weird games. I'm happy we got things under control because it could've ended differently. What do you think it is about? I don't really know the reason. Overall, it might be some micro plays, underperformance, and underestimation in some situations. In his interview with HLTV, B1ad3 said you needed tournament experience to implement everything you had worked on at the bootcamp. We made it 3-2 so it's as much tournament practice as it gets in the Legends.
For the viewers, it feels like you're improving game by game, but what do you think about your performance in the opener against Vitality and the decider versus BIG? Well, yeah, it might be easier to play now that I've gotten used to the arena. - It'll be bigger now. - You'll have to do it again? Not really. The first game was a bit uncomfortable because of too much noise. But I think everyone's used to it by now and everyone's ready to play on the big stage. I actually believe it gives us an upper hand. Talking about the Cloud9 comeback against us, you said you had a hard time comprehending what was going on.
It was more about us doing some things in rounds but not being able to close them. We were getting entry killed and we couldn't call or execute properly. That's what I meant. FURIA. There's a lot of talk about us being afraid of them and it being hard to play a Brazilian opponent. What do you think? I'm not afraid of anything. I don't care who to play against.
I actually believe it's fun to have the entire crowd cheer against you. Just as I like to say, it makes it more comfortable for underdogs to play, so I think it'll be actually helping us. Cool. I let you go get makeup as media day continues. Let's see what the guys are up to. We're going to another studio to make some video content.
I hope it's not far away because it was a long drive here. We are at the same spot we were on the first media day. The guys are headed to do some videos, while Sasha is getting a mic attached. What for?
BBC documentary. Right! BBC are making a documentary about the Rio Major. They're going to film Sasha now. Alright, I'm acting as Aleksander Kostylive's content manager right now and we're going to make some Instagram reels for him.
While some BBC people are doing the same shot. Hi there! This is the analyst desk and we're going to predict what happens in the Rio Major playoffs. The games kick off tomorrow: Outsiders vs Fnatic and Mouz vs Cloud9. Who do you think will come out on top - Outsiders or Fnatic in a Bo3? My bet is on Outsiders for sure. I also think Outsiders will win. What do you think about Fnatic? I think they did surprise a lot of people as they didn't expect this kind of result.
Fnatic? Well, I knew they could make it through, but I wasn't sure. Props to them anyway. They did a good job and Krimz is back. He is. He looks really good and fresh, unlike me. Ilya has joined our analyst desk. Hey there.
- Ilya, Outsiders or Fnatic? - Outsiders. 2-0? Or will there be a cose fight? If Fnatic play the way they did in the last game, it might be 2-1. Outsiders are in good form, so it'll be either 2-0 or 2-1. Mouz against Cloud9. Mouz were just playing the Academy League and here they are making the Major playoffs. It did take a lot of effort but still.
Denis, what do you think about this team and their phenomenal result? Well, I think they stood out among the academy teams. - Yes, they won the league every single time. - Without any resistance. As far as I know, those players weren't really fit to play in an academy team at the time. So they weren't rookies? Yes, they'd had like 300 or 400 maps on HLTV already. Who do you think will win in this matchup? I think Cloud9. - Cloud9? - Yes. - Being more experienced?
Cloud9 will win. They're good individual players. - What about you, Ilya? - Cloud9. Okay, Cloud9 against Outsiders means we'll have a CIS semifinal.
Next up is Spirit vs Heroic playing in 2 days. Who do you think will win? Spirit don't always perform well on LAN but they seem to be doing just fine at Majors, reaching the playoffs again. Is it Spirit or Heroic? It'll be the most unpredictable one for me. I really want Spirit to win but I think Heroic are better. - What do you think, Ilya? - I think the same as Denis. There might be some pressure on both sides so we'll see how deals better with it.
Valera? Spirit or Heroic? I can't pick anyone because I think it's a 50-50 matchup. It's impossible to predict who will win. 50-50.
It's not our potential opponent, is it? - It is. - Right, it is because we're playing on the same day. Who would you prefer: Heroic or Spirit? - Given we win. - It doesn't matter. - It doesn't? - Yes. NAVI vs FURIA.
I already asked Ilya this question about everyone saying it'll be hard for us to play on the stage. Valera, being probably the least experienced among your teammates, are you going to be nervous when the fans will be shouting, beating the drums, yelling and maybe even wishing for our death. - I don't want them to wish for that. - Right. - I've always wanted to play against the crowd. - You have? I wanted to do that back at BLAST when Astralis didn't make the finals and we played Vitality instead. Now I got the chance.
FURIA is a team with a really aggressive playstyle so they're all about pushing. How do you deal with that kind of aggression and how do you prepare for that? Actually, we've played them a lot and we know how it works. They might play even more aggressively having the crowd support. Which will be their mistake and we'll capitalize on that? We'll see, but I think we'll be ready. Denis, as an IGL, is it harder for you to play against a by-the-book team that you know what to expect from or someone like FURIA who just run at you like a train? I think that's how they always play, if I'm not mistaken.
- I think so too. - It's their book because rushing like that is not easy. Do you know how to deal with them? Is it hard to call the shots and make fast decisions when playing against a team like that? The most important thing is for our team to be ready for that playstyle and I think ours will be. Okay, media day is wrapped up and we're going back to the hotel to practice for the next two days. Hey there! We're still in Rio, Brazil and we're up to something exciting tonight. - See you. - Bye.
Hi there! It's an exciting night as we're still in Rio, Brazil. We are at the Maracana stadium and it's one of the largest in the world. This legendary stadium is hosting a Brazilian championship game between... who? Fluminense and Goias.
Mitya's getting scammed while we're going to look for the tickets. What's the goal of us coming here? To plunge into the local football culture? Feel the atmosphere of Brazilian football. Yeah, the stadium starts hosting Major games tomorrow so we need some frame of reference. - That's part of preparation. - Yeah. - We need to learn their fan cheering culture. - To be prepared. It took us an hour to get here.
The traffic was huge and it was scary to drive past the favelas. Estadio Mario Filho. I think it's a journalist and the stadium was named after him. It's really big. People call it Maracana. These are tiny windows that sell tickets. We need 6 tickets, there are a lot of us. So many people here.
Everyone's drinking something and shouting. Wow. Someone got a yellow card and the crowd is having a mixed reaction. The stadium capacity is 80,000 while The Olympic National Sports Complex in Kyiv holds 70,000 so this one is bigger.
The merch shop. I must say, our esports merch is miles ahead. This looks really sad. I like pink though. I gotta get something. The first half just ended so we got here to grab some food and see what they serve here.
Ordering food and drinks. There's the menu over there. Drinks, hot dogs, french fries, nuggets. Typical snacks. I can't see. Some battered yummies. Chips, drinks, that's all. They finally scored a goal. 1-0.
2-0! We decided to leave early to get a cab without any problems. The emotions are amazing. People are passionately united over football. That's cool. Okay, we're off, thanks for watching. Make sure to subscribe to the channel and post your feedback on whether you liked this format or not. I hope you enjoyed my quick tour of the Maracana stadium and my camera work.
We arrived at the stadium for a press conference ahead of the playoff games. We play tomorrow but today, we're doing a press conference for the journalists and media. So let's have a look at how it goes. Amiran, Sanya is going BR. There's Dust2 BR and Dust2 US. Every player is going to be interviewed by different media - one or two. All we got is that Yahoo is going to interview Ilya, while Vitya is going to be interviewed by Huya TV, which is a Chinese streaming platform.
We're waiting for the interviews. Valera, Sasha and Denis are already doing theirs, while Ilya and Vitya are not in demand right now. I don't think they feel bad about it. Ilya, what do you think about this press conference? Not your typical one, right? Yeah, individual interviews. I'll have to do one with Yahoo so I'm waiting for Sanya to finish translating stuff for Denis and come with me.
Yeah, he's got Yahoo, while I got Huya. - So yeah. - Dot-com. - Perfect synergy. I see. How did your practice go yesterday? Are you raring to go?
Yeah, big time. - It's cool. - Vitya, what's up? You don't seem in the mood. - Me? - Yes. - Not in the mood? - Yes. I'm in a great mood, everything's cool. You guys are acting weird.
No, I just saw the stage has no booths. I figured it's really bad because if there really are no booths, the noise is gonna echo all over the place with us in the middle of it. - Ilya, when will you finally learn English? - Tomorrow.
- You can speak English. - I can't. - You're just acting up. No, I just want to be able to give more detailed answers, that's why I don't want to speak it. There's nothing of it. I think we'll just need to adjust to it fast in the game and we'll be fine. - I just saw a picture of the arena on the GGBet Telegram channel. Did you check out the stadium already? - Yes. There are no booths. 15,000 spectators we could hear in the previous arena and no booths. What do you think?
It will be fun to play against FURIA at the stadium. - Fun because we won't be able to hear anything? - Yeah, I think we'll be barely able to hear anything. We can try to use it to our advantage. - Advantage? - Yes.
So you have to be mentally prepared for it. I thought you'd say it would make things harder actually. It might be harder for someone, but it's usually easier for our team. Okay, well, I thought it's bad but it's actually an upside. Anyway, we'll see what happens today - the game kicks off in 40 minutes.
Alright, thank you. They're all asking the same questions: about the crowd cheering for FURIA, how it might affect us, and about NAVI and whether I'm still a stand-in or not. Okay, what did you say? You said you're afraid of FURIA and you don't know how you're going to play? Yes, exactly. Well, I said I don't get affected by the crowd cheering for me or against me because I'm fully focused on the game so it doesn't matter. I never doubted you! I just talked to your IGL about no booths on the stage - he's already seen the picture of it. What do you think about it? I think it's a bit weird because the noise echoes all over the place through the middle.
It'll be loud and we'll probably hear it, but mainly we'll feel the vibration. So it might affect your aim in any way? I hope it won't shake the desk. Denis said that lacking audio information might be rather a good thing for you. In a way, yes. We're mostly focused on macro plays and what's happening around rather than micro, so it might be good actually.
Sasha, the Legend stage is over and you've felt the love of the Brazilian fans. What has it been like so far ahead of the quarterfinals? Did they surprise you? How are they different from other fans? Considering you're getting most of the attention. Yeah, it was a cool experience playing with these fans. How are they different? Well, they're singing, dancing and always cheering. That's cool and unusual. I played in Columbus and Cologne with NAVI, it was different from what's here.
A lot of them were supporting us until FURIA or Liquid stepped on the stage to set up for a game. Yeah, they were cheering for Liquid against us, which was unpleasantly surprising. Anyway, not the point. Did you notice anything cringy or weird? Some odd things you signed on? Unusual requests from the Brazilian fans? I don't remember. There was a funny situation when they asked me to sign autographs. I told them I had no time because it was a break, and they all sighed like that. They're like, 's1mple, s1mple', and then go 'Ohh:('.
- They got upset. - Yeah, yeah. That was funny. They're so emotional. Neymar tagged you in his Instagram story. Do you keep in touch? Yes, sometimes. He's also FURIA's fan and he tagged me before he found out we were going to play them.
I DMed him and had a laugh. - What was his reply? - He laughed. - Did he wish you good luck? - Yes. - He didn't say he was gonna come over and beat us? - No, no.
He's going to play in the World Cup soon, so they're preparing right now. Yeah, they're not here right now probably. But it would be cool and I think he would come if he was in Brazil. - Sure. - Because he's a big fan. Alright, let's touch on FURIA a bit. Everyone's asking you the same questions, but do you think you're in your peak form right now after going 3-2 and playing a lot of games, including Bo3s? Is there still room for improvement? Did notice the progress across every Legend stage game? Yes, I feel we're in good form, and those two defeats 16-14 might have actually benefited us.
We played a lot of maps and it's really good for us. FURIA made it out 3-0 without dropping a single map and they might have overlooked their flaws in some games. It's different for us as we always try to fix the mistakes that we had even in the games we won in this stage. The teams that made it through the Challengers did really well in the Legends, including FURIA, because they'd already played some games at the tournament.
And now we are the team with more games played. Who do you think deserves to go to the final? We won't definitely play FURIA in the finals, but who do you think it might be? I think if we beat FURIA, we'll play Heroic next, and Cloud9 in the finals. If nobody pulls off an upset against them.
By the way, they're playing today. Yes, Outsider vs Fnatic, and Cloud against Mouz. What do you think about Mouz and their young lineup? Well, usually when the players are crying about making the playoffs they get destroyed in the next game. - It doesn't sound good. - They were too excited about making the playoffs. But imagine how much it meant to them.
Remember what it was like for you at their age. I wasn't crying when I made the playoffs with Hellraisers in 2014. - Hold on, there's a video... - No, that's different.
- At the Major. - I played awfully in that game. - With Liquid. - It was the qualifier. - Yes, and you didn't make it. - And you were crying during the interview. - We made it. - Did you? - Yes, we pulled off a miraculous comeback. Why? I had watery eyes. I wasn't crying but I was amazed by how my team carried me. I couldn't do anything in that game.
We were playing against oskar and ANGE1. - Hey, ANGE1. - What's up, ANGE1? - We totally destroyed you. I was watching that game with xaoc and Amiran. We signed a Valorant roster and people are now speculating about s1mple going to Valorant after retiring from CS once his contract runs out in 3 years.
- Yeah, NAVI is the best Valorant team, did you see that? - Yeah, what do you think about it? It's exciting. I hope the guys can keep it up and hold their #1 spot in the ranking. That's cool. I'm happy for them. The arena is smaller than I thought it would be.
It might look bigger with more people. We're being yelled at. I'm scared already. 'S1mple,' and he's like, 'Bi**h'. We got new badges and we're off to the hotel. Thank you for watching. Drop a like, post a comment, and wish us good luck tomorrow against FURIA.
2022-11-19 20:09
Show Video
Other news