澎湖旅遊Ep3|篤行十村|風櫃洞|蒔裡沙灘|浮球秘境|奎壁山|玉冠嫩仙草|泉利餅舖|黑妞黑糖糕|天后宮|順承門|Penghu Tourism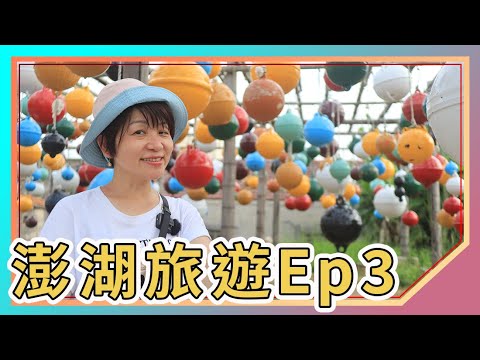 Show Video
Today is our last day in Penghu. We will introduce famous souvenir shops in Penghu, and then we will go to Tianhou Temple. I heard that it is the earliest temple in Taiwan! Then we will go to Duxing Shicun Cultural Park , Fenggui Cave, Kuibi Mountain, Moses Divide Sea and Floating Ball Secret Hi! Good morning , today is our fourth day in Penghu! It's also the last day's itinerary , so the plane we specially booked is for 9:10 pm, so as long as we return to the hotel before 8:00 , the service staff of the hotel will take us to the airport to take the plane! So today we have a lot of time to continue to play and have fun here . We expect that today's itinerary is to walk around Magong downtown in the morning. We will take him to find some delicious shops and famous products to buy! The famous product store that Omiah returned to! In the afternoon, we are also going to drive by car to visit Penghu , there are many great attractions! We also have to drive to the attractions that we can only play! Then we can't wait to set off quickly, then follow me.
We are going to introduce the first famous store, the famous store, the famous store , which is right across from our hotel. This one is the jade crown tender fairy grass. We stayed here for three nights , every day A lot of people are queuing up here. They
keep queuing when the store is still open, and then it is open from 10:00 am to 10:00 pm; So it's hard to find that there are no queues at the moment. I think this feature is because its price is very close to the people, at most about $60, and the ingredients are very real. It really tastes delicious, solid, and tastes good , so it's no wonder that there are so many people queuing, so the first Jiayuguannenxiancao recommends it to everyone.
Now we have arrived at the second one. This one is only a 1 - minute walk from our hotel . It is called Quanli Cake Shop . This is the salted cake that my colleague asked me to buy. They said their salted cake It is very delicious. One of the famous products in Penghu is to bring salty cakes . I will go in and buy it now. The store we are visiting now is super popular and super famous. It is a must-buy when you come to Penghu. Everyone knows the black girl brown sugar cake shop.
Here we come. Black Niu Brown Sugar Cake here. Many people have nominated to eat Black Niu Brown Sugar Cake. Although it has a shelf life of only three days , it is really delicious and different. Let's hurry in and get out of the Black Niu Brown Sugar Cake. There are so many people on the right! It turns out that this is the old street of their Ma Gong. They are the old street on this side.
There are many small things in the old street when we go shopping! Many of the seals here are because of the basalt produced in Penghu, so they all have seals. Many of them are selling this sunscreen . It is obvious that tourists are sunburned and spray aloe vera all the time. This is the Tianhou Temple in Penghu. We must come to heaven. The harem worships Mazu, because Penghu is the sea! This side of the sea worships Mazu, Tianhou Palace , Mazu's Tianhou Palace. This is a very representative and historical palace. It is very interesting to
find this building! Next to him is the post office, and then above it is the Chunghwa Telecom Telecom Office . We just asked the inside. He said that this is the same building as the early post office and the Telecom Office. It is now preserved as a historical building. This is his predecessor . Now it is neither a post office nor a telecommunications office . Now it is called an exploration number, it is a cultural and creative institution, and it is an experience hall that can be experienced.
I think it is pretty good , so I will keep this building of his and reuse it like this. I know Penghu , so this is a historical building. The Penghu Underwater Archaeological Workstation is quite special.
This one we see now is also a historic site. It is called Shuncheng Gate . The only preserved gatehouse is the Shunchengmen historic site! We have to walk along this Shuncheng Gate. We come out of the Shuncheng Gate. If we go further, we are going to visit this tenth Duxing Village , which is the oldest military dependents' village in Taiwan. It's located in Penghu Duxing Ten Village, Duxing Ten Village. The only thing is that he renovated the military village. It
has a famous point! Pan Anbang sang his grandmother Pan Anbang's old home in Penghu Bay. The old residence is also here. There is also the Zhang Yusheng Memorial Hall. Zhang Yusheng is also a Penghu native . There is also the Zhang Yusheng Memorial Hall . It still retains the skin color of the Japanese occupation period, and also has a yukata experience , so it will feel like being in Japan . Now we want to take a look at the Zhang Yusheng Memorial Hall . The red spots here are very popular. We came in. This is the Zhang Yusheng Memorial Hall . Enter from here . I introduced him to the old house he lived in when he was a child. His shape is like wearing glasses.
Zhang Yusheng liked to read comics when he was a soldier . When he was a soldier, he kept his graduation certificate. This is the Pan Anbang Memorial Hall . He sang a song and wrote a song that Grandma's Penghu Bay has become a very representative song in Penghu, so I have contributed to Penghu . Let's take a look at his memorial hall. Shall we take a break? It's like a break time! We are here to drive around Penghu again.
We are going here today. The point here is the South Ring Road, the last stop of the 202 County Road in the South Ring Road. It is a very important attraction and a popular attraction. It is called Fenggui Cave. You can see that his landmark is this pure white mushroom shape. Some
people say that he looks like a UFO. In fact, it is quite similar, that is, when you look at the blue sky and white clouds and then pure white, it looks like mushrooms one by one, a bit like a flying saucer, so there are many people! Be sure to come here to take pictures. Let's go and see and take pictures. The view
here is different! Super beautiful! It's really cool here, and I wrote down just now that you can see that because Penghu all produces basalt , so the basalt that the waves beat will actually make that sound! So he has another name called Fenggui Tingtao. The very beautiful name is Fenggui Tingtao. We are now in a super beautiful scenic spot on the South Ring Road! It's called Zili Beach, have you ever seen it? It 's all milky white sandy beaches! Because this beach is very special! Well, the fine sand is made of coral and shells, so it is milky white. This beach is actually very clean . There are many water sports and SUP! Snorkeling and playing in the water! There are also boat rides! There is also a cafe and a camping area! It's all in the planning and I think it 's pretty cool. I can't wait to change my sandals. Let's go for a walk on the beach.
The water is coming and it 's so cold! Fortunately, I wear short and the water is so clean! It's been a long time since I've played in the water. It's like a child here. It 's super happy and it 's clean! It's so comfortable! I feel like I'm going to massage my feet, do a spa, and I'm doing a spa to wash my feet. We finally came to the legendary Moses Sea. Today's time is wrong because it's forbidden to pass here, because we come to see the Moses Sea. With the tide ,
the time you can go today is just at night. I just asked the staff. He said that the time was dangerous on the first night, and he was not open on the second night . So do your homework before you come! You must be optimistic about the low tide time before you can walk from Beiliao to Chiyu Lulian Island . It is really special. This one will have an intertidal zone! Then it will automatically form a path that I can walk through, so I'm all ready to walk through the Sea of ​​Moses, but I didn't make it today. It does
n't matter if I leave it for next time and walk again . Look, he's very special here. I think it 's very caring. He can lead the team down from here during the time of the departure. Everyone is in groups and you can see a group of people walking this way. A dragon goes to the other side and Moses divides the sea . So it's hard to imagine that it's full tide now! Now it's all sea water . When he can walk, he has a way to go there, so here's the point! Really must come, this must come is Moses Dividing the Sea, here Moses Dividing the Sea He is called the area of ​​Kuibi Mountain , and he is actually very caring here! There is a monthly tidal forecast sheet and a timetable for walking here. In fact, this can be found on the official website of the management office of the Penghu National Scenic Area, so he has written it first. The tide is like this, and then there is a road that everyone can walk over and come back . The time is very short, so we must grasp this time. It is very convenient to have a parking lot
here , but I heard that there will be a lot of people during holidays. There are a lot of cars, so if you have to come early to get a seat , you must come to Kuibi Mountain and Moses Divide the Sea We are now in a very cute place! It doesn't matter if I didn't see the sub-sea of ​​Moses just now, but there is a community called Nanliao community two kilometers away from the sub-sea of ​​Moses, so now he has launched the secret realm of Nanliao! It is the secret place of floating balls , so I will see a lot of people doing that floating balls later. He is creating a place for online beauty to take pictures. It is a beautiful place and a lovely place.
Then he can look at them at any time. The wall next to them has this coloring pattern . You can do whatever you want. Shooting like this, so let's go in and see the Nanliao Floating Ball Secret We see this bullock cart going in here , the ancient house, here is the floating ball mystery, go to the end and turn right in the floating ball mystery. Their ancient house and then just asked the local people why there is a floating ball here. He said that this is actually to promote the tourism of the community here, and it is also their feature. How did
the floating ball come from ? In fact, there are many floating objects in the sea. Flotsam at sea Many fishing boats in Southeast Asia have this floating ball . If the floating ball is at sea, you will become waste! It can't be thrown away, it can't be reused, so the residents here just want to create the feature here. If you make him a feature, he will pick him up and put his paintings here. There are hundreds of floating balls in the south. The Lao community is here
, so now it has become a very beautiful photo spot, so let's go in and see! To come in, you have to pass through his ancient house. He is made of coral stones. It is different from the houses in Taiwan. We are all made of cement bricks and bricks. This side is different. This is very resistant to the northeast monsoon that winter. The
rocks are compared like this. Hard , go to the end, turn right, here we come, here we come out, this is the secret realm of floating balls. You can see that there are hundreds of floating balls. It is really the same. The floating balls are reused. The place where the photo was taken is beautiful! I see a lot of people taking beautiful pictures.
We also want to take a photo. Then we will be here for the video of our self-driving in Penghu today . That afternoon we went to the South Ring and the attractions of the East Ring! Then I think that it is actually very suitable for driving in Penghu, but if you are very young and enthusiastic, you can still ride a motorcycle , but because it is too hot , it is a very convenient and comfortable way to drive to a farther place ! Then I think there are really many scenic spots in Penghu. In fact, we haven't been to many places yet, so we must be able to come again. In fact, I really think it is especially suitable for the fireworks festival, because the fireworks festival is only until June 30.
2022-07-10 20:40
Show Video
Other news